Garden zoning – 15 ways to divide your yard and maximize outdoor space
Discover how clever garden zoning can turn your yard from a one-dimensional space into a series of beautiful outdoor rooms – from sophisticated terraces to children's play areas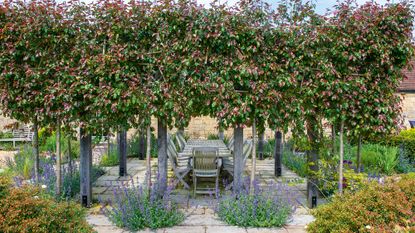 (Image credit: Heather Edwards)
Garden zoning enables you to make the most of your outdoor space by treating it as a series of different 'rooms'.
Our gardens are multifunctional, versatile spaces that need to serve as everything from relaxed outdoor dining areas to kids' play zones. Incorporating some clever backyard landscaping ideas will divide the space into its distinct purposes.
It's a design trick that's regularly used in home design, yet all too often overlooked in the garden.
Not only will these outdoor rooms organize your backyard, but you'll find yourself using the spaces more. Even the smallest of yards can have its own miniature oasis added to give it a secret garden feel – perhaps a hidden seating area with a bench beneath a rose-covered pergola. Landscaping with evergreens will create subtle and natural garden 'rooms'.
If you're just getting started with designing your outdoor space, then learning how to landscape a backyard that works for everyone in the household is invaluable. Before you know it you'll have a garden you'll be enjoying for every occasion and task.
Garden zoning – ideas to try in your space
These are just some of the different ways to embrace garden zoning. The ones you pick will be down to the space available, your existing garden ideas and how you use your garden.
1. Build a raised terrace
If your yard has a deep slope, then landscaping to create a raised terrace with built-in planters and steps is a fantastic solution that also helps immensely with garden zoning.
In this design, crisp rendered walls offer a modern look inspired by Mediterranean garden ideas. Built-in beds are bursting with fragrant white roses and jasmine, while lavender is a magnet for pollinators and enhances the sensory experience.
In order for the upper section of a raised terrace to feel private, add plenty of planting to provide screening. A series of tall containers works well, or alternatively a neatly clipped hedge will provide a smart border.
2. Use trellis to screen off private areas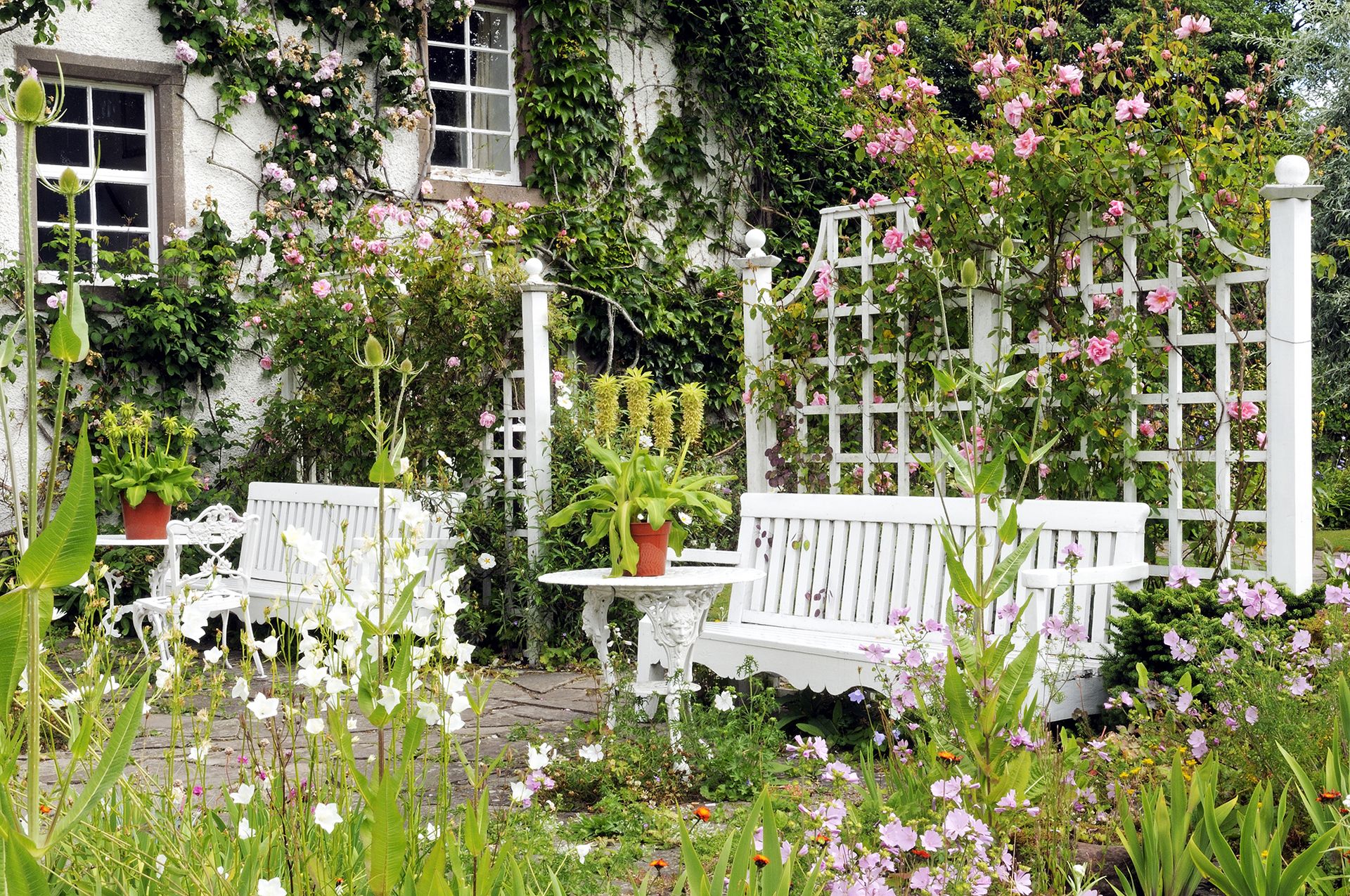 There are so many beautiful trellis ideas that will enable you to make the most of the vertical plane, allowing you to fill your garden with the best climbing plants and create secluded areas for relaxing.
You might typically think of trellis as a solution for garden fence ideas or for fixing to walls, but it's also a fantastic option for garden zoning.
'Trellis is an inexpensive and easy-to-build garden zoning option. It lets in light while blocking out unwanted views,' says gardening expert Matt James.
'It's usually used on top of low fences or walls for security and to keep pets safe but there are lots of different styles, colors and finishes available that will work well as a screen; hardwood trellis or powder-coated mild steel lasts longer but costs more.'
3. Take shelter under a pergola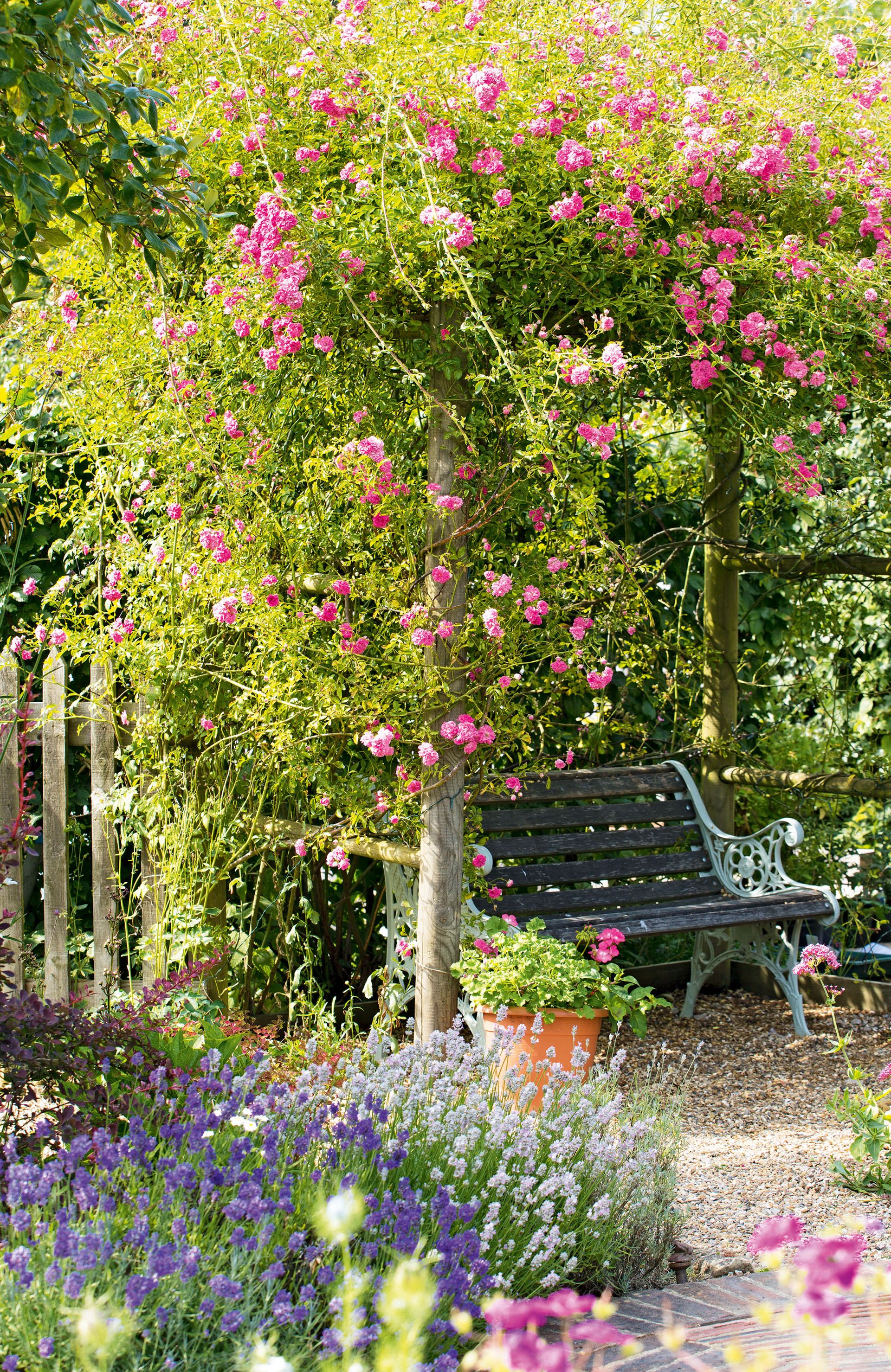 Pergola ideas range from large elaborate buildings to simple structures for housing a small seating area.
Not only do they add height to help zone the garden, but they provide a lot of vertical interest when covered with climbing plants.
'A pergola covered with deciduous vines will provide winter sun and summer shade,' says gardening expert Leigh Clapp. While roses add heavenly fragrance and a romantic edge to the garden.
If privacy is an important part of your garden zoning ideas, then there are ways to make a pergola more secluded.
'Lattice, bamboo blinds, batten slats and retractable awnings on a pergola will screen you from being observed from above,' adds Clapp.
4. Create a green walkway
Zone garden rooms and enhance your garden path ideas with a semi-covered walkway. This could be achieved through an extended pergola or, as in this stunning design, a series of archways.
'In a garden of rooms, pathways can be used to link the spaces as a harmonious whole, often through arches and tunnels,' says Clapp.
However, paths don't have to be covered to help with garden zoning – simply bordering a bath with low hedges, raised planters or containers will make a big difference.
'Consider the textures and look of your garden around you as well as the style of your home to ensure your walkways are complementary to the scene you are creating and have a destination or purpose,' adds Clapp.
'Take a walk through your garden and consider the natural paths of movement you use to get to places such as gates, sheds, entertaining areas or children's play areas. This is where you need to place paths when designing your garden.'
5. Break up large expanses with rockeries
Rustic rockeries – or rock gardens – provide a less formal way to divide a garden into zones.
When done well, a rockery creates a natural-looking solution that appears to have grown with the landscape over many years.
There are many rock garden ideas that will work for almost any property style, and though they are often planted with alpines will work with a surprisingly large variety of plants, ranging from Mediterranean style to succulents and traditional cottage garden plants.
Learning how to build a rockery is simple and requires minimal landscaping skill – the focus should be on making it feel as natural as possible.
6. Plant a pleached tree circle
As well as more permanent structures such as garden wall ideas and fences, trees can be valuable garden zoning features, providing a softer, more natural look, and offering privacy.
'Pleached trees – hedges on stilts – are particularly useful here and can be planted relatively close to garden boundaries,' says James.
'Beech, lime, hornbeam and evergreen holm oak are the most commonly available.'
In this stylish design, a pleached tree circle provides a versatile space that could be used for outdoor seating or even to display a garden sculpture.
7. Introduce water to divide zones
There are many beautiful water feature ideas that will add an air of calm to the garden, create a sensory experience, and help to divide different areas.
Rills are a particularly clever way of achieving this, involving a shallow channel discreetly included in the landscaping. However, a statement fountain placed in a central spot is a stunning way to more formally zone the garden into four quarters, with a pathway running in each direction.
Consider where you position water features so that you can best enjoy the sights and sounds, and so that the water can take on the best possible reflection of the garden.
Adding a large water fountain will require an element of engineering – seek specialist advice – however, a simple ideas is to use a large water bowl, which adds a serene touch to the garden.
8. Zone off children's play areas
When zoning your yard, it's important to consider the requirements for every member of the family. A children's play area can all too easily encroach upon relaxing and entertaining spaces, but with a bit of planning can have an element of separation.
'All children crave an area of their own; a place to escape to, seemingly out of range of the grown ups,' says James.
'Pre-schoolers need to be kept close so a covered sandpit built into the patio and surrounded with low planting would be ideal, but for infants and juniors play areas work best positioned away from the house, in a spot where children can still be seen but not heard.'
In most cases, the bottom of the garden is the most suitable spot, taking advantage of what is commonly wasted space.
'With trellis screen, wooden louvers, or mixed plantings full of tall airy grasses and perennials (like Verbena bonariensis and bronze fennel) you can divide it off and mask play equipment, yet still discreetly monitor any activity from the house,' adds James.
If you don't have the space for a large play area, the consider adding a small teepee, or even a simple swing swing slung from a pergola covered with honeysuckle.
9. Create a sunken area as a private seating zone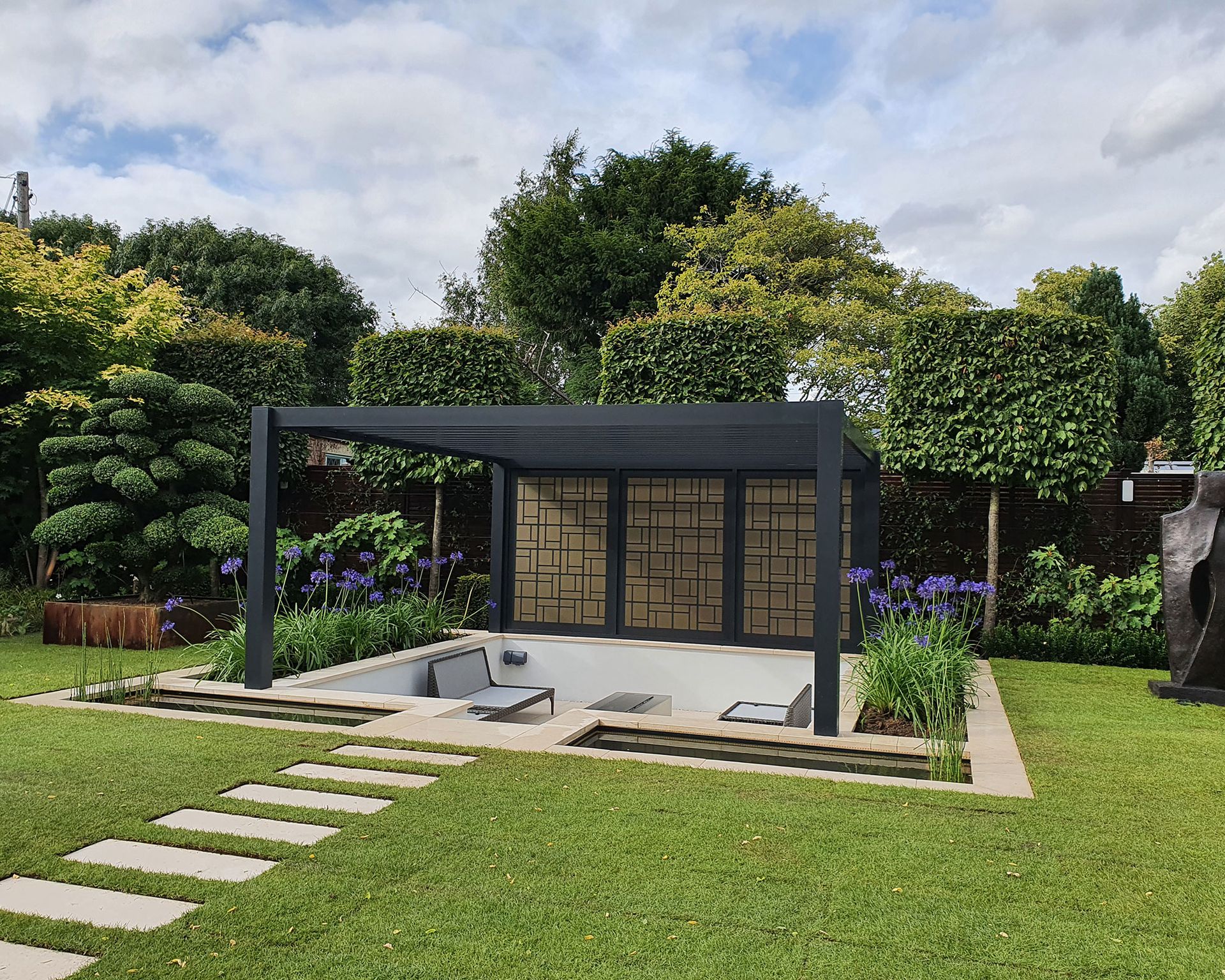 A pergola frames a seating area nicely but there's a risk it will dominate the garden and loom over neighbors' plots.
'Positioning it where it doesn't affect other people's views is always a good idea,' says garden designer Kate Gould.
One solution is to sink your sitting area a few feet into the ground. Not only will next door's sightline be unaffected, but the cocooning effect creates a more restful outdoor space.
10. Make garden zoning flexible to suit your needs
Having a set outdoor room is never a bad thing, but having the ability to be flexible with garden zoning and to create an outdoor living room that you can move around to suit the sun - and accommodate your guests - can be incredibly useful.
Don't be rigidly strict when it comes to your furniture, as mixing ranges adds personality. The key to these 'pop-up' spaces is getting the accessories right.
'When layering soft furnishings, try taking the inside out,' advises Sue Jones, co-founder and creative director at OKA.
If you're blessed with a large garden, build a DIY den wherever takes your fancy.
Erect a frame using branches, pegging guy lines into the ground to keep them in place. Then choose weather-appropriate materials for shade and to protect yourself from the damp ground.
'Make sure your fabrics have a UV stability rating so they don't fade; sun damage is a real issue,' advises Tasha Green, director of Weaver Green. 'And natural fibres, such as linen, will need to be brought in overnight. A smart option is to choose washable and water-resistant fabrics instead.'
11. Use color to delineate garden zoning
Using color on painted walls, containers, and even in planting and garden accessories, can ensure your garden zones are signposted.
'Incorporating cushions and throws from your sitting room into your garden makes the space more inviting, but it also lends a color scheme and enhances the feeling of having an extra "room",' says Sue Jones.
'If you're planning on sitting out past sunset then throws are essential for cozying up but also for creating a welcoming aesthetic.'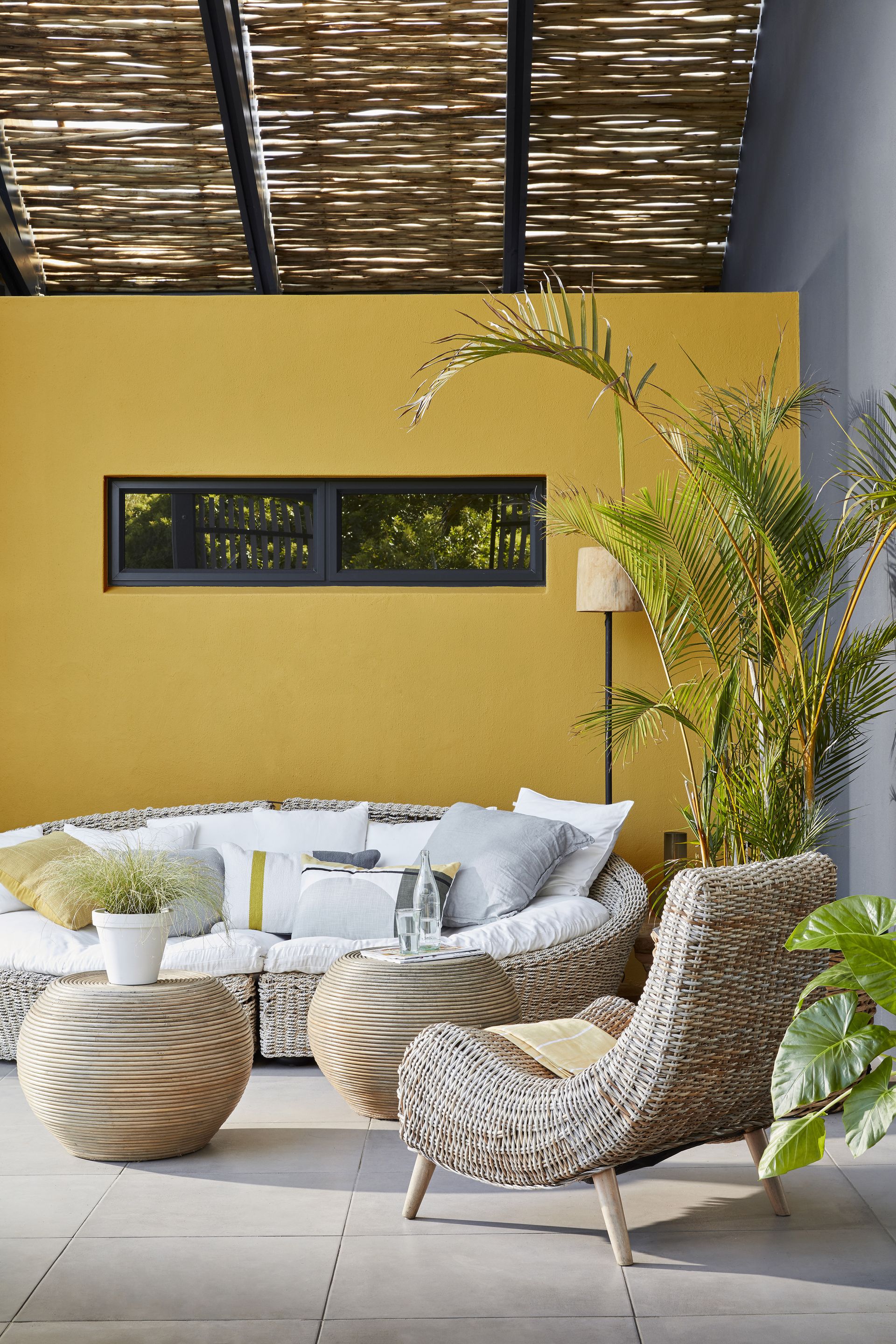 12. Make space for an outdoor cooking and dining zone
Outdoor kitchen ideas are on many of our wish lists as we make more of our gardens, and it makes sense to have this garden zone just outside the back door.
'It should be viewed as a long-term investment,' says Simon Hawkins, managing director of The Outdoor Kitchen Collective.
'Look for kitchens made from durable materials, such as concrete and steel, that will provide years of enjoyment. A high-quality, well-engineered and robust outdoor kitchen is often modular in design. Elements can be combined, expanded and moved so you can configure it according to your space, style or budget.'
Situate your table in a shady spot under a parasol, sail or tree to allow for long, lazy lunches. And keep the table near the house, so it will be quick and easy to clear up afterwards.
Construct the kitchen/barbecue set-up using materials that echo the exterior of the house, so that the prep area recedes into the background and the dining spot can take center stage.
For a more flexible alternative to a traditional built-in outdoor kitchen design, consider a movable option. This flexible approach to garden zoning is particularly useful in a small garden where space may be needed for other activities at other times.
'Mobile units provide flexibility outside to cook and entertain in the best spots in the garden throughout the seasons,' says Simon Hawkins. 'They can also be moved freely from indoors to outside; and you can take them with you when you move house, too.'
Choose a couple of freestanding units so that you can set up your own configuration and create a temporary kitchen zone whenever it is needed.
13. Use different levels to zone your garden
When thinking about landscaping your yard, consider incorporating zones right from the start. One way to achieve this is to build in different levels, with terraces that step down into one another, creating individual garden pockets.
Paired with raised garden bed ideas and lush planting, the different levels create a sense of privacy.
While granite slab paving has been used in this design by Rosemary Coldstream, you could just as easily make one or more of your levels a lawn space; perhaps a secret oasis tucked away at the end of the garden.
14. Use garden lighting to define garden zones
Just as indoors, no matter the size or layout of your space, you can still create the perfect zoned garden with different outdoor lighting ideas and effects.
Garden dining areas will need soft overhead lighting; seating zones will suit lower lighting, while paths and borders can be lit effectively with uplighters that highlight plants, as beautifully illustrated in this garden by Charlotte Rowe.
'The key is to conjure up an intimate, self-contained area – whether it's on a terrace or in a corner,' says Chrissie Rucker, founder of The White Company.
'Think of interesting ways to decorate the space: fairy lights, lanterns, bunting or a rug to define the area. Most importantly, don't neglect the seating. Make sure benches or chairs are comfortable and top with cushions and throws.'
15. Make space for a cooling off zone
No room for a zone dedicated to your dream pool ideas?
Outdoor showering areas needn't be reserved for holidays abroad and they make a small back yard landscaping idea with a difference. Incorporating one into your garden not only adds a handy place to wash off after exercise and somewhere to get the mud off the dog, but also brings a romantic air to the space.
Fit to the outside wall of your home for access to hot and cold plumbing, or shower in nature with a solar-warmed freestanding unit. Even when far from view, do be sure to consider garden privacy ideas, such as screening or shrubbery.
How do you zone a garden?
There are many creative ways to zone your garden to divide it into different areas. Garden zoning can be achieved through color and clever planting. Flower beds, box hedges and swathes of wildflowers all help to break up spaces.
For a more solid approach, you can build in walls and paths to physically block off different zones, and pick different materials for flooring.
Playing with height works to visually zone gardens as well, by adding in layers of planting and sunken areas, or a pergola.
Giving the defined zones of your garden different purposes will help reinforce the garden zoning. So a deck might be just for sunbathing, a pergola for shading a dining area, a walled area for a kitchen garden, and so on.
Using shade – or the lack of it – is another way to zone a garden; create a sunny spot for sunning yourself; a shaded area for dining; or dappled shade for conversation.
At night, garden lighting is the most effective way to create defined zones.
How do you zone a small garden?
Using the same approach as you would in a larger space, so dividing your space into different zones for defined purpose using hard landscaping and planting, is the best way to zone a small garden.
However, you will have to pare back your ideas to create a space that's practical and that can comfortably incorporate everything you want it to, without looking crowded or feeling cramped.
How do I divide a garden into rooms?
The best way to divide a garden into 'rooms' is by choosing different flooring materials to define the various zones.
So a decked area will be visually divided from a paved area, a gravelled area or a lawned area. It is vital to use planting to divide a garden into rooms alongside hard landscaping. Doing so will soften the harder materials, create privacy and, of course, add color and scent.
Sign up to the Homes & Gardens newsletter
Decor Ideas. Project Inspiration. Expert Advice. Delivered to your inbox.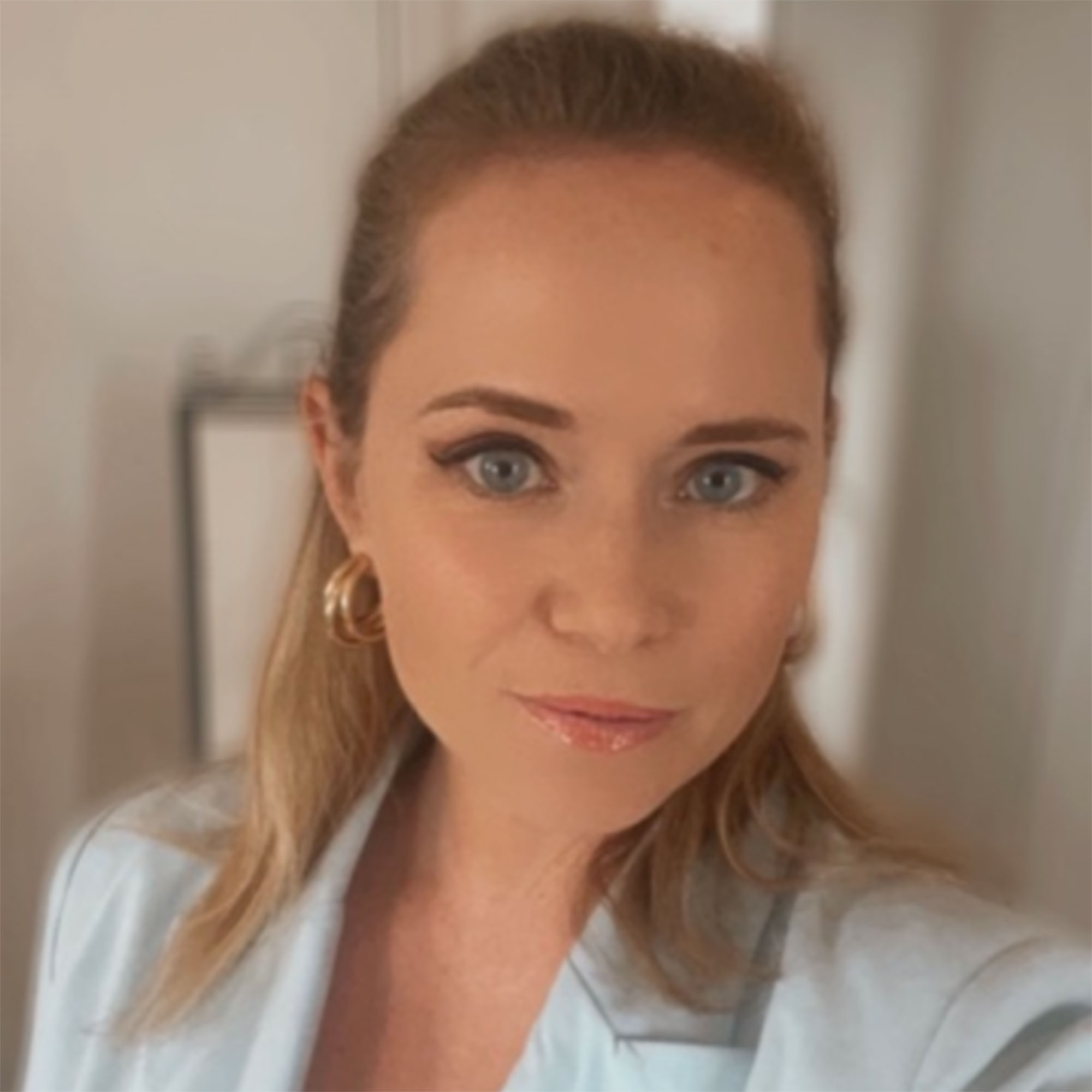 Thea Babington-Stitt is a Content Editor at Future. She has been an interiors journalist for nearly 10 years and has held positions at LivingEtc, Country Homes & Interiors and Homes & Gardens. Currently, she is writing for Ideal Home and Style At Home's websites and magazines.