Small back yard landscaping ideas – 10 modern yard designs for tiny spaces
Transform a tiny space with carefully-considered small back yard landscaping ideas – for layouts, creative planting and the right materials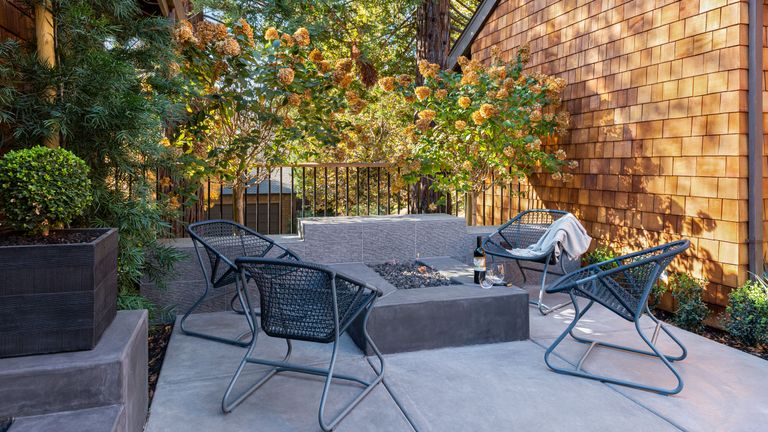 (Image credit: Kimberly Harrison / Kathryn MacDonald)
These small back yard landscaping ideas cover our favorite approaches for landscaping your garden – no matter how tiny it may be.
Choosing backyard landscaping ideas can be a herculean task. From finding the right contractor to budget breakdowns, there are so many items to consider to help make your outdoor space a great asset. But what happens if you have limited space?
For many Americans in major metropolitan areas – from San Francisco to New York City – a small yard is often the only option you have. With a mere 200 to 300 square feet to work with, how can you inject your personality and joy into the space, without feeling like you've jammed too many garden ideas in?
Small back yard landscaping ideas
We spoke with landscape designers and horticulturists across the country for their best small back yard landscaping ideas and hot tips on how to make your compact yard gargantuan in its scope – from the small to the large tasks that will make it your favorite 'living room'.
1. Create a small yard – surrounded by coastal plants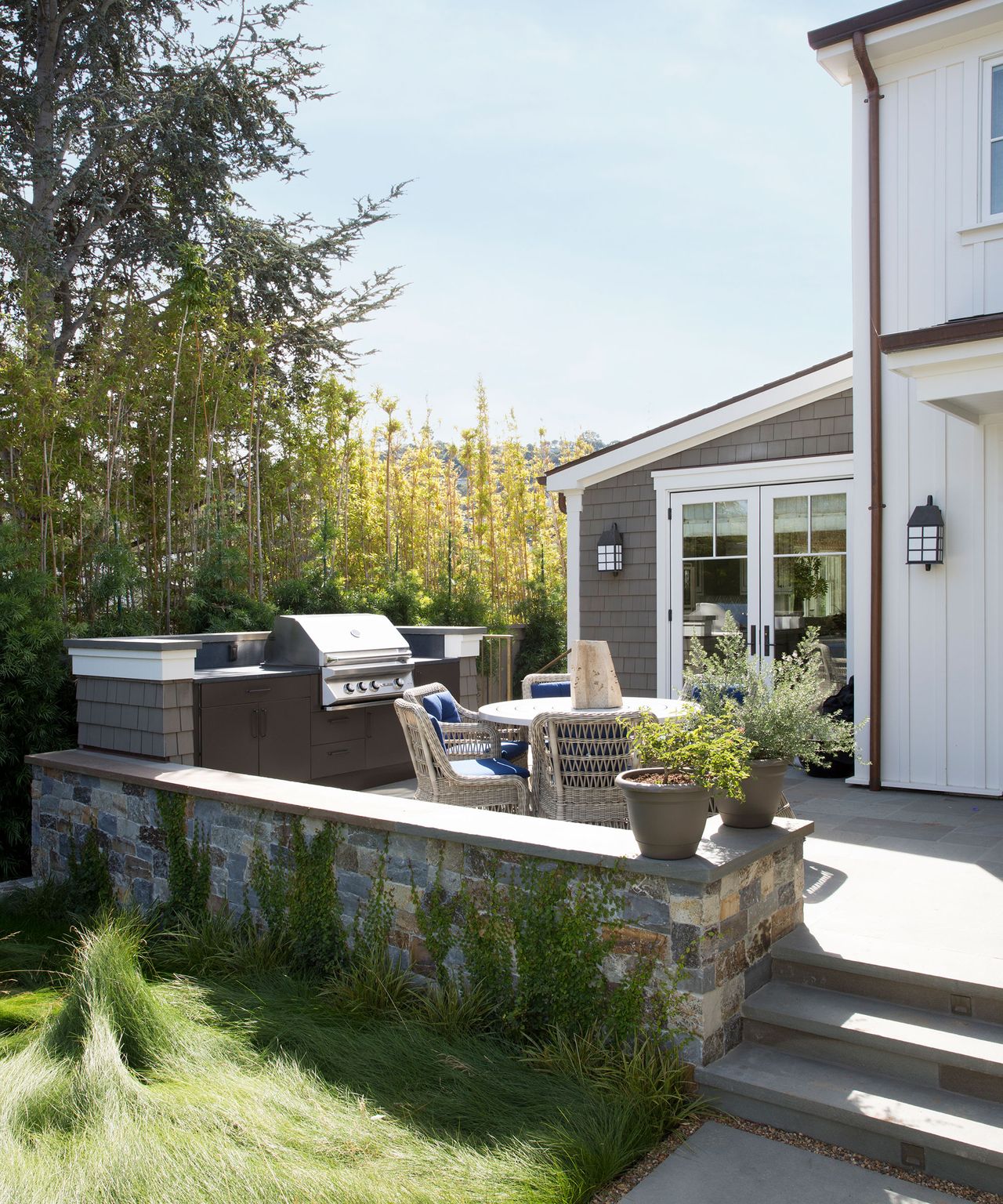 A breathe of fresh air, this garden project is located on the historic lagoon of Belvedere and boasts views of both Mt Tam and the surrounding lagoon. As this home is located by the sea, it was important for the design team at Julie Rootes Interiors to devise a space that would be at one with nature.
'If you live close to the sea, it's important to combine practicality with aesthetics,' says interior designer, Julie Rootes. 'Opt for sturdy wooden or stone patio ideas that will cope with sand, while exterior decking can also be a good option – teak wears well with age.'
The key to making a success of a garden on the coast is finding plants that will be happy whatever the wind, sea and sand throw at them. The windswept, salt-laden conditions that are typical in coastal locations, coupled with sandy, free-draining soil, mean plants that grow there have had to adapt to their harsh environment.
Silvery foliage, often covered in tiny hairs, reflects heat from intense sunlight and protects against drying winds; fleshy leaves retain moisture, and long tap roots can penetrate deep down in search of water – or why not plant ornamental grasses for a classic beach feel?
To emulate a true seaside plot, plants look good emerging from a mulch of gravel and pebbles. Not only does this immediately say coastal garden, it will also mean less weeding. Embracing self-seeders such as California poppies is another easy way to replicate that wild, coastal feels.
And remember that the best seaside gardens are never crammed with plants; instead there's plenty of space in between, creating a more naturalistic look.
2. Add interest to a long, narrow plot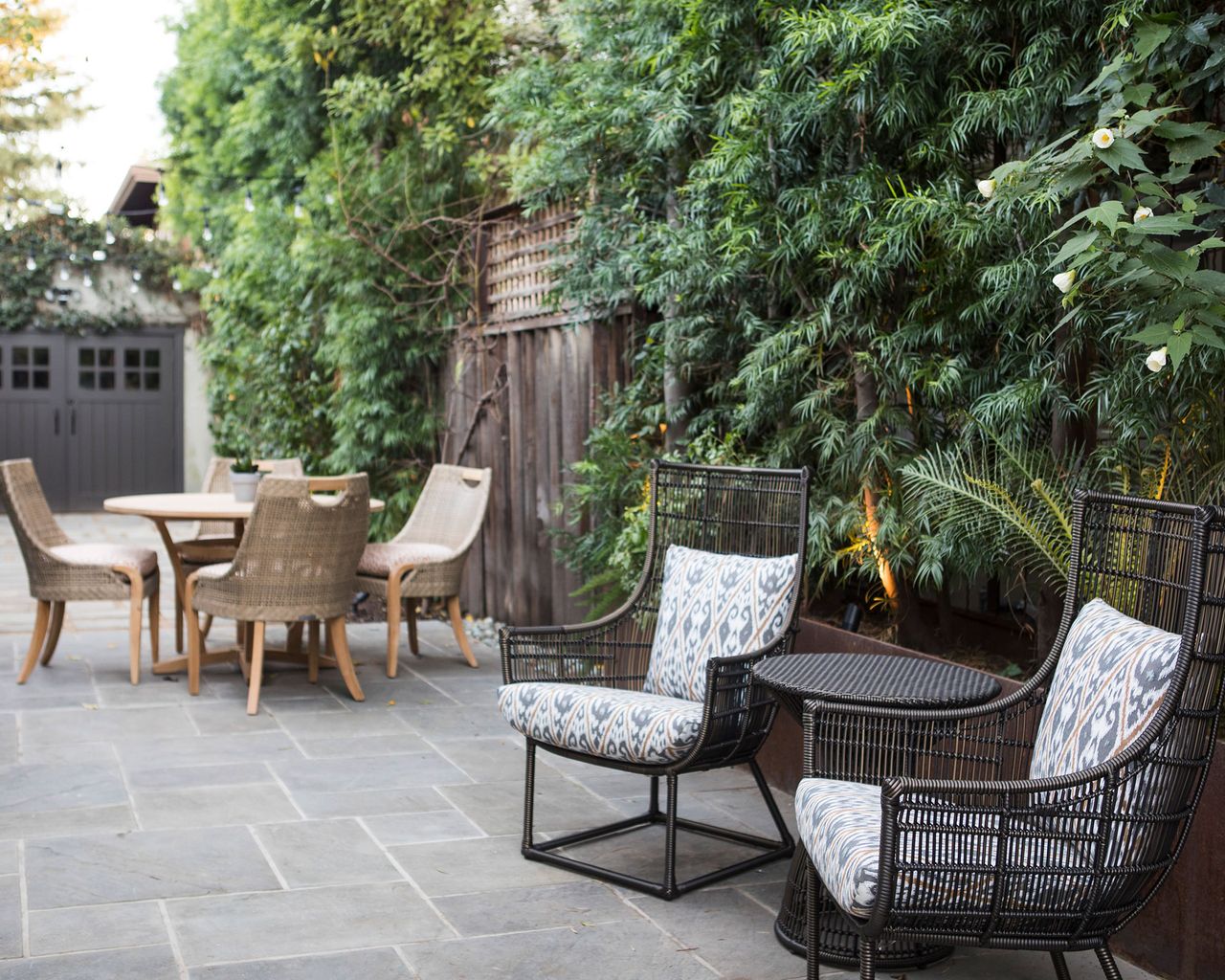 Are you looking for narrow or long garden ideas? Plenty of spatial awareness, spadefuls of inspiration and a good measure of design know-how will allow you to give a long and narrow plot a new lease of life.
Firstly, stand at the window and look out onto the garden – what would you like to be looking at? A back fence or a beautiful pot surrounded by planting? Consider the views from each window; it's so important.
If you are struggling for planting inspiration, consider vertical garden ideas. Mary Jo Fiorella of Fiorella Design has used shrubs and climbers together like this – planted against an underused fence – to help add further interest to this small back yard and create the illusion of space.
3. Design a deck garden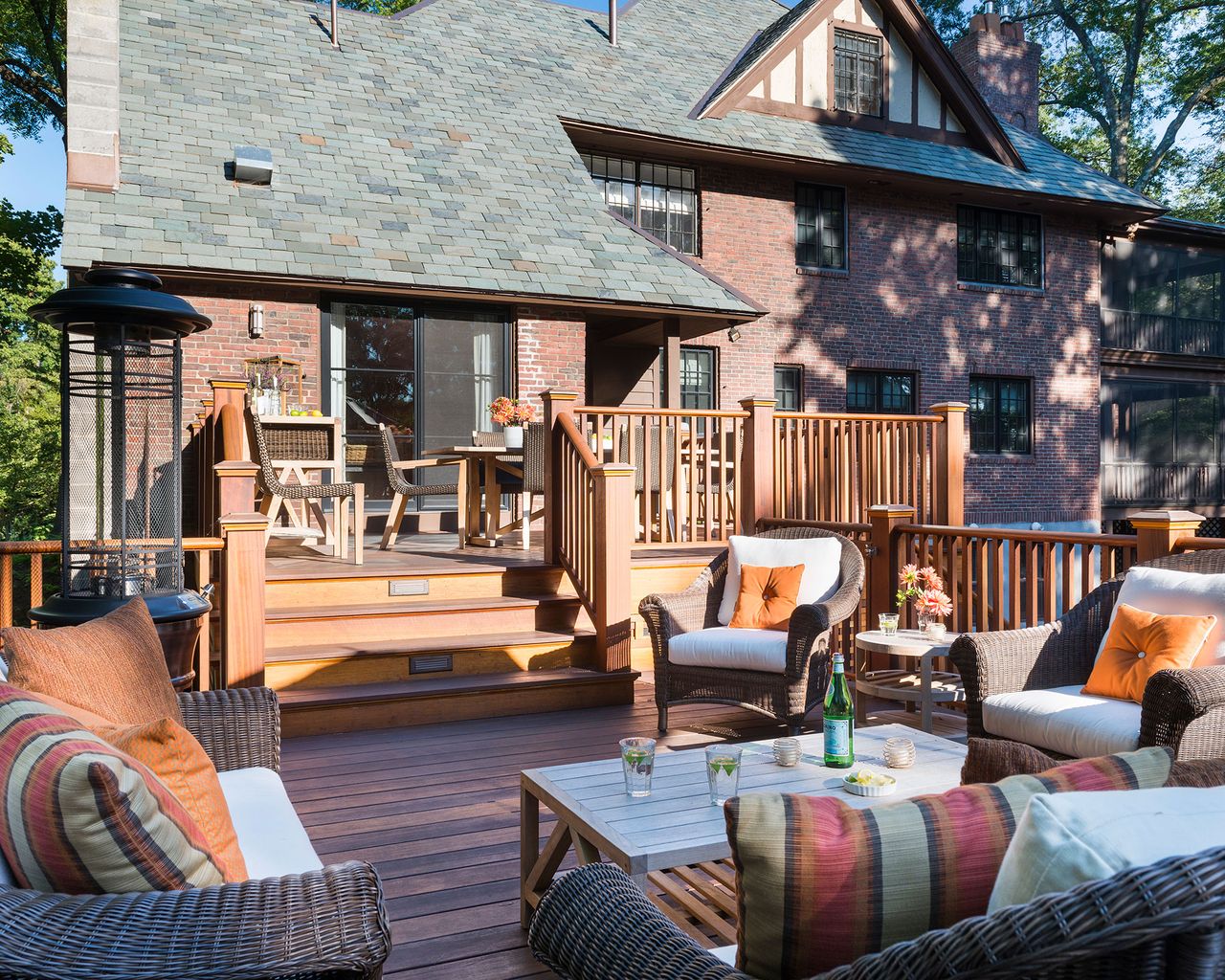 Deck ideas provide a versatile and cost-effective way to extend your living area into the garden. You can create an attractive space for garden furniture, and an outdoor entertaining area, without the need for heavy-duty building work, which helps to keep your landscaping cost low.
A deck creates the perfect focal point for low-maintenance small back yard landscaping ideas, and is cheaper and easier to use than paving. It's not a surprise that decking is now used so widely.
It can be widened into platforms or narrowed into paths to link different areas, binding together a garden's design. In small backyards, deck may even be used to replace lawn and paving, flowing in an unbroken series of paths, terraces and seating.
What's more, deck is a godsend for split-level areas, built up into a platform or stepped downwards to cope with a sloped backyard. Here, Vani Sayeed Studios designed an indoor-outdoor deck area that allows for separate 'rooms' – one for entertaining, and the other for lounging.
4. Install a water feature in a small yard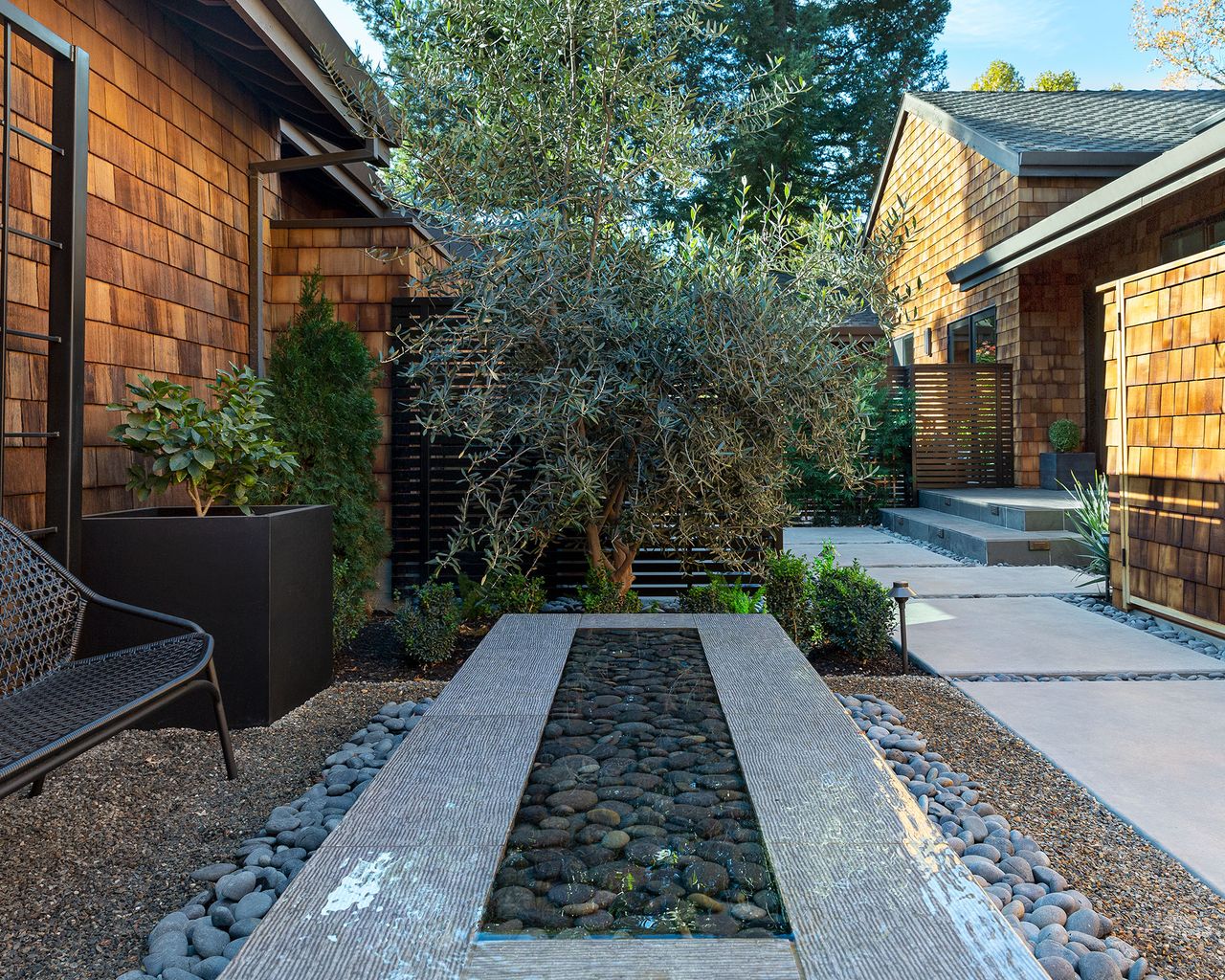 'No matter how small your outdoor space, a water feature can make a simple and effective addition to it,' says interior designer Kimberley Harrison.
Equip your outdoor space to be a place for relaxation and calm. For smaller gardens, choose a self-contained water feature, such as a bowl, bubbling sphere or a mini fountain, for a nod to Zen garden ideas that won't overwhelm the space. Water is recirculated, so they'll need minimum maintenance and they often come complete with a pump.
For something more spectacular, consider a fountain, cascade or even a water wall. But remember, larger water features will require more planning, plus they need a circulation system to keep the water moving and a filtration system to keep the water clean, and will often require professional installation.
When it comes to water features, placement is important, so think logistically. Avoid a too-sunny location that can encourage weed growth and site away from trees, as leaves could clog it.
You'll need electricity to power the pump, which must feature a Residual Current Device (RCD) to protect from electric shock. Keep pools and fountains covered if there are children around – a feature with no standing water is the safest option.
5. Make your small yard an extension of your home
Take it outside and make a statement in your garden with a more eclectic design, as Ashton Egbert and Kathleen Nixon of Arndt Design & Build have done so here.
The mother-daughter design team have taken a cramped and uninviting garden and remodelled it to extend the living space. Adding a table, chairs and quirky outdoor lighting ideas turns this once boring concrete rectangle into a low-maintenance space for all the family to enjoy.
Mirrors are great for creating a more spacious feel, so they are a clever addition to any small back yard landscaping ideas. Hang it on a wall or prop it on a potting table, and don't worry if the glass becomes mottled – it adds a rustic feel.
If you want to make a small garden look bigger, try using a well-positioned mirror to make a never-ending path. Choose from lightweight acrylic or tough mirror glass and make sure it is well-sealed against moisture.
6. Take it to the roof – or balcony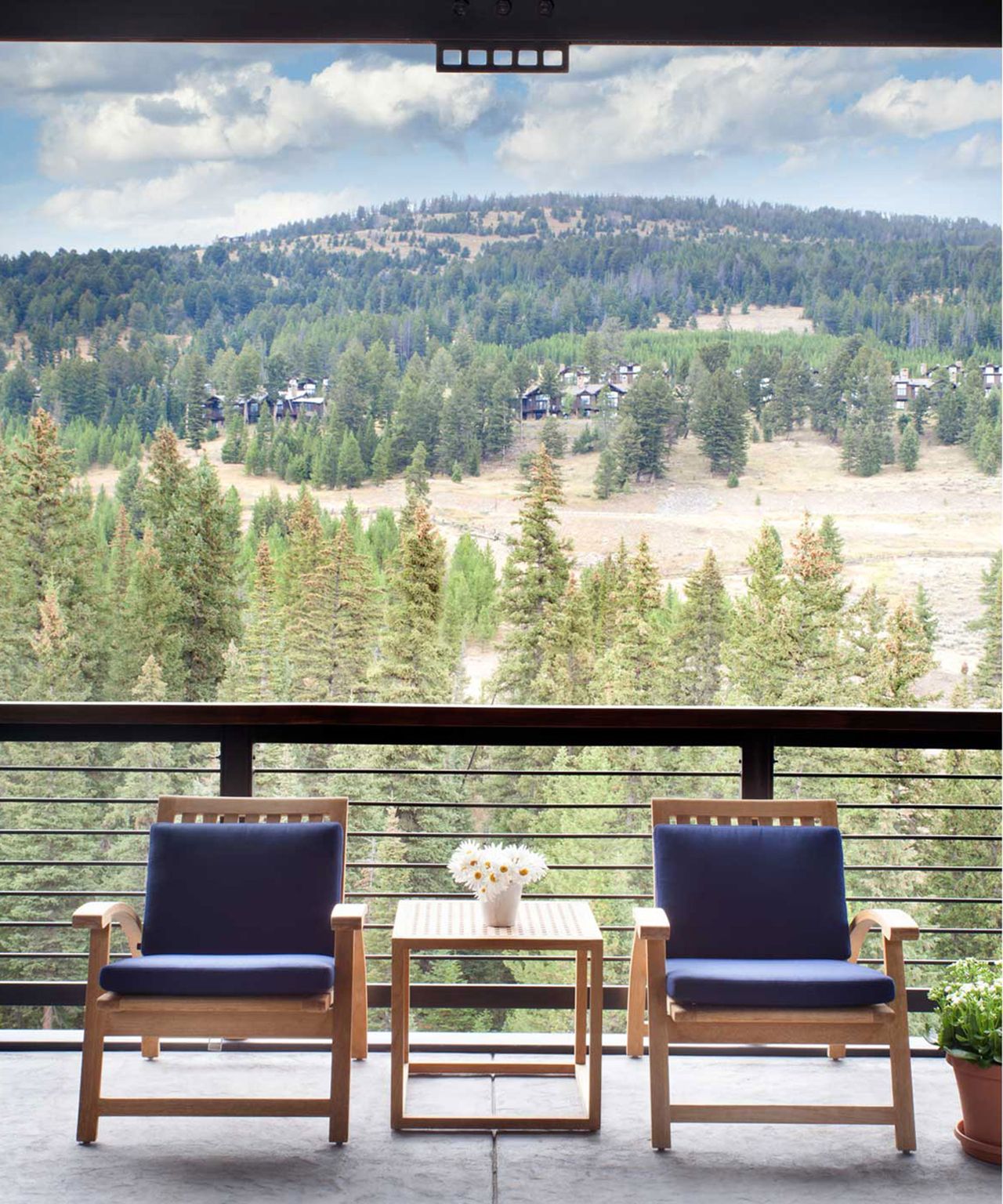 If your small yard consists of a balcony or small terrace, then it becomes all the more important that you get this outdoor space right, first time.
'You need to begin by thinking about what you want to use the space for,' explains Isabelle Palmer, author of The Balcony Gardener. 'Quite often, balcony gardens are incredibly tiny, so they're usually a place where you would sit and relax.
'You can also use a balcony purposely – to grow herbs or something to eat. Container gardening really comes into its own on a balcony or roof garden.'
In this instance, designer Elizabeth Cooper has opted to make the most of the views over Chestnut Hill – which is a beautiful old, residential neighborhood of Philadelphia. Here, a selection of outdoor chairs – laid out symmetrically – provide the perfect spot to enjoy a mid-morning coffee. Symmetry in interior design is often implemented by designers and architects alike to create smart-looking rooms – and it's perfect for small yard landscaping ideas too.
7. Use pavers to zone an area for entertaining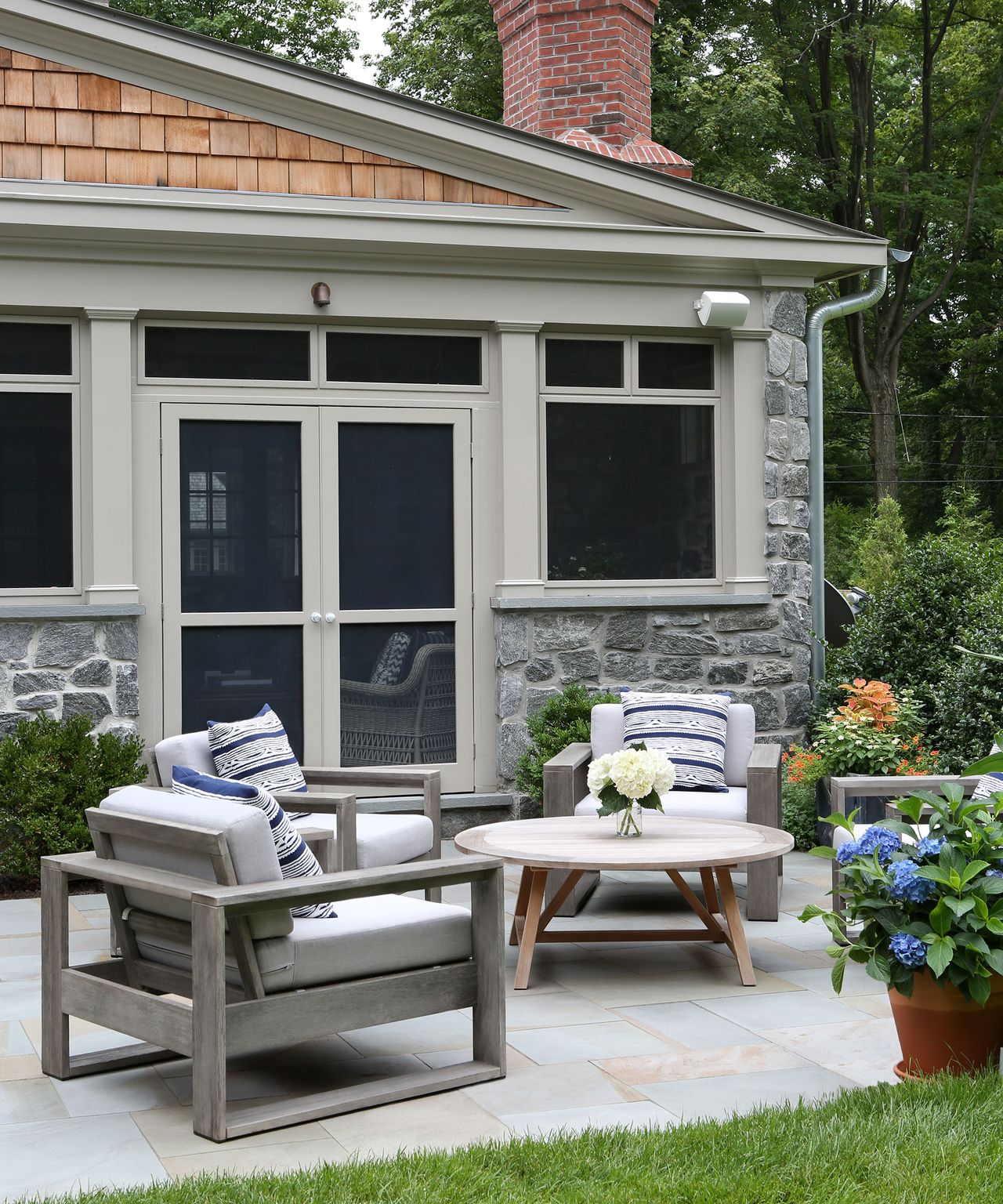 Don't get too carried away when planning your small back yard landscaping ideas. A carefully chosen palette of colors, materials and outdoor furniture is often the most satisfying.
However, this doesn't mean you can't be adventurous and experimental; just be mindful that trying to squeeze too much into a compact space will make it cluttered and decrease usability.
In this compact garden, interior designer Elizabeth Cooper has used garden zoning to create a cozy seating area – centered around a table – perfect for intimate conversation.
Earthy materials, such as clay pavers and timber, add warmth and charm, and age beautiful over time. For this garden 'room' she has used paving stones in a similar color palette as the property, to visually expand the space.
8. Embrace a sun-filled backyard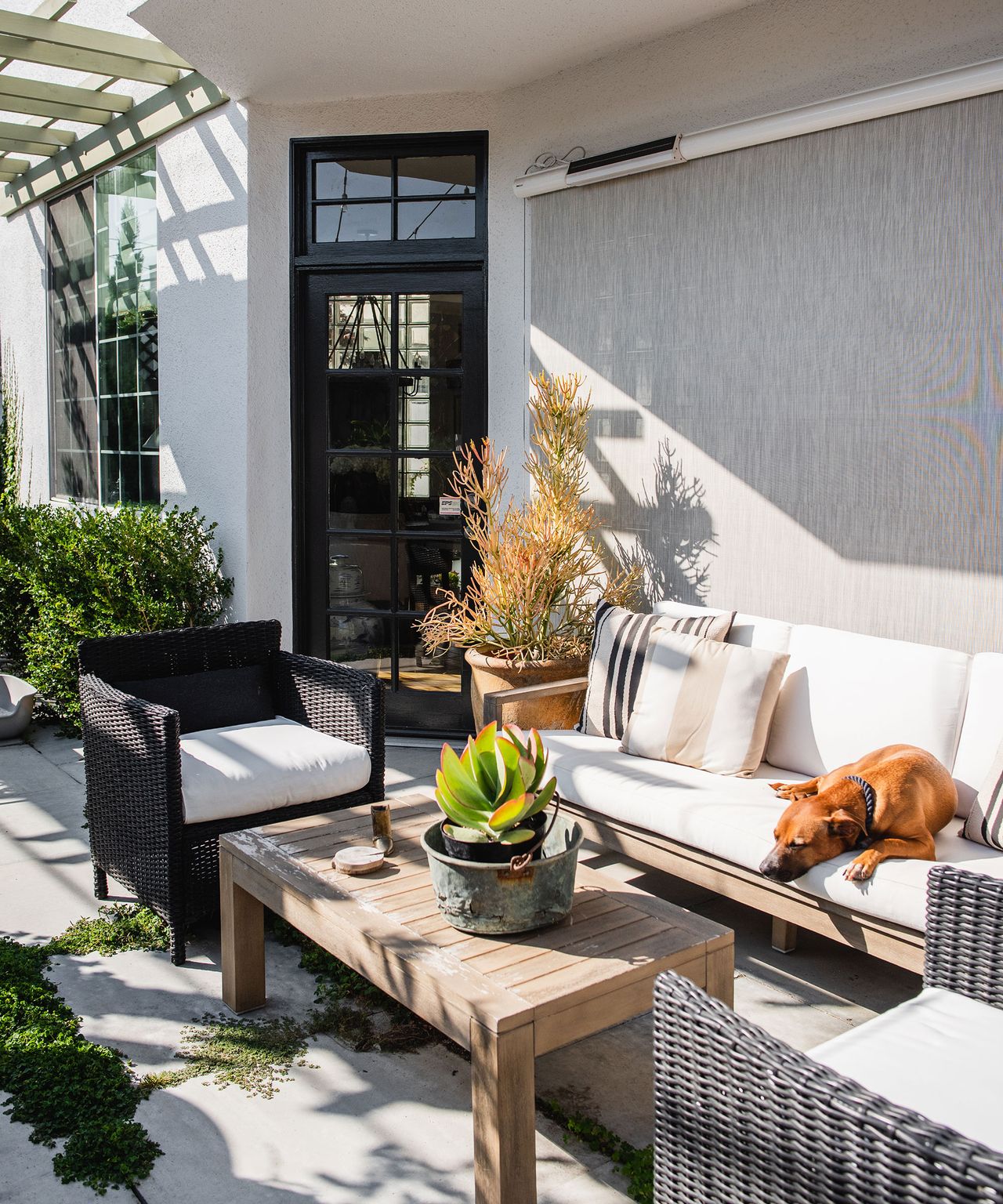 If you're determined to use your garden for as long as possible during the warmer months, a patio cover – such as a retractable awning – will help you shelter from both the late summer sun and the odd rain shower.
In the heat of the day, it's good to have a little shelter from the sun. Garden shade ideas can range from permanent structures, like pergolas, to more flexible solutions, such as a parasol or a shade sail, which can be fixed to walls, trees, fences or posts.
To truly make the most of a south facing garden, plan seating in the shadier areas where you can look out over a tranquil scene during long, hazy summer days.
9. Go for a wild garden aesthetic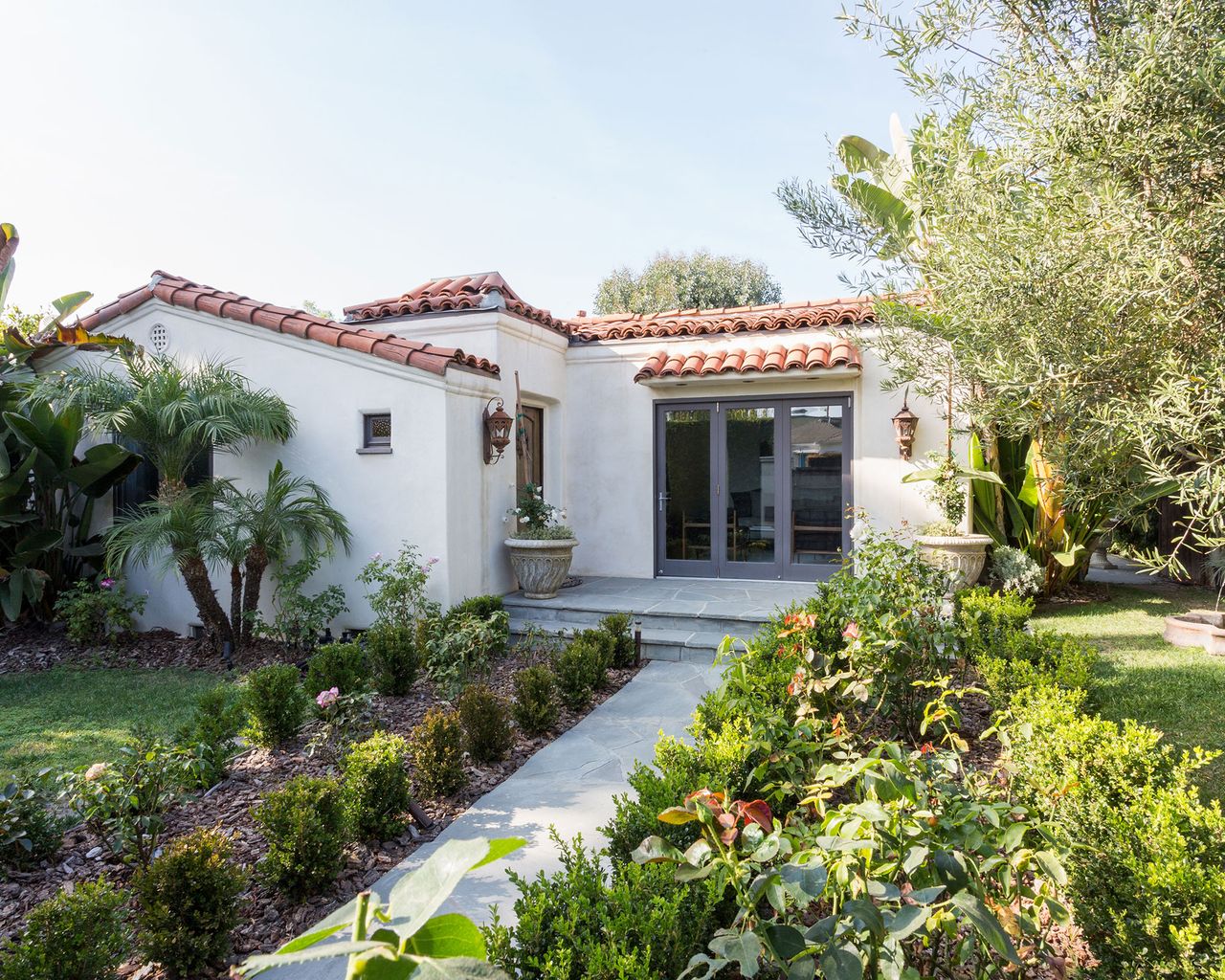 Small yards don't all have to be paved or decked. In fact, planting up a wild garden could just be what your soul – and yard – craves.
Here, Genna Margolis, owner of SHAPESIDE, has created a bold look with exotic evergreens, that provide low-effort drama and colorful interest all year round. Tree ferns of various sizes and glossy, informal mounds of pittosporum combine to form a stunning green tapestry.
Unsurprisingly, gardens can start to look ragged by the end of summer as many perennials begin to fade. An easy way to inject life into your flower bed ideas is to go tropical. Buying garden-ready plants will give your yard an exotic vibe for the rest of summer. It's an easy way to boost color and give your outdoor space another peak of interest that will last until the first frosts.
For an exotic look, don't feel restricted in your plant choice – simply look for plants that have the characteristics of the tropics. In a border, aim for a mix of heights, with tall, towering plants like bamboo and bananas providing a protective canopy for lower-growing plants such as ferns and hostas. Dense planting will help create the feeling of a jungle, and flowers such as cannas, dahlias and crocosmia will give your border vibrancy.
10. Combine planting with paving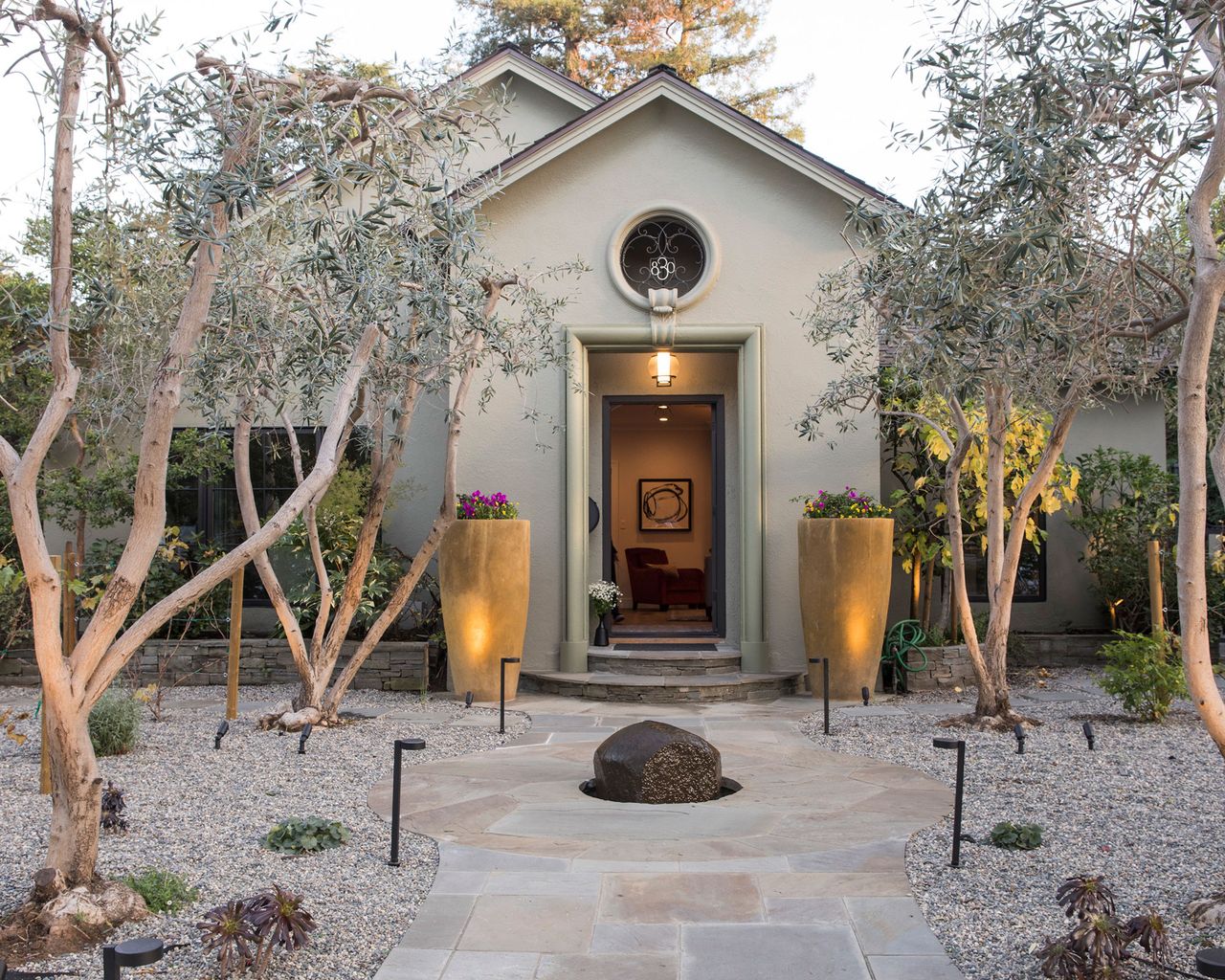 Olive trees will bring a touch of the Mediterranean to your yard, and they're hardier than you think. Perfect for small spaces, mature olive tress – with gnarled trunks – will allow to eye to see beyond the immediate space.
'The key to creating a successful garden of this type is to choose the two main elements – planting and paving – carefully,' says designer Mary Jo Fiorella. 'This space makes use of natural materials to create a calming oasis in a big city.'
Plant these drought-tolerant plants along a paved pathway to create a welcoming archway inspired by Mediterranean gardens, as Fiorella has done here. Then pour yourself a glass of wine, sit beside your olive trees, and bask in the sun while imagining that you're holidaying on the shore of the Med.
How do you design a small backyard?
'How you design a small backyard is entirely dependent on what you need your space to do for you – not just physically but also emotionally,' says garden designer Laura Morton, of Laura Morton Design in West Hollywood, California.
The designer has been landscaping gardens since 2000, and believes that emphasizing horticulture in your yard – no matter the size – is vital for your happiness and longevity. 'Each garden is going to be a patch where I can improve the ecology, plant life and green space,' she says. 'I do a lot of what I think of as complete transformation.'
For her clientele in the Los Angeles area, Morton aims to encourage her clients with her horticulture knowledge, generating functional but beautiful green space. Through her work, she aims to support bird life and pollinators, incorporate native plants into the design, and add in fruit trees and even a small vegetable garden. 'No matter the size, the space is the connection, both to the people and to the environment,' she said.
How can I make my small yard look nice?
Making a small yard look nice is easier than you might think. Despite its small square footage, there are many elements to consider when planning how to landscape your backyard.
Isa Hendry Eaton, who launched Isa Bird Landscape Design in her hometown of Santa Barbara in 2013, released a book on designing small gardens in February 2020 with lifestyle writer Jennifer Blaise Kramer, and has a 'special love' for small gardens, because the details matter so much.
'There's no space to waste,' she says. 'In big gardens, you can try and fail many times, but you really don't have that luxury when designing small garden ideas.'
Even with space constraints, however, Eaton believes back yards should be treated as an extension of the home. Much like the home's interior, a small yard should focus on function over form, and you should have an idea of all the things you want to do in the space and how you want to feel there.
Jennifer is the Digital Editor at Homes & Gardens. Having worked in the interiors industry for a number of years, spanning many publications, she now hones her digital prowess on the 'best interiors website' in the world. Multi-skilled, Jennifer has worked in PR and marketing, and the occasional dabble in the social media, commercial and e-commerce space.
Over the years, she has written about every area of the home, from compiling design houses from some of the best interior designers in the world to sourcing celebrity homes, reviewing appliances and even the odd news story or two.