How much does landscaping cost? Experts reveal the true cost of landscaping
Experts reveal the landscaping cost to create the backyard of your dreams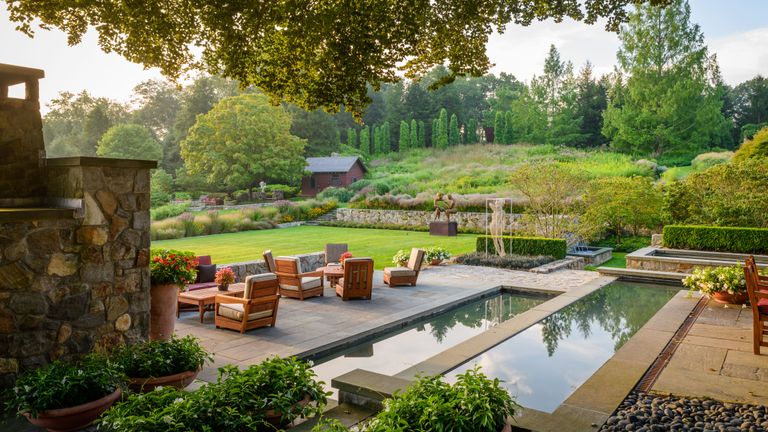 (Image credit: Rob Cardillo Photography)
The number of us researching backyard landscaping cost has rocketed in the past year – with an 80% increase in searches for 'backyard landscaping ideas on a budget' alone.
This all leads to the imperative question: how much does backyard landscaping cost?
How much does landscaping cost?
The answer, of course, is far from simple – but here, we attempt to breakdown the costs of landscaping so that you can make a judgement on where to spend and where to save in your backyard landscaping ideas.
How much should I budget for backyard landscaping?
Knowing how much to budget for backyard landscaping comes with an acceptance that costs vary wildly depending on what garden ideas you want for your home.
In our experience, backyard landscaping costs from between $3,000 to $250,000. This, of course, depends on the size of the backyard, the materials used and the complexity of the design. Simple, small back yard landscaping ideas are always going to be more budget friendly than large or complex designs.
However, spend up to 10% of your home's value on landscaping and you will be getting the cost-to-value ratio about right.
But how does that landscaping cost breaks down, and what do you need to consider when budgeting for your backyard landscaping?
Consider the cost of materials
Jose Chavez – who has owned and operated Chavez Landscaping and Concrete (opens in new tab) in the greater Santa Rosa, California area since 1995 – says backyard landscaping costs are based on the customer's needs and the materials associated with those needs.
'The materials are a big part in why the cost is so high,' he says, pointing out that it's not just the hard landscaping but extras, such as outdoor speakers, integrated lighting and luxury pool ideas, that add to the costs dramatically.
Include shipping costs
With many materials now being imported from retailers in India, Singapore and other countries, the cost for the consumer is also modified to account for shipping – and this is something you should incorporate into your budget when planning how to landscape a backyard.
According to Home Guide's 2021 (opens in new tab) estimates, that could lead to new landscaping installation costing anywhere from $3,000 to $15,950, depending on the yard size and amenities.
Chavez estimates even higher costs, citing projects he's worked on going up to $250,000 – but believes that high price tags often correlate more with amenities over square footage.
Include costs for extra elements
As much as these items can quickly add up, it's important to remember the fun and beautiful aspects of a backyard's landscape, on top of its functionality.
As we've seen with recent trending patio ideas, an outdoor seating space is a basic element – but adding an extravagant water fixture or a bocce ball court could tack on hundreds if not thousands of extra dollars.
'I can't stress enough the importance of taking care of the functional aspects first –and then start thinking about flower bed ideas and your favorite plants,' Linda Greenberg, principal for Linda Greenberg Landscape and Design (opens in new tab) says.
Search terms such as 'geology,' 'swimming pool,' and 'fire pit' all saw increased popularity via Google Trends in the last year as well — and each of these options require different budgetary considerations.
Include custom landscaping – but beware the extra costs
'Custom landscape is when the price goes up – especially stonework, because it's so time-consuming,' Chavez explains.
Consider how your site will add to costs
Backyard landscaping costs will be higher if your space is difficult to access, needs extensive clearing or has awkwardly sited drains. Sloping garden ideas can also be more expensive to landscape.
Additionally, city dwellers are likely to pay a premium that those outside of urban areas can largely avoid.
Know that more experienced landscape designers will cost more
Additionally, connecting with a more seasoned landscaper could drive up cost – but could also provide a better-quality experience and longer-use space. Greenberg has over 25 years of experience as a horticulturist and a landscape designer, so her services may differ from those of a newer expert.
'If chances are good, some of the best investment decisions a client makes will outlive me,' she says.
Consider what you are willing to spend
Ultimately, each yard is going to require different things, and thus different budgets. Chavez says: 'We design according to the budget of the client – normally, they do have a budget they want to work with and a designer's estimates,' he says.
'I've landscaped yards that are considered large that have cost substantially less than yards a quarter of the size – what matters is what the client wants.'
He recommends that interested clients first work with a designer to better assess items they need – horticulture, outdoor furniture – and then assess what fun items they can incorporate in with the remaining budget – bocce ball courts, outdoor kitchen ideas, and the like.
'It boils down to what customers want – on price points, that's all dependent on what they would want to spend,' he says. 'It is luxury, really, that you're willing to pay for.'
Linda Greenberg agrees: 'A smaller space can be as expensive as a larger garden, because each one has so many moving parts, from the functional aspects like soil preparation, electrical grading, drainage and lighting.'
How do I estimate the cost of landscaping?
To estimate landscaping cost, you need to consider the following:
The must-have elements you can't live without – whether a dining area, outdoor kitchen or garden room.
Material costs – your choice of landscaping materials, from stones to lighting, can elevate or lower your budget, and this is where you can choose to spend or save.
Plant costs – it is always worth investing in a few larger, mature plants or trees to anchor your scheme. Although more expensive in the long run, they can be a wise investment because you will need fewer smaller plants, the cost of which can add up quickly.
Design and labor costs – asked for fixed costs in these areas to stick to a budget, and keep a tight record of any extras you ask for.
Furniture costs – if you are landscaping, it's likely you will need to reserve some of your budget for furniture.
As we said above, the cost of landscaping a garden will vary, depending on what you want to achieve from the space. If you have a firm budget in place and know exactly what you want, you can tailor the garden to suit spending limitations, for example opting for deck ideas over more expensive stone pavers.
Linda Greenberg agrees. Typically, she meets with her clients for one to two hours at the initial meeting, with hourly on site consultation and/or design fees costing $175 per hour.
With the majority of her work in the Charlotte, North Carolina and Charleston, South Carolina region, Greenberg notes that most clients have an HOA (opens in new tab) or ARB (opens in new tab) that shows specifics on the work allowed for individual homes.
Is landscaping worth the money?
Landscaping is worth the money if you get the cost-to-value balanced. This means spending up to around 10% of your home's value on your garden ideas, to be as sure as you can be that you haven't over-spent and that you will recoup a good percentage of your spend when you sell your home.
However, whether landscaping is 'worth the money' shouldn't be looked at merely as a financial transaction. Linda Greenberg agrees, noting that it's imperative that the client understands the investment an updated or renovated landscape offers not only to the value of the home, but to their lifestyle. Garden zoning, for instance, can provide spaces for tranquil escapism or sociable outdoor dining.
'We've seen an incredible uptick in time spent at home. With a backyard, and even front yard, offering reprieve from the working hours, it only makes sense to extend your living space to the literal living land outside your home's doors.'
Grace Stetson is a full-time housing and affordability correspondent based in the Santa Cruz region of the greater San Francisco Bay Area. Alongside her full-time work, she has worked on many topics in the housing realm — from data-driven real estate stories to lifestyle-focused how-tos — for publications including Apartment Therapy, Homes & Gardens, and Real Homes.