How to create a Mediterranean garden – plant and design inspiration
Create a Mediterranean garden using drought-resistant and low maintenance plants for a relaxing design that conjures up memories of sun-drenched holidays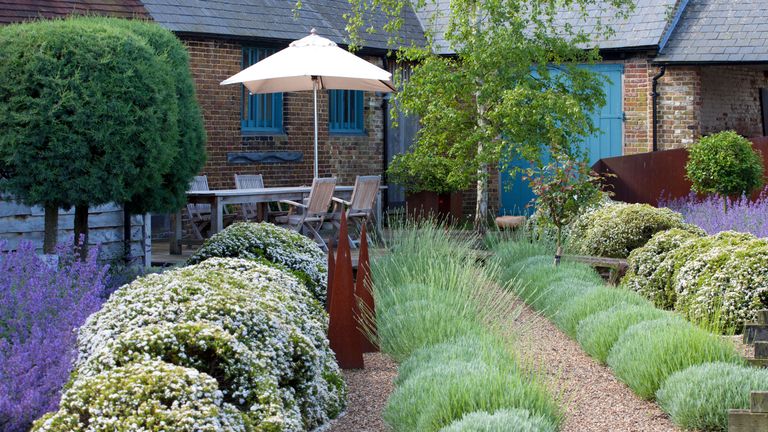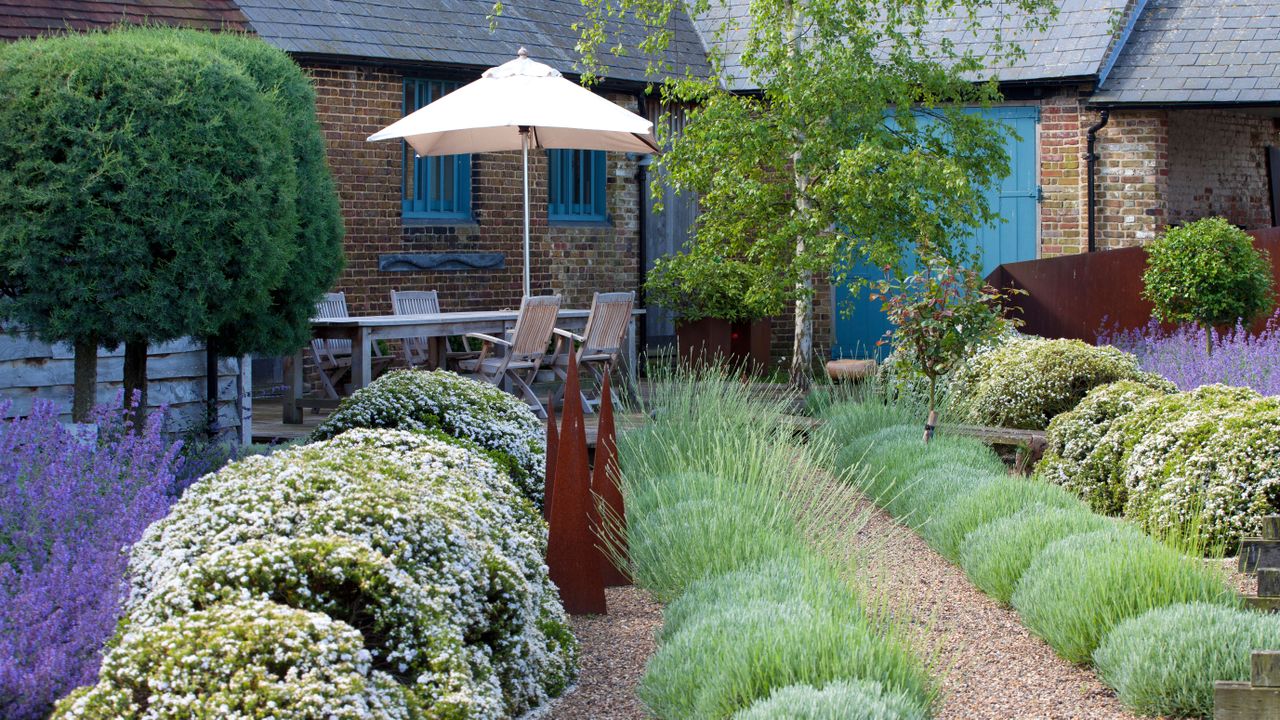 (Image credit: Leigh Clapp)
Recreating the feel of a Mediterranean garden is easier than you might imagine. Plus, with predictions of continuing hot, dry summers, making our gardens more resistant to drought is increasingly important.
A Mediterranean garden brims with low maintenance, fragrant and architectural plants; gravel and paving takes the places of time-consuming lawns, and seating areas and potted plants abound, so incorporate some or all of these elements into your Mediterranean garden ideas to recreate the feel of sunnier climes.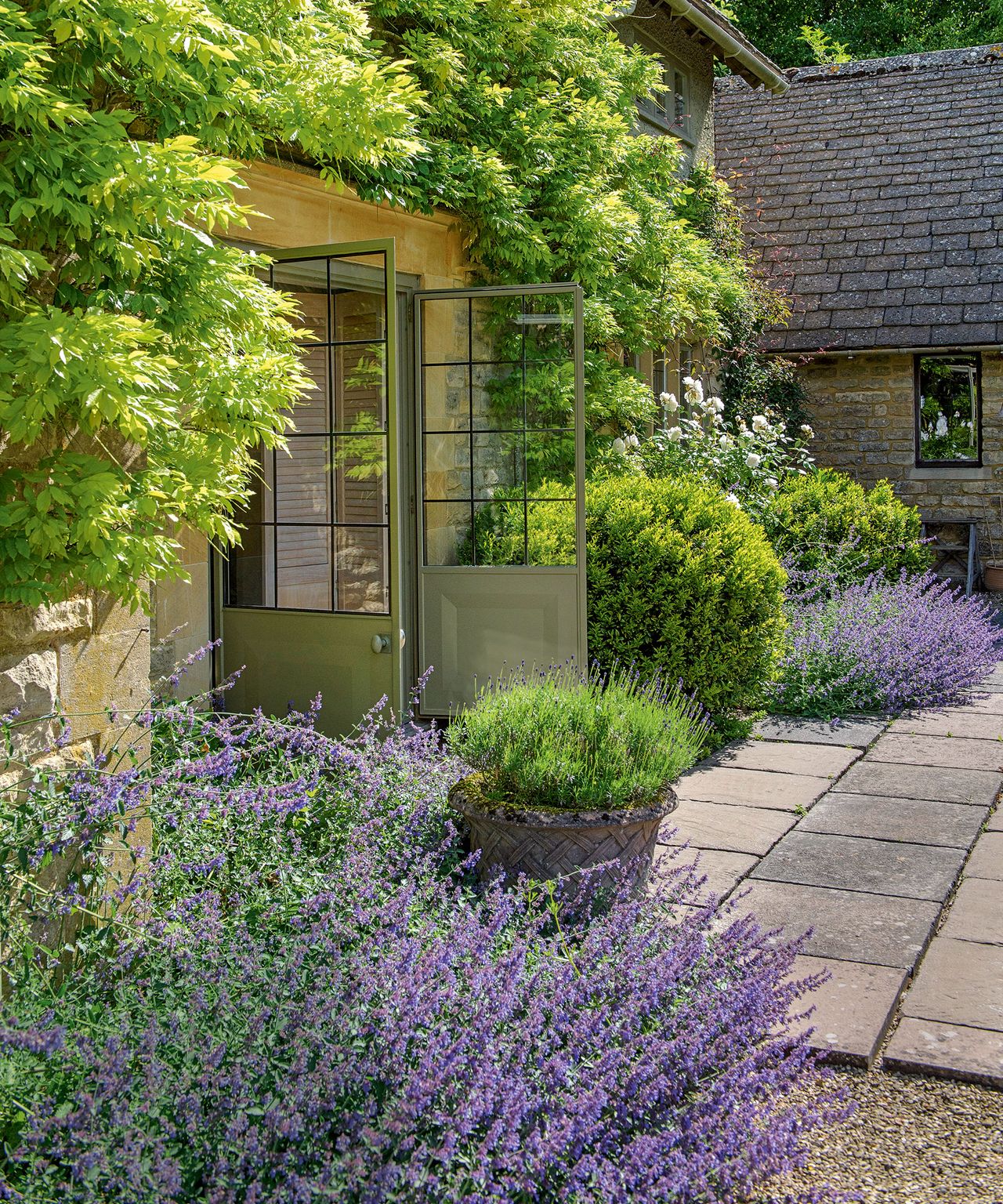 Mediterranean garden plants to include
Evoking the feel of a Mediterranean garden involves experimenting with an array of different plants.
You needn't live in Italy or Spain to incorporate herbs, shrubs and flowers from such countries into your flower bed ideas – you can recreate the feel in a sheltered spot in a border or on the patio.
Many drought tolerant Mediterranean plants are those you'll have on a list for planning a dry garden. In late winter in a Mediterranean garden you'll often see acacias and citrus trees in their full glory; in spring crocuses, ornamental grasses, annuals and cistus take centre stage, and into the summer it's bougainvilleas, pelargoniums, scented herbs, oleander and olive trees that we're most familiar with. Then, in fall, there's a smaller burst of beauty with the likes of cyclamen and fall crocuses, with rosemary often flowering the year round, and architectural palms adding height and Riviera glamor.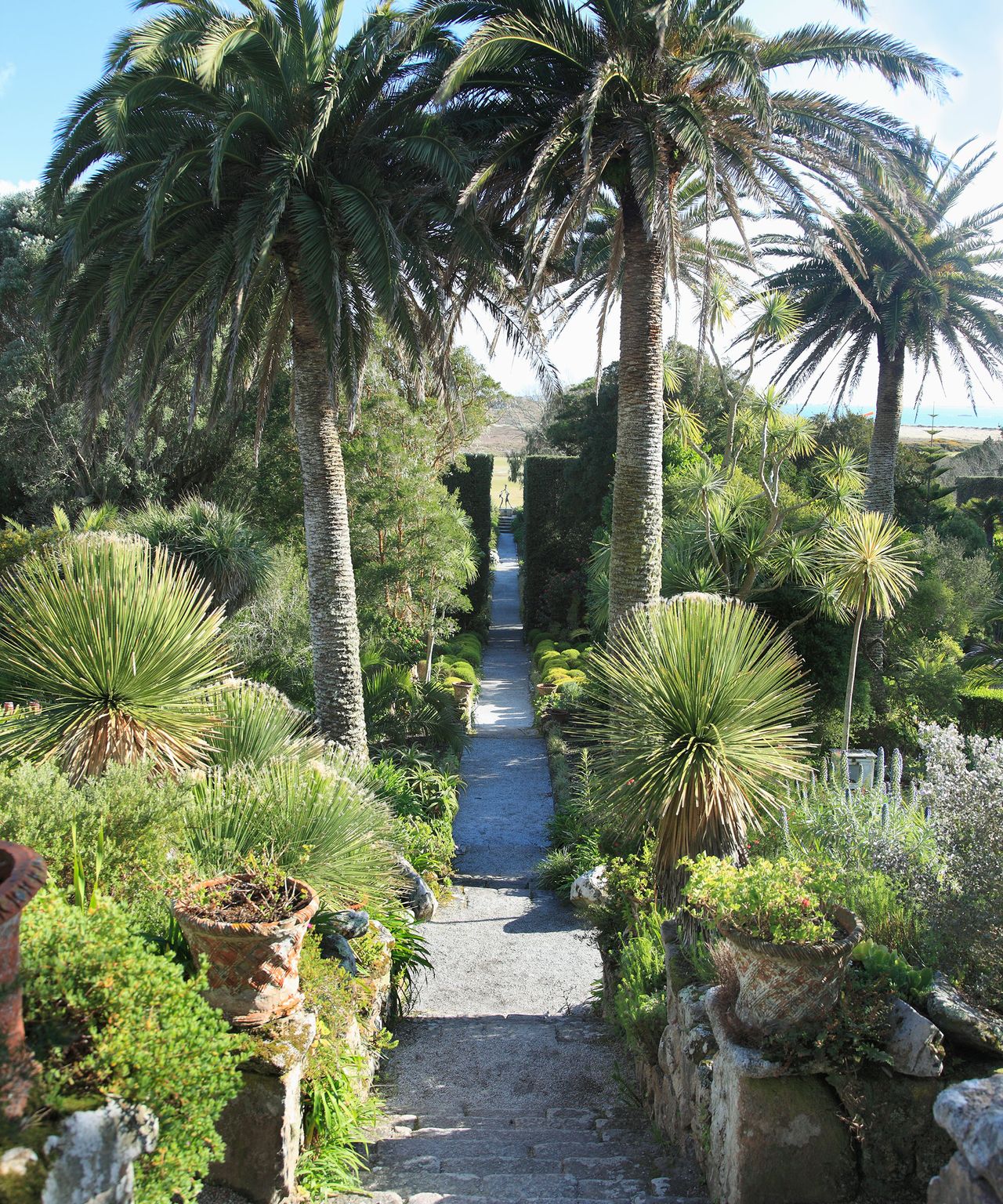 Classic plant choices for a Mediterranean garden include:
Olive trees
Citrus plants
Agave
Agapanthus
Lavender
Rosemary
Herbs
Pelargoniums
Bougainvillea
Palms
Cypress
Yuccas
How to plant in a Mediterranean garden
Spring is an ideal time for planting a Mediterranean garden, when the soil has warmed up a little, and to avoid the root rot after wet, cold winters.
Select the right plant for the right place, considering both soil and aspect. The closest you can mimic a plant's native growing conditions the more chance it will thrive with little maintenance required.
'Mediterranean plants have evolved to enjoy long, sunny days, where excellent light quality is key, so avoid planting in the shade of large trees,' advises Peter Jones, garden manager at RHS Wisley.
Peter offers the following tips for planting:
Mediterranean garden plants prefer free-draining ground, so don't plant them on a site that is waterlogged in winter
Consider how frost sits in your garden
A south-facing site that enjoys sun all day, protected from the elements, is ideal
Mediterranean plants generally prefer nutrient-poor soil, so avoid feeding the soil
Prune and clip rosemary, lavender and cistus after flowering to avoid them becoming woody and leggy
Many drought tolerant plants will form communities of plants and a key to this style is repeating planting of just a few choices, rather than lots of variety.
Mediterranean garden design ideas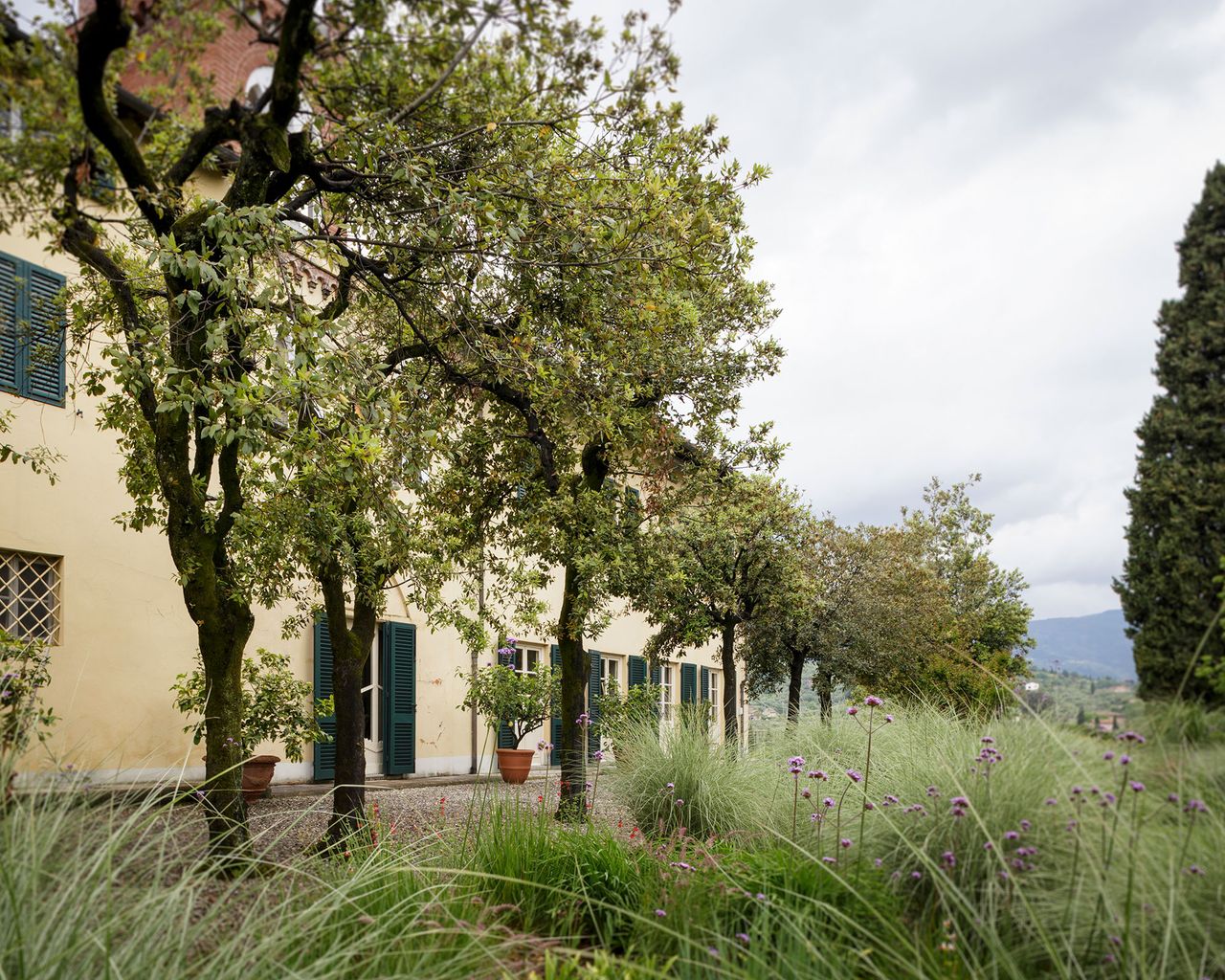 A sunny slope is ideal for creating a Mediterranean garden style as the drought tolerant plants prefer free-draining soil, but any sunny area will work well, with a gravel mulch to keep the crowns dry and to provide an appropriate background.
Consider evoking romantic, windswept sand dunes by weaving a wooden boardwalk through your Mediterranean garden. Take inspiration from rock garden ideas and edge with rugged rocks and gravel to reflect the coastline. Plant ornamental grasses and shrubs that mimic the wild scrubland found in arid areas.
Make the most of dry soil conditions by planting a combination of Stipa gigantea (golden oats), Santolina chamaecyparissus (cotton lavender), nepeta (catmint), salvia and small hebes.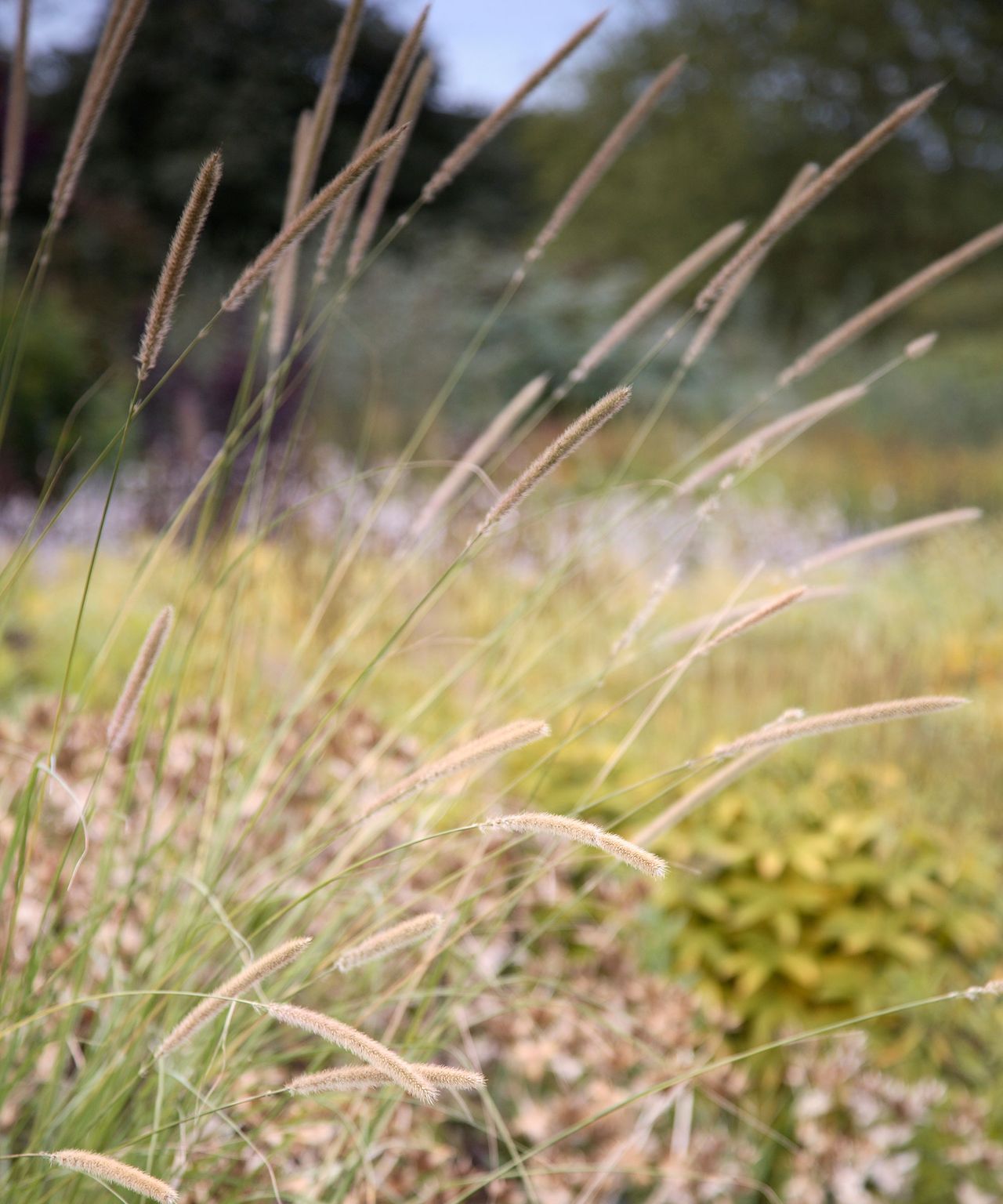 Landscaping a Mediterranean garden
Gravel and warm-toned paving are typical of Mediterranean garden style, with terraces created for outdoor dining, and pergolas added for shade, over which climbing plants are trained.
For a small garden idea this is a practical option, dispensing with high maintenance lawns and instead using gravel or paving as the basis for the design, softened with ground cover and an assortment of containers.
Create relaxed, informal spaces, surrounded by textural, fragrant planting and rustic detailing. It takes some planning to create this weathered atmosphere, with structure and planting working together.
Terraced levels with stone walls, natural stone paving and limewashed walls are also common, or inject some color and pattern with mosaic details in walls, step risers or patios.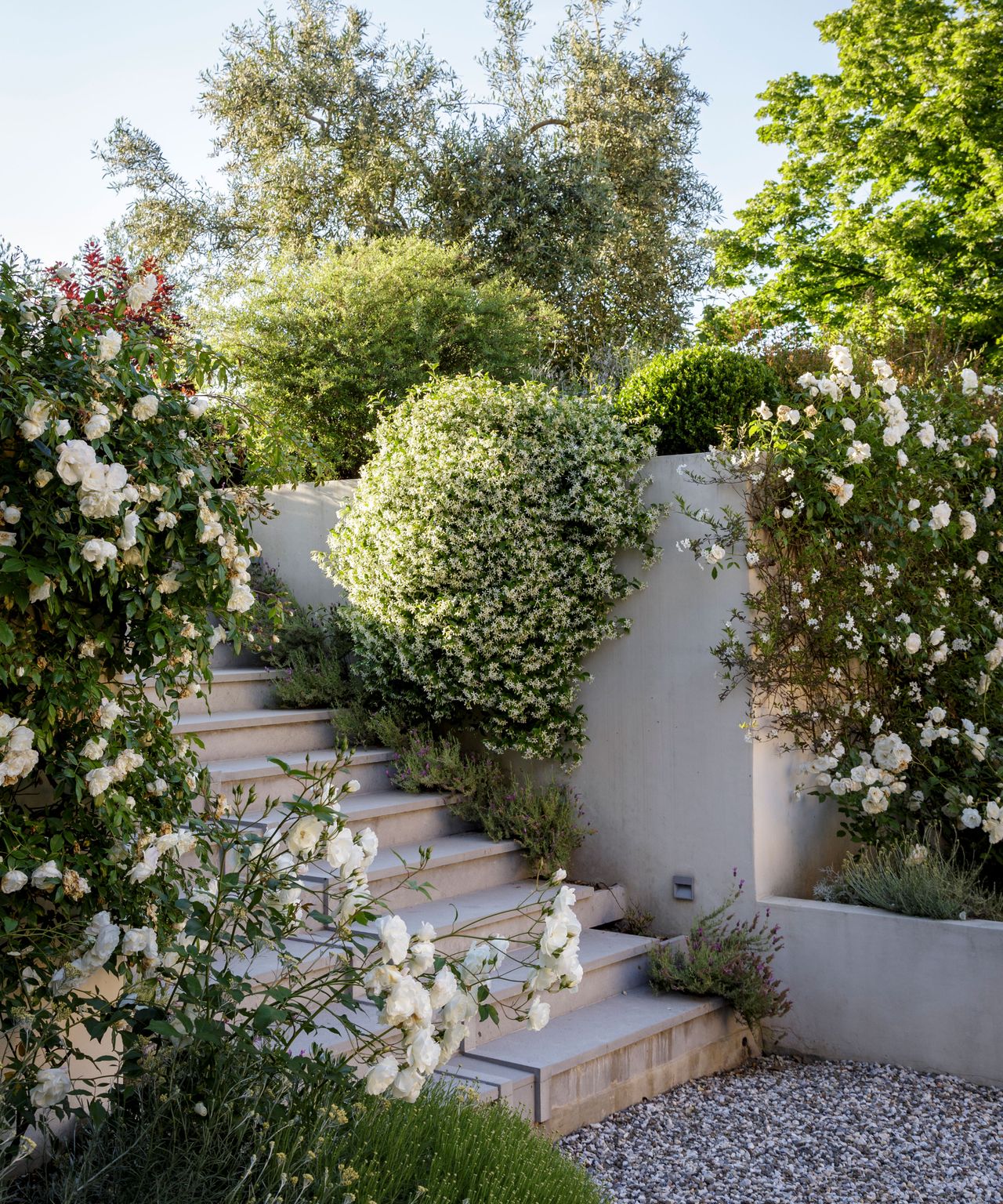 To avoid plants self-seeding in a gravel garden, place landscape fabric over the soil and cut crosses to insert the plants, then add a layer of gravel between. Choose a gravel color to complement that other elements and materials of hard landscaping in the garden.
Using pots in a Mediterranean garden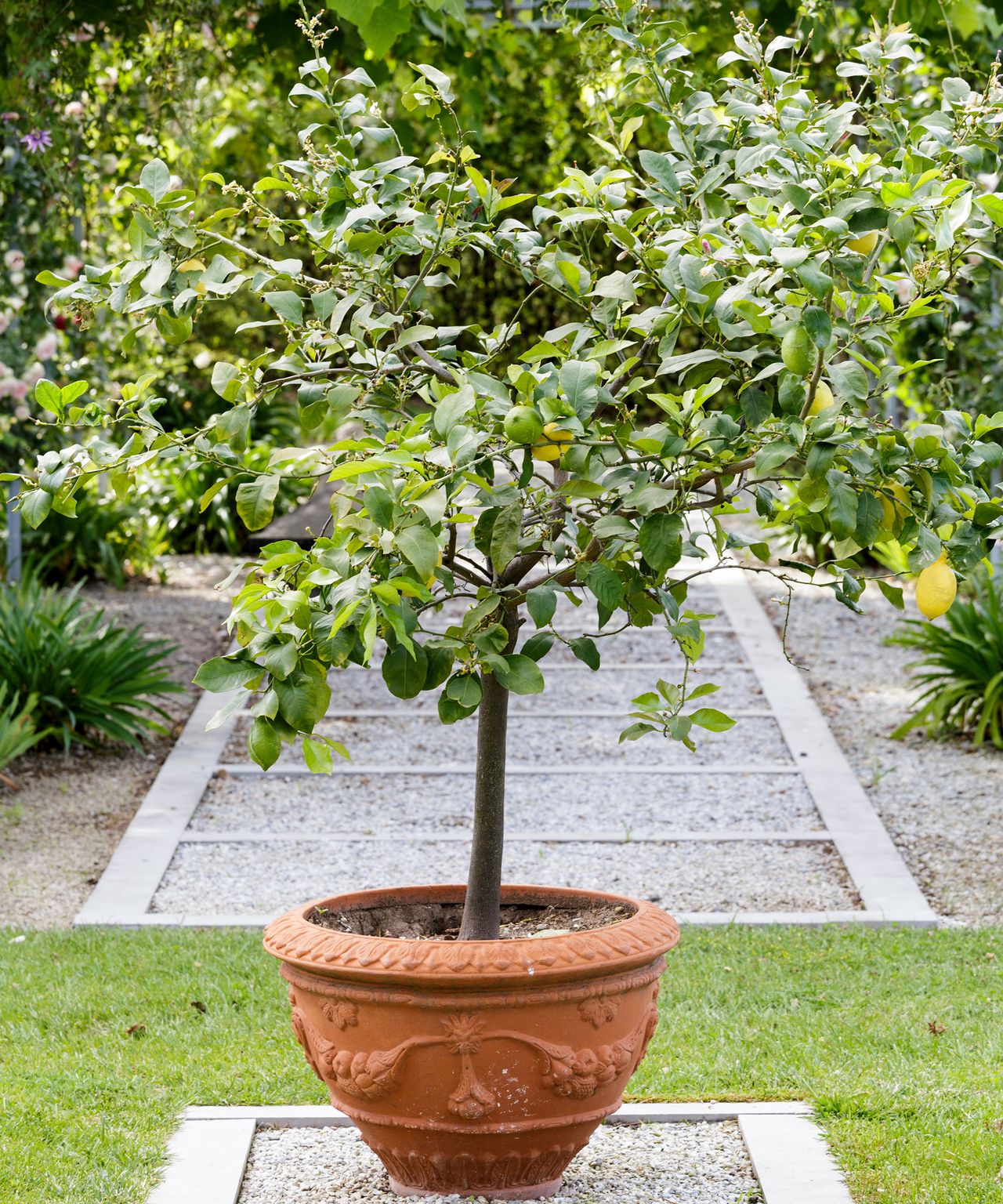 Terracotta pots filled with zingy, vibrant flowers, citrus trees or architectural palms or yucca plants are hallmarks of a Mediterranean garden.
Include containers in various sizes, smaller pots for lining walls and displaying in groups, and large, oversized containers to make a statement as part of your courtyard ideas.
Ensure any containers have good drainage and fill the bottom of the pots with crocs or stones before adding the compost to aid drainage.
Position the pots in a sunny, sheltered area of the garden, and water only when the compost feels dry. The tender plants can then be moved indoors for winter if you live in cooler climates.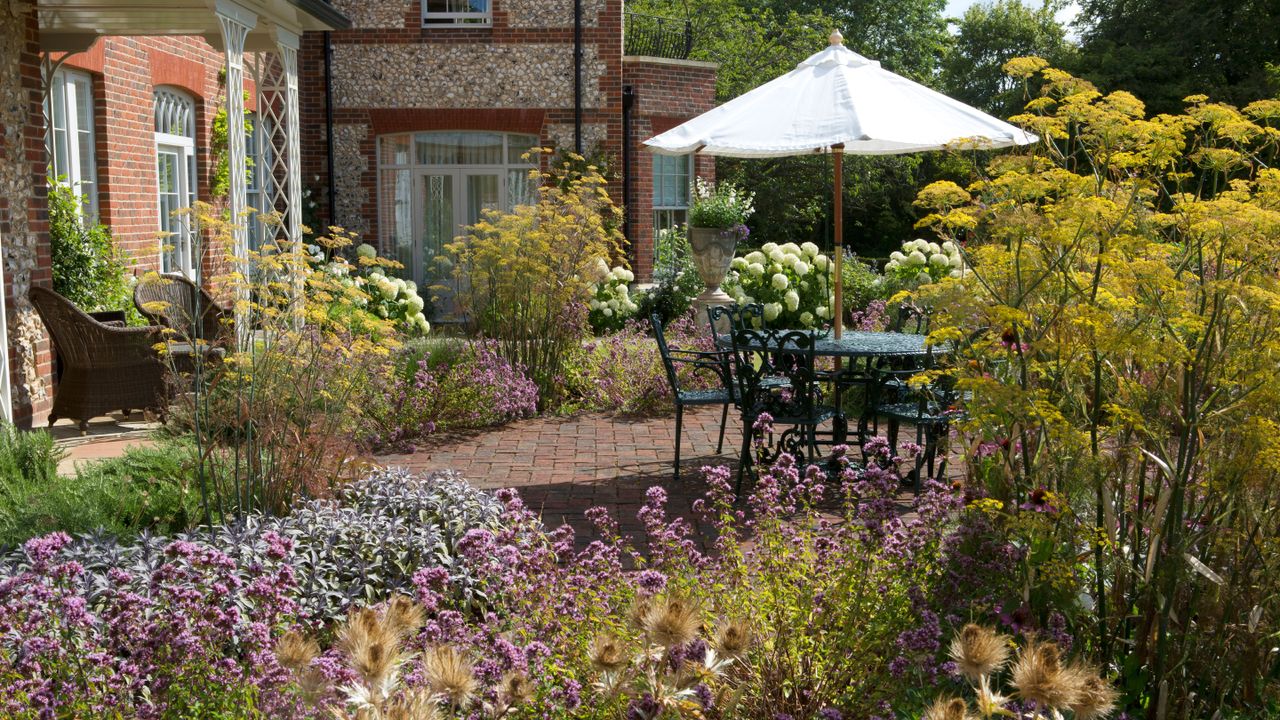 What is a Mediterranean garden style?
Mediterranean garden style refers to the garden features of countries that surround the Mediterranean sea – such as Spain, France, Greece and Italy. Some plants that are grown in the Mediterranean are genuine Med natives, while others are from similar climates in California, South Africa or South America, but all are adapted to the Mediterranean climate.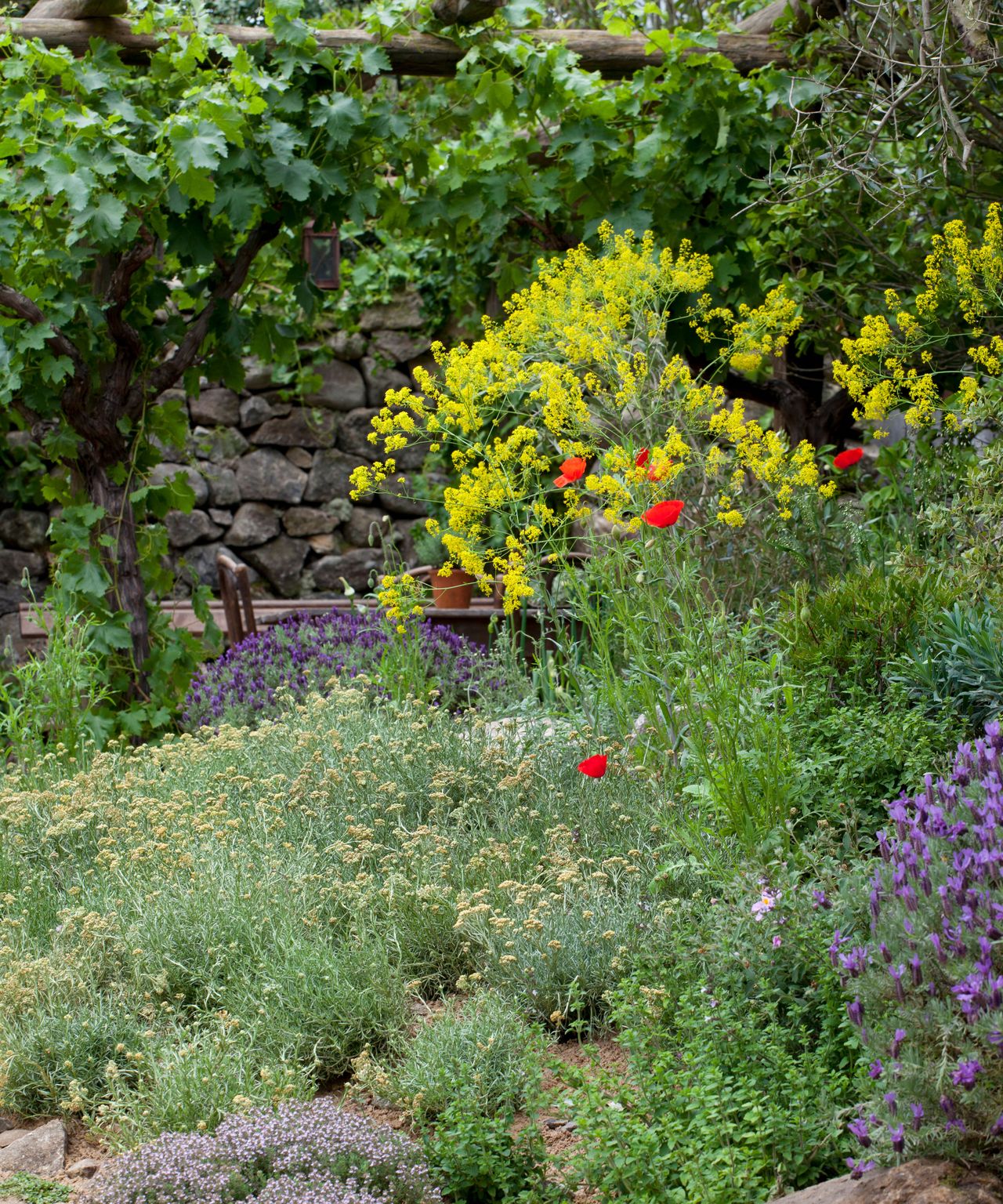 In the wild Mediterranean, plants enjoy damp and relatively mild winters followed by dry, sunny summers. Many grow through the winter, flower in the spring, set seed then take a break.
In a Mediterranean garden, most plants enjoy sunshine and good drainage and, although they need winter moisture, they hate winter sogginess. Many, especially bulbs, appreciate dry – even parched – summer soil.
What plants grow in a Mediterranean garden?
There are many options for plants that grow in a Mediterranean garden. Many of the plants you see in these summer hot spots will grow quite happily anywhere if given a sunny, sheltered spot and soil with good drainage.
And as climate change starts to have an impact on gardens, more and more areas already have similar growing conditions – low rainfall, summer sunshine and dry winters – to those in the Med, making plants native to this area ideal for a hosepipe-free plot.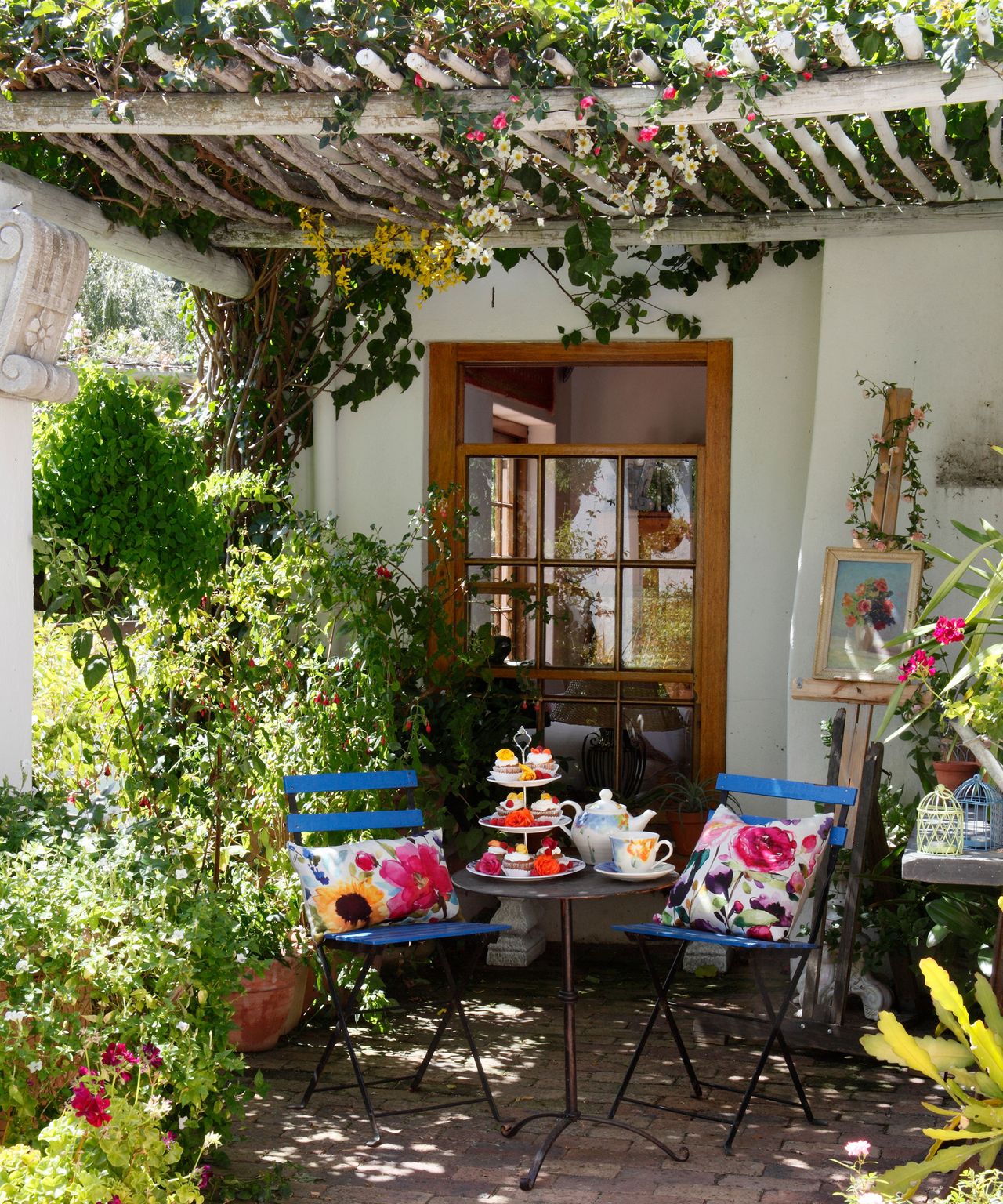 A few simple terracotta pots – the classic choice for Mediterranean garden containers – planted with colorful pelargoniums and freshly-leaved succulents will recreate the spirit of a Greek balcony.
Or you could transform a sun-baked seating area into an Italian-inspired terrace, surrounding it with herbs like oregano, thyme and bay. Add a pergola, then plant scented climbers or grow a vine – the leafy canopy will also provide welcome dappled shade.
How do I make my garden Mediterranean?
Creating a Mediterranean garden is easier than you might think. If you have room to spare and a mild location with free-draining soil, you could easily mimic the style.
Use a tree, such as an olive or a hardy palm as a focal point, then add shrubs and perennials, such as the Portuguese laurel, euphorbias and genista. Plant fragrant flowers like jasmine and lavender – as their perfumes are released, they'll conjure up happy memories of sun-baked escapes.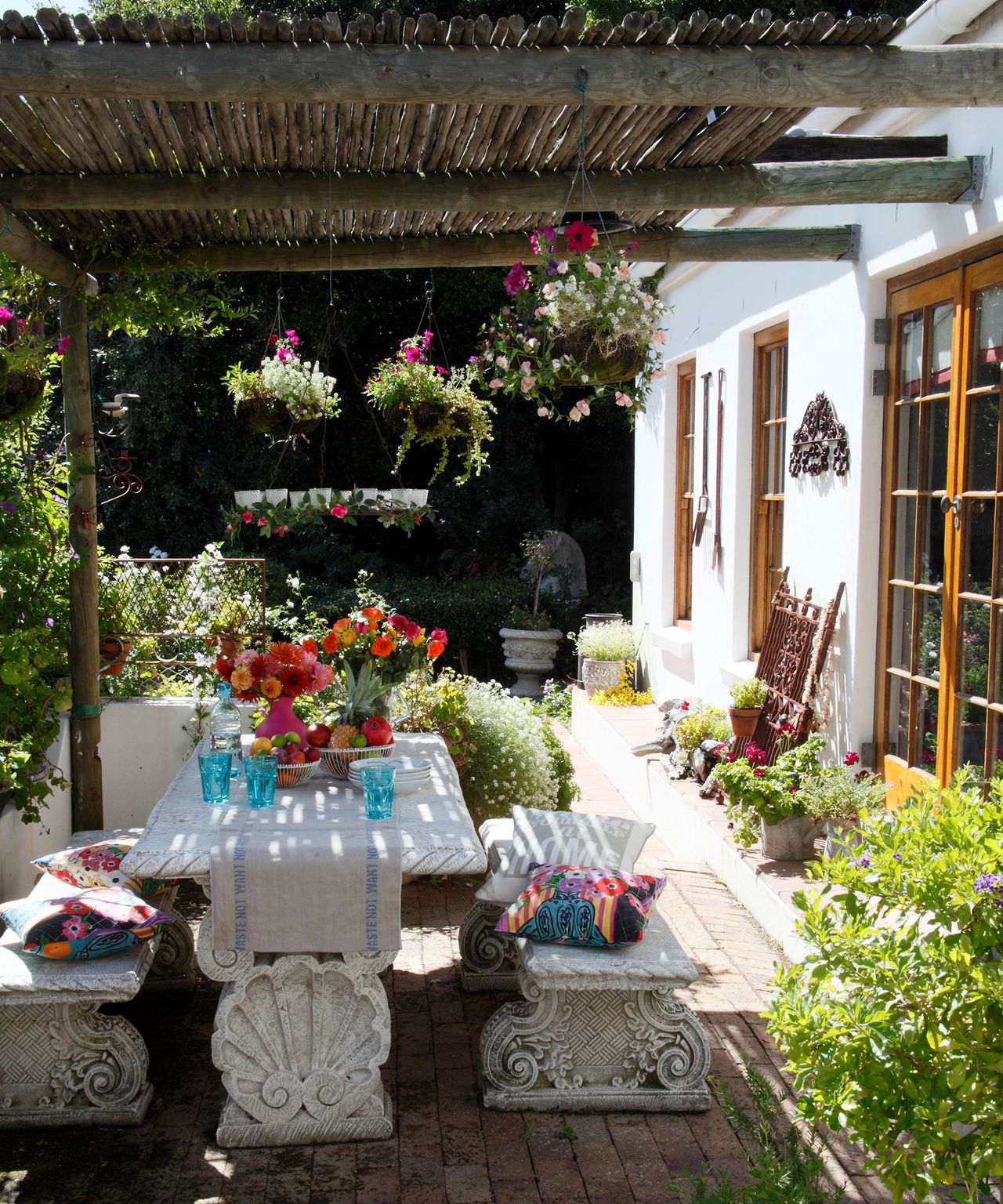 Mediterranean winters tend to be cold and dry, so native plants can be surprisingly hardy. But when prolonged cold is combined with wet, they will suffer. If your soil isn't naturally free-draining, be sure to dig in plenty of grit; alternatively, consider building some raised beds to improve drainage.
Growing these plants in containers is another option, particularly if you have heavy clay soil, or live somewhere with high rainfall. Pots also have the bonus of being easily moved under cover in fall.
Whether you simply want to add a touch of the Med or embrace its planting wholeheartedly, Mediterranean garden ideas are surprisingly easy to create.
Rachel is senior content editor, and writes and commissions gardening content for homesandgardens.com, Homes & Gardens magazine, and its sister titles Period Living Magazine and Country Homes & Interiors. She has written for lifestyle magazines for many years, with a particular focus on gardening, historic houses and arts and crafts, but started out her journalism career in BBC radio, where she enjoyed reporting on and writing programme scripts for all manner of stories. Rachel then moved into regional lifestyle magazines, where the topics she wrote about, and people she interviewed, were as varied and eclectic as they were on radio. Always harboring a passion for homes and gardens, she jumped at the opportunity to work on The English Home and The English Garden magazines for a number of years, before joining the Period Living team, then the wider Homes & Gardens team, specializing in gardens.