How to plan a dry garden — ideas for landscaping and plants
Wondering how to plan a dry garden? Choose Mediterranean style planting and gravel for a low-maintenance choice that's eco-friendly too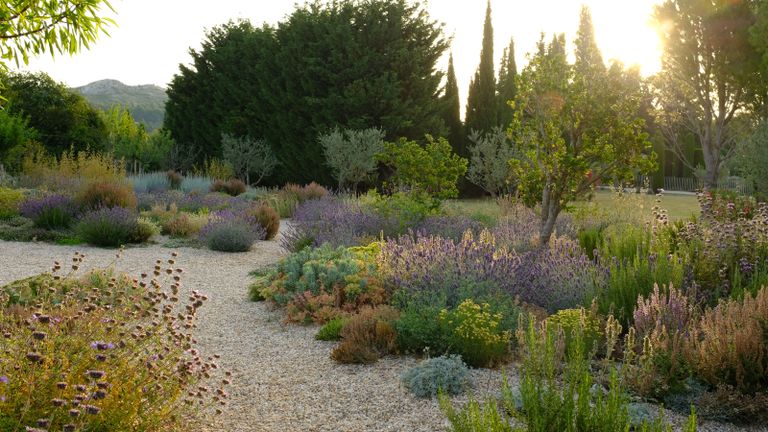 (Image credit: James Basson)
Ever wondered how to plan a dry garden? A dry garden is one with free-draining soil that suits Mediterranean-type planting to withstand dry conditions.
Creating a dry garden is easy to do, looks good and requires less maintenance than traditional flower bed ideas.
It taps into the sustainability trend too, saving water by using drought tolerant plants and mulching with gravel.
Choose plants that naturally occur together in hot, dry regions as you can be confident they will look right together.
'Broadly speaking, dry garden planting tends towards the more short-lived species so this should be embraced,' says garden designer Jane Brockbank. 'Have fun with annuals and self-seeders.'
As for the eco-benefits of 'dry' garden ideas, these include less watering, feeding, weeding and mowing. A dry garden also provides a long season of nectar-producing flowers.
'It creates an ecosystem that encourages biodiversity,' says garden designer James Basson of Scape Design.
Many dry-loving plants tend to be nectar-rich and beneficial to a vast range of insects. There is no need for fertilizers and chemicals either. 'A dry garden is a garden that breathes. It is all about drainage, giving plants little opportunity to absorb water,' adds James Basson.
How to plan a dry garden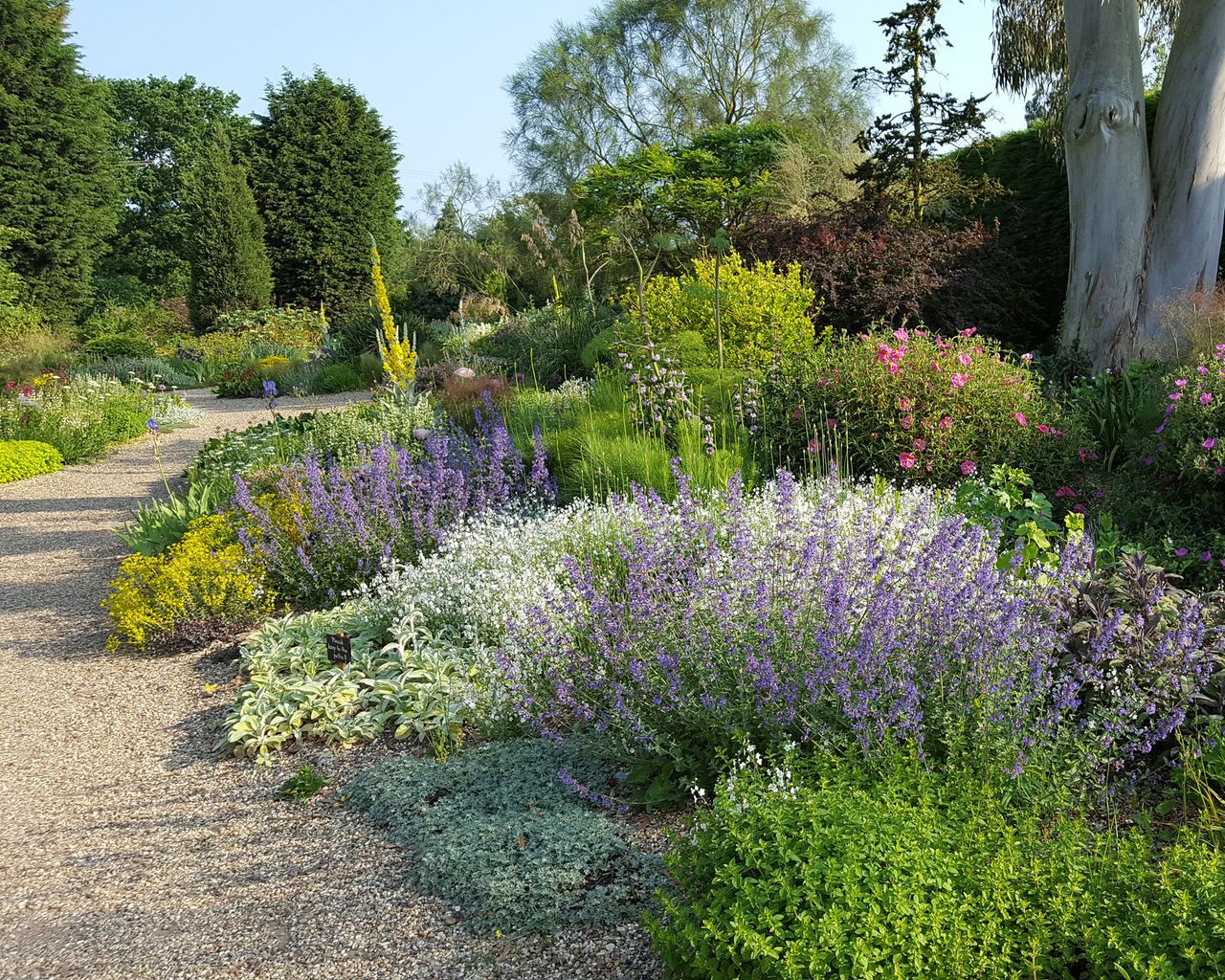 'Analyze the site,' says designer Tom Hoblyn. 'What's the annual rainfall? What type of soil do you have? How much sun does it get? The answers help to build up an ideal plant palette. Try to work with what you've got rather than making drastic changes to the site.'
Choose plants that are suited to these conditions, taking inspiration from sunny Mediterranean garden ideas.
'Observe where the light falls across the garden as it can help you to decide where you plant certain plants such as grasses, which look fabulous backlit by the sun,' adds designer Sue Townsend.
What is a dry garden?
A dry garden is one that doesn't rely on rainwater and irrigation to survive. Instead, plants are chosen for their drought-tolerance.
Choose the right dry plants
Emphasis should be on contrasting shapes and textures, rather than flower color. Accentuate the different characteristics of plants so they enhance each other.
Repetition of color, shape or form creates a rhythm and guides the eye through the design, giving the planting a cohesive feel.
'Start with a backbone of shrubs for year-round structure and only select trees that won't cast dense shade,' says Åsa Gregers-Warg, head gardener at Beth Chatto.
Learn how to grow ornamental grasses for a great way of adding softness to your garden. Use ornamental grasses like Stipa gigantea and Stipa tenuissima.
Let ground cover plants like thyme and Stachys byzantina weave in between the taller plants.
Think about structure
Aim for a mix of longer-lived species that will add structure and shorter-lived perennials and annuals. Grow them 'lean' without enriching the soil, and water sparingly once plants get established, then leave them to their own devices.
'If you're planting into deep gravel, be careful that the roots get contact with the subsoil,' says Tom Hoblyn.
'Choose the right plant for the right place and plant at the right time of year to allow the plants to establish well, ideally autumn or spring,' adds Sue Townsend.
Make sure your site is suitable
Sloping gardens need to be terraced if you want to use gravel. They should also be fairly open and sunny, although some shade can work well in terms of expanding the range of plants that can be grown.
'I have successfully made gravel gardens in urban areas where there is the inevitable mixture of sun and shade,' says Jane Brockbank. 'You need a small percentage of plants that can tolerate both aspects and repeat them through the scheme to bring it all together.'
Work with your site not against it. 'The site must be free draining, so avoid or improve areas where water naturally sits, in particular, clay soils,' adds Tom Hoblyn.
Think about the best materials
'A huge amount of material needs to be worked into the ground for dry gardens to be planted. Gravel, sand, crushed hard core or concrete; in fact anything that will improve drainage,' suggests James Basson.
'Then a graded gravel mulch to prevent germination of unwanted vegetation and to provide space.'
Picking a local loose stone or gravel for a mulch works well in rock gardens. These materials also fit in with the local environment and are good for reducing carbon footprint with transport. 'I would stick to natural durable materials, textured stone, rock, gravel and hardwoods,' adds Jane Brockbank.
Take inspiration from nature
In some areas of the garden, why not give free reign to the dynamic evolution of the landscape?
'Instead of trying to create a fixed picture,' says garden designer Olivier Filippi, 'leave the groundcover to evolve from year to year in a scheme that takes its lead from the soil, climate and planting.'
By taking inspiration from nature, it's possible to adapt your approach to managing garden surfaces. Opt for a 'groundcover garden' that is suited to local conditions and easy to maintain.
Go for gravel
Poor and stony soil is a bonus in gardens where you want to grow a wide range of groundcover plants with little maintenance.
'Weeds grow less easily than they would in rich soil, and groundcover plants can spread comfortably without the risk of being swamped by competitors,' says Olivier Filippi.
The gravel garden is a good option, suppressing the germination of weeds almost entirely. This balance between plant and stone is characteristic of Mediterranean landscapes.
Reduce lawn size
Consider how much lawn is absolutely necessary in your garden, especially in a front garden, and eliminate it from places where its presence can't really be justified.
Why should a 21st-century gardener follow a landscape aesthetic developed in England in the 18th century?
'Lawns are now so ubiquitous that they risk making our gardens bland and monotonous. Finding ways to replace them with something else is a decisive move against this dreary uniformity,' advises Olivier Filippi.
When it's not an aesthetic choice, the need for a surface that can be walked on is often used to justify a large area of lawn. But the areas required for regular foot traffic are usually greatly overestimated.
Opt for groundcover planting
Replacing lawn enables us to regain surface but what should we put in its place?
Consider not just one alternative to the lawn but many, to allow multiple groundcover solutions to suit the needs of each garden zone.
Mat-forming plants are suitable for growing green carpets that can be walked on. In areas where there is no foot traffic, create large beds of perennials and shrubs whose dense foliage prevents light getting through to the ground, thus limiting competition.
Lifestyle journalist Sarah Wilson has been writing about gardens since 2015. She's written for Gardeningetc.com, Livingetc, Homes & Gardens, Easy Gardens and Modern Gardens magazines. Her first job on glossy magazines was at Elle, during which time a visit to the legendary La Colombe d'Or in St-Paul-de-Vence led to an interest in all things gardening. Later as lifestyle editor at Country Homes & Interiors magazine the real pull was the run of captivating country gardens that were featured.