Best trees for shade – including fast-growing varieties
Discover the best trees for shade, to cool down in the summer and add color and interest year round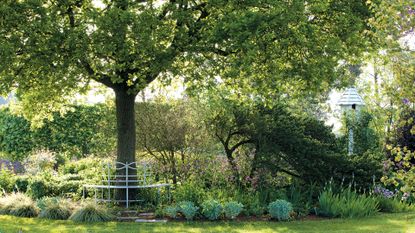 (Image credit: Leigh Clapp)
Sign up to the Homes & Gardens newsletter
Decor Ideas. Project Inspiration. Expert Advice. Delivered to your inbox.
Thank you for signing up to Homes & Gardens. You will receive a verification email shortly.
There was a problem. Please refresh the page and try again.
Choose the best trees for shade to create a cool garden oasis, enrich the environment, and help future-proof your property against climate change.
It's important to include areas of shade and full sun in your backyard. Not only does the right balance make for a more pleasant place to relax, but it allows for a greater diversity of plants and creates a better habitat for wildlife.
With changing climates, fast-growing trees also play an important role in providing shade for homes quickly, helping to reduce overheating. Yet, conversely they can minimize the impact of adverse weather conditions such as flooding. You can also underplant these trees with the best shade plants to bring interest and color to all parts of the garden
'It's not just what's above ground with a tree that's important – it's what's happening below ground,' says Rebecca Bradley, founding principal at Florida-based Cādence landscape architecture practice.
'Trees are not just providing shade for the heat, they're also absorbing water – helping get water back down into the ground and not running off into our waterways.'
However, planting trees for shade is not a quick solution. 'Growing the best trees for shade is a long-term goal – I often call them trees for posterity,' says Blythe Yost, CEO of online landscape design practice Tilly.
'It will take many years for shade trees to reach their full potential, but it is important for us to include them in our garden for the shade they provide today and the potential shade they will offer to others in years to come.'
The best trees for shade
'In the garden – especially in yards where space is at a premium – trees that serve more than one function are terrific choices, especially when it comes to garden shade ideas,' says Kip McConnell, director of Southern Living Plant Collection.
'A well-chosen shade tree can also serve an important role in dividing gardens, creating outdoor rooms. For this purpose, look for varieties with dense foliage and vertical growth habits to get both shade and screening.'
The good news is that the best trees for shade are also some of the best trees for privacy, allowing you to screen your garden to create a peaceful, secluded environment.
'Seek out varieties that not only cast shade, but also provide spring flowers or bright fall colors,' adds McConnell. 'This maximizes the tree's visual impact in your space and provides multi-season interest.'
However, when choosing the best trees for backyard shade, Bradley stresses the importance of choosing species that will thrive in your local environment.
'Trees that are grown in the nursery may not actually be the right choice for your area, so plant native trees and try to create a design that helps build eco systems,' she says. 'Ask yourself, what is it that nature needs?'
Check the USDA plant hardiness zone map to see whether a tree is likely to thrive in your area.
1. Oak trees
The mighty oak is one of the best trees for shade, and treasured by gardeners around the world.
'Hands down, my favorite tree for shade is an oak,' says Yost. 'Although this is an extremely broad genus, there are shade-providing varieties that grow in most regions.
'As an East Coast and Midwest landscape architect, my personal favorite is the white oak – Quercus alba – due to its graceful habit, delicately lobed leaves, and uniformly shaggy bark.' It's a versatile tree suitable for zones 3-9.
Meanwhile, the live oak tree – Quercus virginiana – is a beloved tree in southern and central states, thriving in zones 7-10.
'The live oak can grow in a lot of different scenarios. It's large with a huge root structure, so needs space to grow, but it's a wonderful shade tree for your garden space,' says Bradley. 'It's also a really hardy tree that and can weather big storms.'
The downside of most oak trees is that they are slow growing and will take many years to become established.
However, a faster-growing alternative is the northern red oak – Quercus rubra – which is suitable for zones 3-8.
'It grows at a rate of 2ft per year and develops a dense round crown that provides great shade,' says Codey Stout, head operations manager at Tree Triage. 'It can tolerate drought, pollution, and compacted soil.
'It also offers beautiful colors in the fall, from russet to bright red, and produces acorns that birds and animals love.'
2. Tuliptree
A versatile tree that can grow in zones 4-9, the tuliptree – Liriodendron tulipifera – is named for its delightful tulip-shaped flowers, which bloom in the spring.
John Rogan, professor of geography at Clark University, favors the tuliptree as a shade provider due to its fast growth rate. 'It can grow 2ft per year, reaching up to 90ft when established, with a canopy width as broad as 30-40ft.
'It also lives for a long time, has a very attractive leaf shape, and the single-stem trunks produce straight and tall mature trees.'
In his work, Rogan has led studies into the impact trees have on land surface temperature, and believes they hold the key to reducing our home cooling costs in summer by as much as 20 per cent.
'Shade trees are best planted on the west side of a house, where they can shade the property during the heat of the early afternoon,' he says.
3. American mahogany
American mahogany – Swietenia mahagoni – is native to South Florida, where it is a popular shade tree, as well as islands in the Caribbean. It will grow successfully in zones 10 and 11, so follow the philosophy of right tree, right place.
'Swietenia mahagoni is such a great shade tree for a tropical climate,' says Bradley. 'It is not invasive, and it is faster growing than many trees.'
This sturdy hardwood tree copes well with stormy weather and possesses fragrant clusters of flowers in the spring and summer. Its ultimate mature height is around 100ft.
4. Weeping willow
Few trees are as evocative of lazy summer days than the weeping willow – Salix babylonica – which provides a protective branch canopy that's perfect for picnicking beneath.
They are also fast growing, at a rate of 3-4ft per year, offering a quick route to shade and privacy. The trees thrive in zones 6-8.
Sadly, weeping willows are not suitable for smaller yards, as their roots can cause damage to underground pipework. But if you have a large garden and can position them 50ft away from utilities, then they will make a charming addition.
They are also short lived compared to many slower-growing trees, lasting for only a few decades. The experts at Bower & Branch suggest planting a row of weeping willows in front of a row of slower-growing, but longer lived trees such as oak.
'When the oaks are big enough to do the job, the willows can be removed when they become old and no longer appealing in your landscape.'
Weeping willows love water, so if you have a natural pond, then position a tree next to it to complete the romantic scene.
5. Sugar maple
The sugar maple – Acer saccharum – is a popular tree for providing shade due to its dense canopy, and it is also one of the best trees for autumn color.
'A slower-growing Acer species with a growth rate of around a foot per year, the sugar maple tree can reach heights near 100ft at maturity, and has a large canopy,' says Tammy Sons, owner of Tennessee Nursery. 'I just love its vibrant fall foliage of golden hues.'
Sugar maples are hardy in zones 3-8 and grow best in well-drained, acidic to slightly alkaline soil.
6. Red maple
Another standout fall tree, the red maple – or Acer rubrum – is a moderately fast-growing species with a growth rate of 1-2ft per year.
'Its canopy reaches 30-45ft wide and it has a mature height near 60ft,' says Sons. 'The red maple tree also offers one of fall's favorite colors of foliage in deep red hues.'
'For something different, try Acer rubrum 'Red Sunset' or 'Brandywine' – they are red maples but they don't have red foliage,' adds Gian Moore, partner at Mellowpine.
The red maple grows in zones 3-9 and is tolerant of most soil types.
7. Dawn redwood
The dawn redwood – Metasequoia glyptostroboides – is one of the best trees for shade in a hurry, growing in height by more than 2ft each year.
It's also a tree with a fascinating history, as prior to the mid 20th century it was considered extinct, and revealed through fossils to have existed alongside dinosaurs.
Luckily, the dawn redwood was rediscovered growing in China, and now, though not commonplace, grows in many countries around the world.
You can grow the dawn redwood in zones 5-8, and the great news is that it's low-maintenance, requiring no pruning and with minimal susceptibility to problems or disease.
'There are some interesting cultivars available of this deciduous conifer, such as 'Goldrush' which has yellow-green foliage,' says Moore.
8. Gumbo limbo
A South Florida native, the gumbo limbo – Bersera simaruba – is a fast-growing shade tree that will thrive in zones 10 and 11.
'It has a beautiful peeling trunk, so it's often called the 'tourist tree' due to its sunburnt appearance, revealing a lighter color underneath the peel on the trunk,' says Bradley.
'It is an amazingly resilient tree that stands up to our hurricanes, so we often use it as a shade tree in our landscapes.
'It also roots very easily. I planted a seedling in my front yard and within 8-9 years it was a fully established shade tree.'
9. Eastern redbud
'For a fast-growing shade tree, it's hard to beat the redbud – Cercis canadensis – with its beautiful pink flowers,' says Lindsey Hyland, founder of Urban Organic Yield. 'I love to watch them bloom in spring and early summer, and their fall colors are stunning.'
The Eastern redbud grows to a height of 20–30ft, with a gloriously wide canopy spreading to 25–35ft when mature.
It grows in zones 4-9, and is seen widely throughout eastern states. Redbuds are tolerant of most soil types.
10. Green ash
The green, or red, ash – Fraxinus pennsylvanica – is a fantastically versatile shade tree, growing in zones 2-9 at a fast rate of more than 2ft per year, and providing a generous canopy to shelter beneath.
In the fall the leaves of green ash tree turn a glorious bright yellow, and it produces red-purple flowers in the spring.
'The ash is a good deciduous shade tree that grows well in a variety of climates,' says Hyland.
Though it can cope with most soil conditions, the green ash tree is increasingly susceptible to attack by the emerald ash borer, so check reports in your area.
11. American sweetgum
Providing stunning fall color, in shades of yellow through purple, the American sweetgum – Liquidambar styraciflua – is also a fantastic shade-giving tree with a good canopy size.
'Aside from its very attractive foliage in the fall, it's moderately fast growing, at a rate of 1-2ft a year,' says Rogan. 'It lives for a long time and can grow as tall as 70ft.'
The American sweetgum will thrive in zones 5-9, but it does not like pollution and needs plenty of root space.
12. Pines
There are a number of different pine tree species that will create shade in your garden.
'Pines provide terrific shade but take up lots of room, so you need to give them plenty of space. Alternatively, plant them closer than they prefer to other trees that need more space than they do – like oaks or maples,' says Hyland.
Fast-growing pine trees are best for quick shade in large yards – try the loblolly pine (zones 6-9) or the eastern white pine (zones 3-8).
13. London planetree
A hybrid of the Oriental planetree and the American sycamore, the London planetree – Platanus x acerifolia – is valued for its beautiful sycamore-like leaves and winter catkins.
Historically it was revered for its ability to withstand the pollution of England's capital, which makes it a fantastic shade tree for urban settings in zones 5-9.
'The London planetree is a very hardy tree featuring attractive bark with a broad canopy that grows up to a width of 60ft,' says Rogan.
'It can grow at a rate of 1-2ft per year, with a mature height of up to 100ft, and can live for a very long time – even hundreds of years.'
14. Catalpa tree
Catalpa speciosa is a stunning native tree that has heart-shaped leaves and a generous canopy. In the summer, it produces white, orchid-like flowers.
'The catalpa reaches heights of near 50 ft at maturity and is hardy in zones 3-8,' says Sons. 'This tree is so unique because the catalpa worms it produces in the summer months are highly sought after for fish bait. For this reason, it's often called "The Fisherman's Tree".'
What is the cleanest shade tree?
Some of the cleanest shade trees are maples. Though they shed their leaves in the fall, after turning stunning shades of red and gold, they do not drop flowers, seeds or fruits. This makes them easy to clean up after.
What is the fastest-growing shade tree?
The fastest-growing shade trees grow at a rate of around 2ft per year. This group includes the northern red oak, tuliptree, and dawn redwood.
However, speed isn't everything when it comes to providing shade. 'Usually you want a shade tree to be a strong tree – and those trees don't always grow fast,' says Bradley.
'That's why we need to protect established trees. When they are removed from our environment, and we lose our tree canopy, it can never immediately be replaced.'
Sign up to the Homes & Gardens newsletter
Decor Ideas. Project Inspiration. Expert Advice. Delivered to your inbox.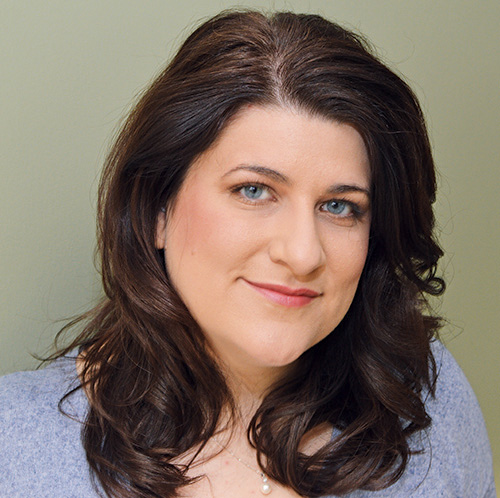 As editor of Period Living, Britain's best-selling period homes magazine, Melanie loves the charm of older properties. I live in a rural village just outside the Cotswolds in England, so am lucky to be surrounded by beautiful homes and countryside, where I enjoy exploring. Having worked in the industry for almost two decades, Melanie is interested in all aspects of homes and gardens. Her previous roles include working on Real Homes and Homebuilding & Renovating, and she has also contributed to Gardening Etc. She has an English degree and has also studied interior design. Melanie frequently writes for Homes & Gardens about property restoration and gardening.