Fast-growing climbing plants – 10 eye-catching options for speedy coverage and privacy
Cover walls, fences, pergolas and arbors in no time at all with these quick-growing climbers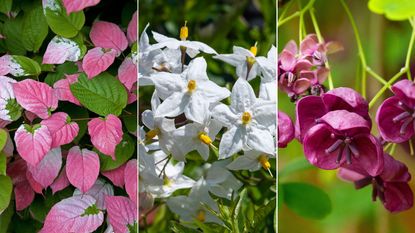 (Image credit: Alamy)
If you need to disguise a wall, fence or building, or create a distraction from an unsightly view, fast-growing climbing plants are an effective solution. By using plants that will naturally want to grow upwards, or can be trained to creep up wires, pergolas and fences, you can create a living screen that is both practical and beautiful to look at.
Annuals are usually easy to grow from seed and will give you a quick fix of flower power over the summer. From classic cottage garden sweet peas and Black-eyed Susan, to more exotic Mexican purple bell vine and Chilean Glory Flower, there are many colorful climbers to choose from – and let's not forget the humble nasturtium that can be encouraged to grow up and through other plants. You could even try growing edible annuals like climbing beans up a trellis for summer interest.
Many perennial climbers also put on good growth soon after spring planting. For example most summer flowering clematis will reward with blooms in the first season. But choose your fast-growing plants carefully according to your space as the more vigorous perennials can take over within a few years. Don't be seduced by the high speed claims of Russian Vine, also known as mile-a-minute for very good reason, unless you have a large space or structure to cover.
10 fast-growing climbing plants for every yard
Many fast-growing climbers will give you good coverage in a season if it's effective garden screening ideas you're in need of. But when planning your vertical greenery, consider using a combination of slower growers like perennial Star Jasmine as an evergreen constant, combined with faster-growing annuals for contrast. Different foliage shapes, colors and textures and different flowering times will create a wonderful tapestry effect.
1. Akebia quinata
Best for: Trellis, pergolas and fences, semi-evergreen foliage
Height: 30ft
Spread: 6-10ft
Hardiness: USDA 5-9
A semi-evergreen, woody-stemmed climbing plant, this needs space to roam and requires managing in smaller backyards.
It looks good planted near seating areas or gateways, where you will notice the small spring flowers and catch the subtle fragrance. These are a deep maroon colour – or choose a creamy variation 'White Chocolate'. It has good resistance to drought and pest and diseases.
2. Cobaea scandens
Best for: Trellis, arbors, pollinators
Height: 10-20ft
Spread: 1-2ft
Hardiness: USDA 9-10
This is a wonderful annual or tender perennial that's easy to grow from seed and it will soon be clambering up through supports or growing through other plants with its self-twining tendrils.
Grow from seed and plant in fertile soil and full sun, in containers or borders. Within 16 weeks, the first of the huge bell-shaped flowers will appear. These will keep coming until the first frosts and maybe later still in sheltered urban gardens.
Fascinatingly beautiful from bud to seed, you can grow the purple species or the 'Alba' variation.
3. Passion fruit vine
Best for: Productive screens, pollinators, fences, arbors, trellis
Height: 20-30ft
Spread: 20-30ft
Hardiness: USDA 9-11
With great foliage, stunning, fragrant flowers, and, in the right climate, delicious fruit, passiflora is a fantastic fast-growing flowering vine.
With a rangy habit, they need room to spread and good support. These are tropical natives, so semi-evergreen, but vulnerable in exposed gardens over winter.
There are many gorgeous cultivars to choose from. Nature Hills recommends 'Possum Purple' and 'Sweet Sunrise'. Although these are generally self-fertile, to encourage fruiting, the experts advise that hand pollination might be necessary.
4. Honeysuckle
Best for: Hummingbirds, tumbling over walls
Height: 10ft
Spread: 5ft
Hardiness: USDA 4-8
Climbing honeysuckles are valued for their sweet-smelling summer blooms, plus they are a wonderful flower for attracting hummingbirds. The native North American species is Lonicera sempervirens. These are tough plants, suited to sun and part shade and don't suffer from pests and diseases.
No pruning is necessary, other than to modify the natural sprawling habit – sturdy support from a wall or fence is required. Flowers appear on new and old growth.
White Flower Farm nursery recommends growing honeysuckle 'on a fence or other support or trained into small trees.'
Major Wheeler honeysuckle vine from Nature Hills features exotic red flowers that bloom all summer long, while 'Scentsation' honeysuckle vine from Fast Growing Trees has more subtle creamy-colored blooms.
5. Sweet peas
Best for: Scent, containers and borders
Height: 6ft
Spread: 2ft
Hardiness: USDA 2-11
One of the classic fast-growing climbing plants for summer, Lathyrus odoratus is a fabulous scented annual flower, plus it makes a wonderful homegrown cut flower.
Available in myriad pastel shades or stronger reds and purples, it's easy to grow from seed. For best results when growing sweet peas, plant them in fall and overwinter under cover, or you can direct sow in spring. Alternatively order ready to plant seedlings.
Grow in full sun and fertile soil, with a wooden wigwam or metal pyramid support in a large container or in a border, to add structure, height and color. You could also grow them in a planter box with trellis if you want to create some patio privacy in summer.
6. Potato vine
Best for: Pergolas and porches
Height: 25ft
Spread: 15ft
Hardiness: USDA 9-11
Not an edible root in sight, the potato vine is all about leafy coverage with pretty white or purple flowers. Good for sun and part shade, they will quickly adorn pergolas and porches, adding shade and ornament.
Easy to look after, they tolerate dry conditions once established and in warmer areas they can be more of an evergreen climber as they will hold onto their leaves through the cooler months.
With a long flowering season through the summer, they are hardworking plants. Choose Solanum jasminoides for white flowers (available at Nature Hills) or S. crispum 'Glasnevin' for bright purple flowers with yellow centers.
7. Trumpet creeper
Best for: Covering garden buildings
Height: 40ft
Spread: 20ft
Hardiness: USDA 4-9
If you want to attract hummingbirds to your yard, this is the fast-growing climbing plant for you as the birds find the flowers irresistible. It's easy to see why too, as the brilliant red trumpet-like tropical flowers that give this climber its name are simply stunning.
This is a North American native, so a vigorous, fast grower that will twine its way round and cling to walls and fences. It's a beautiful way of transforming an ugly shed or backyard building into an exotic focal point.
It prefers full sun but is tolerant of some shade and is very easy to care. Once established, it is quite a good drought-tolerant plant too. It's also available in an attractive golden yellow form, 'Flava', available from Nature Hills.
8. Spanish flag
Best for: Containers
Height: 15ft
Spread: 12ft
Hardiness: USDA 9-11
This is a Mexican annual native and a member of the morning glory family that includes both the invasive Ipomoea purpurea and sweet potatoes. Spanish flag or Ipomoea lobata is one of the more unusual and brightly colored species.
The two tone yellow and red flowers produced from midsummer until the first frosts live up to its name as the firecracker vine.
Sow seed in spring and plant into a container garden with a wigwam or metal trellis for support. Great for adding height to hot-colored borders. It will die back over winter.
9. Vitis cognetiae
Best for: Fall foliage color
Height: 50ft
Spread: 20ft
Hardiness: USDA 6-9
A fantastic fast-growing climbing plant that gives rich textured coverage to walls and garden fences. The leathery foliage turns a brilliant rich, red-maroon in fall, giving its name of Crimson Glory Vine.
It's very vigorous and will put on a lot of growth over the summer, before producing small inedible grapes. Grow in full sun or part shade in fertile soil types.
10. Kiwi vine
Best for: Productive gardens
Height: 12ft
Spread: 5ft
Hardiness: USDA 3-8
For a beautiful, leafy fruiting vine, look no further than the Kiwi. Good for plots of all sizes, it will suit a pergola, trellis or fence, as long is it is a sunny, sheltered spot.
The self-fertile species recommended by Nature Hills, Actinidia arguta 'Issai', will reward you with a froth of pollinator-friendly, fragrant spring flowers followed by plenty of produce.
This is a fast, easy-to-grow climber, that will suit a range of soil types and needs minimal pruning over winter to maintain size and shape. For a more highly ornamental foliage effect try the non-fruiting Actinidia kolomikta, also from Nature Hills, with pink and white variegated foliage.
What is the quickest growing evergreen climber?
With varying levels of speed, ivies will provide leafy green coverage all year round. Self-clinging plants, they will grow over walls and fences and are great for disguising unsightly structures or chain link fences and good for shady areas.
Once they take hold, however, they can prove to be thuggish and invasive plants and I wouldn't recommended planting ivy in smaller gardens, without a rigorous maintenance programme.
Variegated foliage types such as Hedera helix 'Sulphur Heart' or 'Oro di Bogliasco' have stunning decorative leaves, and while ivy flowers and berries are often overlooked, these provide another level of ornamental interest through the seasons as well as being a beneficial addition to a wildlife garden.
What is the best fast-growing climbing plant to cover a fence?
It might take a season or two to fully establish, but a fence covered in the star jasmine, Trachelospermum jasminoides, looks smart, elegant and smells so good that it's worth a slightly longer wait.
This flowering climber is good for fences and perfect for smaller yards as it will clothe them steadily without getting too out of control and can be managed with light pruning and training on wires or trellis. It gives evergreen coverage with foliage that sometimes also takes on some warm red fall coloring as an added feature.
What is the easiest fast-growing climbing plant to grow?
It's impossible to think of planting climbers without mentioning clematis. As the experts at White Flower Farm say: 'For beautiful colors, extravagance of blooms, and graceful habit, nothing compares with clematis, the queen of flowering vines.'
It's easy to grow clematis if you follow a few golden rules. Plant in a sunny border with the roots in shade and feed regularly through the growing season and they will reward with vigorous growth and plenty of flowers. There is one for almost every situation and color scheme. There are clematis with winter flowers, evergreen foliage, large and small flowers in spring, summer and fall.
For a summer of large richly colored blooms, try Clematis 'Jackmanii' (available from Fast Growing Trees) or 'Rosemoor Giardini'. These need pruning back to two buds in spring and training through a trellis, pyramid or over a pergola and through a climbing rose.
For fast, easy growth, and plentiful flowers into fall followed by fluffy seedheads, Sweet Autumn Clematis paniculata (available from Nature Hills), will cope in part shade.
---
These fast-growing climbing plants are the perfect choice for scrambling up a wall or fence to provide vertical color and privacy. However, just as when choosing fast-growing ground cover plants or fast-growing shrubs, it's important to consider the eventual height and spread of your chosen plant to make sure it will suit your space. Be prepared to prune and maintain your climber to ensure its growth doesn't get out of control.
Sign up to the Homes & Gardens newsletter
Decor Ideas. Project Inspiration. Expert Advice. Delivered to your inbox.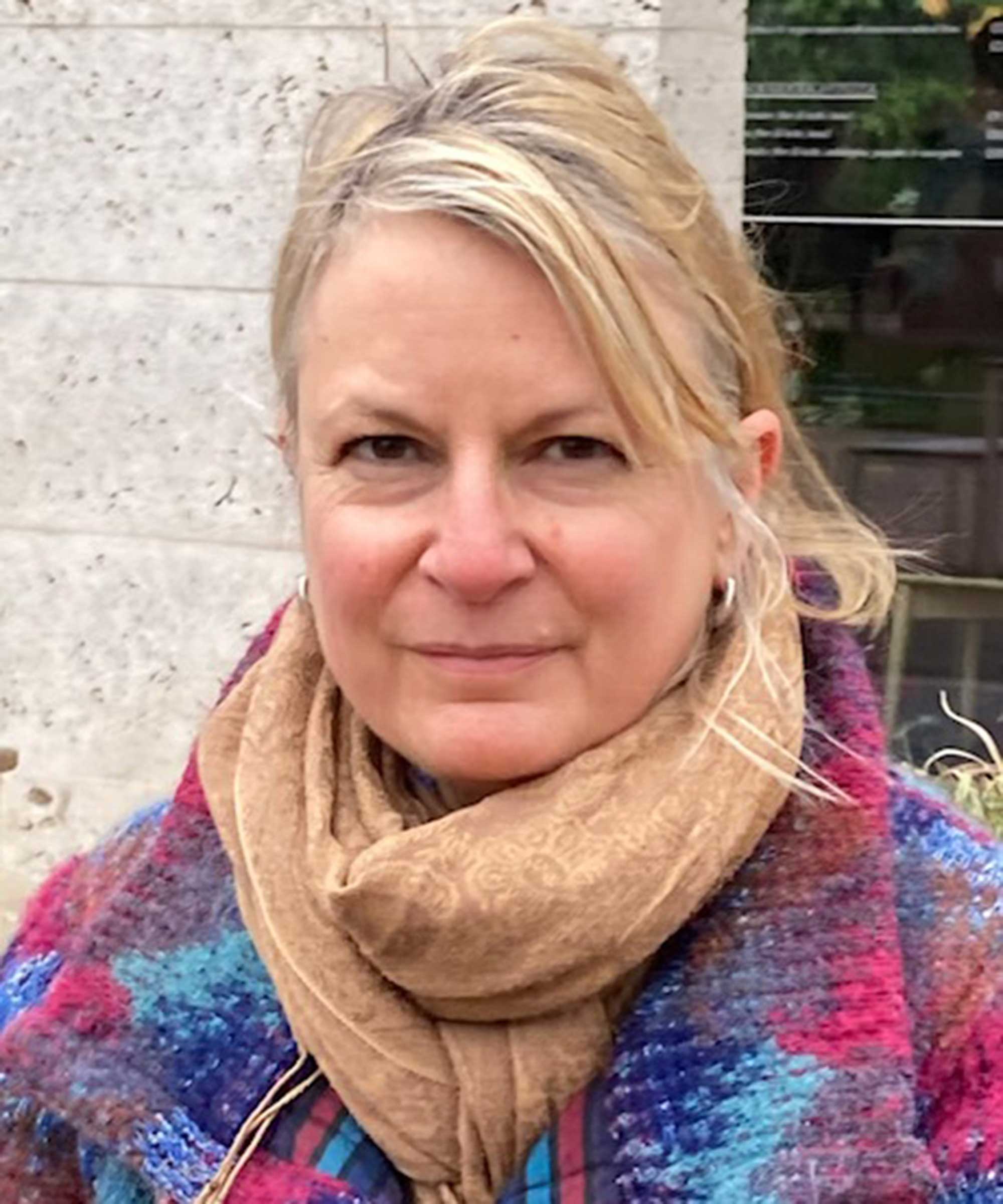 In her years of gardening, Camilla has designed planting schemes for gardens large and small in and around London, written about plants and how to grow them, and worked on BBC gardening TV shows in the UK. She's also works as a therapeutic horticulturist, teaching growing for wellbeing and mental health.