Container gardening ideas – ways to create a lush oasis in the smallest of spaces
Isabelle Palmer, aka The Balcony Gardener, shares her tips and advice on how to make the most of a small outdoor space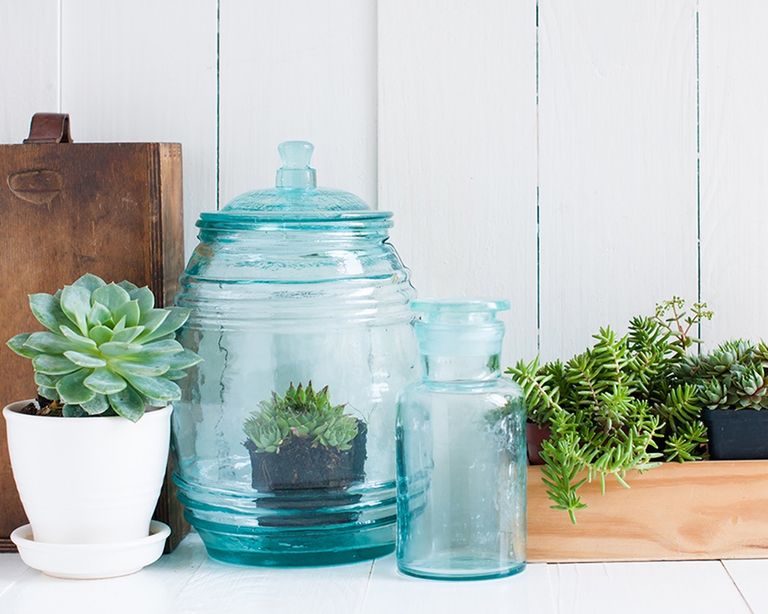 (Image credit: Haskins)
Container gardening is a wonderful way to add instant and easy color to your garden, to a bare corner, a balcony or a patio. And, of course, container garden ideas are perfect for small gardens.
Specialising in small-space gardening and the ever-popular trend of container planting, Isabelle Palmer of The Balcony Gardener is deftly positioned to transform bijou outdoor areas into 'the fifth room'.
We asked her how pots, planters and containers of every size and shape make up the bulk of her garden, one that adapts, changes and forever evolving.
1. Find pots and containers in natural materials
'When I first moved to London I had a flat with two very small balconies – it was a contrast to the large garden I was used to growing up and I wanted to recreate a piece of that in my new home,' says Isabelle.
'When it came to populating the space with plants and furniture, I felt that there wasn't the range of outdoor products available in the UK that suited my taste. It was also difficult to find anything that wasn't made of plastic, so I began sourcing beautiful pots crafted from natural materials from countries like Sweden and creating and selling ready-made containers online.'
'From there I started designing bespoke spaces for clients. My mentality throughout my career has always been to say yes to opportunities and find a way to make them work.'
2. Create 'amazing' in a day
'At home I have a balcony and a larger garden, so I feel connected to containers or landscaping. Both are enjoyable but if I had to pick it would be containers, the main benefit being the instant gratification.
'We can create amazing in a day, whereas in a large garden it could take years to achieve the look you want. More care is required with containers, whereas big gardens can be left to their own devices a bit more.'
3. Approach container gardening like interior design
'I approach designing balconies as I would do any other room in the house. Clients will tell me about the sort of gardens they like and we try and create a condensed version of that. I pick up on the style of the room that leads to the balcony.
'There might be a beautiful painting on the wall that will inform the colour choices of the plants. I think of the garden as the fifth room and make the design fit the aesthetic. The finished space should elongate the home, so interior design is as important as garden design when it comes to small gardens and balconies.'
4. Let your home's structure influence your containers' shape and size
'I take a lot of influence from interiors because to me they go hand in hand with garden design. But for garden designers, I like Isabel and Julian Bannerman who did the garden at Highgrove.
'They have a way of mixing nature with surrounding structures that is very original. Their style is undulating and looks like a beautiful picture. There's structure, but there's a wild harmony to it that fits with my design ethos.'
5. Make containers 'painterly'
'You need order to hold it together but I like a painterly element, too. I went to art college and there are a lot of similarities between gardening and art as both are about creating a picture. I've always loved painting and colour is so important to me. How I express it now is in the garden.'
6. Container gardening for mindfulness and easy maintenance
'Before this year nearly every brief had 'pretty and low-maintenance' at the top, whereas now it's about more than that. Mindfulness and tranquility play a huge part and people want to feel connected to nature – it's about creating a welcoming space for wildlife as well as family and friends.'
'The therapeutic element means that people are happy to spend a bit more time growing and maintaining. Next year it will be even more about multitasking. We expect our gardens to work a lot harder for us and become so much more than just a place to sit and have lunch. They are an entertaining space, a work place, a vegetable garden and a healing retreat.'
7. Use container gardening to inspire children
'My family have been avid gardeners for generations, so the seed was sown at a young age and I vividly remember my first taste of planting was a strawberry plant.'
'In keeping with the family tradition, I also got my two-year-old her first strawberry plant this summer and she was still talking about it weeks after it had stopped fruiting.'
Modern Container Gardening: How to Create a Stylish Small-Space Garden Anywhere by Isabelle Palmer (Hardie Grant)
Roof terrace, bijou balcony or just a simple windowsill, Isabelle will give you plenty of ideas and inspiration to make the most of the little outdoor space you have in this wonderful book.
Find out more: The Balcony GardenerView Deal
I've been Gardens Editor at Homes & Gardens, Country Homes & Interiors and Living Etc magazine since 2020 and have had the pleasure to develop working relationships with some of the country's top garden designers such as Charlotte Rowe, Butter Wakefield and have been exposed to an array of rich garden content and expertise. 2020 saw an increased appetite for quality gardening inspiration and expertise in both print magazines and digital and what I am most passionate about when it comes to gardening are the positive effects it has on our mental health to grow and care for plants. Keeping our patches alive with greenery is great for the environment too and help provide food and shelter for wildlife. Finally, I find it to be such a wonderful opportunity to tap into our creative sides and I believe that garden design has as much as a place in our love of the home as interiors.