Herb planter ideas – smart ways to grow in containers and pots
Herb planter ideas to grow a plentiful supply and create pretty and practical displays inside and out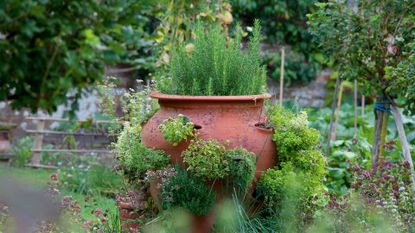 (Image credit: Leigh Clapp)
Are you looking for herb planter ideas? Whether you want to grow herbs inside on your window sill or you want ideas for growing and displaying herbs in containers in the garden, we've got plenty of inspiration.
Used in cooking and for infusing hot drinks, as well as for their aroma and for medicinal purposes, herbs have so many benefits so it's worth growing your own and the great thing is, you don't need a large garden to grow them – most herbs grow well in containers which are perfect for small gardens, patio areas or inside on window sills. From hanging baskets to old wheelbarrows, almost any container is suitable provided it has drainage holes; the options are endless, so why not let your imagination run riot.
See: Kitchen garden ideas – easy ways to get started
Whatever you choose, it is useful to position container grown herbs near a back door, or close to the house, so that they are easy to access for harvesting. It is also important to include grit in your compost when planting herbs into containers.
In his monthly blog gardening expert Monty Don shares his tips for growing herbs stating that, 'if the water does not flow almost immediately through the pot that they are in then the drainage is not good enough. If you are planting herbs in a container mix general purpose peat-free compost with at least an equal measure of grit or sharpsand.'
1. Grow herbs in a strawberry planter
Strawberry planters make brilliant planters for growing herbs, particularly low growers such as oregano, thyme or mint. Large pots with several pockets, the containers allow an array of different herbs in one place. It's recommended to opt for terracotta as terracotta is a porous material which allows air and moisture to pass through easily resulting in healthier plants.
See: Herb garden ideas – for indoors and outdoors
2. Create an attractive display by arranging potted herbs on staggered shelves
If you're short of patio space then try arranging potted herbs on a plant stand such as the Aldsworth (opens in new tab) design Garden Trading. Using an array of pot styles, from traditional terracotta, to colorful glazed and galvanised metal designs, will help add bring variety and interest.
See: Planning a kitchen garden – from designing a layout to picking plants
3. Save space by creating hanging herb planters
Planting herbs in an array of outdoor planters and suspending them is a brilliant way to maximise floor space on a small patio or balcony area. Lightweight plastic containers or old tin cans would work well, or you could even use an old colander – perfect with its readymade drainage holes.
4. Use potted herbs to create a fragrant escape
Ornamental as well as practical, potted herbs in a range of heights can be arranged on a patio area to create a pretty feature, but they also great for adding fragrance to a garden seating area.
See: Companion planting – your ultimate guide
5. Use recycled tins as herb planters for an eye-catching display
Saving up old tomato tins with retro labels and repurposing them as herb planters is a great way to cut down on your waste but also to create a fun display with a Mediterranean twist. Simply drill holes in the bottoms for drainage.
6. Use reclaimed vessels as herb planters
Offering a rustic, weathered patina from years of use, reclaimed metal containers such as farm troughs, old galvanised baths and dolly tubs – historically used for washing clothes – make characterful planters for herbs.
7. Arrange potted herbs on an old crate for a rustic display
Old creates can be easily picked up from flea markets will bring vintage charm to a patio space and can be easily moved indoors or throughout the garden.
8. Opt for a window box herb planter
You don't need a garden to grow herbs; most can be grown inside in individual pots on a window sill or in a window box by a sunny window. Growing herbs on the kitchen window sill is really convenient for cooking.
9. Maximise space by thinking vertically
Make the most of a small garden by using every inch of space. Consider fixing planters to garden walls and clustering potted herbs on old chairs to help make extra space for more pots on the ground. Growing herbs at different levels will also add decorative interest, too.
10. Add vintage charm by displaying herbs in enamelware
Displaying shop bought herbs in colorful vintage enamel cups and teapots is a great way to disguise unsightly plastic pots – just make sure they are left sitting in water.
Is it better to plant herbs in pots or in the ground?
Most herbs can be grown in the ground or in containers. Sometimes, it is preferable to grow certain herbs in containers. Growing slightly tender herbs such as myrtle, lemon verbena and scented geraniums in pots or containers is preferable to borders because it means they can easily be moved indoors during winter months. It is also recommended to grow invasive plants such as mint in containers to help control its growth and prevent them from taking over.
One thing to remember when growing herbs in containers rather than in the ground is that herbs in containers is that in hot weather they can be quick to dry out, be sure to keep an eye on them and to keep them well watered.
What herbs can be planted together?
Many herbs can be planted together provided they like the same growing conditions and have the same irrigation needs. Many herbs are Mediterranean in origin – such as rosemary, thyme and oregano, – and so all thrive in sunny conditions and free –draining soil and work well when planted together. Herbs such as parsley and basil on the other hand will require more constant moisture.
Pippa is Content Editor on Homes & Gardens online contributing to Period Living and Country Homes & Interiors print issues. A graduate of Art History and formerly Style Editor at Period Living, she is passionate about architecture, creating decorating content, interior styling and writing about craft and historic homes. She enjoys searching out beautiful images and the latest trends to share with the Homes & Gardens audience. A keen gardener, when she's not writing you'll find her growing flowers on her village allotment for styling projects.