Herb garden ideas – 18 ways to grow an aromatic crop, indoors and outdoors
Discover the best herb garden ideas to create a bountiful, fragrant garden that also delivers on looks and flavor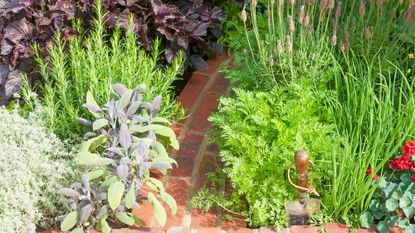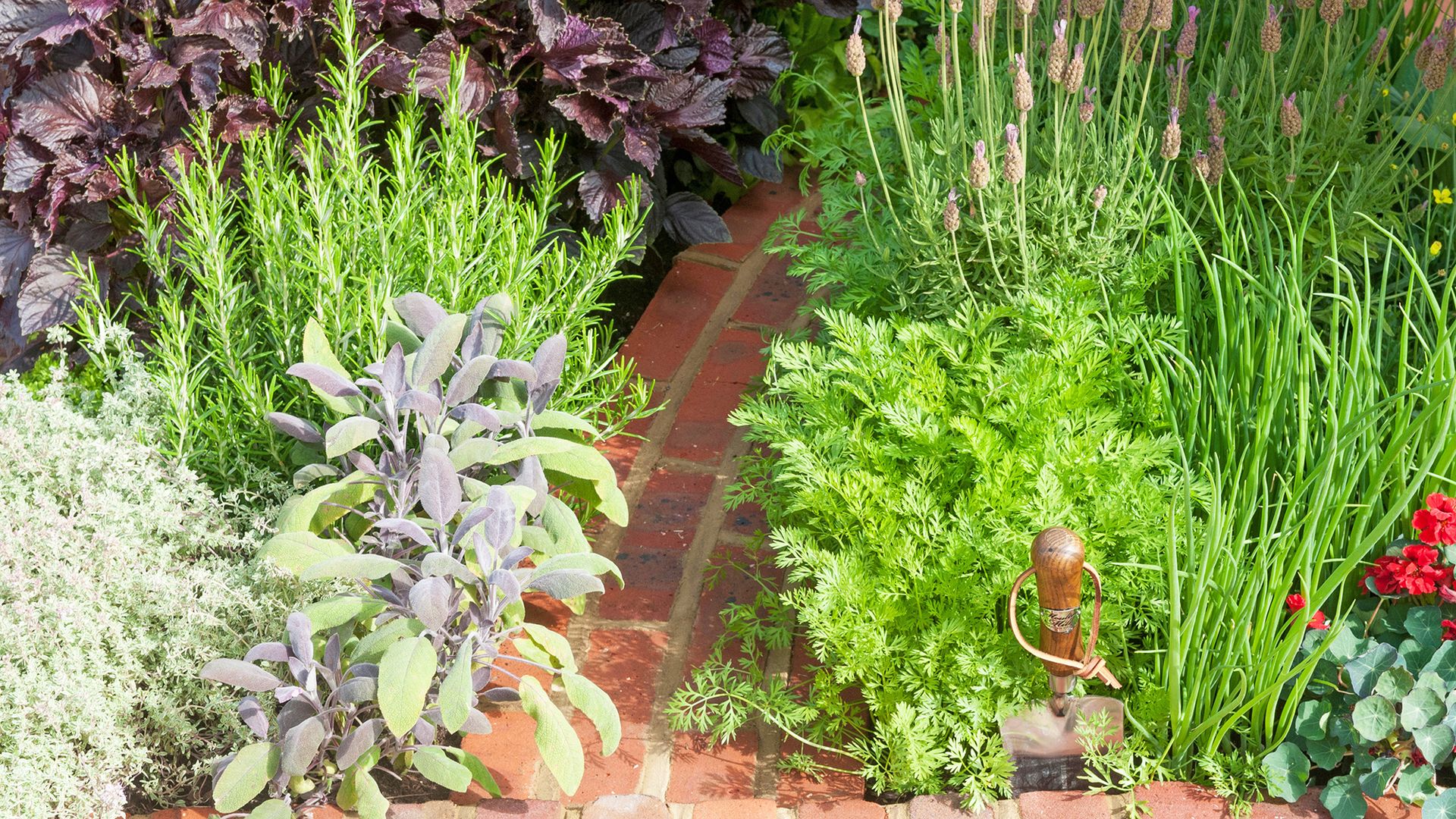 (Image credit: Peter D Anderson / Alamy Stock Photo)
Whether you're looking for herb garden ideas for your kitchen windowsill or want to create a fragrant herb border in your garden, there are so many wonderful ways to get started.
From refreshing mint to earthy thyme, there are myriad herbs to choose from, making them an essential addition to your vegetable garden ideas.
Not only do aromatic herbs provide a feast for the senses in the garden, but they have the power to transform meals, adding depth and flavor to endless dishes and cocktails.
'The flavors from freshly picked home-grown herbs are far superior to shop-bought dried alternatives, especially if organically grown,' says Period Living's gardening expert Leigh Clapp.
To get the best out of your herb garden, make sure you know when to plant herbs for all of your chosen varieties.
The best herb garden ideas
Herb gardens are ideal for beginner growers, as many varieties are hardy and easy to grow amongst your other kitchen garden ideas.
'Hardy herbs grow under a wide variety of conditions and levels of care. They work great in the corners of raised beds, ends of rows or in pots; and thrive in full sun, partial shade or irregular watering,' says Matthew Geldin, head farmer at Farmscape.
'My favorite hardy herbs are Berggarten sage, French thyme, Italian oregano and BBQ rosemary.'
Discover the best herb garden ideas to try in your own home and garden.
1. Plant a rosemary hedge
Planting a rosemary hedge is a fantastic way to border flower beds and patios, as it will fill the air with its stimulating aroma and provide an endless supply of sprigs to add to dishes. As an evergreen shrub, it will also add structure to the garden year-round.
'Rosemary can grow to 4-6 foot, making it ideal for hedging,' says Lindsay Hyland, founder of Urban Organic Yield.
'Is attractive narrow lance-like blueish green leaves have small purple-colored flowers that really pop during the summertime.'
Learning how to grow rosemary is key to its success. As a Mediterranean plant, it is best grown in poor, well-drained soil in drier climates. It thrives in similar conditions to lavender, which also makes a fabulous hedging plant.
Rosemary is best kept as a low, informal hedge, and should be clipped after flowering to keep its shape.
2. Surround a bench with fragrant herbs
Immersing yourself in the sights and scents of a herb garden is a large part of the appeal of planting one.
Instead of your herbs being a passing attraction, make them an integral part of your garden design by surrounding a secluded bench with borders packed with different vanities.
As well as filling the air with their heavenly fragrance, fennel and rosemary add height and interest in this scheme.
Take the idea one step further by building a herb planter seat, which will allow you to tend to your plants at a comfortable height.
3. Make your own herb plant markers
Making your own plant labels is a wonderful way to personalize your garden, and they look particularly effective in potted herbs.
Here, vintage metal spoons have been labeled with each herb name, adding a charming culinary feel.
To recreate this idea, print out the herb names onto paper, sized to fit the bowl of the spoon, leaving a small gap around each word.
To get the names onto the spoon, you need to use image transfer medium – available from Amazon. Following the manufacturer's instructions, apply three thin coats on top of each name to create a clear plastic-like film.
When dry, remove the original backing paper from the names by soaking in water and rubbing off the back. Allow to dry.
Position and glue on to the spoons using the transfer medium, with the names facing the right way up. Once placed, correctly seal with a further coat of transfer medium or, if to be used outside, a clear lacquer.
Allow to thoroughly dry overnight, before positioning in its designated pot.
4. Create a tabletop herb centerpiece
A tabletop planter is the most versatile of all herb planter ideas. It's perfect for outdoor entertaining, allowing guests to choose which herbs they wish to accompany their food.
For a one-off centerpiece, you can recreate this idea by filling a plant pot with cuttings from a wide variety of herbs, including sage, purple basil, rosemary and bay.
However, for a longer lasting display, plant up two or three low-maintenance and easy-to-grow herbs.
'Herbs are some of my favorite plants to grow in pots as you can move them around as needed and place them in easy-to-access areas, like on a patio or tabletop,' says Sandra Nanka, owner of Mudbrick Herb Cottage.
Mint is a particularly good choice for entertaining, as it can be added to drinks. 'Mint is notorious for running rampant in the garden and will quickly take over a garden bed if given half the chance, so it's the perfect plant to pot up,' adds Nanka.
'Most herbs are generally quite compact plants and will thrive in small spaces. Make sure your pots have adequate drainage holes at the bottom.'
Potted herbs will need a little extra care than those grown in the ground, requiring occasional feeding an annual repotting.
5. Plant herbs for bees
When planning your herb garden, spare a thought for bees and other pollinators who love these aromatic plants even more than we do.
Fill your borders with flowering herbs, such as lavender, borage, rosemary, thyme and mint, which will offer a feast for the senses.
This is also a great idea if you are considering trying beekeeping for beginners, as you will have a ready-made environment in which they can thrive.
The good news is that while precious pollinators love herbs, many pests do not. A number of herbs are mosquito repellent plants, and will help to keep unwanted critters at bay.
6. Add a herb garden to a hanging basket
Don't overlook the vertical plane when planning your herb garden – hanging baskets can make an enticing, fragrant addition to the garden.
'Introducing crops at eye level and above breaks up the lines and makes the space feel much more immersive and welcoming than if everything were placed on the ground,' says Alex Mitchell, author of Crops in Tight Spots.
'Hanging baskets can be hooked over walls and fences or attached to them with screws.'
Make sure you know how to plant in a hanging basket to get the best result, including a mix of more compact and trailing herbs.
7. Plant a herb jar garden
This jam jar herb garden is so simple yet highly effective and practical – keeping the plants at ideal snipping height, close to the kitchen.
To recreate the idea, you can attach hose clamps to a wooden board.
Using a pencil, mark three points along the piece of wood – making sure they are evenly spaced out.
Screw the hose clamps into the board, leaving the opening wide enough to slip the jars into place. Plant the jars with herbs, then hang in your chosen spot.
If you've caught the crafting bug, then there are plenty of other mason jar craft ideas you can try.
8. Companion plant herbs with your other crops
Companion planting has been practiced for thousands of years, and is a way of growing certain 'partner' plants side by side for beneficial effects.
Many herbs – such as thyme, lavender, rosemary, oregano and mint – are natural pest repellents, and can help to deter insects that would otherwise seek to feast on your vegetable garden.
They are also valuable for attracting pollinators to your plot. 'I have success when herbs are planted to attract a wide range of pollinators, which improves the yield, rather than as specific companion plants,' says Jekka McVicar VMH, of Jekka's Herb Farm.
'As herbs heal us they can also heal other plants; for example, chamomile next to an ailing shrub is a natural anti-fungal.'
9. Build raised beds filled with herbs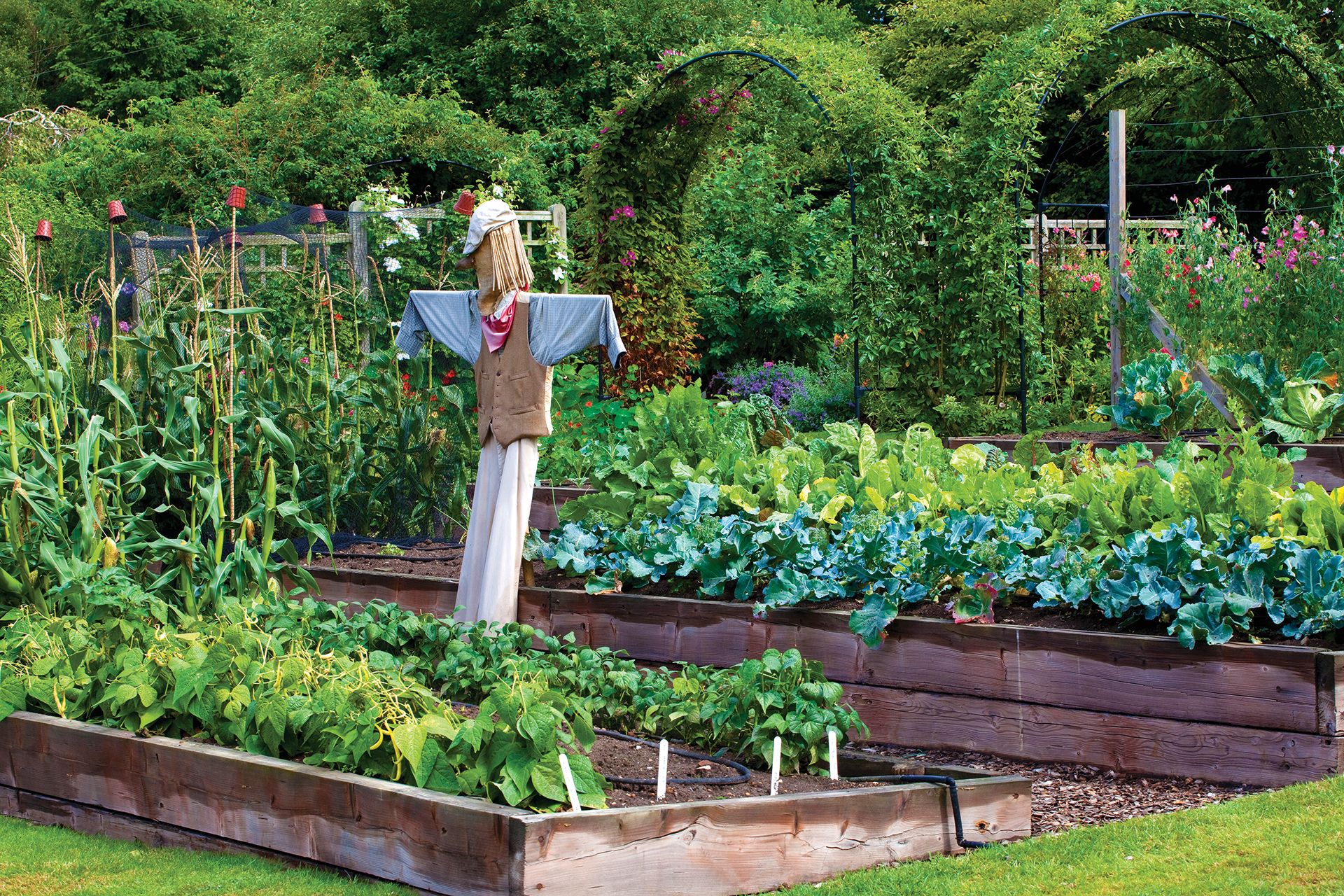 Get on board with the 'grow your own' revolution by incorporating raised garden bed ideas into your garden. Very easy to install, they are simply a square or rectangle built of wood, metal or brick, which is then filled with soil.
Raised beds are also a great choice if you aren't able to garden at ground level as you can purchase tall designs that let you garden while standing.
More versatile than planting straight into the ground, raised beds also give you greater control over soil type, condition and nutrients, meaning you can produce a bumper crop of your favorite fruit, vegetables and herbs.
'Many of our favorites like rosemary, thyme and sage come from the baking hills of the Mediterranean and do best in poor soil. Others, like parsley, coriander, basil and dill are annuals that grow fast and easily,' advises celebrity gardener Monty Don in his blog.
10. Plant flowers and herbs in one border
You don't have to have a dedicated herb border or kitchen garden to create your own herb garden. There are plenty of herb garden ideas that don't need a dedicated garden space.
Growing herbs in a flower and shrub border is a great way to add interest to your garden, providing the space with their delightful perfumes as well as being culinarily productive.
Some varieties also offer benefits to the other plants such as warding off pests or improving productivity.
11. Add a herb garden planter on the patio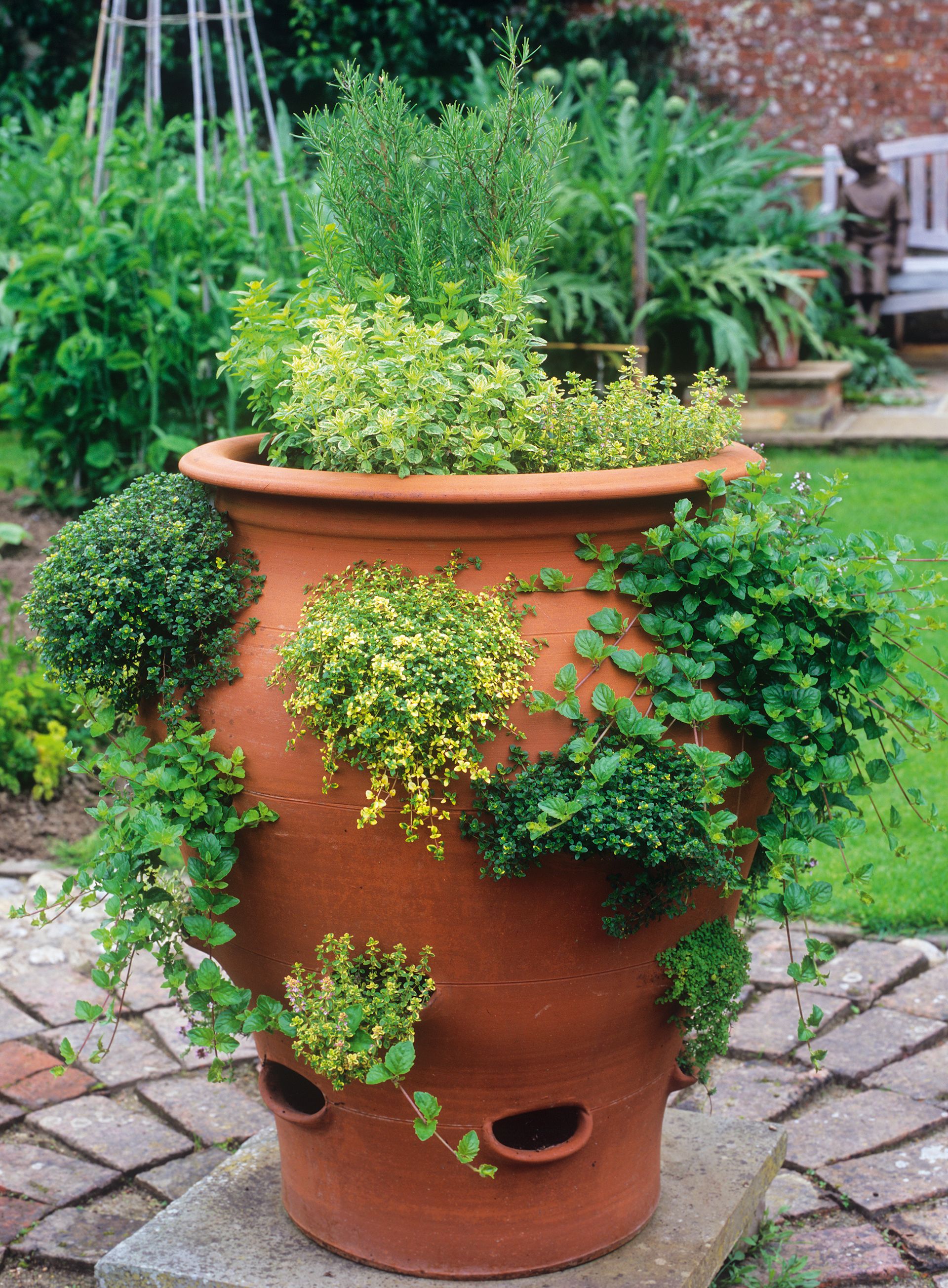 If you're short on garden space, perhaps only with a small courtyard or even just a doorstep, you can create a complete herb garden in a single planter.
Terracotta herb planters have various holes that allow you to plant different herbs in separate sections of the same pot.
Terracotta is a great choice for this type of pot as it is porous, meaning it lets air and water circulate, preventing root rot and soil disease, and keeping your herbs healthy.
Happily there are many container gardening ideas that will enable you to create a lush oasis in the smallest of spaces.
When it comes to potting up your herbs, Jekka McVicar of Jekka's advises potting up a plant one pot-size at a time. 'Going from a 1ltr pot to a 10ltr pot in one go will stress the plant and can quite often kill it,' she says.
12. Display herbs vertically to add interest
If you want to maximize the available space in your garden, then consider planting your herbs vertically.
There are several different herb garden ideas that can help you achieve this. Upcycling an old wooden ladder is a beautifully rustic way to add height to your garden, creating a striking yet compact focal point that draws the eye and adds interest.
13. Create an indoor herb garden
Vertical gardening is not just for outdoors. Growing herbs indoors is a great option, whether on a sunny windowsill or hanging display.
Hanging planters from the ceiling is not only a practical way to grow herbs in your kitchen but also adds a botanical flair to your kitchen's design.
Alternatively, hanging pots on utensil holders or placing them on bookshelves also lets you grow your favorite herbs.
14. Create clever herb garden ideas for small spaces
How do you start a herb garden for beginners, especially in a small space? Containers are a great way to do so – they are easy to manage and grouped or wall-hung, they look fabulous, too.
'Many herbs grow well in containers, especially ones that spread, such as mint, tarragon and lemon balm,' says Leigh Clapp. 'Small, portable pots allow you to move herbs around to suit the season, cover with a cloche, pop in a cold frame or bring indoors in winter.'
'Many herbs are native to the Mediterranean and thrive in full sun and well-drained soil. Grow a few containers of favorite herbs on the patio, deck or balcony for convenient access for you, and even guests, to harvest and add fresh ingredients to your meals,' advises gardening expert and author Melinda Myers.
15. Store herbs in vintage vases
'Keeping herbs close to hand is advisable, as you are much more likely to make use of them while cooking than if they are growing down the bottom of the garden,' suggests Leigh Clapp.
Either grow them near the back door, or regularly cut sprigs and place in glasses of water – like you would cut flowers – to ensure you always have your favorites on hand and ready to use.
16. Grow herbs in windowboxes – indoors or out
A windowbox is an easy way to grow herbs both indoors and outdoors. Positioned on the kitchen windowsill, it is one of the most convenient ways to grow your favorite herbs – you can go from plant to plate in a matter of a few seconds.
An outside windowbox is ideal if you only have a small (or non-existent) garden. It will add a quaint cottage touch to your home's exterior, and you can even intersperse your herbs with flowers to add interest to the display.
17. Use upcycled, reclaimed and vintage finds for your herb garden
If you're looking for something a little less formal, your local salvage yard or vintage store offers infinite possibilities for herb garden ideas – from old baths and sinks to chimney pots and troughs.
While no longer fit for their original purpose, these vintage gems look stunning when planted up with herbs.
'Get creative with recycled and upcycled containers – from wooden barrels to metal buckets; just remember to include drainage holes,' says Leigh Clapp.
18. Embrace technology for your indoor herb garden
Even if you don't have a green thumb, it doesn't mean you can't grow your own herbs. Modern inventions have completely removed the need for the plastic pot leaking soil on the kitchen windowsill.
Grow-systems featuring integrated lights mean you can grow bountiful herbs in even the darkest galley kitchens.
While these systems have looked a little space-age in the past, design updates have yielded beautiful designs like the above brass-effect Smart Growhouse from Modern Sprout.
Not only does it look chic on your kitchen countertop, but its eco-friendly LED light will ensure that you have the heartiest crop for all your cooking needs.
If you're looking for something simpler – and can't stand the thought of soil in your kitchen – then hydroponics are the way forward.
While it might sound technical, growing herbs hydroponically is actually one of the most straightforward herb garden ideas.
Rather than growing your herbs in soil, the plants are grown in baskets suspended above jars of water into which their roots grow. So no need to constantly remember to water your herbs.
Which herbs can be planted together?
The easiest way to know which herbs can be planted together is to work out which ones will enjoy the same conditions. So, herbs of Mediterranean origin (think oregano, rosemary, basil and sage) will like hot, dry conditions in summer; herbs that thrive in cooler climes will enjoy shade and more water.
One thing to note: some herbs, such as mint and lemon balm, should ideally be grown in pots as they are invasive and can overwhelm other herbs.
How do you start a herb garden for beginners?
If you are a beginner to herb gardening, the best way to begin is by picking perennial, tough herbs like mint, rosemary, sage and thyme, which will not take much looking after and will yield a delicious crop of herbs year after year.
Another way to tackle herb gardening as a beginner is to choose herbs that will grow happily in the climate in your area. If you have fairly mild or even warm winters, then your herbs will likely continue to grow throughout the majority of the year.
'Herbs are easy to grow and you'll be able to harvest them fresh for up to nine months of the year,' says Leigh Clapp.
On the other hand, if you live in a cooler area, especially one that experiences sharp frosts, your herbs will be dormant throughout the winter months.
However, growing herbs indoors or in a greenhouse will extend the growing period and mean you can have herbs all year round.
Where should I plant my herb garden?
You should plant your herb garden in the sunniest spot in your garden. Lots of herbs, like rosemary, basil and oregano, herald from Mediterranean climates, so thrive in warm, dry conditions.
However, some herbs like thyme, sage and borage are more well suited to cooler, damper climates, so will need some shade.
Consider the needs of the herbs when you are looking at herb garden ideas to make sure you have the right pairings, positioned in the right place in your garden.
Should you water herbs everyday?
You should not water herbs everyday. You should instead treat each plant individually. Touch the first inch of soil and feel whether it feels dry – if so it will need watering, if not then test again in a few days time.
As a general rule of thumb, your herbs will need watering once a week. However this depends on where they are planted and the weather – a potted herb grown on a windowsill will dry out much more quickly than a herb planted in a border during a rainy week.
'My top tip is to water in the morning, but never at night,' advises Jekka McVicar. 'This way you will not send the plant to bed wet when the night temperature drops, so causing the plant to sulk.
'If you notice the leaves are turning yellow or wilting it is most probably because you have overwatered. if this is the case do not water for a day and see if the plant perks up.'
Is it better to grow herbs in pots or the ground?
Whether it is better to grow herbs in pots or in the ground depends on where you live and the amount of space you have.
'All the Mediterranean herbs will grow very well in a container if they have a very gritty compost mix. However, do not fall into the trap of forgetting to water them regularly or letting them get pot-bound,' says Monty Don in his blog.
However, growing herbs in the ground is lower maintenance as they will not need watering as often and will not need repotting.
Is it cheaper to grow your own herbs?
It is definitely cheaper to grow your own herbs. 'Growing by seed is the cheapest option and the most rewarding way of raising your own crops,' advises garden expert Leigh Clapp. 'Choose crops that are expensive to buy compared to growing them yourself – for example herbs, such as mint, sage, thyme, parsley and rosemary.'
'If you buy herbs they always come in dainty little pots with even daintier little plants growing in them,' says Monty Don. 'For the cost of a packet of seed you can raise hundreds of marvellous herbs.'
Herbs grown yourself with be stronger, more vigorous and more flavorful than those bought in the supermarket, which often only last a few weeks at most. A packet of seeds can produce enough herbs to last you for nearly three-quarters of the year.
Sign up to the Homes & Gardens newsletter
Decor Ideas. Project Inspiration. Expert Advice. Delivered to your inbox.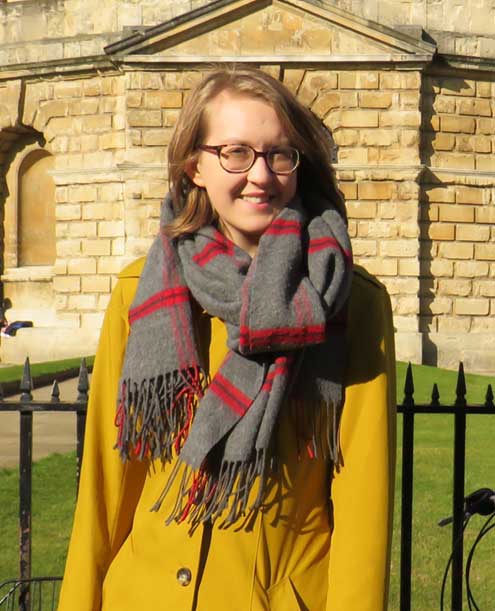 Content Editor and Sub-editor
Having graduated with a first class degree in English Literature, Holly started her career as a features writer and sub-editor at Period Living magazine, Homes & Gardens' sister title. Working on Period Living brought with it insight into the complexities of owning and caring for period homes, from interior decorating through to choosing the right windows and the challenges of extending. This has led to a passion for traditional interiors, particularly the country-look. Writing for the Homes & Gardens website as a content editor, alongside regular features for Period Living and Country Homes & Interiors magazines, has enabled her to broaden her writing to incorporate her interests in gardening, wildlife and nature.