Mason jar craft – 10 pretty ideas to make
Be inspired by these Mason jar craft and styling ideas and transform new and vintage versions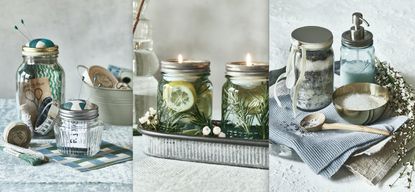 (Image credit: Future)
Mason jar craft ideas will transform these glass vessels into wonderful decorative accessories to display in the home or give as a gift.
While they're perfect for storage and organization, the glass jars we keep, as well as those vintage Mason jars found when antiquing, often become a large collection, so these ideas will make the most of them.
Here, we've put together 10 ways to turn these simple vessels into something special.
Mason jar craft: 10 pretty Mason jar ideas
Mason jars are a country kitchen staple – and the go-to for stylish pantry storage. But these handy vessels are nothing if not versatile and they can add so much more to your interiors.
These Mason jar craft ideas can be achieved with empty jars tucked into the back of your cabinets, or we like the selection of Mason jars on Amazon which includes different sizes and colors to inspire your creativity.
We've transformed these simple jars with paint to create cute vases perfect for garden parties, made them into handy sewing kits for crafters, and even turned them into candles. Take a look.
1. Succulent garden
This mini terrarium makes a wonderful Mason jar craft hostess or housewarming gift.
Slow-growing plants that like a humid atmosphere are perfect for terrariums – ferns, succulents and cacti all work well. Select a jar with a large enough neck to pass your mini plants through, and you'll also need gravel; garden earth or terrarium soil; and moss.
Fill the base of the jar with a thin layer of gravel; this allows for some drainage so the plant roots aren't sitting in water. Layers of differently coloured gravel add visual interest.
Next, add a layer of soil (not compost; this prevents your plants from outgrowing the jar). Make a small hole and plant the greenery. Cover any exposed soil with a layer of moss.
Put on the lid. It should be removed occasionally and the contents misted with water if the soil starts to look too dry.
2. Herby candle centerpiece
Transform a collection of small Mason jars into a glowing centerpiece for a summer table setting. You'll just need florist's wire or string, snips of fresh herbs, small pillar candles, and a tree slice.
Wrap the wire or string around the top of each jar and, before tying off, slip some sprigs of herb under the string and secure.
Add the candles to the jars and arrange the herb-dressed candles on a tree slice to create the centerpiece.
3. Spa in a jar
This is a welcome addition to any bathroom using Mason jar craft ideas to hold bath salts.
To achieve this, get together some Epsom salts, lavender essential oil, dried lavender, a small spoon, and ribbon.
Place the bath salts into a mixing bowl and add lavender essential oil. The quantity of salts will vary according to the size/number of jars you are filling. For 1 pound (500g) of salts we used approximately 25 drops of essential oil. Mix in dried lavender as desired.
Pour the salts mixture into the jar. We added a layer each of plain salts and lavender to create a pretty finishing touch.
Screw on the lid and tie a little spoon with ribbon to the lid of the jar to finish.
To make an accompanying soap dispenser, drill a hole in the center of a metal lid with a diameter just large enough to push the tube of the soap pump snugly through.
4. Bathroom beauty bar
Make bespoke beauty storage to keep make-up essentials to hand. To create this design a drill is necessary along with wooden board, rope, and hose clamps.
Drill a hole at either end of a wooden board and thread the cord through, ready for hanging.
Use a pencil to mark three even points along the piece of wood.
Screw the hose clamps directly into the board, leaving the opening wide enough to slip the jars into place. Tighten the screws to secure.
5. Natural insect deterrent
A naturally scented burner to ward off bugs is a Mason jar craft idea that's functional as well as attractive.
Gather together fresh lemons and limes, fresh rosemary sprigs, essential oils, and floating candles.
Slice a lemon and a lime and add equal amounts to each jar. Then place a couple of sprigs of rosemary inside each.
Add water until the jars are three-quarters full. Next, add 10 to 20 drops of essential oil; we used a combination of lemon, eucalyptus, citronella and vanilla. Do not stir the jar.
Top up the Mason jar with more water if required, then place a floating candle in each.
6. Chair-back flower vase
This is a great garden party idea, bringing a decorative touch to each seat. This Mason jar had a wire hanging handle already attached, but if yours doesn't simply wrap wire around the neck of the jar, then create a loop from which to suspend it.
Tie a ribbon around the jar, fill with water and add a posy of flowers then, using another ribbon, tie the mason jar vase to the back of the chair.
7. Pin cushion sewing kit
Another practical as well as appealing Mason jar craft idea, this pin cushion sewing kit is handy for quick repairs.
Make sure to have a traditional preserve lid (comprising a flat disc within a metal screw ring), as well as a jar, cardboard or felt, a piece of fabric, cotton wool or textile stuffing, and a hot glue gun.
Unscrew the lid, separating the two pieces of a flat disc and a screw ring. Place the screw ring to one side.
Cut a piece of cardboard or felt slightly smaller than the flat disc. Then cut a circle of fabric at least 1 inch (2.5cm) larger than the lid.
Place the circle of fabric right side down on the table. Put the cotton wool or stuffing on top, then lay the flat circular lid face down on top of that. While lightly pressing down on the lid, fold, tuck and glue the fabric around the lid. Make sure it is taut, and don't leave too much excess around the edge so it forms a soft domed pin cushion.
Glue the circle of cardboard or felt on the reverse side of the pin cushion to cover up the unfinished edges for a neat look. Push the screw ring back on to the lid.
Fill the jar with sewing goodies if you're giving it to a crafter as a gift, or your own sewing essentials.
8. Hand-poured candles
Decorated with pressed flowers and leaves, these Mason jar candles make beautiful thank you gifts.
For this project, make sure to have soya wax flakes, essential oils, glue dots or a glue gun, a candle wick, a clothes peg, pressed flowers and leaves, a label and twine.
Using the chosen jar as a measure, fill it to the top with soya wax flakes. You will need double this volume (2 jarfuls) to create each candle.
Put the wax flakes into a metal jug, then place the jug in a saucepan containing around 0.8 inches (2cm) of water. Melt the wax over a gentle heat on the stove top, mixing the flakes until they are completely liquefied. Let the liquid cool a bit, before adding in a few drops of the selected essential oil.
Using a glue dot or hot glue gun, secure the wick to the base of the jar. Use a wooden clothes peg to keep the wick upright in the center of the jar.
Stick the pressed flowers and leaves to the inside of the jar, using a small amount of adhesive to keep them in place. Pour the wax into the jar until it almost reaches the top. The flowers and leaves may move slightly but should stay in place.
Leave the candle to set overnight. Finish with twine and a pretty tag using a self-adhesive wax seal.
9. Opaque pastel vase
Use leftover paint from decorating projects to upcycle mason jars, or bottles and miniature vases.
Assemble a protective sheet or newspaper, a selection of glass vessels, and leftover paint or tester paint pots to begin.
Working over a protective sheet or newspaper, pour a small amount of paint into a jar.
Swirl the jar around, twisting it and turning it upside down until the paint covers every part of the glass.
Leave upside down until completely dry.
10. Floral-infused honey
This floral honey is the perfect way to sweeten tea or baked goodies.
Get together edible dried flowers, runny honey, an adhesive label, and decorative paper, then place the chosen edible dried flowers into the jar until it's roughly half to two-thirds full (we choose jasmine and chamomile). Pour in the honey to completely cover the flowers and fill the jar.
Put a lid on top and give the jar a gentle shake. Place the honey somewhere dark and cool for a few weeks. Taste it periodically to see how strong the flavor has become. Shake it every now and then to help the flavors infuse.
Finish with a pretty label and add decorative paper to the top of the jar.
What kind of crafts can you make with Mason jars?
'Mason jars are perfect for crafting as they are small, strong and endlessly adaptable,' says interiors stylist Marie Nichols. 'They naturally lend themselves to organizing a pantry, too, as the lids allow them to be sealed. They can be decorated inside and out to become beautiful vases and storage containers.
'You can also wire them with a light bulb and hang them upside down as a lamp.'
What gifts can you make with Mason jars?
'I love to use Mason jars for gifting,' says Marie Nichols. 'Fill them with cake or cookie ingredients to give to keen bakers. Decant bath salts or body lotion into them for a pampering present. Plant succulents, bulbs, or small plants such as dwarf cyclamen in them for plant lovers.
'Fill them with hobby supplies for crafters – you could collect ribbons, thread, buttons and bobbins. Or opt for drawing materials for artists.
'Or create a keepsake vase by filling a Mason jar with special photos, handwritten notes and mementoes to give to loved ones.'
Styling / Marie Nichols
Sign up to the Homes & Gardens newsletter
Decor Ideas. Project Inspiration. Expert Advice. Delivered to your inbox.
Andrea has been immersed in the world of homes, interiors and lifestyle since her first job in journalism, on Ideal Home. She went from women's magazine Options to Frank. From there it was on to the launch of Red magazine, where she stayed for 10 years and became Assistant Editor. She then shifted into freelancing, and spent 14 years writing for everyone from The Telegraph to The Sunday Times, Livingetc, Stylist and Woman & Home. She was then offered the job as Editor on Country Homes & Interiors, and now combines that role with writing for sister title homesandgardens.com.