Aromatic herbs – 10 scented herbs to include in your kitchen garden
Add aromatic herbs into your garden planting to benefit from their fragrance, culinary and mood-enhancing properties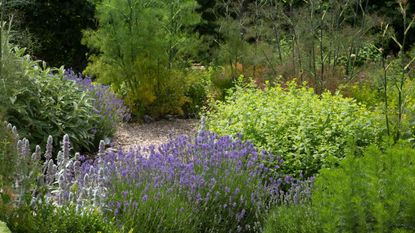 (Image credit: Leigh Clapp)
Aromatic herbs appeal to many of our senses, and are both decorative and practical. They can enhance any garden with their fragrant, colorful, flavorsome and textural foliage and flowers.
Alongside their visual and culinary appeal, the fragrance of scented herbs can have an impact on our emotional wellbeing, too. For instance, lavender is believed to help relieve stress and promote relaxation, while uplifting, fresh mint is used to improve focus.
Versatile plants, there are aromatic herbs for most growing conditions and so there are many ways to include them in your garden ideas – whether that is among ornamental plants in beds and borders, planted in a dedicated herb garden, lining pathways or filling containers.
How to grow aromatic herbs
Position aromatic herbs where you can fully appreciate their beautiful fragrance. 'The great thing about scent is it is very evocative,' explains herb expert Jekka McVicar VMH of Jekka's Herb Farm.
Most aromatic herbs like a sunny spot, but some, such as mint, lemon balm or chamomile, will tolerate partial shade. 'Many herbs are native to the Mediterranean and thrive in full sun and well-drained soil,' advises gardening expert Melinda Myers.
For the best way to enjoy fragrance from scented herbs in your backyard, 'plant them close to paths, or in elevated positions where you catch their scent as you brush past; in a sunny, sheltered courtyard to fill the air with their aroma; in a pot by the back door, or on a windowsill,' advises Heather Birkett, senior gardener at the National Trust's Acorn Bank in Cumbria.
Aromatic herbs generally prefer free-draining soil, although the likes of mint will survive in damp soil. 'The soil can be ameliorated to create more or less free-draining conditions,' says Heather, for example either by digging in horticultural grit if it's heavy clay soil, or adding in organic matter to sandy soil.
There are many herb garden ideas to try, and you can also grow tender plants in pots to bring undercover over winter. For potted scented herbs 'use a soil-based compost, which holds water better in summer,' adds Jekka.
10 of the best aromatic herbs to grow
'Scented herbs are particularly engaging and accessible for anyone to have a go at growing and therefore provide a brilliant way into gardening,' explains Heather Birkett.
There is more choice among aromatic herbs that like a position in full sun, but there are those that will thrive in light shade, too. 'Plus half the fun of gardening is trying things out and learning about what works in your own garden,' says Heather.
1. Lemon verbena – Aloysia citrodora
Lemon verbena forms an elegant shrub that can grow up to 6 feet tall and wide. Its leaves release their refreshing fragrance each time they are touched, so beside a pathway is a good spot for planting.
This herb likes full sun and fertile soil with excellent drainage, and is good for container growing, too, so one to add to the list of herb planter ideas.
'Lemon verbena is one of my favorite aromatic herbs,' says Jekka McVicar. 'It smells of lemon sherbet candy, and you can have a leaf in your pocket all day and it will lift your spirits. It is exceptionally good and makes the most extraordinary tea,' she adds.
2. Mint – mentha sp
Mint plants cope well in sun or light shade and can tolerate moist soil. They have a characteristic strong fragrance in the leaves and stems and can produce beautiful flowers of purple spikes, although regular harvesting may reduce flowering.
'There are many varieties of this aromatic herb to choose from – chocolate mint, orange mint, eau de cologne mint, apple mint, grapefruit mint, Moroccan mint, ginger mint, spearmint, and so on, and each has a subtlety different fragrance,' says Heather.
'Mint can be invasive and should be contained to prevent it from tasking over your garden,' she adds, so make sure you know all the ins and outs of how to grow mint before adding it to your garden.
3. Rosemary – Salvia rosmarinus
If you have a small garden, the upright, arching habits of Salvia rosmarinus, a small to medium woody shrub, are much easier to grow.
Jekka McVicar recommends 'Rampant Boule', while Heather also champions Salvia rosmarinus 'Foxtail', 'which will gracefully drape itself over the sides of a round pot. It produces silvered fragrant leaves, with each stem clothed with white, pink or purple flowers in May to June.'
Choose a sunny spot for growing rosemary , and it is fairly drought tolerant once established, although it can be vulnerable in very cold winters.
'This scented herb is only perennial in zones 8 to 10, but potted rosemary can be taken indoors in the winter in colder regions, then brought back outside when the weather warms,' say the experts at Bonnie Plants.
'The lovely thing about rosemary is it can also have a second flowering in fall, so is not just beneficial to our sense of wellbeing, but also to bees, especially bumblebees, as it is a late nectar plant,' adds Jekka.
4. Chamomile – Chamaemelum nobile
With its low-growing, spreading habit, chamomile forms a mat of pretty yellow and white daisy-like flowers, so is good for pavement cracks. 'The fragrant leaves release the scent when rubbed or trodden on, and cope with occasional foot traffic,' says Heather.
Believed to have calming and soothing properties, chamomile is widely known for use in tea. These aromatic herb plants like sun or light shade and make a great addition to small vegetable garden 'to attract beneficial insects and pollinators to boost harvests and keep veggies healthy,' say the experts at Bonnie Plants.
5. Lavender – Lavandula
Lavender is one of the most quintessential aromatic herbs for the garden, and fantastic for bees and butterflies.
There are many varieties to choose from, but if you have a smaller garden, Jekka McVicar advises angustifolia and intermedia varieties. Lavandula angustifolia grows to about 23 - 27 inches (60-75 cm) in diameter, whereas intermedias grow to about 40 inches (1 meter).
For success in growing lavender it need the correct conditions. 'It is best grown in light soil which is well drained and free from damp soggy winters. Adding sand or gravel can help improve the soil . Pick a dry, sunny and open position. The shrub can be grown from seed sown in spring but is also a great herb to grow from cuttings and layering as well as root division,' explains Flora Scott, head gardener and trainee herbalist at Herbs for Healing.
Lavender also needs careful pruning. 'Cut it back by an ⅛ in the 8th month,' advises Jekka McVicar. 'Stay within the green and don't go into old wood. This is so important to do, as now we often have deluges of rain and if you have left the old flower heads on the plant, the heavy rain will split the plant in half. By pruning it, you make the plant into a dome shape, which helps to protect it.'
6. Fennel – Foeniculum vulgare
Fennel is a short-lived, herbaceous scented herb.
'Each year it will produce statuesque stems about 6ft (180cm) tall carrying large umbels of small soft yellow flowers, and the stem, leaf and seed all smell strongly of aniseed,'' says Heather Birkett.
Grow fennel in a sunny position, in fertile but well drained soil. 'If planted in a spot where it is happy, it will self seed – providing new plants to continue forward with,' says Heather.
Although many gardeners enjoy growing fennel as a tender perennial in zones 6 to 10, it is usually grown as an annual, says the experts at Bonnie Plants.
7. Lemon balm – Melissa officinalis
Lemon Balm has a highly fragrant leaf and produces small white or pale purple flowers.
'This herbaceous perennial copes well with regular harvesting thanks to its vigorous growth habit, and there are golden-leafed and variegated forms available which light up a garden border,' says Heather.
This aromatic herb does well in sun or partial shade, in fertile, well-drained soil. It is particularly good for flavoring teas, lemonades and syrups.
'Lemon balm can be propagated from seeds, cuttings or by dividing in the spring. Seeds can be sown indoors from early spring into plug trays, and covered with perlite and then potted on,' says Flora Scott.
8. Garlic chives – Allium tuberosum
A rarity among the family of scented herbs, garlic chives grow from a bulb as opposed to seeds.
'The herb has distinctive flat leaves instead of round, and beautiful white spherical flowerheads in late summer to fall – later than most alliums,' says Heather.
Garlic chives need moist but well drained soil in full sun.
9. Dill – Anethum graveolens
An annual aromatic herb, dill is easily grown from seed each year.
'It has aromatic grey green leaves with umbels of small yellow flowers and a wonderful strong aniseed scent,' says Heather.
Make sure you do your research beforehand so you know how to grow dill. It likes to be grown in well-drained soil in a sunny position and should be planted in spring, or fall in frost-free climates, say the experts at Bonnie Plants.
10. Lemon thyme – Thymus 'culinary lemon'
With its faintly lemon scented aroma and attractive foliage, lemon thyme makes a lovely addition to the garden.
It is easy to get to grips with how to grow thyme , and this variety in particular is 'fantastic to cook with and use with fish, chicken and vegetables,' says Jekka McVicar.

Not only is this aromatic herb attractive to us, but lemon thyme is also wonderful for bees and butterflies, who are drawn to its tiny flowers.
It is ideal for forming a groundcover, or planted along the edges of a path or patio.

What are the most aromatic herbs?
Some of the most aromatic herbs are included in the list above, including rosemary, thyme, mint, lavender and fennel.
The trick with getting the most from scented herbs is to position them carefully in your backyard so that you can enjoy their aroma as you walk past, or when you are sitting out and enjoying the sunshine on a patio or terrace.
Consider, too, using scented herbs to line pathways leading to your front door, or position them in pots either side of your door so that visitors can enjoy their fragrance as well.
Which scented herbs also produce beautiful flowers?
There are some aromatic herbs that are also admired for their beautiful flowers. The following are suggested inclusions from Flora Scott.
Red Bergamot (Monarda didyma) – large red flowers grow in whorls with a spicy aroma. The flowers dry a beautiful maroon color and make a good edition to potpourri.
Fennel Flowers (Foeniculum vulgare) – large flat umbels of small bright yellow flowers that smell like aniseed. The aromatic seeds can be saved and dried to use in the kitchen.
Meadowsweet (Filipendula ulmaria) – frothy clusters of creamy white flowers that smell strongly of sweet almonds and honey.
Pennyroyal (Mentha pulegium) – tall spikes of strongly peppermint scented mauve flowers growing in clusters around stem.
How do I dry scented herbs?
Perennial and shrubby herbs can be dried for use through the year.
Harvest sprigs in bunches, in the morning, lie them down in a dry, well-ventilated space for a few days, such as a greenhouse, then tie together in bunches and hang them upside down to completely dry out. Store the dried herbs in clearly labelled glass jars.
'If want to dry lavender, do so just before the flowers open, not when they are open, as if you pick them when they are open the flowers will fall off,' advises Jekka McVicar.
Sign up to the Homes & Gardens newsletter
Decor Ideas. Project Inspiration. Expert Advice. Delivered to your inbox.
Rachel is senior content editor, and writes and commissions gardening content for homesandgardens.com, Homes & Gardens magazine, and its sister titles Period Living Magazine and Country Homes & Interiors. She has written for lifestyle magazines for many years, with a particular focus on gardening, historic houses and arts and crafts, but started out her journalism career in BBC radio, where she enjoyed reporting on and writing programme scripts for all manner of stories. Rachel then moved into regional lifestyle magazines, where the topics she wrote about, and people she interviewed, were as varied and eclectic as they were on radio. Always harboring a passion for homes and gardens, she jumped at the opportunity to work on The English Home and The English Garden magazines for a number of years, before joining the Period Living team, then the wider Homes & Gardens team, specializing in gardens.