How to grow dill – from harvest to the table
Find out how to grow flavorsome dill successfully – it's great with fish and potatoes, and has some surprising medicinal qualities too!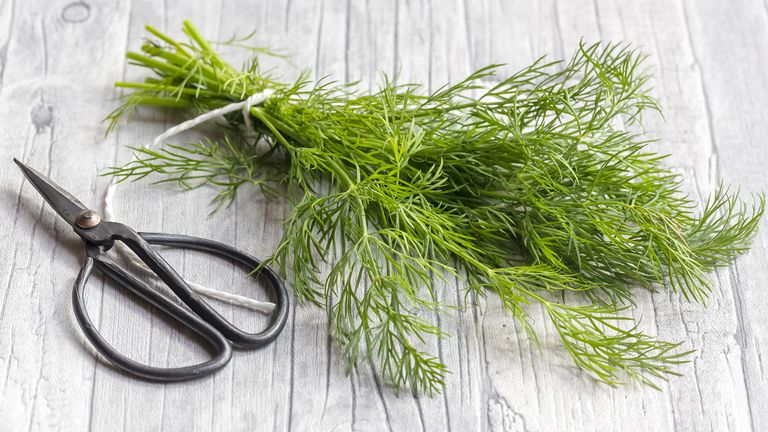 (Image credit: Getty Images)
By Karen Darlow published
How to grow dill? Good question, as even experienced gardeners sometimes struggle to grow this tasty, feathery leaved herb that makes the perfect taste partner for salmon. Dill, Anethum graveolens also known as dill weed, has a bit of a reputation for being tricky to grow, but if you pay attention to its preferred growing conditions you can grow dill easily and successfully from seed, in the garden, or in indoor or outdoor pots.
Dill was traditionally grown as a medicinal herb, used as a remedy for coughs, headaches and, as TV gardening guru Monty Don writes in his blog 'as medicine for easing flatulence.'
Dill is more often used in the kitchen these days, however: the seeds, leaves, and even the pretty flowers are edible. Dill is a beneficial plant to grow in the flower garden or vegetable plot as its umbelliferous flowers attract bees and other wildlife.
See: Kitchen garden ideas – easy ways to get started
How to grow dill from seed
You can sow dill seeds indoors from early spring, or directly outside from May to July. To grow dill inside, either use cell trays for individual seeds, or scatter a few seeds thinly in small pots. To transfer indoor-sown dill outside, harden them off for a week to 10 days, once the frosts are over. Plant out allowing 30cm/12 in between plants.
Don McCulley of Swallow Tail Garden Seedssays you should do your first indoor sowing of dill seeds 'in cell packs or flats, 6-8 weeks before the last frost. Keeping the seeds at 60-65°F /16-18°C. They should germinate in 14-21 days.'
In mild climates, McCulley advises planting dill in full sun, but for hotter areas choose a sunny or part shady spot.
He advocates succession planting and says, 'For a steady supply of fresh dill leaves throughout the season, plant in early spring, again in June, and once more in July.'

How do you grow dill successfully?
Dill thrives in a sunny, sheltered spot and likes fertile, well-drained soil. It requires regular watering, especially in hot weather – digging in garden compost or well-rotted manure to the earth will help to retain moisture. Be careful not to overwater, however, as the plants won't thrive if they're in waterlogged compost.
Monty Don says, 'Dill is best grown outside in the open air and sunshine, but will do well in a deep pot.'
He adds, 'Sow a line of seed in the ground and it will grow fast to provide leaves, flowers and seed for cooking.'
See: Planning a kitchen garden – from designing a layout to picking plants
How to care for dill
You can prolong the life of your dill plants, and encourage a more bushy habit by pinching out flower shoots. Taller varieties may need support from canes if they're in an exposed part of the garden. If you've added compost or manure to the plot you shouldn't need to feed dill, but you could use a liquid multi purpose plant food occasionally if you wish.
Does dill come back every year?
Dill is a biennial plant, and so dies right back to the ground in winter, reappearing in the spring. However, harsh winters can kill the plant altogether. Of course, if you grow dill indoors in a container you can keep it going all year round.
Common problems with dill
Dill does have a tendency to bolt and flower if the plant dries out or its roots are disturbed. Water it well to avoid this.
As well as attracting bees and wildlife, tender dill shoots draw in greenfly. You can get rid of them by spraying with a gentle jet of water, or squashing them with your fingers. Alternatively you can wait for nature to take its course - hoverflies love dill plants and hoverfly larvae love greenfly, so they might just take care of the problem for you.
Monty Don agrees, saying: 'Dill is important for the organic gardener as it draws hoverflies, whose larvae eat aphids.'
I'm the homes editor of Period Living magazine and an experienced writer on interiors and gardens. I've also moved house quite a few times – totting up 10 homes in 12 years during a particularly nomadic time in my life. I like to think that makes me quite the homes expert, or at least very experienced and with a clear idea of what I like and don't like in a home.
I love visiting and writing about old houses for Homes & Gardens' sister magazine Period Living and working with photographers to capture all kinds of historic properties. It's inspiring to talk to people about their traditional homes and to hear the stories behind their furnishing and decorating choices. And by the time I've finished an interview with a homeowner I've always got a handful of new ideas to try in my own house, as well as plenty of good stories for the magazine. It's the perfect work-life balance.