How to grow lavender
Find out how to grow lavender to bring color and fragrance to pathways, pots and borders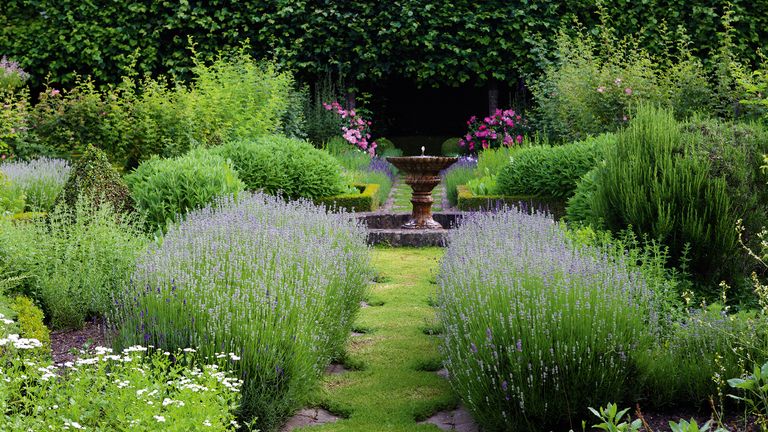 (Image credit: Leigh Clapp )
Knowing how to grow lavender should be high up on every keen gardener's list. A hardy, evergreen bushy shrub with grey-green leaves and mauve, spiky flowers, lavender (Lavandula) is evocative of English cottage gardens and loved for its strong fragrance; there's nothing quite like walking through the garden on a hazy summer's day with the divine scent of lavender wafting up on the breeze as you brush past.
There are numerous varieties available, including the traditional English 'Hidcote' and 'Munstead' types, as well as the French varieties with their distinctive petals which sprout from the top of the flowering stem, not forgetting the dwarf varieties. Most flower from July to September and all vary in height, (from 30cm to 1m) and depth of color; you can even get blue, pink and white varieties.
As well as bringing beautiful fragrance and color to the garden, lavender is also used for culinary purposes and can be easily dried for use in crafts, plus it is rich in nectar so will help keep the bees happy – what's not to love?
See: Flower bed ideas – beautiful ways to create floral displays in your garden
Where to grow lavender
Mediterranean in origin, lavender thrives in a sunny spot in free-draining, alkaline soil; it will not do well in a cold waterlogged position. If your soil is heavy add plenty of grit to improve the drainage, or consider planting on a mound.
Lavender is a great plant for informal hedging, edging flower beds and herb gardens, and lining paths, but can also be planted in borders or in pots on a patio. As it can tolerate drought conditions and poor soil it's a good choice for hot, gravel gardens and coastal areas plus looks beautiful underplanting roses.
Before buying a lavender plant, do your research as different cultivators will suit different situations and some are hardier than others – English varieties (Lavandula angustifolia) such as Lavender 'Hidcote' and 'Munstead' are the hardiest.
For planting lavender in borders, consider larger lavender varieties such as 'Hidcote Giant' and 'Intermedia Grosso'. 'Hidcote Giant' certainly lives up to its name in stature with long flower stalks too. The grey foliage has a coarse texture for a bolder planting position, ultimately reaching up to one meter in spread and height,' says Head Gardener at Hidcote, Lottie Allen.
Big cultivators can get straggly, so for hedging choose smaller varieties such as Lavender 'Hidcote' or 'Munstead'.
Small, compact lavender varieties are best for pots, but growing lavender in pots also allows the opportunity to grow some less hardy varieties such as Lavandula Stoechas, also known as French Lavender, as they can be easily moved to a sheltered spot over winter. See more on growing lavender in containers, below.
Does lavender need full sun?
While lavender is evocative of English cottage gardens, it is actually native to the Mediterranean – so why not consider incorporating it into Mediterranean garden ideas? This means it thrives in a sunny position and can tolerate drought conditions. It does not like cold, waterlogged conditions.
How to grow lavender from cuttings
Lavender can easily be grown from cuttings, which is a cheap and easy way of replicating your favorite plant.
The best way to do this is to take semi-ripe side shoot cuttings from new summer growth – this means the stems are soft at the top but firm at the base, with the strip of bark attached. This strip of bark is where your new roots will grow from.
Remove the cutting's lower leaves to give you a three inches of bare stem, dip it into rooting hormone and plant in pots filled with gritted compost (each pot should be able to take more than one cutting).
Water well, then cover the pot, right down to its base, with a clear plastic bag – this will create a hothouse atmosphere that the cuttings will enjoy, especially if sited in a warm, shady spot.
Rooting takes around four to six weeks, after which you can cut a whole in the top of the bag to allow some cooler air in. Once you are confident that the plant has taken root strongly, you can remove the bag entirely. After another couple of weeks, plant or pot up your cuttings separately to give them more space.
How to grow lavender from seed
Lavenders are more commonly bought as plants, but growing from seed can be a cheaper alternative. Sow in trays from Feb - July over moist compost, but do not cover as seeds need light to germinate.
Lavender germinates at around 18-21ºC, so place in a greenhouse or propagator.
Seeds can take from two weeks to three months to germinate; if germination does not occur, consider cold stratifying by moving the tray to the refrigerator for four weeks, then back into the warm. Transplant seedlings into individual 8cm pots. Harden off the plants and plant out when danger of frost has passed, spacing to 45cm.
Alternatively sow 5mm deep into a prepared seed bed.
See: How to grow nasturtium – a bright bloom that's the perfect complement to lavender
Growing lavender in pots
Lavender grows well in pots and containers on sunny patios or in courtyard gardens, but will need watering during hot weather to prevent them drying out.
It's best to plant lavender in terracotta pots as the material is porous, so will allow the plant to breathe. The benefit of growing lavender in pots is that it can be easily moved throughout the garden; placing pots of lavender near a seating area will bring beautiful fragrance to a relaxing spot.
Lavender grown in pots will be more susceptible to the cold – depending on the hardiness of the variety, consider moving lavender pots into a sheltered position over winter.
How do I care for a lavender plant?
Lavender plants are easy to care for and need little maintenance. Established lavender plants are drought tolerant so can last without much water, however newly planted lavenders will require regular watering in the first summer.
Do not put in a cold wet spot. Deadhead in late summer and prune in spring.
How to prune lavender
It is important to prune lavender to keep it looking compact, neat and tidy. If left unpruned it can turn woody and look straggly. In late summer, after flowering, cut back the spent flower stalks to the leaves, then, the following spring, trim new growth by around 2.5cm (1inch). It's important to leave some new growth as new shoots will not form well from woody growth.
In his book The Complete Gardener, gardening expert Monty Don reveals that, 'the secret of keeping a lavender bush in good shape is to clip it in spring, but try to avoid cutting into old wood as plants will not always regenerate.'
It's also best to cut flowers back before they have set seed. ''You don't want to wait until the flowers have gone brown; as soon as they've passed their best, cut them back,' reveals Monty in his Gardener's World show.
See: Rock garden ideas – ways with to create a modern rockery in your backyard
How to dry lavender
To dry lavender, simply cut the stems as they begin to turn, tie in bunches and hang upside down in a dry place.
Lover of all things vintage, floral and country, Pippa has been working in interiors media for 10 years. A graduate of Art History, and Style Editor for Period Living magazine, she is a nostalgic soul who is passionate about historic architecture and traditional craftsmanship. When she's writing about homes and gardens you'll find her pottering on her Gloucestershire allotment, Pippa's Plot, where she grows flowers for styling her own home and interiors shoots.