Planning a greenhouse – 10 ways to make the best use of space year round
Follow this advice on planning a greenhouse with tips on organizing and zoning the space, layout, and what and how to grow in it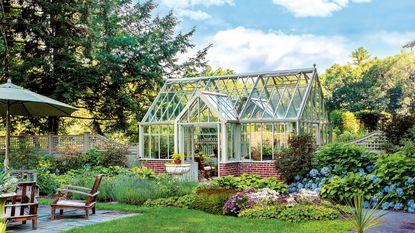 (Image credit: Hartley Botanic/ Eric Roth Photography)
Make the most of planning a greenhouse and discover how to organize the planting and use the glasshouse throughout the year for growing vegetables, fruit and tender blooms.
There are many different greenhouse ideas and styles that can suit any style of backyard.
Greenhouses and glasshouses provide a beautiful, undercover alfresco space, and the capacity to grow a huge variety of vegetables that can augment and start off crops planned as part of your kitchen garden ideas.
Planning a greenhouse – what to consider
A greenhouse will broaden the scope, not only of what you can grow, but also when you can grow it.
'Seasons become a little less relevant since you are able to provide full frost protection, and at the start of the growing year you can steal a march on nature. Furthermore, the large number of plants that are virtually impossible to propagate outdoors will become easy to raise,' explains Tom Barry, CEO of greenhouse manufacturer Hartley Botanic.
To make the best use of the greenhouse growing space for year round use, there are certain essentials to consider and factor in.
1. Zone areas in the greenhouse
'Creating zones is key when planning a greenhouse. You need to consider how much space your plants will need and also their temperature requirements,' explains Chris Sawyer, Strategic Director at greenhouse manufacturer Alitex.
'Allocate separate zones for potting, propagation and storage. All you need is a clear work bench on one side of your greenhouse that will be dedicated to this, and it is always worth getting some labels to make sure you know what is what,' Chris adds.
You can use a temporary potting bench if space is limited.
Offer maximum space for the all important planting. 'It is best not to attempt to grow too many vegetables in a small greenhouse,' says Chris.
2. Allow space for each plant
'When planning what to grow in the greenhouse, make sure you allow plenty space for each plant. It is essential to allow airflow for ripening of fruit and vegetables and to prevent pests and disease,' advises Kate Watkinson of seed specialists Burpee Europe.
'Don't forget to make sure you have the correct space needed for growbags for those vegetables you will be growing on in the greenhouse,' Kate adds.
'If space is limited, the easiest method is to propagate salad vegetables, such as carrots, celery and romaine lettuce in seed trays. All can then be moved on and hardened off through cold frames as pat of larger vegetable garden ideas,' adds Chris.
3. Install greenhouse shelving
Use every available space to its full advantage. Install shelving under growing surfaces on benches for storing seeds, pots, compost, seed trays, gloves and tools, as well as displaying plants.
'It is a good idea to have a mixture of bench and shelving levels when planning your greenhouse to suit different plant species,' explains Tom.
'Lower benches are useful for flowering plants that are "resting", such as corms like cyclamen and tubers like achimenes – they are also useful for organizing watering cans and spare pots.
'Top shelf staging is ideal for orchid care as this can mimic their natural environment well, as they grow in trees. Shelving improves the appearance and visual impact of a greenhouse by creating elevated displays of ornamental plants,' adds Tom Barry.
'I would always recommend installing southerly facing benches in a greenhouse; the sun will shine through the glass and across to the opposite side where you would grow on the ground and make the most of the better light,' advises Chris Sawyer.
4. Use partitions to zone the greenhouse
'Partitions, which are internal glass walls, can be used to provide a stylish way to separate your greenhouse into different zones,' explains Tom Barry.
They will allow you to create variations in climate for different plant groupings more easily. In addition, you can use partitions to separate growing and lifestyle zones within your greenhouse. For instance you could try growing okra, which prefers warmer temperatures, in one part, and grow spinach in another.
'When planning a greenhouse you should also consider how you use floor standing space, the space under staging and a potting bench and compost store is a useful addition,' adds Tom.
5. Plan a greenhouse for year round use
Planning a greenhouse for year round use will mean you make best use of this valuable growing space. There are many choices when it comes to the best food to grow in a greenhouse, so opt for the crops you like to eat.
'Canny gardeners plan a greenhouse to have a planned rotation so that they are constantly supplied with homegrown crops,' explains Tom Barry. Using a gardening calendar you can plan the successions of sowings
January and February – 'You can start to sow many varieties of vegetables, salads and herbs in the greenhouse such as peppers and aubergines, and if you're growing tomatoes and some cucumber varieties,' advises Kate Watkinson of seed specialists Burpee Europe. 'Staggering sowing helps to maintain a regular flow of produce throughout the year.'
When the time is right, assess which plants are ready to pot up in the greenhouse or plant out in the garden.
Spring – 'Aim to take 70 per cent of the crop out into the garden when the last threat of frost has passed in the spring. The remainder will sit on the benches and produce a big summer salad crop,' says Chris Sawyer
Summer – Cultivating fruit and vegetables in a temperature controlled environment is the best way to ensure a healthy summer crop. 'Ensure that watering is maintained and ventilation adequate, adding shading if required,' says Kate.
Fall – As it gets nearer to the colder months, check to see which crops you would like to grow in the greenhouse, such as cut and come again salads, which can be grown throughout the year. 'This makes good use of available space which has arisen after the summer,' adds Kate.
Winter – Utilize the greenhouse for overwintering tender plants to protect them from frost and use fleece if needed.
'If you have got the space for a substantial sized greenhouse – 30 sq meters minimum – you can place a growing bed in the center and produce a very impressive crop during the winter months, such as growing potatoes or carrots,' Chris adds.
6. Control the greenhouse temperature
A great deal can be achieved with an unheated or 'cold' greenhouse, especially in warmer or milder zones.
However, for a lot of gardeners, when planning a greenhouse heating of some kind will be necessary to get the most out of it.
'Systems range from providing background warmth against frost to constant heating. Remember that each degree rise in ambient temperature carries additional cost and with global concern about carbon footprint it makes sense to use as little artificial heat as possible,' explains Tom Barry.
You can heat a greenhouse using electricity, paraffin or bottled gas.
'For colder months, the best way to control the temperature in a small greenhouse is with a small 3kw thermostatically controlled heater,' says Chris Sawyer.
'For medium to large greenhouses, it would be better to radiate heat from tubular heaters with thermostats fitted. Most of the productive work takes place on the benches so if you position tubular heaters on the walls under the benches, this radiated heat will keep the soil in the pots and seed trays warm, and there will be less chance of the seeds failing by way of the soil freezing. Plants hibernate during the winter, but will still require the soil in which they are growing to be kept a few degrees above freezing,' says Chris.
7. Keep the greenhouse well ventilated
In theory, if a greenhouse is well ventilated, with roof and side vents and multiple doors, shading would not be required, except if growing shade-loving forest plants,' explains Tom Barry of Hartley Botanic.
However in reality, for most plants, except cacti and succulents, some form of shading during summer is required.
'Internal shades provide the most effective method of regulating internal temperature and protecting your plants from sunlight damage. Internal fitting protects the blinds from the elements, at the same time providing an attractive environment while you work,' says Tom.
8. Use a greenhouse to grow fruit crops
You can achieve some impressive results on a small scale when it comes to growing soft, delicate fruit such as peaches and nectarines. 'The best way to grow fruit in a greenhouse is up against a south facing wall if you have a lean-to greenhouse,' Chris explains.
'If you are growing some of the best fruit trees, such as lemon trees, these benefit from being kept inside a greenhouse during the harsh winter months, protecting them from the frost and giving them a chance to grow and mature into the summer months,' explains Chris.
9. Raise bedding plants in a greenhouse
'Raising and growing your own bedding plants is one of the great benefits of owning your own greenhouse,' says Tom Barry.
'It enables you to grow as much as you want, which you can then tailor to suit your own circumstances and needs. It also offers the opportunity to try out varieties both new and old which may be unavailable from local stockists,' Tom adds.
To add color and beautiful blooms to your greenhouse, use shelving to display potted flowers, such as beautiful red geraniums, or orchids. 'It is key to ensure that they are installed on the south-facing side, offering strong summer light. Make sure all plants that are placed on benches are well shaded to prevent them drying out too quickly,' says Chris.
10. Clean your greenhouse every year
Hygiene is essential for plant health, particularly among young seedlings and unrooted cuttings.
'In winter or during cool, humid spells of weather, fungal diseases are widespread. Cleaning is an essential part of planning a greenhouse,' explains Tom Barry.
Every fall, give the greenhouse a thorough clean, both inside and out. Use mild disinfectant cleaning products, such as washing up liquid, and power wash everything to remove the detergents afterwards.
Chris Sawyer advises the following:
Brush down the benches and frame with a soft brush and give any shelving a good scrub
Thoroughly wash out all pots to prevent any pests from harbouring inside
Sweep and clean the floor and ceiling to ensure that algae that has developed during the summer months is removed
Clear out leaves and debris from gutters on the exterior of the greenhouse
Drain and refresh reservoirs and water butts once a year to ensure the water remains clean and does not stagnate
How do you use a greenhouse for beginners?
If you're planning a greenhouse as a beginner, spend time envisaging how you intend to use your greenhouse before deciding on a size and style.
Will you use it purely as a growing tool or as a dual-purpose growing and al fresco space? How will the design of your greenhouse fit into the garden ideas and other design features you already have?
It is very important to get the location of your greenhouse right. It needs plenty of sun throughout the year, in a location which does not become too exposed in cold weather. It also needs to be positioned near a water supply.
'And most importantly – only grow what you will use. It's easy to get carried away,' says Kate Watkinson.
How do you organize a greenhouse?
To organize a greenhouse, always have in mind what you want to grow and prioritize where necessary.
'The biggest problem when planning a greenhouse is that ambition usually overtakes available space,' explains Tom.
You can overcome space problems by careful planning and with ruthless selection. 'When you begin the new growing season think ahead and plan for the required expansion so that it doesn't take you by surprise. If you are still short of space, seriously consider extending your facilities using cold frames,' Tom adds.
What can I grow in a greenhouse?
There is ample choice for what you can grow in a greenhouse.
'Out-of-season food is always a pleasant bonus in the gardening year and a wide range of tender vegetables can be raised when planning a greenhouse,' explains Tom.
A greenhouse will provide continuity in your food production. 'If you're growing strawberries, for example, if you use specially designed containers with planting pockets down their sides the plants could produce fruit in May and again in November. Summer broccoli, sown in January, may be in production by late June and, if you sow your first runner beans in February under glass and plant them out in May, they'll crop from late June to September,' explains Tom
It can also be used for growing tender, ornamental plants which might, depending on where you live, not be possible to grow outdoors.
Does a greenhouse need planning permission?
Whether a greenhouse needs planning permission depends on where you live.
In the US it will depend from city to city and state to state whether you need a permit for a greenhouse. Zoning laws may limit how close to boundary lines a greenhouse can sit, or how many accessory buildings you can have on your property.
If a greenhouse is attached to a building then there may be additional permits required. In all cases check before you build or instal.
In the UK, generally planning permission is not required when installing a greenhouse for domestic use. There are, however, some exceptions, such as if you live in a listed property, or live in an Area of Outstanding Natural Beauty.
Sign up to the Homes & Gardens newsletter
Decor Ideas. Project Inspiration. Expert Advice. Delivered to your inbox.
Rachel is senior content editor, and writes and commissions gardening content for homesandgardens.com, Homes & Gardens magazine, and its sister titles Period Living Magazine and Country Homes & Interiors. She has written for lifestyle magazines for many years, with a particular focus on gardening, historic houses and arts and crafts, but started out her journalism career in BBC radio, where she enjoyed reporting on and writing programme scripts for all manner of stories. Rachel then moved into regional lifestyle magazines, where the topics she wrote about, and people she interviewed, were as varied and eclectic as they were on radio. Always harboring a passion for homes and gardens, she jumped at the opportunity to work on The English Home and The English Garden magazines for a number of years, before joining the Period Living team, then the wider Homes & Gardens team, specializing in gardens.