Rose garden ideas – for a colorful and sweetly scented outdoor space
Inspiration for a romantic rose garden full of color and fragrance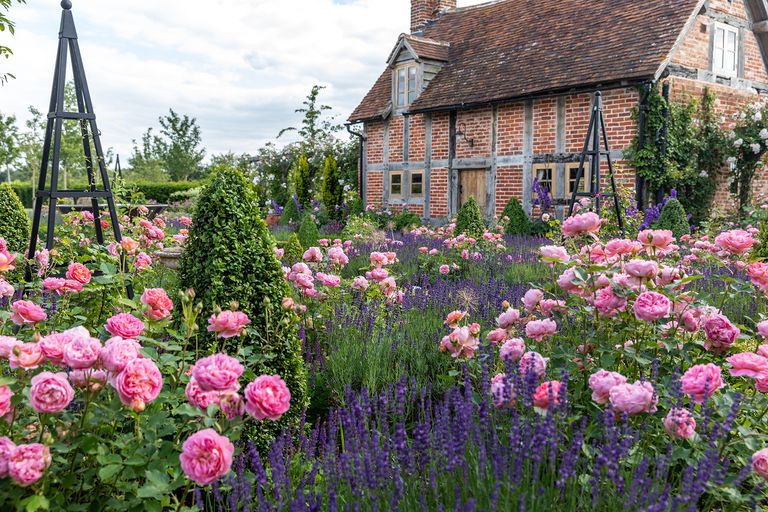 (Image credit: David Austin Roses)
By Pippa Blenkinsop published
Rose gardens have long been symbols of romance and elegance. Loved for large blooms and divine fragrance, the rose is a stalwart of the English garden and there are few plants that can rival its versatility. Available as climbers, ramblers, bushes, shrubs and ground cover roses, in a variety of colors, fragrances and repeat flowering or single blooms, there is a variety of rose for almost every position.
Picture a rose garden and it may well conjure images of formal rose gardens designed to pay homage to the classic elegance of roses. Often these gardens consist of symmetrical, geometric borders edged with trimmed box-hedges and infilled with neatly trimmed rose bushes, often arranged by color. However, you don't need to have a formal rose garden to appreciate the beauty of roses, there are numerous ways to enjoy them in your garden from climbing over a pergola to in pots on the patio.
We've rounded up an array of rose garden ideas to introduce them into your outdoor space.
1. Grow a rose garden over a seating area
Repeat flowering and with beautiful fragrances, roses are a brilliant choice of flower for growing near a seating area. Try training a rambling rose, such as this Phyllis Bide variety by David Austin Roses, across an arch over a bench for a pretty garden retreat. A repeat flowerer with a medium, sweet scent and sprays of small, pale apricot-pink flowers, Phyllis Bide brings a romantic feel to the garden summer long.
2. Use roses to bring color to informal mixed borders
Take a more informal approach to growing roses and include them as part of a mixed border of shrubs and herbaceous perennials to bring color and height. Planting them alongside plants such as Achillea Mollis and Sea Holly will create a romantic cottage garden feel as these borders at The Cottage Garden at RHS Rosemoor prove.
3. Plant roses in color blocks for impact
Planting multiple roses of the same variety is often seen in formal rose gardens and can look truly show-stopping. If doing this be sure to plant in odd numbers. If you're looking for inspiration, The Queen Mother's Rose Garden at RHS Rosemoor has a fantastic array of modern rose types including Hybrid tea (large-flowered), floribunda (cluster-flowered) and shrub roses.
4. Line a path with rose arches
Training climbing roses over arches along an avenue or pathway can make moving through a garden truly magical, as this image from the walled rose garden at National Trust Mottisfont proves, featuring arches covered in Rose Adelaide d'Orleans. Other climbing roses perfect for growing up an arch include The Generous Gardener, Malvern Hills and Constance Spry – unrivalled for scent. If you're looking for rose garden inspiration be sure to visit National Trust Mottisfont, home to the National Collection of pre-1900 old-fashioned roses.
5. Pair roses with lavender for a cottage garden feel
Planting shrub roses with lavender is a classic combination which will guarantee a relaxed cottage feel and will bring color and fragrance throughout the summer. According to the rose experts at David Austin Roses, simple combinations cannot be underestimated; try planting its Boscobel rose with English lavender for a show-stopping and easy-to-maintain display.
6. Use rambling roses to soften garden walls and structures
Climbing and rambling roses are a brilliant way to bring height and colour to a garden and are particularly useful if you're looking to obscure unsightly structures. A classic rambler, David Austin's Phyllis Bide, is a repeat flowerer that can grow up to 4.5 metres tall making it brilliant for this purpose.
7. Grow a rose garden around a doorway
Growing a rose around a doorway can really make a feature of an entranceway. If growing a rose around a doorway, seating area, place where people pass or children play, then consider a variety with few thorns such as Mortimer Sackler or The Shepherdess.
8. Brighten up patios with potted roses
If space is at a premium then roses can easily be grown in containers to bring scent and color to a patio. Good roses for growing in pots include Harlow Carr, Princess Alexandra of Kent, Desdemona and Vanessa Bell, all available from David Austin Roses.
Raised garden bed ideas are another great way to incorporate roses into a more structured scheme.
9. Grow a rose over an obelisk to give height to borders
Growing a climbing rose up an obelisk is a brilliant way to bring height to mixed borders. Loved for its strong, Old Rose scent, Gertrude Jekyll is a brilliant choice for an obelisk which will bring beautiful fragrance and quintessential elegance to any garden.
10. Create a focal point with a rose-covered pergola
Growing a climbing or rambling rose over a perogla or gazebo can make a spectacular focal point in a garden. With their cascading, clusters of blooms and whimsical 'rambling' nature ramblers are a great choice for this, including varietes such as Rosa mulliganii, one of the biggest rose varieties, pictured here at Sissinghurst Castle Garden in the care of the National Trust.
How do you start a rose garden?
Prepare your path
The best soil for planting roses should be free-draining, slightly acid and medium in texture – neither sandy nor clayey. If your soil type differs from this, you can improve it by digging in lots of organic material – a few minutes of extra effort at this stage can lead to a healthy plant that gives you years of pleasure.
Start them well
It's not advisable to plant new bushes where other roses have grown in the last three years, as this will greatly increase the risk of 'rose sickness'. This occurs when fungi that grew around the roots and soil of the old plant start to attack the new one. The addition of around 30g of mycorrhizal fungi per rose bush is particularly helpful in poorer soil conditions or when roses are planted in areas where roses have previously been grown.
See: How to deadhead roses – for more flowers in a matter of weeks
Choose the right rose
Bush roses look great in island beds mixed with perennials, while miniature varieties make excellent edging plants in front of the taller varieties. Shrub roses on the other hand, planted singly, can make excellent specimen plants, and you can also try clustering shrub varieties to make a flowering hedge. Smaller roses can be grown in pots.
Lover of all things vintage, floral and country, Pippa has been working in interiors media for 10 years. A graduate of Art History, and Style Editor for Period Living magazine, she is a nostalgic soul who is passionate about historic architecture and traditional craftsmanship. When she's writing about homes and gardens you'll find her pottering on her Gloucestershire allotment, Pippa's Plot, where she grows flowers for styling her own home and interiors shoots.