Courtyard garden ideas – 10 tips to transform a small or awkwardly shaped outdoor space
These are the best courtyard garden ideas and smart solutions for making the most of a limited space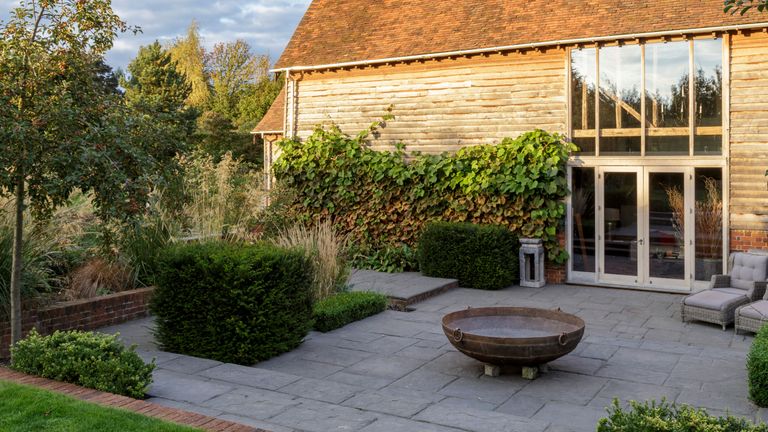 (Image credit: Future / Mark Bolton)
If your garden is short on square footage, the right courtyard garden ideas can be a good solution, combining elegance with low maintenance.
Even the smallest courtyard or terrace can make an enticing outdoor space with a little care and attention. Garden ideas like visual tricks, good lighting, interesting planting and comfortable seating can play to the strengths of even the most awkward or compact of courtyard gardens.
Courtyard garden ideas
To get you started, we've rounded up the best courtyard garden ideas to help you maximize space in your garden. Along with our favorite small garden ideas, these should provide all the design advice and inspiration you need for a beautiful courtyard garden.
1. Don't overcomplicate your space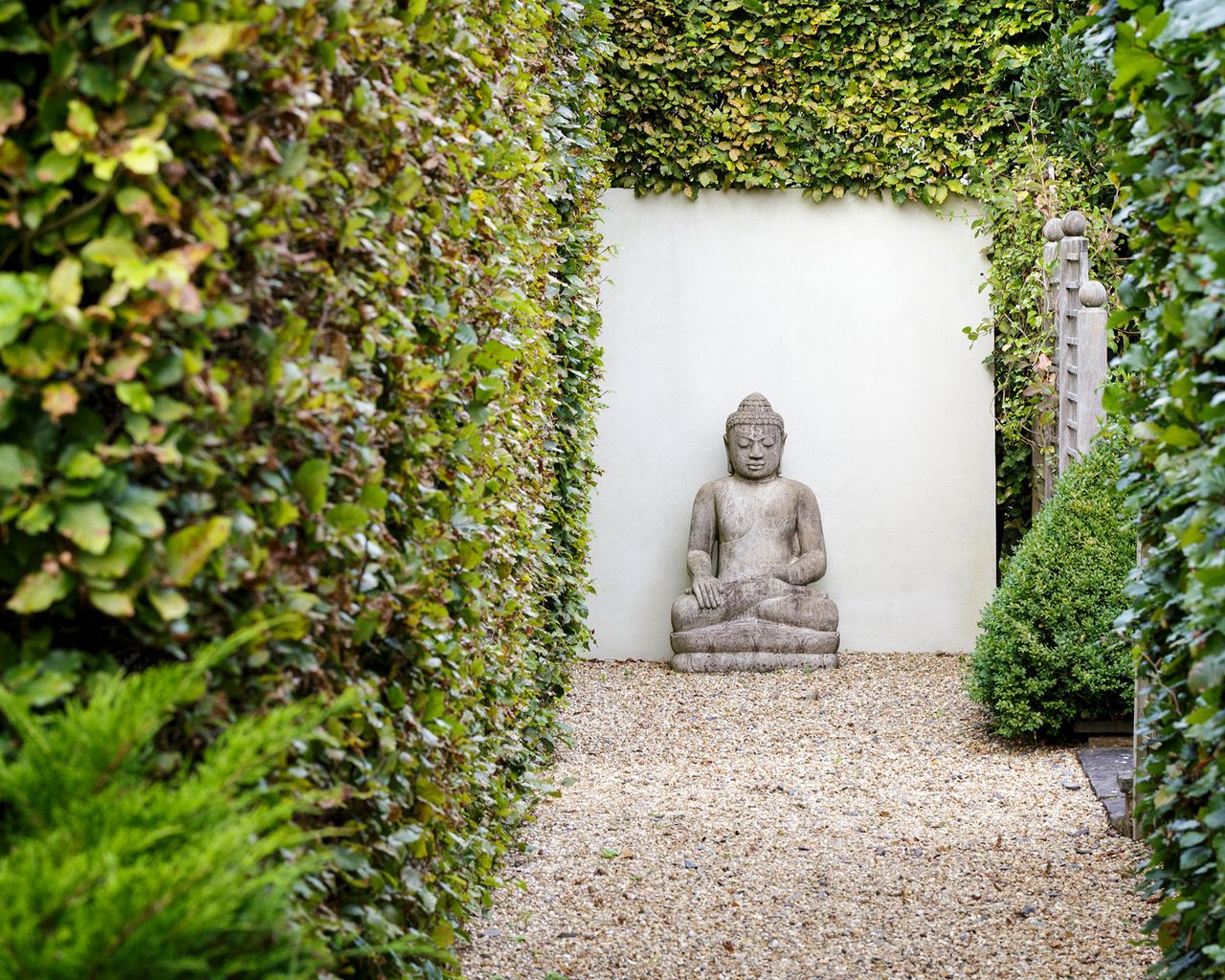 'Keep it simple – don't get too carried away when planning small courtyard garden ideas,' says Dan Bowyer of Fisher Tomlin & Bowyer. 'A carefully chosen palette of materials and plants is often the most satisfying.
'However, this doesn't mean you can't be adventurous and experimental. Just be mindful that trying to squeeze too much into a compact space will make it cluttered and decrease usability.'
It also pays to keep material in mind when designing your courtyard ideas. For instance, gravel is not only low-maintenance and affordable, but it is also one of the most security-conscious garden path ideas as the noise it makes underfoot can be a good burglar deterrent.
2. Introduce outdoor lighting
Clever outdoor lighting ideas are a brilliant way to add drama and interest to courtyard gardens, allowing you to enjoy your space way beyond dusk.
No space is too small to light; even window boxes in balcony gardens can be given a nighttime makeover with a small spotlight or outdoor fairy lights woven through the planting.
Alternatively, decorative candle holders and oil lamps cast a soft, romantic light, and are ideal for occasional use in small courtyard garden ideas.
3. Create interest with a water feature
Consider the use of water. Standing water with a subtle ripple or movement evokes gentleness, calm and softness. It also reflects the light, helping to make a small garden look bigger.
Correct positioning is important – some water features will be most successful as the design centrepiece of courtyard ideas, while others are better tucked away within planting so that you aren't fully aware of them until you enter the space.
4. Bring the inside out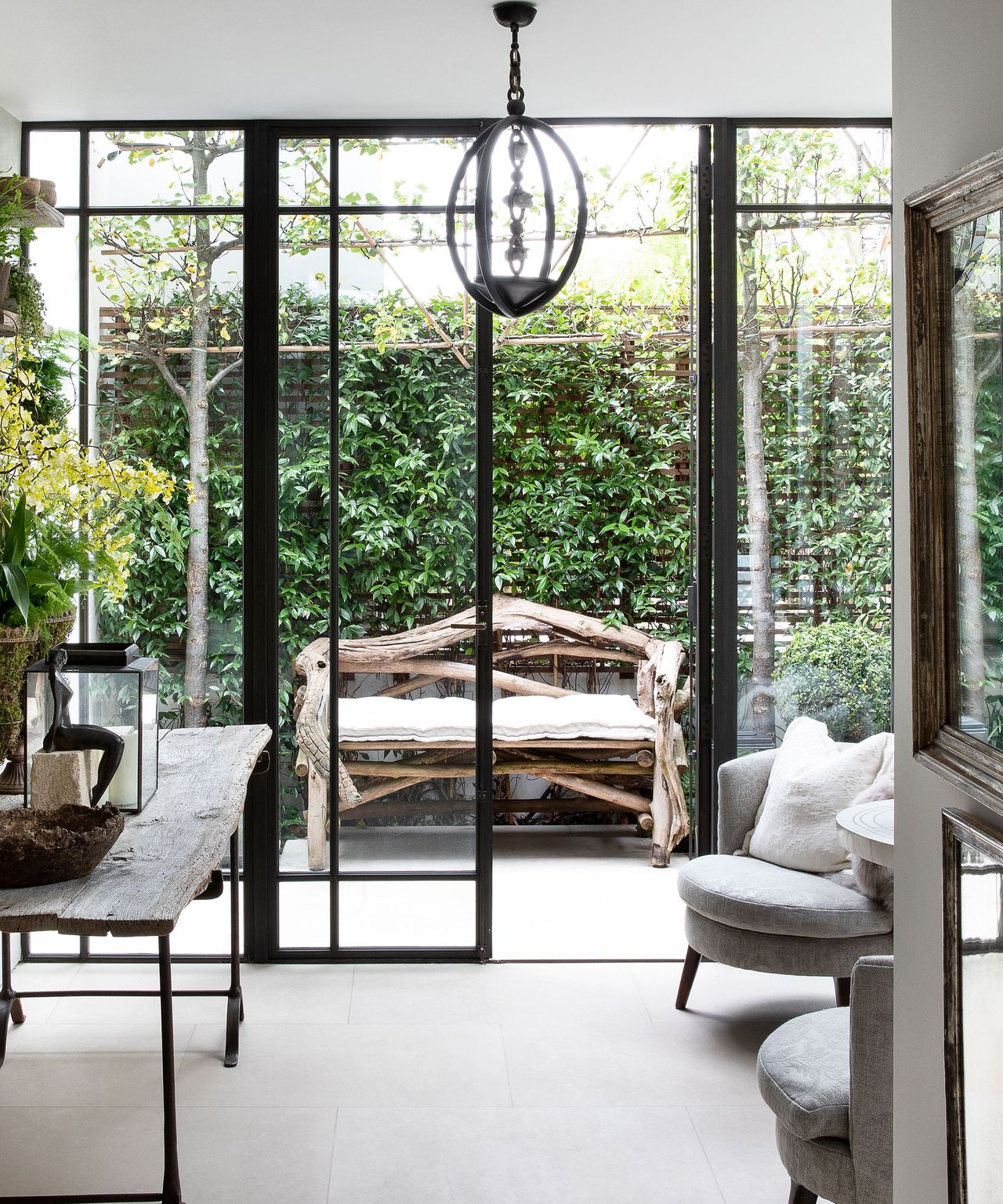 Create a visual link between inside and out when you plan a small garden: think about using similar flooring in your courtyard garden and your property's interior. This immediately ensures that the eye moves seamlessly from space to space.
Continuity of approach from the inside out will help make a courtyard garden feel part of your home. This can range from paint colors and materials to simply using plants whose flower color complements the interior.
Be mindful that, although some paving materials can be used both internally and externally, the stone outside will tend to weather over time.
5. Be mindful of your plant selection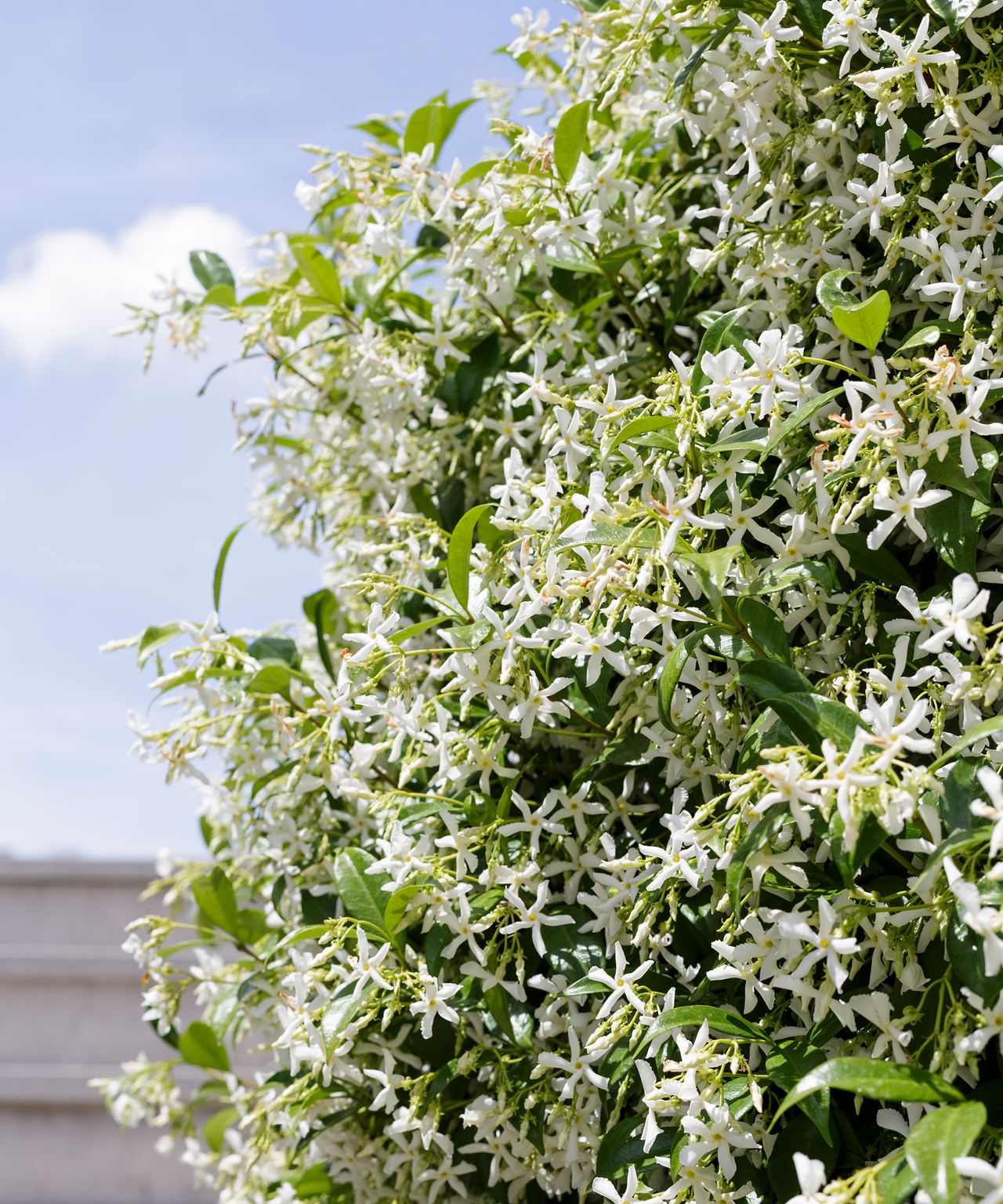 The choice of planting is essential in courtyard garden ideas. Use plants that won't overcrowd the space. However, you also need to ensure you are not always looking at fencing or boundary walls.
A really useful plant is the evergreen climber trachelospermum jasminoides, commonly known as star jasmine, that can be incorporated into your garden fence ideas to mask any unsightly areas. It will offer year-round interest, with an abundance of white flower from mid to late summer.
6. Make the most of a small courtyard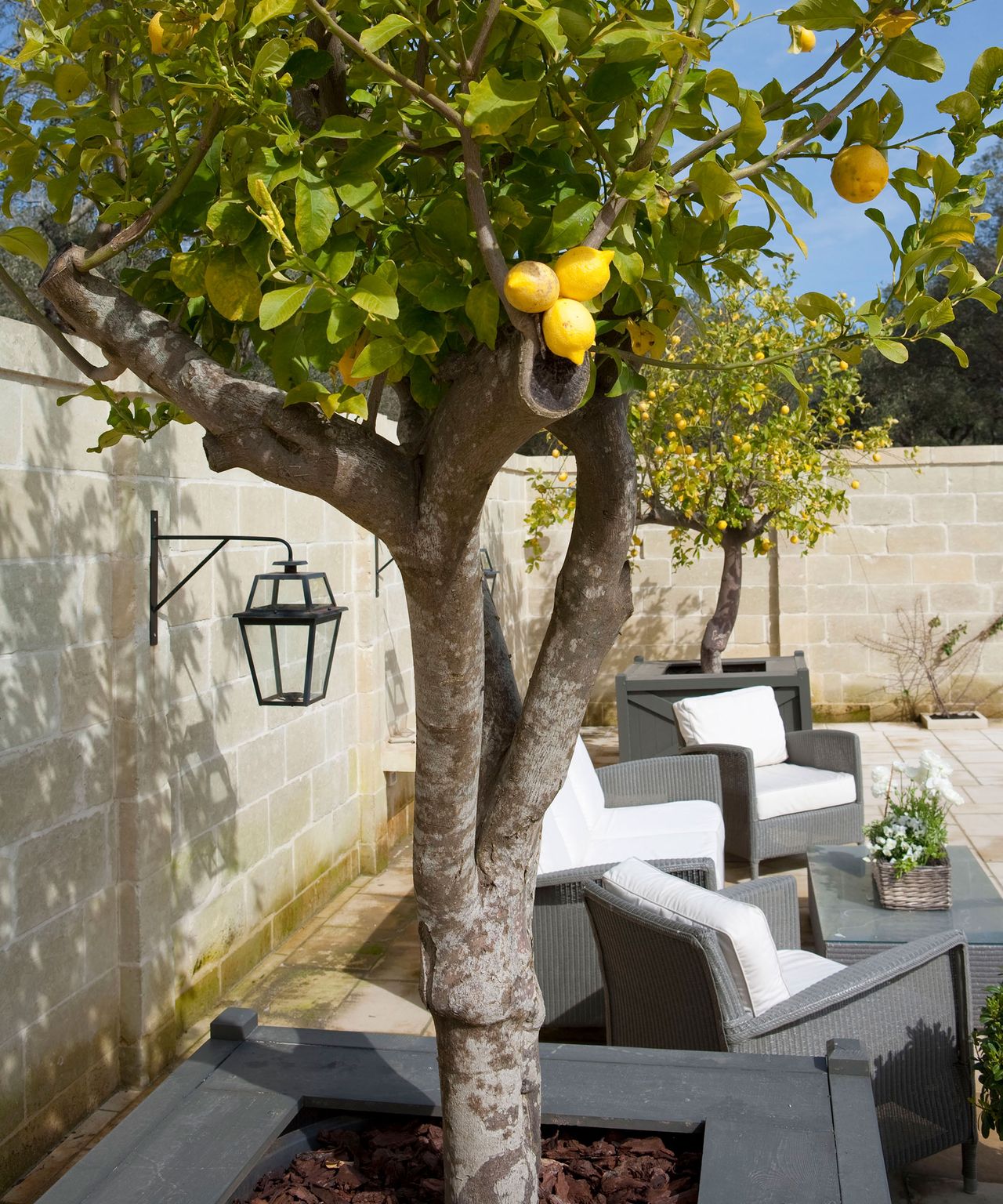 'It's important to put generosity of space and a sense of place at the heart of your design,' advises Marcus Barnett of Marcus Barnett Landscape & Garden Design.
'In urban areas particularly, an easily accessed courtyard space which feels comfortable and generous in its proportions allows for relaxation and calm. It's the perfect antidote after a busy working week.'
Use seating to your advantage, and position garden furniture so that you can make the most of your surroundings – no matter the size or shape of your courtyard garden.
7. Do you want sun, shade or beautiful views?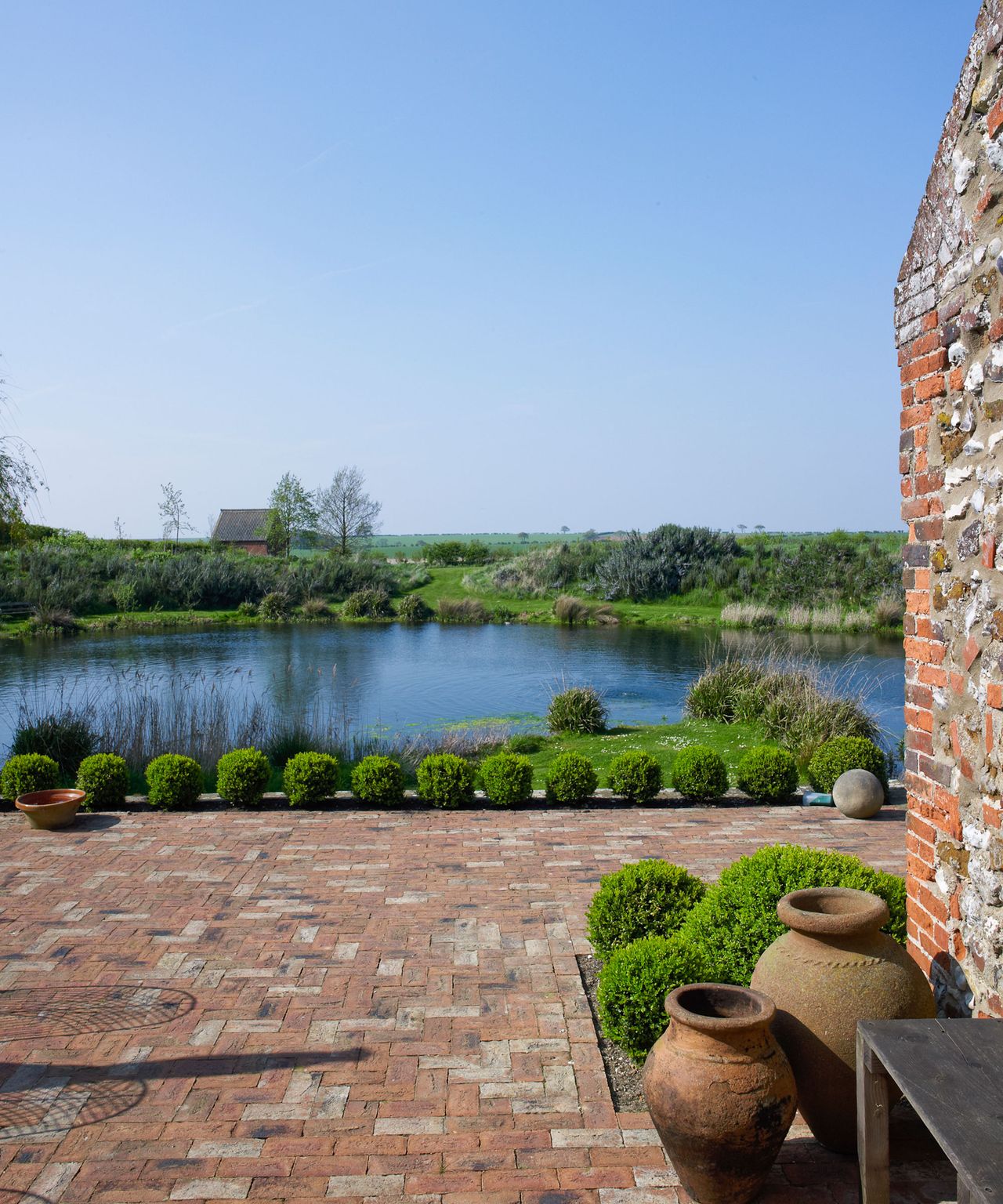 'Think about the orientation of your space too, as it can change the overall feel of courtyard garden ideas immensely,' says Marcus Barnett. 'By altering it, you can turn a generous space into one that feels enclosed or intimate, in a warm sunny spot or a cool shady area.'
Equally, the view will be altered depending on the orientation of the courtyard – would you prefer to look back at the house or outwards to a prominent focal point in the distance, for example?
8. Link two spaces
Consider taking an element of 'furniture' from the interior of the house out into your courtyard garden ideas. For example, a kitchen work surface can be run outside in the same alignment to add to a sense of linkage and visual pairing between the spaces.
Color used inside your home can also be matched to elements of the courtyard, like in this vibrant space, serving as a visual reminder between inside and out.
9. Learn the tricks of the trade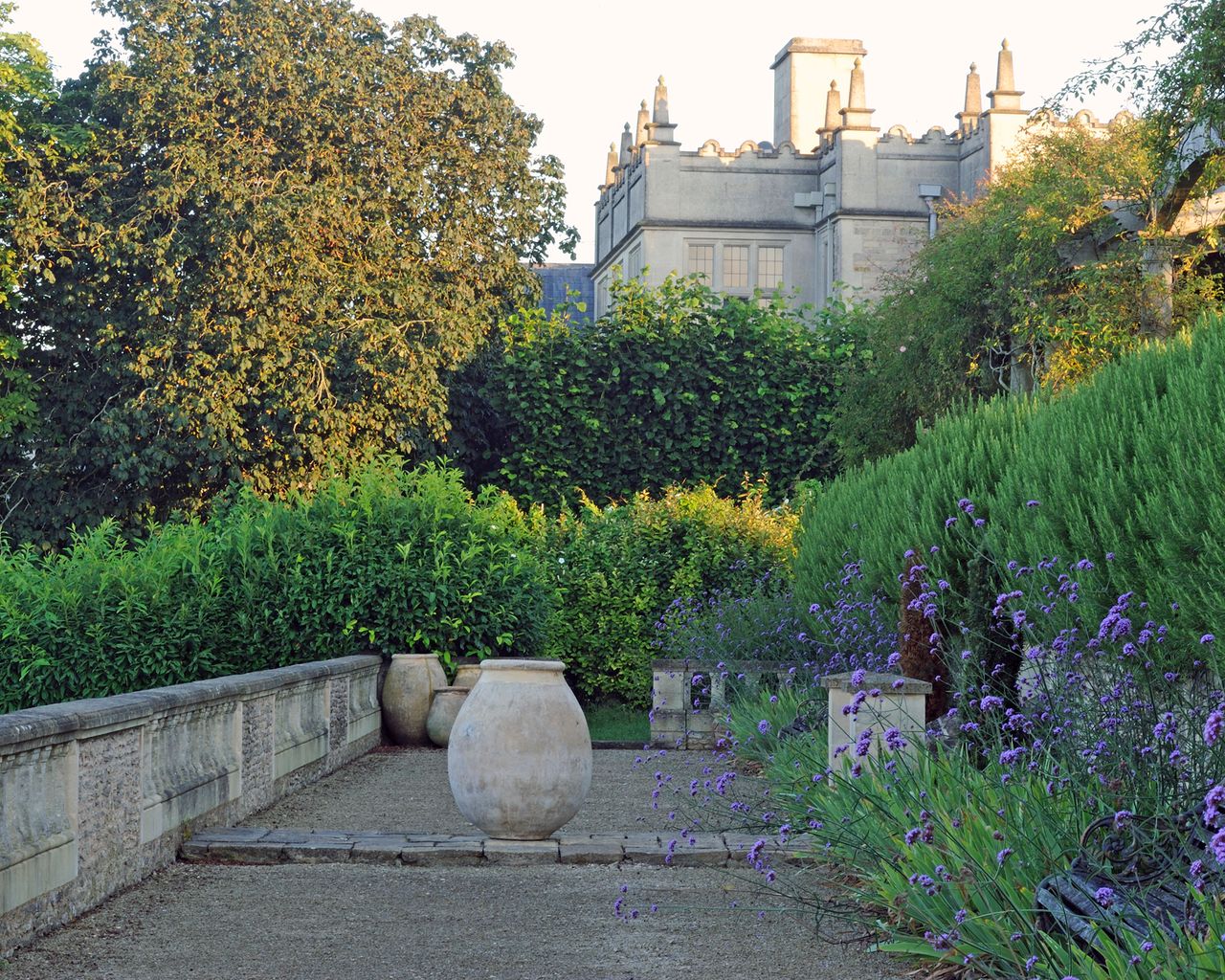 When planning for smaller or enclosed spaces, particularly when looking at narrow or long garden ideas, it's important to draw the eye through simple, enticing design.
Many courtyards or urban gardens can be overlooked. Try obscuring any unwelcome views with garden screening ideas such as considered planting that adds some height but not too much depth, so as to avoid eating into a compact square footage.
Long lasting plants such as verbena bonariensis add height and can be contained in small areas, with flowers lasting from May through to the winter.
10. Plant white flowers and hedges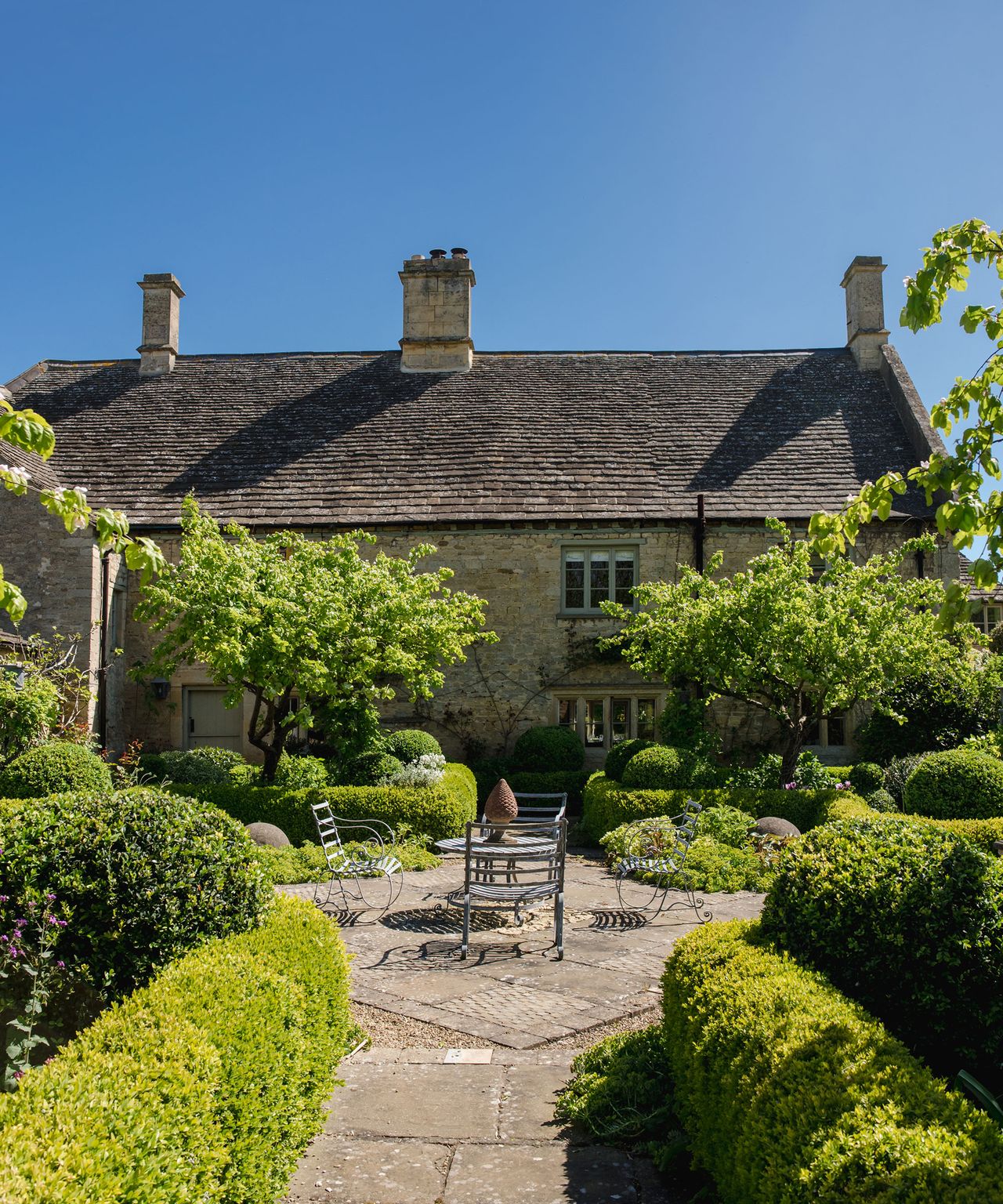 Try using white flowering plants in small courtyard garden spaces, as they can help create light. 'White flowers are also the last color that you see at night, so when planted in the right place they add depth,' says Sean Butler of Cube 1994 Ltd.
'In shady areas, use saracoccoa, commonly known as the Christmas Box, a very richly scented evergreen plant that flowers early. A good all-round plant which crosses all boundaries is Buxus (clipped box). This can be used to create good structure to all garden themes.'
You can also include some trees for a small garden, like in the formal courtyard garden above, which add a sense of height and structure.
How do I make a courtyard garden look good?
There are many ways to make your courtyard garden ideas look good. Firstly, approach the furnishing of your outside space in a similar way to the treatment of the inside.
Consider warmth under foot by using outdoor occasional rugs. Introduce punctuations of color and variations of texture in throws and cushions.
The hard materials you use will also make a difference – panels of timber for some of the boundary treatment can be softer in appearance than stone or rendered walls and will also create a quieter space with less echo.
Practicality is key to help the space to function well, but think about the look you'd like to create too, whether streamlined or relaxed and rustic. A timber table will create a very different feel to one made of steel or glass, or a vintage 'found' piece of furniture.
When it comes to exterior flooring, using pebble mosaic, richly textured herringbone or basket weave brickwork can make the space feel larger. Similarly, a smooth terrazzo can create a clean, spacious feel. Natural sawn stone is an attractive solution, as it's often rich in tone, smooth underfoot and can look very warm, while small garden decking ideas are also worth considering for courtyards.
What can I plant in a courtyard garden?
The key to creating a successful courtyard garden is to choose the two main elements – planting and paving – carefully.
The type of planting you choose will help to soften the look and feel of any courtyard garden ideas. Consider feathery grasses or velvety ferns, and if your space is small, try to create a sense of lightness using plants with soft foliage and small, delicate leaves.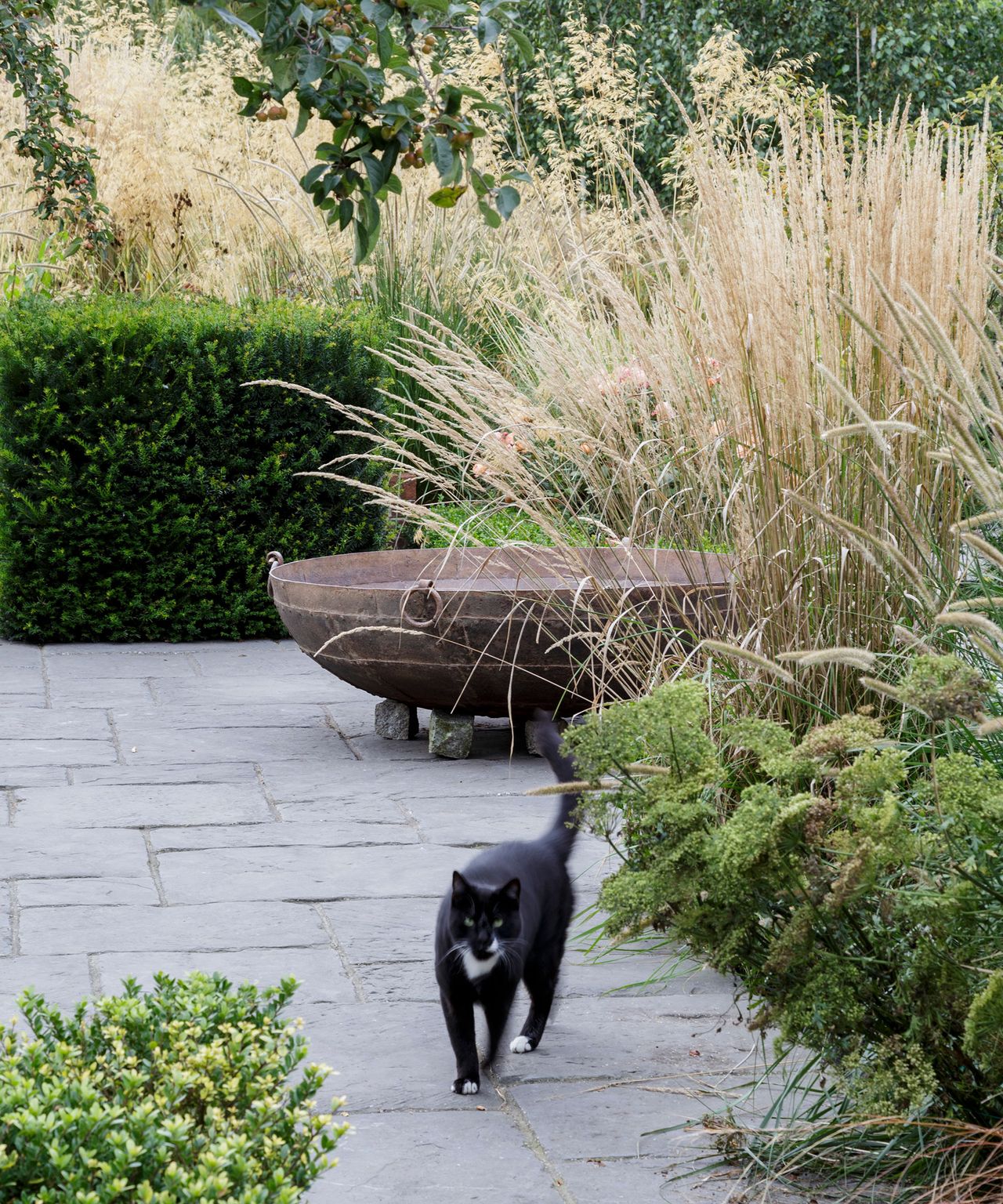 Color is important, too. Opting for light greens, silvers and grays will help create a sense of spaciousness, while highly reflective, shiny leaves can add light and shimmer, providing a greater depth in the planting scheme.
In larger spaces, fragrance is a good way of zoning: a variety of fragrances in different areas of a terrace can suit different moods, and help them come to life at different times of day.
It is even possible to add small vegetable garden ideas into your courtyard and grow crops like strawberries and herbs in pots.
How do I make my courtyard garden look bigger?
In smaller or enclosed courtyard gardens, it's best to draw the eye to simple design elements or standout features.
If your garden looks out onto a side return, consider painting the wall white to reflect the light and increase a sense of space. Another trick is to mix hard materials. Stone paving interspersed with narrow pebbled strips can look effective, as can juxtaposing angles, such as contrasting sleek decking with paved travertine.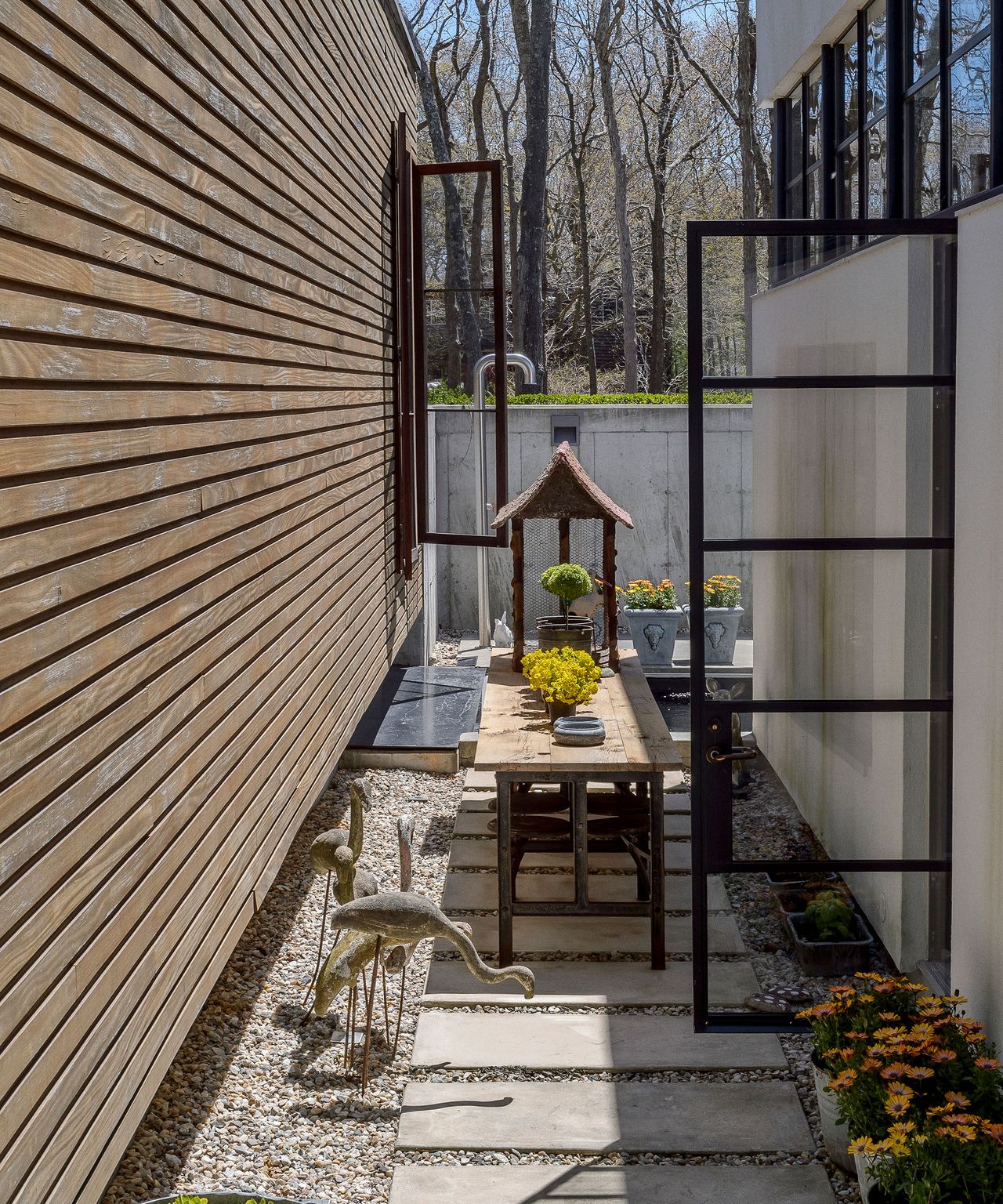 Length will draw the eye, so try to site a standout plant, sculpture or small water feature towards the end of your space. Consider incorporating fixed seating, such as a banquette running along an external wall, to instantly increase the useable space, making sure the spot receives sunshine.
Jennifer is the Digital Editor at Homes & Gardens. Having worked in the interiors industry for a number of years, spanning many publications, she now hones her digital prowess on the 'best interiors website' in the world. Multi-skilled, Jennifer has worked in PR and marketing, and the occasional dabble in the social media, commercial and e-commerce space.
Over the years, she has written about every area of the home, from compiling design houses from some of the best interior designers in the world to sourcing celebrity homes, reviewing appliances and even the odd news story or two.