Courtyard garden ideas – 18 ways transform an enclosed space
The best courtyard garden ideas rely on a good layout combined with the right planting – both key to designing a space that really works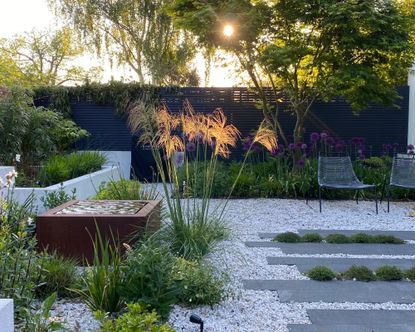 (Image credit: Christine Wilford/Green Arden Design)
Courtyard garden ideas can be tailored so that however small your space, a purposeful, good-looking backyard can be the result. Ideally, they should combine elegance with low maintenance, too.
Even the smallest courtyard or terrace can make an enticing outdoor space with a little care and attention. Backyard ideas like visual tricks, good lighting, interesting planting and comfortable seating can play to the strengths of even the most awkward or compact of courtyard gardens.
When designing a courtyard garden, the space needs to be used as efficiently as possible, incorporating a degree of flexibility since it's a multi-purpose area used for a range of activities like outdoor dining, entertaining and relaxation. 'Think very carefully about how you will use the space and plan it accordingly,' says designer John Wyer.
Courtyard garden design tends to work best when pared down. Cool contemporary tones bring a modern aesthetic to your outdoor space, and a simple palette of hard-landscaping materials creates clean, practical surfaces.
'The biggest mistake is to try and fit too much in,' says John. 'Keep it simple, and choose items such as planters and furniture carefully. A simple design with high quality elements always works best.'
Courtyard garden ideas
To get you started, we've rounded up the best courtyard garden ideas to help you maximize space in your garden. Along with our favorite small backyard ideas, these should provide all the design advice and inspiration you need for a beautiful courtyard garden.
1. Use vertical space for planting
A trick some garden designers use in courtyard gardens is dense planting, which can increase the feeling of seclusion and privacy. Planting is often restricted to a handful of high-performing plants used to create interest all year round, with vertical planting, in the form of climbers and wall shrubs, softening the edges of the hard landscaping.
'In this courtyard we designed in Holland Park, London, we worked alongside interior designer Rose Uniacke to create a connected kitchen-to-garden space that was stylish and classic,' explain designers Charlotte Harris and Hugo Bugg of Harris Bugg Studio. 'The compact footprint of the garden meant that every detail is visible, which meant a laser-like focus on simplicity in materials and plant choices.'
A restrained planting selection focuses on form and repeating a limited number of plant varieties to give coherence, rather than packed with single examples of many species that can risk feeling overloaded and busy. 'Tree ferns with lush green dissected leaves and undulating heights give visual interest and a sense of being immersed in the planting, as well as making the garden feel much larger.'
2. Create a seamless link between inside and out
A small courtyard design lets you extend the interior aesthetic outside with complementary hard landscaping and boundaries. Choosing just two or three landscaping materials that match the scheme inside the house is a stylish interpretation that pulls everything together.
'In this courtyard garden design, the clean, crisp and strong geometrical lines of the paving and raised garden beds, softened by lush and architectural planting, echo and complement the mood of the interior, creating a seamless transition that removes the boundaries of where the garden begins and ends,' says designer Christine Wilford of Green Arden Design.
The design of boundaries of small gardens is crucial as they are permanently on show. 'Painting the fence dark lets it recede into the background whereby the attractive planting will hide and blur the boundary, and makes the garden space appear much bigger.'
The stunning water feature idea adds an eye-catching focal point that draws the eye into the space.
3. Include a series of eye-catching focal points
A small outdoor space needs creative solutions to turn it into an urban retreat that's both sociable and practical. Adding a key feature like a water bowl or yard art ideas, as well as decorative screens also presents focal points that help to detract from the small dimensions of the garden.
In a modern urban garden, garden screening ideas and boundaries reinforce a feeling of privacy and help to shield the social space of the garden from neighboring properties. In this courtyard garden, LED lighting was set behind Kyoto 'Ochiba' aluminium screens on walls and underneath benches to soften the look and switch up the space for night-time entertaining.
The sculptural outlines of trees can be used to lightly veil other areas of the garden, affording tempting glimpses through. 'Architectural plantings like bonsai in pots, Italian Cypress and Yucca rostrata create dynamic form and structure,' explains designer Jack Dunkley.
4. Aim for a balanced design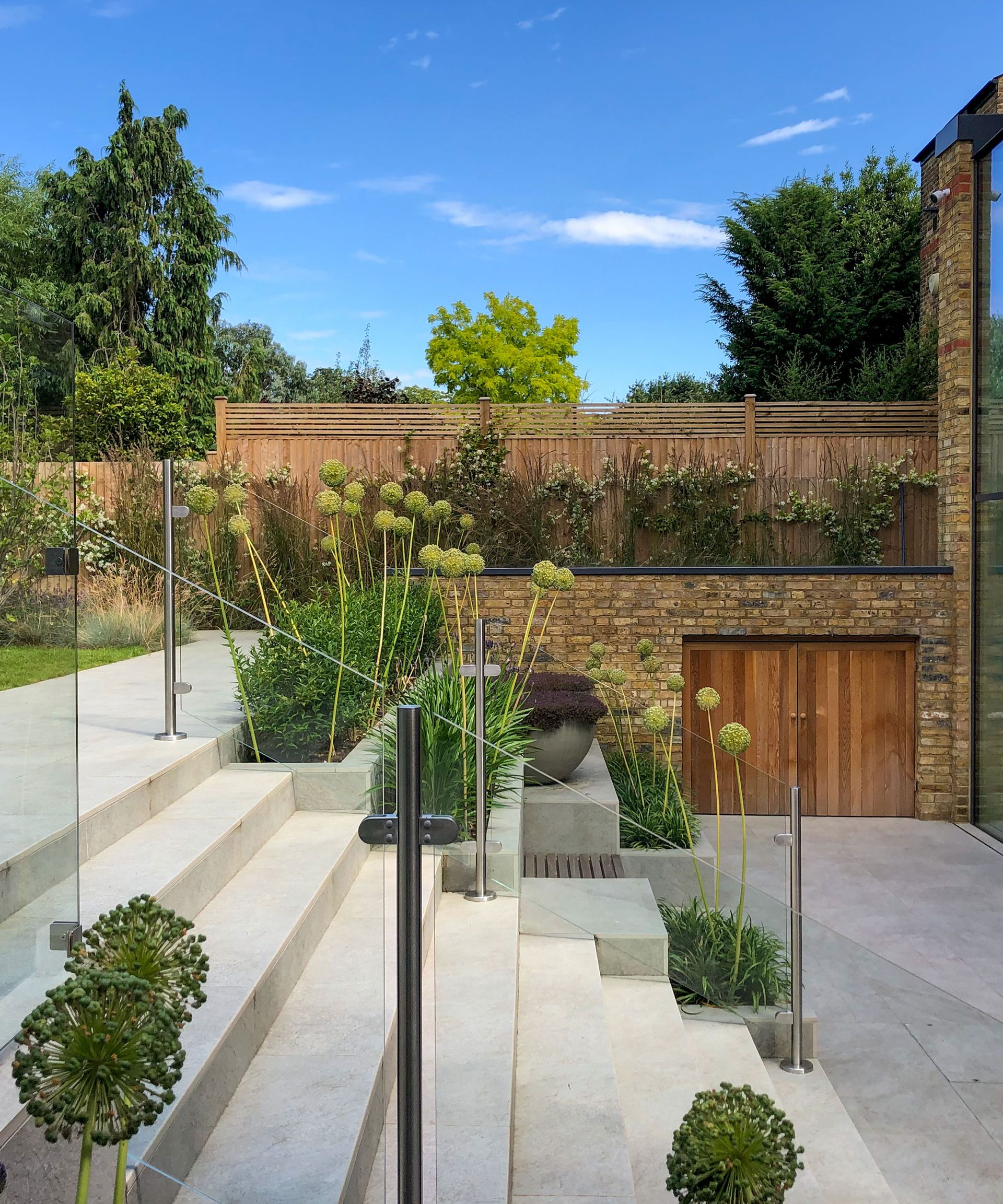 It's important to get the balance between small backyard landscaping ideas and the planting right, and to create the space for plants to grow without constraint.
'We like to use the junction where different hard landscaping materials butt up to one another as a design feature,' says James Lee . 'In smaller gardens this attention to detail can be very important where it's much more likely to be in constant view.'
Porcelain as a hard landscaping material has many advantages, especially for a modern scheme. 'We've used it in this garden at the terrace level and also to clad the vertical faces of the steps and planters that lead from the lower level to the lawn level, where the pale colour offsets the vibrant greens of the evergreen plants,' explains James.
Use the same elements on different levels such as these beautiful concrete planters by Urbis Design helps to link the two spaces. The planting is relatively minimalist with each planter containing only a single species of plant, selected for their form and flowering colour at different times over summer. The alliums are left standing long after flowering to create sculptural interest.
5. Create a canopy of leaves
Introducing trees can bring structure, seasonality, shade and also privacy if you're overlooked in a courtyard garden. If a space is small, consider trees that you can walk beneath, which also bring high level screening for privacy. A canopy of leaves that diffuses dappled light is good for planting as well as helping to create a magical setting for al fresco entertaining.
'In this garden the canopy of fig trees has been gently pruned to create an arch above a path through the garden,' says Harriet Farlam, creative director of Farlam & Chandler. 'The foliage does a great job of obscuring neighboring windows while also framing the view of the dining terrace.'
Providing privacy and vertical interest in the garden, a row of pleached crab apple trees is another practical solution in a small space where a sense of openness is required. They can be tightly clipped to create narrow screening instead of the more organic, wide canopy of a standard tree.
6. Borrow views and incorporate them
The key to courtyard garden design is to borrow adjacent views while screening the things you don't want to see. This can create a beautiful space that feels both larger and more sheltered.
'Longer views are less of an issue and remember that you can block a distant building easily with a well-placed small tree,' says John Wyer, CEO and lead designer at Bowles & Wyer. 'If you're being overlooked nearby, an airy tree like this olive can be the solution.'
As a general rule Mediterranean plants and trees cope well on an exposed sunny rooftop.
7. Don't overcomplicate your space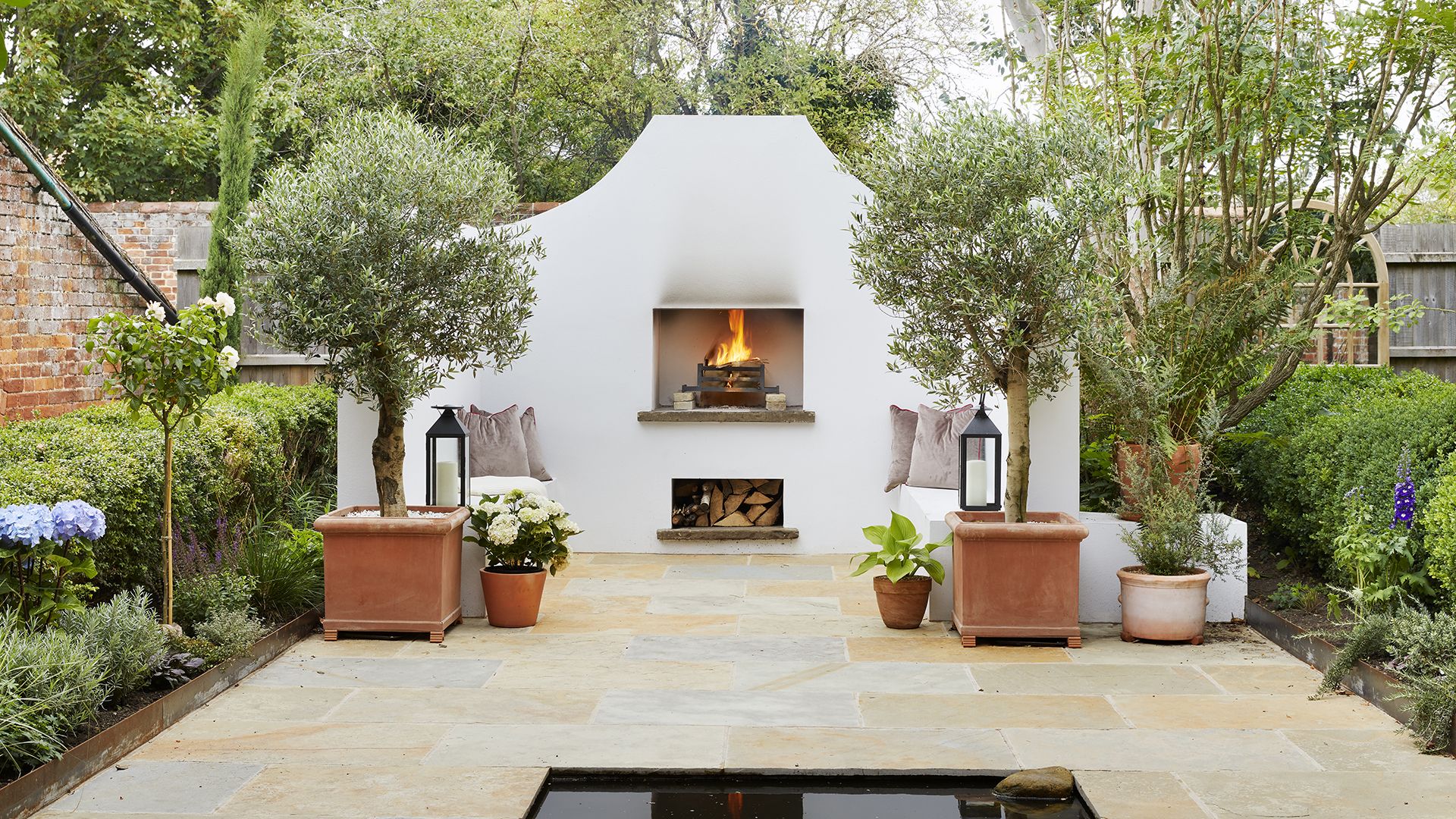 'Keep it simple – don't get too carried away when planning small courtyard garden ideas,' says Dan Bowyer of Fisher Tomlin & Bowyer. 'A carefully chosen palette of materials and plants is often the most satisfying.
'However, this doesn't mean you can't be adventurous and experimental. Just be mindful that trying to squeeze too much into a compact space will make it cluttered and decrease usability.'
It also pays to keep material in mind when designing your courtyard ideas. For instance, gravel is not only low-maintenance and affordable, but it is also one of the most security-conscious garden path ideas as the noise it makes underfoot can be a good burglar deterrent.
8. Introduce outdoor lighting
Clever outdoor lighting ideas are a brilliant way to add drama and interest to courtyard gardens, allowing you to enjoy your space way beyond dusk.
No space is too small to light; even window boxes in balcony gardens can be given a nighttime makeover with a small spotlight or outdoor fairy lights woven through the planting.
Alternatively, decorative candle holders and oil lamps cast a soft, romantic light, and are ideal for occasional use in small courtyard garden ideas.
9. Create interest with a water feature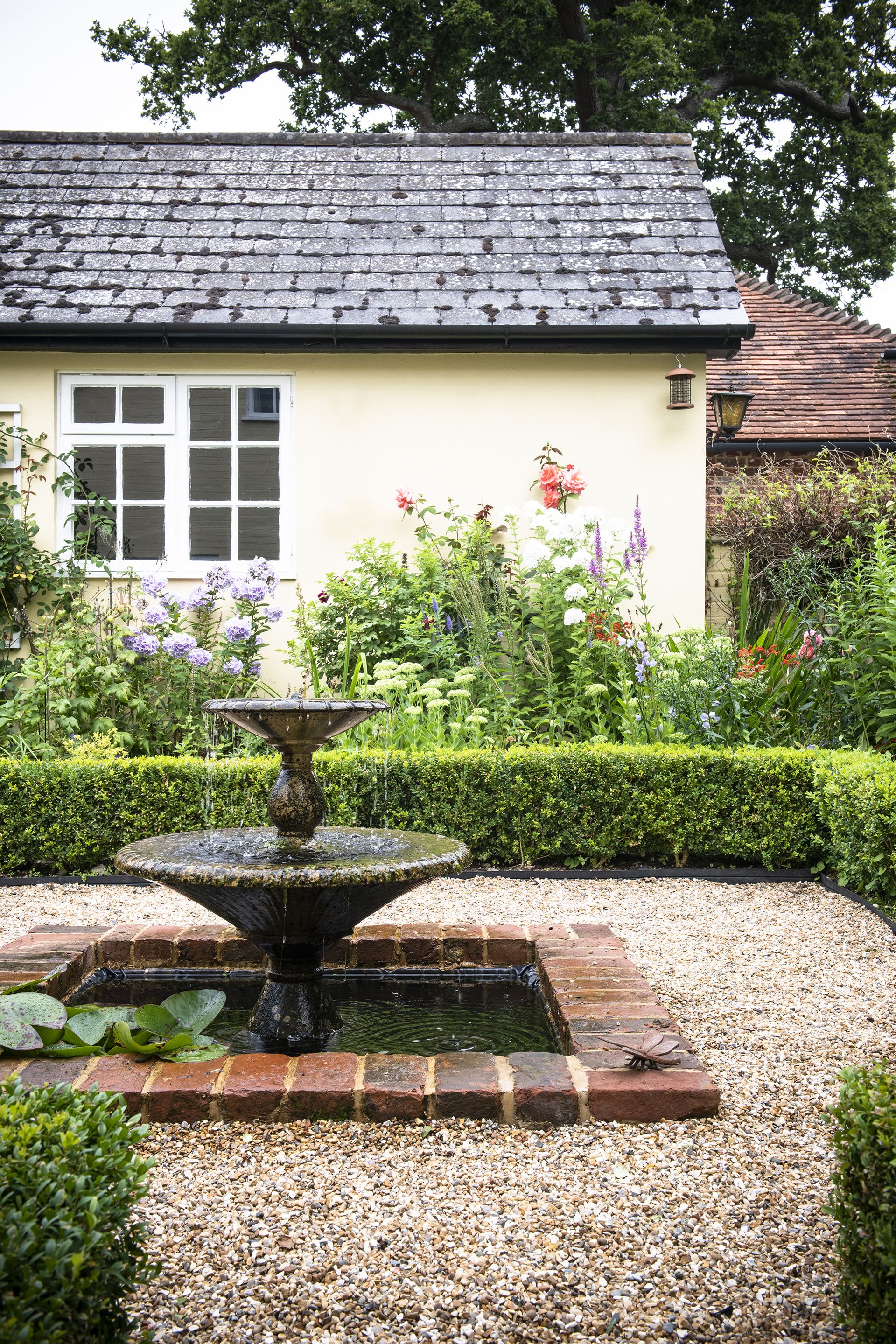 Consider the use of water. Standing water with a subtle ripple or movement evokes gentleness, calm and softness. It also reflects the light, helping to make a small garden look bigger.
Correct positioning is important – some water features will be most successful as the design centrepiece of courtyard ideas, while others are better tucked away within planting so that you aren't fully aware of them until you enter the space.
10. Bring the inside out
Create a visual link between inside and out when you plan a small garden: think about using similar flooring in your courtyard garden and your property's interior. This immediately ensures that the eye moves seamlessly from space to space.
Continuity of approach from the inside out will help make a courtyard garden feel part of your home. This can range from paint colors and materials to simply using plants whose flower color complements the interior.
Be mindful that, although some paving materials can be used both internally and externally, the stone outside will tend to weather over time.
11. Be mindful of your plant selection
The choice of planting is essential in courtyard garden ideas. Use plants that won't overcrowd the space. However, you also need to ensure you are not always looking at fencing or boundary walls.
A really useful plant is the evergreen climber trachelospermum jasminoides, commonly known as star jasmine, that can be incorporated into your garden fence ideas to mask any unsightly areas. It will offer year-round interest, with an abundance of white flower from mid to late summer.
12. Make the most of a small courtyard
'It's important to put generosity of space and a sense of place at the heart of your design,' advises Marcus Barnett of Marcus Barnett Landscape & Garden Design.
'In urban areas particularly, an easily accessed courtyard space which feels comfortable and generous in its proportions allows for relaxation and calm. It's the perfect antidote after a busy working week.'
Use seating to your advantage, and position garden furniture so that you can make the most of your surroundings – no matter the size or shape of your courtyard garden.
13. Do you want sun, shade or beautiful views?
'Think about the orientation of your space too, as it can change the overall feel of courtyard garden ideas immensely,' says Marcus Barnett. 'By altering it, you can turn a generous space into one that feels enclosed or intimate, in a warm sunny spot or a cool shady area.'
Equally, the view will be altered depending on the orientation of the courtyard – would you prefer to look back at the house or outwards to a prominent focal point in the distance, for example?
14. Link two spaces
Consider taking an element of 'furniture' from the interior of the house out into your courtyard garden ideas. For example, a kitchen work surface can be run outside in the same alignment to add to a sense of linkage and visual pairing between the spaces.
Color used inside your home can also be matched to elements of the courtyard, like in this vibrant space, serving as a visual reminder between inside and out.
15. Learn the tricks of the trade
When planning for smaller or enclosed spaces, particularly when looking at narrow or long garden ideas, it's important to draw the eye through simple, enticing design.
Many courtyards or urban gardens can be overlooked. Try obscuring any unwelcome views with garden screening ideas such as considered planting that adds some height but not too much depth, so as to avoid eating into a compact square footage.
Long lasting plants such as verbena bonariensis add height and can be contained in small areas, with flowers lasting from May through to the winter.
16. Plant white flowers and hedges
Try using white flowering plants in small courtyard garden spaces, as they can help create light. 'White flowers are also the last color that you see at night, so when planted in the right place they add depth,' says Sean Butler of Cube 1994 Ltd.
'In shady areas, use saracoccoa, commonly known as the Christmas Box, a very richly scented evergreen plant that flowers early. A good all-round plant which crosses all boundaries is Buxus (clipped box). This can be used to create good structure to all garden themes.'
You can also include some trees for a small garden, like in the formal courtyard garden above, which add a sense of height and structure.
17. Maximize a very narrow courtyard
Many garden designers base their plans on a series of squares and rectangles that work well in small, regular-shaped plots as zoned areas. Others design layouts on the diagonal, which can make the space seem larger.
There are lots of other design tricks that can help too. If you want to hide the boundaries to give the illusion of space, for example, paint fences black and they will seem to recede. Or use the vertical space, both in terms of hard landscaping and planting, to draw the eye upward.
The best planting for courtyard gardens tends to have multiples of one variety that are repeated at intervals. Grasses and evergreens are popular as they look good throughout the year and simplify the color scheme.
'Don't think that a courtyard garden can't be full of plants. You just need to choose the right plants, ones that create drama and intrigue and the illusion of space,' says designer Miria Harris. 'Plants that have a diaphanous quality, like ornamental grasses or tall perennials with slender stems and small flowers, don't block views. Instead they create movement and vertical accents that lead the eye upward.'
If a courtyard garden feels enveloped by plants then it is less likely to feel enclosed and restrictive.
18. Use exaggerated verticals to maximize space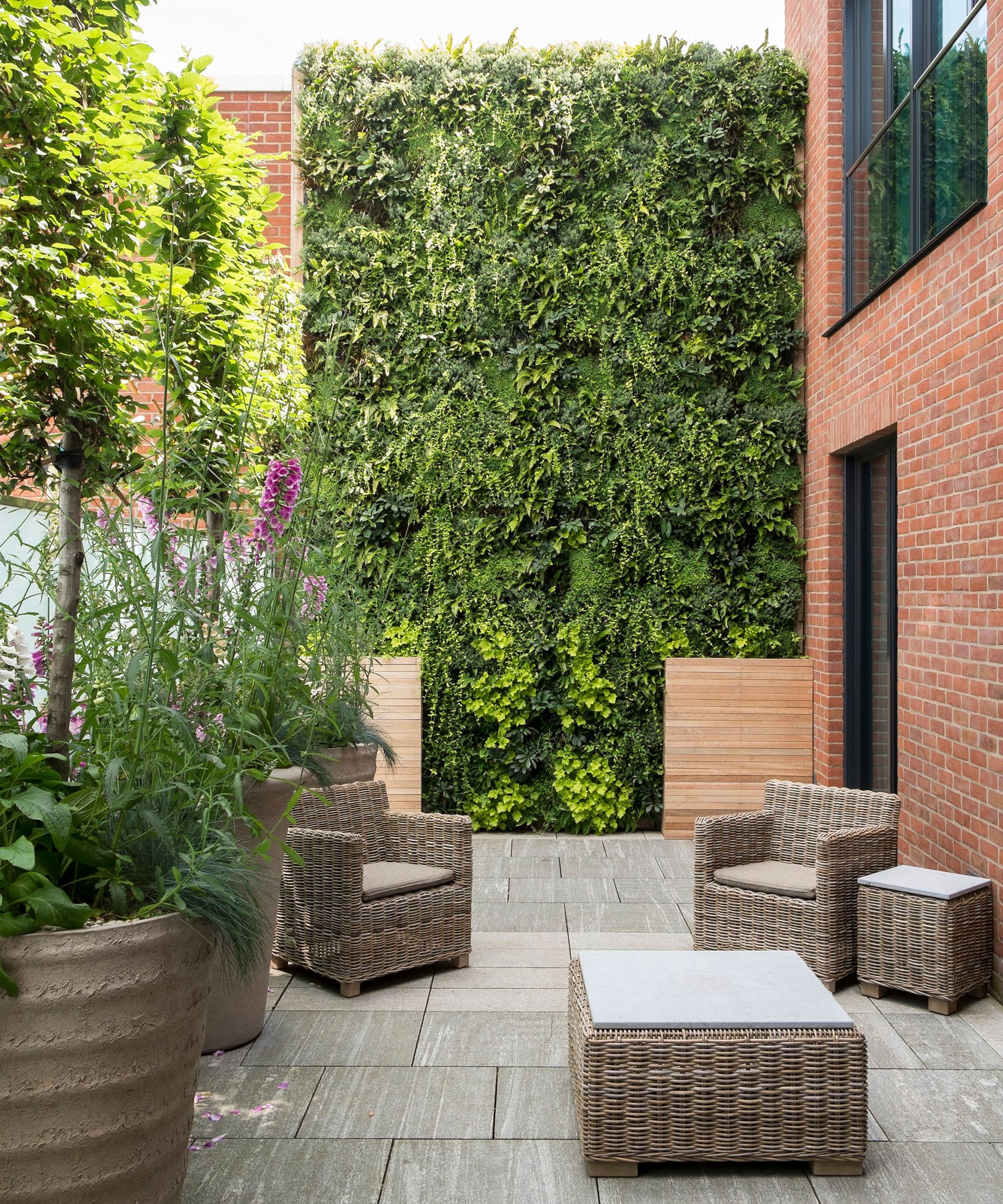 Vertical garden ideas are perfect for courtyard gardens because they leave much of the floor space clear for seating, while packing it with greenery. The upside, too, to exaggerated vertical gardens is that they can be viewed from upper stories, too, so if you have a large expanse of brickwork facing down into your courtyard, embrace it, and hide it.
How do I make a courtyard garden look good?
There are many ways to make your courtyard garden ideas look good. Firstly, approach the furnishing of your outside space in a similar way to the treatment of the inside.
Consider warmth under foot by using outdoor occasional rugs. Introduce punctuations of color and variations of texture in throws and cushions.
The hard materials you use will also make a difference – panels of timber for some of the boundary treatment can be softer in appearance than stone or rendered walls and will also create a quieter space with less echo.
Practicality is key to help the space to function well, but think about the look you'd like to create too, whether streamlined or relaxed and rustic. A timber table will create a very different feel to one made of steel or glass, or a vintage 'found' piece of furniture.
When it comes to exterior flooring, using pebble mosaic, richly textured herringbone or basket weave brickwork can make the space feel larger. Similarly, a smooth terrazzo can create a clean, spacious feel. Natural sawn stone is an attractive solution, as it's often rich in tone, smooth underfoot and can look very warm, while small garden decking ideas are also worth considering for courtyards.
What can I plant in a courtyard garden?
The key to creating a successful courtyard garden is to choose the two main elements – planting and paving – carefully.
The type of planting you choose will help to soften the look and feel of any courtyard garden ideas. Consider feathery grasses or velvety ferns, and if your space is small, try to create a sense of lightness using plants with soft foliage and small, delicate leaves.
Color is important, too. Opting for light greens, silvers and grays will help create a sense of spaciousness, while highly reflective, shiny leaves can add light and shimmer, providing a greater depth in the planting scheme.
In larger spaces, fragrance is a good way of zoning: a variety of fragrances in different areas of a terrace can suit different moods, and help them come to life at different times of day.
It is even possible to add small vegetable garden ideas into your courtyard and grow crops like strawberries and herbs in pots.
How do I make my courtyard garden look bigger?
In smaller or enclosed courtyard gardens, it's best to draw the eye to simple design elements or standout features.
If your garden looks out onto a side return, consider painting the wall white to reflect the light and increase a sense of space. Another trick is to mix hard materials. Stone paving interspersed with narrow pebbled strips can look effective, as can juxtaposing angles, such as contrasting sleek decking with paved travertine.
Length will draw the eye, so try to site a standout plant, sculpture or small water feature towards the end of your space. Consider incorporating fixed seating, such as a banquette running along an external wall, to instantly increase the useable space, making sure the spot receives sunshine.
Sign up to the Homes & Gardens newsletter
Decor Ideas. Project Inspiration. Expert Advice. Delivered to your inbox.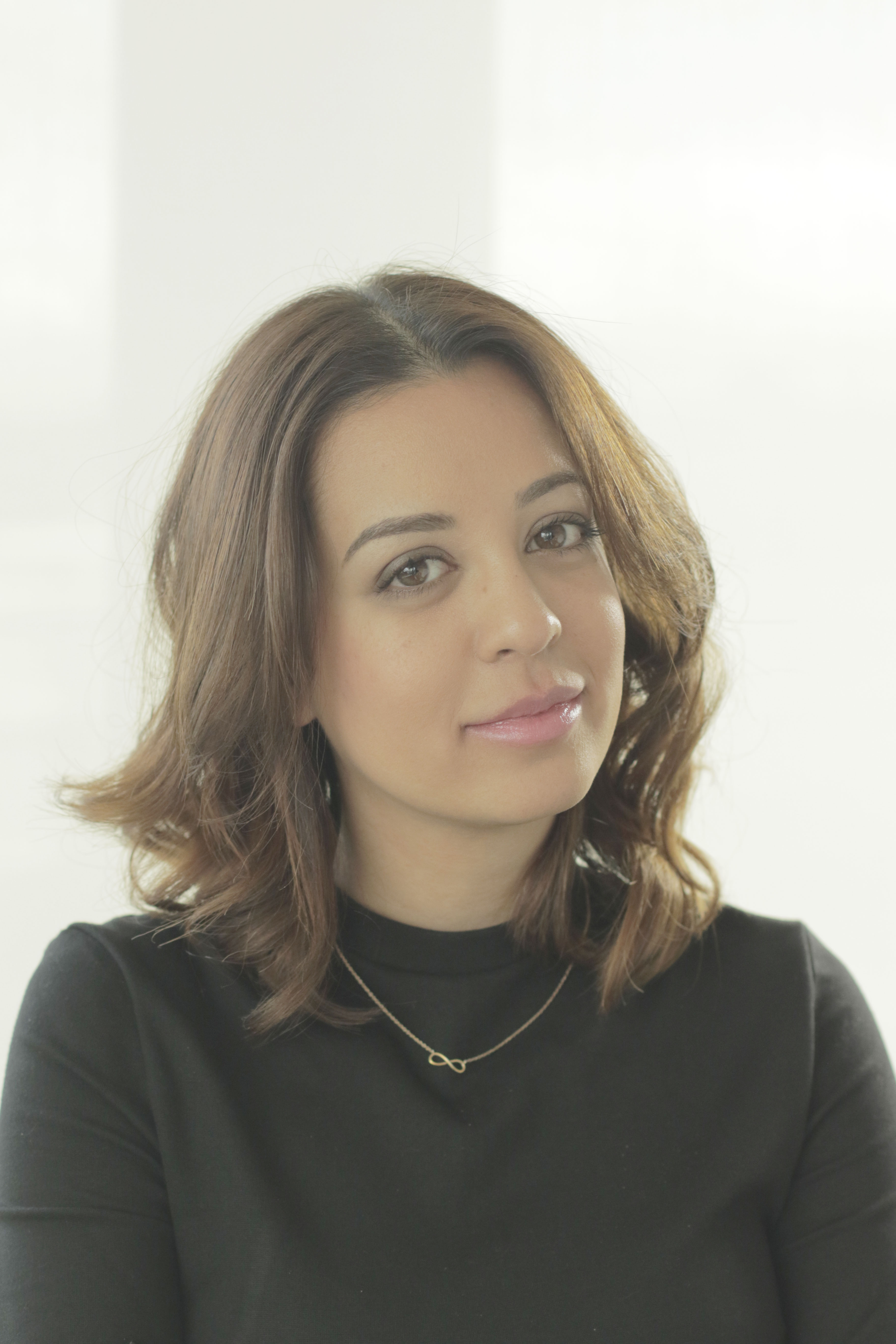 Jennifer is the Digital Editor at Homes & Gardens. Having worked in the interiors industry for a number of years, spanning many publications, she now hones her digital prowess on the 'best interiors website' in the world. Multi-skilled, Jennifer has worked in PR and marketing, and the occasional dabble in the social media, commercial and e-commerce space. Over the years, she has written about every area of the home, from compiling design houses from some of the best interior designers in the world to sourcing celebrity homes, reviewing appliances and even the odd news story or two.