How to make a small garden look bigger – 8 easy ways to maximize space
Discover how to make a small garden look bigger, so you can create a calming oasis no matter how small your space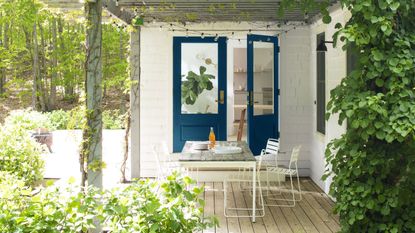 (Image credit: Benjamin Moore)
Small gardens have lots of advantages – but how do you make a small garden look bigger?
Small gardens, courtyards, balconies and even unloved corners can all make enticing outdoor spaces with a little extra planning and the right garden ideas.
Visual tricks, good lighting, interesting planting and comfortable seating will play to the strengths of even the most awkward or compact of gardens.
How to make a small garden look bigger
Our favorite tips, tricks and inspiring small garden ideas will help you visually enlarge your space and make a small garden look bigger this season, and beyond.
1. Fake a porch – and plant vertically
What a small porch lacks in size it can more than make up for in charm and atmosphere, and faking a porch can be the perfect solution when deciding how to make a small garden look bigger. While it may appear challenging to decorate a small porch area, don't let the diminutive size put you off.
A compact porch offers a unique experience to create something special, making the most of whatever space you do have and, in turn, offering a wonderful first impression for visitors. Porch ideas are also a great option for those of us who lack lawn space.
Whether you have a covered porch or one that's open to the elements, choosing the same color for the ceiling and walls will help lift the space and make it feel more expansive. Plus, plant vertically to create a beautiful canopy that will last all summer long. What's more, you can opt for foldable furniture that can be packed away during the colder months.

2. Enhance your small garden with a canopy – and storage
Temporary structures – such as a canopy or sail – allow for a bit of fun and the chance to dress up the garden for a particular event or occasion, as well as being practical solutions for balcony gardens. They are also a fantastic way of adding shade. Plus, when considering how to make a small garden look bigger, they will make a compact garden space feel like an extra 'room'.
Another great tip to effectively plan a small garden layout is to be organized, and you can do this with functional storage. Here, a pretty yet practical sideboard – for storing your garden tools, and for also displaying pots on – will add much needed height in a small garden.
3. Choose your garden landscaping wisely
When considering how to make a small garden look bigger, Isabel Fernandez, director of Quorn Stone, explains: 'To give the illusion of more space, we recommend going with a larger paver size such as 900 x 600 or 800 x 800cm.
'The larger the paver, the less grout, which helps to create a seamless space that isn't broken up by numerous grout lines. We also recommend choosing a grout colour that is a close color match to the paver itself – again, this helps the grout to blend in with the pavers and gives the illusion of a larger area.'
4. Introduce unusual elements in a small courtyard
We simple adore this modern courtyard garden with curvaceous furniture and 3-D design elements. Full-on voluptuous or gently rounded, curves will lift the landscape and soften the overall look of your small garden, adding a bold design focus or a subtle touch of shaping to your décor.
The tiles are the only thing that are angular; the rest is round or shaped. This allows for easy movement within the small space – no scraping your ankles on sharp corners.
The color scheme is another important factor when considering how to make a small garden look bigger. Here, a palette of soothing blues and greys combine beautifully with the rich tones of the surrounding planting.
We adore the idea of trees in pots too, as they add height and interest, so why not include one or two of these best trees for a small garden, such as Japanese Maple, and be creative when you're looking for foliage.
5. Maximize your square footage
When your floor space is at a premium, you need to be clever with your layout. This backyard, designed by Barlis Wedlick, is a masterclass in practical planning.
Firstly, think of the elements you want to use – deck chairs and loungers along one side, a table for entertaining in the corner and a lovely low slung corner sofa in the other corner. There's even room for a console table for drinks and fresh flowers.
Varying your seating like this gives you more scope for different entertaining options, whilst still creating a relaxing and welcoming space, and the right small garden decking ideas will allow you to make use of every inch of floor space.
6. Pick curvaceous garden furniture
As we touched on above, curvaceous furniture is imperative when planning how to make a small garden look bigger – and this goes for small inside spaces as well as out. It not only visually enhances a small garden, but will also draw the eye around the whole area.
Another consideration is furniture that's pale in color and lightweight design wise – chunky pieces will feel and look heavy. This set from Bridgman ticks all of these boxes, and it's see-through – which only serves to enhance the illusion of space.
7. Introduce tiles all over
Smooth and contemporary, this calming oasis, although small, still feels light and airy because of the continuous tiling.
In the same way you would use pale color inside your home, you can also use this design trick outdoors, too. The tiles reflect the light up and out, and prevent the backyard from feeling dark. Keep furniture to a minimum – this look is for minimalists, not maximalists.
8. Focus on symmetry in a small garden
Balance is an important design principle that creates a sense of structure and calmness, as well as making a small garden look bigger.
Throw in the odd asymmetrical element to ensure that the space is still visually interesting. The overriding look should be balanced, but one or two extra items will stop the space feeling too formal.
Keeping a consistent color scheme helps too. This Penny Morrison designed garden furniture might seem too large – but it is actually a great example of how to make a small garden look bigger. Our advice is to choose one piece that fills your space – as long as there's room to move around it, it will work.
Sign up to the Homes & Gardens newsletter
Decor Ideas. Project Inspiration. Expert Advice. Delivered to your inbox.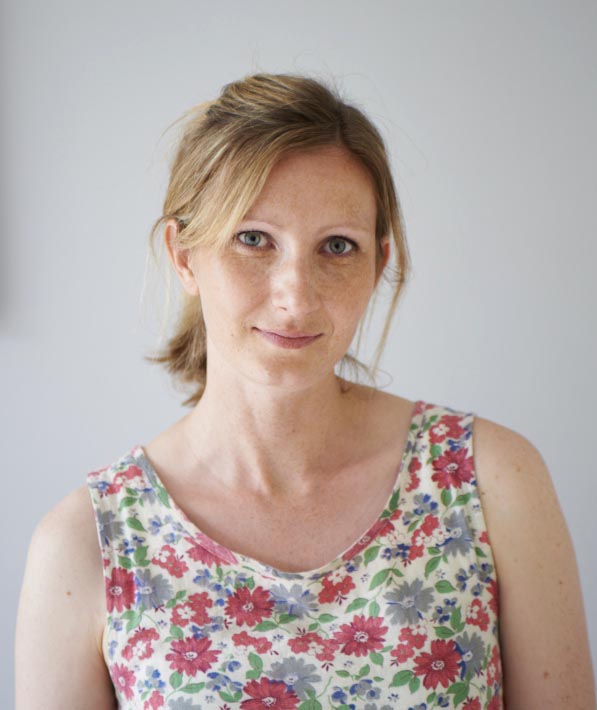 Sophie has been an interior stylist and journalist for over 20 years and has worked for many of the main interior magazines during that time, both in-house and as a freelancer. On the side, as well as being the News Editor for indie magazine, 91, she trained to be a florist in 2019 and launched The Prettiest Posy where she curates beautiful flowers for modern weddings and events. For H&G, she writes features about interior design – and is known for having an eye for a beautiful room.