Small garden ideas – 13 clever designs for maximizing a compact gardening space
Even the tiniest outdoor space can be transformed with a considered layout, creative planting and the right materials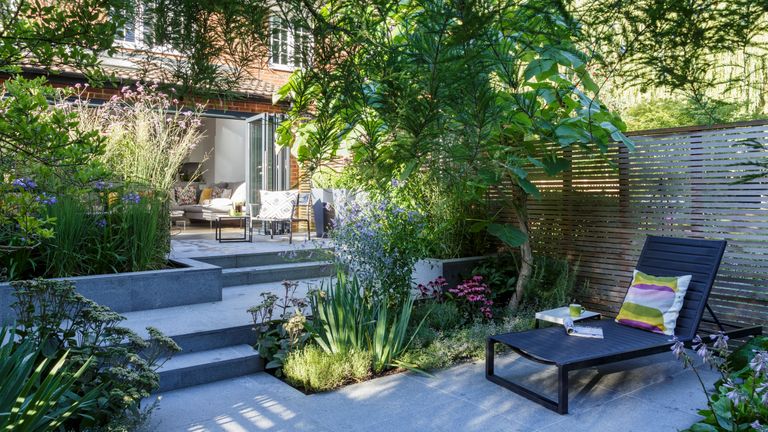 (Image credit: Future / Mark Bolton )
Small gardens have lots of advantages – the main one being they're wonderfully low-maintenance. Small gardens, city terraces, balconies and even unloved corners can all make enticing outdoor spaces with a little care and attention. Visual tricks, good lighting, interesting planting and comfortable seating will play to the strengths of the most awkward or compact of gardens. 
Whether you're looking to create an impressive balcony garden, want to introduce some garden furniture or love to be surrounded by greenery, you'll find lots of small garden ideas below to inspire you.
1. Keep it simple
Don't get too carried away when planning for a small space. A carefully chosen palette of materials and plants is often the most satisfying. However, this doesn't mean you can't be adventurous and experimental, just be mindful that trying to squeeze everything into a compact space will make it cluttered and decrease usability.
2. Plant smart
The choice of planting is essential in smaller gardens. Use plants that won't overcrowd the space, however you also need to ensure you are not always looking at fencing or boundary walls. A really useful plant is the evergreen climber Trachelospermum Jasminoides, commonly known as star jasmine. It will offer year-round interest with an abundance of white flower from mid to late summer.
3. Pot up
Using plants in pots provides additional flexibility in smaller gardens. You are able to position the pots around your dining terrace and relocate them easily whenever you need to, as well as vary the planting from season to season.
4. Consistency is key
Continuity of approach from the inside out will help make the garden feel part of your home. This can range from paint colors and materials to simply using plants whose flower color complements the interior. Be mindful that although some paving materials can be used both internally and externally, the stone outside will tend to weather over time.
5. Create interest
Introduce focal points, which can include sculpture or water features, specimen trees and even an outdoor fireplace. Correct positioning is important –some will be most successful as the design centrepiece while others are better tucked away within planting so that you aren't fully aware of them until you enter the garden.
6. Light right
'Lighting specific areas and focal points will create interest and provide a backdrop to the house all year round, even at times when you are not in the garden. It is important to not light the whole space, areas of darkness are essential to the success of a garden lighting scheme,' says Dan Bowyer, Fisher Tomlin & Bowyer.
7. Create a shady corner
Think about a shaded spot as a multisensory experience of sight, sound and scent. Trees provide excellent coverage without blocking too much sun, and can be trimmed back to suit your needs.
8. Go underground
Transform an overlooked or exposed garden space. Sunken gardens make great retreats and are especially useful in urban plots where boundary fences may cast unwanted shade. 
Lowering a terrace by just 45cm makes it easier to create a greater sense of privacy with planting or awnings; if you want to go lower, ask a landscape architect to check the water table level and advise on drainage. In a sloping garden, carve out terraces and create an outdoor room on the lowest level.
9. Instil good housekeeping
It may not sound the most exciting, but getting on top of tasks such as the cleaning and tidying of pots, sheds and greenhouses is the perfect way to ensure that your small garden is clutter-free – allowing you to make the most of even the smallest of areas.
If space allows, why not invest in a potting shed? Take a look at these shed ideas for more advice.
10. Plant up
If floor space is at a premium, plant vertically instead. One of the most sought after look this year – living walls are taking planting to a whole new level. 
To create these vertical gardens, plants are rooted into a structure which is then  attached to an interior, exterior or freestanding wall. Systems can range from  something as simple as plant pots hung on a vertical wall, or highly sophisticated  modular, hydroponic panels where all the water and nutrient requirements of the  plants are precision delivered and monitored electronically.
11. Opt for low-level furniture 
It is hugely important to get the scale just right in a compact area. Look out how your furniture pieces relate to each other and the surrounding space. A neat garden sofa and armless – or single arm – chairs are good options for a small garden or courtyard where space is limited. 
12. Build an office at the end of your garden
What better way is there to start your working day than a relaxed walk to the end of your garden? And you need not have a large garden to do so. And, for as little as $7,000-$10,000, you can hire a builder to create a simple studio, much like the one shown above.
Building an extra room with a view of the garden is now a growing trend. With the current  vogue for open-plan, multi-purpose family rooms that combine a mix of kitchen, dining and living spaces, garden rooms and orangeries fit the bill perfectly. 
13. Enjoy small-scale topiary
Often used on a grand and formal scale, try topiary forms in short-on-space areas to dramatic effect. In this tiny garden, topiary box has been cut into balls –in close proximity – to create a chess board feel.
How can I get the most out of my small garden?
In smaller or enclosed spaces, it's important to draw the eye through simple, enticing design.
Many courtyard or urban gardens can be overlooked. Try obscuring any unwelcome views with considered planting that adds some height but not too much depth so as to avoid eating into a compact square footage. Long lasting plants such as Verbena Bonariensis add height and can be contained in small areas with flowers lasting from May through to the winter. Often a combination of hard landscaping, such as stone and brick, with bold, architectural planting, works best.
A terrace planted with a pair of large olive trees and a vibrant herb bed for example, will make more impact than a mass of overplanting. If your garden looks out onto a side return, consider painting the wall white to reflect the light and increase a sense of space. Another trick is to mix hard materials. Stone paving interspersed with narrow pebbled strips can look effective, as can juxtaposing angles, such as contrasting sleek decking with paved travertine.
Length will draw the eye, so try to site a standout plant, sculpture or small water feature towards the end of your space. Consider incorporating fixed seating, such as a banquette running along an external wall, to instantly increase the useable space, making sure the spot receives sunshine.
How do you make a small garden look nice?
Use planting to soften hard features. In smaller spaces, a sculpted, streamlined look can work best, such as stone paved terraces, or other materials, whether brick or paint, that that reference the property, combining inside with outside. But counteracting these hard materials with a mixture of clipped and more whimsical planting will soften the edges and add texture and interest. Make sure you know where the sun rises and sets in your garden so that you can plant accordingly. 
Balconies and roof terraces can benefit from simple planting, too. Prioritise space for sitting or dining and avoid overcrowding with too many varying pot shapes and sizes – aim instead for one or two statement pieces, such as a pair of bay trees or a sumptuous window box of favorite blooms, be they geraniums, hydrangeas, or overflowing campanulas. Finally, invest in some simple but effective lighting for small spaces to enhance appeal and increase the sense of space.
'Small gardens look great with just a few key elements that link the whole space together,' says ,' says Sean Butler, Cube 1994 Ltd. 'This may be through the use of repeating an accent color or a plant. Sometimes I choose a cushion fabric and then repeat its color through the planting. Clipped box can be used as an all year structural plant, while Zantedeschia thrive in city gardens in small amounts of shade and add a lush feel to the garden.'