Trellis ideas – 17 beautiful ways to add vertical interest
Discover the best trellis ideas to grow a variety of climbing plants against your garden walls and fences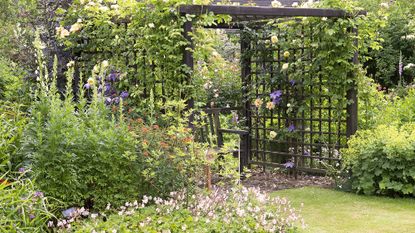 (Image credit: Leigh Clapp)
There are so many wonderful trellis ideas that offer limitless potential for adding vertical interest to your garden.
Trellis is one of the most simple but effective garden fence ideas – allowing you to enhance an uninspiring surface or introduce an element of privacy or shade.
'The vertical plane is the longest axis in the garden, and using it for planting offers the opportunity to make the most of the space in your garden,' says gardening expert Leigh Clapp.
'For millennia we have used climbing plants to green a surface or espaliered fruit against a warm wall. Whether you would like to try a living wall or simply add another dimension to the garden, there is a plethora of possibilities.'
As well as allowing you to display climbing plants at eye level and use them to hide ugly garden walls, there is much to be gained by using trellis – allowing you to partially conceal and screen certain parts of your garden from immediate view, as well as adding shade and structure.
Garden trellis can be used for all of the best climbing plants, from fragrant roses and clematis to fruits and vegetables. In fact, there are some fantastic vegetable garden trellis ideas to take inspiration from.
Garden trellis ideas to inspire
If you wish to imitate the look of a romantic trellis garden in your own backyard, then read on for the best ways to successfully incorporate trellis ideas.
Whether for garden privacy, to create shade, disguise an unattractive surface, or simply to enjoy more plants at eye level, there are so many beautiful vertical garden ideas with trellis at their heart.
1. Use trellis to zone your garden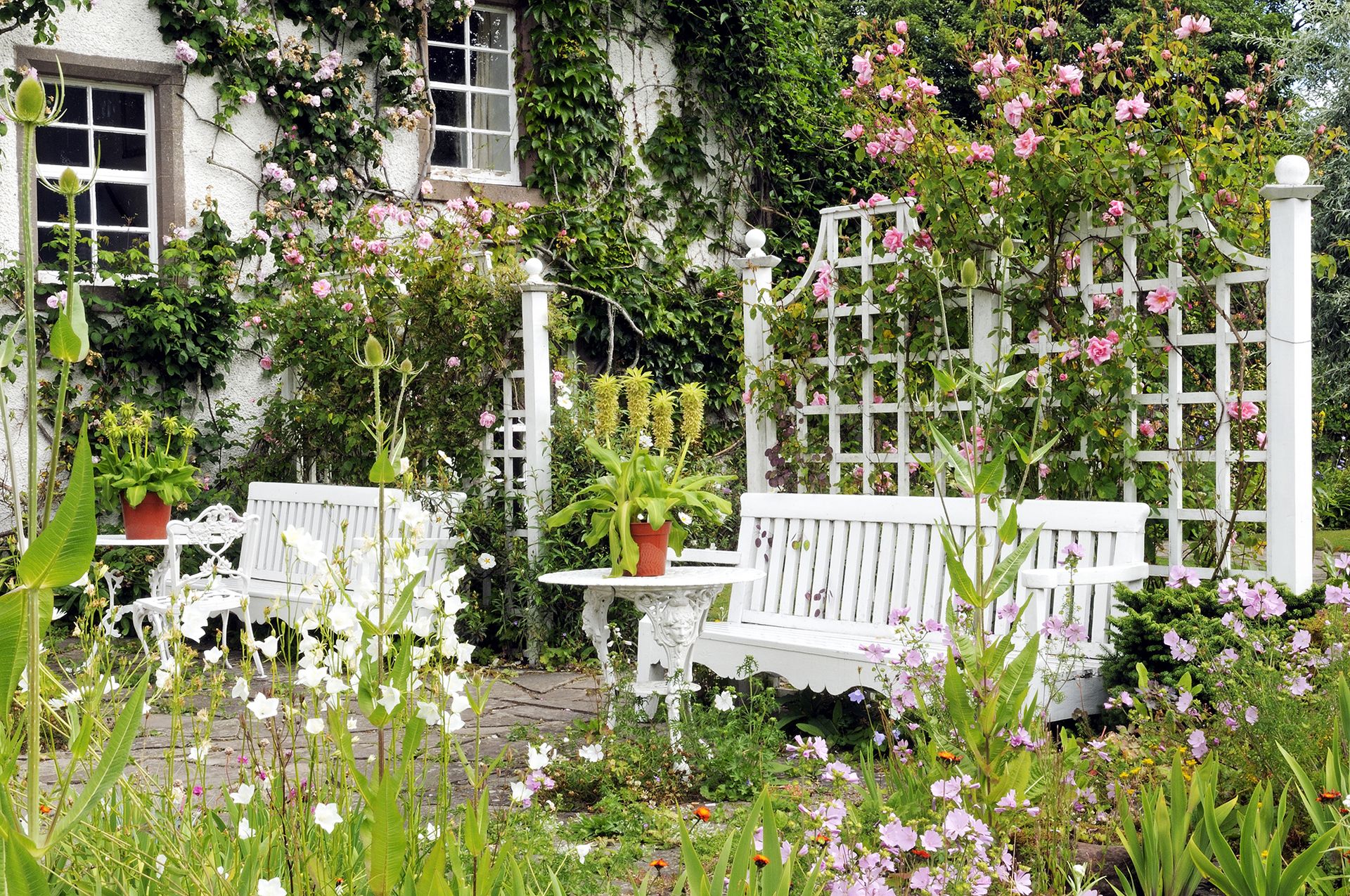 Don't just think of trellis as being restricted to walls and fences – consider the potential for garden screening ideas to zone off areas.
This is a particularly clever solution if you have a large yard, as trellis ideas can be used to create different 'rooms'. Often a garden is best enjoyed when the whole space is not visible all at once, allowing it to be explored and secret areas discovered.
In this charming design, painted trellis panels are used to create secluded seating areas, with fragrant climbing roses planted to create a feast for the senses.
2. Create a lush living fence section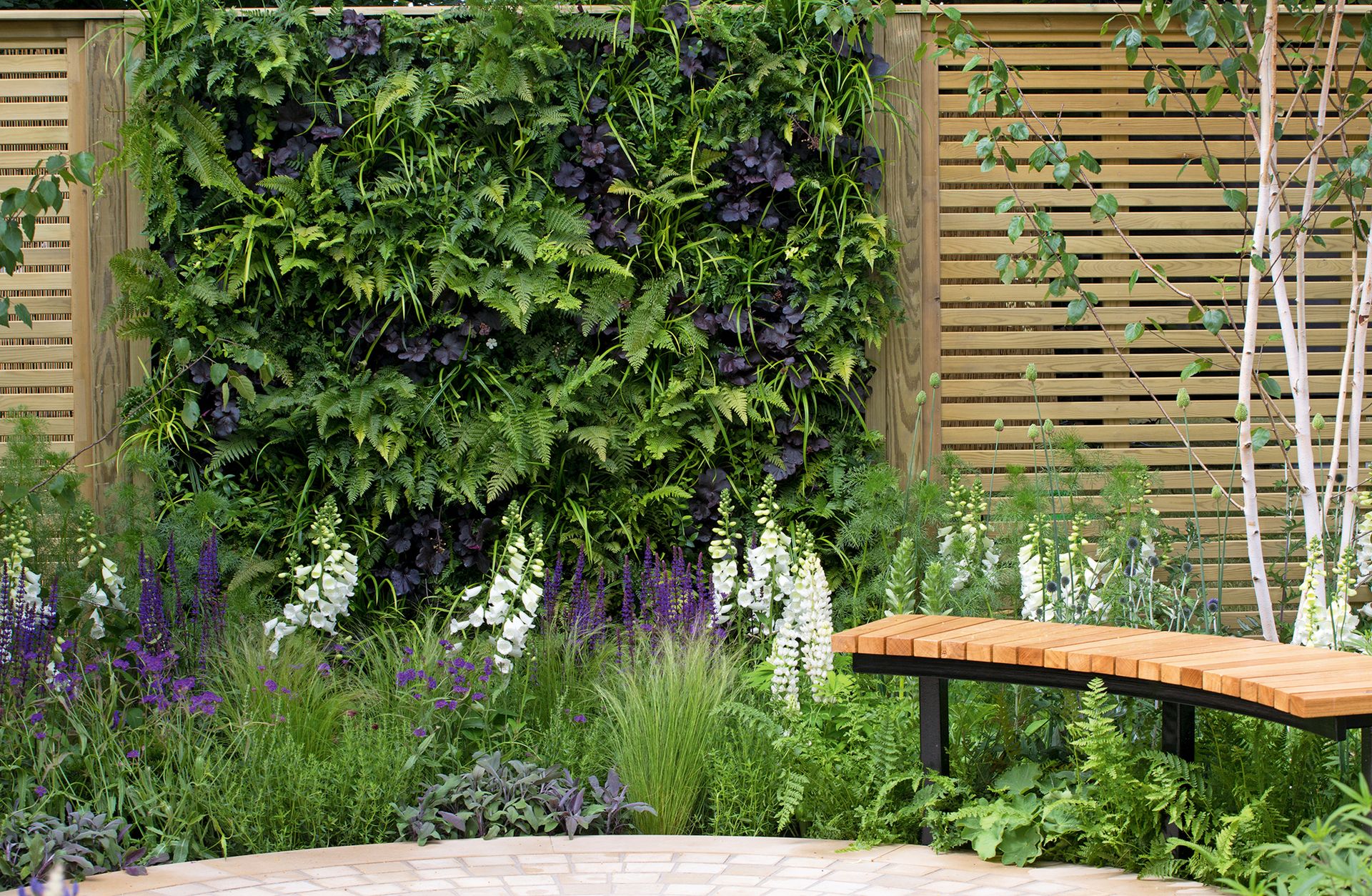 There are some wonderful living wall ideas that give a modern edge to a garden, and add interest to the vertical plane. But the same solution can also be applied to your garden fence.
'Living walls are planted more densely than a garden bed; think of them as containers in the sky, a tapestry of color and form,' says Clapp.
'Use reliable, long-living, disease-resistant plants that are light with shallow roots, as they will have restricted root space. For a year-round effect select mostly evergreens, then highlight with seasonal color.'
3. Incorporate mirrors into your trellis to enhance the space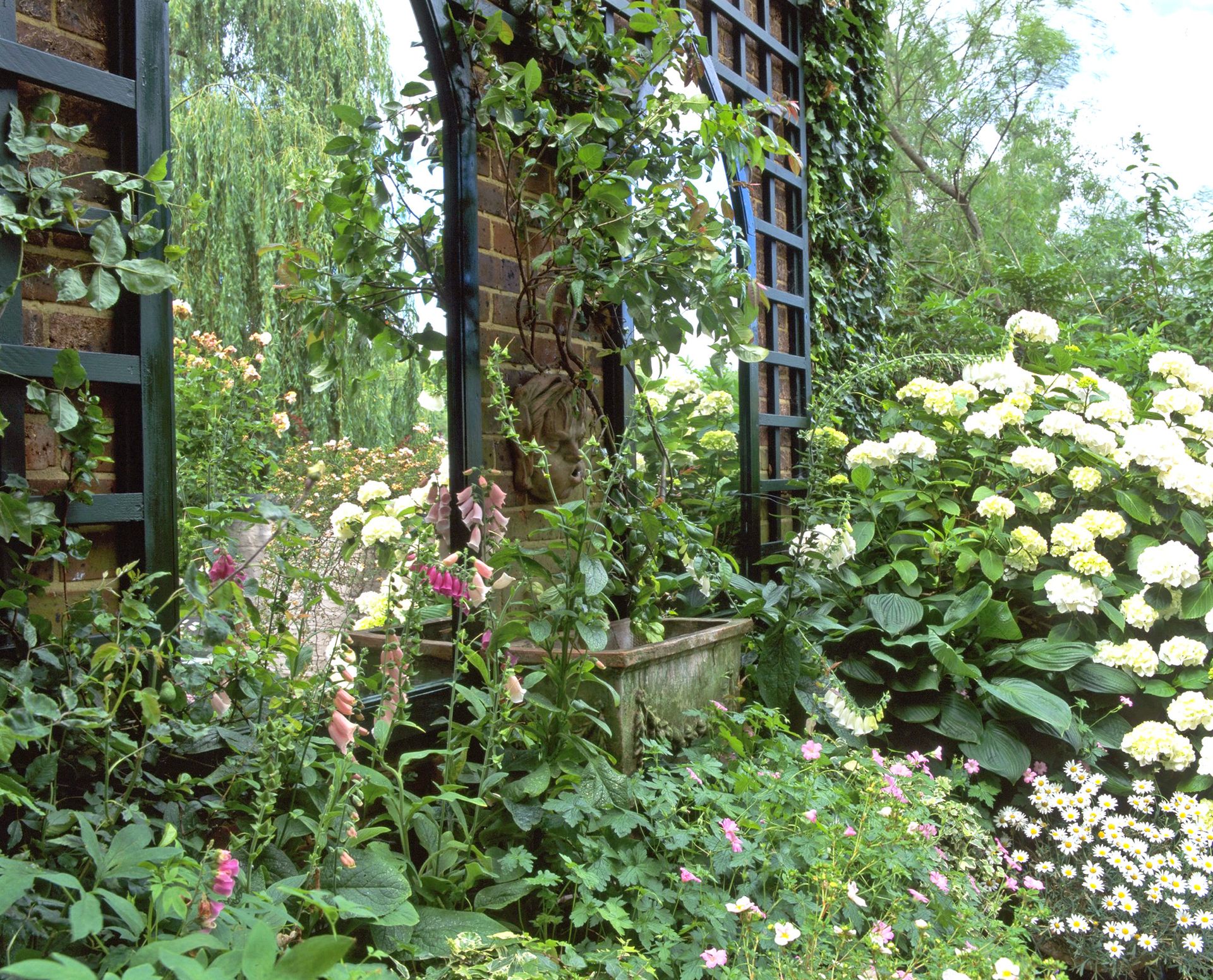 Large mirrors on garden walls can make a garden feel so much larger, and incorporating them into your trellis ideas will add a magical air to the space.
'Try to hide the edges to further enhance the illusion,' says garden expert Matt James. 'Close-knit trelliswork fixed tight to the wall around the outside of the mirror works well – perhaps cover the rest of the wall with it too.
'Importantly, make sure that the reflection isn't anything unattractive; this ruins the illusion! Instead angle mirrors ever-so-slightly away from you, fixing a thicker timber batten down one side so the mirror reflects attractive plants.'
4. Install a rose climbing frame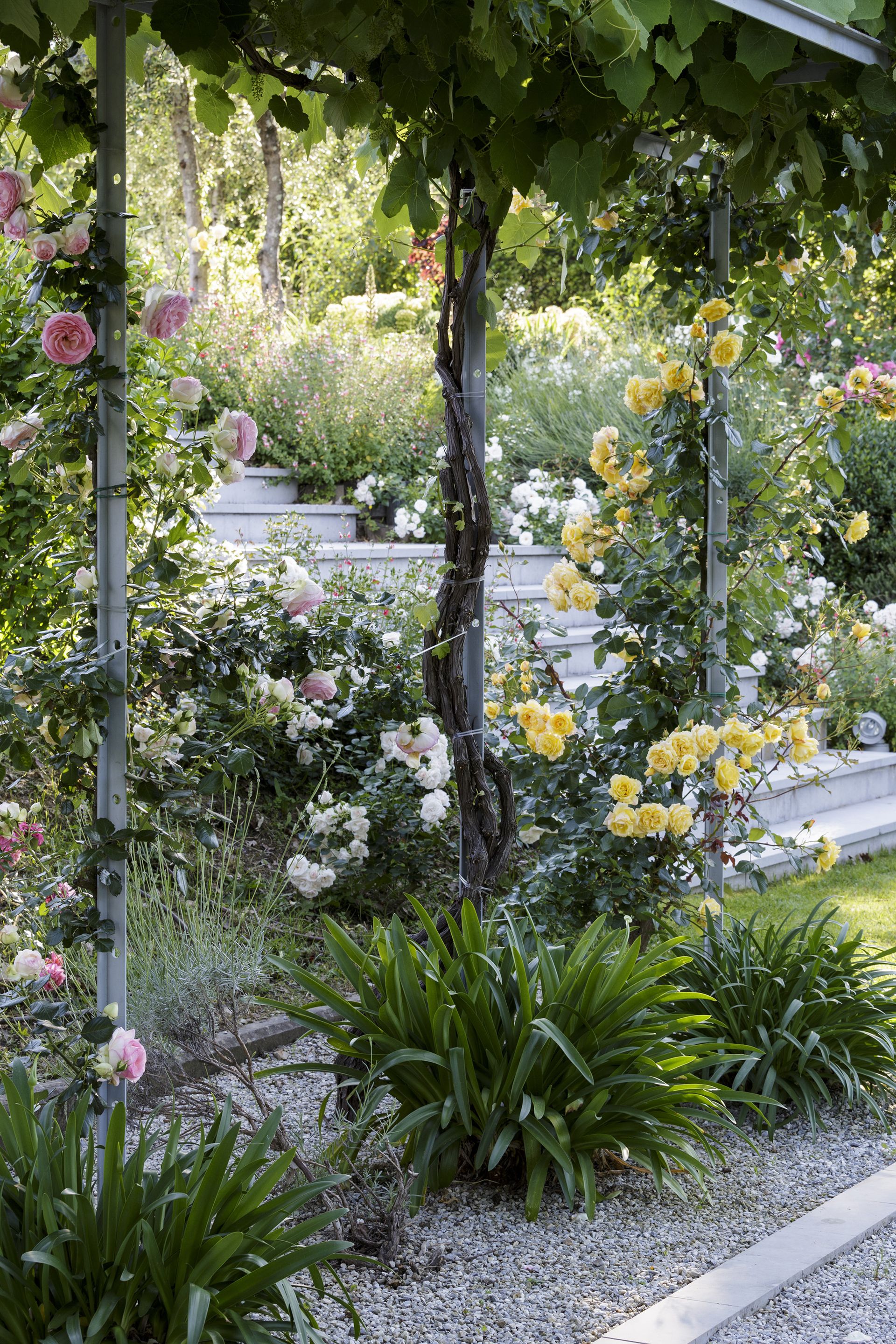 For something different to the standard closely spaced trellis, consider building a frame for fragranced climbing plants, such as roses.
In this stunning design, a rose walkway has been created, with a different variety entwined around each post.
Though discreet, the metal frame will become less and less visible as the roses become more established. Simple but effective, it's one of the best rose garden ideas to explore.
5. Turn trellis into garden art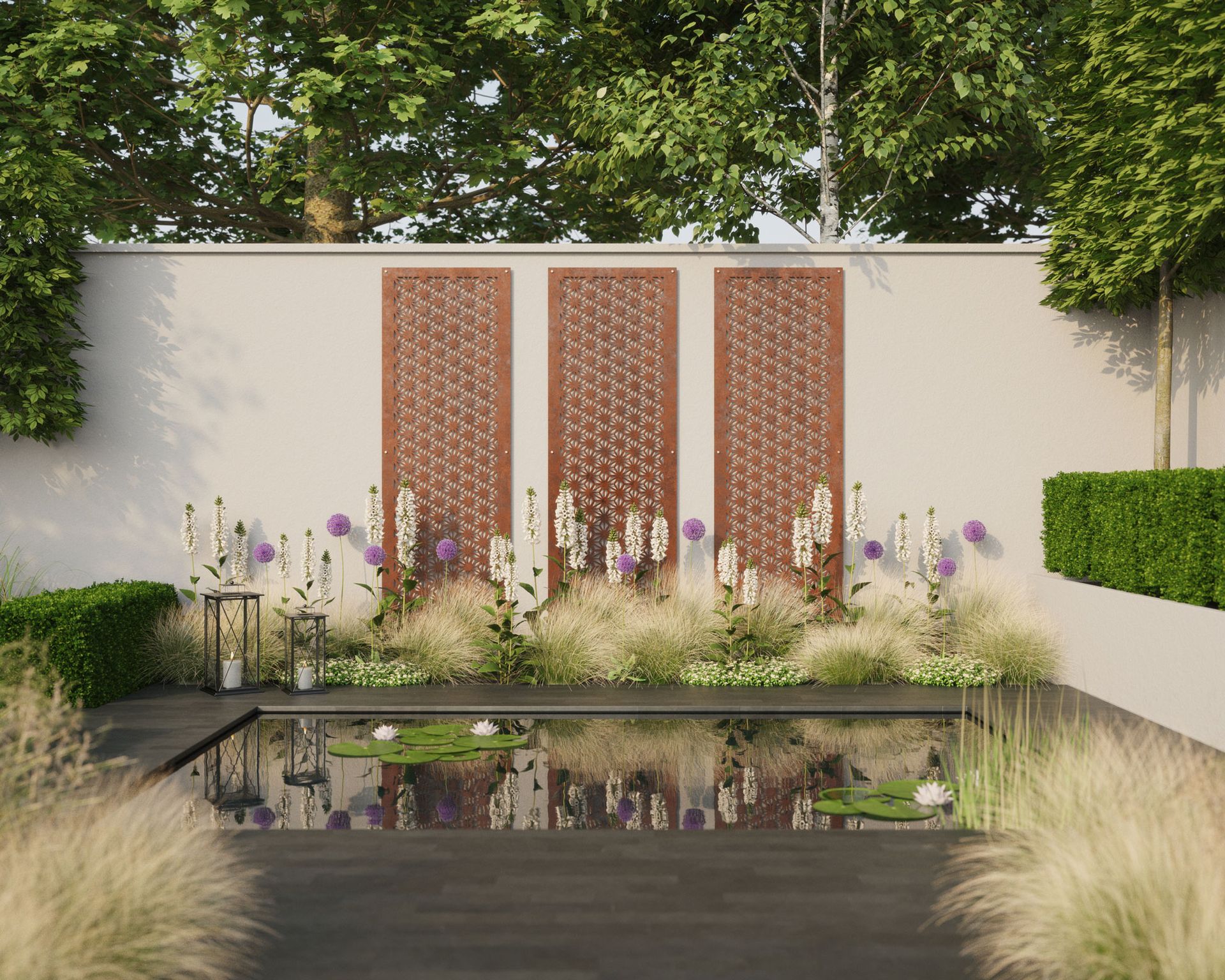 Your trellis ideas needn't just serve as backdrops to climbing plants. This sculptural Asanoha trellis panel trio by Stark & Greensmith is a work of art in its own right.
It's inspired by Japanese privacy screens, which were traditionally created with intricately carved woodwork.
Made from Corten steel, it adds a rustic texture to the garden and beautifully reflects into the surface of the water below.
6. Add a metal trellis fence to your garden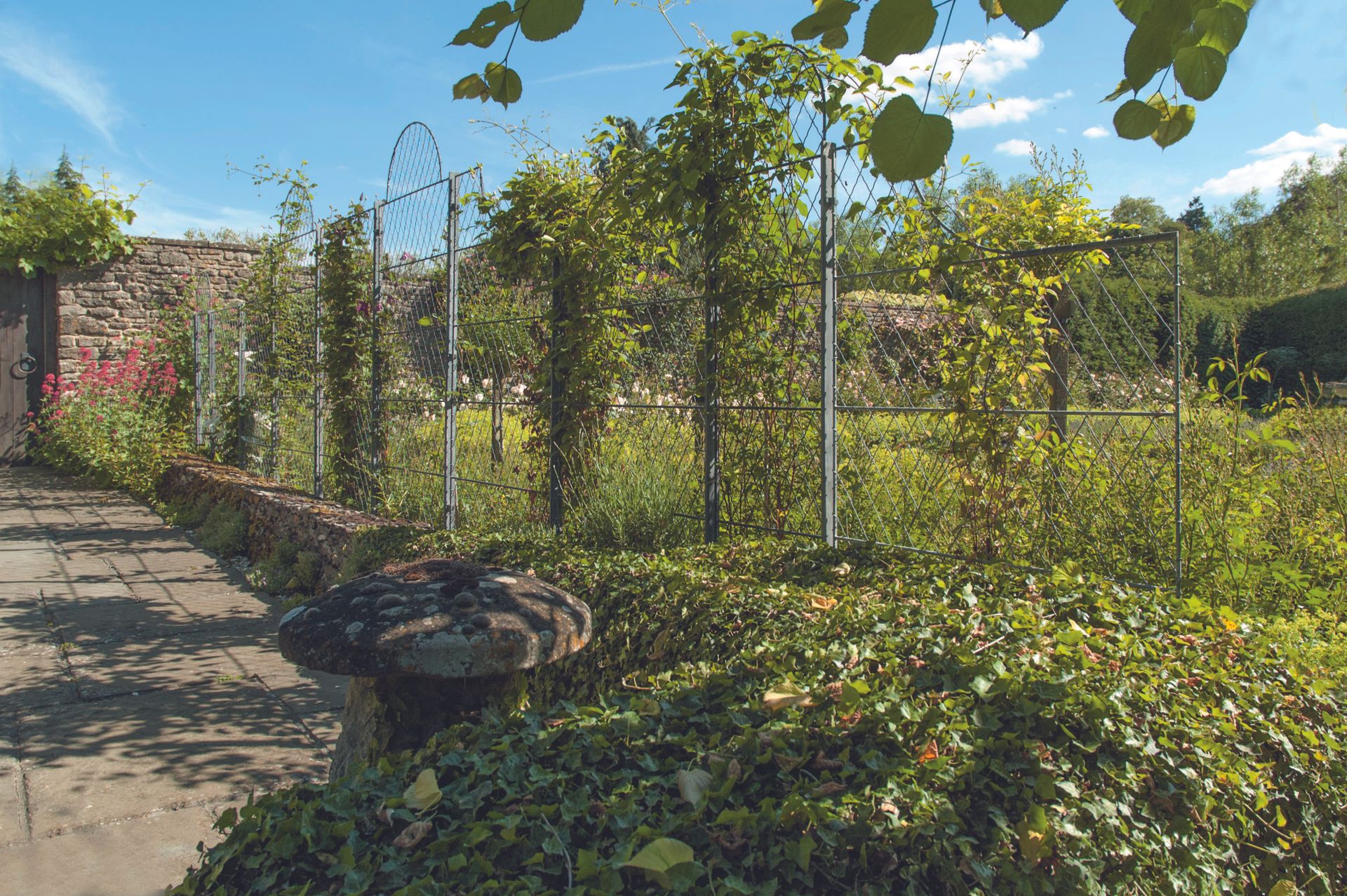 This slimline metal trellis fencing is an elegant way to define a boundary, as it maintains a good level of visibility while providing plenty of room for growing climbing plants.
In order to fit this type of trellis, the posts either need to be concreted into the ground or fixed to hard landscaping with bolt-down plates.
Designed by Garden Requisites, this trellis is available in a choice of galvanized, aged or painted metal, and will weather beautifully over time.
7. Use modern horizontal trellis fencing in an urban garden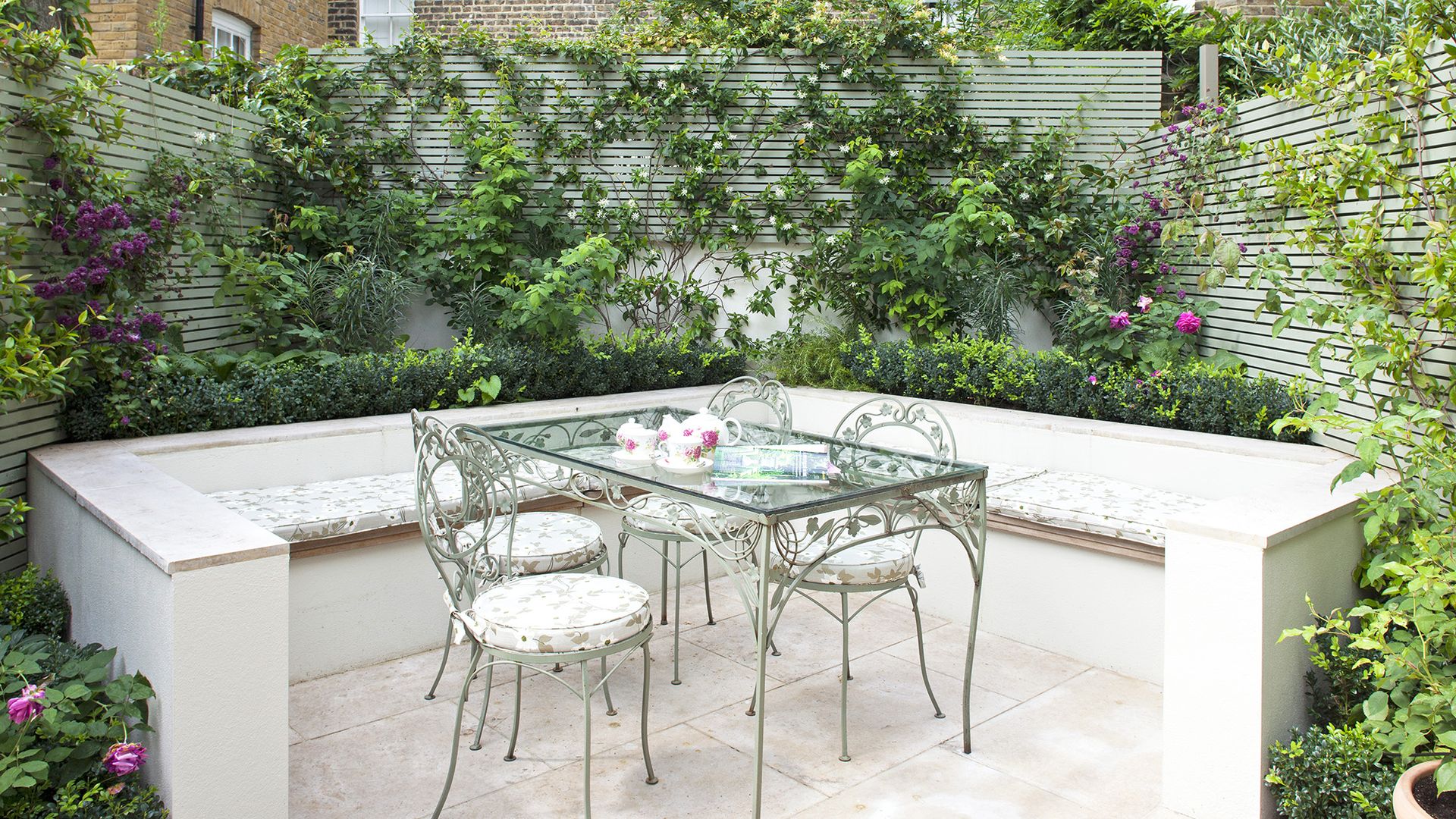 Enclose a small urban garden with trellis fencing panels, to create a secluded oasis.
Using closely slatted horizontal panels, rather than traditional diamond-shaped trellis, adds a modern edge while increasing privacy.
This design maximizes the vertical plane with a mix of climbing plants, while its angular seating area and patio cleverly allows space for raised beds.
8. Install a trellis topper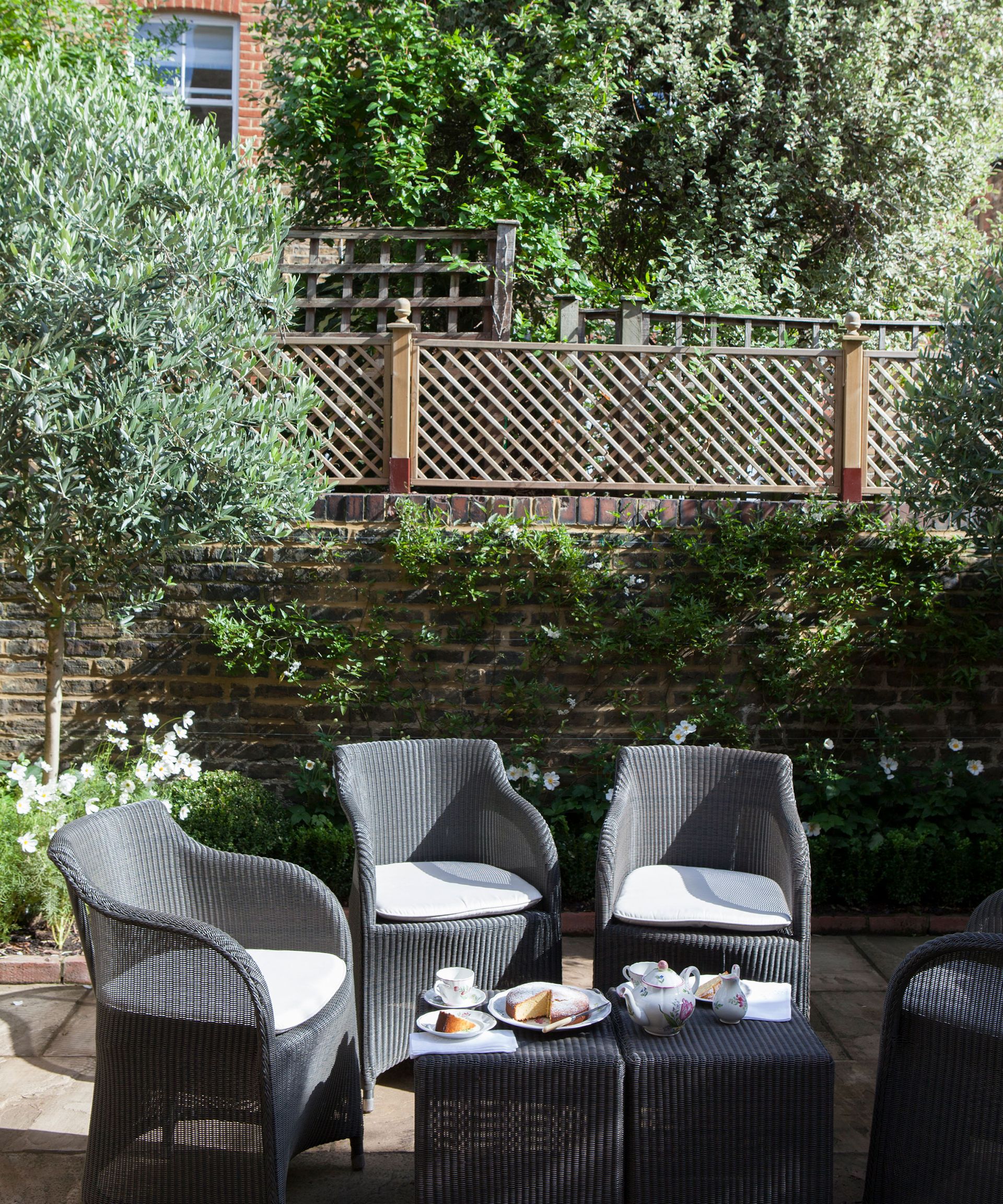 Trellis toppers are good for adding height to a fence, and providing support for climbing plants. They create more of a 'design feature' then basic fence panels, but are functional, too.
Use trellis for creating divider within a garden, or for providing garden privacy in a small backyard or courtyard garden.
9. Use trellis to frame a door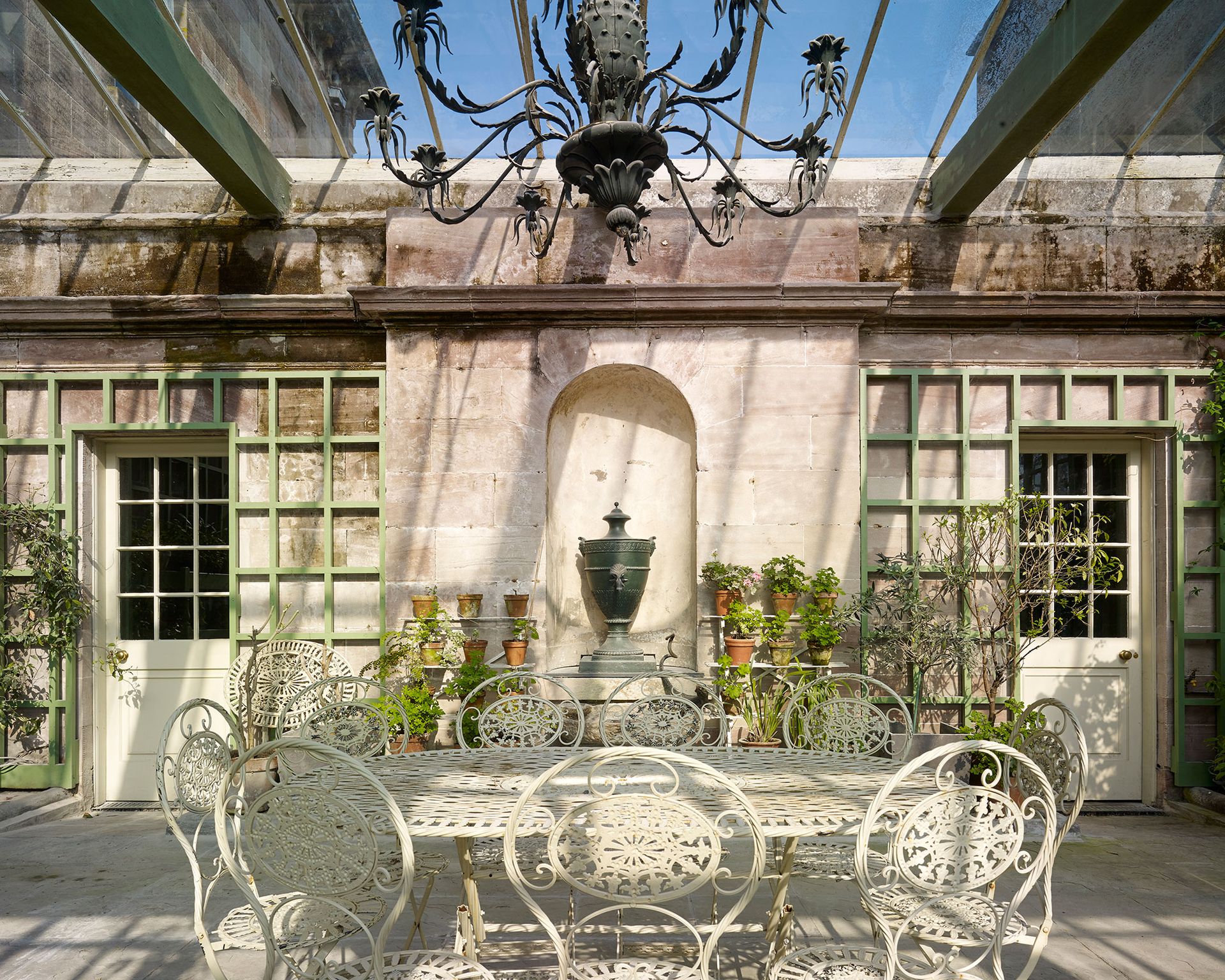 Trellis doesn't have to be covered up with climbing plants. Instead, paint your trellis in a fresh color and use it around a door frame to add interest and intrigue.
Of course, you now have the option to train plants up the frame, should you wish.
10. Use trellis ideas to provide textural interest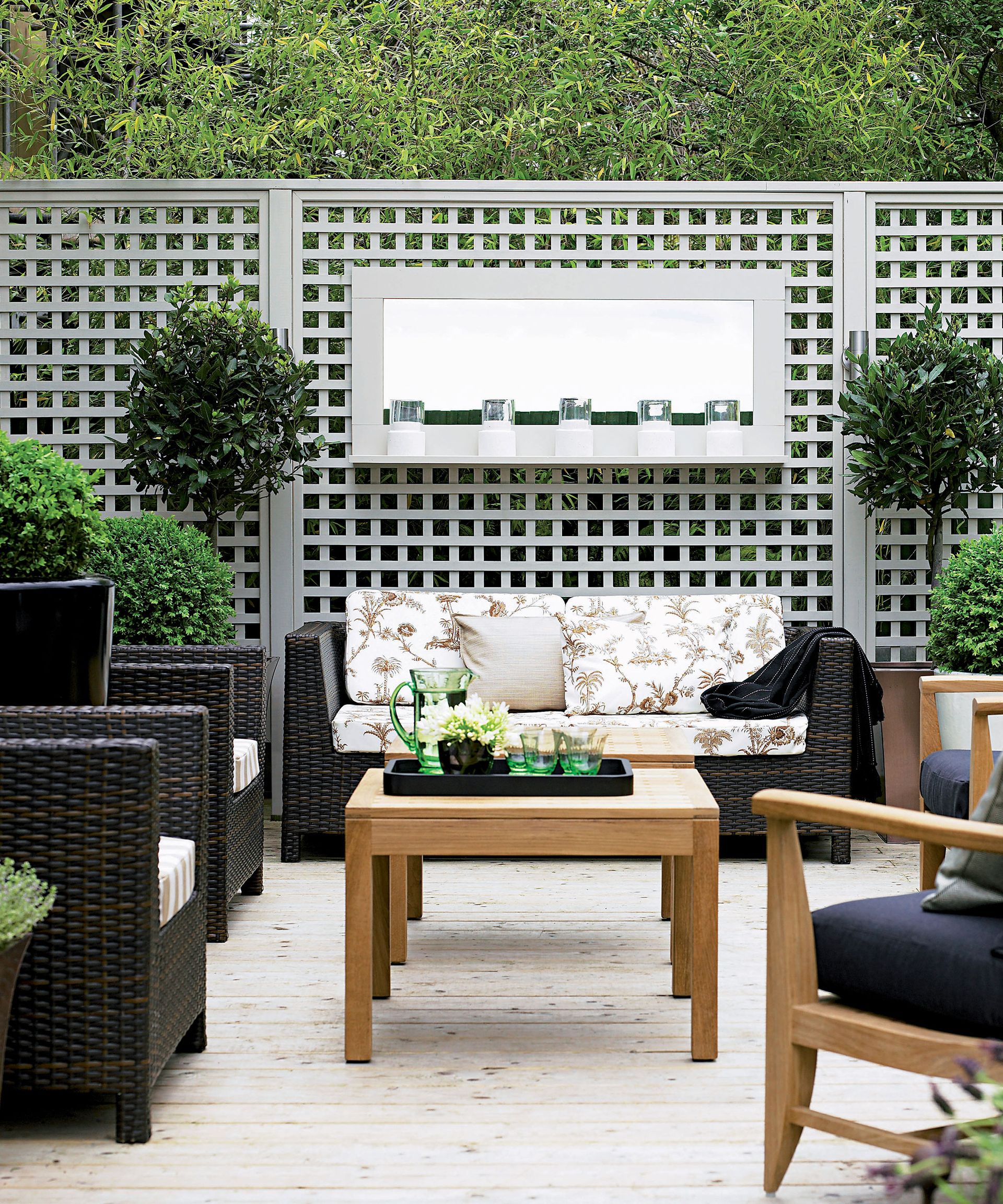 As above, trellis ideas don't not have to be purely functional. If you're looking to use a trellis to boost your garden privacy levels in your plot, or to add to your shade garden ideas, then this design might be the one for you.
With its traditional small square design it provides an attractive and textural alternative to a fence. The view of next door will be suitably obscured, yet light and air will still flow through the gaps – perfect for all-day entertaining.
11. Pitch up an obelisk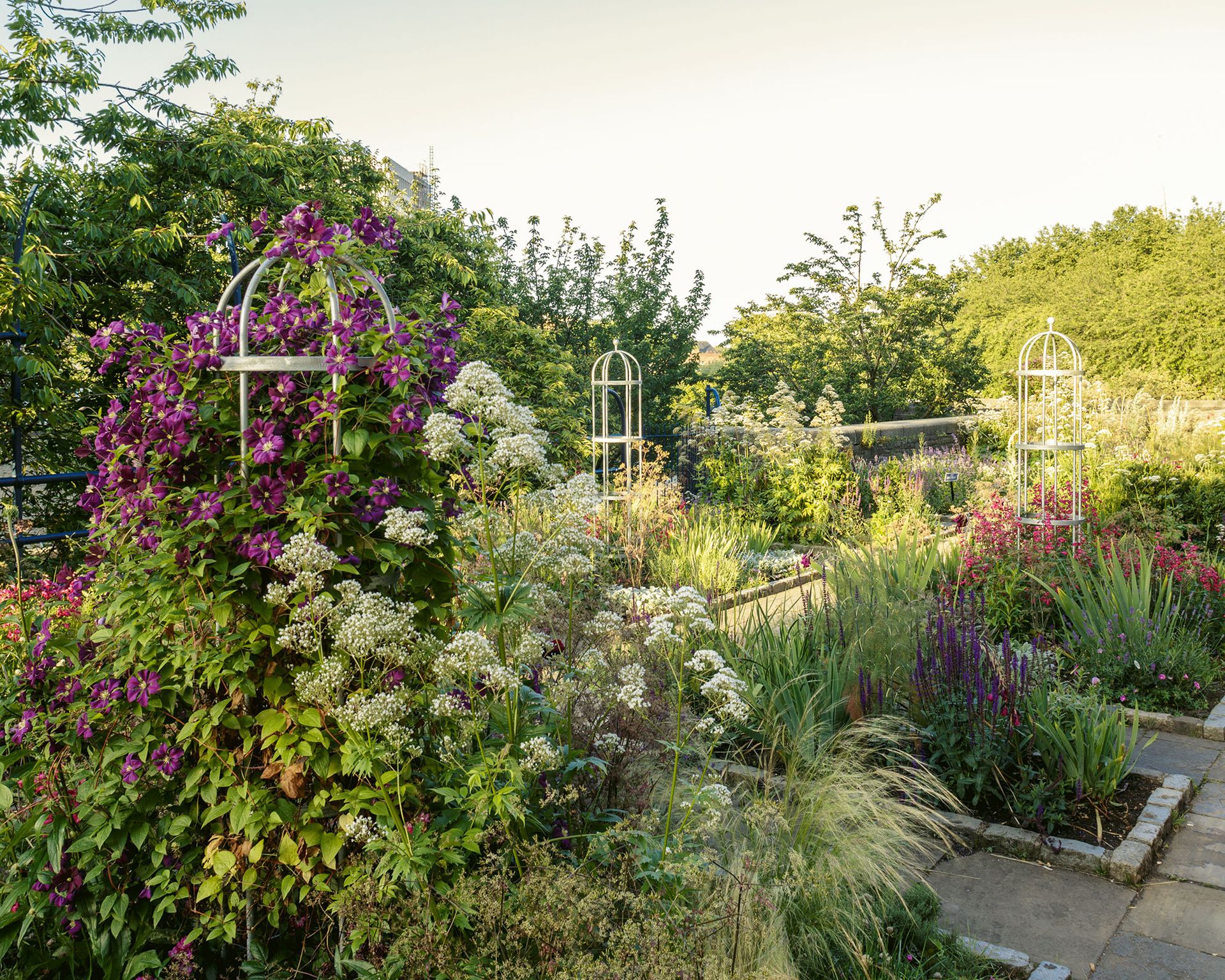 Climbers and wall shrubs are perfect for covering bare walls and fence, but if wall space isn't an option, install an obelisk instead.
Obelisks and wigwam frames are the answer for supporting climbers out in borders or growing pot specimens. Most are self-supporting – the legs are simply driven into the soil or pot compost.
Larger and heavier types may need firming in with a concrete mix for stability. The final result is a beautiful vertical garden, filled with self-climbing plants and flowers.
12. Plant a living wall with trellis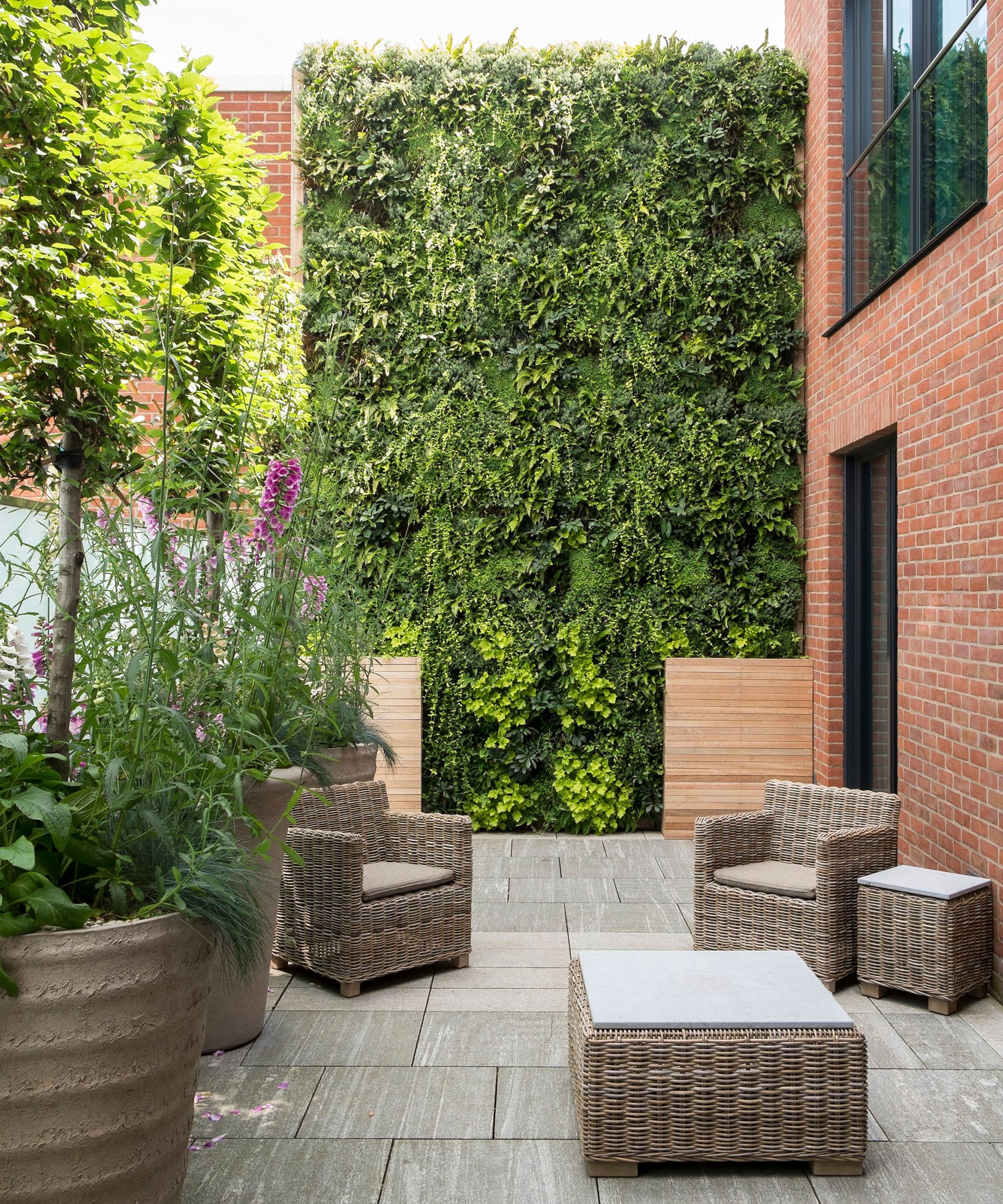 If space allow, install a green or living wall with trellis. Living walls, such as the one shown above, are will not enhance shade and privacy – but also provide aesthetic and ecological benefits.
In urban areas, green walls can help keep buildings cool, improve air quality and reduce noise pollution, as well as provide a habitat for wildlife. They also help keep rainwater away from exterior walls and provide insulation.
13. Plant pleached trees against a trellis wall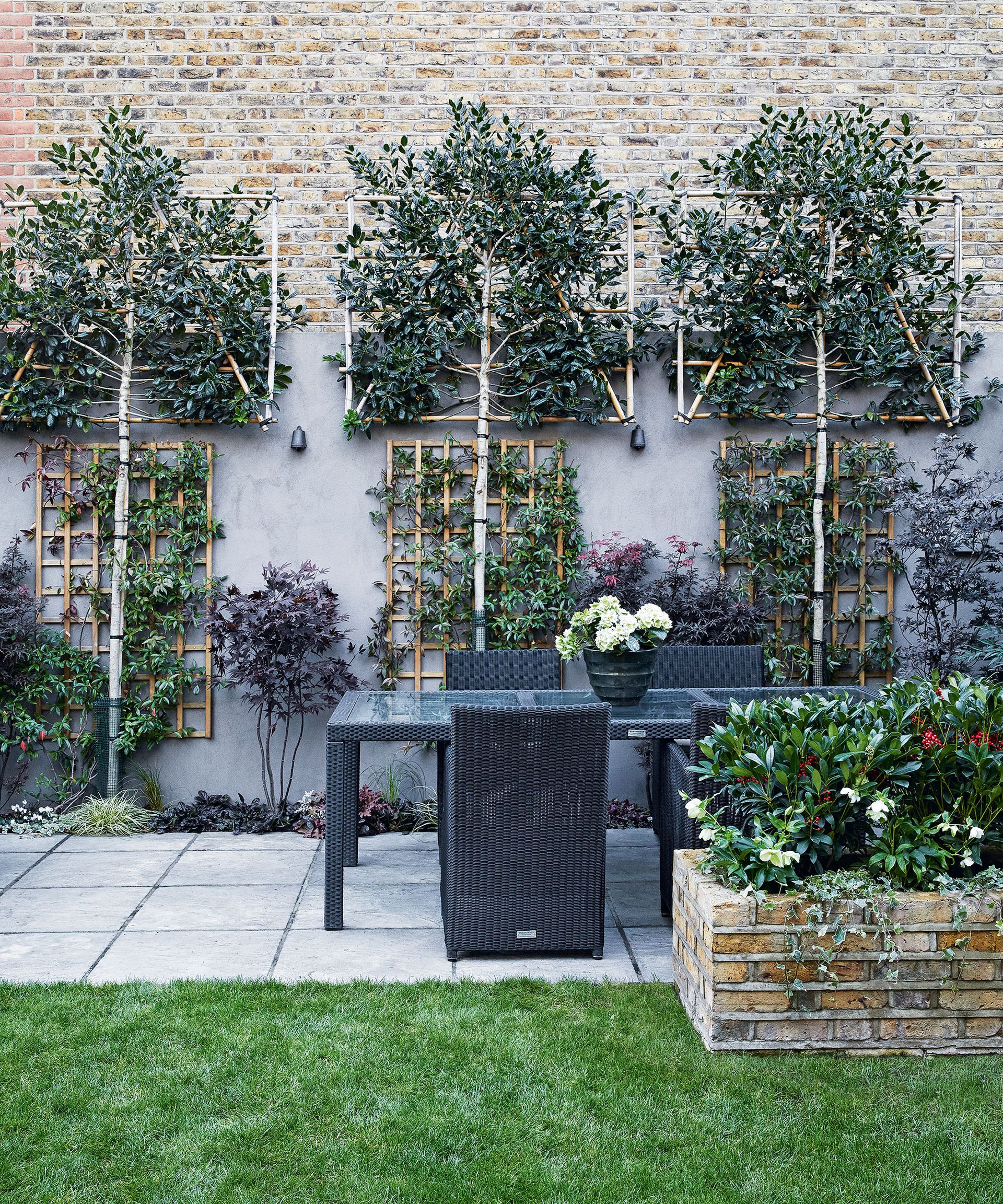 Pleached trees such as hornbeam, crab apples, pears or limes can be trained to create stylish screens or avenues that add permanent height and structure, a form of hedge on stilts.
Casting minimal shadow while utilising space that might otherwise be unused, pleached trees are an effective way of dividing a garden into 'rooms', marking pathways and enclosing intimate areas in a manner that filters light in, while lighting veiling views out.
14. Pick a modern metal trellis for an urban garden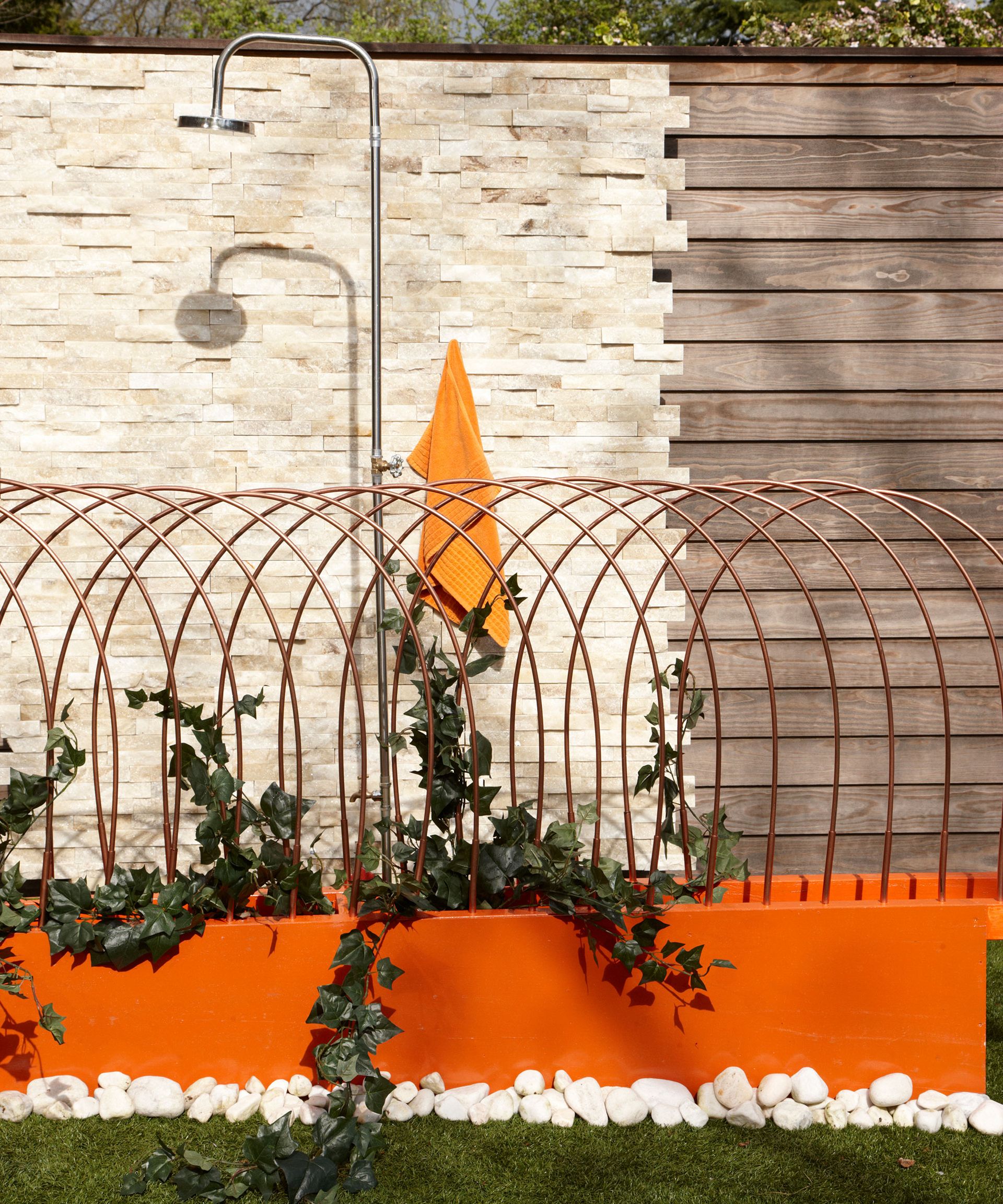 Often made from zinc galvanized wirework, metal trellis designs are ideal for those seeking a contemporary look in an urban or modern garden.
Far from being the standard, weaving wire by hand to create woven panels is a very specialist ancient skill dating back to the early Victorian period – so you know you are getting something truly bespoke.
Be sure to check that your metal trellis has been coated to form a corrosion resistant finish. And contrary to popular belief, they can often be painted to suit your scheme.
15. Pick the perfect climbing plants for your trellis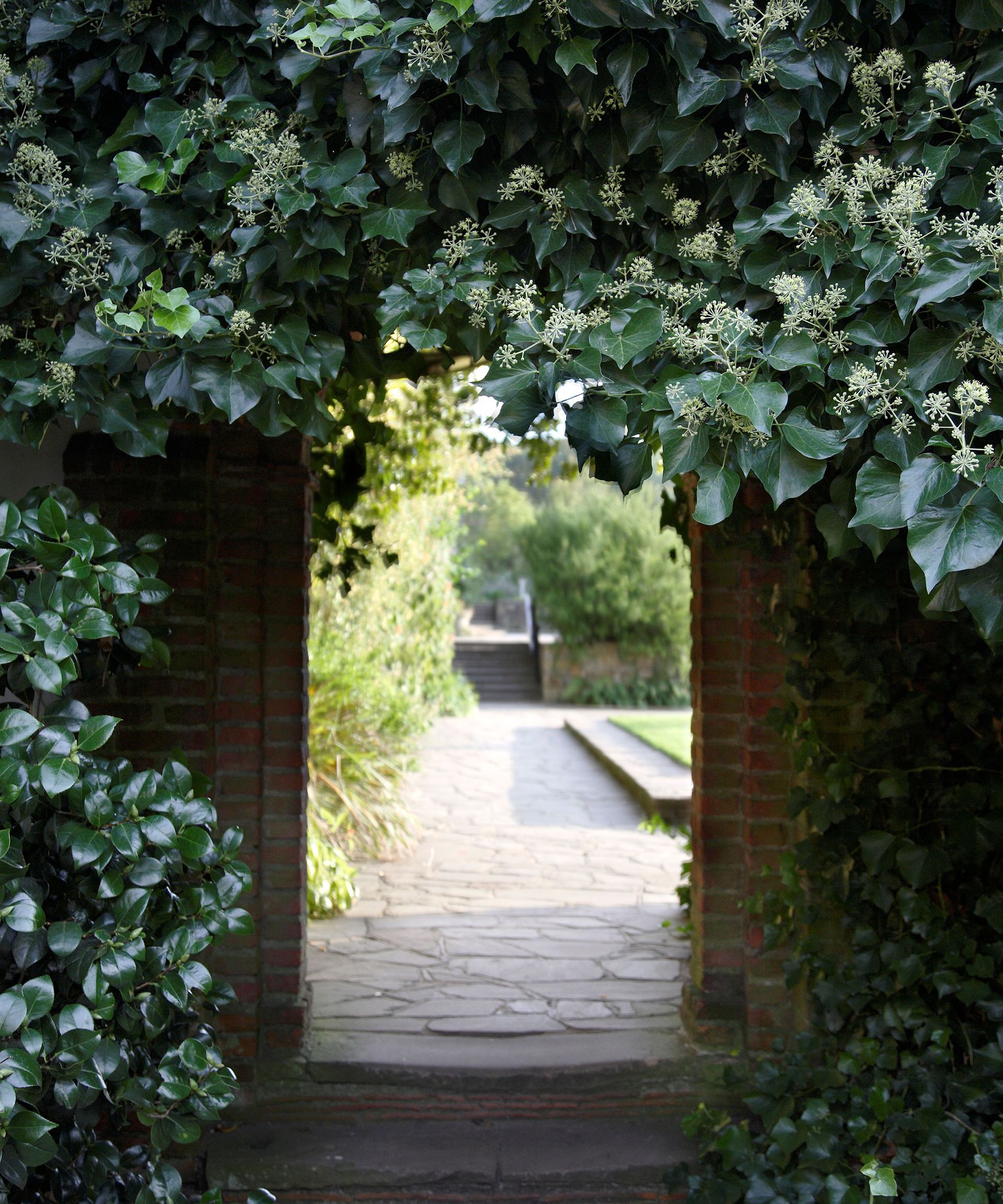 Ivies might not seem the most inspiring choice of evergreen climber, but choose a variegated variety such as Hedera colchica 'Glacier', 'Eva' or 'Dentata Variegata', and you'll add instant impact to a shady wall.
Ivy also attracts wildlife such as blackbirds and bees, which love the flowers and berries that it produces in the fall.
If you are after more color and vibrancy, then passionflowers are an obvious choice. Passifloras will jazz up any wall or fence with exotic, eye-catching flowers from July to September.
Passiflora cearulea is the variety most often found in garden nurseries and is best grow in a sheltered spot on a sunny.
16. Install a pergola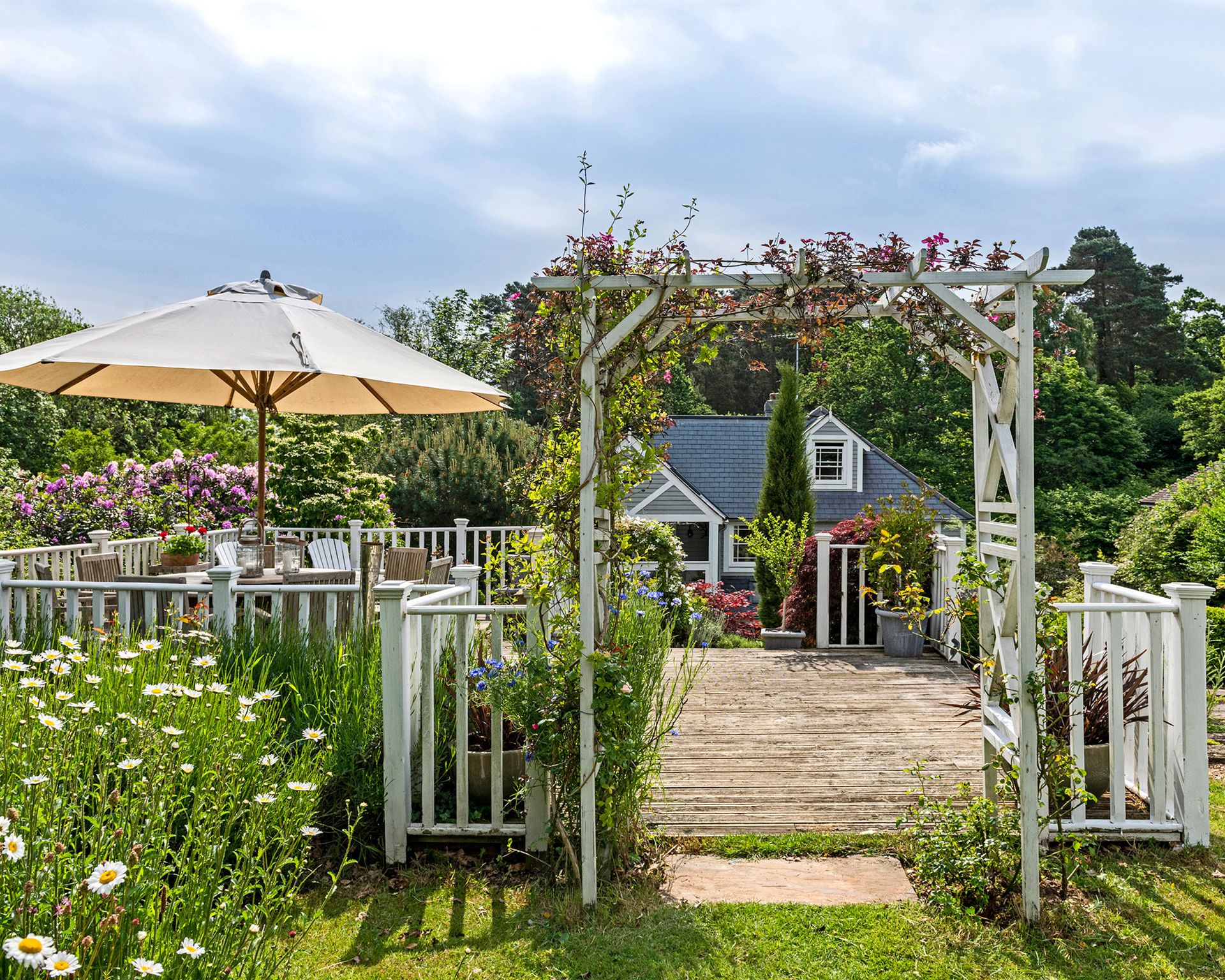 A pergola is an interesting way to frame a feature of your plot – be it a pathway, bench, or patio dining area. They're a great match for trellis ideas if you want to establish a subtle divide between different garden 'rooms'.
17. Use trellis to create privacy, shade and security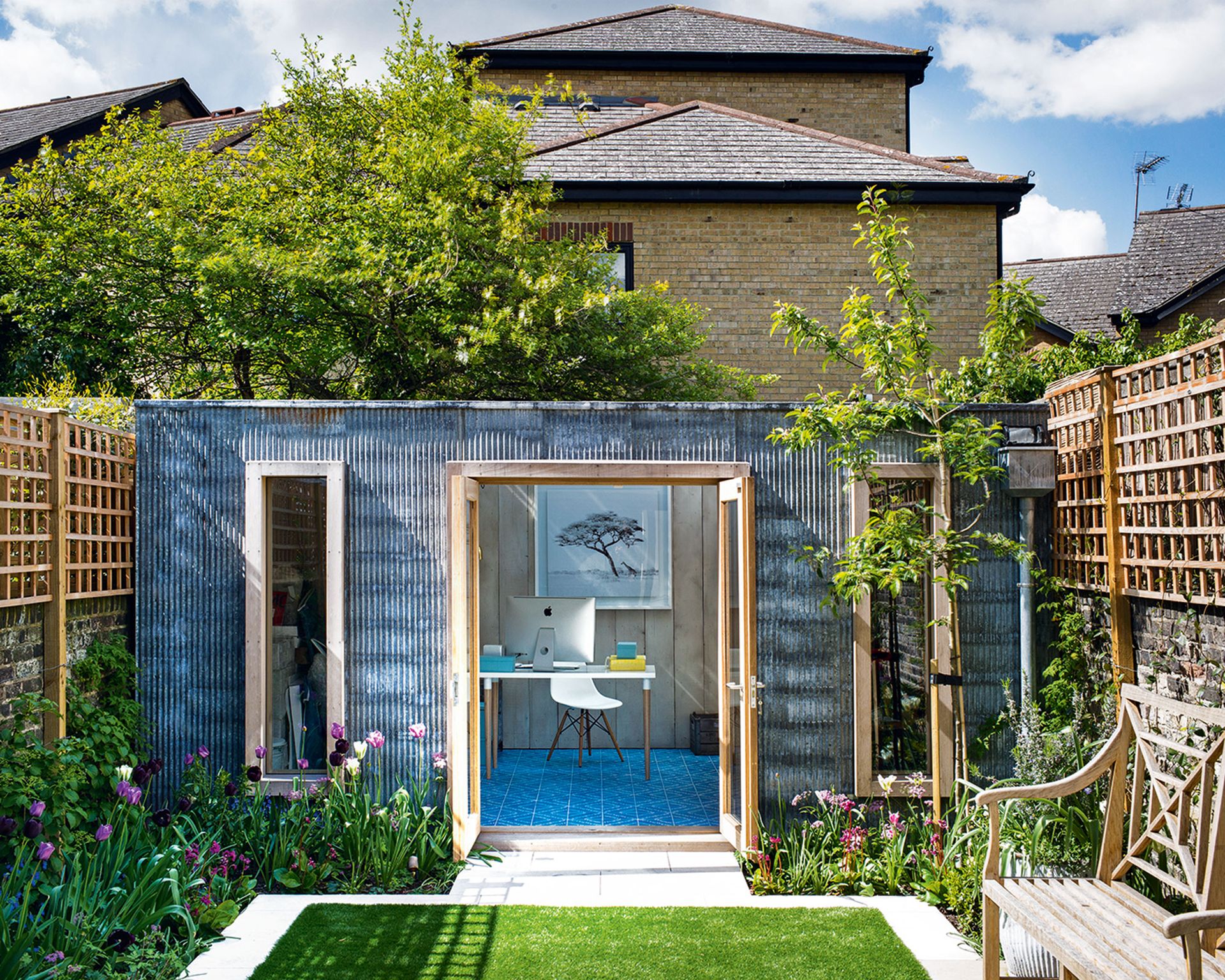 A trellis isn't just for climbers, they can also work to define the edges of our garden, provide security and protection as well as privacy. With the range of choice on offer there, is so much a well-chosen garden fence can do for your outdoor space.
In this small garden a sturdy trellis is the ideal option for creating a sense of privacy that allows light to filter through the squares. They also present an ideal opportunity for climbers to interweave and create a more natural, green screen from neighbors, should you want.
What can be used for a trellis?
In small gardens, trellis ideas are space-saving ways to screen off different areas, as well as adding height and supporting climbing plants. It's also an ideal solution ideal for evergreen climbers such as Euonymus fortunei or ivy.
Available in large panels, trellis is most resilient if fixed between strong uprights. If it's difficult to paint in situ, lay each panel on the ground and over an old sheet and spray each side in turn.
If your backyard is lacking wall space, you could use an obelisk or teepee instead. Simply erect you chosen design within a garden border, flower bed or container.
Alternatively, rope swags are a less formal way of forming divisions, and look most effective hung with ivies or roses, or even left unadorned.
What is the best material for trellis?
Wood is considered the best material for a trellis in the garden. The warmth and natural beauty of wood, with its imperfections and the huge variety of tones, creates not just a luxurious feel, but a sense of nature at your fingertips.
Each cut, each trellis or fence, is totally unique – not metal or wire can beat it for versatility, color variation or pattern – plus it's much warmer to the touch, and you plants will thank you for it.
What are the best climbing plants for trellis?
'There is a wide variety of climbers to choose from. Keep in mind that some can become too successful and be aggressive, so ensure an appropriate choice for the structure and keep under control with judicious pruning,' says Clapp.
Brick walls and hedges of yew, laurel and holly form substantial screens; but in these days of short leases and ready-made gardens, how few there are who will care to incur the expense of solid walls or wait ten years and more before such hedges can be effective.
In trellis we have an excellent substitute; against it the hedge can be planted and protected and trained – roses, clematis, jasmine and honeysuckle will climb readily and show their preference for it in comparison to cold and uncongenial iron rods and wire.
Sign up to the Homes & Gardens newsletter
Decor Ideas. Project Inspiration. Expert Advice. Delivered to your inbox.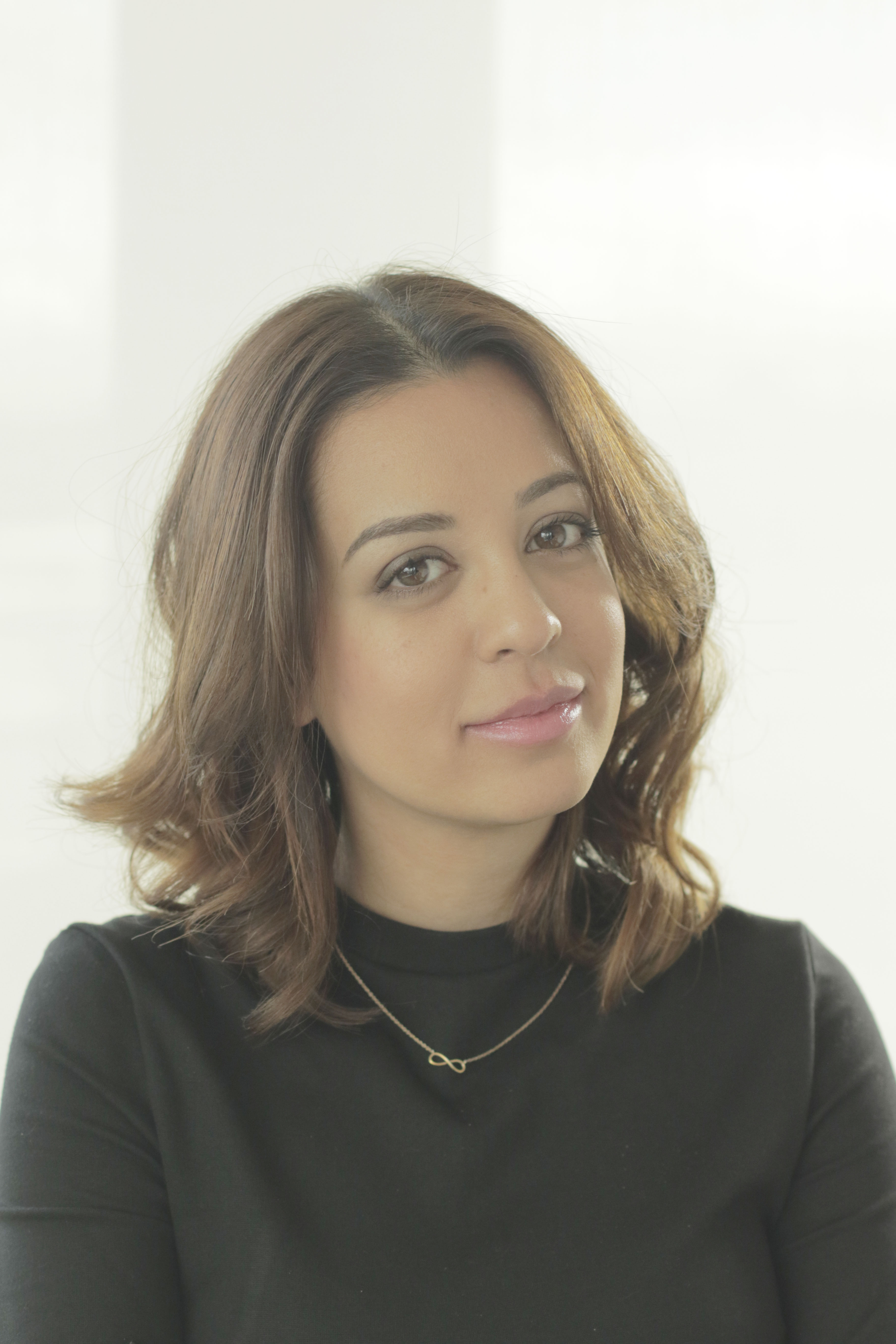 Jennifer is the Digital Editor at Homes & Gardens. Having worked in the interiors industry for a number of years, spanning many publications, she now hones her digital prowess on the 'best interiors website' in the world. Multi-skilled, Jennifer has worked in PR and marketing, and the occasional dabble in the social media, commercial and e-commerce space. Over the years, she has written about every area of the home, from compiling design houses from some of the best interior designers in the world to sourcing celebrity homes, reviewing appliances and even the odd news story or two.