Outdoor living room ideas – 31 ways to create space to unwind
These outdoor living room ideas will help you create the garden living space that you've always dreamed of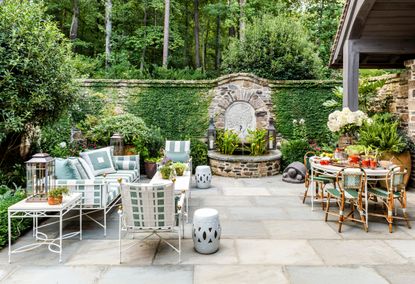 (Image credit: James Farmer)
These outdoor living room ideas will help you transform your backyard into an extension of your home. All it takes is a little planning, design know-how and expert advice.
Until we turned our gardens and yards into extensions of our homes, we may have ventured to sit outside only when entertaining guests or for a relaxing hour at the weekend. Now we want to use our outdoor living space year-round and every day, if weather allows.
Whether you're looking for outdoor kitchen ideas, or you want to add living space by creating a garden room, divide what you have into zones or update the garden furniture. Our relationship with our outdoor spaces has never been more important.
'Your garden should always be thought of as an extension of your home, so it's important to bring the comfort of indoors outside. One way to do this is to divide your outdoor space up by 'rooms', with one area for dining and another for relaxing,' says OKA's co-founder and creative director, Sue Jones.
Outdoor living room ideas
Any change, big or small, can be transformative, so we asked the experts to share their backyard ideas, insider tips and advice on where to start.
'Our clients are re-evaluating their open-air domains, opting for expanded footprints and year-round bandwidth for entertaining,' says interior designer Marshall Erb, founder of Marshall Erb Design. 'They are now requesting perennial outdoor architecture and design so they can take things outside whenever the mood strikes.'
To make the most of this 'extra room', we must think creatively about how to plan, design and decorate. An outdoor living area should offer all the comforts and style of an indoor living room but also be designed with the weather, privacy and surrounding features such as patios, planting and lawns in mind.
1. Create a seamless feel
Most outdoor living areas will lead directly from the house into the garden or yard. Create a strong connection between both spaces, or you will end up with a disjointed look. The easiest way to achieve this is with confident use of color.
Take your first cue from the dominant shades and styles in the connecting indoor room and echo these outside. 'People want to see a flow from their interiors to their exteriors, and the best way to achieve this seamlessness is through creating an aesthetic that you can carry through both spaces,' says Jonny Brierley, CEO of outdoor furniture company, Moda Furnishings.
A stand-alone outdoor living area, meanwhile, adds another dimension. 'I always like to include a sitting area in a secluded spot. It really makes the space your private paradise,' says Susan Spath, president of luxury furnishings company Kern & Company and principal designer of Susan Spath Interior Design. 'I love adding classic French style to these areas by incorporating an antique stone bench or antique stone bird bath.'
2. Plan the space
How you plan your outdoor living area will be dominated by surrounding structures and features which you may wish to retain, such as specimen trees, pools and water features and existing patios and terraced areas.
Consider next the ease of use and access; does it feel 'natural' to walk towards the outdoor living area, or would you need additional pathways or steps?
Would the outdoor living area be orientated to maximize how the sun rises and falls? Many people like their outdoor living area to face west so they can sit and watch the sun go down.
And is there enough space – or too much – to make the outdoor living space comfortable to relax in? Whilst there are solutions for tight spots, it can be difficult to bring together a larger space together effectively, so you may have to figure bringing in items such as planters, screening and shelter to help the area feel less open to the elements.
3. Find the perfect furniture
There is so much choice, from low-slung corner sofas to hanging egg-chairs and suspended swing seats, choosing garden garden furniture for your outdoor living space is a challenge. And there's such a range of manufacturers and prices - from bargain DIY store sets in synthetic wicker for less than $200 to sustainable hardwood frames and tables that cost thousands of dollars but will last a lifetime – it's confusing.
Above all, choosing furniture for your outdoor space is all about creating the most relaxing environment for your family and friends to enjoy in all types of occasions. Think very specifically and hone down exactly what will work best for your needs.
First of all, measure your available space and then think about how many people will use the furniture and what kind of seating and tables will suit them best.
Modular furniture, with moveable stools which can be added on taken away to create seating around a table or a lounging bed, are a good idea if your outdoor living area needs to be multi-purpose.
Color is key, but also consider material and texture. A traditonal rattan sofa and armchairs, for instance, would look odd on a contemporary patio.
4. Set the theme
Most outdoor living space is at the rear of a property, so you can be more adventurous than when planning a scheme for the front garden – this will usually be fairly conservative in design because it's more visible.
Picking a strong theme around which your furniture and accessories naturally flow will help to ground your ideas and give them focus says Lucy Searle, Global Editor in Chief of Homes & Gardens: 'A coherent scheme will typically take one base color such as gray for the background and build out from this, bringing in contrasting or complementary accent colors and textures in furniture and accessories to add depth to the look.'
For a successful overall look you need to be disciplined about what to include and leave out of a carefully-themed outdoor space. But you can choose flexible cushions and accessories to switch up the look with the seasons and as trends change.
5. Use planting to define an outdoor living space
Plants give an outdoor living area life, adding color, texture and fragrance which will help your scheme to settle happily into its background or landscape. Whilst bringing in planters of exotic palms and creating raised beds of fragrant herbs creates a wonderful ambience, before you start to plan, consider what you have already.
This approach will help your outdoor living area to feel totally natural and in place. 'Before you remove established shrubs and trees from your planned outdoor living area, think about how you can work the layout around them, making the most of the green structure and natural framework they provide,' says garden designer, owner of Lucy Conochie Design. 'It may mean choosing a different sofa set or laying a smaller patio, but the visual and wellbeing benefits provided by an established canopy of foliage will more than outweigh this.'
6. Focus on the floor
When you've settled on your perfect spot and color scheme, plan your outdoor living space from the floor up. Whatever furniture you choose, shades you select and plants you bring in, for a coherent whole, everything must work from the bottom up.
If your outdoor space is ultra-modern, with lots of metallic finishes and strong contrasts, high-gloss floor porcelain floor tiles could look amazingly chic.
However, for most other outdoor living looks, natural is a fail-safe choice; stone paving or timber decking (hardwood is more durable), being favorites. 'Both gravel and cobble-stone are very adaptable natural choices and they sit well with a number of different garden ideas,' says Susan Spath. 'I like to use gravel and cobble-stone to bring in character. When you mix them together with 24in x 24in pavers (whatever stone it might be) and grass, it adds a different perspective and creates conversation.'
7. Take shelter seriously
There are both practical and decorative reasons for including shelter in your outdoor living space. A pergola, gazebo, awning, sail, porch or overhang from an existing building will provide protection from strong sunlight, extreme temperatures, wind and the occasional shower of rain.
This structure can make an amazing impact as an architectural or design feature in its own right, or become the centerpiece of an established planting scheme. Visually stunning plants to train up and over freestanding shelters include fragrant wisteria, roses and in a sheltered spot, clematis or passionflower. If climate conditions are right, a grapevine weaving its way through a pergola can be a wonderful addition to any outside space.
If your yard is overlooked by neighbors, adding a 'roof' will bring privacy as you won't be looked down upon by those above. This will enhance the feeling that your outside space is a room to be enjoyed just as much as you would indoors.
8. Set the color scheme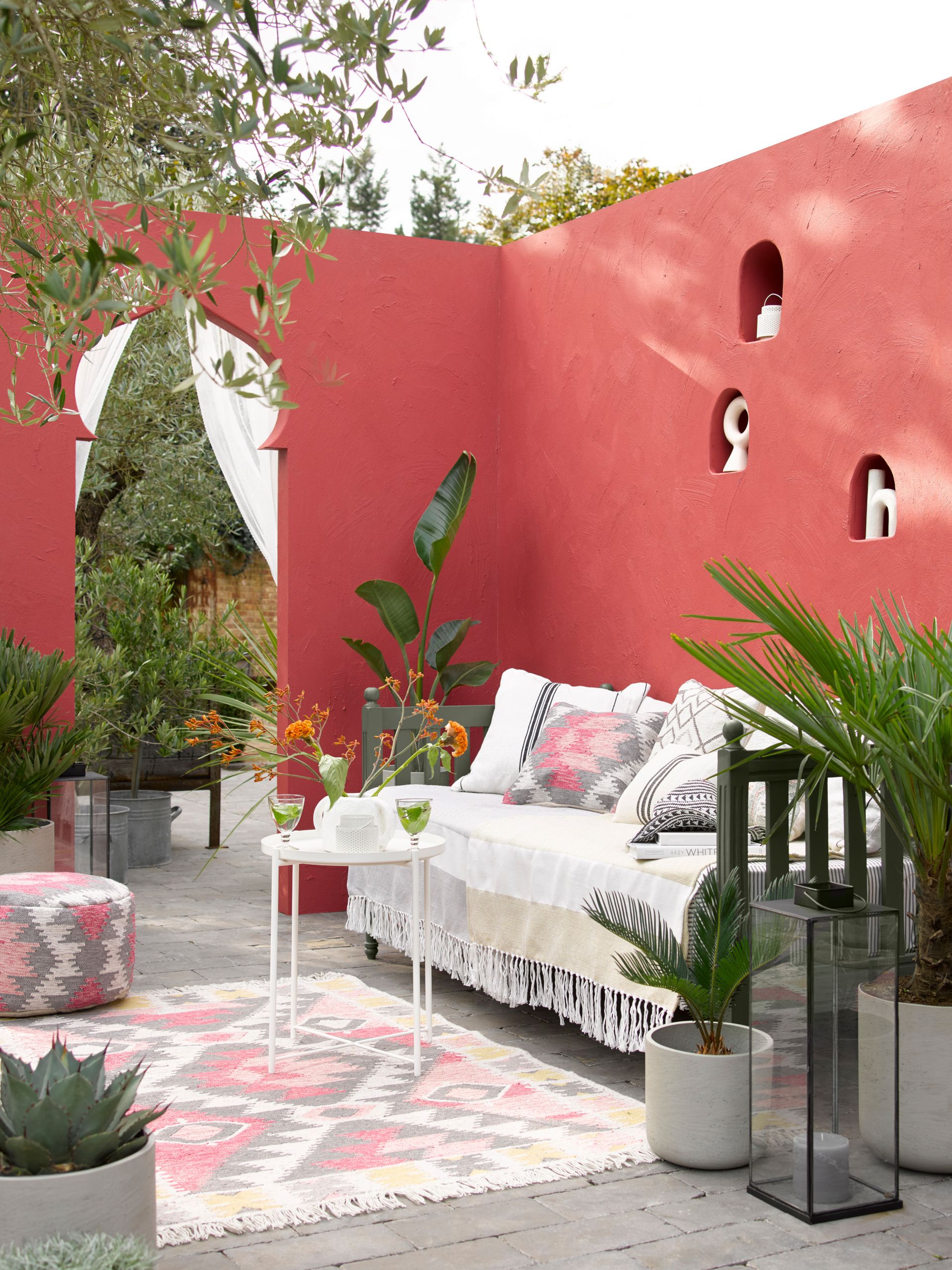 One of the great things about designing an outdoor space is that the majority of color already there will most definitely include tones of green. Establish the dominant shade – there are hundreds. A soft lime, for example, will create a striking modern contrast to walls and furniture in black or black/gray, but darker greens such as conifer foliage make a classic backdrop for white garden furniture.
For walls and outdoor masonry, garden color trends are generally moving away from bright pops of pink and turquoise towards more naturalistic shades such as deep olive green and rustic terracotta to create garden backdrops which almost disappear. However, careful choice of contrasting or complementary tones – a white sofa against a deep burgundy tone for example, or a vintage eau-de-nil wrought iron bench against a forest green wall – will help to carry elegant touches of interior design outside.
9. Keep things private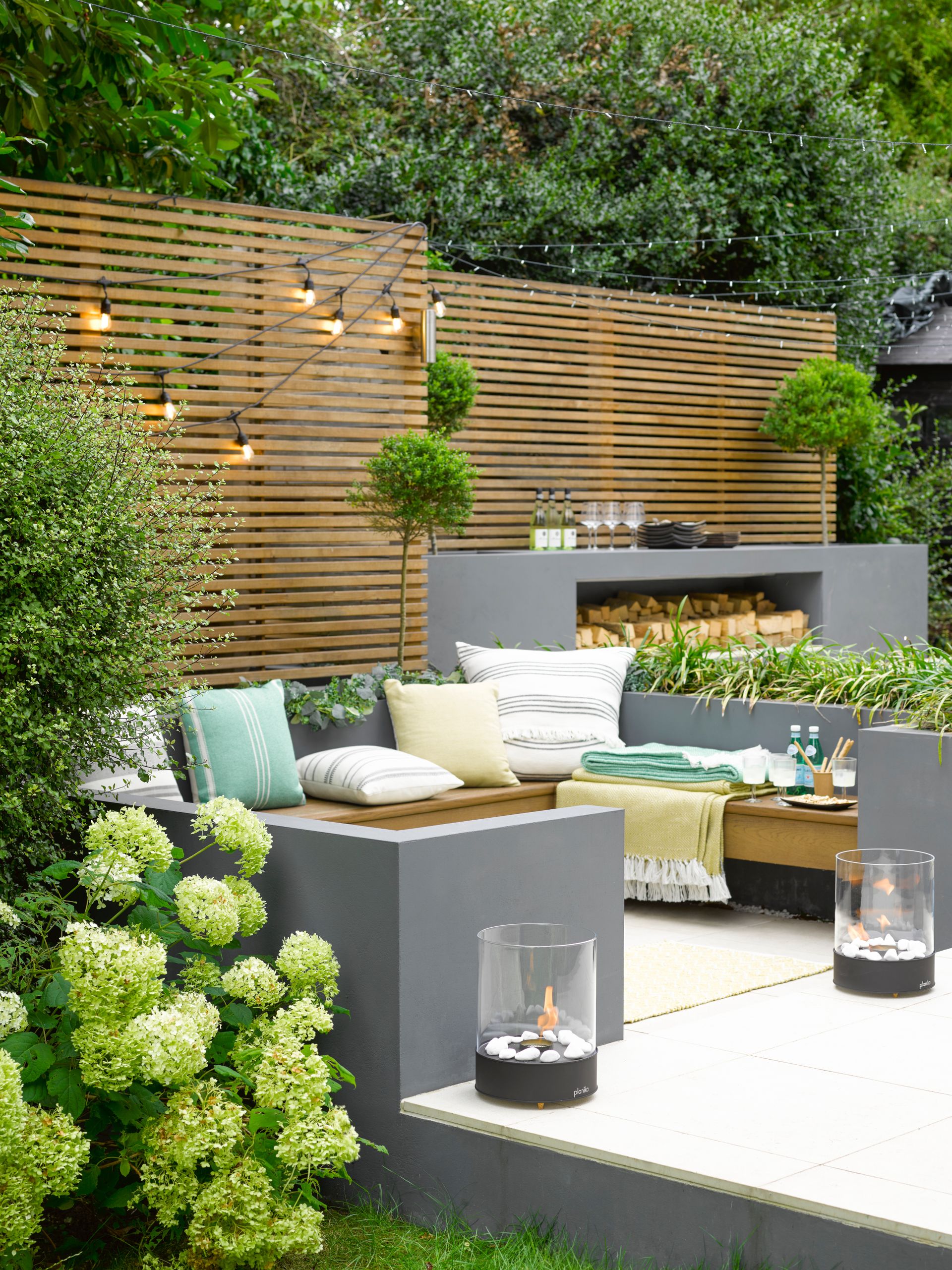 You want your outdoor living space to feel as private as your indoor living room, but that isn't always easy, especially if you live in city and your yard is overlooked.
The key is to create effective screening to erect a barrier between your garden and the outside world. This can be achieved with garden fence ideas, with horizontal slats looking smart and allowing winds to penetrate safely. Other options include metalwork or fretwork screens, outdoor curtains in muslin or calico and planting.
If a fence is not possible, or you're still left exposed, section off a specific outdoor living area by creating a frame, which you can then fill in with garden screening ideas, or grouping of plants with large leaves such as Canna Musifolia (paddle-shaped leaves and exotic flowers, a banana palm or a dramatic fatsia, suggests Sophie Birkert, lead designer and founder of garden company Screen With Envy.
10. Focus on lighting
Choosing, organizing and positioning backyard lighting ideas to creating a relaxing outdoor living space can be daunting, so take your time in the planning and consider the outdoor space as a whole. Before you even start to think about pretty twinkling string lights or dramatic accent spotlights, decide if you're going to use solar lighting, electric lighting (in which case you'll need the help of a suitably-qualified electrician) or a combination of both.
Follow the same lighting mantra you would indoors: task lighting for specific activities, so this might include lighting the garden path ideas to your outdoor living area, highlighting particular features, such as a specimen plant or garden sculpture and ambient or background lighting to help set a warm and welcoming scene.
You will want to show off garlands of string lights and strings of vintage-style bulbs, but the chic trick with ambient or background lighting to make the lights themselves disappear. 'Position lights within ingresses, sleepers or garden borders so you see the effect of the light, rather than the light itself,' says Kate Baker, lighting design advisor at smart lighting experts 4lite.
11. Set your outdoor living room in the garden
What better way to take in the beauty of your gardens than to site your outdoor living room smack in the midst of them? If your backyard landscaping ideas allow, add a small patio or clearing in the center of your garden with an outdoor sofa or conversation set.
It'll become an instant oasis for drinking your morning coffee, or add patio string lights for an enchanted spot to host your guests all summer long.
12. Take a cue from your interiors
If your indoor and outdoor spaces connect (or even if they don't) look to the style inside your home to determine how to design a patio. Keeping to a similar aesthetic will help create a seamless indoor-outdoor lifestyle, and make your home feel aesthetically cohesive.
With all of the options for outdoor furniture now available, seek out silhouettes, styles, patterns and color that speak to the furnishings inside your home.
13. Hang a TV for a casual gathering spot
Hanging a TV front-and-center in your formal living room might be a design faux pas, but the same rules don't necessarily apply to living rooms of the outdoor variety.
Instead, a television can add to the livability of your back patio or pool deck (dive-in movies, anyone?), since it adds to the ways you can enjoy the space. And, when warm weather only sticks around for a few months, the more ways you can find to utilize your backyard, the better. A TV is also a great addition to backyard firepit ideas because you'll be able to enjoy movies outdoors well into fall.
14. Add outdoor curtains
Drapery adds comfort to an outdoor space in a few key ways. First, it adds optional privacy, which is the ultimate luxury in urban locales or dense suburbs at times when you might not want the whole neighborhood peeking in, say, while you enjoy your first cup of coffee in the morning.
Aside from seclusion, curtains add to the sense that your outdoor living room is simply an extension of your interiors. Also? They just look fabulous.
For a bold look, skip the conventional sheers, and choose an outdoor fabric in a rich hue.
15. Choose hues inspired by nature
Another apt place to draw outdoor decor inspiration from? Mother nature.
Designer Mary Patton suggests a neutral base with 'pops of color, be it with the outdoor chairs, floral arrangements, or other accessories Especially for summer, it seems fitting to utilize colors in a space that's inspired by nature.'
Above, she chose a palette of black, cream, and wood tones, accented with chartreuse greens that nod to the local landscape.
16. Design an outdoor living room fit for entertaining
Creating a permanent room outdoors encourages more outdoor living than ever. When designing the zone, take into account the need for protection from strong sun, as well as inclement weather.
This scheme from interior designer Stephanie Dunning, of Dunning and Everard, is centered beneath a pavilion structure featuring electronic side panels and a louvred roof that opens and closes at the touch of a button to provide a sheltered seating area, or an open to the elements sun lounging space.
These year-round structures offer smart spaces for garden bar ideas and are also perfect for incorporating homey touches to really enhance the living room feel, allowing you to have all the mod-cons you would expect in an indoor space.
This design includes integrated lighting, heating and speakers, while the single rendered wall has an in-built fireplace and storage niches.
Although these areas are sheltered, make sure to use outdoor-specific furniture and materials to prevent as much damage from winter weather and cold temperatures as possible.
17. Devise a social space for cozy evenings
Set up the perfect space this summer for gathering with friends and family by using comfortable furniture and incorporating thoughtful touches for style and ambience. Be eclectic in your choices to avoid a show-room staid feel.
'Don't feel you have to stick to a garden set, here mixing and matching furniture adds character,' says Sue Jones, Co-founder and Creative Director at OKA, who styled this space.
If you're looking for small backyard ideas or wondering what to include on a balcony, it's best to stick to the essentials: somewhere comfortable to sit and clever pieces that can be adapted to your requirements.
Extra stools that serve as side tables when no-one is sitting on them are a useful addition, as are floor cushions which can be taken back inside when not in use.
A bistro table is a good choice for a small garden, as its base takes up very little space, and you can always bring dining chairs outside to go with it.
18. Prioritize comfort in an outdoor living room
When considering how to plan an outdoor kitchen or an outdoor lounge area, make sure to give it as much thought as you would any interior room, in terms of both appearance and feel.
This Grandemare sofa, designed by Antonio Citterio for Flexform is a perfect example of translating all the practicality and comfort of a classic upholstered, indoor sofa into an outdoor piece by utilising a water-repellent laminated fabric.
Furniture like this is not only ideal for alfresco lounging, but great for flexibility with indoor-outdoor spaces.
Enhance the style of the space further by ensuring you layer up soft furnishings and accessories. Throws and cushions can change color schemes with ease, while also making the space more inviting.
Outdoor rugs, too, heighten the 'zoned' feeling of the area, while adding another layer of comfort. Finish by lighting as you would indoors, with outdoor lighting ideas such as freestanding garden floor lamps, hurricane lamps or even candles.
19. Plan a considered space
Whether you want to level up your outdoor dining ideas or you're designing a new outdoor living room, it's important to consider what you want the space to offer you.
Is it to be an oasis? A social hub? A cooking or dining space? Created as a relaxing retreat, this area utilizes tall, layered planting and a fireplace chimney to help shut out the rest of the world.
'The idea was to create a space to get away from all of the external activity,' says interior designer Tim Clarke who designed this space. 'With its fireplace and lush planting, including palms to sit under, a true escape was created.'
20. Build a fire pit in an outdoor living room
Striking outdoor fireplace ideas are the ultimate centerpiece for gathering around as the sun goes down. The layout of your outdoor furniture can help to inform which style you should look for. A chimenea is a great choice for directing fire at a specific area.
Braziers and fire pits, like the Ignis from Morso, pictured, may provide less direct warmth, but have the benefit of creating an atmosphere that can be enjoyed from all directions, and are usually suitable for cooking on, too.
21. Embrace a Bohemian garden theme
'A beautifully dressed tent will allow you to create the festival mood at home,' says Nicky Marks, founder of Raj Tent Club, who created this party pergola.
'From a sumptuous shaded lounging area to a dramatic setting for drinks or dining, personalize the look and feel using draped fabrics, garlands, lanterns, tea lights and layers of cushions for comfort. Hang pictures or mirrors from the tent frame, and use indoor furniture, be it vintage or modern, to put your stamp on the space.'
22. Set up a living room under shelter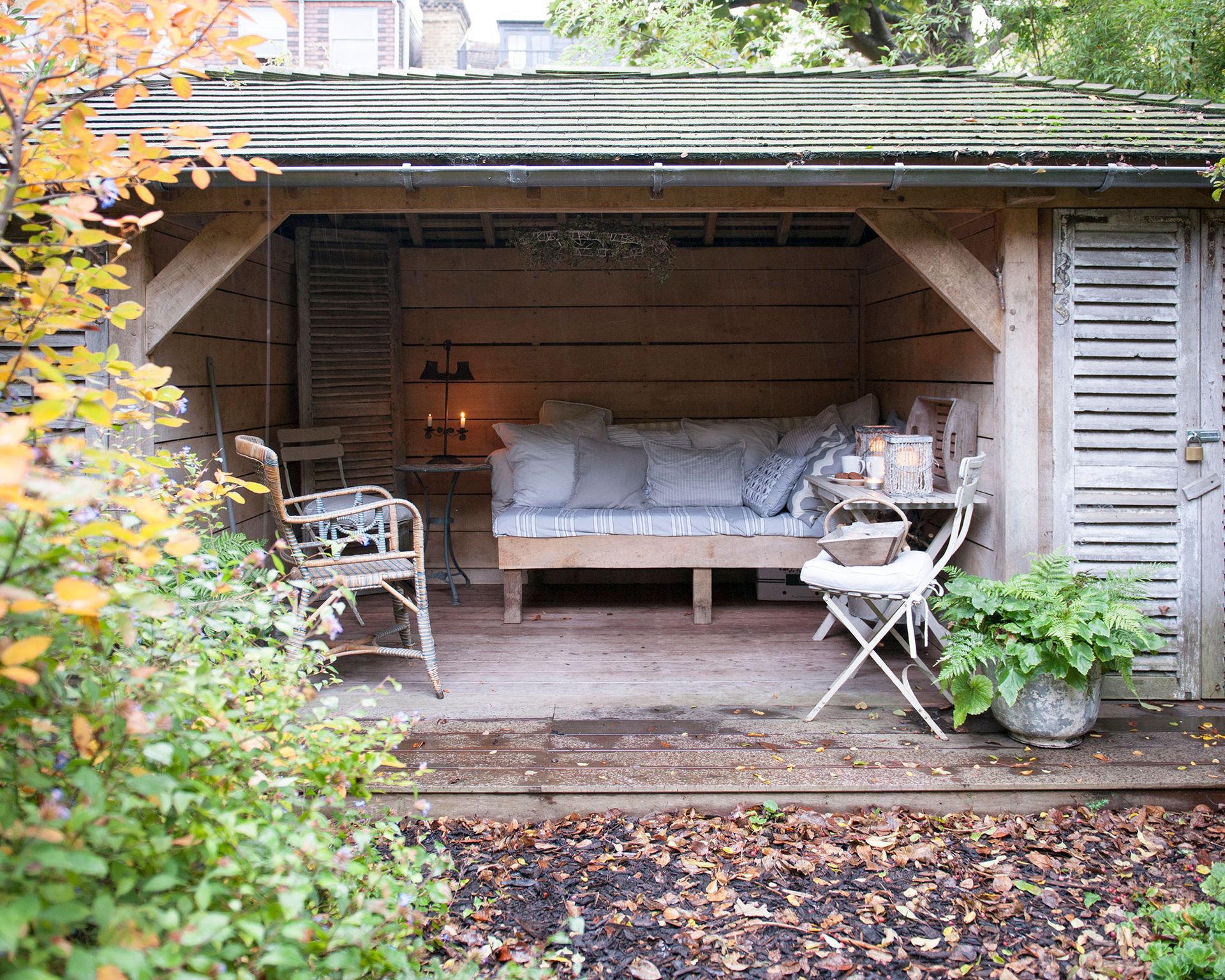 Before designing the décor, consider the look of your backyard, and also the surrounding landscape.
Is it cottage style or formal? Incorporating the strongest themes and shapes in your garden through color, pattern or line can be a good departure point for planning an outdoor living room scheme.
Also, think carefully about how you'd like to use the space. A garden living room can be used as an extra sitting room, a peaceful sanctuary for enjoying your garden all year round, or a home office or 'quiet zone.'
23. Invest in the best garden furniture you can afford
Whether you're catering for family gatherings or looking for a secluded spot to soak up the summer sun, we recommend investing in the best quality garden furniture you can afford.
Start by measuring your outdoor living room area and deciding what type of furniture will best suit your needs and lifestyle. A bistro two-seater table and chairs is perfect for romantic alfresco dining on a city balcony, whereas a large sofa set is a good choice for a sociable family household.
If you're going to be using your space primarily for mealtimes, consider picking up several additional folding chairs to have on hand for when extra guests pop over.
24. Plan an outdoor living room that you can use all year-round
Nothing recharges the batteries like a sunny afternoon spent out-side in the backyard. Whether you like to sit and chat, curl up with a good book, or stretch out for a snooze, it is vital to invest in functional seating that can be used all year-round.
Choose garden furniture that will stand the test of time by investing in a high quality product, but remember to care for it properly to make it last.
Where possible, aim to try before you buy to ensure the seats are comfy and the finish of the materials is what you're expecting. Take a look online before purchasing to read reviews, too.
25. Position a pergola and lounge by the pool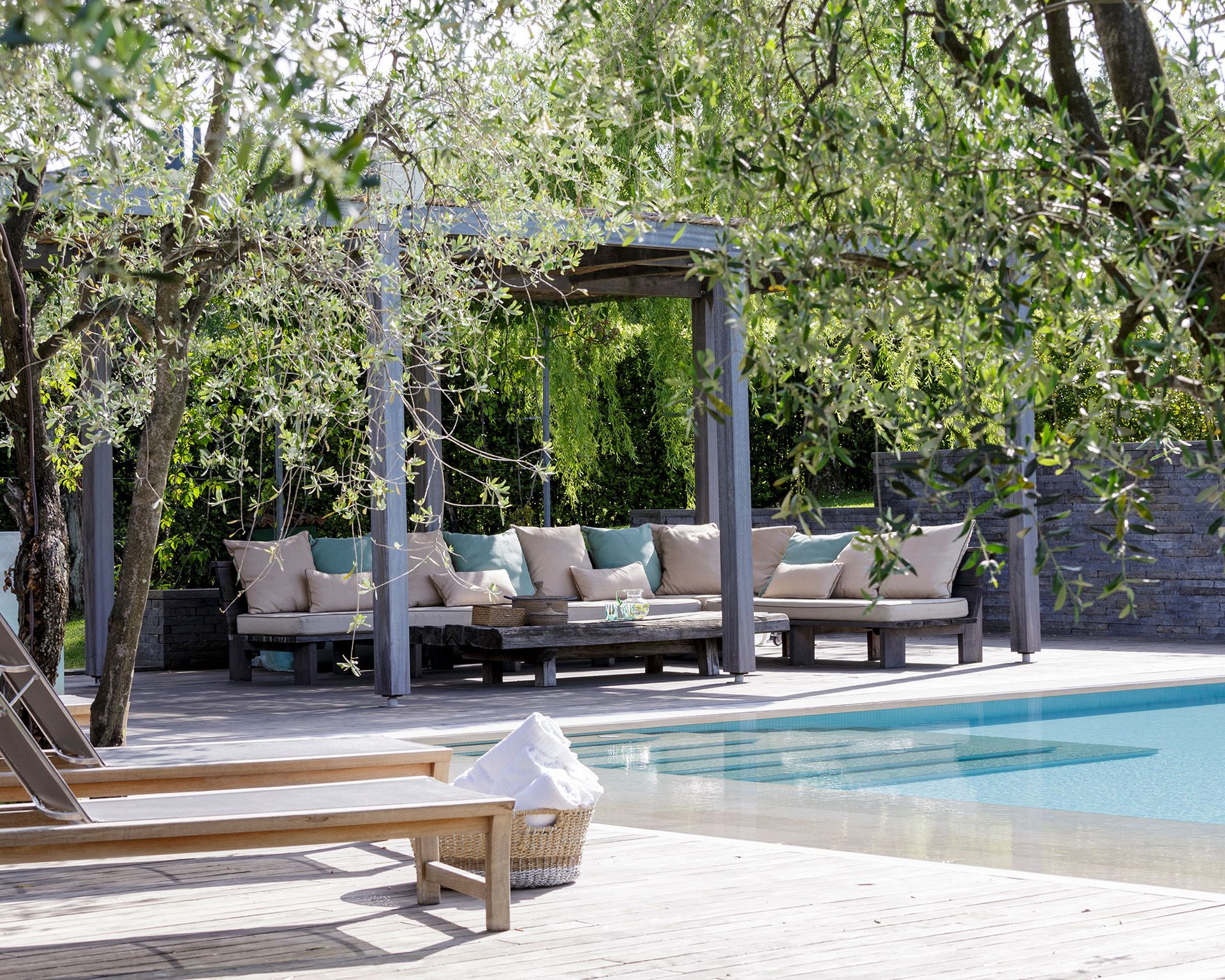 Take inspiration from Mediterranean garden ideas to create the perfect place for poolside lounging. Think about where you're going to be using your lounger, dining set or garden sofa.
Sofa-style seating tends to be quite hefty so will need a more permanent set-up, but opting for a modular seating arrangement will give you the flexibility to re-jig the layout if you fancy a change. Make sure you have a firm, level lawn, concrete paving or decking so your furniture won't tip or sink.
Finally, drape your pergola ideas with grape vines for dappled sunlight and a truly tropical feel.
26. Mix and match
For a quirky outdoor dining setting perfect for a cottage garden, rather than opting for a formal, matching dining set, try bringing together a mix of different vintage pieces. Choosing chairs, tables and benches in different designs will not only bring character and a relaxed look, it will also give increased flexibility over the seating options in your garden.
With metal legs that fold down flat, this retro 'beer' table is easy to move and set up anywhere in the garden and can be easily stored away in a shed. The lightweight, weatherproof rattan bench and stylish mid-century chairs can easily be pulled up to the table at meal times, but would also make perfect individual garden seats for a patio or other quiet corners of the garden.
27. Choose a beautiful bistro set
Are you looking for garden furniture for a small patio or balcony area? Perhaps you're looking for somewhere to perch after a busy day in the kitchen garden? Pretty yet compact, a metal bistro set is a brilliant way to make the most of a small outdoor area. Often lightweight and foldable, such as this Dobbies design, many modern bistro sets can easily be moved around the garden as and when they are needed and are easily stored away during the winter months. For a traditional garden consider an elegant set inspired by vintage French designs.
28. Create a seating area under a pergola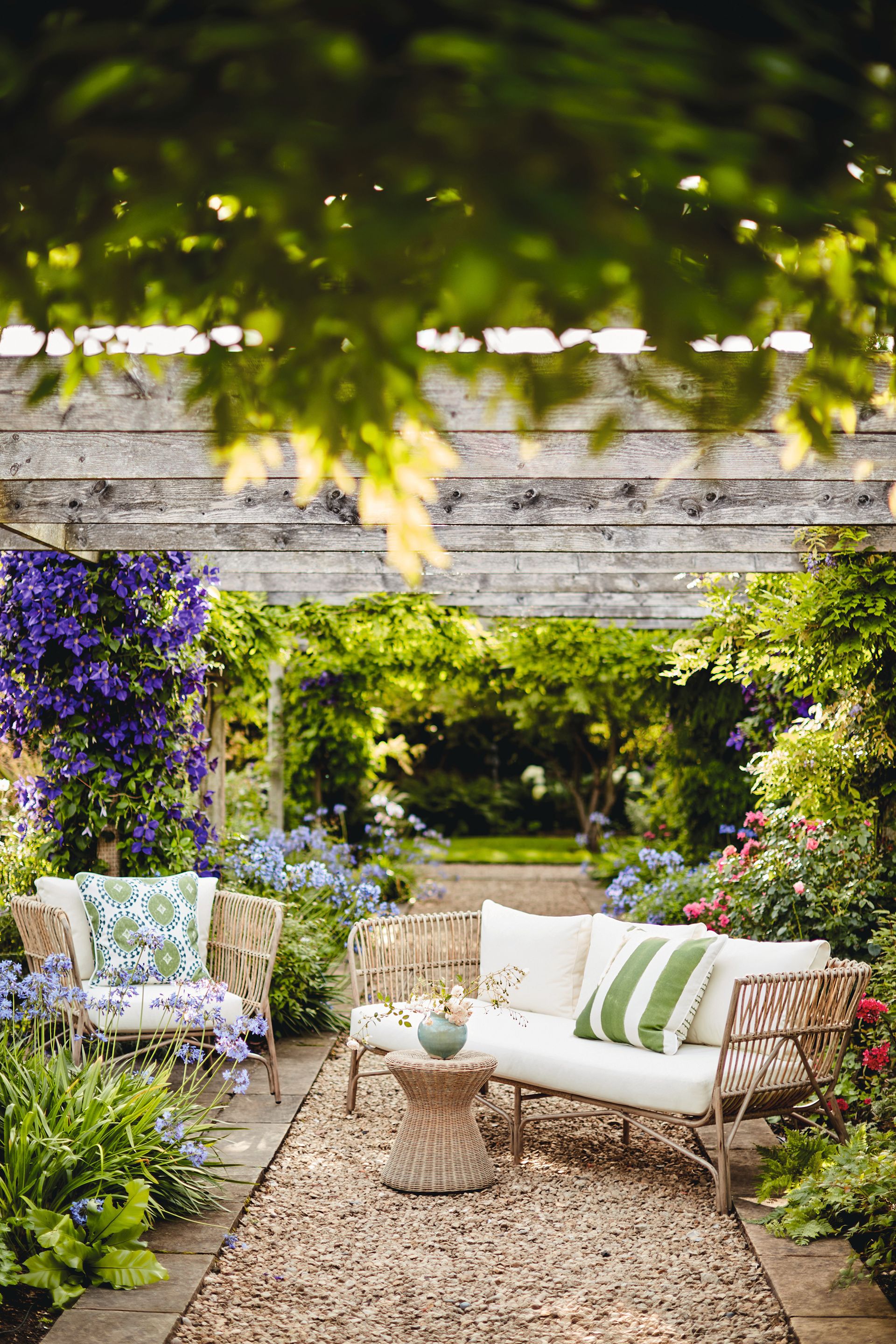 During the summer months the garden can make a fabulous extension of your living space, and what could be better to make it feel like home than a cushioned outdoor sofa and armchair set? 'Comfortable furniture is key to making sure it's a place you'll want to spend time in, and somewhere you can easily spend the whole day,' says Sue Jones, creative director at Oka. When thinking about where to position it, 'look for a quiet, shady spot where you can really switch off,' she adds.'
Arranged underneath a pergola covered in flowering climbers, a sofa set is an idyllic place to spend lazy afternoons surrounded by nature, or it could be positioned on a patio and used for entertaining guests on a summer evening.
Inspired by on-trend cane furniture, this new design from Oka is stylish yet practical, plus its discreet frame helps it seamlessly blend into its natural surroundings. 'The reed-like rope is inspired by traditional weaving techniques but is waterproof so can be left outside when it's raining,' says Sue Jones, creative director at Oka 'the cushions are shower proof, too.'
When putting the finishing touches to your outdoor living room Sue adds that 'accessories are just as important outside as in, too, so look for pieces that will add a little interest to your garden: vases, outdoor-friendly cushions and a side table or two will help recreate the welcoming feel of your sitting room outside.'
29. Make time for tea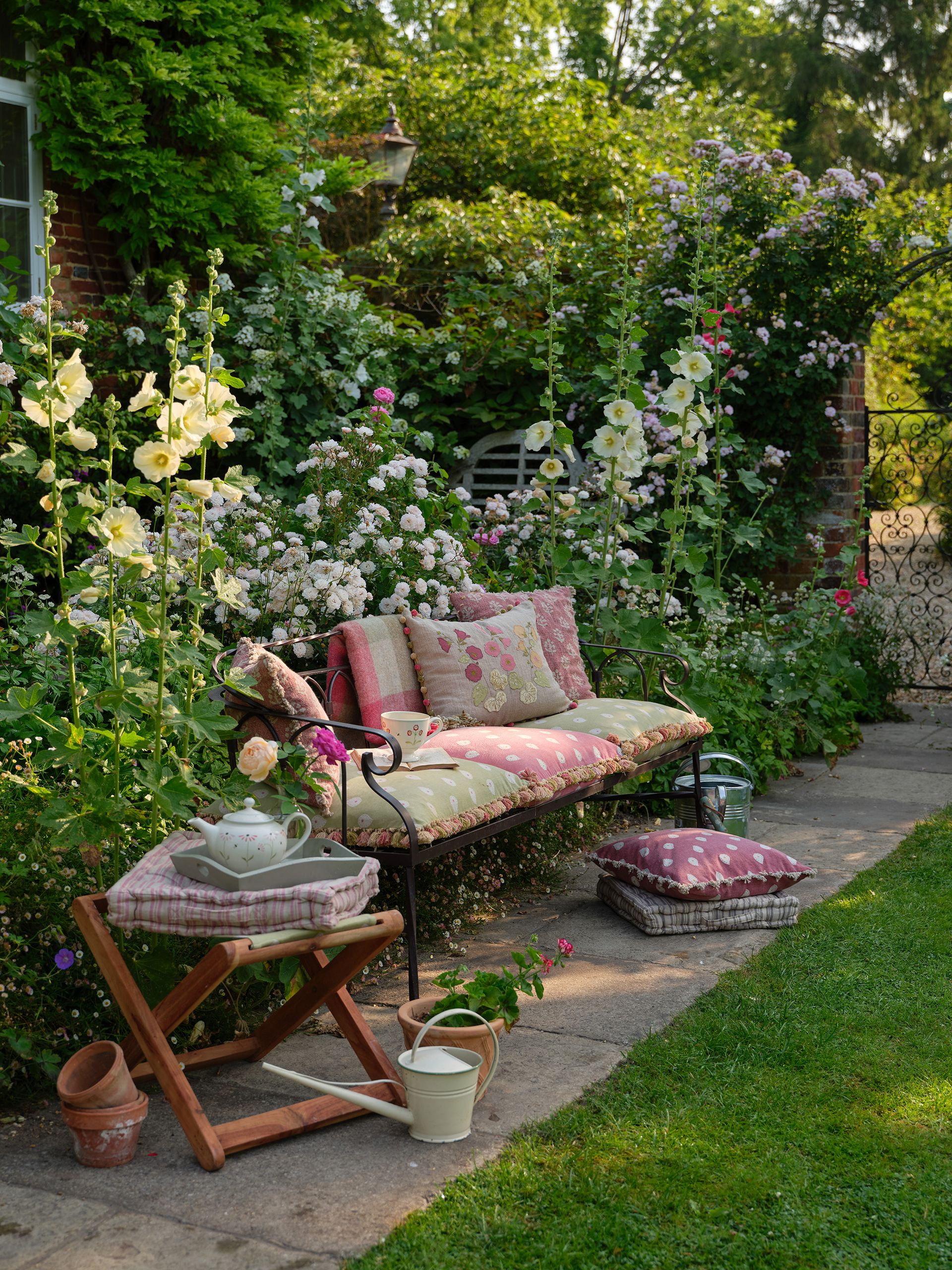 A beautiful garden bench is guaranteed to enhance any outdoor space, whether it's for having tea with friends, relaxing with a good book or simply to sit back and admire your hard work in the garden. Positioning a number of benches throughout the garden is a brilliant way to make the most of different areas and vistas and allows you to enjoy the outdoor space as the sun moves throughout the day. Nestled amongst the flower beds, a bench is the perfect spot to immerse yourself in the sights, scents and sounds of nature – this wrought iron design would beautifully complement a traditional garden.
'I begin to create pockets of outdoor rooms in the garden once the Spring delights have bloomed. I tend to position our handmade wrought iron bench in multiple secret spots capturing those perfect times throughout the day into the evening,' says Susie Watson.
30. Style up a small patio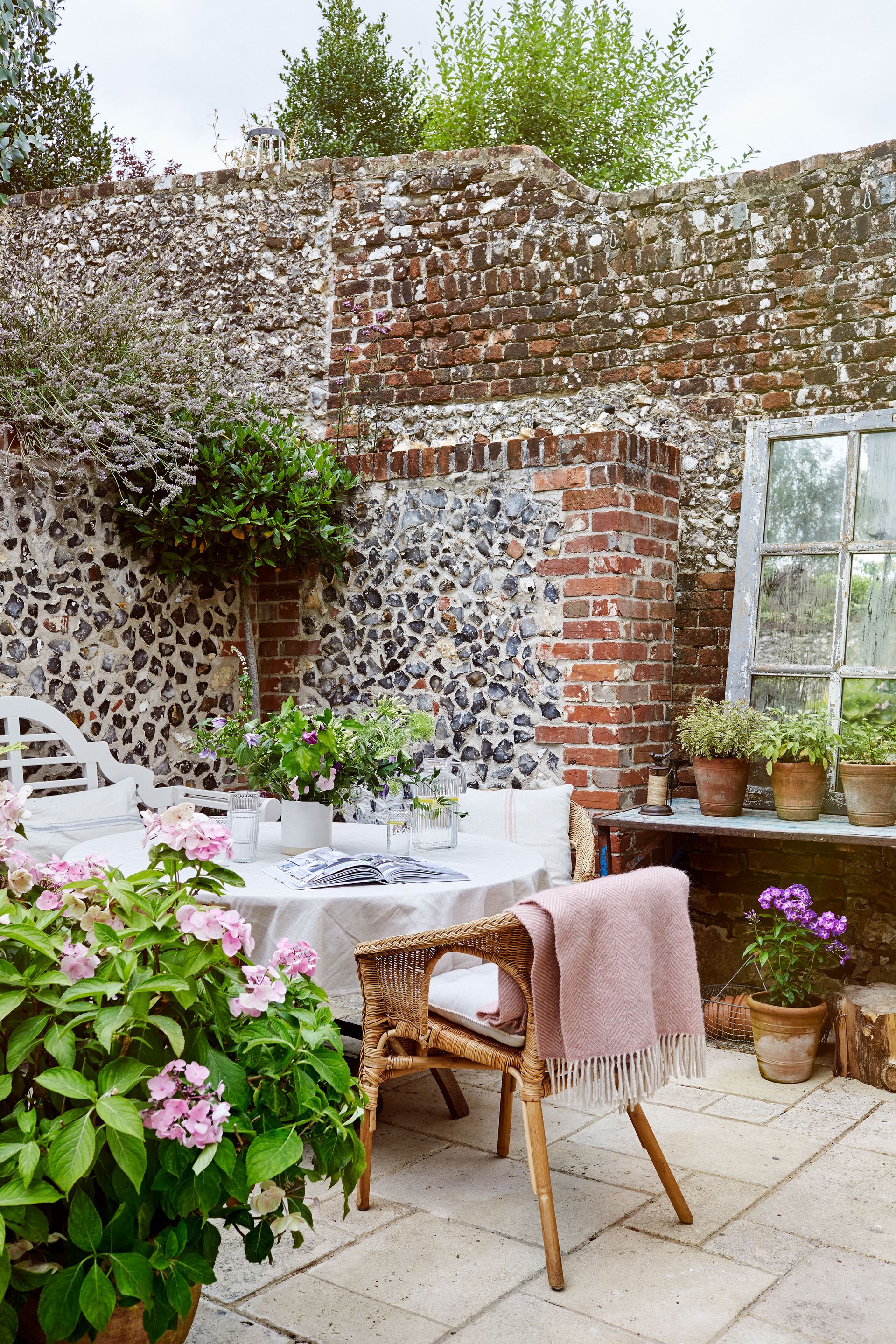 Small patio areas needn't be any less beautiful as demonstrated in the garden of this Georgian cottage. Encompassed by characterful historic flint-walls, this relaxed dining setting features a classic Lutyens bench, designed by the Arts & Crafts architect Sir Edwin Lutyens, alongside vintage cane chairs for a traditional feel. A relaxed linen tablecloth, cushions in vintage French linen, and a pastel wool throw make the perfect soft touches so that the space feels cosy and welcoming.
If you are looking for furniture for a small space then round tables are a practical solution as the circular shape is far easier to fit into tight corners. Garden mirrors are also a brilliant way to create the illusion of space.
31. Create an outdoor dining area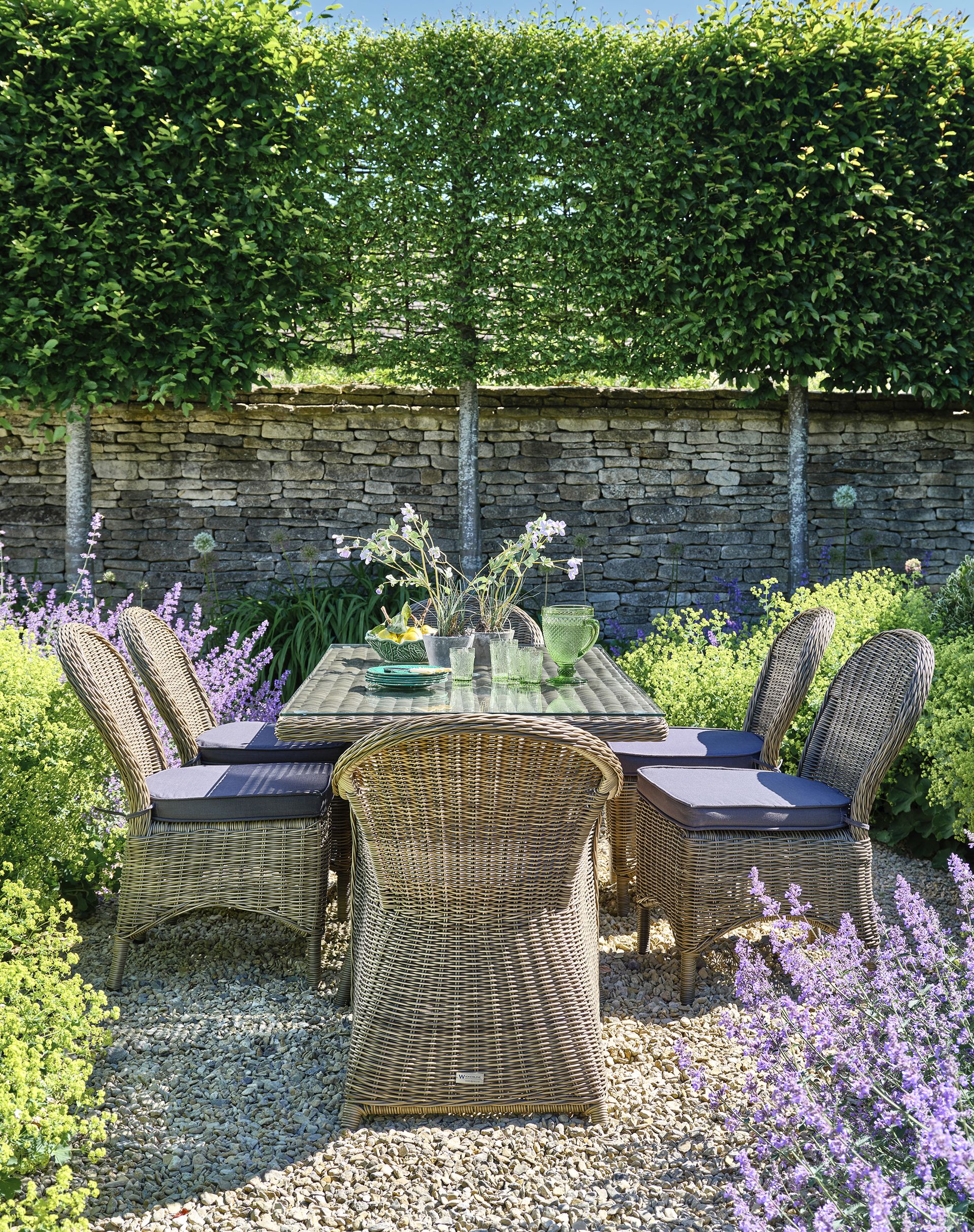 There's something truly magical about dining alfresco immersed in nature. If you love entertaining outdoors then consider adding privacy to create a secluded outdoor dining space and investing in a large dining table and cushioned chair set where guests can dine in comfort.
Edged with pleached trees, and surrounded by swatches of vibrant Alchemilla Mollis and spires of purple, bee-loving Nepeta, this gravelled area makes a picturesque and private setting. For a dining set that beautifully complements the tones and textures of a country garden, try a weatherproof rattan design with elegant curved chairs.
How do I create an outdoor living room?
Use every opportunity to entertain al fresco style or just to enjoy living in your garden this summer. With furniture and accessories that don't cost the earth, it is even easier than ever to create that outside room you've always dreamed of.
Before you buy anything too big and bulky, think about where you'll store it out of season. Folding loungers take up less shed-space than fixed loungers, which can be bulky and awkward to manoeuvre, although they can often be stacked vertically.
Modular units are easy to take apart and can be stacked on top of each other in a shed or garage.
When it comes to cushions, make sure they're detachable so you can take them off and store them away overnight or in bad weather, with zip-off covers that are easy to wash.
For poolside loungers, avoid cushions altogether and opt for textilene, a stretchy PVC mesh sling that is waterproof and dries off quickly. The surface is springy, making it ultra comfy to lie on.
How can I make my outdoor living space look bigger?
Embrace the space you have and follow this season's 'cozy garden' trend by arranging your garden furniture in a circle, says garden designer Jo Thompson. 'Doing this will give a more embracing feel.'
Thinking of a modest yard as a living room will make the most of its limited proportions, so bring in throws and cushions to stress comfort over spacious proportions. You might think white walls and fences will make the space appear larger, but this choice can create a clinical space that works best in warmer climates. Choose earthy natural tones of soft terracotta and olive green instead.
Erika Woelfel, vice-president of color and creative services at Behr Paint Company likes Secret Meadow, a deep olive-ish green: 'It adds a sense of intrigue for guests about to enter your garden or backyard hideaway.'
How can I make my indoor and outdoor living space flow together?
Start with the flooring. If you have wooden floorboards indoors, lay decking in the same direction and choose a complementary shade for the deck-stain. Keep entryways between inside and outside clear of furniture and other items such as large plant-pots which make a statement but can create a visual blockage. If your outdoor space is accessed through a set of doors, it's good if the threshold (the strip at the bottom of the frame) can be level, so there is no step between both indoors and outside.
When deciding on outdoor living furniture, take cues from the closest indoor room to the garden. Jonny Brierley, CEO at outdoor furniture specialists Moda Furnishings says that shades of gray remain a favorite choice here: 'The demand for gray homewares like sofas and kitchen furniture continues to dominate, so our customers want to echo this stylish look in their gardens.'
Sign up to the Homes & Gardens newsletter
Decor Ideas. Project Inspiration. Expert Advice. Delivered to your inbox.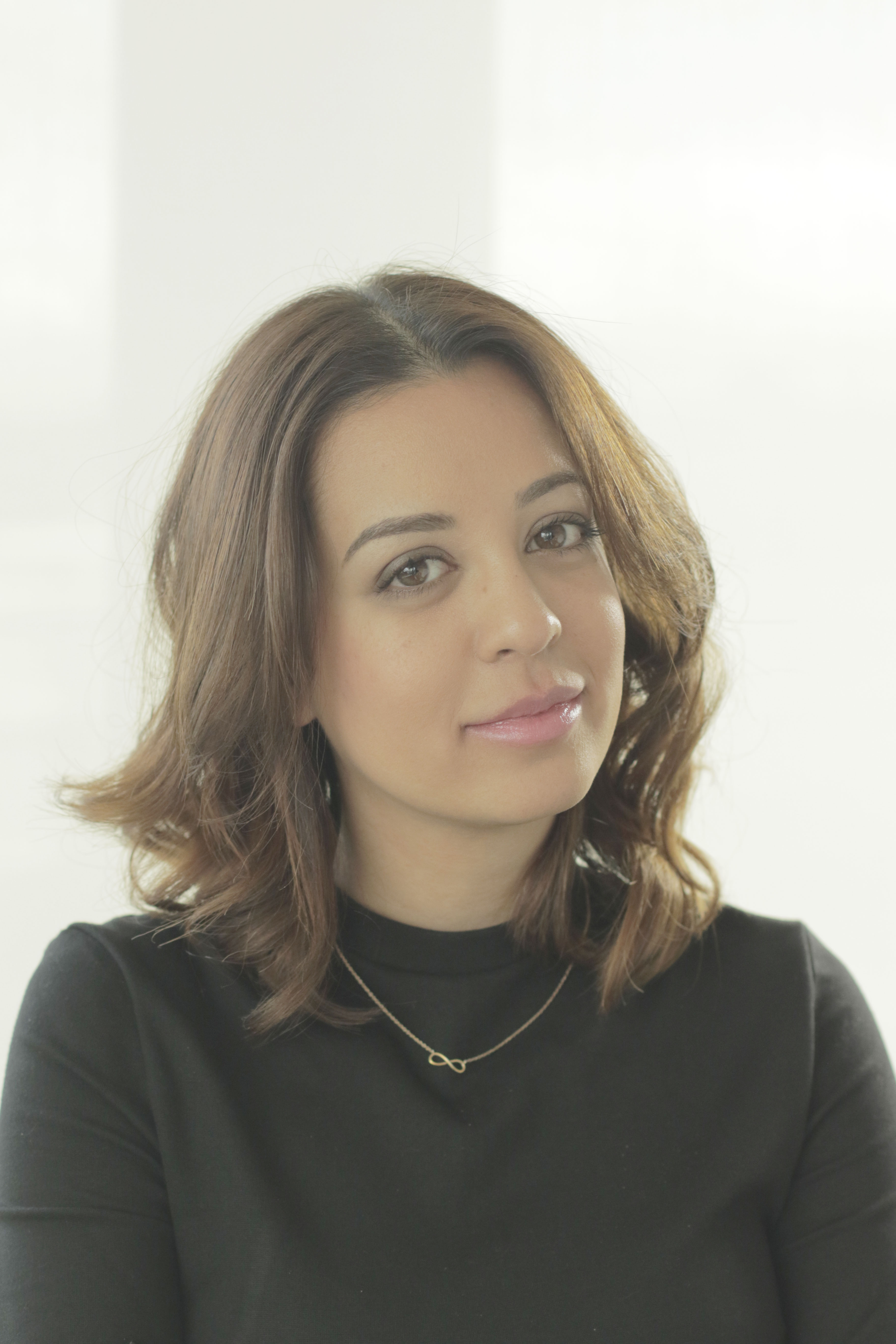 Jennifer is the Digital Editor at Homes & Gardens. Having worked in the interiors industry for a number of years, spanning many publications, she now hones her digital prowess on the 'best interiors website' in the world. Multi-skilled, Jennifer has worked in PR and marketing, and the occasional dabble in the social media, commercial and e-commerce space. Over the years, she has written about every area of the home, from compiling design houses from some of the best interior designers in the world to sourcing celebrity homes, reviewing appliances and even the odd news story or two.