Backyard lighting ideas – 15 ways to illuminate your space beautifully
These stylish backyard lighting ideas will be key to enhancing your space from morning to night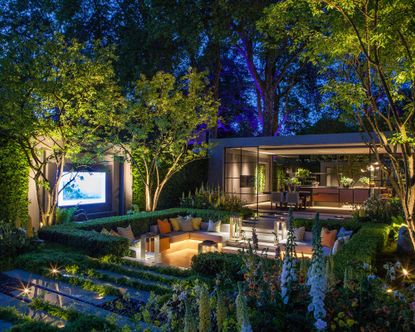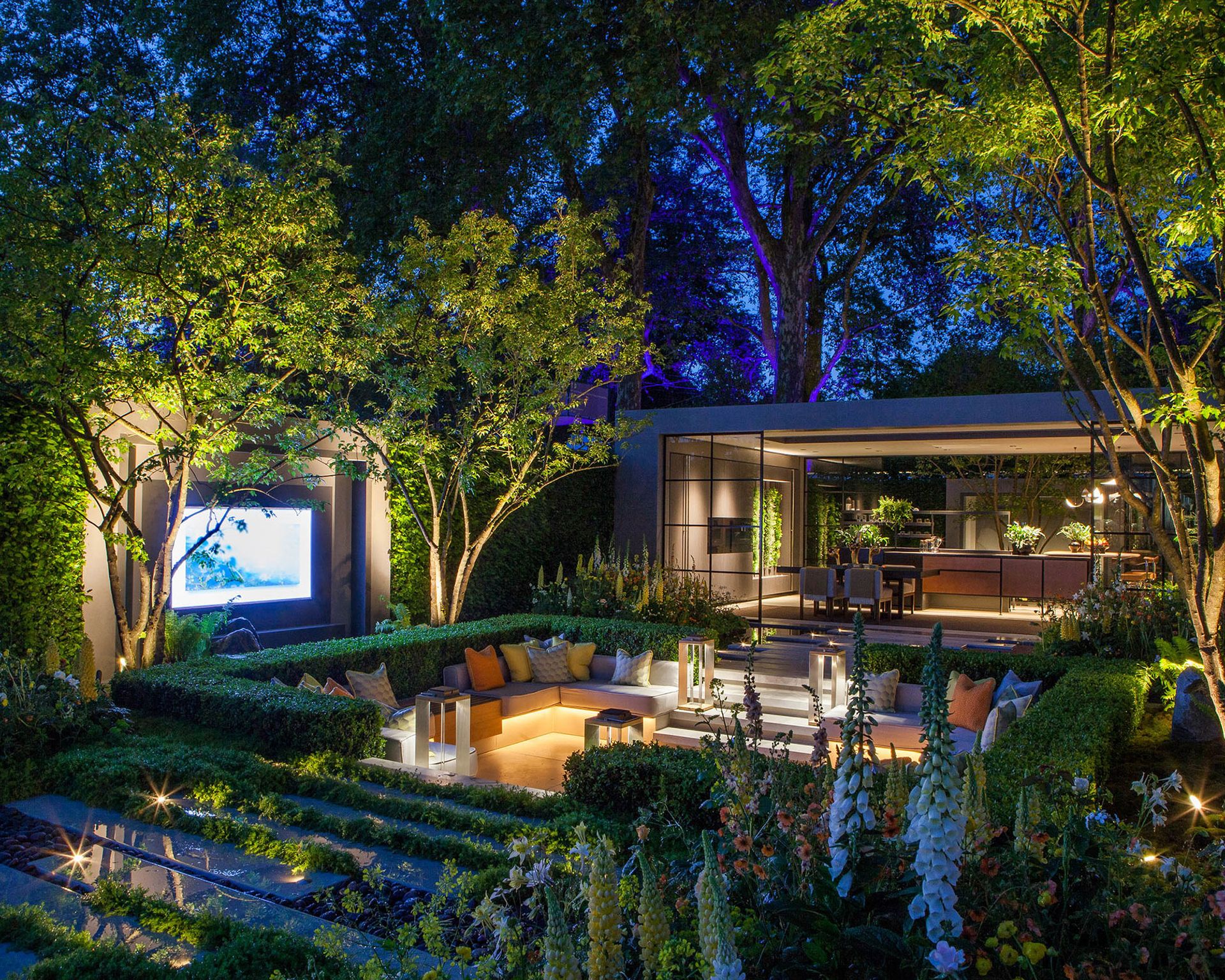 (Image credit: John Cullen Lighting)
Clever backyard lighting ideas can quickly transform your yard and max up its potential as an extra space to enjoy in the evening. The right lighting can spotlight focal points such as trees and planting and help to zone different areas for relaxing, al fresco cooking or gathering for drinks.
Discreet up-lights can be used to enhance plants and trees, adding drama as their shapes will take on architectural qualities when thrown into relief. The same goes for pieces of garden art or sculpture, which can become key focal points of the night garden if you use the right lighting to draw attention to them.
You can also create a relaxed atmosphere if you use recessed lighting to give your backyard ideas an indoor feel that's perfect for defining a welcoming space when you're entertaining friends. There's a practical element to good lighting too, as it can be used to light the way and frame entrances.
Our expert backyard lighting ideas to help you create a wonderfully lit night time garden that's a real design feature.
Backyard lighting ideas
The time to plan your backyard lighting is when you are scouting for backyard landscaping ideas. This is because planning and installing backyard lighting will require some upheaval, unless you go purely for solar outdoor lighting ideas.
'Our backyards are now being used much more for socializing and entertaining, so there's an increased focus on how they transform after dusk. Incorporating a lighting scheme into your design can bring a new ambience to your garden – and of course it's practical too,' explains John Wyer, CEO of garden designers Bowles & Wyer.
With so many lighting landscape ideas to choose from, keep in mind the look you want to create and its chosen purpose when planning how to landscape your backyard. This may be to highlight a path, form a focal point such as enhancing a plant or piece of garden art, zone a space such as a relaxation area or guide your way down some steps or along a path.
'Clever but discreet backyard lighting can add a further dimension and drama to your garden,' says garden designer Charlotte Rowe. 'It helps to extend the life of a garden, creating an atmospheric space or outdoor room even after dark.'
Whatever you hope to achieve one thing is for sure – every backyard needs good lighting to help you make the most of your space at night. So why not create a series of impressive focal points and help define your space with our selection of stunning backyard lighting ideas?
1. Focus attention on the patio
Even the simplest of patio lighting ideas can create an intimate, cozy feel that will invite guests to stay at the table.
'Backyard string light ideas, draped over your outdoor dining area, or woven into the greenery growing on fences and walls, is an easy backyard lighting retro-fit – all you need to ensure is that the lighting is suitable for outdoor use,' says H&G's Gardens Editor Rachel Crow.
2. Light up the backyard at dusk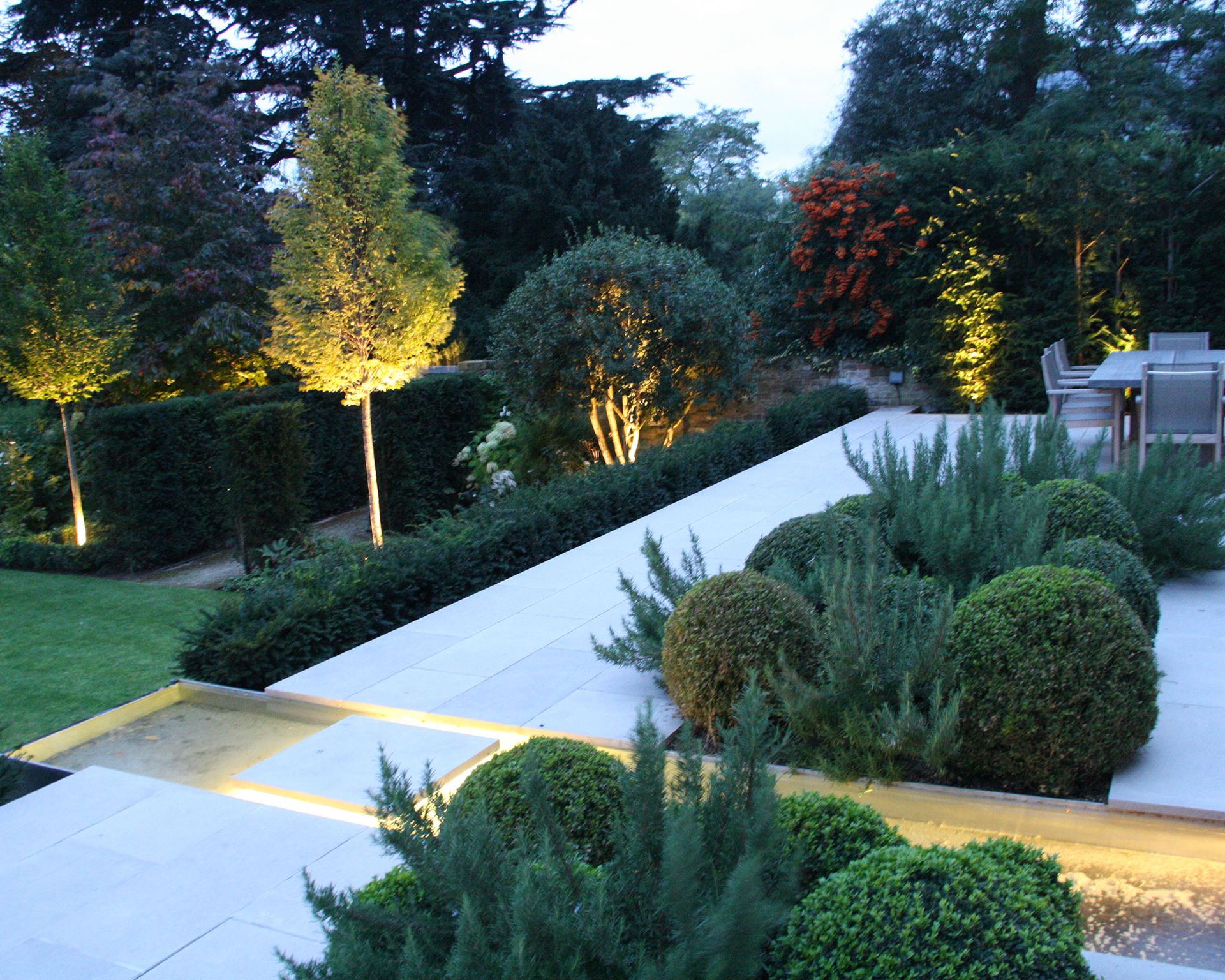 This stunning contemporary space is perfect for anyone looking for sloped backyard ideas. It features a sleek modern water feature, raised dining platform and smart planting that all benefits from being discreetly lit as soon as daylight starts to fade. Make sure your backyard lighting ideas include built-in timers to add automatic atmosphere at dusk. It's a small detail that makes a big difference.
'This garden design shows how important it is to have lighting even when it's not quite dark,' says garden designer Charlotte Rowe. 'There is lighting in the water feature which plays with the movement in the water and highlights the stepping stone. The hedging and trees in the lower garden are also lit with spike spots for added drama.'
3. Combine backyard lighting with a fireplace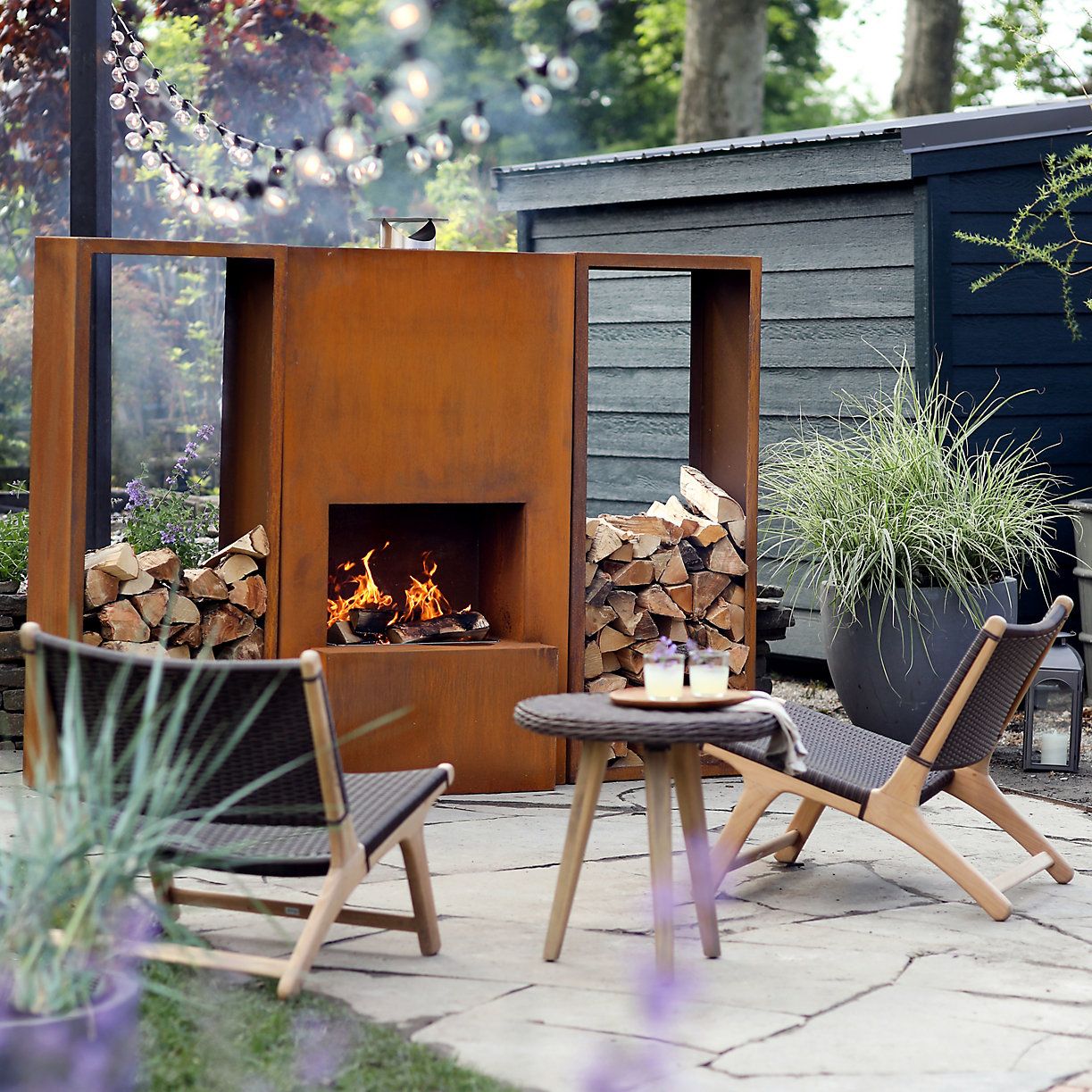 A wonderful way to create a focal point in your backyard is with lighting that centers around outdoor fireplace ideas or backyard fire pit ideas.
'This is perfect in a smaller or courtyard space,' says Homes & Gardens' Editor in Chief Lucy Searle. 'You may not need much more lighting in your backyard than this. Of course, you won't always want to light the fire, especially on warm nights, so ensure the backyard lighting is sufficient to illuminate the space cozily without it. You can always fill the hearth with candles to create extra glow.'
4. Create a magical space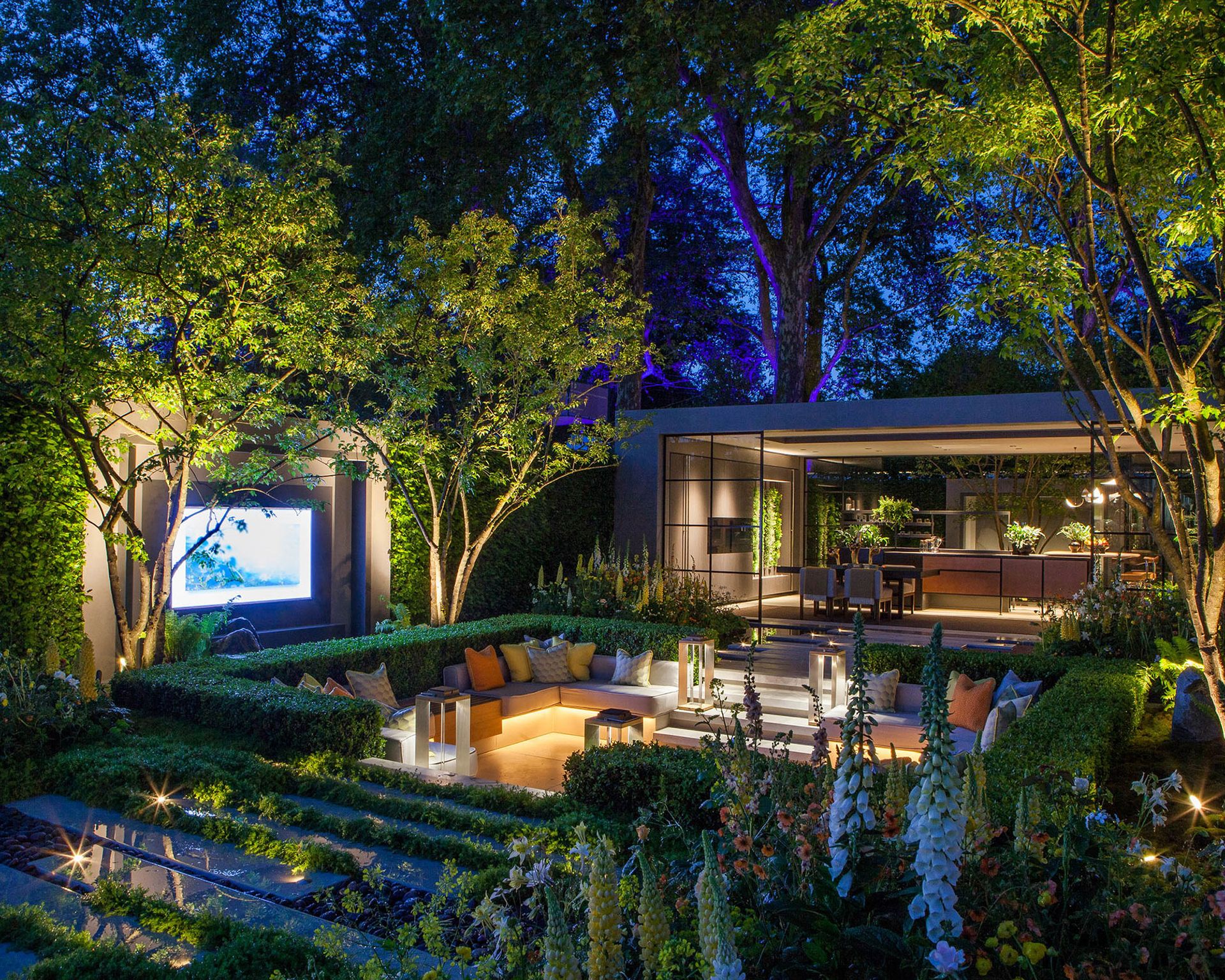 Stunning backyard lighting adds another dimension to this sunken garden, creating an enchanting space for entertaining and helping to bring the garden to life at night. The lighting scheme, designed by John Cullen Creative Director Sally Storey, brings together both inside and out, picking out the key features throughout the space to enhance the overall effect.
The path to the outdoor seating area and kitchen beyond is lit with floor lights to guide you through the space. The architectural nature of the trees and sculptures is emphasized with spiked spotlights to softly light the surrounding area. A subtle glow is created under the seating area which adds another interesting dimension.
The most flexible solution for backyard lighting is often to use spiked lights which are repositioned as the seasons change to ensure you highlight the best effects. This design shows how lighting can be used in this way to pull together a space cohesively and is packed with backyard lighting ideas you can steal.
5. Light up a pergola
Pergola ideas are a great way to add shelter in a backyard, whether from the sun in hot weather, or from rain on cooler days. They can also be warmer to sit beneath at night, which means working backyard lighting ideas into their design.
One way to do so is to have the pergola designer work lighting into the structure, as above; gazebo lighting ideas make for great inspiration for this type of lighting design. Another is to consider including lighting fixtures that could fit seamlessly indoors (looks-wise) into your outdoor living room ideas.
6. Enhance a focal point
Using a combination of decorative lighting effects always produces the best results. Accent lighting lets you create drama to enhance a sculpture at the end of a garden path, for example, while recessed lights in the gravel enhance the starkly silhouetted trunks of a row of pleached trees.
'The flat-topped umbrella plane trees down this avenue are up-lit with the light softly grazing their trunks. This leads your eye down the avenue to the focal point urn at the end,' says garden designer Charlotte Rowe. 'The large timber arbor on the right is also enhanced by strong ambient lighting.'
Lighting a canopy of trees overhead such as here is always magical too, lending a sense of enchantment that's perfect for enhancing space in small backyards.
7. Be creative with deck lighting ideas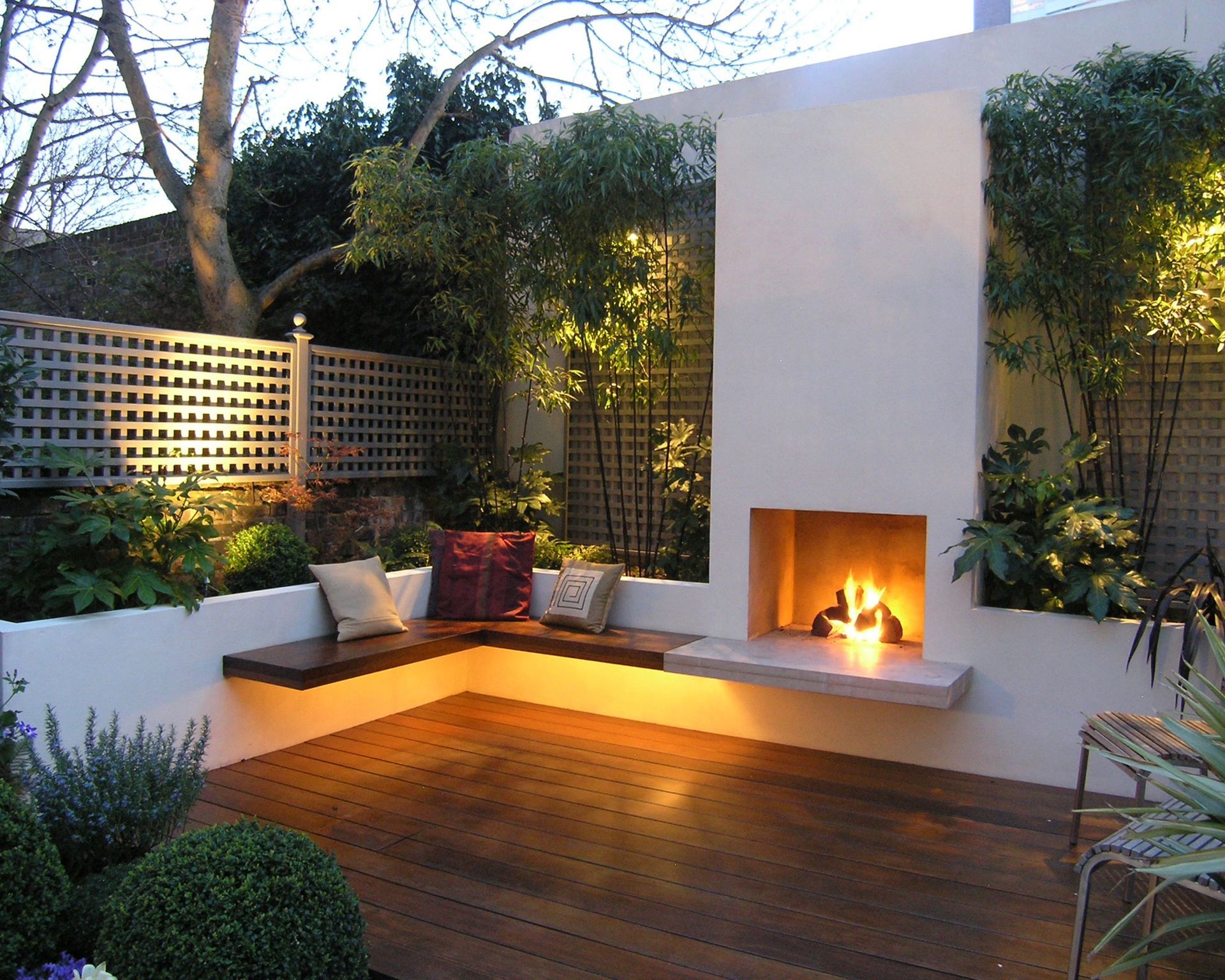 Deck lighting ideas can be fitted flush into the deck as uplighters, highlighting, for safety reasons, the edge of the deck or the edge of stair risers. They can also be used with directional fittings to spotlight container plants displayed on the deck.
However, there are more imaginative ways of lighting a deck, such as this downlit idea, above. This creates a softer result, and shows off the warm color of the wood.
'The temperature of your backyard lighting bulbs are a consideration,' says Rachel Crow. 'LEDs are often cool-colored, but if you want to create an inviting look, I would suggest buying bulbs with a warmer, yellower light.'
8. Zone your space with lights
'Carefully placed backyard lighting can effectively zone your space. It creates small intimate areas nestled in foliage, almost like beads on a necklace,' says garden designer John Wyer. 'The best way to do this is to think about purpose – dining, lounging, a water feature. Or you could even give a new lease of life to a winding pathway by adding subtle spotlights.'
Lighting can add a completely different mood to your backyard too and should be used to accentuate the form and texture that you've created in your garden design. In larger backyards it can be used to add a sense of mystery. Where does the winding path lit by recessed lights lead to? What is that stunning spot-lit tree in the distance that demands a closer look?
Lighting is your best friend when it comes to staging your backyard for a garden party too. Nothing sets the scene better than an outdoor space lit by glowing lights.
9. Use lighting to transform a courtyard
Inspirational and innovative lighting can be used to work with existing architecture such as the walls of this enclosed courtyard ideas, showing that no matter how small your garden is it can be transformed into an exceptionally lit space.
'This long water rill has spotlights under each of the timber pontoons that cross the water and an uplight for the water spout at the end. This helps to take your eye down the water feature to the wall at the end,' says garden designer Charlotte Rowe. This creates the impression that the space is bigger than it actually is.
'We have also up-lit the multi-stem Amelanchier trees and the pleached hornbeams at the end of the garden, with the light grazing the old stock brick walls around the garden,' adds Charlotte. The result shows that clever backyard lighting ideas that pay attention to smaller details can be transformative.
10. Create an outdoor space with an indoor feel
A blended indoor-outdoor entertaining area is perfect for a relaxed atmosphere such as the one here in this sheltered courtyard space by Osada Design and John Cullen Lighting. It's a real retreat from city life.
When night falls, a sophisticated lighting system adds drama, illuminating the trees and the movement of water, highlighting planting in pots as well as the main architecture of the building, while creating magical shadows and making a space to be enjoyed at all hours of the day.
It's a unique backyard that uses planting, water and lighting to add drama, turning a small area into an extra special place for entertaining.
11. Go subtle for a relaxing spa effect
As relaxation pools go, this one has to be high on our wish list. Who wouldn't want to step along that magically lit path and slip into the whirlpool spa to ease away the stresses of the day? We love the retreat-like feel of it, which is enhanced by the addition of lanterns and candles around the edges.
'This spa has a light inside it to give it form but there are also up-lit pleached pear trees around it,' says garden designer Charlotte Rowe. 'We also always recommend that natural lighting in the form of lanterns and night lights are used in addition to electric lighting.'
When it comes to backyard lighting ideas, don't forget battery operated flameless candles as they're one of the easiest ways and best backyard ideas on a budget to create the right mood. You can set the timers on them so they come on automatically at dusk too.
12. Throw the spotlight on trees
Discreet backyard lighting ideas can be used to create a showpiece for a welcoming ambience in the evening garden. Trees take on architectural qualities when lit up from beneath, the angled uplighters enhancing the shape of leaves and the structure of trunks and branches. This will add drama that can be enjoyed from inside the house too.
Choose uplighters that are recessed into the ground. Alternatively set lights on moveable spikes for illuminating the trunks and branches of specimen trees, as they can be shifted both to suit the mood and according to the seasons. When one tree has had its moment simply switch the focus to another one by shifting the light.
13. Illuminate the pool at night time
Pool lighting ideas are so inviting for a night-time dip and if you're entertaining in the garden add a Hamptons-like vibe when dusk falls. What could be more alluring than a well-lit pool?
In this design by John Cullen Lighting the trees bordering the pool are also lit up with spotlights to emphasize their architectural qualities, while up-lighters are used on the house to add a welcoming glow.
In the distance a combination of spike floodlights and spotlights enhance the perimeter planting, helping to pull the whole look together seamlessly.
14. Use different layers for the best effects
This small split level garden uses mellow sandstone for the paving and steps that looks spectacular bathed in warm light at night. 'Lighting is a very important part of this backyard as it gives a new dimension and feel to the space,' explains landscape architect Stefano Marinaz.
For this project there were three different channels of lighting, one for the trees, one for the steps and bench, and the third for the recessed lights at the back of the yard so the client could control what they wanted on/off independently from the other group of lights.
'The LED lights used for this project consisted of a sequence of recessed spotlights along the steps from the first floor down to the ground floor level of the garden,' explains Stefano. 'We included a spike LED light under each of the multi-stem Amelanchier trees.
'Underneath the limestone solid block seating we had a recessed channel for an LED strip light. At the end of the garden we used some recessed small uplights to wash the timber cladding.'
Look at backyard lighting ideas in terms of different layers for spectacular results to achieve an effect like the one in this space.
15. Highlight your home's architecture
Backyard lighting ideas aren't just about showing off garden features, such as plants and containers. You should also consider how the lighting might show off your home.
'This type of backyard lighting can focus on the house,' says Lucy Searle. 'But it might also be used to illuminate other structures within your property, such as a pool house or garden room. Doing so won't just allow you to see the beauty of your home's architecture in a different light – literally – it will also make your outdoor space feel larger at night.'
How do you illuminate a backyard?
To light a backyard, first decide on the look you want to achieve and which areas demand special attention in terms of outdoor lighting. Choose what you want to throw the spotlight on, whether that's trees, an entrance, a pergola or a water feature.
Draw up a plan, working out what each area needs, then talk through your ideas with an electrician. Unless you're using solar-powered lights you'll need a power supply which means outdoor sockets and a switch plus armored cabling for safety. This will need to be installed professionally.
LED lights are energy efficient and there is now a huge range available to choose from. If your garden is sunny consider solar-powered lighting but remember it's not such a good option in winter. Avoid flooding the garden with light as it can look too harsh and you won't achieve the type of ambient glow that works best.
How can I light my backyard without electricity?
Backyard lighting has been revolutionized by improved LEDs, which are energy efficient and one of the safest options for outdoors without needing electricity cables and a power supply. So if you are wondering how much outdoor lighting costs, this will be a consideration.
Look for warm white LED bulbs that can be clipped to outdoor structures like fences or pergolas so you can make more of your space in the evening by creating a more intimate setting. Choose inter-connecting sets if you want an easy option for lighting a bigger party space. To create atmosphere also consider flameless electric candles or real candles in hurricane lamps.

With the exception of solar powered lighting and candles, all other garden lights need to be connected to the mains. Solar lights can be used to edge paths and patios, and enhance planting. Some are suitable to use as spotlights too. They're most effective in an open spot that gets enough sunlight and naturally their performance is not as good in winter.
There's now a huge choice of LED lights available that work well for backyard lighting ideas, including a range of quality ones can last up to 20 years.
Sign up to the Homes & Gardens newsletter
Decor Ideas. Project Inspiration. Expert Advice. Delivered to your inbox.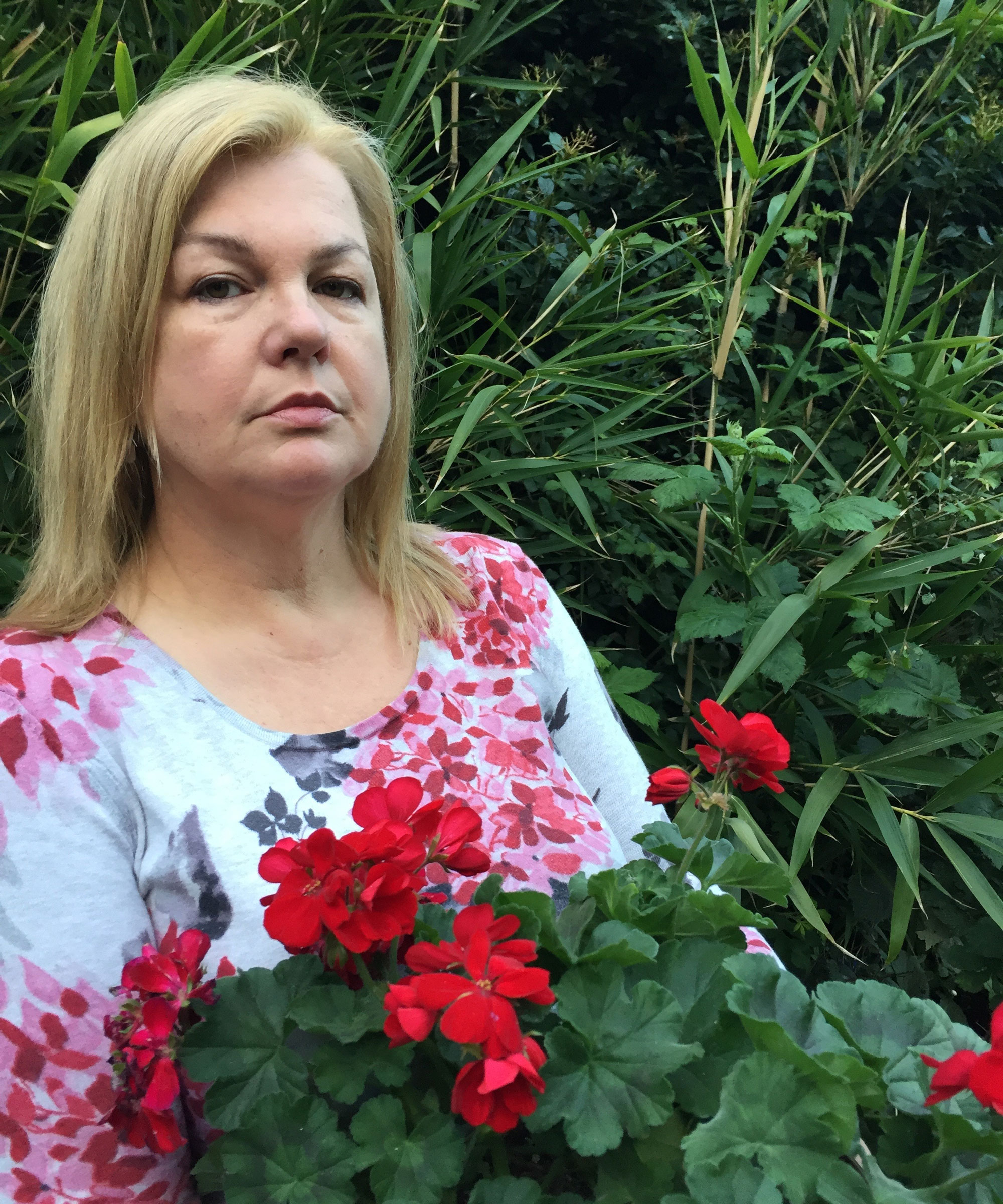 Lifestyle journalist Sarah Wilson has been writing about flowers, plants, and garden design and trends since 2015. Having already studied introductory garden and landscape design as well as a course in floristry she is currently adding to her list of qualifications with an RHS Level 2 course in the Principles of Plant Growth and Development. In addition to homesandgardens.com and livingetc.com she's written for gardeningetc.com, Modern Gardens and Country Homes & Interiors magazines.