How much does outdoor lighting cost?
How much does outdoor lighting cost? From wall pendants to LED candles, this is what you can expect to pay for ambience-inducing outdoor lighting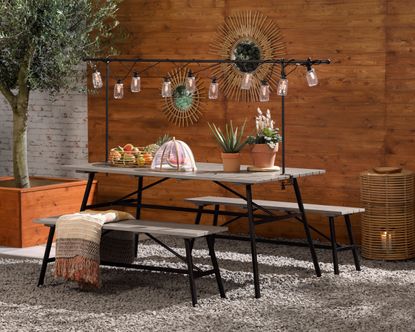 (Image credit: Ella James)
How much does outdoor lighting cost?
If you are starting a landscaping project from scratch, or just want to up the atmosphere in your backyard, you might want to know how much outdoor lighting costs.
Outdoor lighting ideas are one of the most important elements of any design scheme, whether you are having them wired in at the start of the design process, or adding plug-in lights to an existing scheme.
Experts agree that the cost of garden lighting more than pays for itself in extending the amount of time you can spend outdoors and in conjuring up a wonderful mood.
Martin Waller, Founder of Andrew Martin, believes that 'good lighting is imperative to creating an ambience, a cove of coziness,' while Cox & Cox Product & Creative Director Dani Taylor says, 'you can instantly and easily elevate an outdoor space with lighting.'
Not only is it practical, allowing you to stay outside as the sun goes down, but lighting can also set the mood for a space.
'If it's a party vibe you're aiming for, stake lights paired with the festoons of your choice work well. If it's a dinner, hanging rattan pendants above the table or from branches of surrounding trees is a lovely idea, and placing LED jars on the table creates low-level calming light,' says Dani.
How much does outdoor lighting cost?
The cost of outdoor lighting all depends on your scheme. You can go all out with wired-in pendants and wall lights, or stick to more affordable options like festoon lighting, fairy lights and LED candles. And, of course, solar-powered options will only cost you the price of the original set.
We've rounded up the options below.
How much does an electrician charge to fit an outdoor light?
If you're looking to give your outdoor space a glow up but are wondering how to install garden lighting, such as wall lights or pendants (perhaps hanging from a pretty pergola), you will need to employ the services of an electrician.
So how much can you expect to pay? Nick Cryer, of Berkeley Place, says: 'It depends what the fitting is and where the power supply needs to extend from – that's usually the key point. Fitting the light is relatively straightforward.
'Our electricians would charge an hourly rate and either supply the fitting or fit a client-supplied fitting. Allow, say, $200 (£150) to $475 (£350) depending on what is involved.'
What is the most affordable outdoor lighting option?
'Solar lights are the most affordable and sustainable choice for your home,' says Sophie Taylor, of Lights4fun.
Completely fuss free, all solar garden lighting ideas simply need to be popped in a sunny spot in your garden to enable them to charge and they will automatically illuminate once darkness falls.
String and fairy lights, LED candles and lanterns
For a truly magical outdoor scene, outdoor string lighting ideas, such as lights entwined around trees or pergolas, are unbeatable.
Simple patio ideas can be illuminated by dotting LED candles around the floor or add them to your table for more ambience. The conversations will flow deep into the night.
'Set the mood with artificial lighting to create a warm and inviting space,' says Jonny Brierley, CEO of Moda Furnishings.
'Some string fairy lights never go amiss if you want to add a casual, fun feel to your outdoor balcony décor or around your garden plants. Alternatively, a cluster of lanterns is perfect to create a glowing centerpiece on your terrace, porch, or balcony.'
Expect to pay from around $10 (£7) for solar and fairy lights, $7 (£5) for LED candles, and $20 (£15) for lanterns.
Festoon lights
If you're looking for patio lighting ideas, adding festoon lights above or around an outdoor space is an easy, low-cost way to add a warm glow and a touch of magic.
Cox & Cox's Dani Taylor says: 'They're a personal favorite of mine as they can be left out all year and if you buy solar-powered ones, they're super-low maintenance.'
Expect to pay from around $35 (£25) for a good set of festoon lights.
Tabletop lighting
'We are seeing popularity grow for sleek tabletop lighting,' says Stuart Hames, Head of eCommerce and Marketing at Moda Furnishings.
'They're powered by rechargeable batteries to provide the versatility to move around meaning you're not limited by the location of a power point when you want to change up the layout of your furniture sets.'
Tabletop lights are ideal when eating al fresco, and you can expect to pay from $30 (£20) upwards for a single light.
Wall lights and pendants
Fix mains wall lights or sconces to the wall for a guaranteed glow.
Whether you choose spotlights, box lanterns, nautical pendants or industrial bunker-style options, wall lights are a great option if you're looking for front porch lighting ideas. They can't be knocked for practicality and add an elevated look to your outside space.
Wall lights will usually need to be connected to the mains, making them a costlier choice as you'll need to employ the services of a professional. As a guide, allow $200 (£150) to $475 (£350) per hour for fitting, plus the cost of the light.
Will outdoor lighting add value to your home?
Our outdoor spaces have become more important than ever before, and many of us are keen to be creative with our garden ideas to add an extra 'room' outside that's as stylish as the interiors.
'As with any space, the lighting is key to the quality and ambience delivered,' says Nick Cryer, of Berkeley Place.
'We are finding more of our clients are focusing more attention to outdoor spaces, as part of their home renovation/enhancement work. If anything, the outdoor space is being prioritized. These landscaped spaces provide marriage value to the property overall.'
So outdoor kitchens, dining and living spaces that work in summer and out of season could well make your property more appealing to buyers.
While extensive outdoor lighting might not add value to your home by itself, the more useable and attractive your outdoor space is, will.
Sign up to the Homes & Gardens newsletter
Decor Ideas. Project Inspiration. Expert Advice. Delivered to your inbox.
Ruth Doherty is an experienced digital writer and editor specializing in interiors, travel and lifestyle. With 20 years of writing for national sites under her belt, she's worked for the likes of Livingetc.com, Standard, Ideal Home, Stylist and Marie Claire as well as Homes & Gardens.