Outdoor shower ideas – 11 refreshing ways to cool off in your own backyard
These outdoor shower ideas will give your garden a practical touch of luxury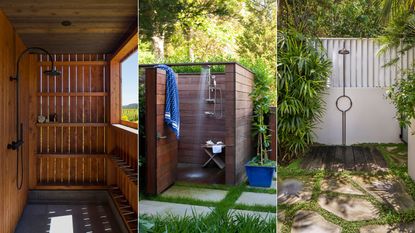 (Image credit: Future)
Outdoor shower ideas are one of those rare additions that combine practicality with luxury.
As well as being a beautiful addition to your backyard landscaping, outdoor shower ideas offer endless versatility, from providing a spot to cool off; helping you rinse off before and after using the pool or hot tub, to washing off sand from the beach or mud from a long walk, preventing it from being traipsed through your home.
However, with so many outdoor shower ideas available, it is important to choose the right design, installation process and plumbing for your space and needs.
Outdoor shower ideas
As our summers get hotter, we are all seeking ways to incorporate more backyard staycation ideas into our gardens. Whether you are looking for an outdoor shower to partner with your pool ideas or are looking for a way to cool off after sunbathing in your courtyard garden, an outdoor shower is an invaluable addition.
1. Create a cubical to channel holiday chic
For the perfect mix of privacy and elegance, a purpose-built wooden chalet gets the gold star when it comes to outdoor shower ideas. Instantly invoking holiday chic, this dual-temperature water shower provides the perfect place to wash off after a trip to the beach or cool off on a hot summer's day.
'The practicality of this wooden shower enclosure gives easy access off sandy beaches and serves as a dual-purpose shower and changing area. When designing outdoor shower ideas, the materials should sustain the natural elements. While an Ipe wood enclosure and stainless-steel shower fittings prove to be outdoor performance materials, they also create an environment that's pleasing and inspiring for the mind, body, and soul,' explains Zuni Madera from Foley & Cox Interiors, who designed this space.
A solid structure is a great option if you are overlooked and want to maintain the utmost privacy. However, if you want to create a secluded area without building a structure, plants are your best friend. Simply pair your favorite of the best privacy hedges and the best privacy shrubs with a few trees for privacy and you'll be well on your way to creating a botanical oasis.
2. Create a green oasis around your outdoor shower with plants
We all know that plants are an integral part of wellness bathroom ideas, but outdoor shower ideas take this to a new level.
When planting around your shower, you need to be conscious of waterlogging. 'For water-absorbing areas consider big-leaved rodgersias, astilbes, ligularias, Lobelia tupa, Eupatorium cannabium and Filipendula ulmaria. Be aware that heavily used showers leading to significant localized water-logging in summer, when plant roots are vulnerable to lack of oxygen, will need careful planning if the plants are to thrive,' says Guy Barter, RHS chief horticulturalist.
Plant in well-draining compost and factor in drainage channels to prevent pooling. Don't be afraid of planting too many plants – more plants mean more drainage, which is essential if you're using your shower often.
If you start to notice that the compost is appearing water-logged consider supplementing with additional drainage methods, too.
3. Dress the space with natural stone
Stone is a popular choice for indoor shower floor ideas and it works well for outdoor shower ideas, too. However, there are lots of different stone flooring types so finding the right one for your specific set of needs is key.
'High-density limestone can be a great surface as it does not retain heat like many other stones, but it is sensitive to acids and cleaners. Granite is very durable but will get very hot in sunlight. Basalt does not build up heat like granite but is almost as durable. We have used some porcelain pavers for showers as they are almost stain-proof. The main drawback is they can get hot in the sun,' explains Dustin Moore, chief at STRATA Landscape Architecture.
4. Select a durable design to withstand the elements
Durability is key when it comes to choosing your fixtures and fittings. 'Indoor grades of stainless steel are not up to external use and will oxidize and rust,' says Lucinda Lewis, director at Ingarden. 'If adding outdoor shower ideas to a coastal garden, the 316 marine-grade stainless steel is the best; for inland, however, 304 outdoor-grade stainless steel is sufficient. Copper is also good for outdoor showers and has a beautiful aesthetic that ages with time.'
5. Choose a cool shower for rinsing off by the pool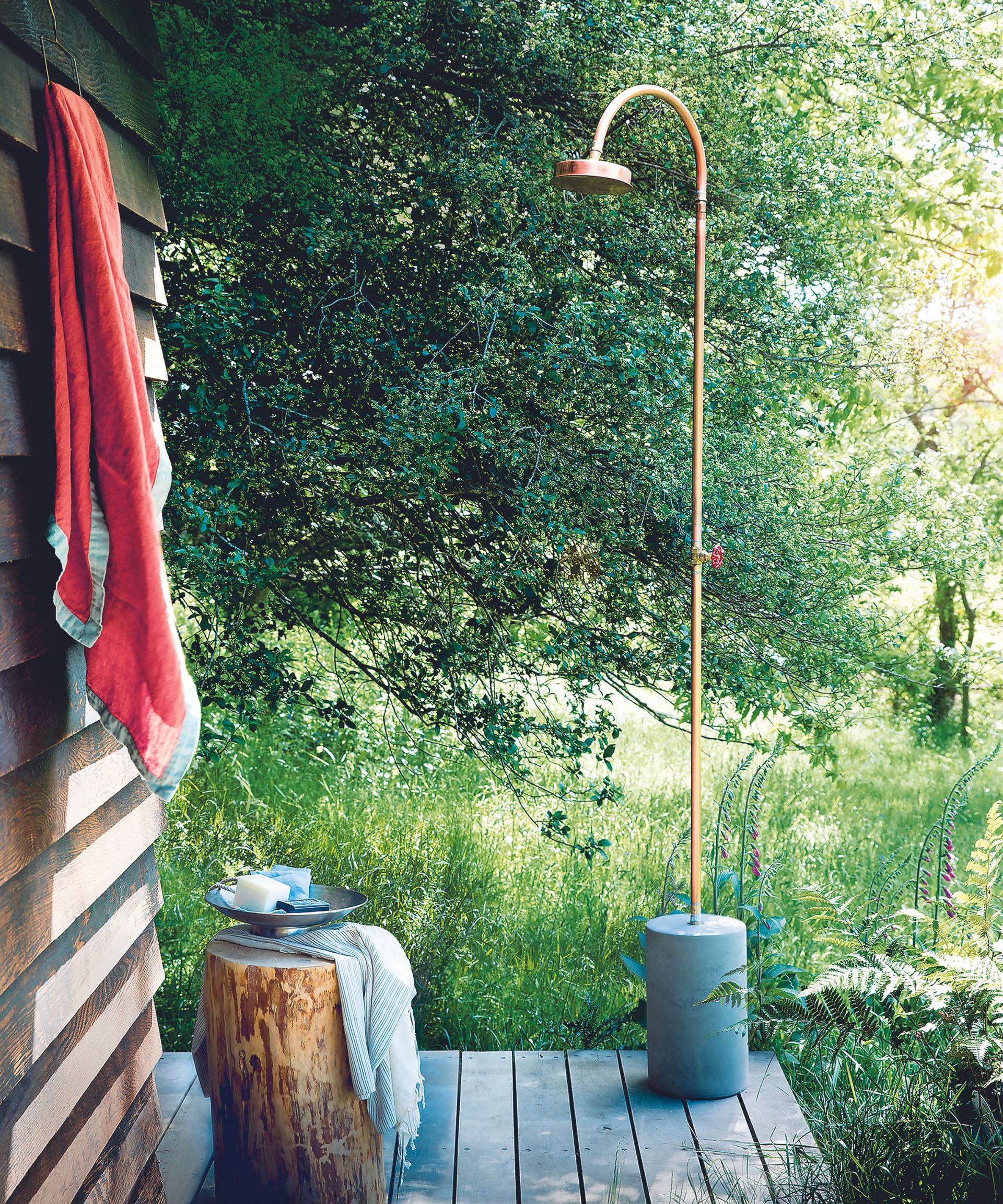 If you simply want to rinse off before you get in the pool or before you go back to the lounger, then a cold shower offers the perfect solution.
This wooden deck idea has a concrete base and the outdoor shower is designed so that it can be plugged directly into the garden hose making for easy installation and use. Plus, the gaps in the decking provide ample drainage into the green wildflower garden beyond, reducing the risk of water pooling in a specific spot.
Don't forget shower storage ideas either, here a bench and hook provide the perfect spots for hanging your towel and placing bathing essentials.
6. Install a hot shower for versatile bathing
If you have decided that cold outdoor shower ideas are not for you, then you'll be thrilled to know that they can be plumbed to run hot as well as cold.
This will require professional assistance and will work better if attached to the house or close to the property.
'Warm water is wonderful to have for outdoor showers and can be as easy as tapping into the domestic hot water from the residence if it is close. For more remote showers, we have installed instantaneous hot water heaters near the shower,' explains Melanie Turner, director of residential design for Pfau Long Architecture.
Alternatively, for a more straightforward approach that will add to your sustainable garden ideas, a solar panel can be used to heat the water in the summer months.
7. Go for wood underfoot
A popular alternative to tile or stone flooring is wood, whether that's on a decking or purpose-built flooring. If opting for wood, choose a decking board that is designed for use outside. Just as when looking for pool deck ideas, opt for a ridged design which will help to reduce the risk of slipping when wet. You can also use a non-slip Decking Oil such as Hope's 100% Pure Tung Oil on Amazon.
However, it is worth noting that wooden decking will need maintenance over time.
8. Incorporate drainage
Drainage is essential. Without the correct drainage system in place, your shower area will quickly flood, gather debris, and prove unusable. While this might sound complicated, the reality is surprisingly straightforward.
At its simplest, you can design your outdoor shower so that the greywater soaks into the ground. 'In moderation, where few people will shower and only occasionally in dry, warm weather the resultant soap-and-shampoo-laced water will do no harm to the soil,' explains Guy Barter, RHS chief horticulturalists.
'However, would be wise in this case to consult the local authority building inspector via the planning department and also the environment agency if the shower is near ditches, lakes, ponds and rivers. In some circumstances, soakaways might be permissible.' However, where this is not possible, more complex drainage will be required. 'Where the shower generates significant run-off it would be prudent to collect this and direct it to the septic tank or the sewage system,' advises Guy Barter, RHS Chief Horticulturalist.
9. Position on a property wall
Just as when installing a water feature, the location of your outdoor shower ideas will be partially dictated by your pipework. 'The best and easiest place to install your shower would be on the kitchen or bathroom outer wall so you can simply run the hot and cold pipes outside without much disruption. The general rule is that the closer the shower is to your house, the easier the plumbing work will be,' says Rikki Fothergill, style expert at Big Bathroom Shop.
10. Opt for an eye-catching design
If your shower is going alongside a pool or is to be a visible area of your patio, then aesthetics are everything. If you want to create a beachy vibe, then why not opt for an eye-catching surf-board shower, like these from Strand Boards.
'Strand Boards are a beautiful addition to the garden, plus they are easy to install as the plumbing is integrated inside the surfboard. All you have to do is hang it up, connect the lines and enjoy showering. The surfboard showers are fully customizable with color, logo, and components!' says Samantha Greene from Strand Boards.
11. Pair your outdoor shower with a bath for instant luxury
Picture the scene. The sun is setting and the sky is illuminated in a beautiful pink hue. The warm day is starting to turn slightly cooler. The birds are chirping as they find their roosts. Now imagine that you are enjoying this beautiful scene from within a luxurious bath, a glass of wine in hand. Idyllic, right?
So, why stop your outdoor shower ideas at a stand-up design, when you could have the ultimate outdoor bathing experience? Plus, it's fairly easy to add a fully functioning bath to your backyard ideas.
'An outside bath is likely to be a regular treat rather than a daily event, so you'll want to indulge in a long soak when you do use it. Sit (and lie) in the bath before you buy it,' explains Emma Joyce, brand manager, House of Rohl.
Of course, there are some essential elements to consider when planning an outdoor bathroom. 'Choice of material is critical. Anything residing outside will be exposed to the elements year-round. Opt for a material that is UV resistant, so it won't go yellow in the sun and is resistant to thermal shock cycles, so the material won't crack in a change of temperature throughout the seasons,' adds Emma Joyce. Also, consider its heat-retentive properties – it is likely that the ambient temperature of your outdoor bath will be cooler than in your bathroom ideas, therefore it's essential that your bath keeps the water warm.
Can you hook up an outdoor shower to a hose?
Yes, you can hook up an outdoor shower to a hose. Ideal if you just want a cool place to rinse off or to shower off the chemicals from the pool, then this is an ideal solution. There are many kits available online that simply attach to an outdoor tap or hose and mean you don't need to concern yourself with outdoor plumbing.
Is it expensive to put in an outdoor shower?
Pricing varies depending on the style and position, from a simple cold outdoor hose attachment – the cheapest option – to a fully integrate shower enclosure with both hot and cold water.
'The cost of an outdoor shower can vary widely depending on the type of
shower you choose and the materials used. Simple and basic showers can cost
as little as $200, while more complex and elaborate showers can cost up to
$5,000. It's important to consider your budget when shopping for an outdoor
shower and look for one that fits both your design and functional needs,' reveals Henna Bell from Gardeninghood.
Sign up to the Homes & Gardens newsletter
Decor Ideas. Project Inspiration. Expert Advice. Delivered to your inbox.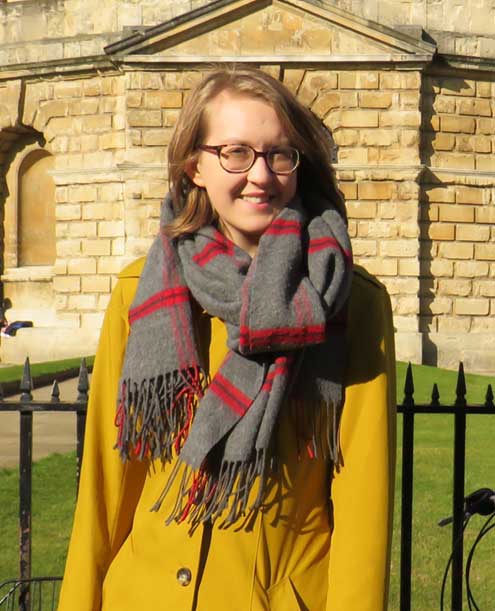 Content Editor and Sub-editor
Having graduated with a first class degree in English Literature, Holly started her career as a features writer and sub-editor at Period Living magazine, Homes & Gardens' sister title. Working on Period Living brought with it insight into the complexities of owning and caring for period homes, from interior decorating through to choosing the right windows and the challenges of extending. This has led to a passion for traditional interiors, particularly the country-look. Writing for the Homes & Gardens website as a content editor, alongside regular features for Period Living and Country Homes & Interiors magazines, has enabled her to broaden her writing to incorporate her interests in gardening, wildlife and nature.