Stone flooring types – for every room of the home
Find the best natural stone flooring types to lay in your home with our expert guide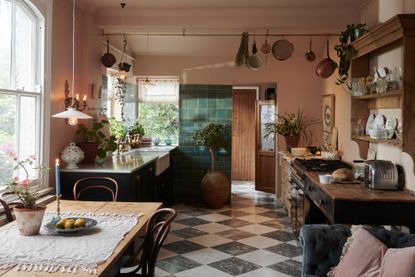 (Image credit: deVOL)
There are stone flooring types available for every interior style, from elegant marble and sophisticated slate to hardwearing limestone and charming sandstone.
Of course, natural stone floors are only one type of the countless flooring ideas which you can incorporate into your home, but they are not to be overlooked. As beautiful as they are durable, the right stone floor will be a valuable addition to your interior scheme.
With a reputation for being naturally hardwearing, all stone flooring types are most commonly seen as kitchen flooring ideas or modern hallway flooring ideas. However, stone flooring can work in most rooms of the home. In a living room for example, a marble stone floor would provide instant luxury, while a flagstone floor in a bedroom – paired with a cozy rug, of course – would embrace a more rustic look.
Stone floors are resistant to moisture and humidity, so will not warp, unlike wood, making them ideal for bathrooms too.
What are the different stone flooring types?
There are lots of different stone flooring types, including: marble, limestone, sandstone and granite. However, the natural stone floor you choose will depend on the room in which you are laying it and the look you want to achieve.
Both flagstones and limestone are perfect for the kitchen as they are highly durable, while marble is perfect for creating a more luxurious look in the bathroom.
Choosing a stone floor is a big commitment. Requiring significant work to prepare and lay the floor, it is important you are 100 per cent confident in your choice. 'Purchasing a stone floor is an investment for the home and one that takes careful consideration,' advises Joshua Fernandez co-founder of Quorn Stone. 'Our advice is to always go neutral in your chosen floor covering and instead inject color through paint colors and accessories. A lick of paint is far easier to change in years to come than a different floor'.
Limestone: versatile and popular for all rooms
Loved for its durability and its rustic appearance, limestone really comes into its own in high-traffic rooms like kitchens or hallways. Limestone is available in a range of natural colors, from bright white, which is perfect for pairing with other traditional white kitchen ideas, to rich coal-black shades, which will disguise stains, spills or dirt and is ideal for busy family homes.
As a natural stone, each piece of limestone is unique, characterized by its individual veining and striations which create a visual interest that is perfect for complementing your interior scheme. Limestone comes in a range of textures – from smooth to coarse.
Bear in mind that limestone comes in different densities – with higher density limestone being better at stain resistance and more durable.
Slate: to add instant character
Oozing beautiful simplicity with a clefted effect that draws the eye, slate is a excellent choice that is particularly well paired with other country kitchen ideas.
Low maintenance and easy to clean, slate is also highly durable and water resistant making it a great choice for the central rooms of the home.
One thing to consider with slate, however, is whether the tiles are calibrated or uncalibrated. Uncalibrated slate has not been leveled and so requires 'bedding up' on installation to ensure a level finish. Therefore it is essential that it is fitted by a professional. On the other hand, calibrated tiles have been leveled so can be laid flat and thus create a more uniform and contemporary look.
If you are considering adding underfloor heating to counteract the chill that sometimes comes with stone floors, then slate is a great option as it is a brilliant conductor of heat.
Marble: for a luxe look
Marble is the material of choice for classical monuments and the most lavish buildings, and so is perfect for creating a luxury look.
Found in many colors and patterns, marble has a natural translucent glow and can be honed – where the stone is ground to leave a hardwearing matt surface – or polished to a gorgeous, glass-like finish – which while looking stunning can be a little slippy if wet.
This luxury look comes with a high price tag – consider using marble to add wow-factor to your master bathroom ideas, elevating the look even further by continuing the marble on the walls for a spa-like look that will ooze sophistication.
Marble is extremely porous, so ensure it's thoroughly sealed to avoid stains and discoloring. It's not a great choice for a kitchen – it's easily damaged by acidic foods and liquids so you would be better substituting it for a marble lookalike in porcelain.
Granite: the most durable stone floor
Hallways, kitchens and boot-rooms all require a flooring that is highly durable. Granite, like this flooring from Original Style, is one of the strongest stone flooring types and highly resistant to spills, scratches and stains, making it perfect for these high-traffic rooms.
'If you're looking for a hardwearing option for a high traffic room of the house then opt for stone with a smooth closed surface that will not collect dirt. 'Opt for stone with a smooth closed surface that will not collect dirt. Consider a material with scattered shells or fossils across the surface as this will not show the first dirty footprint and will therefore be easier to live with,' recommends Richard Moore of Martin Moore Stone.
However, durable stone flooring types can also be beautiful – as is the case with granite, where its depth of color and varying textures add elegance to any space.
Flagstones: for a country look
A key component in farmhouse kitchen ideas, flagstone flooring is inherently characterful and the large slabs with tumbled, antiqued edges and honed finish add a rustic warmth.
That being said, you don't have to have a farmhouse-style kitchen to incorporate these beautiful stone flooring types into your kitchen. In this more modern kitchen, this flagstone flooring from Martin Moore Stone pays homage to the home's Georgian heritage without letting it dominate the space.
Sandstone: for an on-trend flooring
Formed by nature, each piece of sandstone has a unique character and color that imbues your space with personality. As a result, sandstone is one of the most popular stone flooring types especially in country style kitchens – the perfect partner for country kitchen ideas.
'A big kitchen flooring trend for 2022 is buff sandstone tiles – offering the ultimate neutral with soft pale wash tones and unique texture. Sandstone is a hardwearing and practical option ideal for kitchen tiles, the texture also provides grip underfoot. Buff colored tiles complement the much-loved modern country look and work with an array of different paint colors.' explains Isabel Fernandez, director at Quorn Stone.
Opting for a riven finish highlights the depth of the tiles, while selecting a lighter shade helps to brighten the room and create a welcoming feel. It is worth noting however, that it needs sealing to prevent it absorbing water, as it is an inherently porous stone. Sealing will also help to protect it against stains and scratches and can help it last for many decades to come.
Original stone floors: for period charm
If you are lucky enough to have an original stone floor, then it is important to protect it.
'The priority is to retain old stone floors in situ wherever possible, and to undertake appropriate maintenance and repair to preserve their charm. All that makes these floors wonderful is easily destroyed through over-zealous cleaning. Cleaning should be approached with caution and the stone should never be soaked, as even clean water may cause damage,' advises Roger Hunt author of the Old House Handbook.
Therefore, it's important that you know how to clean stone floors using a non-acidic cleaner to maintain their natural patina.
If you don't have an original floor but want to capture the rich heritage of an original stone floor then there are plenty of reclaimed stone flooring options. Available in all stone flooring types, reclaimed flooring retains its natural foot-worn patina and are inherently hardwearing, having already survived generations of use, as well as being lifted and moved to be installed in your own home.
Laying patterns for stone floors
When you think of stone flooring types, you instantly think of the large flagstone style tiles. However, there is actually a lot of creativity to be had.
Lay stone floors in patterns to add interest
Herringbone patterns are easy to create with slimmer, rectangular stone tiles and are perfect for elongating a space as the arrowed pattern drawing the eye forwards.
When wondering how to choose the best kitchen flooring, another key question is when should you install your new stone kitchen floor?
'Floors should be fitted before a new kitchen,' recommends Richard Moore. 'This provides a level base for your new kitchen and also means that if you decide to move pieces of furniture at a later date there is no requirement to change the floor. It is also important that stone flooring is laid by a stone fitter and not a builder or ceramic tiler.'
Lay colored tile in a chequerboard pattern to draw the eye
If you are dreaming of patterned flooring in your kitchen, it might seem like kitchen floor tile ideas are the way to go. However, you can still incorporate pattern with natural stone.
One of the great things about stone is the wide variety of different colors available. Use this different shades to establish a characterful laying pattern, like this beautiful black and white marble chequerboard kitchen floor from Floors of Stone.
Laid in a diamond pattern it is enchanting and adds a depth of character to the other vintage kitchen ideas which are at play.
Choose large format tiles to enhance small kitchens
Small kitchens require careful planning, more so that larger kitchens, as space is at a premium. A key tenet of this design is to create the illusion of a large space. There are lots of small kitchen ideas that can help to achieve this but laying the right stone flooring can make a world of difference.
'Contrary to belief we often find a larger tile can work well at achieving this. A smaller tile results in lots of grout joints which can enclose the space and detract the eye from the tile. We often suggest a 900 x 600 tile as it is a versatile size that works well in both smaller and larger areas,' advises Joshua Fernandez.
Are stone floors expensive?
No, stone floors aren't inherently expensive, though like everything there are variations based on the stone flooring types. 'Prices start from around $55sq m (or £40); more for rarer stones and stone mosaics,' advises Fired Earth's Colin Roby-Welford.
It is also worth factoring in maintenance: all stone floors will need maintenance which will add to the cost over the years. However, for the most part, they only need complete resealing every four to five years. Check with your supplier for specific recommendations as it varies with different stone flooring types.
Can you have radiant heating with a stone floor?
Yes, you can have radiant heating with stone floors. 'Stone is a brilliant conductor and is therefore ideally suited to underfloor heating. There is nothing nicer than coming down to a warm stone kitchen floor on a cold winter's morning!' recommends Richard Moore.
If you're planning to install radiant heating with your stone floor be sure to factor in the depth of the stone as the thicker the stone the less efficient your underfloor heating will be. Slate, limestone and marble are all particularly good options.
'There is often a misconception that only a select few tiles are suitable for radiant floor heating and this is not the case,' says Isabel Fernandez of Quorn Stone. 'Make sure you don't compromise, and always chose a color and finish you love. The look and feel is as important as its functionality. Check that your favorite natural stone tile options are suitable for underfloor heating have been tried and tested as fit for the job.
'Natural stone tiles tend to be thicker, which will take a little longer to heat up, but that means they will retain their temperature for longer thanks to their natural density and thermal conductivity.'
Sign up to the Homes & Gardens newsletter
Decor Ideas. Project Inspiration. Expert Advice. Delivered to your inbox.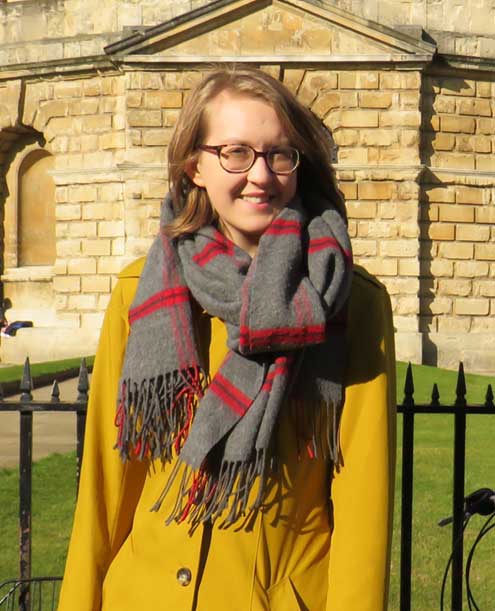 Content Editor and Sub-editor
Having graduated with a first class degree in English Literature, Holly started her career as a features writer and sub-editor at Period Living magazine, Homes & Gardens' sister title. Working on Period Living brought with it insight into the complexities of owning and caring for period homes, from interior decorating through to choosing the right windows and the challenges of extending. This has led to a passion for traditional interiors, particularly the country-look. Writing for the Homes & Gardens website as a content editor, alongside regular features for Period Living and Country Homes & Interiors magazines, has enabled her to broaden her writing to incorporate her interests in gardening, wildlife and nature.