How to clean stone floors – the best methods for flagstones, limestone and marble tiles
Discover how to clean stone floors to maintain their natural patina, remove stains, and protect them from damage, with advice from leading industry experts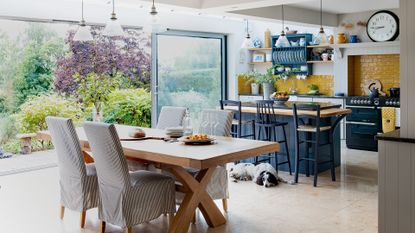 (Image credit: Jody Stewart)
Look after stone floors and they will repay you – and your successors – with years, even centuries, of good service. Knowing the best way to clean stone floors will keep them in good condition, and prevent them becoming damaged or stained.
Whether you are cleaning an original flagstone floor that's hundreds of years old, or maintaining a newly laid stone floor, it's good to know which techniques and products to use along with all the cleaning tips necessary for stone floors.
With a regular, gentle cleaning routine, there is less chance of stains and marks seeping into the stone, and causing permanent damage, and of dusty grit and sand scouring the stone surface.
Roger Hunt, author of Old House Handbook, urges caution before you start. 'Think carefully before renovating an old stone floor. Stone floors may move, crack and become uneven, but they invariably benefit from the patina of age. All these characteristics are easily lost if the floor is lifted and relaid or inappropriately cleaned.'
How to clean old stone floors
If yours is an old stone floor, Bryan Williamson, of restoration builders Bryan Williamson & Daughters, has some important advice. 'Avoid over-cleaning it as this will destroy the patina of age which gives the floor its character. If necessary, work gently using a non-acidic cleaner, such as washing soda, a soft scrubbing brush or mop and clean water, but never soak the floor.'
Whatever you're using, it's important to test clean a small area of stone first. Take particular care if you're going to clean marble. As Bryan Williamson says, 'It stains easily and can be damaged even by water. Brush or vacuum off salt efflorescence; never use water.'
Prevention is far better than cure when you're cleaning old stone floors. Adopt the same tactics you would for cleaning hardwood floors and cleaning encaustic tiles when you consider hallway ideas. 'Fit doormats at entrances to trap dirt and frequently shake them out. Also fit pads under metal objects in contact with the floor to prevent rust staining,' he adds.
Roger Hunt's key tips for cleaning old stone floors are equally valid for new and old stone floors – as well as for cleaning tile floors in general.
Wipe up spills promptly.
Carefully clean off inappropriate marks and staining.
Sweep the floor regularly.
How to prepare stone floors for cleaning
The first stage of cleaning a stone floor is to dry clean the surface to remove any loose dust, sand or grit. Most stone surfaces can be brushed with a soft brush, or gently vacuumed with the correct hard floor attachment.
You'll need to make sure the vacuum cleaner itself is in good condition and that there is no risk of the stone floor being damaged by worn, rough-edged wheels and attachments. In fact, the experts at Beswick Stone advise against vacuuming if the floor is made of dark stone or slate. 'Scratches will be much more visible and worn out vacuum heads can cause lots of damage,' they say.
Once you've banished dust and grit you can move to the next stage of cleaning your stone floor.
How to clean grease and dirt from stone floors
Mike Morris, supply chain manager for Liberon, the wood and floor care experts, has the following advice on removing built-up layers of dirt and grease from stone floors. 'Avoid general, all-purpose floor cleaners. Instead, choose an easy to use, specialist, water-based product that is suitable for use on either sealed or unsealed stone.
'Dilute with warm water according to the manufacturer's instructions. It is fine to use a floor mop or sponge, rubbing more vigorously over dirty areas.
Allow the product to work on the surface for 10-15 minutes then rinse several times with clean warm water and allow to dry thoroughly.'
How to remove stains from stone floors
Removing wine stains and removing coffee stains from flooring needn't be hard work. But when it comes to removing stains from a stone floor, first check with your flooring supplier for product-specific advice.
'If you have a stubborn stain to remove,' says Morris, 'choose a specialist stone floor cleaner that allows you to pour a small amount neat directly onto the stain. Let the product work for 15 minutes then scrub with a brush to remove the stain. Then rinse with warm water and allow the flooring to dry.'
A specialist product such as Liberon's Stone Floor Cleaner can be used on sealed and unsealed terracotta and stone floors.
Do stone floors have to be sealed?
It's important to protect your stone, particularly in a high-traffic or area of high humidity.
'If you're working with new stone,' says Morris. 'Once your stone floor is clean, you should protect it from water and staining with a specialist stone floor sealer. Ideally, finish with either a specialist stone floor wax or - for a more durable surface on high foot traffic areas - a specialist protective coating.'
Colin Roby-Welford, creative director at Fired Earth agrees that a stone floor should be sealed to keep it looking good. 'One of the key things to remember about natural stone is that it's porous so sealing will protect it from stains and keep it looking its best for years to come.'
'A stone floor can actually even improve with the patina of age but it's really important to follow the product-specific recommendations when you're installing stone. Once the stone is sealed, spillages won't permeate the surface and can simply be wiped away.'
How to clean a sealed stone floor
'The best way to maintain a fully sealed stone floor is to sweep or vacuum it regularly to remove surface dirt,' adds Roby-Welford. 'The floor can then be given a quick wash with a recommended, product-specific cleaning product. These are formulated to be effective cleansers but also to be gentle on the sealants which are protecting the floor.'
He advises against using generic cleaning products to clean a stone floor, and even warns against using a scrubbing brush. 'General household cleaning products may be too abrasive and can damage sealants, as can good old-fashioned scrubbing. In any case, there shouldn't be any need to scrub at spillages if you act in a timely fashion since the sealant will form a protective layer to the tiles,' he says.
'A stone floor will require re-sealing every few years to ensure maximum protection from stains. You can do a quick test by dropping a little bit of water on the floor and seeing if it sits on the surface (as it should do) or starts to absorb into the floor (in which case it might be time to re-seal).'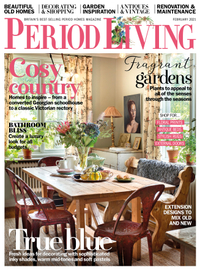 This feature was created by H&G's sister brand, Period Living magazine
Subscribe to Period Living for more inspiration.
Period Living is the UK's best-selling period homes magazine. A subscription provides you with all you need to know about caring for and improving a traditional house and garden.
Is it safe to use vinegar to clean stone floors?
While cleaning with vinegar and cleaning with lemon juice are popular because they make use of pantry ingredients, in fact, a stone floor is one of the things not to clean with vinegar, and the same goes for lemon. These, and any other strongly acidic products, can damage the surface of the stone and dull its appearance.
If you prefer to use a natural cleaner, there is one rather surprising household commodity that can be used to clean stone floors. Milk.
Architect Neil Mackay, used skimmed milk to clean the 18th-century flagstones in his Oxfordshire cottage, pictured above.
'As I understand it, the casein in the milk forms a weak binder on the surface of the flagstones, giving them a slightly polished sheen, and keeping down dust,' he says. 'It works best on smooth stones, with a fine, close surface texture. On a coarser stone the effect is a little different, and the stone will temporarily look darker.
'I just washed the floors with warm water and a stiff brush, then scrubbed them again with skimmed milk and let it dry. For a short while it smelled a little milky, but not unpleasantly so. Once it dried, the smell rapidly faded.'
In its Caring for Old Floors technical notes, The Society for the Protection of Ancient Buildings (SPAB) says the use of sour milk applied sparingly with a rag to clean stone floors is mentioned in 19th-century household manuals, and 'can bring up a soft sheen and a degree of protection to the surface of fine-grained stone with an established patina'.
However, SPAB warns against using milk to clean absorbent or damp stone as it may leave a stain. As with all cleaning products, natural or not, it's best to check with your flooring provider and test on a small, unobtrusive area of the floor first.
What to avoid when cleaning a natural stone floor
Beswick Stone offers the following checklist for how to clean natural stone flooring:
Don't use proprietary brands of floor cleaners or soap. Nothing alkaline (bleach) and nothing acidic. Do use a specially formulated natural stone cleaner that not only cleans but maintains the protective sealant.
Don't mop every day – stick to once or twice a week maximum. When you do mop, don't flood the stone. Do sweep & brush regularly.
Closed loop cotton string soft mops that can be wrung out well so you are mopping near dry are good. Micro-fibre mops are even better. Using copious amounts of water is not good on any natural material.
Do not use a soap solution (this will leave a film that will gradually build up).
What are the key things you need to know to clean stone floors safely?
'Don't over-mop and don't use too much water ,' say the experts at Beswick Stone. 'This is the number one cause of dirty, stained floors. Lock up the mop and get it out once a week.
'And for dark stones and slate, scratches will be much more visible, therefore tired, worn out vacuum heads can cause lots of damage.' Lock up the vacuum cleaner.
How to keep life simple when cleaning stone floors
Choose your flooring wisely in the first place. Select more resilient stone flooring in darker or natural shades for heavy traffic areas such as kitchens and entrance halls, unless you're prepared to put in the effort to maintain paler stones. Fired Earth's Colin Roby-Welford says: 'If you're at the stage of choosing flooring, try to be realistic about how much time you're likely to want to spend on cleaning.
While you certainly could opt for gleaming white marble for glamorous kitchen ideas, your floor will only continue to look sparkling white if you're prepared to get cleaning at the first sign of a spillage or paw print, whereas the very same marble might be a perfect choice for spa-style bathroom ideas.'
Sound advice, we are sure you will agree.
Sign up to the Homes & Gardens newsletter
Decor Ideas. Project Inspiration. Expert Advice. Delivered to your inbox.
Karen is the houses editor for homesandgardens.com and homes editor for the brand's sister titles, Period Living and Country Homes & Interiors, and an experienced writer on interiors and gardens. She loves visiting historic houses for Period Living and writing about rural properties for Country Homes & Interiors, and working with photographers to capture all shapes and sizes of properties. Karen began her career as a sub editor at Hi-Fi News and Record Review magazine. Her move to women's magazines came soon after, in the shape of Living magazine, which covered cookery, fashion, beauty, homes and gardening. From Living Karen moved to Ideal Home magazine, where as deputy chief sub, then chief sub, she started to really take an interest in properties, architecture, interior design and gardening.