How to clean hardwood floors
Discover how to clean hardwood floors to restore their natural shine, remove stains, and protect them from damage, with advice from leading industry experts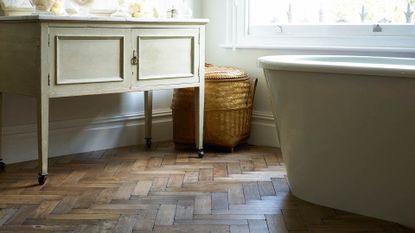 (Image credit: Broadleaf Timber)
Knowing how to clean hardwood floors the right way will keep them in good condition. Whether you are looking to deep clean heavily stained hardwood floors, or just maintain them day to day, it's important to use the right products and techniques.
'To avoid damage of your wooden floor, clean the surface regularly,' says Richard Keen, technical advisor at wood finish specialist Osmo. 'Any accidental spills that come into contact with the surface should be cleared up as soon as possible.'
By using the right cleaning tips and sticking to a regular regime, you will lessen the risk of stains and marks becoming ingrained, stop furniture from sliding on hardwood floors, and reduce discoloration of the wood. However, product choice is key.
'Seek out products with a tried and tested pedigree, formulated by experts in wood care, and not just all-purpose products. Wood needs specialist TLC!' says Mike Morris, supply chain manager and timber care technical specialist at wood care expert Liberon.
Bear in mind that it is possible to refinish hardwood floors when a new lease of life is required, and this is what you need to know about cleaning them.
How to prepare hardwood floors for cleaning
Before applying wet cleaning solutions, it's important to first 'dry clean' your hardwood floors.
'We recommend using a dry microfiber dusting pad and mop to pick up dust, pet hair or debris,' says Susan Stern, director of product management at hardwood floor finishes expert Bona.
'This quick step helps prepare the floor for cleaning and can prevent scratches that can occur from debris on the floor.'
How to clean hardwood floors day to day
'To clean hardwood floors of everyday dirt and grime, I would recommend using a water-soluble cleaning and maintenance concentrate that's formulated for wood floors,' says Osmo's Richard Keen. 'This should be applied with a damp – not drenched – mop and then dried afterwards with a microfiber mop head such as Micro-Mop Plush.'
For stubborn dirt, Keen advises using the same concentrated product, but diluted a little stronger (maximum ratio 1:1).
How regularly you clean your floors in this way depends on your individual household. 'A family with pets might need cleaning more regularly than a home with empty nesters,' says Stern. 'We recommend a regular quick clean – daily for most homes – with a specific focus on any high traffic areas, like entryways or kitchens.
'The cleaning sequence is key: dry dust first, then mop, then use a microfiber mop to finish.'
How to remove stains from hardwood floors
Any liquid sitting on a hardwood floor can potentially damage the surface. 'Remove stains as soon as possible with a cleaning solution formulated for hardwood floors, such as Bona Hardwood Floor Cleaner,' says Stern.
Set-in stains or any warping of the floor – which can happen with liquid on the floor – might require a professional to assess the damage and offer a solution.
If there are localized stubborn stains, such as shoe scuff marks or crayon marks, Richard Keen advises to clean them using a liquid wax cleaner and a lint-free cloth. 'A product like this can also be used to occasionally to simply refresh a dull and slightly worn wooden surface that features a satin or gloss finish, but I would recommend carrying out a discreet trial first,' he says.
Is it safe to use vinegar to clean hardwood floors?
Not only is it safe to use vinegar to clean hardwood floors, but it is a popular traditional method, often used on original floors in period properties.
Christine Murray, senior national conservator at the National Trust, advises staff on the care and cleaning of their properties, and says: 'We have researched a range of techniques and natural products, which housekeepers in the past knew were effective, and which give great results.
'To give wax-polished wooden floors a dust and buff up, we use a woolen cloth soaked in 50% vinegar and 50% liquid paraffin wrapped around a mop – this is an invaluable time-saver.'
However, Bona's Susan Stern warns that this may not be the best regular solution for many modern hardwood floors, particularly those with a polished finish. 'DIY solutions, like water and vinegar, will eventually dull and damage the floor finish,' she says.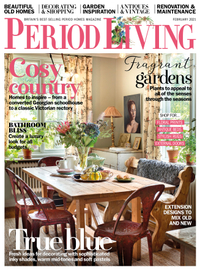 This feature was created by H&G's sister brand, Period Living magazine
Subscribe to Period Living for more inspiration.
Period Living is the UK's best-selling period homes magazine. A subscription provides you with all you need to know about caring for and improving a traditional house and garden.
How to clean hardwood floors without streaks
The best way to clean hardwood floors without streaks is to consistently clean with a specially formulated solution.
'Additionally, when cleaning with a microfiber pad, it's important to occasionally rinse the pad – making sure to wring out excess water – or swap the pad for a clean one,' says Stern. 'Many oil-based cleaning solutions can streak, as can DIY or all-purpose cleaners. Mixing cleaning solutions can also dull the finish or streak.'
How to deep clean hardwood floors
'Deep cleaning hardwood floors might feel like a bit of a daunting task, but removing wax build-up and dirt is straightforward providing you have the right product and materials,' says Liberon's Mike Morris.
He recommends investing in a specialist timber floor cleaning product, as a general-purpose cleaning agent could strip off varnishes and alter the color of the wood.
It's important to ensure the product offers decent coverage: you should be able to expect 1 litre to cover 6-8m2 of floor area.
'It's acceptable to use ultra-fine grade 0000 steel wool or super-fine grade 00 to apply the cleaner,' says Morris. 'Gently scrub the surface and then use a clean, dry cotton cloth to wipe off all the old wax.
Don't apply any water to the floor until all the steel wool dust particles have been properly cleaned up. Vaccuum and use a tack cloth in nooks and crannies.
Make sure used steel wool and cloths are disposed of outside in order to reduce vapor build-up and to prevent causing a fire hazard.
On heavily waxed surfaces, you may find that the cleaning process doesn't remove all of the wax the first time, meaning a second application is needed. 'It's then important to let the surface dry out completely before refinishing,' adds Morris.
'Once or twice a year consider a professional deep cleaning with a certified hardwood flooring pro,' adds Bona's Stern.
How to avoid damage when cleaning hardwood floors
'The number one thing homeowners can do to avoid damage when cleaning hardwood floors is to stop using a mop and bucket!' says Stern. 'Water and wood don't mix and a mop and bucket combination will always leave more water on the floor than necessary. '
Osmo's Richard Keen adds that you should avoid aggressive household cleaners or polishes on an oiled surface, as it can strip away the protective oils, leaving the surface unprotected and prone to wear of the fibers in the wood. 'Avoid allowing the wooden floor to become bare, as this will attract dirt,' he says.
'When cleaning, never drag furniture across the floor, to avoid scratching it, and always fit felt pads to furniture legs to cushion the contact.'
What to do after cleaning hardwood floors
Deep-cleaning hardwood floors will usually remove the wax or oiled finish, requiring a reapplication.
'Check to see if your floor is well-sealed: if the sealer is worn or damaged then it is a good idea to use a floor sealer,' says Liberon's Mike Morris. 'This will enhance the color of the wood and help to protect it from stains and scratching.
'A natural, oil-based sealer, such as Liberon Floor Sealer, gives a soft satin to gloss sheen.' Ensure your chosen product is water-, heat- and alcohol-resistant.
Next, the floor is ready to be waxed, if that is your preference. 'Floor wax nourishes and beautifies wooden flooring and protects it against daily wear and tear,' says Morris. 'Best results really are achieved when used over floor sealer, creating a stunning soft and natural sheen.'
Sign up to the Homes & Gardens newsletter
Decor Ideas. Project Inspiration. Expert Advice. Delivered to your inbox.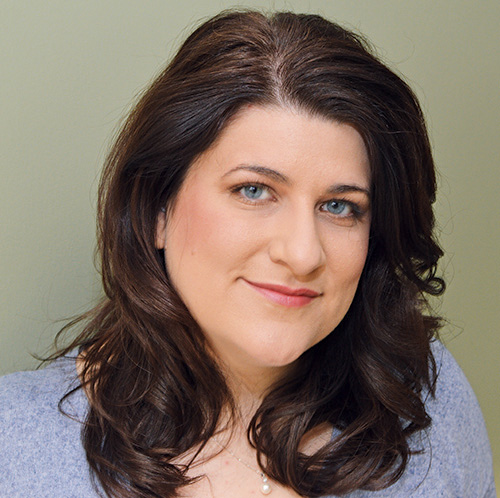 As editor of Period Living, Britain's best-selling period homes magazine, Melanie loves the charm of older properties. I live in a rural village just outside the Cotswolds in England, so am lucky to be surrounded by beautiful homes and countryside, where I enjoy exploring. Having worked in the industry for almost two decades, Melanie is interested in all aspects of homes and gardens. Her previous roles include working on Real Homes and Homebuilding & Renovating, and she has also contributed to Gardening Etc. She has an English degree and has also studied interior design. Melanie frequently writes for Homes & Gardens about property restoration and gardening.