How to refinish hardwood floors – repair and restore with our essential guide
Restore and refinish hardwood floors to give this beautiful feature a new lease of life, without damaging your home's character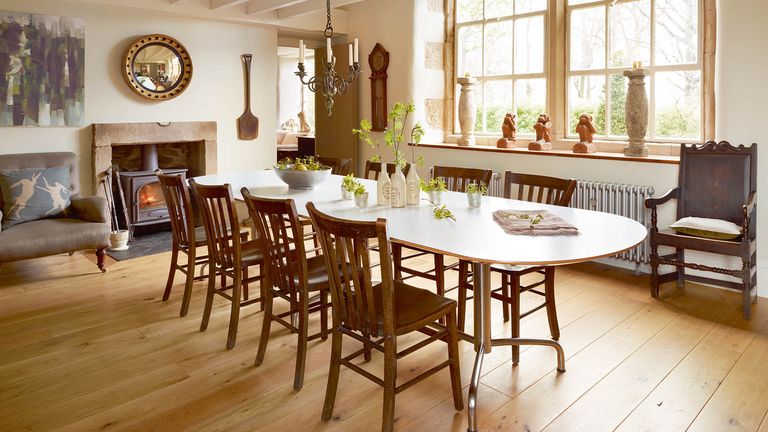 (Image credit: Darren Chung)
Learning how to refinish hardwood floors is vital if you want them to look their best for years to come – and avoid having to replace them. Whether you are looking to repair damage to characterful original boards or sand and refinish tired hardwood floors, you need to use the right techniques to achieve a professional result.
'Floorboards take a lot of abuse, especially where they are in hallways or other well-used areas. Moisture, grit and debris brought in from outside will quickly cause damage,' says Roger Hunt, Period Living's renovation expert and author of Old House Handbook. It is possible to restore and refinish hardwood floors on a DIY basis, while a good carpenter can make more substantial repairs.
Hardwood floors may be made from one of a number of different timbers, but oak is the most popular. You may also have softwood floors, such as pine, which can usually be restored using the same methods. The boards come in different forms too, from simple planks to parquet blocks and tongue-and-groove boards.
Should I sand my hardwood floors?
When deciding how to refinish hardwood floors, the biggest dilemma is usually whether to sand them.
'Think carefully before you sand hardwood floors as this will destroy any surface patina and may reveal woodworm damage just below the timber's surface,' says Roger Hunt.
In an old house it is possible to cause unsightly marks and even destabilize the floor though poor sanding work.
Sanding hardwood floors will also create a huge amount of dust, which is unpleasant and can potentially cause health issues. 'Fine wood dust can hang in the air and be breathed in. Irritation is quite common and normally manifests itself by causing itching, sneezing, short term breathing problems,' says Terry Guilford, technical director of The Ultimate Floor Sanding Co.
However, where a floor is very scratched or worn, and you prefer a sleeker look, you will only be able to achieve this finish by sanding and refinishing.
'Patch repairs to a varnished floor are rarely successful; for an acceptable finish, scratched or worn varnish must be completely sanded back,' says renovation expert Helaine Clare.
If you do decide to sand the floor back, it's important to ensure it is not too thin. 'Solid wood floors can be sanded four or five times in their lifetime, while engineered floors are thinner and may be sanded two or three times,' says floor sanding and restoration specialist Stoyan Vesov of Flooring First.
'The surface area must be free of furniture and the floor has to be dry and not have protruding nails. If possible, remove doors that open into the room.'
Ideally employ a professional to carry out the work for you, but confident DIYers can hire a floor sander, which will quickly remove the surface layer. You will also need a floor edging sander to get up to the skirting boards, and quality protective gear for your eyes, mouth, ears and hands. A disposable dust bag is usually attached to collect the dust.
How to refinish hardwood floors without sanding
It is not always desirable to sand hardwood floors when restoring them, as it will strip away years of character imparted through daily wear and tear. If your floor is oiled or waxed, all that may be required is a good clean and reapplication of your chosen finishing product.
Before starting refinishing a hardwood floor, make sure it is free from dust – remove loose dirt and grit with a brush, vacuum, then clean with a gentle water-based wood floor cleaner. 'Try to avoid soaking with water, as this may lift the grain of the wood, and never scrub,' says Roger Hunt.
To clean the surface of the wood more thoroughly and remove stains and old wax and oil, invest in a specialist lightly alkaline wood cleaner, such as Osmo Intensive Cleaner.
Allow the floor to fully dry out over 24-48 hours before refinishing with a fresh coat of oil or wax, following the manufacturer's instructions.
There are a wide variety of oils and waxes to choose from, some offering a natural matte look that enhances the grain of the wood, and some altering its appearance with a tint, or imparting a shine. What you choose comes down to personal taste, but for period houses it's best to opt for a more natural, breathable finish.
'When deciding on a finish, consider the wear the floor will get,' adds restoration expert Helaine Clare.
Lacquered or varnished floors are hardwearing and can usually be identified as they have a shinier, 'harder' finish. Where the finish is lightly scratched, you may be able to apply a new coat without sanding the surface by using a floor buffer – this won't remove the finish, but will take off the top layer so that it will accept a new coat of your chosen product.
However, for deeper scratches, stains or heavily worn floors, it's best to sand them first. Alternatively, you could paint the floor to completely refresh the look of the room.
This feature was created by H&G's sister brand, Period Living magazine
Subscribe to Period Living for more inspiration
Period Living is the UK's best-selling period homes magazine. A subscription provides you with all you need to know about caring for and improving a traditional house and garden.
How to repair damaged hardwood floors
If the wooden boards are scratched or marked by spills it is usually possible to sand these out.
'Any damaged sections can be carefully cut out, and new wood of the same type and grain pattern carefully matched in,' says Roger Hunt. 'Splits in boards are best glued and screwed together or cramped.'
However, floorboards should never be lifted unless absolutely necessary. Where this is unavoidable or repairs are needed, the work is best done by a skilled carpenter.
Sometimes older floors can be bouncy, which is most likely to be caused by decay due to damp or beetle infestation, which can result in weakening of the structure. The cause of the problem should be identified and rectified and, if the damage is serious, repairs to the joists and floor undertaken.
Dealing with damp or decaying floorboards
Timber decay can lead to serious problems, including joist failure and even the collapse of the whole floor. It's often caused by damp or beetle infestation.
'Damp may result from insufficient ventilation under the floor, earth banked up against walls, leaking pipes and timber in direct contact with the ground, or other areas of moisture,' says Roger Hunt. 'The priority is to find the source of the problem and rectify the cause, rather than treat the symptoms. It may be necessary to lift floorboards and even take up whole floors.'
Salvageable boards should be numbered with chalk and a plan drawn of their layout so they can be replaced later. If joists are decayed, affected timber should be cut out and new pieces jointed in. All debris must be removed from below floors.
Treating woodworm in floorboards
Beetle infestation – or woodworm – can cause a number of issues with wood floors. To check whether any beetles are present, examine the floors for small holes and fine powder that might indicate an active infestation.
The best form of treatment is to use a boron-based treatment. 'You should change the flooring only if the wood is damaged to its core, which will make the plank unstable and may cause it to splinter,' says Stoyan Vesov.
What is the best way to fix squeaking or loose floorboards?
Squeaking or loose floorboards may just be how they have settled over time, but may also be caused by the subfloor failing or not being correctly leveled, which will need to be rectified by a builder. Either way, it is important to try to work out the cause.
Simple squeaks can be dealt with on a DIY basis. 'Floorboards were traditionally fixed with "cut" nails designed to minimize squeaks, and these should be used wherever possible,' says Stoyan Vesov.
'Alternatively, boards can be fixed with screws; this is a good solution if there are fragile ceilings below the floor or if boards are likely to have to be lifted again in the future for electrical works or piping.'
It is also possible to add strengthening from below by screwing battens to the sides of the joists.
When are hardwood floors beyond repair?
Hardwood floors are rarely beyond repair. 'Old floors are an irreplaceable part of the history and character of a house and can't easily be matched, so if possible always try to repair rather than replace them,' says Roger Hunt.
If the boards are rotten, however, then they will likely need replacing at least in part. This will require a skilled carpenter to carry out the work. If some boards need to be replaced, then you could opt for reclaimed wood, which will blend in better than new.
How long does it take to refinish hardwood floors?
Refinishing hardwood floors takes several days:
Sanding a floor in a single room will take up to a day. You will likely need to go over it more than once, and sanding awkward edges and room shapes will slow you down.
Cleaning a floor takes 1-2 hours, then 24-48 to dry before you can apply a finish.
Waxing, oiling or varnishing a floor in a single room will take up to two days with drying time between coats.
As editor of Period Living, Britain's best-selling period homes magazine, I love the charm of older properties. I live in a rural village just outside the Cotswolds, so am lucky to be surrounded by beautiful homes and countryside, where I enjoy exploring. I am passionate about characterful interiors and heritage-inspired designs, but I am equally fascinated by a house's architectural elements – if I spot an elegant original sash window or intricate stained-glass front door, it fills my heart with joy. It's so important to me that original features are maintained and preserved for future generations to enjoy. My other passion is my garden, and I am slowly building up my planting knowledge, and becoming more confident at experimenting with growing my own. As well as editing Period Living, I am also co-editing the Country Channel of Homes & Gardens. In my previous roles, I have worked on Real Homes and Homebuilding & Renovating, writing about modern design and architecture, so my experience is broad – but my heart belongs to period homes.