How to paint a ceiling – expert tips for a flawless finish
Follow our guide on how to paint a ceiling for a seamless, patch-free result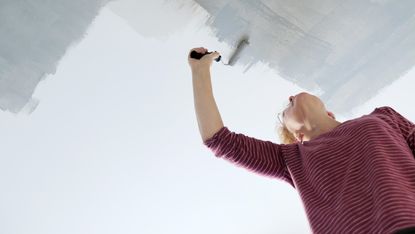 (Image credit: Alamy)
Paintwork need a refresh? Learning how to paint a ceiling will mean you don't always have to call in the professionals for a flawless result.
When you take on a DIY project and decide you want to learn how to paint a room, you'll soon realize the ceiling is the first thing you tackle with the paint brush.
Follow these expert tips to ensure you're left with a pro-worthy finish and ceiling paint ideas that you're happy to show off. Before you know it you'll be on a roll(er)...
How to paint a ceiling like a pro
Paint can transform a room, but as well as knowing how to paint a wall, you'll require ceiling-painting savvy for your ceiling ideas. Follow our step-by-step guide on how to paint a ceiling for a flawless finish with top tips from experts at Benjamin Moore and BEHR.
1. Grab the right tools
First of all, make sure you're equipped with all the right tools for the job.
You will need:
2½in angle sash brush
Painter's tape
9in roller
Sleeve and pan
Extension pole
Step ladder
Ceiling paint
'In addition to your paint, make sure your brush and roller sleeve are high quality and that your roller sleeve is the appropriate nap for your ceiling texture,' says Helen Shaw, of Benjamin Moore.
2. Apply your painter's tape and remove vents
'Using your painter's tape, begin by taping off the places where the ceiling and the wall meet,' advises Ed Edrosa, product manager at BEHR.
Next, remove any vents with a screwdriver.
3. Prime and prep
If your ceiling has old stains or patches, it's a good idea to start off by applying a primer in the same way you do when preparing walls for painting.
'Use a stain-blocking primer to prep your wall and cover any patches properly,' says Ed.
4. Start cutting in
Open the paint can, then get going. 'Start with painting the edge of the ceiling where it meets the wall,' suggests Helen Shaw.
'Cut the ceiling in like you would cut in a corner. Starting in the ceiling line, brush into the corner, then use the brush to cut in a nice straight line along the wall's edge.'
If you want to go one step further, you can even caulk your tape. Ed says, 'To get a laser-straight line, use a special tape such as Frog tape, and use a clear caulk to seal the edge of the tape.'
5. Roll with it
Now it's time to switch from a brush to painting with a roller for the rest of the ceiling.
'Start from the corner of the ceiling and start rolling nearest to a window, so that you can see the light from the window reflecting the wet paint,' says Helen. 'Then work your way across the room, rolling slowly when you're near the wall to help avoid hitting it.'
Ed says,: 'Grab your roller and attach the extension pole before fully saturating your roller with paint. Start painting away from one corner in as straight of a line as you can until the ceiling is completely covered in paint.'
Helen adds, 'Each time you load your roller, start on an unpainted area and work back into a painted area. Paint the ceiling in one session, so the paint dries uniformly.
'Wait for the coat to dry to determine if a second coat is needed. Check the label instructions for dry times.'
Ed's top tip? 'If a second coat is needed then apply paint in a perpendicular direction.'
6. Remove the painter's tape
Remove the painter's tape while the paint is still wet. Then replace your vents, wash your tools, and stand back and admire your handiwork. Spare paint? You might want to keep it for touching up, but be aware of how to dispose of paint safely and conscientiously, too.
What do you paint first, the ceiling or the walls?
A common question is: 'What should I paint first, the ceiling or walls?'
Benjamin Moore's Helen Shaw says: 'Always paint the ceiling before the walls, and always cover everything below the ceiling with drop cloths.
'Try to empty the room completely to make the job easier. Also, try to remove overhead light fixtures. If you cannot remove fixtures, use painter's tape to protect them from spatter or use your brush to cut around them carefully.'
BEHR's Ed Edrosa concurs, adding, 'The order of painting a room is ceiling first, then walls, then trim (baseboard, crown molding, chair rails, etc) last.'
Should you always paint the ceiling white?
'While classic white ceiling paint is a go-to for homeowners, why not consider color?' says Helen Shaw.
'A rich navy blue or deep black ceiling can blur the boundaries of a room, making it look endless yet intimate.
'Or painting a ceiling with a lighter shade or a slight variation of your wall color delivers depth and dimension, without breaking the unity of existing color schemes.'
You could also make a design statement with your ceiling – and paint the fifth wall a vivid and contrasting color to your walls for a showstopping effect.
Sign up to the Homes & Gardens newsletter
Decor Ideas. Project Inspiration. Expert Advice. Delivered to your inbox.
Ruth Doherty is an experienced digital writer and editor specializing in interiors, travel and lifestyle. With 20 years of writing for national sites under her belt, she's worked for the likes of Livingetc.com, Standard, Ideal Home, Stylist and Marie Claire as well as Homes & Gardens.