Kids' room paint ideas – how to choose the perfect paint for your child's room
Whittling down your favorite kids' room paint ideas is no easy task – when designing a child's bedroom be bold, be creative, but choose a color that will grow with them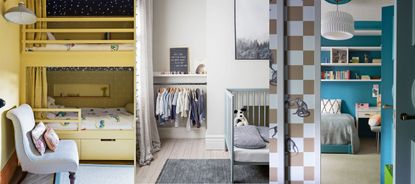 (Image credit: Future)
Whittling down your favorite kids' room paint ideas is no easy task, mainly because all the rules go out the window (or, at least, many of them do) when you're designing a child's bedroom.
When it comes to kids' room ideas, you can be as playful as you like, and that means bright colors, bold patterns and even dramatic murals are all on the cards. There are a variety of paint ideas you can you use in a kids' room to create a joyful space that reflects their character and personality.
That doesn't, however, mean that you should throw the whole swatch book at the walls – it takes even more careful planning than usual to make a carefree color palette look good.
Whether you're planning a nursery or a room for your child to grow with, the key to a successful scheme is always careful planning, so to help we've gathered a selection of ways to use paint in kids' rooms along with some tips from the experts.
Kids' room paint ideas
When it comes to kids room paint ideas there are lots of different approaches. To find out how to choose the perfect paint shade, design and style when planning kids' room paint ideas, we have gathered our top tips as well as asking the experts.
'There are two ways to consider decorating a child's bedroom, one of reserved calm and tranquillity or, for much more fun, a joyful flourish of expressive creativity,' says Patrick O'Donnell, brand ambassador at Farrow & Ball, 'The former is probably the desire, but your child will appreciate some artistic exuberance and what is more, you can even get them involved in the process.'
'From the simple idea of a painted floor in our Modern Eggshell (go bold here), or a subtle mural of a mountain scape, to horizontal stripes to break up a room or even a tented ceiling. It all depends on your confidence and patience in preparation. Use Modern Emulsion for all your walls as this will give you peace of mind as fully washable and wipeable.'
Explore our top tips for kids' room paint ideas and get some great inspiration from a collection of bedrooms for seriously cool kids.
1. Be bold with color
A kids' room is the ideal place to be bold with color. Asking for their input when choosing paint colors will create a design that truly reflects their personality, and will ultimately see them enjoy and use the space more.
The bright colors used on this diagonal painted wall create an uplifting, playful feature wall, with the matching furniture and accessories creating an overwhelmingly colorful, unified design.
For two-toned designs like this, using the color wheel when choosing your bold color choices will ensure a successful, harmonious scheme.
2. Create a two-toned look
Perfect for kids' room paint ideas, zoning the space with color blocking techniques can generate designated areas for certain activities, as well as creating a sophisticated, two-toned look.
In this kids' room, the white paint on the upper part of the walls and ceiling make the space feel light and bright, creating a spacious, relaxing atmosphere; with the gray paint used on the bottom half grounding the room. The wooden paneling adds emphasis and texture to mark the paint divide, and the overall look is perfect for creating a subtle impact in a room.
3. Paint the crib or bed frame
A quick and easy way to rejuvenate a bedroom, if you want to steer away from painting the whole room, painting pieces of furniture, such as a crib or bed frame, can transform not only the room itself, but can give a new lease of life to older pieces of furniture that may require some much needed love and attention.
This beautiful crib, painted a bright red shade, is the stand out feature in this nursery. Injecting a colorful, contemporary element to a traditional wooden crib frame, the design is complemented by the calming, pale blue shade on the walls, and enhanced by the eye-catching prints on the curtains and rug.
4. Create an abstract design
Instead of painting all four walls in a block of color, why not use paint to create unique, abstract designs.

In this room, the gray paint has been subtly used to create a simple, abstract element on the walls, drawing your focus to the shelves and their displays. Whether you choose bigger, bolder designs or stick to a more calming one like in this room, using paint to create different shapes and outlines on a wall can add a modern, graphic element to a kids' room.
5. Use a beige-gray shade
When planning paint ideas for a kids' room, choosing a timeless shade that can grow with them and the room is a great and practical option.
Opting for a neutral backdrop allows for you to add color and pattern through accessories and furnishings, with a beige-gray shade ideal for creating a gender-neutral space. A favorite for designers and experts alike, beige-gray is a versatile neutral that can stand the test of time, effortlessly integrating into both classic and contemporary interiors.
In this beige-gray painted room, ochre and pale pink accents add a playful note, creating an elegant contrast with the painted walls and matching curtains. The light wood and natural, textured rug complement the beige-gray color, and unite the whole scheme together to create a room that is warm and inviting.
6. Transport them to another world with a mural
Bedroom ideas can encompass boundless imagination – so why not make sure their four walls encourage your child to think outside the box? As seen in this bedroom, even the simplest of painted murals can be a stimulus for creative play.
With just a canny choice of two complementary – and very atmospheric – colors, along with a zigzag design that can be easily marked out with masking tape, this child is instantly transported to forested mountains filled with lions, tigers, and bears (oh my).
7. Pick out feature furniture with paint
Kids' room paint ideas aren't just for walls. If you've got a tired-looking item of furniture that you want to turn into a statement piece, get out your paintbrush. This method works particularly well in a child's room, where you have more licence than usual to colour block in bold shades.
Here, a vintage bunk bed is given a modern update with a lick of cadmium red all over, providing a contemporary take on traditional shared bedroom ideas. This is contrasted with white bedding and walls, but mirrored through red striped accents throughout the room.
8. Choose soothing colors for a nursery
'If you're decorating a child's room, paler colors tend to be more calming and soothing – both for the child and parents,' says Judy Smith, color consultant at Crown.
'A background of pastel yellows, soft blues, aqua greens and warm pinks can be a good basis from which to add more color. You can always add brighter tones on top of these colors in stripes, squares or a whole painted bedroom accent wall to inject a bit more fun as your child grows.'
9. Throw out the gender rulebook
'As tradition goes in kids' bedroom design, blue has been associated more with bedroom ideas for boys and pink in girls' rooms,' says Interior Designer Ginny Macdonald. 'I think that is an archaic thing of the past and that color shouldn't define someone's gender. I love the idea of blue for girls' bedroom ideas, and it doesn't just have to be added in in small doses.'
In this bedroom, a soft powder blue is the lead color in a pretty, feminine room for a younger child. The overhead storage and the skirting is painted, while the same color is mirrored in a patterned wallpaper on the walls and inside the cozy nooks.
10. Choose a finish that will do the hard work
'We all know that children's bedroom and playroom ideas need to factor in some wear and tear, so choosing the right finish when considering kids' room paint ideas is vital', says Patrick O'Donnell, color expert and brand ambassador at Farrow & Ball.
'For walls, choose finishes like our Modern Emulsion, which is washable and wipeable for accidental disasters that strike. For woodwork, resilience is key, so our super hard-wearing Modern Eggshell will fit the bill, from all your woodwork to bedroom furniture, and is even tough enough for painted floorboards.'
11. Create a rainbow headboard
Somewhere under this rainbow is the perfect place for kids to snuggle up at night. 'Whether there's already an existing headboard or not, you can create an extra pop in the room by adding the same or a contrasting color to the wall behind it,' says Natasha Bradley, interior design and color psychologist at Lick Home.
'You can make the space really exciting for your little one by painting a rainbow, a cloud, or simply some geometric shaped kids' room paint ideas behind the bed. This will make nap time even more enjoyable and will turn the boring routine into a real adventure.'
12. Invest in graffiti-style artwork for older children
When planning bedroom ideas for teenagers and older children, consider swapping rainbows for something a little edgier. This striking wall mural contains nods to graffiti-style street art, depicting a fantastical urban scene created through the use of stencilling and spray paint.
If this is a little beyond your artistic talents, consider hiring a professional artist to create something bespoke for your child that they can help design.
13. Zone their workspace with color
Building a dedicated space for homework is never a child's top priority in their dream bedroom, but pay close attention to it and they will thank you later. To help make a distinction between work and play, use color to zone their workspace area.
This technique works particularly well with a recessed desk area, like the one in this room. By painting this section of the room a more stimulating hue than the rest, you'll make the area feel special and more exciting – and they might spend more time there than you expect.
14. Neutral walls don't have to be boring
While it may be tempting to go to town with technicolor in kids' room paint ideas, staying restrained when it comes to the wall color does have its benefits. In this sophisticated bedroom, the pared back beige walls allow the feature green chair and pink patterned curtains to really pop.
Choosing a neutral color that is adaptable is also more likely to stand the test of time. If your child's chromatic tastes change as they age, you can simply swap the color of the soft furnishings rather than needing to repaint the entire room.
15. Create a statement ceiling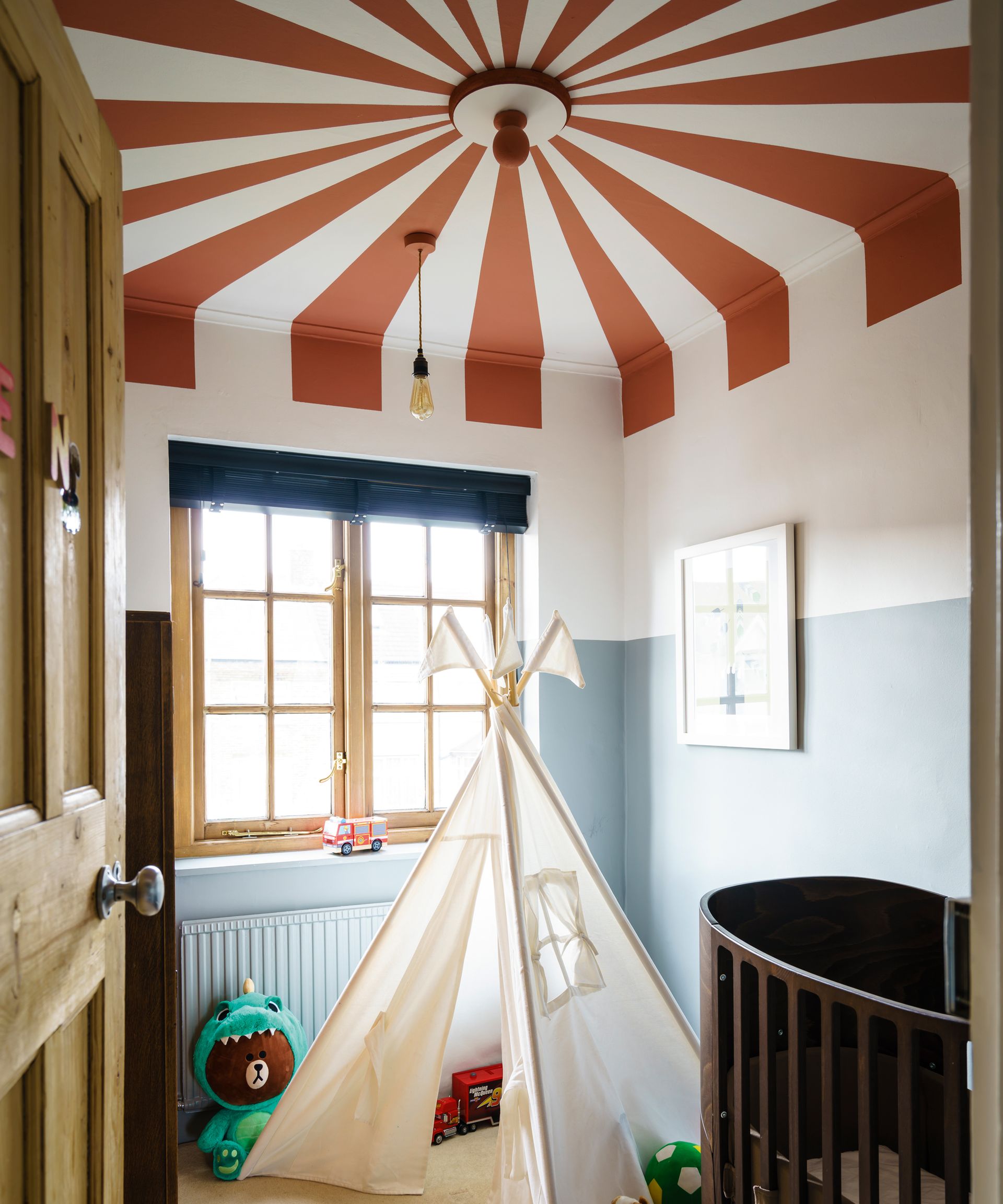 As they drift off to sleep, the bedroom ceiling is likely the last thing your child will see before entering the land of nod – so give them something to dream about. A statement ceiling can come in all shapes and sizes, from a stencilled starry night to wallpapered maps of the world.
In this room, the bedroom becomes the big top, thanks to a simple but transportive design that uses small bedroom ideas for kids to turn a compact space into circus of wonders.
16. Give your pinks staying power by keeping them earthy
'When it comes to decorating a girl's room, most people seem to think pink should be the go-to shade,' says Smith, 'However, the latest trends have introduced more modern updates and fresh twists on this classic color scheme. Warm shades of terracotta create a grounding and restful space, whilst adding a punchy pop of color.'
'For longevity, steer away from sugary pinks in favour of warmer tones that feel more grown up,' adds Nina Tarnowski, founder of Woodchip & Magnolia. 'This will ensure the décor grows with them. Consider softer shades of pink and soft peaches, balanced by gentle neutrals.'
17. Use paint to zone a play area
When thinking about paint colors for a kids room consider what the different areas of the room will be used for and choose a paint to fit the mood, this will help bring identity to the different areas.
'Paint is a fantastic tool too for zoning spaces, creating an area for play, a calming and sophisticated area for homework, or a gentle relaxing space for sleep,' explains Ruth Mottershead, creative director at Little Greene. 'Vivid hues work well in more vibrant areas that see a lot of activity,' she adds.
This color blocking of green and blue is a fun way to use paint in a play area and but also captures the feeling of a soothing landscape. Uplifting but not overpowering, the two tones – Little Greene's Pale Lime and Brighton – are accented with a further pop of vibrant marigold on the skirting.
'Don't forget to consider the skirting boards and woodwork in your scheme too, these can be harmonious, an all-over treatment or contrasting to suit the mood,' adds Ruth Mottershead.
18. Create a feature floor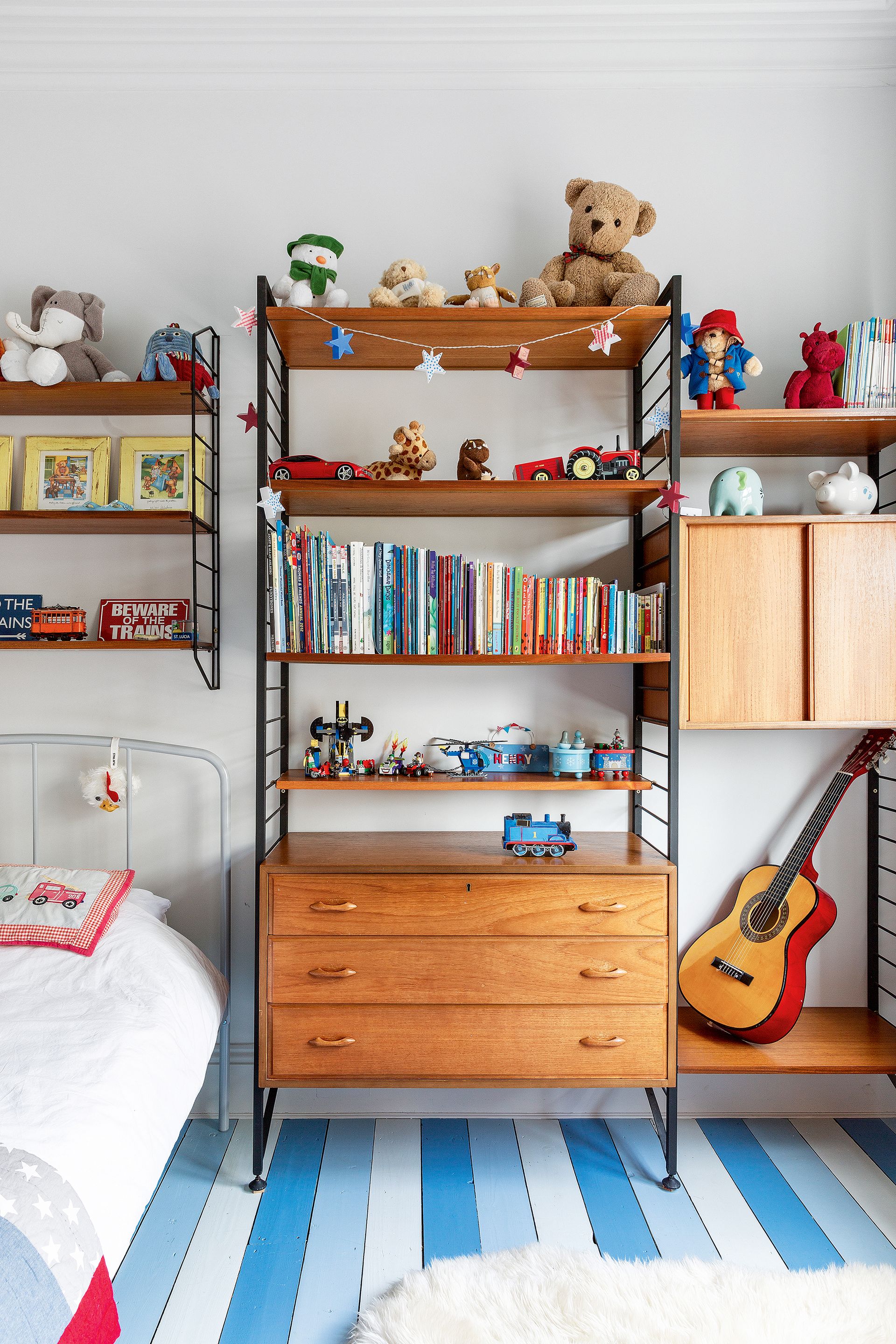 Paint is a quick and easy way to create a feature of a floor, you could try painting each the floorboards in a selection of different tones, or pain a chequered effect to give a nod to the circus.
Introducing color on the floor and keeping the walls neutral is a great small bedroom idea for kids as it helps keep rooms feeling bright and airy.
19. Spark joy with soft yellow
Associated with optimism, yellow is a lovely color for a kids' room, what's more it is also a hugely versatile shade making it popular choice for gender neutral schemes.
'Yellow represents hope, happiness, and positivity, but it's also a lively and vibrant pigment, which makes it perfect for a children's bedroom,' says Dominic Myland, founder of Mylands Paints.
When selecting yellow paint shades be sure to think about the light in the room, says Dominic. 'As with any pigment, natural light will affect how your color choice looks in a room so I'd always recommend painting a sample onto the different walls in a room so you can see how it will look in different lights throughout the day.'
If the room is north facing consider a warm shade for a nurturing and welcoming feel. 'Golden Square™ No. 131 is a bright golden yellow paint with slight orange undertones to give it nuance and a subtle glow that's warm and inviting,' says Dominic Myland. 'The color is perfect as a main wall color for a cheerful backdrop or is great for adding playful details with joinery, woodwork and borders.'
20. Use paint to add accents of color
Paint is a brilliant way to introduce vibrant accents of color to a kids room demonstrated in this space by Philip Thomas. Decorating with orange can dominate a space when used wall to wall in a bedroom, so instead consider limiting it so smaller areas to ensure the space remains restful.
'The wonderful thing about children's rooms is that you can really push the envelope in terms of bright, joyful color,' says Philip Thomas. 'In one of my favorite children's rooms I've designed, we did a color scheme of blue and orange, pairing a blue dotted wallpaper with a door painted in Benjamin Moore's Tangy Orange, and a ceiling in their Sapphireberry shade.'
What is the best color to paint a child's bedroom?
There is, of course, no one color that triumphs over all others – a room color's success is entirely down to the individual child, their likes and dislikes, your personal interior style and the architectural qualities of the room itself.
If you want to create a calming environment or are looking for nursery room ideas then paler, softer tones are best. For older children, consult them on their favorite colors. If they love bold colors then embrace it – but if it feels like too much to paint the whole room in the bright shade they picked out, then consider pairing it with more muted tones in the form of children's bedroom wallpaper, a simple mural or feature wall. You could also use that color as an accent throughout the furnishings and wall art, with a neutral base underneath.
How do you paint a child's bedroom?
Painting a child's bedroom can be the most fun you can have in interior design, and gives you licence to really get creative. 'Reflecting their bubbly personalities, kids' room paint ideas such as dynamic patterns, eye-catching murals and bright colors will create a stimulating and cheerful scheme to inspire playtime,' says Smith.
It's also not only important to consider the color of the paint but the qualities of it too in relation to how the room will be used. Washable emulsions are a necessity for kids who love making art in their rooms, while hardy floor paint is essential if your child loves to run around.
Finally, consider how their tastes are likely to change, and plan accordingly. If they love one particular color, choose a shade or tone that is more likely to grow with them for a few years in the future.
Sign up to the Homes & Gardens newsletter
Decor Ideas. Project Inspiration. Expert Advice. Delivered to your inbox.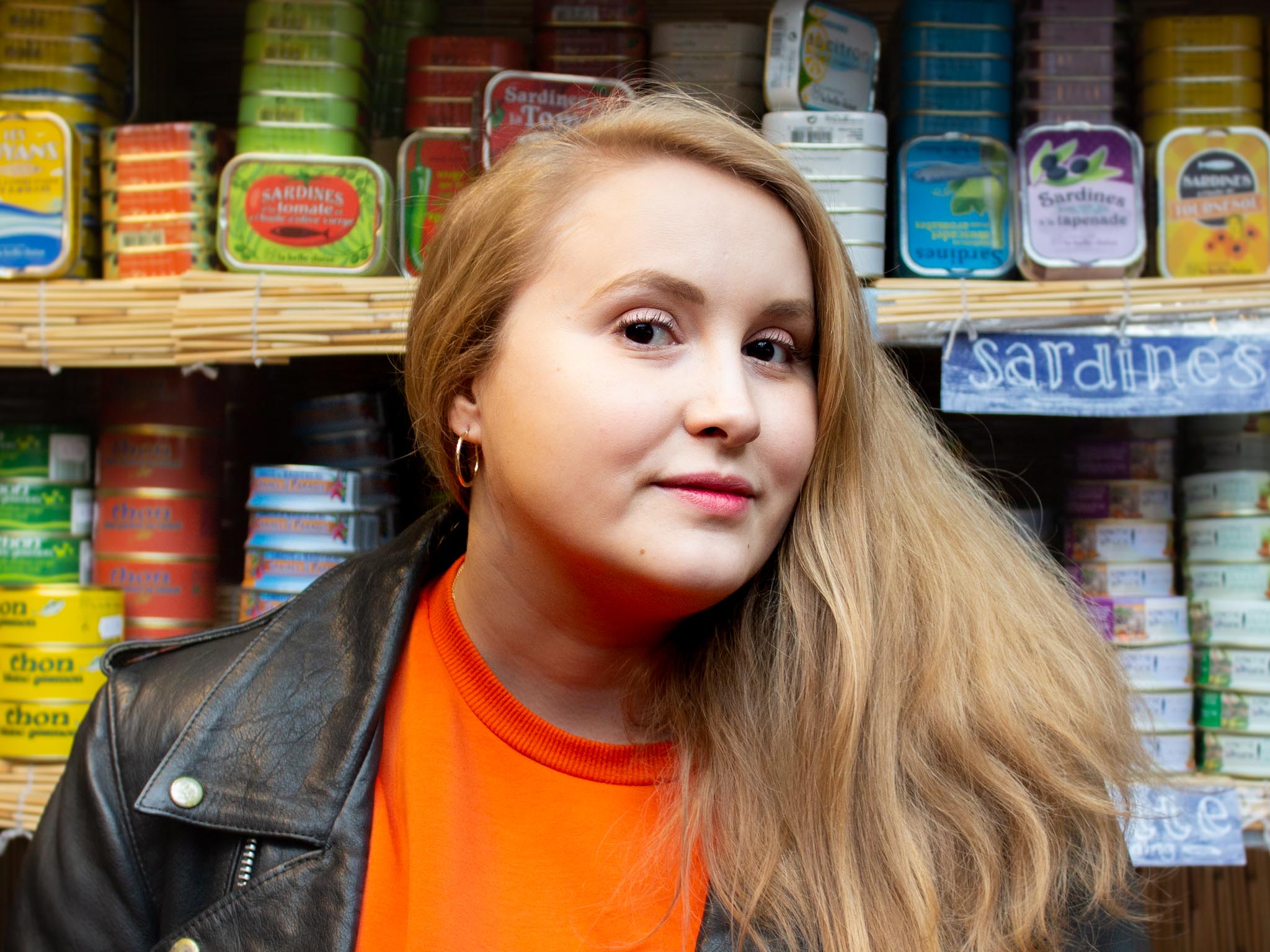 Ailis started out at British GQ, where a month of work experience turned into 18 months of working on all sorts of projects, writing about everything from motorsport to interiors, and helping to put together the GQ Food & Drink Awards. She then spent three years at the London Evening Standard, covering restaurants and bars. After a period of freelancing, writing about food, drink and homes for publications including Conde Nast Traveller, Luxury London and Departures, she started at Homes & Gardens as a Digital Writer, allowing her to fully indulge her love of good interior design. She is now a fully fledged food PR but still writes for Homes & Gardens as a contributing editor.
With contributions from