Kids' room ideas – 22 ways to create lasting style and neat storage
Discover fabulous kids' room ideas you and they will love for many years to come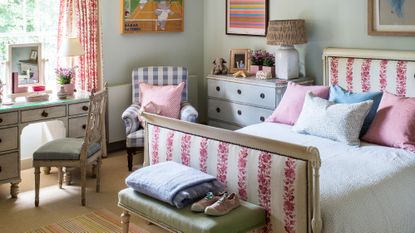 (Image credit: Paul Raeside / Future)
Kids' room ideas have to deliver in a whole host of ways. They need to please them, as well as you, when it comes to looks, practicality and durability.
It's a challenging brief, but with the right choices their bedrooms can be designed to provide spaces they'll love to make their own from their younger years to their teens, with room for all their essentials and collections.
We've put together bedroom ideas for kids of all ages that are stylish, storage-packed, and functional along with advice from the experts on creating a great room.
Kids' room ideas
Be inspired by kids' room ideas you will love just as much as your children and create a room that'll last them from childhood through to adolescence.
1. Create an elegant feel with barely-there blush
Make a calming backdrop with color. 'The subtle contrast between the light pink Kensington Rose No.22 on the walls and Pure White No.1 on the ceiling chosen by Laura Butler-Madden is feminine and timeless, creating a tranquil background that complements the white furniture and neutral accessories for a relaxing little girl's bedroom,' says Dominic Mylands, CEO of Mylands (opens in new tab).
2. Go bright and bold on the walls
Felix Sloan, brand director at Annie Sloan (opens in new tab), created the bold and beautiful mural in this room. 'Young minds benefit hugely from the use of color, invention and playfulness in their bedrooms to stimulate their imaginations and their playtime,' says Annie Sloan, color and paint expert.
3. Lighten up a dark kid's room with white and gray
Choose paint shades that will boost the light in kids' rooms that are small, or lack natural illumination.
'Opt for a white ceiling and the palest of gray walls,' says Andrea Childs, editor, Country Homes & Interiors. 'We're big fans of shiplap – it's a great way to add interest to a space and easy to paint. For a cohesive look paint key furniture in the same color.'
4. Pick primary colors for a large space
Primary colors can prove a hit with kids, and they look great in larger rooms like this shared space.
'This playful twins' room emphasized the primary colors that they love so much, as well as a huge gallery wall displaying the boys' art pieces which added a personal touch,' says Sandra Fox, founder and lead interior designer at Sandra Fox Interiors (opens in new tab).
5. Play with tonal hues
Have fun with color in kids' rooms. 'Highlight architectural features such as an alcove or loft window using a pop of color, or divide the wall with a two-tone color scheme; Pale Lime looks fabulous combined with Brighton and Slaked Lime,' says Ruth Mottershead, creative director at Little Greene (opens in new tab) of this room.
'Don't forget to consider the baseboards and woodwork in your scheme too. These can be harmonious, an all-over treatment or contrasting to suit the mood. Vivid hues such as Trumpet and Marigold work well in more vibrant areas that see a lot of activity. A pop of bright, rich contrasting color is a great way to add impact.'
6. Paint furniture in gray for longevity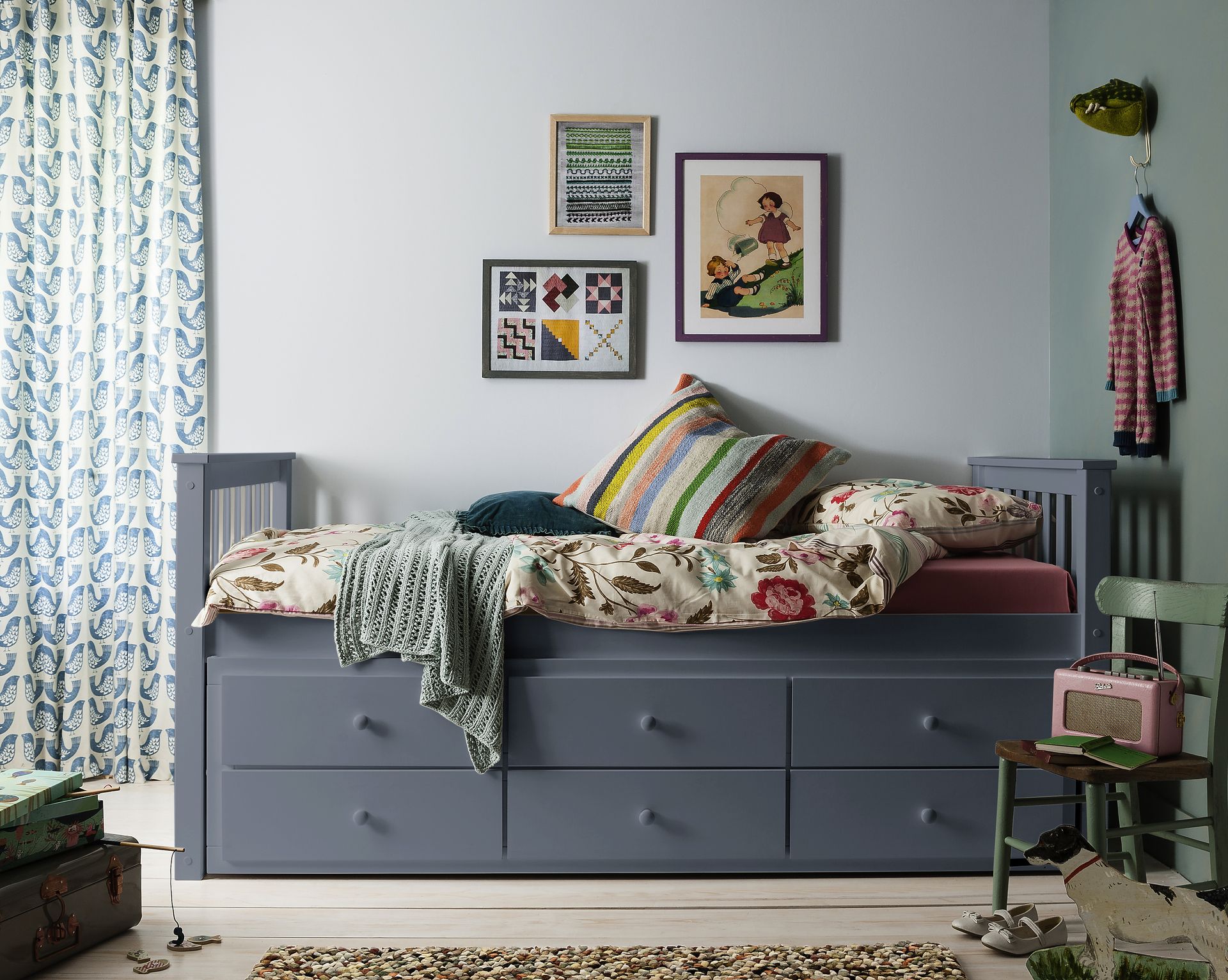 'Trends in children's interiors often change really quickly – last year we saw bright pink flamingos soar in popularity which then switched to brightly colored alpacas with pom-poms!' say Alex and Kris, founders and directors of Nöa & Nani (opens in new tab). (opens in new tab)
'We suggest decorating kids' bedrooms with large pieces of furniture in neutral shades such as pine, grey and white so that these pieces, which are often the most expensive, remain timeless. This then allows you to decorate and accessorize according to trends. Think about adding on pom-pom garlands and bunting, or choose sheepskin and fairly lights for a cozy den. Stencils are also a great way to add a nod to a trend and can be easily painted over and changed as tastes develop.'
This bedroom, a great example of how daybed ideas can create practical underbed storage, features a daybed in a timeless blue-gray, a timeless design that can grow with the room over time.
7. Choose curvy corners and super storage
Be clever with storage. 'We love using a mix of vintage, custom, and kid-friendly pieces in our kids' bedrooms and we think vertically when space is tight and carve out storage solutions under beds, in cupboards, and try our best to create a calming space where everything has its place,' says Thomas Richter of White Arrow (opens in new tab).
'We will incorporate original framed artwork, murals, and color and patterning through bedding and rugs, but we like to keep the small objects, toys, puzzles, and Lego contained within bins, boxes, and jars.'
8. Get creative on a chalk paint background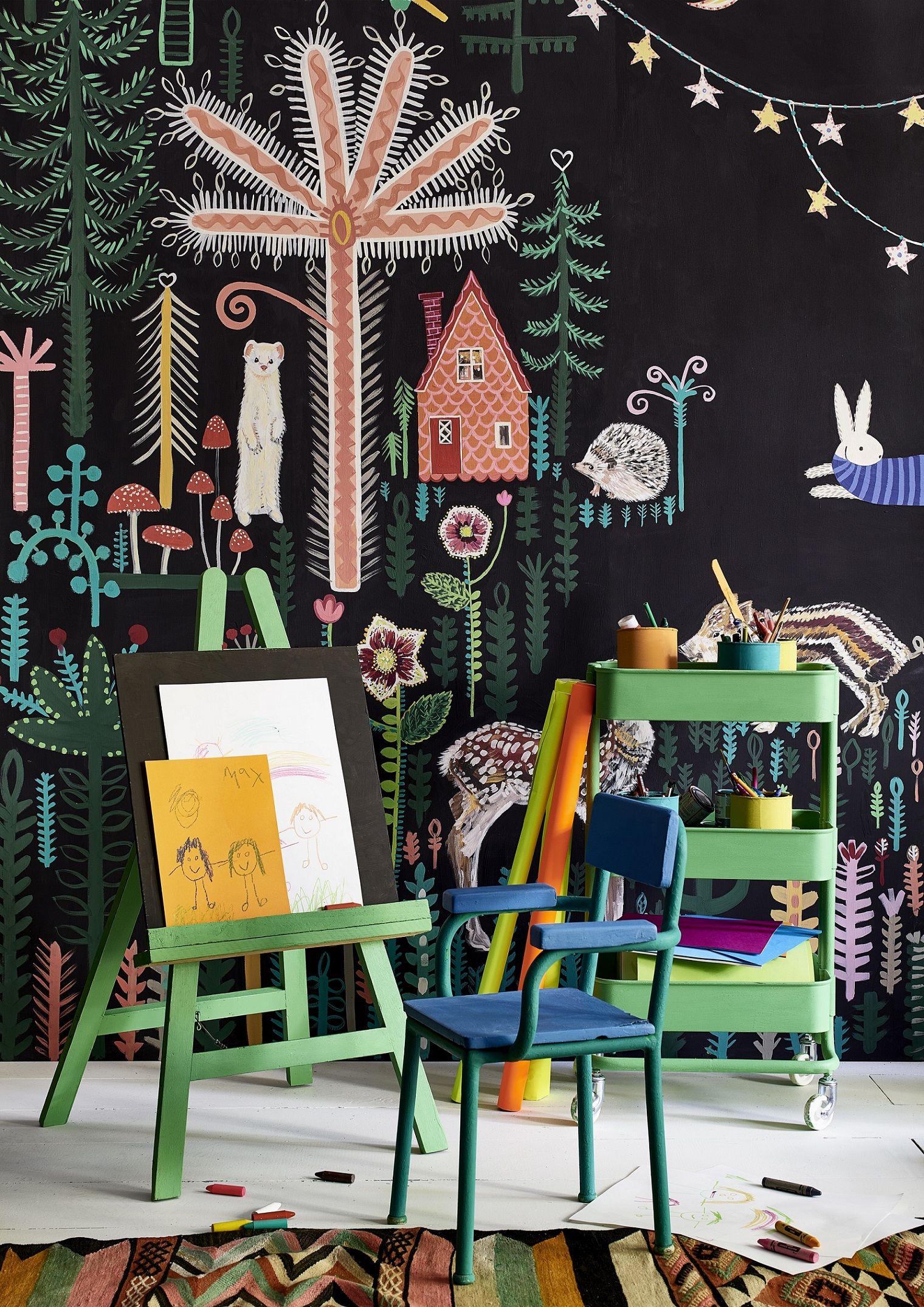 Be inspired by this Lucy Tiffney (opens in new tab) mural painted with Annie Sloan's Chalk Paint. 'Create a fantastical scene inspired by ancient history, fantastical fairy tales, or world travel to pique their interest in these subjects and sow the seeds for a lifelong passion,' says Annie Sloan.
'Unexpected side effects can include instilling in your child a strong sense of pride in their own environment and in some rare instances even a desire to keep bedrooms tidy!'
9. Give your kids a treat – with a hanging chair
For older kids, a hanging chair makes a wonderful cool bedroom idea. 'The dreamy hanging chair and cozy built-in bed – complete with trundle for sleepovers – make the most of this pint sized space,' says Lori Anderson Wier, lead designer at Anderson Wier Studio (opens in new tab).
10. Boost storage in teens' rooms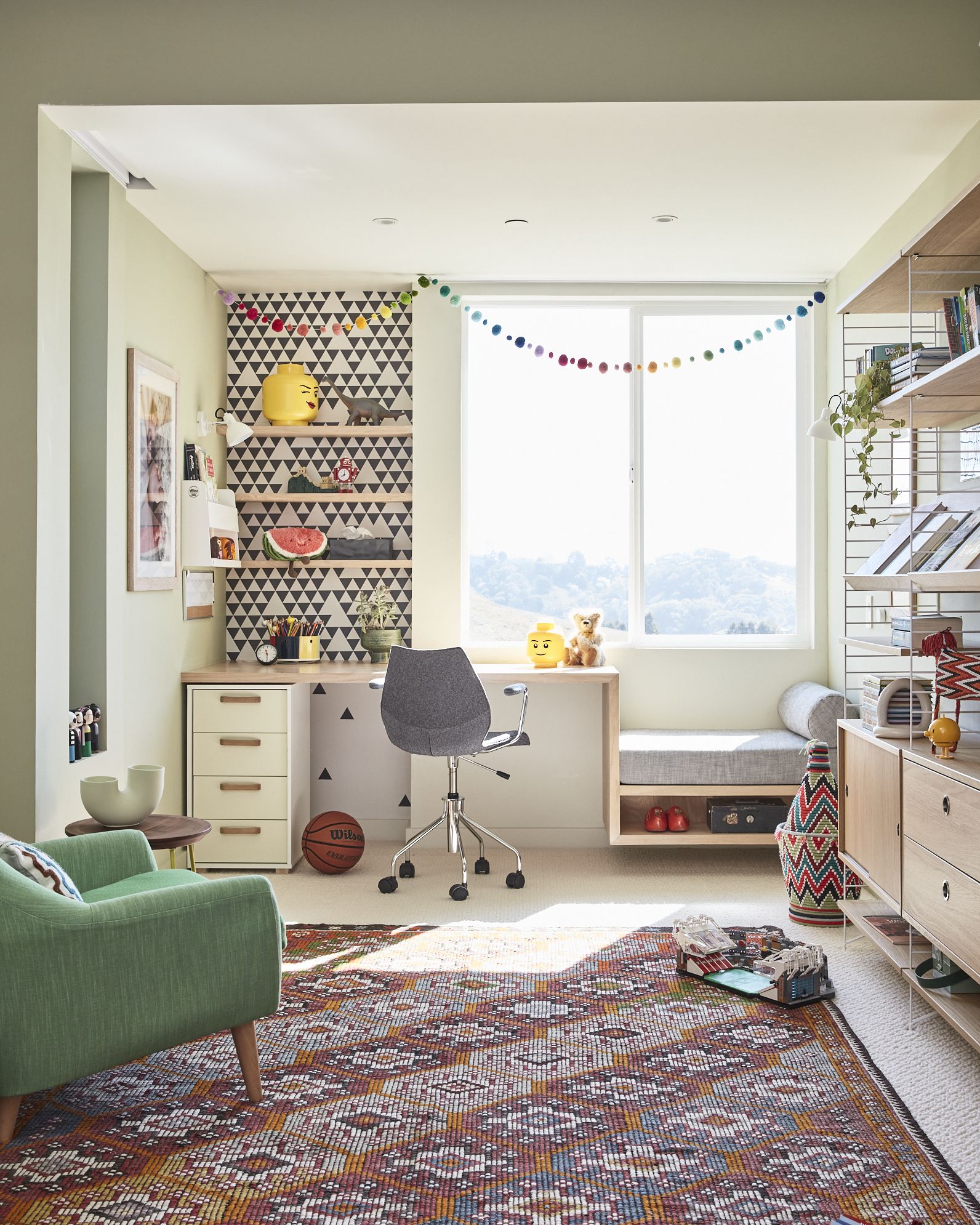 Kids' storage can be super stylish. 'String shelving (for multipurpose storage) and built-in closets give the room more space for study and hangouts,' says Lisa Le Duc, lead interior designer at Lisa Le Duc Design (opens in new tab) of this space.
'Green is a wonderful color to incorporate, especially in teen rooms – it's inspired by nature and comes in so many wonderful hues. We used a textured linen on the frame of this armchair and then a soft brushed cotton on the seat cushion, giving a subtle tonal and contemporary effect.'
11. Add vibrancy with wallpaper
Wallpaper is a wonderful way to add color, pattern and interest to your interiors. Find a wallpaper that your child loves and go wild with it. As it's likely to be a small space, it's also not the most expensive area to redecorate if their tastes change. This look would work well for both girls' bedroom ideas and bedroom ideas for boys.
Keep the rest of your interiors neutral and understated so as not to distract from the star of the show – the wallpaper.
12. Warm up with yellow
Have you always lusted after yellow for a bedroom, but haven't had the courage to decorate in this sunny color? Warm colors are having something of a revival – and there is no better place to decorate with this on-trend color palette than bedrooms for kids.
'When you open the door, even if the room isn't filled with sunlight, color can alter your mood dramatically, and that should never be underestimated,' says says Kit Kemp, co-founder of Firmdale Hotels. 'Sunshine isn't always a guarantee, so I like to add a touch of yellow to brighten up our schemes.'
13. Build in storage
As the popular saying goes, there's 'a place for everything and everything in its place', and it's certainly true that most of us feel better when we are organized. 'It helps us think clearly,' says Mark Adam, MD of Vitsœ (opens in new tab). And when it comes to tidy bedroom ideas for teenagers, proper storage is your finest weapon in the battle to control clutter.
Here, an awkward corner has been transformed into useful space with a boxed-out design. It allows any electrical wires to be hidden away safely while also creating a clever recessed shelf for bedside essentials.
14. Keep it simple – and gender neutral
Gender neutral color schemes are a practical decorating choice for kids' room ideas. Plus, simple bedrooms for kids will grow and adapt with their ever changing tastes and style.
As with gender neutral nursery ideas, ditch the conventional baby pink and blue color palettes, and go for calm and grounding colors, such as neutral and green. Green can renew your connection to nature, as it is said to evoke feelings of balance and serenity.
15. Carve out a work – and play – space
Sometimes you've just got to give your children some space and creativity, and incorporating playroom ideas into a spare room will create the perfect place for them to express their imagination.
Make sure your kids enjoy an inspiring, clean and practical table space to complete homework, draw and play. For an on-trend option, go for a desk that takes its inspiration and modern touches from much-loved Scandi design, or that has a slotted-together construction to keep it looking homemade and youthful, perfect for style-conscious kids.
16. Go for an all-white scheme
White bedrooms always work, regardless of your style of home. Evoking purity and cleanliness alongside confidence and sophistication, white is a wonderfully versatile color for kids' bedroom ideas.
It will also encourage them to keep their bedroom neat and tidy, all year round.
17. Decorate with one color
Does your child have a favorite color? Use it with aplomb in your kids' room paint ideas.
However, if the thought of committing to one color scares you, stick to one bold accent instead. Red as a wall color can be difficult to get right, especially in small spaces, but bringing in accents of red couldn't be simpler.
When using an accent color try to stick to one or two shades. Choosing one large piece of furniture or accessory grounds your scheme, then pick out areas to highlight with the same color: a rug, a light and a picture for example.
18. Smarten up with practical furniture
Choose a color scheme and functional furniture for kids' room ideas that can be effortlessly adapted as they grow, and have fun doing the decoration together.
The feature wall here adds interest and helps to define the desk area. A bedroom accent wall doesn't have to be brightly colored to give a scheme the wow factor, and works well behind a key item of furniture such as a desk or a bed.
19. Add interest and intrigue with color
Introducing some fun elements into simple kids' room ideas will ring the changes. 'The zeitgeist is to avoid trends – instead embrace your children's passions and interests,' explains Ashlyn Gibson from Olive Loves Alfie.
Take a color they love, and use it to create a grown-up scheme that is as fun as it is sophisticated. This room's rather daring use of a bold children's bedroom wallpaper turns the whole scheme into a work of art.
20. Walk on the wild side
Using animal motifs in the right way can be a sophisticated and fun addition to your kids' room ideas.
This soft blue and white wallpaper is a tasteful, modern take on leopard print designs that creates a fresh, cool scheme.
21. Introduce monochrome magic
Black and white bedroom color ideas can work equally well in a kids' bedroom scheme. This space has a neat, tailored finish that is smart and practical.
Break up the pops of black with as many colors as you like to create a striking look – the red accents here add an element of fun to the scheme.
22. Create fun play space
Kids' room ideas are the perfect place to let your imagination go wild, especially when it comes to decorating a playroom.
Bright colors, quirky furniture and playful accessories will create a personalized, multipurpose space for your little (or not so little) one. Give them a room that is fun, interactive and the perfect place to unwind after a hard day at school.
How do you style bedrooms for kids?
Bedrooms for kids need to be flexible, so they can accommodate their changing needs from babyhood through to teenage years. So it makes sense to opt for classic big-ticket items – beds, wardrobes and chests of drawers – that will stand the test of time. You can then inject color, pattern and fun touches through lighting, fabric, quirky artwork and playful accessories.
It's so easy to play around with kids' room ideas because there's space for experimentation and fun, so make sure even shelving and your bedroom storage ideas are interesting enough to inspire and motivate, alongside being somewhere where books, magazines and favourite possessions can be displayed and tucked away.