24 bedroom ideas for boys – inspiration for sleep, play and study spaces
These bedroom ideas for boys will create a space they'll love now and for years to come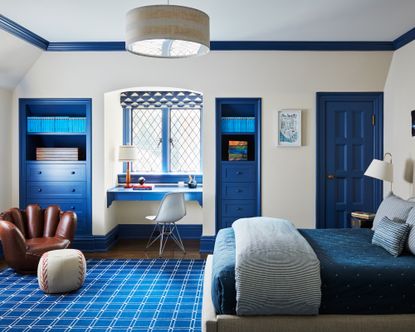 (Image credit: Carrier and Company/Tim Lenz)
Sign up to the Homes & Gardens newsletter
Decor Ideas. Project Inspiration. Expert Advice. Delivered to your inbox.
Thank you for signing up to Homes & Gardens. You will receive a verification email shortly.
There was a problem. Please refresh the page and try again.
Bedroom ideas for boys offer a whole world of opportunity. Think themed spaces, inspiring artwork, bold color, fabulous pattern and more.
And, of course, these kids' room ideas also have to provide generous storage for all that has to kept in the room to maximize the space and encourage (we can only hope) tidiness.
These bedroom ideas will inspire rooms that can also grow with them, adapting to different requirements as the years pass, and to their changing tastes.
Bedroom ideas for boys
From transportive murals to timeless schemes, we've brought together a selection of seriously cool bedrooms for boys – along with some expert advice – to help you design a daring den for your kids.
1. Team blue and yellow for a fresh look
Try putting yellow with blue. 'Our pale blue pigment Notting Hill No. 213 pairs perfectly with Golden Square No. 131, thanks to its orange and umber undertones,' says Dominic Myland, CEO of Mylands.
'The combination makes for a characterful take on the traditional blue palettes for boys' rooms, creating a space that feels fresh and fun.'
2. Incorporate storage that's fun
Just as with girls' bedroom ideas, plenty of places to stash are a must. 'A great storage option for a child's bedroom, a toy chest is a versatile piece of furniture, providing both storage and seating space,' says Paul Deckland, buying director at The Cotswold Company. 'These make wonderful family heirlooms that can be passed down from generation to generation.
'Bookcases are also great additions, being somewhere to house toys, as well as organizing any school work and books.' Like chests, they'll also fit in just as well with future bedroom ideas for teenagers.
3. Let toys add the color
Using a pale palette can keep a room light filled while the items in the room can add accents of color.
'We designed this attic bedroom for a little boy, tucked away at the top of a Brighton townhouse,' says Natascha Dartnall, founder and director of ND Studios. 'We kept the walls and fabrics neutral which means it won't date easily and will let the toys do the talking!'
4. Use a subtle wallpaper as a starting point
Wallpaper can be a great starting point when you're designing kids' bedrooms. 'I love using wallpaper in a bedroom,' says Molly Mahon, textile designer at Molly Mahon.
'Choose a timeless print and then add more personality with layers of pattern and pops of bright color.'
5. For a retro feel use graphic prints
Graphic prints are a striking choice with great retro style. 'For this boy's bedroom, we chose reoccurring patterns with a pop of orange to make for a fun and light space,' says Karen Wolf, creative principal of Karen B Wolf Interiors. 'Orange looks great combined with white and black but also looks great combined with gray which gives it a sense of calmness.'
6. Create a cozy bed nook
A bed nook is a feature they'll love and color can make it even more cocooning. 'Young minds benefit hugely from the use of color, invention and playfulness in their bedrooms to stimulate their imaginations and their playtime,' says Annie Sloan, color and paint expert at Annie Sloan.
7. Aim high with the sleeping space
An elevated sleeping area is a great idea for a kid's room. 'When they're younger they can use the "secret" area below for hiding out and playing in, and when they're older it can become a study space,' says Jennifer Ebert, digital editor, Homes & Gardens. 'It's a design solution that would work for girls, too, providing room for homework in teenage girls' bedrooms.
'Highlight the bed by painting it in a contrasting color and why not paper one wall in a matching shade?'
8. Opt for a double-use bed
'All kids love nooks and forts and this [low house] bed gives you a bit of that. We throw a sheet over it or make it into a puppet show area,' says Lina Galvao, co-founder and design principal of Curated Nest Interiors.
9. Mix materials for a room with lasting good looks
'Mixing textures and materials elevates children's bedrooms to feel as if they have more longevity,' says Lisa Le Duc, lead interior designer at Lisa Le Duc Design.
'The child can grow with them – wallpaper, wood paneling and Farrow & Ball paint are the major backdrop.'
10. Consider heights and corners
'We chose to use a blue and white striped Cole & Son wallpaper to tie in with the accents of color around the room while bringing a playful element,' says Stéphanie Coutas, interior designer and founder of Stéphanie Coutas of this boy's bedroom.
'When designing children's rooms, it is important to pay attention to details such as avoiding right angles, playing with heights, etc, so that little ones can evolve in a safe and adapted environment.
'On a more practical side, we created hidden storage spaces and used fun boxes and chests for toys to avoid cluttering the space.'
11. Think multi-use furniture
Whether you're planning boy's room decor or mulling over playroom ideas, opt for furniture that does more than one job.
'Investing in a timeless and well-made piece of furniture that offers multiple uses – like a chest of drawers that doubles up as a shelf for displaying toys and trinkets – will save on space and make sure the design is working as hard as possible, for as long as possible,' says George Miller, home designer at Neptune.
12. Pick a nursery scheme that will grow with them
While soft pastels are always a favorite for a nursery, think carefully about color schemes and boys' room decor that is likely to grow with the child – if you're not looking to redecorate in a few year's time, try something that can work just as well for an older child.
'For boys' nurseries, we're absolutely loving the fresh, modern approach of a two-tone nursery,' says Justin Segal, director of product and brand management at Storkcraft. 'While a monotone nursery is a timeless and classic choice, a two-tone nursery piece will add edginess, flair, character, and personality to the nursery.'
13. Ensure your furniture choices are timeless
Buying timeless furniture that won't date quickly, or be grown out of, is a must ensuring it can be used later on in teenage boys' bedroom ideas.
'Because your son's posters on the wall may change throughout boyhood, the furniture in the room should be ready to adapt to any phase your son will go through,' says Justin Segal.
'Investing in furniture that will surely stand the test of time – meaning versatile, timeless, "ready for any phase my son is going to go through" furniture – is a wise decision that will protect your son's bedroom furniture from looking out of place, while looking good well into the teen years.'
This includes built-in storage with adjustable shelves that can adapt as a child grows.
14. Turn a walk-in closet into a bedtime hideaway
If your child's room is home to an awkward, largely unused nook, see it not as a hurdle, but a space for adventure.
In this bedroom, what appears to have formerly been a walk-in closet area has been transformed into a partially closed-off bed area, equipped with built-in shelves for books and toys and useful under-bed storage.
This is also great when planning small bedroom ideas for kids that will maximize a compact space. In this instance, the room has also been kept light through the use of pale colored wallpaper, linen and furniture.
15. Fire up their imagination with a theme
A bedroom doesn't just have to be a bedroom – for a young boy, it can become a whole new world.
'Coming up with a theme is a great way to inject some fun and personality into the space,' says Judy Smith, color consultant at Crown. 'This could be a nautical look, a safari-inspired mural or simple stenciling effects with lots of colors.'
This boys' room decor transports its inhabitant to a snowy wonderland by using simple kids' room paint ideas. The soft neutral colors are echoed throughout the furnishings, while a teepee-inspired bed conjures fantasies of camping under the stars.
16. Neutral colors grow with a child
While color is a must in a child's bedroom, it's still sensible to consider a neutral paint scheme. This can act as a backdrop to chromatic flourishes and allow you to personalize a shared bedroom.
'When designing a boy's bedroom, we like to keep things simple,' says Arlene McIntyre, founder and director of Ventura. 'Go for timeless colors – blues, grays or neutrals – which will enable you to be more playful with soft furnishings and artwork, whilst ensuring the room won't have to be repainted as the child grows.'
17. When it comes to beds, think outside the box
Banish the boredom from bedtime by turning a child's sleep space into a magical hideout. This loft bed has been designed to resemble a treehouse, while a backdrop of mismatched botanical children's bedroom wallpaper designs gives a subtle sense of sleeping in forest canopies.
Loft bed designs can help maximize vertical space in small bedroom ideas for boys, creating storage and play areas beneath the bed frame. With some careful carpentry, consider turning theirs into a castle, pirate ship or fire truck.
18. Smart storage is a lifesaver
'Keeping your child's bedroom orderly and clutter-free can be a challenge, but simply installing the right storage can help to resolve this,' says Peter Erlandssom, co-owner and director of String.
'As adults, we would naturally fit shelving at our own height, but installing it so that your child can easily reach items from it is much more effective.'
As with color choice, be sure to think about how your child will grow in the space. Modular systems like this shelving unit are one of the most versatile bedroom ideas for boys, as they can be altered as your child grows and their storage needs change.
19. Select blue for its timeless quality
While we're all for chucking gender stereotypes out the window, blue's beneficial qualities make it a color still worth considering in bedroom ideas for boys. Proven to relax the senses, it can be both striking and calming when used in a bedroom.
'Blue is such a good color for a boy's room because it's a color that easily grows up with a child,' says Mara Miller, co-principal of interior design firm Carrier and Company. 'A bold blue has the ability to be both playful and handsome, graphic and still serene.'
20. Create a focal point with a one-wall mural
Wondering how to weave your chosen theme throughout the room? A mural is a great place to start. 'Depending on the space, wall murals are a clever way of bringing the room to life,' says Arlene McIntyre. 'Capturing the child's imagination or celebrating his hobbies or passions, one-wall murals create a welcome focal point to the space.'
In this room by Ventura, one wall is covered with a beautiful mural depicting wild animals in a lush savannah. Intricate paintwork like this may be beyond your artistic capabilities – if so, consider hiring an artist or choosing a mural wallpaper as statement wall decor for the bedroom instead.
21. Make your decor educational
Theming a room isn't just a way to make bedroom ideas for boys feel fun – it's also a great excuse to sneak a little bit of learning into their day. Part of this child's bedroom has been wallpapered with a global map, a move that not only inspires a sense of adventure but also teaches them a little bit of geography by absorption.
Think about their interests and use the room's decor to teach them more about them – for example, paint the planets on the ceiling, or fill a mural with different dinosaurs and their species.
22. Bunk beds can be highly stylish
Whether it's for twins, siblings or in preparation for regular sleepovers, bunk beds are always double the fun. As playful a furniture piece as they are, there's no reason why they can't be sophisticated enough to stand the test of time.
This contemporary bedroom by Delaware-based design firm Megan Gorelick Interiors features a plenty of sleep space, with storage cleverly incorporated into drawers beneath the lower bunks. Wall lights and storage niches within each bunk encourage nighttime reading and neatness (we can only hope).
23. Washable paint is a must for young ones
When it comes to choosing wall finishes for boys' room decor, it's not just color you need to think about. 'Whatever you choose, I'd recommend using washable paint,' says Smith. 'Sticky fingerprints and crayon marks can be easily wiped or washed off the wall, and the colour will look just as good as when you first painted it!'
24. Upgrade your finishes for teenage rooms
When designing for a teenage boy, many of these rules (an adaptable color scheme, storage, lots of personality) still apply – but they all require a slightly more sophisticated touch.
This bedroom still follows a theme – this time around vintage cars – but upgrades it with a selection of grown-up finishes and textures. Bright colours are swapped for darker shades, while higher end textiles and rustic furniture gives a mature, lived-in feel to the room.
How do you make a boy's room cozy?
Neutrals, blues and greens are popular colors in bedroom ideas for boys but are often thought of as too cool to be cozy. This is not necessarily the case, says Patrick O'Connell, brand ambassador at Farrow & Ball.
'We want colors that bring tranquillity and calm and to cocoon us whilst we sleep, and blues and greens help us do this. They are fundamentally calming colors, the colors of nature and the outdoors.'
For cozy bedroom ideas, choose warmer tones of blue and green for the walls. While textiles might not be top of a boy's list for their dream bedroom, bringing in rugs, throws and cushions add tactility to a room – and they're perfect for building dens too.
What color should a teenage boy's bedroom wall be?
Above all else, teenage boys will want their room to be a reflection of their personality. 'The decoration of children's bedrooms is often the source of considerable angst, with the age-old dilemma of whether to keep to the established color-flow of the rest of the house or to allow the child free rein,' says Joa Studholme, color curator at Farrow & Ball.
Choosing a neutral color for the walls will make it easier to connect the room to the rest of the house. If opting for white bedroom ideas for boys, allow them to demonstrate their changing tastes through art and furnishings instead. 'Even if you choose to keep the walls fairly neutral, some extra energy can be added by painting the floor or the ceiling in a playful color,' adds Studholme.
Sign up to the Homes & Gardens newsletter
Decor Ideas. Project Inspiration. Expert Advice. Delivered to your inbox.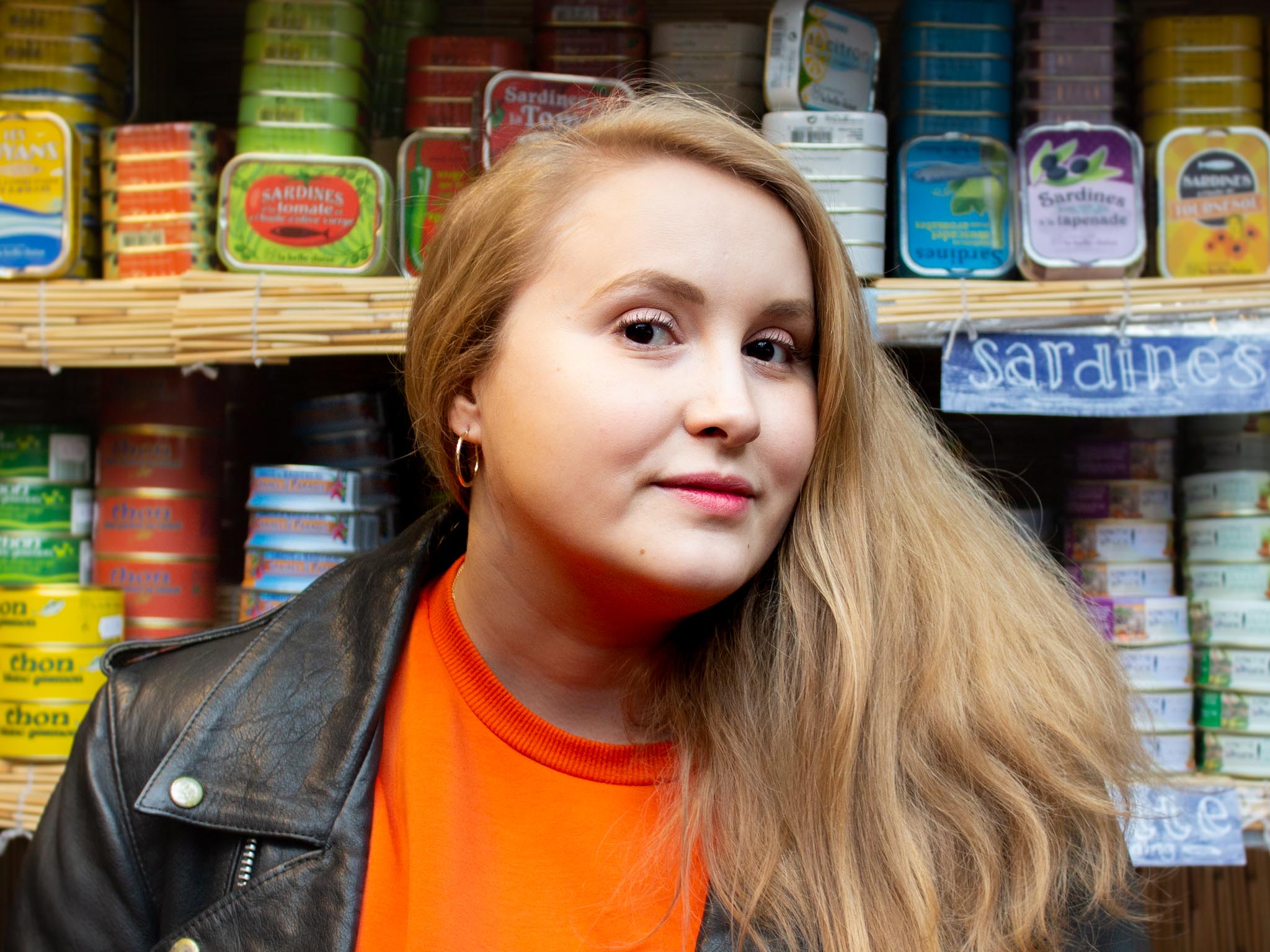 Ailis started out at British GQ, where a month of work experience turned into 18 months of working on all sorts of projects, writing about everything from motorsport to interiors, and helping to put together the GQ Food & Drink Awards. She then spent three years at the London Evening Standard, covering restaurants and bars. After a period of freelancing, writing about food, drink and homes for publications including Conde Nast Traveller, Luxury London and Departures, she started at Homes & Gardens as a Digital Writer, allowing her to fully indulge her love of good interior design. She is now a fully fledged food PR but still writes for Homes & Gardens as a contributing editor.