Playroom ideas – 20 fun spaces that inspire creative play
These playroom ideas are fun but practical, with cute design details and plenty of functionality to suit all ages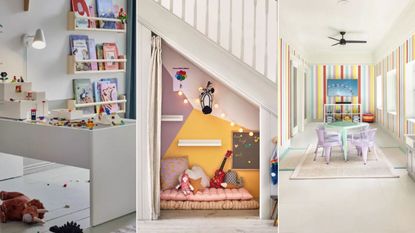 (Image credit: IKEA/Dulux/Etch Design Group/Cate Black )
Great playroom ideas that win in terms of creativity and entertainment but that are also practical and functional can be tricky to get right, especially if you have children at different ages.
How do you satisfy your decor requirements with their need to scribble on everything and anything? How to store toys in such a way as to have a neat-looking room, but one that's accessible for them – and how to create a playroom that can grow with your children?
Thankfully, that's where we come in: our team has a big brood of kids between us, so the playroom ideas below are written from experience. And we know that playrooms don't just have to be for play – like the best kids' room ideas, they can be lovely calming spaces where kids can wind down, hang out with you and, eventually, do their homework.
Playroom ideas
Whether they love to paint and draw, play musical instruments or climb walls, there are playroom ideas for every child. If you're forever organizing your playroom, take note: there are plenty of practical tips, playroom storage ideas and toy storage ideas, too.
And if you're looking for girls' bedroom ideas or bedroom ideas for boys too, these playroom design ideas will work on a smaller scale.
1. Maximize every inch of space
The skills you use when designing a kid's bedroom are totally applicable to playroom design, too. And one of the most important factors? Organizing toys.
'When it comes to children's playrooms, one of the most important considerations, along with enough to keep them entertained, is organization. With careful and considerable planning, you can ensure that you maximize on the space available in even the smallest of spaces with enough storage to keep arts, crafts, toys and other items organized, whilst leaving room for study and play.
'A window seat with built-in storage or an ottoman footstool not only provide extra seating, but also provide ample storage for bulkier toys. In terms of design, opt for muted neutral walls that will never date and dress with furniture, textiles and accessories in fun, bright colors to inspire creativity and play – remember, these can be updated and refreshed as your child grows,' says Emma Deterding, founder and creative director at Kelling Designs.
2. Create a magical hiding place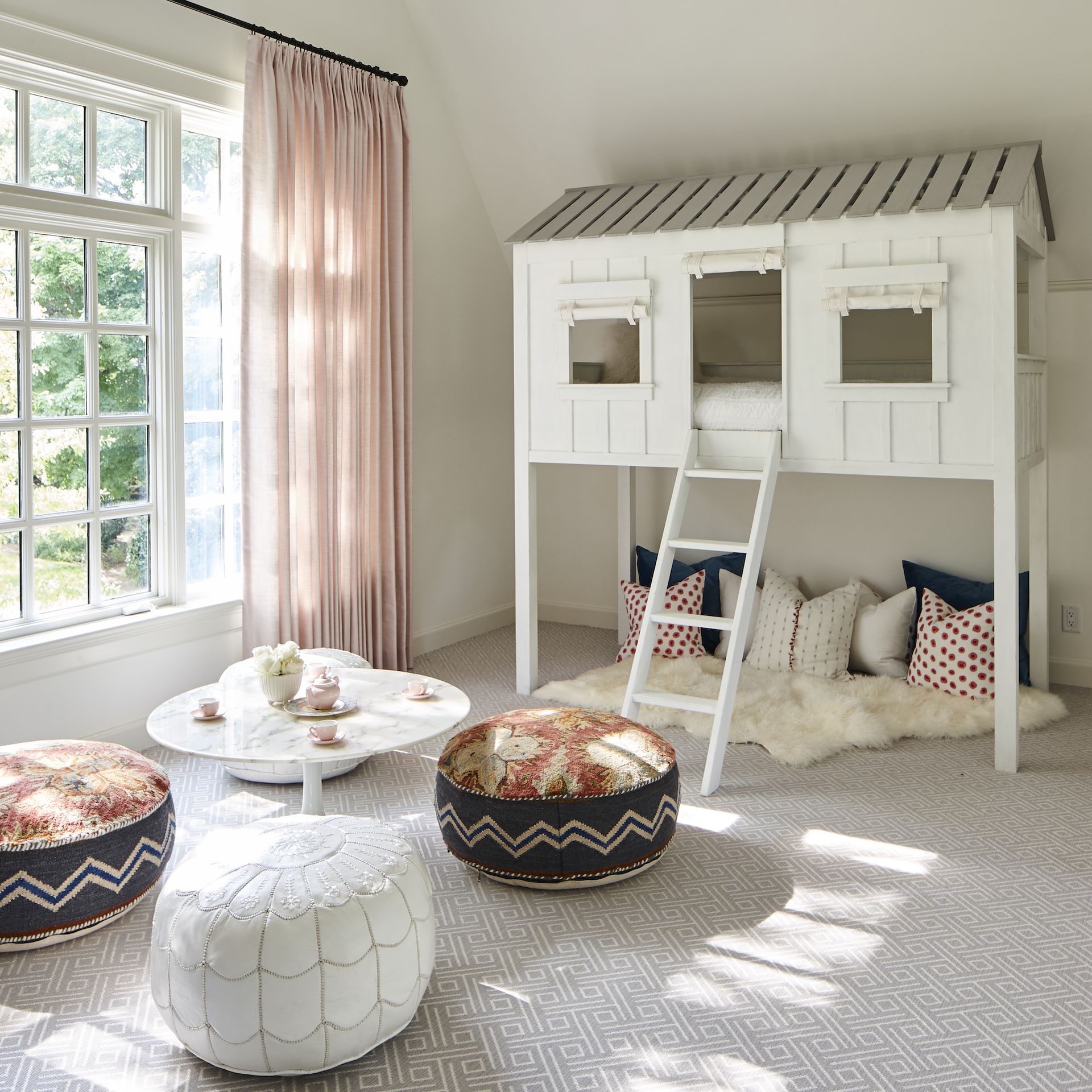 'Kids of all ages want to feel something a bit magical, which usually means a feature that feels unique to them. For example, a tucked-away reading nook or a whimsical play table and seating arrangement – the design must excite them!' says Mel Bean, founder and lead designer at Mel Bean Interiors.
3. Choose candy colored striped walls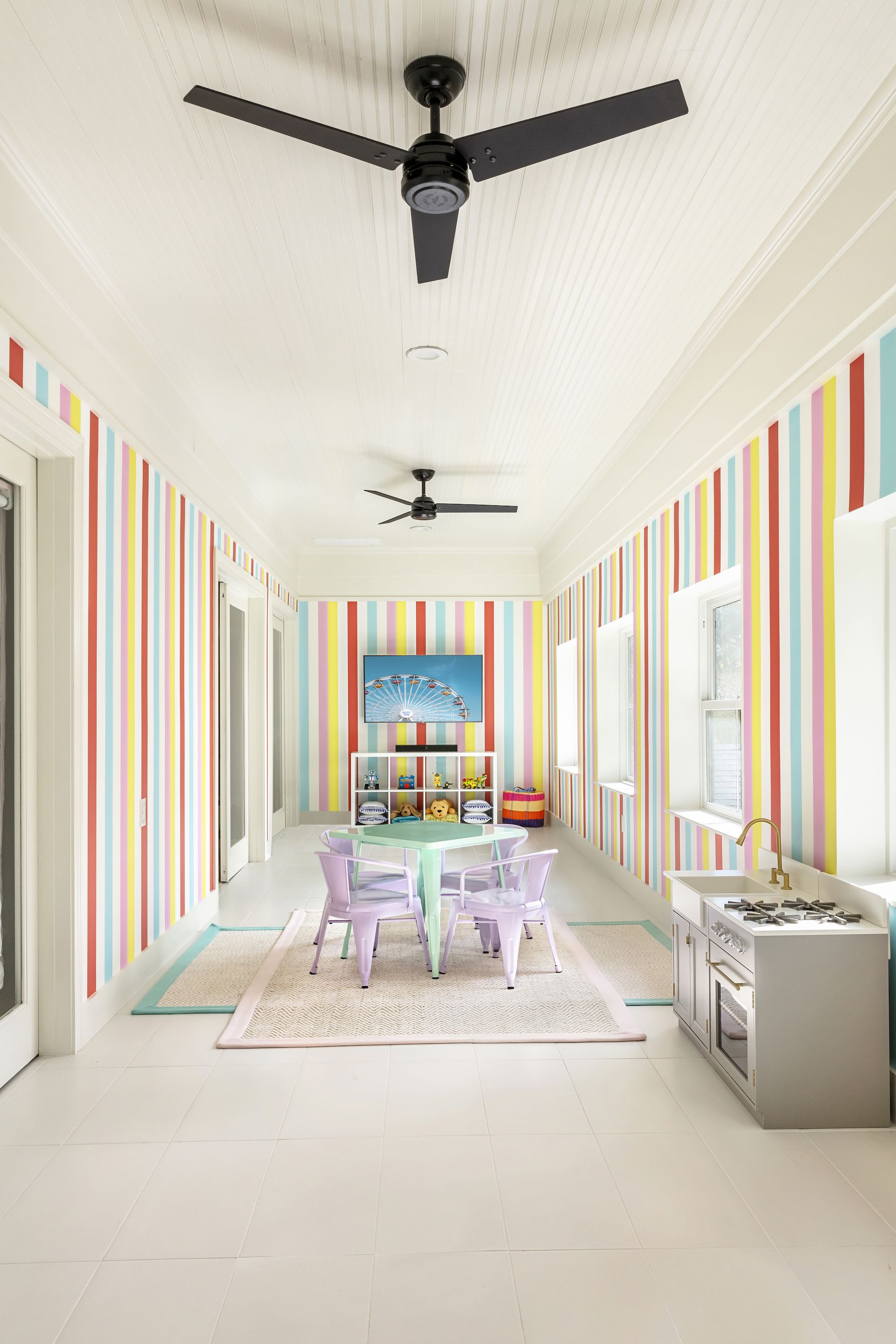 Decorating with stripes is a fun but classical way to decorate a playroom, and it can allow you to add candy stripes to keep the space feeling light and bright. In a long, narrow room, it's a good way to alter its proportions, exaggerating the height of the space.
'Our clients really wanted the space to be fun and playful, and the Katie Kime wallpaper was the perfect backdrop,' says Stephanie Lindsey, principal designer at Etch Design Group.
4. Go for a pared back Scandi style look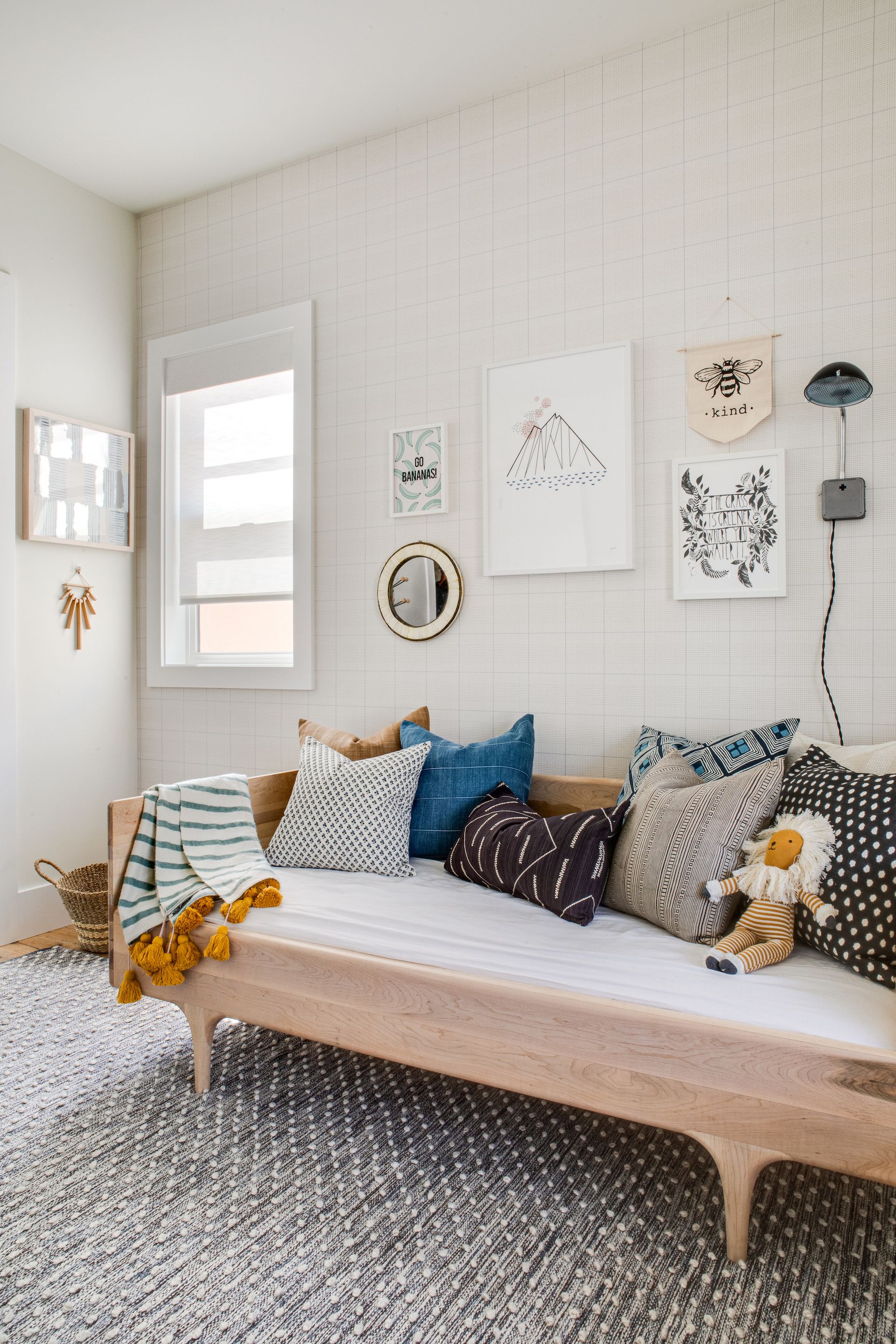 Scandinavian decor is a good way to create a calm space that relies on texture and soothing colors, ideal if you are catering for older children, or looking for teenage girl bedroom ideas or teenage boy bedroom ideas (it works for both).
'A woven basket perfectly blends into the background of this Scandinavian room and can be tucked under the bed or placed on a closet shelf to tidy the room when necessary, but it also looks great out on display! Baskets displayed on the floor can lend to a child's independence as they are easy to access for play-time and clean-up,' says Lindye Galloway, founder and chief creative officer of Lindye Galloway Studio + Shop.
5. Consider a low table for play
While you might like to design playroom ideas for longevity, sometimes you need to face the fact that you need a couple of pieces of furniture that won't outlive their younger years. Play tables are in this category, so go for something sturdy and dependable that you can pass on when your kids have outgrown it.
'Kids love to play, so why not provide them with a low activity table for all their Lego needs? Ikea's DUNDRA design is large enough for toys and has a big drawer on one side so everything can disappear later in the day, what's not to love!' says Jennifer Ebert, digital editor, Homes & Gardens
6. Team bold brights with blue
Decorating with primary colors is tempting in playrooms, but you may want to limit their use.
'Bright colors are ideal for kids' playrooms, but their toys will provide plenty of noise in that respect, so I would advise keeping the base shade more subtle – a calming blue will keep the room feeling calm. Then, you can add pops of primary colors and pull the scheme together with drapes that have multiple colors,' says Lucy Searle, global editor in chief, Homes & Gardens.
7. Pick a soothing green shade
'The first thing to consider when choosing kids' room paint ideas for the walls and ceiling is the atmosphere or mood you want to create: calm and cocooning or energetic and vibrant. Paint is a fantastic tool too for zoning spaces, creating an area for play, a calming and sophisticated area for homework, or a gentle relaxing space for sleep.
'Soft green tones are perfect for creating a sleep zone in playrooms, tonal harmonious shades from the same color family such as 'Green Stone' and 'Green Stone Pale' will give a soothing and calming feel,' advises Ruth Mottershead, creative director at Little Greene.
8. A luxe playroom? Yes!
Children's wallpaper ideas, matched with luxurious soft furnishings (all wipeable, of course), will give your playroom ideas a luxe appeal that can match the rest of our home.
'Super soft carpet, beautiful drapes (and pelmet) teamed with a distinct illustrative safari wallpaper are all the ingredients for a luxury looking playroom. Add in a teepee with lights, a vintage car and lots of soft toys and your little one will be happy for hours,' says Andrea Childs, editor, Country Homes & Interiors.
9. Combine a work and play space for young teens
'As they get older their needs change, so consider a space that bridges the gap from playroom to young teen. A desk area for school work, but also a place where they can chill out with friends – a sofa bed is a great option for sleepovers,' says Jennifer Ebert, digital editor, Homes & Gardens.
10. Get creative with a cozy reading nook
'Within a playroom you can create different areas, like this cozy reading nook where your little one can sit surrounded by their favorite books. Use a combination of shelving and cupboard space that will hold a variety of toys and books,' says Melanie Griffiths, editor, Period Living.
11. Feeling creative? Design your own playroom mural
Using stencils or painting freehand on a neutral background can give a playroom a one-of-a-kind look – so if you're looking for wall mural ideas with a twist, why not give it a go?
'The easiest and most cost-effective transformer, updating nursery furniture is a simple weekend activity that even the smallest hands can help with,' says Annie Sloan, color and paint expert.
'Use up leftover tins of Chalk Paint™ from larger projects and don't be fussy about the palette. Let the kids go wild with their choices, it's their space after all! For those with a more artistic leaning, create your kids their very own mural, filled with favorite patterns and motifs – a wall full of color and imagination that will inspire bedtime stories for years to come.'
12. Short on space? Utilize what you already have
If you have been browsing small bedroom ideas for kids and despair of finding playroom space, think laterally. Kids love secret nooks and crannies, so if you're short on space and can't spare a room to turn into a playroom then consider converting the area under the stairs.
Paint is your friend here – create a cozy area with two or three favorite colors – and fill it with a squishy mattress, comfy shaped pillows and plenty of fairy lights, strung well out of reach of really young children. If you don't have an electric point then use battery-operated lights instead, but do ensure safety of really little ones is uppermost in your mind when designing with string lights.
13. Encourage drawing with a chalkboard
Instead of buying reams of paper that will most likely end up in the recycling, why not use chalkboard paint in your playroom ideas? It's really effective and can easily be wiped down after. And if you choose blackboard paint as your base, your kids can use chalk to design – and constantly redesign – your walls.
'Many children thrive on creativity and the freedom that comes from designing and creating their own artwork,' says Tom Parker, children's business leader at Ikea.
'Create a moment of calm and inspire your child's inner artist. Having their own personal canvas is a wonderful way to encourage them to embrace their inner Picasso, experiment with their artistic freedom, express themselves and develop their mobility skills.
'Play has an important role in every child's growth, encouraging the development of their language and social skills, and providing endless ways to keep them entertained.'
14. Use the same color in three ways
To create a calming environment for younger children choose colors like green, which are known for being restful.
To change it up and not have a single color, why not pick three like in this playroom design by Little Greene? That way you can choose a darker shade, mid and pale, using the darker tone on the bottom and going lighter towards the top. This will create an ombre effect, and it's also a good way to make a small low-ceilinged room feel larger and more spacious.
15. Fit stylish but easy to clean window choices
You can still add stylish window treatments to playroom ideas – shutters, like these from Shutterly Fabulous, are a great option for these spaces. They give you privacy – bearing in mind that not all playrooms are upstairs – and you can have them custom-painted to match an existing scheme.
Half shutters work well, as they don't block the light at the top yet the bottom half can still be controlled. Another bonus is that they can be used to keep the playroom cooler during warmer weather by screening sunlight. They're also so easy to clean.
16. Find flexible seating for older kids
As kids get older there's still a need for a playroom – though it might be called the gaming room or TV room instead. Like in bedroom ideas for teenagers, bright colors work really well for more grown up playroom ideas, and papering a wall with a quirky design can be a popular choice.
A mixture of seating types is great for teens – a sofa or two, modern style chairs and bean bags are all great options as they love a bit of variety. And of course a big TV will go down very well, like in this room by JL Design.
17. Go bespoke with a mural
Kids of all ages love color so why not add pattern and illustration into the mix?
There are also some fabulous murals to choose from for a kids' playroom or bedroom accent wall. The beauty of them over wallpaper is that they can be made to measure – so that awkward wonky wall can be transformed without you having to fiddle about cutting strips of wallpaper and trying to match repeat patterns. You can also find 'paste to the wall' and 'peel and stick' wallpaper, which makes the whole process a breeze. This one is from Wallsauce.
18. Paint everything – from walls to window frames
The best thing about playroom design ideas is that you can really go wild with color choices – those combinations you wouldn't normally use can be set free. Take this fun playroom by M. Lavender Interiors as an example: bright scarlet walls teamed with black window frames, forest green painted furniture and a plaid carpet. Painted surfaces can easily be wiped clean too, or painted over if little hands start drawing on the walls.
Mark Lavender, of M Lavender Interiors, explains the brief for this playroom for two children: 'The third floor attic space was converted into a playroom for our client's two children. We took advantage of this dormer area to provide a quiet place for reading or viewing out the window for the parents while their kids were playing in the rest of the space. It also serves as a place of respite from the hustle and bustle of the house if the rest of the family is downstairs.'
19. A treehouse inside? Oh yes!
Feeling handy? This fabulous indoor treehouse, in a room by Prestigious Textiles, will make your kids happier than they've ever been – and give you peace at the same time.
Not only is it the perfect hideaway for kids, but it also means there's more floor space for fun, games and much needed storage below. It's ideal for playtime, but if you incorporate some shared bedroom ideas, such as a mattress and cozy sleeping bags, it can be used for sleepovers.
20. Choose pint-sized furniture for the little ones
Designed by White Arrow, an award winning interior design firm run by husband and wife team Keren and Thomas Richter, this playroom is in their New York home.
Full of original features, the pair remodelled and created a characterful home which includes this spacious room that has furniture suitable for little ones who can't quite sit at normal height tables yet. Wooden floorboards make for easy cleaning up and rugs allow for cozy story time.
Plenty of storage means you can tuck away books and art materials at the end of the day. The blue and white color scheme creates a fresh feel that easily allows for extra shades to be added.
What should be in a playroom?
'The basics of any playroom ideas are easy to clean floors, easy-wipe walls, tons of practical, versatile storage and furniture with removable, washable covers,' advises mother of two and Editor in Chief of Homes & Gardens, Lucy Searle. 'This makes it sound incredibly boring, but if you can find great looking surfaces that will also stand up to the wear and tear children will put them through, you will be more relaxed and they can go ahead and have the fun the playroom was designed for.
'Going back to storage: key for me when my kids were going from toddler to child to teen was that it was flexible. So we had a big coffee table that they used for coloring and Lego, but beneath it there was shelving to store their books and pens. As they got older, it was used for storing their gaming equipment and they ate snacks off it.
'We had a cube shelving unit that sat on its side when they were little so they could reach everything in the pull-out baskets and on its top; now, it sits on its end and is a tall bookcase in my younger daughter's bedroom.
'Buy well, buy once, I always say!'
How do you make a playroom?
To make a playroom, it's all about creating an area for – you've guessed it – play. This means dedicating a whole room, or a corner of a room, to a surface for kids to play on, whether a soft (washable) rug or a play table. Take inspiration from kids' bedroom storage ideas and arrange good storage options, from shelves to baskets and cubbies, around it so that everything they need to play, draw and create – or just create chaos – is to hand. If the storage is good, it will be easy to quickly clear up when you need to, too.
Sign up to the Homes & Gardens newsletter
Decor Ideas. Project Inspiration. Expert Advice. Delivered to your inbox.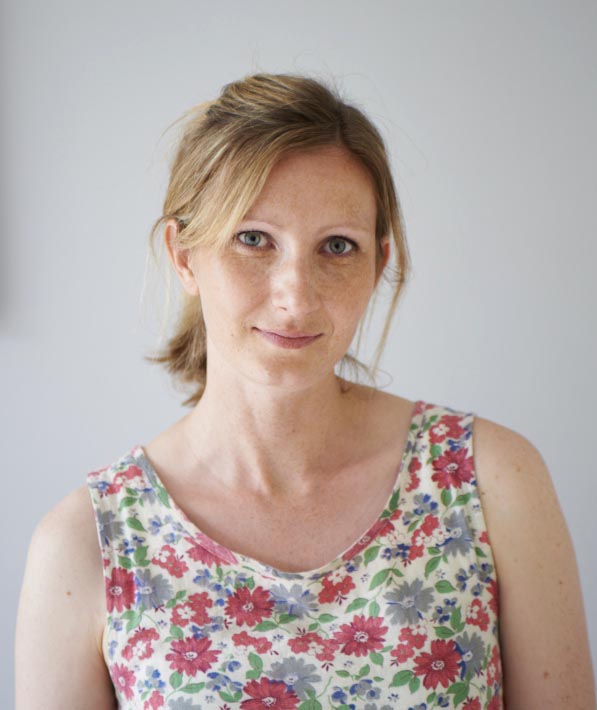 Sophie has been an interior stylist and journalist for over 20 years and has worked for many of the main interior magazines during that time, both in-house and as a freelancer. On the side, as well as being the News Editor for indie magazine, 91, she trained to be a florist in 2019 and launched The Prettiest Posy where she curates beautiful flowers for modern weddings and events. For H&G, she writes features about interior design – and is known for having an eye for a beautiful room.