Toy storage ideas – 20 ways to keep playtime neat
These toy storage ideas will help you keep your home tidy, encourage youngsters to pitch in (and they look lovely)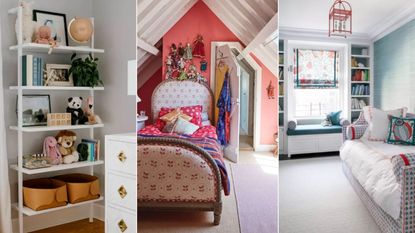 (Image credit: Cohesively Curated/Carina Skrobeck/Brent Darby/Alexis Hughes & Co/Raquel Langworthy)
Clever, forward-thinking toy storage ideas are essential to keeping your home tidy, and your sanity intact.
Having children in the house is a recipe for endless tidying, meaning storage ideas that are well thought through, effortlessly neat and easily accessible for both parent and child are crucial to a harmonious home. Your storage also needs to make organizing toys, and keeping them neat, is super easy not just for you, but for kids, too.
The need for toy storage isn't just confined to the kids' bedrooms either – living rooms, playrooms and even hallways are often in need of clever nooks and crannies to hide the playthings that inevitably make their way across the home.
Toy storage ideas
From discreet benches to personalized trunks and wall storage cabinets, we've brought together some stylish but practical toy storage ideas to inspire you, and asked the experts for tips too, so that, whether you are looking for playroom ideas or solutions for children's rooms, you will be well organized.
1. Use one wall for toy storage
Flexible bookshelf ideas are key to good toy storage, whether you are going for a whole-wall option or a smaller unit, so ensure the shelves can be adjusted as needs change.
'There can be that tricky transition from child to young adult where they still have that link to cute soft toys but are moving into that teen stage. This is where you can max out their bedrooms with ample storage. A whole wall of storage will see them through the next few years as their tastes change,' says Jennifer Ebert, digital editor, Homes & Gardens.
2. Incorporate toy storage into other rooms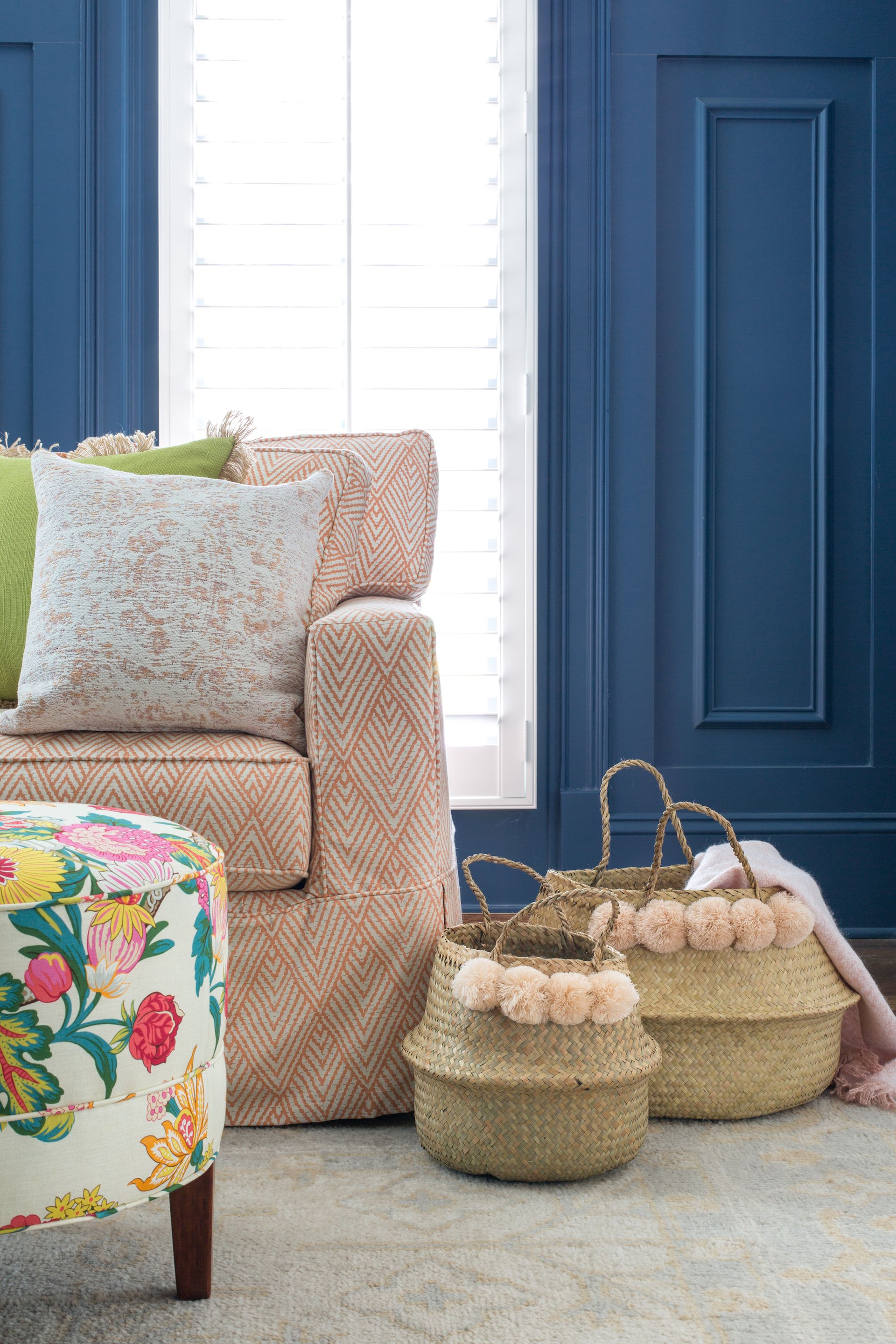 'Storage ottomans, baskets, and bins are handy for hiding toys in any room. For larger toys that are harder to store, consider incorporating it into the room. For example, my little boy's tricycle lived in our living room and added to the decor; some toys are just too big to hide!' says Jessica Davis, owner and principal designer of JL Design (opens in new tab).
'Built-in storage units are always great and can accommodate a variety of toys. Depending upon the cost of the built-in storage, baskets can be a much more cost effective alternative,'
3. Make the most of narrow alcoves
Organizing a playroom? Rethinking your child's bedroom? Making the most of previously unused space is vital to clearing the clutter.
'Alcove ideas are the magic storage solution in children's small bedrooms – uber versatile, you can turn them into shelving or cupboard space for toys and books. Paint them in a bright shade for impact like this bright red that matches the striped doors of the closet,' says Melanie Griffiths, editor, Period Living.
4. Go high with storage
Loft bed ideas give you lots of clever storage options, beneath and to the side of the sleep spaces.
'The beauty of this kind of custom bed design is that things can be higher up which means the floor space is clear. When there's an elevated space you can use wall hung shelving units that can only be reached from that area, this kind of design feature is ideal for smaller bedrooms that require a more compact layout and there toy storage space can be an issue,' says Andrea Childs, Editor, Country Homes & Interiors.
5. Use vertical space that has a small footprint
When space is short in a room, it's vital to create storage that takes up little room but maxes out the toy storage possibilities. With handsome-looking toys, you can use open shelving to display as well as stash.
'Wall mounted ladder style storage is fabulous for kids' rooms, especially those that are on the small size as they take up less space. Vertical storage is key and this fits into a small corner space perfectly. Use the shelves for a mixture of toys and books,' says Jennifer Ebert, digital editor, Homes & Gardens.
6. Toy storage for minimalists? Hide it behind closed doors
'Toy storage can be hidden entirely behind closed doors,' says Lucy Searle, global editor in chief, Homes & Gardens. 'They needn't be full depth closets; in fact, half-depth closets are much easier to store smaller items in. Much-used toys can be stored down low, with seldom-used items or out-of-season toys up higher.
'You can use closets like this to hide awkward architecture as well, building shelves around a chimney breast, for example.'
7. Box shelving keeps the floor free
'There's nothing worse than tripping over toys, or standing barefoot on that piece of Lego... Box shelving keeps toys off the floor and neatly stored away and it's versatile too. Books, ornaments, family photos and toys can all be stored higher up; this works well in small kids bedrooms when space is tight,' says Sarah Spiteri Editorial Director, Homes & Gardens.
8. Think outside of the box
Looking for nursery ideas that pack in toy storage? You needn't choose nursery furniture.
'This is a great example of how to use storage pieces that are technically designed for something else. These two matching bookcases look perfectly at home in this nursery space. The shelves that will later store favorite books, currently hold toys and ornaments instead – we love it!' says Andrea Childs, editor, Country Homes & Interiors.
9. Use the space on top of a chest of drawers
A good sized dresser will give you plenty of space to store toys and books on, and you can make a feature of it with a splash of paint.
'Highlight furniture, toy storage or architectural features using a pop of color. Don't forget to look for child-safe paints, which are highly durable, perfect for the knocks and bumps a kid's room receives, washable and wipeable (great for those sticky fingers). This ensures they are free from any toxic ingredients and are safe for use in children's rooms, they can even be used on storage furniture, toys and cots,' says Ruth Mottershead, creative director of Little Greene (opens in new tab).
10. Put shelves and cupboards at a lower height
While the likes of kitchen storage ideas may see you placing bits and pieces out of reach of little hands, you'll want to do quite the opposite when storing toys.
'As adults, we would naturally fit shelving at our own height, but installing it so that your child can easily reach items from it is much more effective,' says Peter Erlandsson, Co-Owner of String Furniture (opens in new tab). Making it easy for your child to reach shelves and cupboards will help encourage them to keep the space tidy by themselves.
11. Choose modular storage that can grow with your child
'Investing in timeless furniture and designs when decorating your child's room is important,' adds Erlandsson. 'As children get older, their storage needs change. With a modular shelving system you have the flexibility to curate a configuration that grows with your child, and their equally expanding toy collection.' Modular systems are also great for the likes of small kitchen storage ideas where space is tight, allowing you to easily adapt to your family's changing needs.
12. Keep living room storage discreet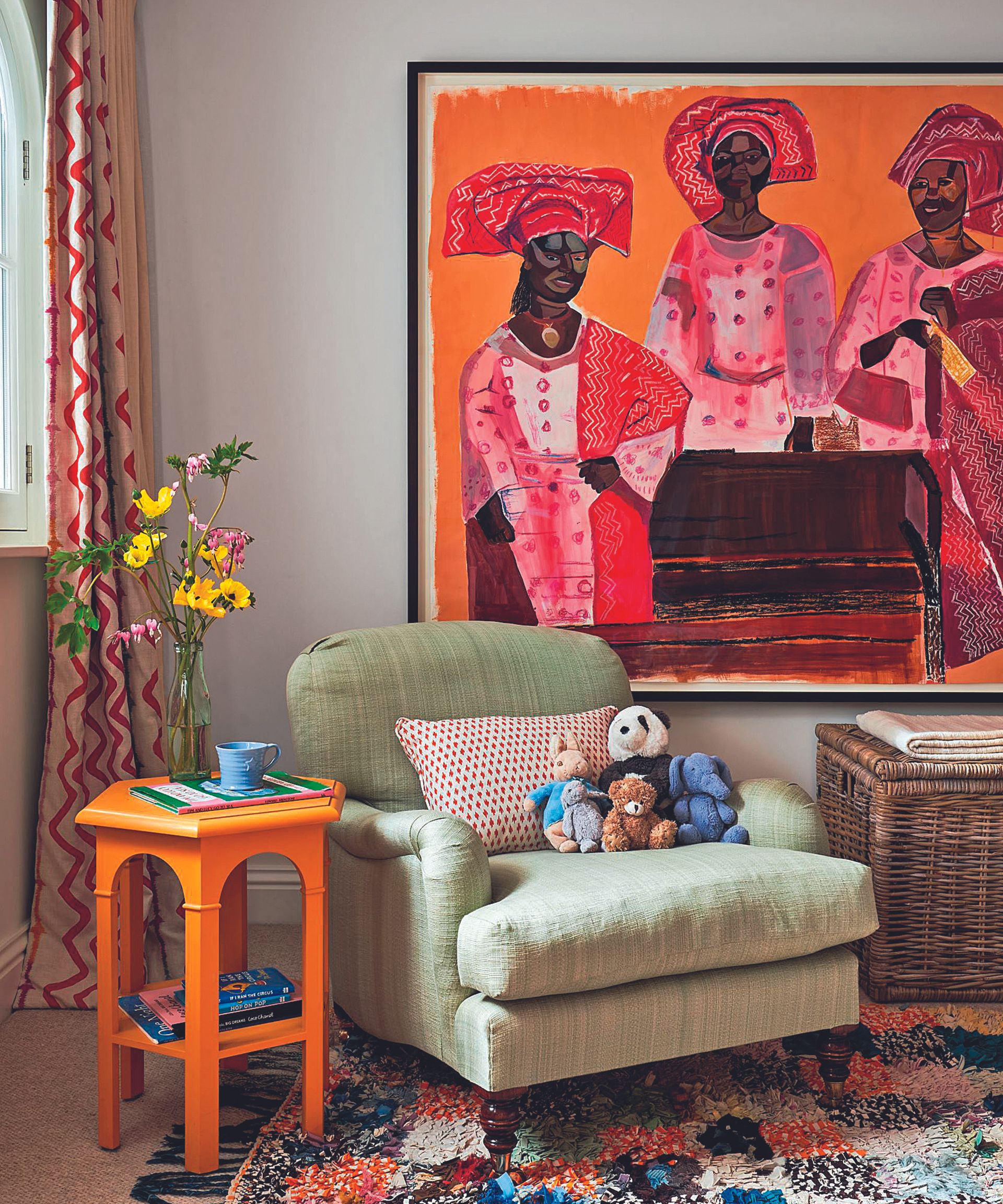 'A great place for children to play, whilst also allowing parents to keep an eye; the living room is a foundation in many family homes,' say Alex and Kris Tolofson, Directors and Founders of Nöa & Nani (opens in new tab). Living room storage ideas for toys take a little more consideration, as you'll need to make them feel natural among their grown-up surroundings.
'For a storage solution that will blend seamlessly with existing décor, homeowners should opt for a toybox in a neutral colorway, for example white or wood as this allows homeowners to keep their floors clutter-free without taking up too much space,' say the Tolofsons. In this example, a large wicker hamper fits in perfectly.
13. Go low with underbed storage
Making use of underbed storage ideas is an easy win when it comes to bedroom storage ideas for toys. For kids, consider choosing a bed fitted with storage underneath the mattress or, for existing beds, get hold of drawers on rollers that can slide under. Alternatively, go all out with a loft bed with tons of fitted storage.
'A high sleeper bed is a great option for those who are tight on space, allowing the underneath to become a useful area to store toys and a space to play when children are little,' say the Tolofsons. 'This can then easily be changed into a functional desk area for learning when children are older. We also suggest adding some high shelving so that books can be easily reached for bedtime stories.'
14. Keep it neat with cube storage
For small bedroom storage ideas, try boosting the utility of open shelving with boxes that function similarly to drawers, as demonstrated in this nursery.
'If space is at a premium, try open shelving with wicker basket storage stacked in cubes,' says Arlene McIntyre, MD at Ventura Design (opens in new tab). 'This can help a small space feel larger than it is and avoids closing off the room making it look cluttered. It will also help encourage children to tidy away belongings themselves, with a basket for each specific item such as toys, crafts and any clothes.'
15. Use open-shelving to display favorites
'When it comes to compact rooms or homes without a dedicated playroom, it's important to be clever when it comes to storage,' say the Tolofsons. 'Shelves are a great way to display your little ones' favorite toys without using up any additional floor space as they can be placed above desks, bedside tables or even beds. An ideal way to add a playful accent or add interest to interiors, opt for shelving in a bright color, this will create contrast when paired against a plain white wall.'
In this bedroom by interior designer Alexis Hughes, the built-in bedroom bookshelf ideas create a wonderful surround to the window seat, and can also be used to display choice toys.
16. Take a seat with bench storage
Window seat ideas with toy storage hidden beneath padded cushions can be a great addition to playrooms and living rooms frequented by children.
'It is worth investing in joinery that doubles up as toy storage beneath and open shelving for the top,' says McIntyre. 'This now only allows the space to work in a multi-functional way but it also hides unsightly clutter when the extended family visits. The storage can also grow with your family, swapping soft toys with blankets and extra throw cushions as the children leave the nest.'
17. Stash it under the stairs
'When it comes to hidden storage, both bench seating and under stairs ideas are always winners,' says McIntyre. 'We have seen a multitude of clever ways to convert the space under the stairs, such as a small home office with a desk and chair or with pull out drawers for shoes and winter accessories.'
Landing storage ideas are one way to make the most of your stairwell, while the cavity under the stairs is also a great space for storing larger toys, as well as the likes of bikes and scooters. If the stairs fall in something of a dead space in your home, consider converting it into a small play area like in this example.
18. Diversify your desk storage
Most of us are having to think a bit harder about home office storage ideas these days – so take inspiration from the multi-tasking talents of a child's bedroom desk. Not only can you organize a desk for school work, but also drawing and play – that's if you make the most of its storage potential, of course.
'For older children or those who might need a quiet place to study, opt for a desk,' says the Tolofsons. 'Not only does this provide a helpful surface for books, gadgets or arts and crafts but the integrated drawer provides another more discreet space for small toys.'
19. Make it personal
Kids love anything personalized to them and their interests – or better yet, something they can personalize themselves. Consider upcycling with painted furniture ideas; this piece has been given a lick of chalkboard paint.
'Beautiful bespoke toy boxes are very on trend and perfect for adding a fun, colorful and stylish pop to a children's bedroom,' says McIntyre. 'For an extra special and luxury touch, the boxes can be monogrammed with your child's initials, making it an ideal gift from the grandparents. Toy boxes are also a lovely heritage piece that can be held onto for years to come and passed down through the family.'
20. Get creative in awkward spaces
'An attic can easily be adapted to accommodate storage for toys, books and keepsakes – and a cool bedroom for a young teen! However, as they get older, they are less likely to have toy storage challenges, and more likely to want to display favorite toys from their younger years,' says Lucy Searle, global editor in chief, Homes & Gardens. 'We love this clever solution.'
How do you store lots of toys?
While one or two toys stacked on open shelving can add personality to the space, you'll need to think a little harder to ensure the masses are tucked away neatly. If you feel like you're running out of room, investigate what you can do with the space under your child's bed – roll-out drawer inserts can be a lifesaver. If you're designing a space from scratch, think about dedicating some built-in storage to toys in wardrobe-like cupboards.
Alternatively, there are plenty of stylish storage baskets out there for holding toys in plain sight. Smaller storage baskets can also be integrated into shelving. Just something to consider.
How do you store toys in a living room?
In the living room, toys need to be tucked away effortlessly, leaving no sign that they were ever strewn across the floor. They also need to be stored in a space that blends seamlessly into your design.
The likes of ottomans and storage benches can provide ample space for discreet toy storage. They are easily disguised with padded tops that fit your room's aesthetic, but include a cavernous amount of storage potential for awkwardly shaped objects. Plus, they double as a seat for grown-ups joining in with play.
Ailis started out at British GQ, where a month of work experience turned into 18 months of working on all sorts of projects, writing about everything from motorsport to interiors, and helping to put together the GQ Food & Drink Awards. She then spent three years at the London Evening Standard, covering restaurants and bars. After a period of freelancing, writing about food, drink and homes for publications including Conde Nast Traveller, Luxury London and Departures, she started at Homes & Gardens as a Digital Writer, allowing her to fully indulge her love of good interior design. She is now a fully fledged food PR but still writes for Homes & Gardens as a contributing editor.