Under stairs ideas – 10 tips for making the most of this overlooked nook
From pantries to powder rooms, these under stairs ideas can help you give an awkward space a new lease of life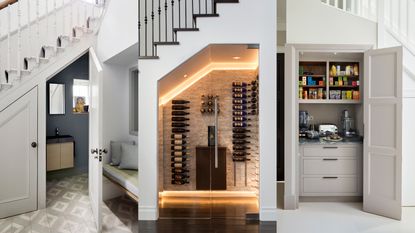 (Image credit: Richard Powers/Claudia Afshar Design/Meghan Bob Photography/Martin Moore)
For the space savvy, under stairs ideas are just what you need to ensure one of the most cumbersome parts of the house goes from fiddly nook to unexpected feature.
It may take a bit of head-scratching, but rethinking your hallway ideas to ensure this lopsided space meets its full potential can come with numerous rewards, from valuable storage to a fully functioning powder room.
'Awkward spaces like the one under the stairs present the perfect opportunity to be creative,' says interior designer Emma Sims-Hilditch. 'We make a point of devising intelligent storage solutions for our clients to help them to get the most out of their home.'
Under stairs ideas
Staircase ideas provide all types of clever options for storage – and more. From decadent wine cellars to cozy reading boltholes, we found a host of inspiring under stairs ideas and asked the experts to share their top tips for turning a curious niche into a functional feature.
1. Interesting architecture? Keep it open
While storage may be the first thing that comes to mind when thinking about what to do with under stairs space, that doesn't mean you are required to pack every inch of it with closed cupboards. In this house with interiors designed by Beth Webb, the staircase at the entrance is a beautiful design feature – the way it turns back on itself creates a wonderful curve, emphasized by the staircase railing ideas. The underside of the staircase has been used as a coat hanging and shoe storage space, but the majority of it is kept open so arrivals can marvel at its whimsical architecture.
2. Create a discrete cleaning cupboard
When thinking about how to decorate a staircase, keep doors to cupboards simple, says Sims-Hilditch. 'For some of our clients we have installed hidden storage space under the stairs behind a door panel that blends in seamlessly with the staircase,' she says. 'This is great for storing sports gear or cleaning materials.'
Under stairs cupboards make great utility cupboards, offering height at one end for tall tools and appliances – as demonstrated in this image, with a simple white door opening up to a green-painted cleaning cupboard – and lower height storage for smaller items.
'If [your cupboard is for] brooms storage or utility, then make sure you've enough depth and correct plumbing for the appliances,' advises Jane Powell, a designer at Roundhouse.
3. Wow guests with a wine room
If you're looking for staircase trends that really make a statement, upgrade a straightforward cellar space and ro your very own wine room. Of course, kitting an under stairs cupboard out with fitted wine racks is a great way to start organising and storing a collection. But if you're a serious wine buff and have the space, consider turning it into a walk-in, temperature- controlled wine room like this one by interior designer Claudia Afshar. Bottles are elegantly displayed with LED backlighting, while a glass door allows guests to take a peak.
4. Fill up on food storage with a pantry
Wine isn't the only provision you can tuck into this tricky space. 'A pantry is ideally located off the kitchen itself and close to the fridge so that all your ingredients are in one convenient zone, minimising time you spend walking around the kitchen,' says Richard Moore, Design Director of Martin Moore.
Under stairs pantry ideas are a great way to extend and zone your kitchen storage, as demonstrated in this example by Martin Moore. 'Previously housing laundry machines, we designed a purpose-built breakfast cupboard for the understair area. The new cupboard takes full advantage of all available space and stores breakfast facilities neatly out of sight when not in use,' says Moore.
'If [you're using the under stairs for] pantry storage, then make sure you've enough compartments for easy, quick access to your dry goods,' adds Powell.
5. Make yourself at home with a boot room
'Another creative use for this space is to install a boot room,' says Sims-Hilditch. 'This is a great solution for those without a surplus of room in their home. We use bespoke made to measure joinery to create shelving, draws and cupboards that will fit perfectly into the space available, creating the perfect spot to keep shoes, coats and outdoor wear organised and out of the way.'
If you don't have quite enough space for a walk-in room, adapt your understairs mudroom ideas to add a simple boot bench into the alcove, and pack it full of shoe storage like in this example from The Cotswold Company.
6. Stay studious with a home office
For many people, home office ideas weren't even on their interiors radar until a year or two ago. Not everyone has a room that can be easily dedicated to home working, and that means getting creative. In this example by Neville Johnson, an under stairs area has been turned into a study, complete with built-in desk, shelves and drawer units.
'If you're considering designing a home office under the staircase, then you'd need to make sure you've enough head height, and also enough space behind you for people to pass easily,' says Powell.
7. Plumb in a powder room
When it comes to making an under stairs space more useful, you can't get much better than creating a whole new room inside it. Switch up powder room ideas by squeezing one into this underused part of the house. You'll need to ensure the space is plumbed correctly to support a sink and a toilet, and that it's positioned in a part of the staircase that will allow for enough head height to stand in front of each.
8. Turn a kitchen staircase into clever storage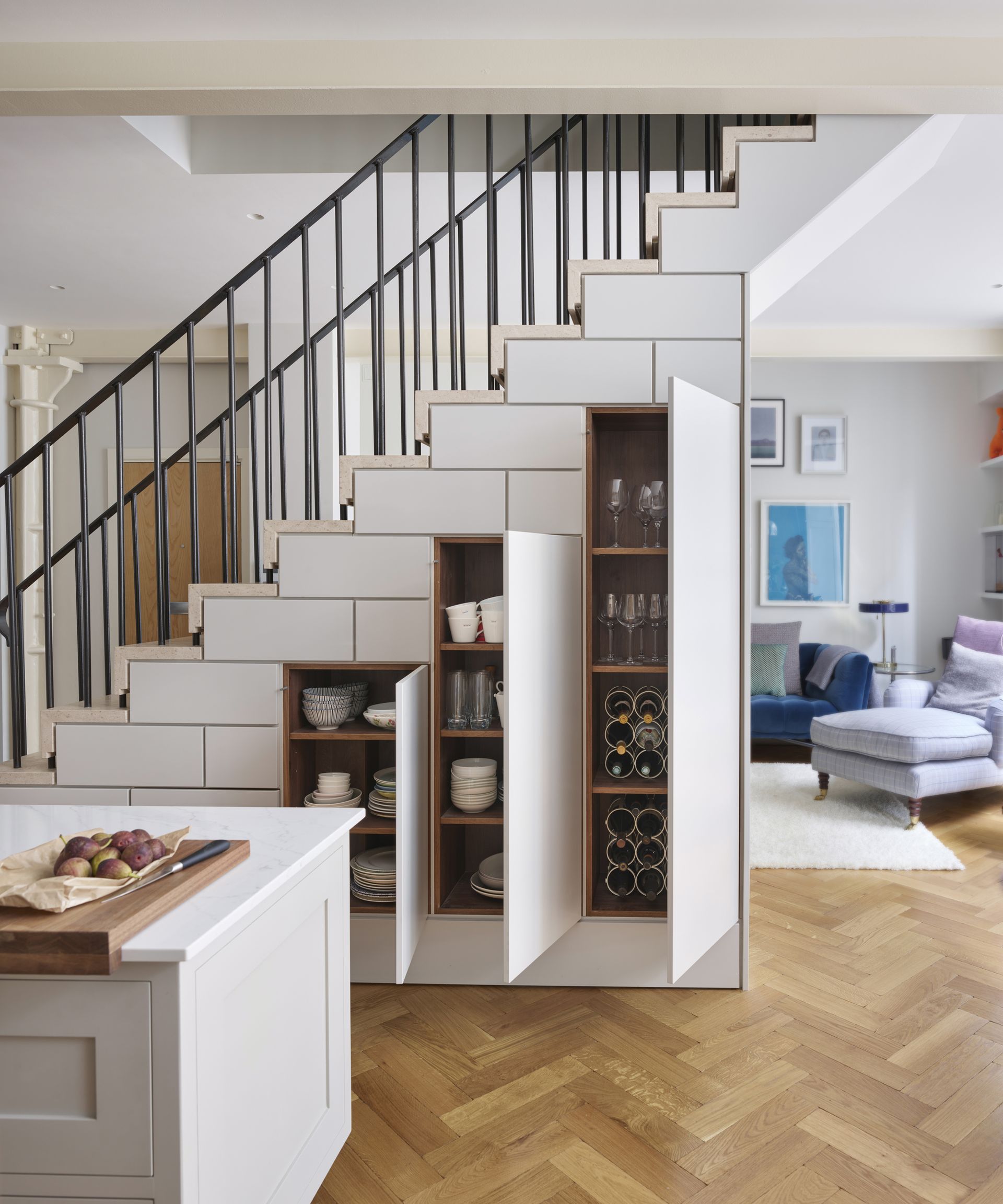 Of course, staircases aren't always located in a hallway – in larger, more modern or reconfigured home, a staircase can find itself leading into a kitchen. In this case, be sure to harness it for your kitchen cupboard storage ideas. In this example by Roundhouse, tall cabinets have been installed into a central staircase to house cutlery, plates and wine.
'If depth of space allows, then tall pull-out mechanisms and drawers are great,' adds Powell. 'This allows much easier access for items that would normally get lost or stuck at the back of the cabinet.'
9. Light it up
Adding storage into an under stairs area is all well and good, but it's not much use if you can't see what's going on inside. 'It's not often a naturally well lit area, so it's important to incorporate lighting inside to allow ease of visibility inside the cabinets,' says Powell. It's therefore really important to consider the inside of any such cupboards in with your hallway lighting ideas. In this space by Sims Hilditch, an under stairs cupboard is really well lit making it both welcoming and easy to use.
10. Settle down with a cozy seating area
Does an under stairs really need to have a definitive function? Absolutely not – it can just be a nice place to be. In this lower round area, the space under the stairs has been turned into the seating area of a games area. A naturally cozy alcove complete with a long bench sporting padded upholstery, it's perfect for reclining and reading on a rainy day – that's when you're not training with the nearby boxing punch bag or gymnastics rings, of course.
What can you do with under stairs space?
A lot more than you probably think. Firstly, you need to assess the size of the space you realistically have underneath the stairway once you've assessed what needs to be maintained structurally. A usage that works for spaces of all sizes is storage. If you only have the tall portion accessible to you, this is great for storing awkwardly sized equipment like brooms and vacuum cleaners. The shorter parts of the space are great for storing smaller items.
Alternatively, reimagine the space as its own, ever so slightly diminutive room. Get the plumbing sorted and you'll be able to create either a closed-off utility space filled with appliances, or turn it into a downstairs powder room. For a very contemporary rethink, home workers can consider turning it into an office area.
How do I maximize my storage under stairs?
Maximizing storage in any space is all about organisation. Firstly, you'll need to consider what the under stairs area needs to store – is it a pantry, or a cleaning cupboard? Giving the space a purpose will help you plan, and planning is key to maximizing a space.
Once you know what is being stored in the space, strategize what will go where. As the 'ceiling' of the space is on a slope, plan to store tall items at the only end they will fit, and work your way down. Think also about dividing up the area laterally – turn the tall end into one cabinet, then divide the rest into another two areas and fit them with storage solutions like shelving or drawers to make the most of the space.
Ailis started out at British GQ, where a month of work experience turned into 18 months of working on all sorts of projects, writing about everything from motorsport to interiors, and helping to put together the GQ Food & Drink Awards. She then spent three years at the London Evening Standard, covering restaurants and bars. After a period of freelancing, writing about food, drink and homes for publications including Conde Nast Traveller, Luxury London and Departures, she started at Homes & Gardens as a Digital Writer, allowing her to fully indulge her love of good interior design. She is now a fully fledged food PR but still writes for Homes & Gardens as a contributing editor.