Staircase trends – the latest materials and architectural styles
Step up your style with the latest looks in stairs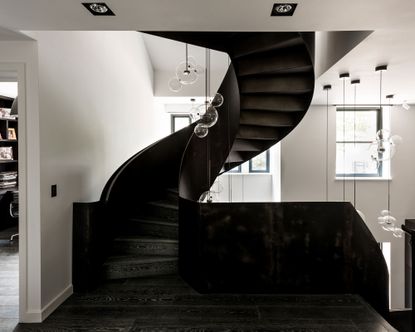 (Image credit: MW Architects)
One of the biggest focal points when entering a home are the stairs. Staying on top of staircase trends means you can not only choose the best look possible, but can help you set the tone of your home.
Not simply something to help you get from A to B, due to the size and, usually, the positioning of a staircase, it becomes nearly a room all of its own. As it connects floors and levels within a home, it's the staircase which helps meld spaces together, so finding the right type of stairs can have a huge impact on your interior style.
From the latest architectural shapes, to which materials are being used, we've broken down the trends in staircases you need for your next project.
See: Staircase ideas – inspirational features for treads, rails, materials and more
1. Use steel as a highlight
It's easy to consider steel as simply a practical element to use in a staircase, but it actually works beautifully as a modern decorative element.
Particularly striking in a more minimalist home, lining the edge of the stairs in a black powder-coated steel not only adds interest but a cool graphic element.
'The staircase is in mild steel with engineered timber treads,' says Matteo D'Angelo from Ade Architecture, who designed this home. 'The balustrade has circular section mild steel spindles with a timber handrail, which were chosen to complement the glazed Crittall screens and parquet flooring in the home.'
For more handrail inspiration, read our staircase railing ideas page
2. Give it a twist
Spiral staircases are back in style in a big way.
This design is a wonderful way of making the most of your space, as spirals have a small footprint, meaning they don't require as much room as other styles. 'For people wanting to improve their current living space without physically moving, a spiral is a good way of extending up to the loft, or down into the basement,' notes Richard McLane, Design Director, Bisca. 'From a design perspective spiral staircases, with their DNA-like profiles, are both sculptural and functional"
Take note from this Bisca design and look to integrate modern shapes for a clean, contemporary take on a spiral.
While, historically, spiral staircases were only right-handed - to allow for swordsmen to defend their castles in the Medieval era - now you can choose the direction of your spiral based on handedness or simply what works best in the space.
3. Allow light to flow
As the 'improve don't move' mindset stays strong, many of us are looking into basement extensions in order to maximise the space in our homes. Choosing the right staircase can go a long way to making this change be effective.
Glass pannelling in place of a balustrade is a wonderful, contemporary way to ensure that natural light can flow down to even the darkest reaches of a house. Boost this light-inducing power by sticking to pale colored treads, and blending in any handrails with the other wall.
4. Make a statement
Allow your staircase to be the star of the show by choosing not only an elaborate shape, like a helixed design, but an on-trend dramatic color.
'At ground floor, the helical sweeping staircase is a striking focal point stretching in two parts to the second floor which gives a sense of great height and scale,' notes Melissa Robinson, Director at MW Architects who designed this home.
'The contrasting shapes of the two flights add drama and a sense of connection across all levels. Each side of the sculptural staircase is made from one roll of 6mm steel, hand welded in situ and rubbed with oil for a dark tone that allows the metal to show through.'
This dark oil is an unusual choice for a staircase but adds instant, modern impact and, from a practical point of view, will be useful for hiding everyday dirt in this high-traffic area.
Learn how to make your stairs your own with our guide on how to decorate a staircase
5. Go linear
Complement a contemporary scheme by using slender bannisters.
This bespoke, ribbon-like staircase by Cousins & Cousins Architecture and Interior Design uses thin but bold rails to carry a modern theme from floor to floor.
6. Choose a minimal style
Use inline glass panels for contemporary elegance in a staircase with a minimalist balustrade.
'Inline glass is perfect for anyone who wants to really open up their hallway to light,' says James Murray, Senior Staircase Designer at Neville Johnson. 'It works wonderfully in spaces of any size, no matter how dark or light the room is naturally. By combining the sheer glass panels with the Dusted Oak finish, the finished staircase is stylishly understated, perfect to accompany a neutral interior scheme.'
Choose the same shade of wood, or paint, for the treads and handrails to ensure a feeling of floating elegance, and to prevent distractions from the glass design.
Looking to purchase a new set of stairs? Make sure to read our guide on where to buy staircases
7. Play with depth
Emphasise the thin elegance of tough metals by contrasting with heavy-set supporting columns.
As well as adding a grounding feeling to the space, the columns will highlight the delicate steps, making sure they remain a feature in the space. Go one step further by selecting contrasting shades for the metal and the paint on the columns.
8. Switch up your materials
Stone may appear to be an old-fashioned or traditional material to select for your staircase, but it has been reinvented.
Opt for modern molding techniques to create a sense of movement and flow to your stairs. A sweeping shape and gently curved edges will add a contemporary note to this classical material. Choose a very pale or super dark stone for maximum drama.
Which type of staircase is best?
There is no 'best' staircase as a whole; this depends on the space you have available and, of course, your personal style.
For modern homes, straight stairs can work well as they are the most minimal style out there. Alternatively, look to floating staircases where the treads are attached to the wall, appearing to hover without support.
Smaller spaces could make use of spiral staircases which, as described above, are perfect due to their tiny footprint.
An L-Shaped staircase, which include a turn either at the ground floor or halfway up, is lovely in a modern farmhouse home, or any design where there is plenty of room available.
Possibly the most grand staircase style of all is the spilt staircase, which begins with one flight of stairs before splitting into two staircase on either side of a landing.
What is the rise on a staircase?
As with any new work being done on your home, when building a staircase there's a lot of jargon to pick up on.
One which often comes up is the 'rise' of the staircase. What this essentially is is the distance between one tread and the next, measured vertically.
Typically, staircases should have a maximum rise of 220mm, however, different regions have different requirements to what rise is acceptable, so be sure to check local regulations.
Thea Babington-Stitt is a Content Editor at Future. She has been an interiors journalist for nearly 10 years and has held positions at LivingEtc, Country Homes & Interiors and Homes & Gardens. Currently, she is writing for Ideal Home and Style At Home's websites and magazines.