Staircase ideas – 25 inspirational features for treads, rails, materials and more
Stuck for staircase ideas? Step up the design credentials of your country home with these expert tips for simple makeovers, decorating inspiration and refurbs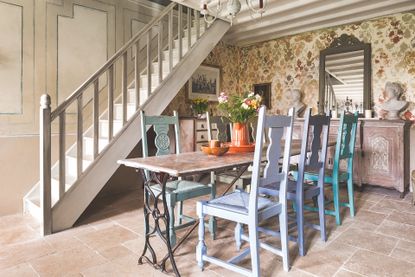 (Image credit: Benedicte Drummond Future)
The staircase is probably the most used, and least noticed, feature of our homes. We've curated the best staircase ideas and interior designer insight to help you get it right.
In a small cottage, the stairs may be a part of the main living space. In a larger house, the hallway and staircase are the elegant welcome that creates your home's first impression. In a farmhouse or barn conversion, a beautifully designed staircase can be the feature that elevates your property from workaday refurb to desirable modern country home.
Take a look at our staircase gallery for inspiration and find out where it leads you…
1. Refurbish your existing stairs
If you have an existing staircase that is outdated or showing signs of wear, tearing it out and starting again isn't your only option. Instead, you can reduce costs and disruption by replacing individual stair parts.
'Spindles, balusters and treads can all be easily replaced and have a transformative effect on your staircase, without incurring the cost of a full refit,' says Zoe Goff, Product Manager at Richard Burbidge, a leading manufacturer of stair parts. 'You have the flexibility to choose from a wide variety of styles and colours to give your staircase an instant face-lift.'
2. Match your stairs and hallway
From the front door to the handrail, the flooring to the stair treads, everything about this hallway and staircase is in harmony.
The key is to select a limited palette of materials and paint colours that balance each other to create an elegant look. Here, the rich, deep tones of the hardwood flooring extend throughout the space, bringing warmth to the entrance. The paint colour is from Benjamin Moore.
3. Add interest with wallpaper
Creating a seamless look will make the space feel larger and less disjointed, so think about wrapping the wallpaper across the main living area and up the stairwell to bring continuity to your decorating scheme.
Choose an informal, mid-scale print without too many colours for a contemporary look, and keep the stairs plain so as not to distract from the pattern.
4. Create a stairway seating area
A large hallway can look bare, with the staircase simply an escape route from an unfriendly space. Create a welcoming scene by establishing a reason to pause at the foot of the stairs. A chair and side table, illuminated by statement pendants and a lamp, creates a comfy space to sit – and draws the eye to the beauty of the carved balustrade at the same time. These are the Stella pendant lights from Pooky.
5. Do a quick update with paint
Taking up a carpet or runner, sanding back the steps and painting them is the simplest stair makeover ever. You'll need to pick a hardwearing paint, such as the Chalk Paint from Rust-Oleum, that can withstand the constant knocks and scuffs of people walking up and down the stairs – ideally, one that can be painted directly over old paint or varnish and doesn't need a topcoat, so you can finish the project in a day.
While the staircase here looks fresh and bright, choosing a pale grey colour for the risers and beneath the dado rail, and brilliant white for the stair risers, balustrade and walls, adds depth to the scheme.
See: How to decorate a staircase – design ideas for stylish staircases
6. Smarten up period features
When you design a home, it's a balance between preserving original details yet making them look right for here and now. A staircase, which is often the first feature you say when you enter a house, is a great place to start.
'I always like to enhance period pieces in properties where possible,' agrees interior designer Jojo Bradley of Jojo Bradley Interior Design. 'In this traditional country home, I had the spindles and treads painted to keep the staircase formal and fresh. I kept the original dark wood handrail, as painted rails can mark easily.
'I then used a simple stair runner with a whipped edging – I always prefer a whipped edging rather than a turn-under as it gives a nicer finish.' The original smart brass give the final flourish.
7. Be playful with pattern
Choosing the same carpet to sweep continuously from the hallway to the top of the staircase, and even beyond to the upper landing, will create a seamless flow of colour – but sometimes it's fun to play with expectations.
Here, the same Polka Dot carpet design from Carpetright has been used in reverse colourways for the main room and the stair runner. The result: playful coordination that, along with the use of a half-painted wall and cabinet, adds character to the space.
8. Select sisal for long-lasting style
Natural materials that reflect the landscape outside your door are a good aesthetic fit and also reflect a concern about sustainability and the environment.
'Sisal is a great material for any stairs; it's a natural plant-based product that's highly durable, so ideal for one the heaviest used areas in your home,' says Julian Downes, Managing Director of carpet company, Fibre.
Sisal is available in a variety of colours and patterns, allowing you to introduce texture into a neutral modern country scheme. 'A chevron or herringbone design adds natural direction to a staircase and flows beautifully out of wooden or stone floors,' explains Downes.
'If you are looking for a greater injection of colour or pattern, then a wool carpet with vivid colours in a striped or geometric design can also be used.
9. Pick a bold carpet pattern
Our choice of carpets has got bolder in the past few years, with graphic patterns one of the top looks for staircases. These carpet designs don't just work on a design level – bold patterns are very adept at disguising debris and dirt tracked into these busy spaces.
This stair carpet by Carpetright is a great example of an on-trend pattern that's both sophisticated and practical.
See: Carpet trends 2021 – stylish new looks for fabulous floors
10. Choose decorative metalwork
Even if you keep the banister and treads the same, you can transform your staircase by swapping out straight or turned-wood spindles for metalwork that adds drama to the balustrade.
Generally made in steel or cast iron, these can be purchased as individual stair parts or designed bespoke for your home. Here, the charcoal trim of the runner reflects the ironwork to pull the look together.
11. Make stairs a design feature
'The stairway is a pivotal element in the house and provides much more than a route upwards – it's a journey made over and over again, and it should be enjoyed every time,' says architect Richard Parr, Founder of Richard Parr Associates.
If you're installing a staircase in a large space such as a townhouse, barn conversion or modern farmhouse, think about the horizontal space it occupies as well as its vertical dimensions.
'I like to use stairs to wind and extend to connect different parts of a building, not just different floors,' explains Parr. 'Here, the stair is as much a sculpture or a piece of furniture, which is as rewarding to look at as it is to use.'
12. Enclose the staircase in an open-plan layout
If your stairs lead down into an open-plan space – and up to bedrooms – enclosing them within the architecture can offer a visual 'break' and cut down on noise transference.
This architectural trick does require good lighting – ideally, natural light cascading from a rooflight above, but failing that, lighting in the risers. Light-colored materials for the stairs themselves and the walls are advisable, too, to keep the space feeling bright and spacious.
13. Be brave with a bold runner
The colour of the paint used on the staircase can make a runner 'pop' or subtly complement the tones of the carpet. Here, the monochrome scheme of the hallway is given definition with black-painted treads, while this green runner from Roger Oates brings the drama.
14. Pick a neutral color for a stair runner – but with a twist
Neutral stair runners are easy to redecorate around so if you like to switch up your decor regularly, they are a wise choice. But avoiding a plain runner is a must – plain carpets and runners will show up every speck of dirt and wear that a patterned one won't.
If you are keen for your scheme to remain easy to rework – and want an elegant look, stripes are the way to go.
'Stripes are timeless and the variations infinite, from classic fine pinstripes to contemporary asymmetric bands of color,' says Andy Guard, Creative Director, Roger Oates Design. 'Maximize your prints in courageous colors for impact or use texture and subtle neutrals to create a relaxing space. Used thoughtfully, stripes can define areas and even adjust the perspective of a room. Stripes along the hall will lengthen it whilst stripes across the hall will make it appear wider.'
15. Brighten up your banister
'Paint offers many decorative opportunities and this is just one of them – it's such a simple but effective idea,' says Geraldine James, former home buying manager at Selfridges and author of A Pop of Colour (CICO Books).
'The long curved handrail on this staircase has been painted a cool minty hue that tones with the staircase.' Pastel colors are very easy to live with, especially when teamed with white floorboards and muted walls which a keystone of modern country decor.
16. Link staircase paintwork to the rooms beyond
Good interior design depends on a cohesive scheme that runs throughout a home. Here, the paintwork on the staircase itself is picked out on the frames and doors that lead to the rooms beyond the hallway.
This decorative technique also allows you to introduce a darker, more dramatic color to a hallway that you might not dare to put on the walls. Match this with a simple, monochrome runner in a thin stripe so that paintwork and pattern don't fight.
'Monochrome is the interior design classic that never goes out of style. Whether you are channelling French country chic or modern contemporary, a palette of black and white lends a sophisticated look to your decor,' says Andy Guard, Creative Director, Roger Oates Design. With the appeal of darker painted stairs and balustrades showing no sign of abating, a monochrome runner elevates your hallway, adding a dramatic focal point to your home.'
17. Fade the staircase into the background
When a staircase sits in a living space such as a dining area or living room, you can help it fade into the background by choosing a gentle paint shade such as this chalky pale grey. Using colour and pattern in the rest of the room helps to enclose the space and define its purpose.
18. Make a color statement with a runner
If you are looking to make a statement with your staircase, a stair runner offers an elegant and simple solution – introduce bold splashes of colour, stripes, spots or geometric patterns, and more decorative features such as stair rods in metal or wood to suit traditional or contemporary schemes.
'A stair runner is a narrower width of carpet fitted to the middle of your stairs, leaving some of the woodwork on each side exposed,' explains Julian Downes, Managing Director at Fibre carpets. 'They usually come in two different formats. The first is a heavy unbacked cloth that can be tailored to the stairs, in standard widths (around 60cm or 70cm wide). The suppleness of this woven fabric means they can be fitted on almost any staircase, straight or winding.
Stair runners can also be made from a broadloom carpet, cut to a custom width and finished with a border. The border stops the edges from fraying but also allows for a complementary or contrasting colour.
19. Match the stair runner to hallway flooring
When you have an original, intricately patterned floor that features several colors – such as in a Victorian house – picking a color for a runner and the stairs themselves can be tricky. Our advice is to choose to match the most neutral of the shades featured within the tiles – this will unite the staircase with the hall flooring, but still create a calm, neat look.
20. Remove the banister
A key trend is the modern country look that focuses on simplicity and beautiful natural materials, which is why this pared-back, linear staircase works so well.
Rather than a traditional balustrade and 'string' – the staircase sides that the treads are risers are fitted into – this design extends the spindles, creating a natural screen for the staircase.
21. Combine modernity and tradition
Historic homes create a challenge when it comes to staircase design, especially when you're looking to install a new structure in a property where ancient beams, characterful corners and sloping floors are the norm.
'This luxury oak and glass staircase was designed to complement the traditional interior of this period home. The natural oak finish blends with the exposed beams, while the glass panels ensure that those wonderful period features are not obscured by solid spindles,' says James Murray, Senior Staircase Designer at Neville Johnson.
The natural oak cladding creates the appearance of a solid oak staircase, without the need to alter the structural integrity of the original construction. 'The contemporary design elements such as the glass panels blend with the more traditional oak cladding for a modern look that will stand the test of time,' Murray says.
22. Make your staircase look wider
Add a painted runner to a staircase in hard-wearing floor paints in sympathetic shades. A multi-stripe design will make narrow stairs in a country cottage seem wider. Experiment with widths and use masking tape to section off the areas you want to paint.
23. Put up panelling
Panelling – either existing or new – adds texture and depth to a staircase and can help to link it visually with surrounding doors and skirting. Enhance the look by painting the panelling and woodwork in the same colour.
For added interest, simply wax a wooden balustrade to enrich its natural tones and create standout.
24. Lead the way with stripes
'Smart stripes are a classic choice for adding pattern to your home. They never go out of fashion and can be used effectively to add drama to an entertaining space or draw your eye along a room or hallway,' advises Charles Annable, Managing Director of Brockway Carpets.
On a staircase, they do double duty – leading eyes and feet upwards to the upper floors, and helping to conceal wear and tear that comes from country living.
'Stripes are a great choice for staircases as the pattern will disguise marks that often occur in high traffic areas. They are also perfect for creating the illusion of a longer and wider area,' says Annable.
25. Bring the drama
Here, the contrast of deep indigo paint by Sanderson with crisp white creates a dramatic two-tone effect that takes this staircase to the next level.
The paint on the treads has been taken over the curved 'nosing' at the front of each step for a smart finish, while painting the wall beneath the staircase the same dark tone makes the stairs themselves the standout feature.
How much does a new staircase cost?
Upgrading your staircase can cost from around $300/£200 for a straight standard 12-tread flight of pine stair, up to around $1,600/£1,200 for a combination of glass, oak and stylish metal fittings.
The price increases significantly for bespoke work, and will depend on the complexity of the design and materials used. You can often get a designer look by using a component-based stair parts system. 'In the majority of cases, the balustrade can be changed without pulling out the existing staircase,' says Zoe Goff, product manager for Richard Burbidge, the UK's leading manufacturer of stair parts.
How do you modernize stairs?
A staircase can be updated by painting the treads, installing a runner, or adding new fixtures such as stair rods. But if you want a completely new look, you can remove the existing balustrade (the vertical columns or spindles, topped by a banister rail) and replacing them with a more contemporary design.
'This can be done by an experienced DIYer, tradesman or joiner,' says Zoe Goff. 'The existing balustrade can be removed, but remember to keep the bottom part of the newel (the upright pillar at the bottom of the stair) and the large posts at the top and bottom of your staircase. There will also be newels midway up your staircase if your staircase is not a straight flight.'
The choice of stair parts is broad, from period replicas to sleek contemporary designs in timber, metal and glass. Manufacturers will strength-test their components to meet safety regulations.
What is the best color for stairs?
Lighter colors give the illusion of space within a hallway. You may need to consider lighting stairs if they are and the hallway are painted in a dark color, to reduce risk of tripping.
When selecting a color for your stairs, it's best to consider the overall look of your home – is it more of a modern or traditional country aesthetic? 'White can work really well in a more contemporary looking home, whereas an off-white paint with a hint of grey can look incredibly striking in a more traditional home,' suggests Zoe Goff.
'The trend is currently to paint some of the timber within your home and that also includes your balustrade. Painted spindles can be bought ready to fit and can reduce the cost and time of the refurbishment, finished off with a luxurious oak handrail.'
What makes a good staircase?
A great staircase is one with a balustrade that is in keeping with the overall style of the house – whether this is all timber, or a combination of materials such as metal and glass. Look to the rest of your decor or the materials you've used throughout your home to define the look of the staircase. Even if you're choosing a contrast of styles – a contemporary staircase in a renovated historic barn, for example – choosing complementary materials will create a harmonious look.
Are staircase runners a good idea?
'On wooden or stone floors, if laid with underlay, runners soften the resonating sounds of crashing feet but allow the wood or stone beneath to be visible making them far chicer than fitted carpets,' says Andy Guard, Creative Director, Roger Oates Design.
'However, runners should not just be defined as protective but are decorative in their own right. A runner will add the perfect welcoming touch to any hall or stairway, instantly transforming a dark entrance into a warm space.
'Stripe runners are especially versatile, complementing decorative and geometric tiles and patterned or floral wallpaper.
'Stairs are the transient space between rooms and a runner can be used to link interior themes throughout the house with colours picked out in accessories.
'Minimalism is over - replaced by color, pattern and texture. We have found clients are confident introducing color and bold pattern. Whilst all shades of grey continue to be popular, especially charcoal, dark blue is emerging as a 'go to' dark neutral. Deep midnight, soft indigo or royal, blues aren't cold and can be rich and sophisticated.'
Sign up to the Homes & Gardens newsletter
Decor Ideas. Project Inspiration. Expert Advice. Delivered to your inbox.
Andrea has been immersed in the world of homes, interiors and lifestyle since her first job in journalism, on Ideal Home. She went from women's magazine Options to Frank. From there it was on to the launch of Red magazine, where she stayed for 10 years and became Assistant Editor. She then shifted into freelancing, and spent 14 years writing for everyone from The Telegraph to The Sunday Times, Livingetc, Stylist and Woman & Home. She was then offered the job as Editor on Country Homes & Interiors, and now combines that role with writing for sister title homesandgardens.com.