Paneling ideas for walls – 15 ways to bring warmth and interest to your interiors
Our favorite paneling ideas for walls, from traditional cladding and decorative mouldings to innovative designs using fabric, will inspire your room remodel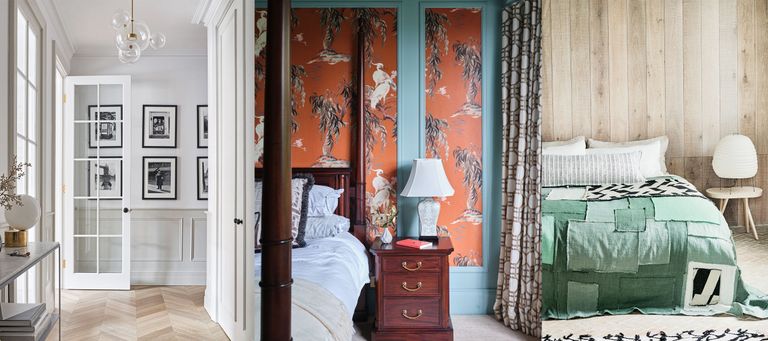 (Image credit: Future)
When it comes to paneling ideas for walls, there are many styles available to suit the age of your house and personal taste. Some incorporate a richer effect, such as hand-carved friezes and pilasters, others have a traditional aged and polished finish, and some, such as the Tudor linenfold, are highly decorative.
It is entirely personal, but a typical approach, just as with other wall decor ideas, would be to match the style of the paneling to the period of a house. Georgian houses, with their high ceilings, typically suit full-height paneling featuring simple rectangular shapes.
Houses dating from the 16th and 17th century will tend to favor paneling made up of smaller squares. A cottage, meanwhile, might suit plank and muntin walls, a technique that uses large oak beams as a frame with oak paneling in between. The Victorian typically opted for panelling at dado rail height in their houses.
Paneling ideas for walls
While wall paneling ideas are often associated with period homes or traditional interiors, they are actually a really useful decor element for layering and adding texture to contemporary spaces, too. Below, we show you a whole range of paneling ideas for walls to suit all room styles, purposes and sizes.
1. Give classic wall paneling a modern edge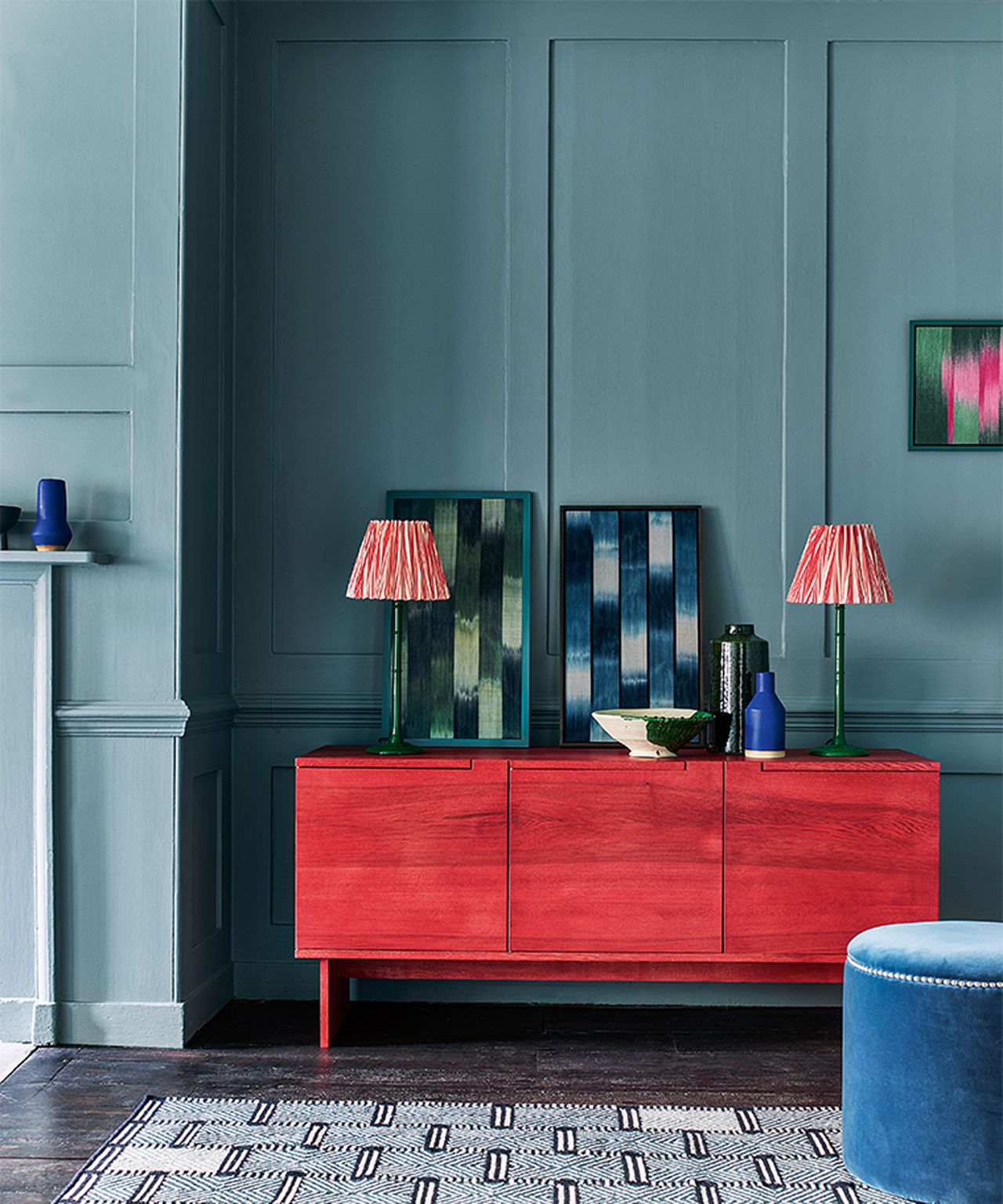 In period properties, paneling ideas for walls that match or complement the original style and architecture of the property are a wonderful way of marrying old with new. Alternatively, in a plain room that is lacking decorative details or any original architecture of its own, adding a paneled area is a clever way of bringing character to a featureless space.
Classic board and batten paneling is given a contemporary twist painted the same muted shade throughout, from floor to ceiling. Adding a modern statement piece of furniture in a bold, standout color will pop against the backdrop and looks striking styled up with artwork and colorful lamps.
2. Opt for practical paneling in high-traffic areas
Stair paneling ideas have a practical element in addition to their decorative effect. Paneling on the lower section of walls will protect plasterwork from scuffs and scrapes and using a wipe-clean paint finish means that fingerprints and marks that are inevitable in such a high-traffic area can be easily removed.
Using plain painted paneling on the lower section of wall offers scope for a more decorative treatment on the upper portion of wall space. Try a boldly patterned wallpaper to create visual interest that will draw the eye upwards, complemented by a colorful stair runner in a lively stripe.
3. Pretty-up paneling with decorative paintwork
Give plain white paneling a fancy twist by adding a repeat motif in a vibrant contrast colour. Using a simple Moghul-style block stencil on plain areas of wall adds an ornamental element and will create a decorative backdrop that is easier on the eye than a busy wallpaper print.
Be sure to choose a practical paint finish for any paneled areas in the home. An eggshell or satin paint in a low-sheen finish is advisable, which is more durable than emulsion and can be easily wiped clean. Farrow & Ball recommend using their Estate Eggshell, a washable, water based satin that gives a soft low-shine finish on interior wood and metal. Alternatively, try Modern Eggshell for a mid-shine finish, or Full Gloss for an ultra glossy high-shine finish.
4. Keep it low-key with country-style cladding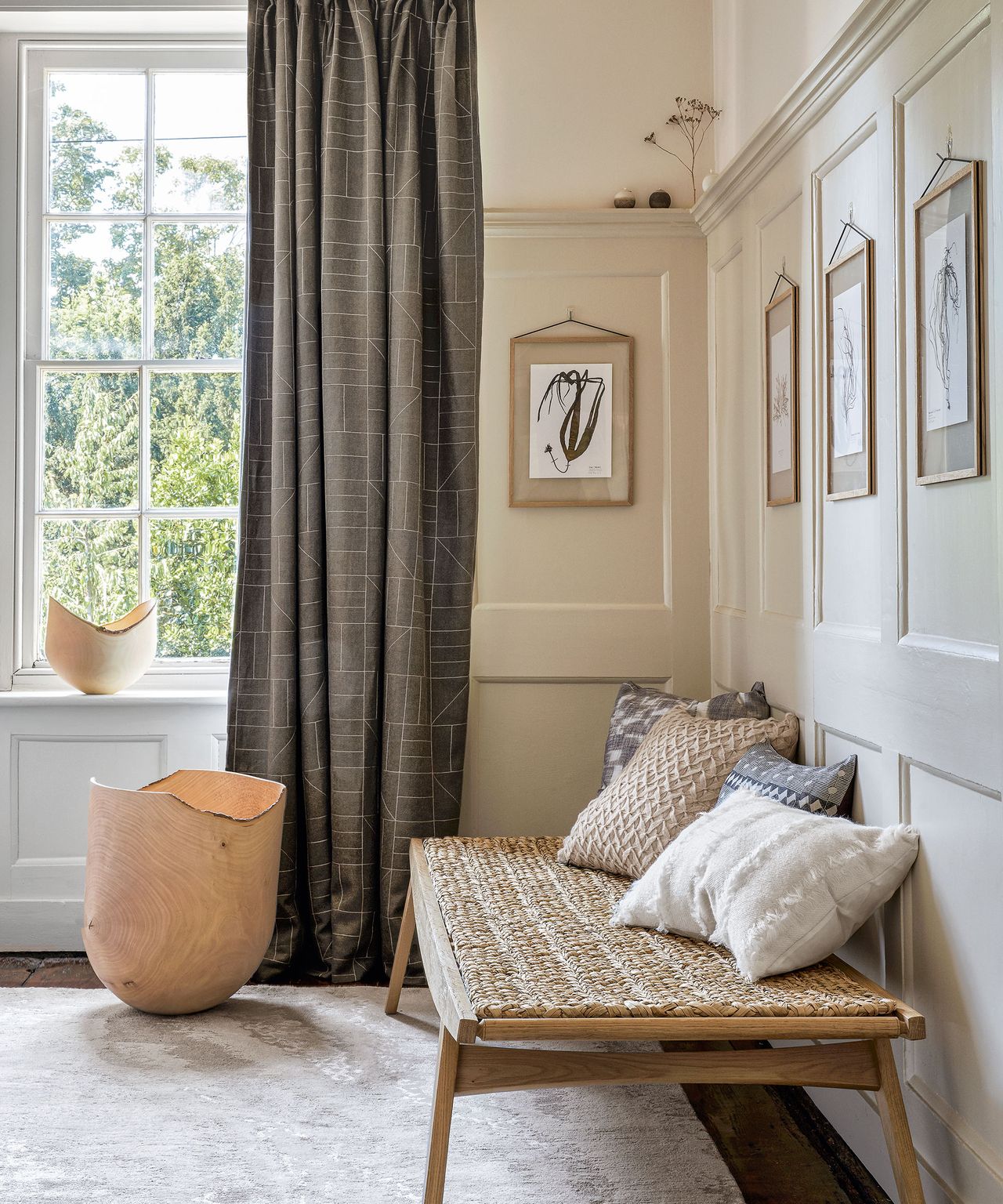 Opt for simple tongue-and-groove paneling to create a more relaxed, country-style vibe. An easy option for a competent DIYer, tongue-and-groove paneling simply requires a batten framework on the wall as a fixing point, with timber panels simply slotting together and nailed in place.
Paneling makes a clever cover-up for walls that are less-than perfect and will conceal bumpy plasterwork or peeling paper. Finish off paneling by adding a slimline shelf trim on the top edge. A narrow ledge can be a lovely decorative feature styled up with treasured finds and favorite ornaments.
5. Try problem-solving paneling in small spaces
In bathrooms and downstairs cloakrooms, where plumbing and unsightly pipework can pose a problem, wall paneling offers an easy solution. Awkwardly-positioned plumbing work can be concealed by a built-in framework that can be clad or paneled to offer a decorative top treatment.
Another advantage of boxing-in pipework in a bathroom is that it often creates ledges, shelves and cubbyholes that can be utilized for storage, creating space for storing towels, toiletries, loo rolls and cleaning kit.
6. Paint on architectural details
For a rustic, homespun feel, clad walls in irregular-width planks and paint on decorative details. Using the same mustard yellow for the faux dado rail border and the stencilled frieze helps to bring the space together.
7. Treat wall paneling like a piece of art
Without a focal point, such as a fireplace, modern rooms can lack character. One way to address this is by creating a feature wall of decorative paneling. Setting it in a wooden frame elevated the panels into artwork and the wood theme continues here in the choice of furniture.
8. Pick a bold shade
Paneling ideas for walls do not need to look period or rustic, as this modern bedroom scheme shows. Painting the stacks of square Jacobean-inspired paneling in a dark hue creates the perfect backdrop to offset strong pieces of furniture and accents of color.
9. Add detailing with paint
Dado rail paneling was traditionally used to protect the walls from chairs knocking against them, but there is an aesthetic at play element, too. The painted border here helps to create the illusion of further paneling detail without the expense of the real thing.
10. Create a super-sized headboard with panelling
Add an extra dimension of softness and luxury to a bedroom by having a three-quarter height wall of fabric-backed panels behind the headboard, as shown in this scheme by Helen Green Design. An additional bonus is the sound insulation it offers from the world outside.
11. Fake paneling ideas for walls to add instant character
Instead of the real thing, opt for a wallpaper such as this design by Andrew Martin. The intricate grain details and clever use of shading create an authentic wood paneling look ideal for a more contemporary setting.
12. Create a contemporary feel with fluted panelling
Fluting is a trend that we've picked up on recently. It's often used in architecture to create texture and interest, and here it's been added as a partition wall to create a character feel within a modern room that's limited on architectural detailing. The warmth of the wood used for the paneling makes a minimalist decorating scheme instantly more welcoming, too.
13. Fix paneling widthways to exaggerate a room's proportions
Fitting wall paneling horizontally will make a room feel wider or longer, making it a great trick for small rooms, such as bathroom. Painting bathroom paneling ideas in a pale color will further emphasize the room's proportions.
If using paneling in a bathroom – or any space with lots of moisture in the air – choosing a material that can withstand the atmosphere is a must. Wood will warp, so should be avoided.
14. Make wall paneling the focal point
Paneling for walls can be a work of art in itself – and it needn't be solely architectural. Here, bespoke paneling made from wood is the accent wall of our dreams, created to dominate and set the tone for this living space.
15. Create a country feel with decorated wall paneling
If you are searching for decorating ideas for period homes, there's no doubt that paneling ideas for walls will be high up on your wish list. Old properties tend to have uneven walls, which a skilled carpenter can regulate with a skilled approach to create the paneling. However, if you like your cottage's irregularities, hanging a wallpaper with a paneled effect can be an excellent compromise.
And if you choose one with an extra decorative detail, such as a floral motif, you will have the chocolate box effect that's so sought after.
Is paneling cheaper than drywall?
Paneling does not tend to be cheaper than drywall because of the careful trimming of the wood that you will need to do. And, unlike drywall, paneling isn't necessarily designed to be sound-proofed. Instead, paneling for walls is often purely decorative – and that's where its value lies.
Lisa is a freelance journalist who has written about interiors for more than 25 years and has worked on all the major homes titles, primarily Ideal Home, but also including Homes & Gardens, Country Homes & Interiors, Style at Home, Livingetc, Woman & Home, Easy Gardens and Good Homes magazines. Lisa writes about interior design and decor ideas for Homes & Gardens.