Modern dining room ideas – 17 contemporary ways to decorate your dining space
Modern dining room ideas will help welcome your dinner guests with contemporary style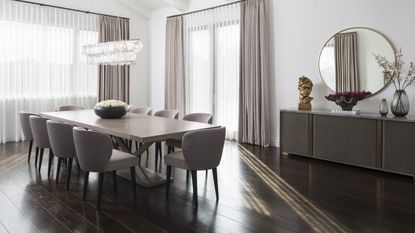 (Image credit: Claudia Afshar Design/Meghan Bob Photography)
For modern dining room ideas that are perfect for contemporary homes, be sure to keep it sleek and streamlined.
Whether you're a lover of formal dinner parties, or your approach to mealtimes is more relaxed, how you decorate your dining room ideas will have a big impact on its feel.
Our key contemporary dining room ideas and design rules will guide you whatever your space – from a separate dining room to an eating zone in an open-plan area.
Modern dining room ideas
Modern dining room ideas need not be so slick they're cold – you can use color, pattern and beautiful furniture and accessories to add character and interest. We asked the experts for their tips and put together a selection of our favourite rooms.
1. Create an intimate space with dark colors
When it comes to dining rooms, don't be afraid of the dark. 'I love dramatic and evocative dining rooms,' says Tiffany Duggan, founder of Studio Duggan and the home and lifestyle brand, TROVE. 'Think deep lacquered browns, reds or rusts, coloured ceilings, dimly lit wall lights and freshly picked flowers.'
The trend for dark interiors is on the rise all across the home, but nowhere do you have more licence to be flamboyant with them than in the dining room. Dark colored walls work really well at night, and work really well among small dining room ideas to create an intimate space, as demonstrated in this wine room space by designer Windsor Smith.
2. Declutter in small dining rooms
'If you are working with a fairly small space for the dining room then it is best to keep the area feeling as uncluttered as possible,' says Katie Glaister, Co-Founder at K&H Design. To maintain a sleek, modern look in a diminutive dining area, do away with unnecessary furniture and keep the focus on your dining table decor ideas and the table itself. In this compact dining area, situated off the living room in a space designed by Albion Nord, the table and chairs are joined by a single pot plant and a collection of wall art.
3. Elevate your modern dining room with lighting
When lighting a dining room, consider bringing a sculptural presence to your room with an eye-catching pendant fixture. Functional and attractive lighting is an essential feature of a modern dining room. Modern pendant lighting is very on-trend right now, with the shops full of affordable and stylish designs. Options come in a variety of styles, sizes and finishes – from contemporary copper, to vintage enamel.
The choice of fixture is an important decision, particularly in a modern dining room,' says Henry Miller-Robinson, Co-Founder of K&H Design. 'In this project, we chose a central pendant to hang above the glass dining table to create a strikingly modern effect with its elegant reflection. We had the led tracks and cylinder spotlights neutralised so that they blended in with the ceiling and didn't distract from the pendant while still giving out enough light for dinner guests.'
Whether you choose to install a single light, or make a statement by hanging in a group, pendant lights are a great way to add colour, or enhance a decorating style. By hanging pendants over a dining table or breakfast bar, you will create a focal point; and a dimmer switch will control the mood.
4. Rethink traditional silhouettes
The formal dining room has quite the design history, but to make it feel modern, rethink some of the classic furniture and decor elements with contemporary silhouettes. In this room by Ward & Co., a glass-topped table from Roche Bobois features a sculptural twisted base, while the chairs display contemporary curves in their design. Above, a classic chandelier is swapped for a selection of molten-like globe pendant lights by Tom Dixon. In addition, you could also look out for asymmetric or curved mirrors for your dining room wall ideas,
5. Make a statement with a sleek sideboard
While the dining table might be the focus of the room, make sure your other furniture is in line with your modern look too. 'We always like to squeeze a sideboard into a dining room when space permits,' says Duggan. 'It's a great spot to store serveware, a secondary dinner service, or special glassware, but it can also be the perfect place for low level lamps, flowers and candles.'
Sideboard decor ideas aside, make a statement with your sideboard by choosing something architectural with geometric paneling, or imbued by subtle details like in this room by designer Claudia Afshar.
6. Keep it pure and simple
Forgo an overload of color for a quieter story of considered, understated forms and textures. Look beyond seasonal fads to create a scheme that is timeless and elegant. Jet black accents always add definition and form. Here they are paired with the softening touch of a wallpaper inspired by silver birch for grey dining room ideas with a fresh and contemporary effect.
7. Get creative with pattern
The latest looks for modern dining rooms see lively dining room color ideas and geometric designs taking centre stage. Carpet tiles are not an obvious choice for home interiors, but have been used to striking effect in this dining space. The tones are echoed in the curtains and upholstery; otherwise the scheme is white, for a relaxed, modern feel.
8. Curate a contemporary coastal scheme
Breath new life into a classic coastal look with a breezy palette of blue dining room ideas, from soft shades of pale sky through to denim, teal and Breton navy, all complemented by pops of vibrant red. Here hints of ice blue in the seating and window frame are all that's needed to balance the more punchy reds.
9. Dress with dramatic florals
Florals always come to mind pretty quickly when you think about how to dress a dining table – but don't confine them solely to the vase. Introducing bold florals to your decorating scheme may feel a little daunting, but the key to showing them off to their best advantage is restraint. Celebrate the resurgence of rich, bold prints by showing them off in a neutral, pared-back setting for an easy-to-live-with look. Here, a large floral print on the dining chairs makes a striking statement against a backdrop of carefully coordinated plains.
10. Create a bright feature wall to match
A palette of primary colors is an easy way to add a modern element to a dining room. Hockney's cheerful confidence with color is honoured in this vibrant dining space by using robust primary shades on the walls, floor and furniture. The look is counterbalanced by painterly brushstrokes on delicate ceramics.
11. Introduce murals to create a view
Celebrate the exuberant charm of murals with a statement wallcovering. Decorate with fantastical scenes and stylised inky imagery and fine architectural drawings. An enchanting secret garden scene flourishes around all four walls, creating an intimate space for entertaining.
Simple curtains and furniture in contemporary shapes act as a foil to the whimsical feel, while the framed prints continue the theme as companions to the birds fluttering across the mural.
12. Take a down to earth approach
Be inspired by nature by decorating with an autumnal palette of chestnut and terracotta. Invest in wood furniture and accessories with chic leather details and textural weaves. A dark wood panelled wall creates an intimate feel in this dining space, where a trio of mismatched glass pendants lend sculptural interest. The black-and-white rug brings a sharp hit of pattern and a crisp modern note to the room.
13. Define the space with an area rug
The new emphasis of furniture and textiles that lend texture to a scheme has precipitated a revival in all forms of weaving, from simple, sculptural baskets to seventies inspired wicker, macrame and rattan. Including them in your table decorations is one of our favorite dining table styling tricks, but don't forget to take them to the floor.
A large woven rug helps to define the dining area of this open-plan living space, while the distinctive lampshade, reminiscent of a straw hat, introduces a note of whimsy to the scheme.
14. Add accents of warm color
Red is having something of a revival and is an excellent choice for modern dining room schemes. This bold hue is often considered a daring choice for interiors, but used creatively it can introduce a welcome burst of energy and flamboyance.
Vivid hits of red on the chairs, console and framed antique prints punctuate the rich grey interior. The grand proportions of the room carry off this striking combination with aplomb.
15. Pretty up with pink
Dress your dining room with upbeat corals and rich tones of raspberry and fuchsia to create a sense of romance, sophistication and fun. Bold pink and statement pieces in a dining area look bright and fresh by day and atmospheric in candlelight by night. Touches of gold add another layer to the room, creating a glamorous counterpoint to dark wood.
16. Create vintage appeal
Teaming a simple modern table with classic dining chairs brings a traditional style up to date. Placing the furniture by a window shows off its silhouettes to great effect. Add drama and intrigue with an industrial-style pendant light, marble vase and glassware.
17. Build in a banquette
Perfect in a small modern dining room and in kitchen diner ideas, banquettes, particularly when upholstered, look incredibly smart and can lift the look of an open-plan kitchen diner and bring an element of comfort to the space too. This banquette was designed by LA-based interior designer Stefani Stein who is well known for her practical but elegant schemes.
How do I modernize my dining room?
With a more relaxed approach to living, many homes have done away with the traditional dining room in favour of an open-plan scheme. Other more compact spaces don't have the square footage for a designated dining area. But it's still possible to create a dining space with wow factor that works as a successful zone within an overall scheme.
Open-plan dining is a popular choice, with many contemporary schemes now eschewing the traditional dining room for a more informal area that blends neatly with kitchen and living space. In a large enough room, this works just as well for formal dining as informal. The key is to delineate the space. A generous sized rug, on which dining table and chairs sit, is a great way to do this, while the addition of large pendant lights hanging overhead further defines the zone.
Try combining a mixture of contemporary and rustic furniture, such as modern dining chairs with a farmhouse table, and unify the look by using just one or two colors throughout the room. Address the issues of acoustics and cooking odours too – rugs and soft furnishings will help absorb noise.
Placement is another important factor to consider. A dining table is best placed near patio doors and, if space allows, you might consider an informal seating area, perhaps centered around a wood-burning stove. It's also a good idea to include a separate utility room where white goods can be stowed away from sight.
What is trending in dining room tables?
There is a vast choice of dining tables available, in all styles and to suit all budgets. The available space, as well as the numbers you tend to cater for will all inform your choice but do think about how the size and shape of the table will sit in the space too – it needs to be in proportion.
Extending tables are the versatile option. Round tables can be more convivial if you are seating up to 8, beyond that, a long rectangle offers more accessible space. Think about where the legs will fall. A central pedestal on a round table ensures no one gets stuck straddling a leg. Design shops, furniture specialists and department stores all offer a great deal of choice and, with the formal dining room falling out of fashion, antique and second-hand retro pieces are readily available and very affordable too.
Whether you have a simple wooden table, or a space-age contemporary design, adding modern chairs can give your dining space a whole new look. Go for white ones for an effortless safe choice, but if you want something with a real wow-factor, be daring with a colourful design. With so many modern styles to choose from, you should have no trouble in finding a perfect match for your home.
How do you make a traditional dining room look more modern?
You can modernize a traditional dining room by being a little more daring with dramatic materials, such as darker woods and matt metallics. Soften the look with different textures and don't be afraid to add a little twist here and there with strong shapes or vivid patterns.
Whether you have a simple wooden table, or a space-age contemporary design, adding modern chairs can give your dining space a whole new look. Go for white ones for an effortless safe choice, but if you want something with a real wow-factor, be daring with a colourful design.
Sign up to the Homes & Gardens newsletter
Decor Ideas. Project Inspiration. Expert Advice. Delivered to your inbox.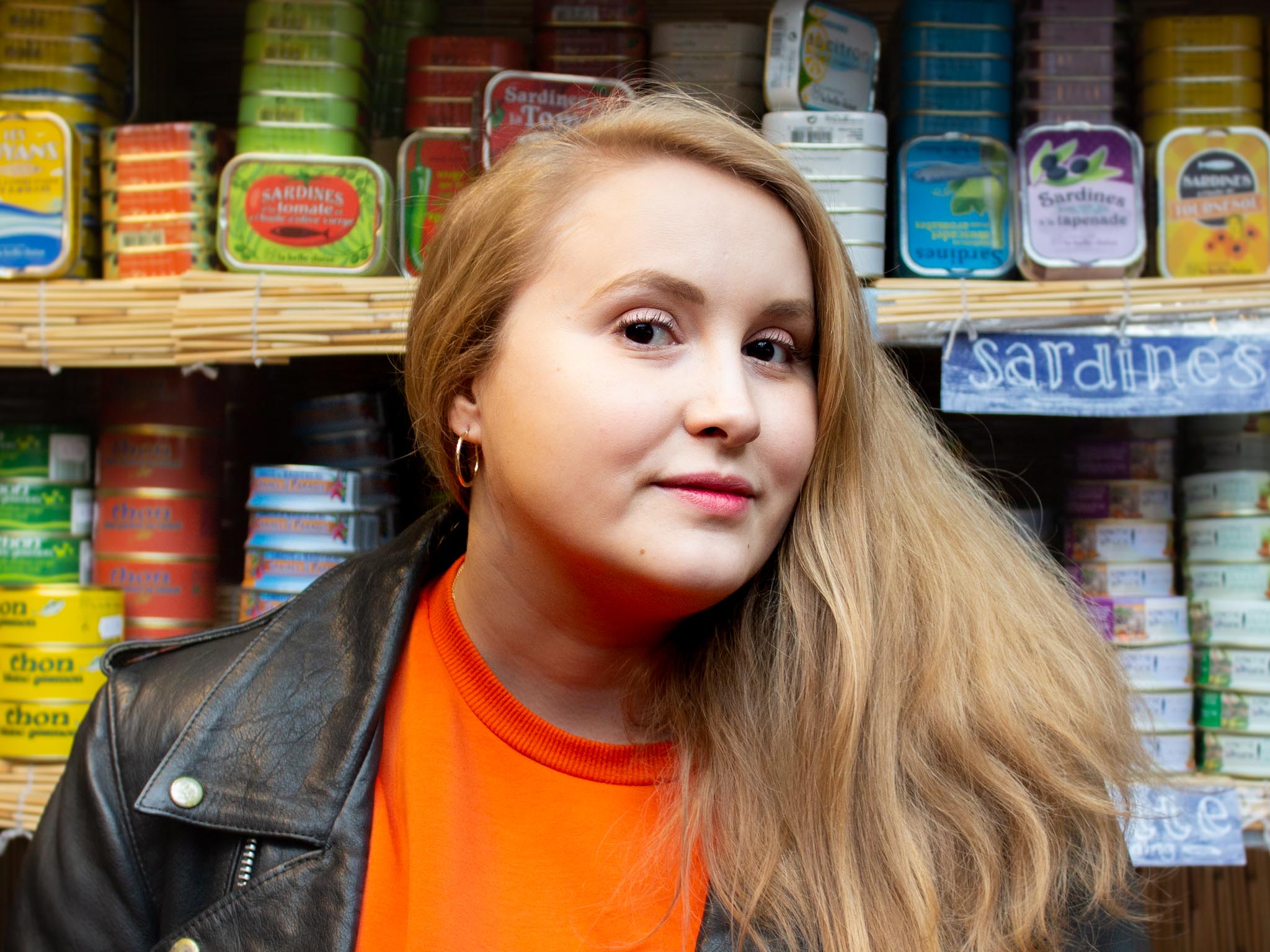 Ailis started out at British GQ, where a month of work experience turned into 18 months of working on all sorts of projects, writing about everything from motorsport to interiors, and helping to put together the GQ Food & Drink Awards. She then spent three years at the London Evening Standard, covering restaurants and bars. After a period of freelancing, writing about food, drink and homes for publications including Conde Nast Traveller, Luxury London and Departures, she started at Homes & Gardens as a Digital Writer, allowing her to fully indulge her love of good interior design. She is now a fully fledged food PR but still writes for Homes & Gardens as a contributing editor.