Grey dining room ideas – 11 design tips to style a grey dining space
These grey dining room ideas show how to add warmth and personality to the most chic of shades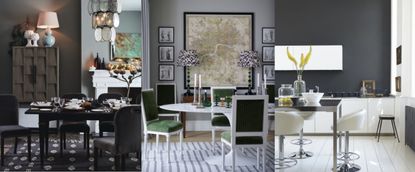 (Image credit: Future)
Grey dining room ideas are a perennial favorite – easy to coordinate with and build on, calming and elegant – but it can sometimes be difficult to know how to impart warmth into a space that isn't saturated with color.
However, grey is actually one of the most versatile of dining room ideas, with a host of shades, varying from cool to warm that can be tailored to create a welcoming room that's perfect for your space. Below, we show you how to use both paint, wallpaper and fabric to create a grey dining room you'll love.
Grey dining room ideas
There are no rules when it comes to dining room color schemes – what you pick will largely reflect the time of day you tend to use the room and the level of sophistication you want the decor to have. From pretty botanical wallpaper to printed lampshades and pop-of-color dining chairs, we've asked color experts and celebrated interior designers to share their interior design knowledge on styling grey dining room ideas below.
1. Hang a biophilic botanical wallpaper
Florals are a huge wallpaper trend for 2022 and, contrary to popular belief, can be used to great effect in a grey dining room.
Try adding accessories and soft furnishings in an accent color picked out from the wallpaper for a curated room with depth.
Ruth Mottershead, Creative Director at Little Greene, says: 'Accent colors, such as a pretty yellow, should be used to highlight and work in tandem with the base shade rather than against it.'
2. Use paint to create interesting design details
Paint ideas offer a variety of ways to bring atmosphere into your grey dining room – including painting the ceiling in the same shade for a cocooning, intimate feel.
Another good design idea is to use different shades of grey to create a block or stripe pattern.
Andy Greenall, Head of Design at Paint & Paper Library, says: 'Lift a dining room scheme by painting the ceiling or door in a bold bright tone, use these statement shades to highlight an architectural detail or create a focal design detail with a stripe or block of contrasting color to elevate the scheme in a creative way.'
3. Experiment with texture and pattern
Using texture in interior design and mixing patterns into a space will add dimension and ensure it's well-balanced as opposed to flat.
The beautiful room above by Ben Pentreath shows how you can mix a sumptuous velvet material with stripes and zigzags in complementary colors for visual interest.
'Experimenting with texture is one of the key ways to create more depth in a tonal room,' says Xander Shreenan, interior designer at home décor brand Dowsing & Reynolds. 'Mix different types of textiles in the space – your rugs and window treatment ideas are great places to start.'
4. Work a monochromatic contrast
Grey kitchen ideas are a popular choice, with dark grey and white creating a striking contrast that will have a stylish yet impactful finish.
It works particularly well for kitchen diner ideas where the cabinets are white. But you can also work the look in traditional or small dining rooms by painting the floor and framework white.
'Dark greys, like Little Greene Lamp Black work well with pale greys such as Shallows and almost pure whites such as Loft White for a dramatic monochromatic contrast,' says Little Greene's Ruth Mottershead.
5. Dare to go dark
While we're all used to seeing dramatically dark grey living room ideas – and the look can work just as well for grey dining rooms. Dare to go dark, say interior design experts.
Martin Waller, Founder of Andrew Martin, suggests: 'For small space living or dining rooms, be more daring with color. Don't be afraid of dark and rich colors like dark grey (or try teal or even orange, for a braver burst of color). These hues bring intimacy and depth whilst also allowing you to show personality and flair.'
And if you want to lighten the look, a natural jute rug always works wonders.
6. Introduce marble or brass for a luxury addition
Elevate your grey dining room ideas with the introduction of glamorous elements like marble and brass. Whether it's through table frames, vases, lighting or lampshades, these materials will add a touch of luxe to a grey space.
Martin Waller, Founder of Andrew Martin, emphasizes the point: 'Greys (as well as dark blues and greens) work really well with marble, brass and walnut. The rich background colors set off these natural elements beautifully and add real luxury to a room.'
7. Put up paneling for extra gravitas
Paneling ideas for walls will instantly inject a more formal yet cozy feel to grey dining room ideas.
And you don't need to have a large space for it to work; paneling can add a sense of grandeur to any dining room – small or large.
Period properties, such as Georgian houses, like the 18th century mansion above, with their high ceilings, typically suit full-height paneling featuring simple rectangular shapes.
8. Layer your lighting for convivial ambience
'Layering your lighting will help a cooler grey shade feel warm and inviting,' advises Xander Shreenan. 'Choose soft glow options for your wall lights and have at least your ceiling light on a dimmer switch so you can control the ambience. Carefully place table and floor lamps in corners and on shelves to create additional pockets of light. As a finishing touch, candles will give that lasting comfortable, homely feel.'
Megan Matharu, Marketing Coordinator at Visual Comfort Europe, agrees, adding: 'One way to make monochromatic magic in your dining room is through carefully considered lighting. When in doubt, put clear lights about. Base your lighting around your dining table; a clear glass large pendant light works nicely for a modern and balanced finish.'
9. Add color through art and furnishings
Whether it's botanical prints or bold statement pieces, art can add anything from a splash of color to complete wow-factor to a grey dining room.
And, if you don't want to hang art on the walls, use your furniture as 'art' and upholster it in pretty prints, or paint cabinets in brighter colors.
Louise Wicksteed, Design Director for Sims Hilditch interior design, says: 'When using grey paint as the base for a dining room we often find there is an opportunity to introduce color and pattern, whether this be through artwork or soft furnishings. The exchange of cool tones with colorful features adds a warm and comforting atmosphere to the space which balances out the consciously sleek finish of the dining room.'
10. Create a natural feel with plants and foliage
Whether it's a large potted olive tree or fiddle leaf fig positioned in the corner, or pretty foliage in vases on the dining table, plant life will bring a natural and calming element to the space.
Dowsing & Reynold's Xander Shreenan says: 'Stems and plants are a great way to uplift any room as they bring little pops of color that won't dominate the overall palette of the room.
'If you're wanting to experiment with color in a space, dotting colorful foliage around the room and living with it for a while is a great way to know how you feel about it before taking the plunge.'
11. Create interest with an oversized rug
Vintage-style rugs are completely on-trend yet make a timeless investment. Pop one underneath your dining table to add comfort underfoot as well as a chic hint of print that's really effective against a dark paint color, like Farrow & Ball's Downpipe.
Is grey a good color for a dining room?
Yes, grey is a good color for a dining room – partly because it is a chameleon-like shade that can change with the light to really reflect the mood of the hour. Choosing the right grey for a dining room really depends on the light levels required when you mostly use it. So, if your dining room is reserved for evening use only, you can afford a dark grey which will look almost black in candlelight; for a dining room used during the day time – or just for family suppers – a lighter, warmer grey can be fresh in daylight, and turned a warm, cocooning neutral by artificial light in the evening. Finally, great dining room lighting ideas are a must – a low-hanging pendant over a dining table, wall or table lamps and candlelight all have a part to play.
How do you brighten a grey dining room?
To brighten a grey dining room, first consider your choice of grey paint – lighter greys, particularly those with the merest hint of yellow, will feel brighter and warmer than those greys with a grey-blue tint. Next, ensure there is plenty of white to reflect light – on ceilings, trim and even the floor. When adding accent colors, choose those that reflect light and make the space seem airy – again, pale shades or lightened wood will work wonders. Next, hanging a mirror in a grey dining room will bounce light around, just as keeping window treatments pale-colored will.
Sign up to the Homes & Gardens newsletter
Decor Ideas. Project Inspiration. Expert Advice. Delivered to your inbox.
Ruth Doherty is an experienced digital writer and editor specializing in interiors, travel and lifestyle. With 20 years of writing for national sites under her belt, she's worked for the likes of Livingetc.com, Standard, Ideal Home, Stylist and Marie Claire as well as Homes & Gardens.