This English 18th century mansion is full of modern comforts – and surprises
As the owners updated this gracious Georgian home they realized they were taking it back to its starting point as the ultimate party house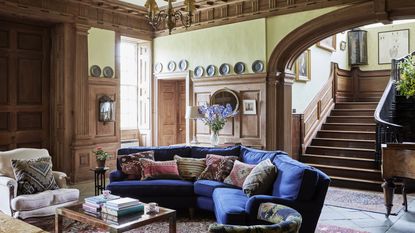 (Image credit: Brent Darby)
Sign up to the Homes & Gardens newsletter
Decor Ideas. Project Inspiration. Expert Advice. Delivered to your inbox.
Thank you for signing up to Homes & Gardens. You will receive a verification email shortly.
There was a problem. Please refresh the page and try again.
Browsing in the attics is one of Charlotte Clifford's favorite pastimes. 'Attic shopping' she calls it, and 'basement shopping' comes a close second. 'If I'm looking for the perfect accessory for a room, the attic is the first place I try,' says Charlotte. 'And it works too – I haven't had to buy much furniture.'
As she and her husband Peter have had more than 10 rooms to refresh, Charlotte has spent quite a few hours in the attic. 'I'd show my treasures to my mother-in-law Janie, and everything I found would spark some wonderful tale about what it was used for in the past,' she adds.
Peter and Charlotte began their renovation of one of the world's best homes – Frampton Court in Gloucestershire in the heart of the English countryside – in July 2020.
The elegant country house has been in Peter's family for many generations but, says Charlotte, is far too grand and expensive to live in as a family home. Instead, the couple decided to give it a sympathetic update, add in a few modern-day essentials and run it as a luxury holiday home for parties of up to 14 guests.
'The idea was just to tidy it up, modernize it in a few places, but keep its integrity and history,' says Charlotte. Indeed, the history of the house is very much rooted in socializing and good times.
Space to entertain
Dining room ideas abound – with a dramatically decorated space and table to seat 14 – a drawing room with the prettiest of fireplaces, and a small morning room are the original reception rooms where Charlotte and Peter simply refreshed the décor.
It was built in the 1730s by Richard Clutterbuck, whose family had made their fortune as clothiers. Frampton Court became his party house, where he entertained his friends lavishly, surrounded by the luxuries of his time.
'I can imagine the entrance hall full of his guests, enjoying the warmth from the huge fire,' says Charlotte.
It was that vision of opening Frampton Court's grand doors to offer a warm welcome to guests once again that steered the couple through the renovation.
Focusing on the main rooms downstairs, Charlotte and Peter worked tirelessly for four months, alternating DIY and decorating with looking after their two young children in their own home nearby.
'Peter and I tag-teamed a lot of the time, so one of us would be sanding floors here, while the other would be at home doing bath times and bedtimes.'
Their hard work paid off and the renovation tag-team ended up whirlwinding its way through the house, leaving eight dramatic room transformations in its wake.
Kitchen
Kitchen ideas are strictly in keeping – though brought up to date. Charlotte replaced an old Aga with a more efficient electric range cooker. The existing basics were good: beautiful sash windows on two aspects, and an impressive old dresser and plate rack that just needed a coat of paint. New backsplash tiles and limestone flooring were the only other changes needed to bring the room up to scratch.
While their DIY skills moved up a notch during the renovation, there were plenty of specialist jobs Charlotte and Peter knew were beyond them. They called in skilled local craftspeople to ensure the best finishes. Joiner Richard Wright built a new kitchen table from an old beam from Peter's sister's house on the estate. He also repaired the original elm floors as Peter and Charlotte ripped up carpets and stripped floorboards.
Bedrooms
'There was a real sense of achievement in doing it ourselves,' says Charlotte. 'I was quite particular about how I wanted it to look and it became an all-consuming hobby. It was fun, though. It didn't feel like a chore and it was very satisfying.'
Bedroom ideas were inspired by treasures tucked away. Charlotte was delighted when she found a brass bedstead in the basement that she could polish up for the new downstairs suite. Lewis & Wood's Adam's Eden wall covering was the perfect finishing touch, along with a roll-top from The Cast Iron Bath Company.
Being so hands-on with the renovation also gave Charlotte the opportunity to appreciate the quality of workmanship in the original build, and the intricate details throughout the house. Close-up, she marvelled at the exquisite wood panelling, the hand-painted Delft tiles in the fire surrounds and the hand-carved shell motifs.
The original embroidered drapes for the four-poster bed were discovered in the attic. They had to be stitched onto a backing fabric to protect them. The tapestry was made for the house by French Huguenot refugees 300 years ago.
In 2017, Peter's sister took it to Belgium to have it cleaned and then to Somerset to be repaired. To fill the space and help raise money for its repairs, artist Grayson Perry loaned a tapestry inspired by his stay at Frampton
Charlotte realised early on that any decorative alterations they made would have to be good ones if they were to live up to the precedent set by Richard Clutterbuck's opulent party house style.
New downstairs are a cinema and games room, leading from a hallway with quirky balloon mural from Graham & Brown. Frampton Court's first occupant would surely have approved of these decadent updates.
Next on Peter and Charlotte's list was the imposing entrance hall. Here, the original wood panelling, stone flags and magnificent sweeping staircase are the foundations, while an unusual crescent-shaped sofa from Sofa.com, a new addition, ensures that everyone can be sitting comfortably.
It seems, too, that Charlotte's gift for finding treasures in the attic is something of a tradition at Frampton. In the 1980s Peter's grandmother, Henriette, discovered an astonishing hoard of around 300 flower paintings in the attic.
Painted by Henriette's four Victorian great-aunts, the 'Frampton Flora', as they are now known, showed amazing skill and botanical detail, and went on to inspire a collection of wall coverings and fabrics, as well as some of the room schemes here. Many of the original paintings are in frames around the house.
Henriette passed away in 2003, but she had such an eye for interiors and was a strong presence at Frampton, so Peter and Charlotte often wonder what she'd make of their updates. They needn't worry. Like the guests who enjoy the new-look Frampton Court, Henriette would surely appreciate this improved and very stylish party house.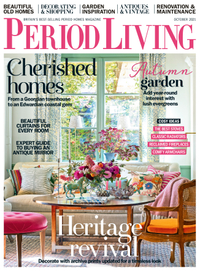 This house is taken from H&G's sister brand, Period Living magazine
Subscribe to Period Living for more inspiration Period Living is the UK's best-selling period homes magazine. A subscription provides you with all you need to know about caring for and improving a traditional house and garden.
Sign up to the Homes & Gardens newsletter
Decor Ideas. Project Inspiration. Expert Advice. Delivered to your inbox.
Karen is the houses editor for homesandgardens.com and homes editor for the brand's sister titles, Period Living and Country Homes & Interiors, and an experienced writer on interiors and gardens. She loves visiting historic houses for Period Living and writing about rural properties for Country Homes & Interiors, and working with photographers to capture all shapes and sizes of properties. Karen began her career as a sub editor at Hi-Fi News and Record Review magazine. Her move to women's magazines came soon after, in the shape of Living magazine, which covered cookery, fashion, beauty, homes and gardening. From Living Karen moved to Ideal Home magazine, where as deputy chief sub, then chief sub, she started to really take an interest in properties, architecture, interior design and gardening.