Dining room ideas – inspiration for decorating and furnishing your space
Our inventive ideas for revitalising dining areas will make them sing out effortlessly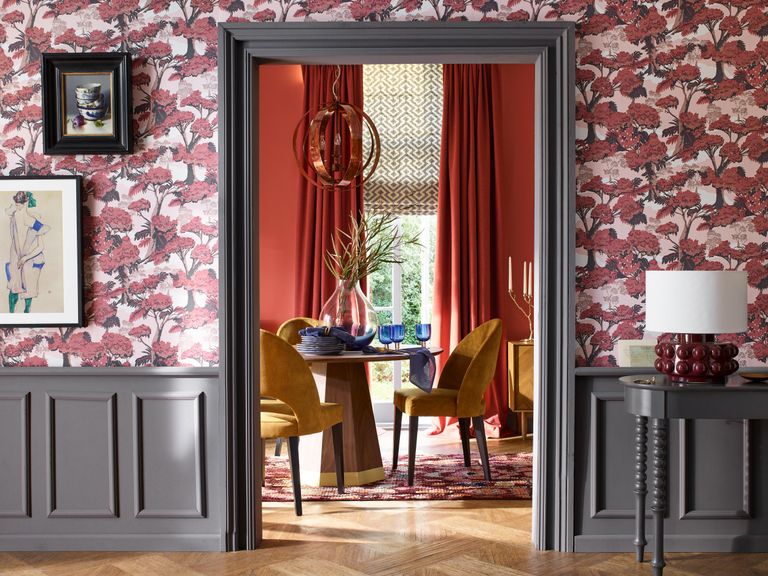 (Image credit: John Lewis)
Our elegant dining room ideas, decorating solutions and expert advice will inspire you, whether you want to design a space for formal entertaining or create a distinct zone within an open-plan layout.
Everyone knows the best conversations happen over a meal, whether it is with family, a partner, or friends, so having somewhere to sit and eat is an important element to consider when designing your home.
These dining rooms have been designed with both practicality and looks in mind – comfortable and welcoming, they will cater to both dinner parties and every day dining for the family.
See more: Small dining room ideas – if you are designing a compact space
How can I decorate my dining room?
'Think carefully about how you intend to use the space,'advises Graeme Smith, Senior Designer at Second Nature and 1909 Kitchens. 'Is the dining area for informal snacks, having a coffee and reading the paper? Or will it be the key meeting point in the home where family congregate for meals or perhaps doubling as a place to catch up on paperwork?'
Invest in the best tableware you can afford, but don't be seduced by unnecessary pieces; just buy what you need for your style of entertaining. Select dual-purpose items; for example a soup plate can also be used for pasta. Above all, choose what you love and collect slowly. That way, you will enjoy your tableware for life.
'If you want to mix and match tableware, key items such as linen and charger plates should remain constant as you experiment with the color, shape and pattern of china,' explains Clifford Williams, Display Manager at Thomas Goode. 'The current trend is for an eclectic mix with a sense of "organised chaos."'
Paint and wallpaper are great ways to give your dining space character and personality. According to Interior Designer Roselind Wilson. 'A good way to create an intimate space for dining is to choose a rich, opulent color palette and use it on the ceiling too.'
Dining room ideas
Create a curated dining room that's as beautiful to look at as it is relaxing to eat in.
1. Plan a coordinated look for an open-plan dining room
Large open plan rooms have their pluses and minuses; it's fantastic having plenty of space for that much-desired airy, open feel, however it can be a struggle making everything work together harmoniously. The easiest way to achieve a coordinated look is to keep the colors similar throughout – pick one or two key colors and make sure they appear in both ends of the room.
2. Add a round table for sociable dining
Create a sociable and relaxing atmosphere in your dining room with a circular table; it's less formal, plus you can squeeze in extra chairs and stools if need be. And when you're finished entertaining? Tuck the table away in a corner.
3. Make room for elegant, comfortable dining in a kitchen
Even very small spaces can often accommodate an open-plan dining area. In a compact kitchen, consider using banquette seating, fitted into a corner or even on one side of an island, to create a cozy dining spot.
4. Build a dining area into a bay window to maximize space
In living areas, try using the space creatively: window seating can be combined with a table for impromptu dining, while extendable tables can provide multi-functional space.
5. Make the most of a narrow space
Hallways and studies can also work well as dining areas. Consider a narrow table in a large hall, while a study or book-filled library with a table at its centre can create atmospheric dining options.
6. Create a fun feel for a family dining area
A decorative oilcloth makes a practical alternative to a traditional fabric tablecloth; this striking world map design has been stapled into place for a neat finish. Add an old school map on the wall to continue the cartographic theme.
7. Pick dining furniture in wood for warmth
If you want a dining table but don't have space for a large traditional style, why not choose a small, round, bistro one? It will be a perfect place to sit and have your morning coffee and croissant, as well as adding a little Parisian chic to a previously unused corner of your dining room.
8. Create a window seat banquette for a relaxed look
Make the most of every nook, and the architectural features of your home, by utilising a window seat as dining seating. The built-in bench on one side of the table will save space, as they are flush with the wall. To avoid the set-up looking too unbalanced, choose non-bulky folding chairs for the side opposite the window.
9. Hang a feature light over the dining table
It is worth devising lighting schemes early on, allowing for functional down lighters, and more decorative fittings. An oversized light suspended above a dining table helps to delineate the space. Ask your electrician to wire zones on different circuits so you can adjust the mood. Wherever possible, try to accentuate natural light. If you have a double-height space or, a single-storey extension, consider installing skylights or a roof lantern.
10. Ensure light shed on the table is warm
There's nothing like a large table to create a warm, friendly and often lively atmosphere in the kitchen. However, layout will be dictated to some extent by the shape and footprint of your room and may mean a separate table and chairs aren't workable. Instead a split-level peninsular may suit the space and still achieve the social focal point you have in mind. Weigh up a variety of options: a full table, breakfast bar or a small perch point on the end of a run of cabinets. The dining element could even be a full feature area, stretching along the back of an island.
11. Introduce color and pattern with fabric
'Chairs, rugs and window treatments are a great way to introduce color and character to a dining room, so pops of color and a mix of materials will add some personality to the interior,' says Graeme Smith.
12. Frame the dining table with artwork
'The dining room has become the social hub of the home,' explains Interior Designer, Emma Sims Hilditch. 'Opt for natural tones such as soft browns, gentle greys and creamy nudes which serve as a beautiful base for interchangeable soft furnishings. Try adding bright patterned cushions to a dining room chair, or colorful artwork to a bare wall.'
13. Set a stylish table
When choosing a centrepiece, pick something that's either lower than or well above the eyeline, as visual communication is essential at dinner parties. 'Almost anything can work, from floral arrangements to existing ornaments, but ensure there's a common theme, such as animals or birds.' advises Clifford Williams, Display Manager at Thomas Goode. 'Keep the focus on the table with candlesticks, votives and low-level background lighting.'
See more: Tablescaping – learn the art of laying a table
14. Create the right ambience in your dining room
'If you're using also using the dining area as a work space, we'd recommend you install recessed dowlighters for brightness,' says Chris Jordan, Managing Director at Christoper Wray Lighting. 'Directional downlighter are best for diverting the light to where it is needed most.' For a flexible, layered effect put all your lighting on dimmers and separate circuits.
15. Consider dining room storage
If your dining room is on the bijou side, go for unity when selecting storage. A mishmash of furniture styles will create discord and, as the space will probably be used for entertaining, it should be as calm and inviting as possible.
Opting for built-in pieces and making the most of recesses are good ways to achieve a clutter-free look. 'You could have open shelves to display ornate items and practical custom-built drawers for cutlery and tableware,' says Alan Borra, Designer at Neville Johnson.
16. Retain an open-plan feel
'Think about what you will use the room for,' says Pam Cox, owner of Ham Interiors. 'If it will be almost entirely dedicated to dining, it's crucial to leave enough room between the seating and other furniture to allow people to get to and from the table with ease.
'Where space is limited, you may have to sacrifice storage to retain an open feel. Attempting to squeeze in too much could detract from the overall look an function of the space, so consider what is really necessary.'
17. Pick traditional lighting and furniture to add character
'Bear in mind that people tend to be seated in a dining room so the lighting must be at eye level be effective,' says Lucy Martin, Design Director at John Cullen. 'Wall lights, picture lights and lamps will help to achieve a soft, intermediate intensity. Lighting should also be sufficiently bright for guests to see and to enjoy the food and conversation, so make it adjustable via dimmers.'
Opt for a pendant light, too, as a dining room looks best with a focal point over the table. It needs to be carefully positioned; too high and the light won't illuminate the table, too low and you could obstruct the views of your guests.
18. Pick warm colors for a welcoming dining room
Dining room colors should be selected on two factors: the effect you want to create on diners and the time of day you tend to use the room. So, while a dining space within an open-plan kitchen diner or a dining room that's used by the family morning, noon and night will be best in a pale, light-reflecting color, one that's used in the evenings only and that should glow with warm, inviting light, is often best decorated in a warm shade.
We love this dining room idea: the room complements the space it leads off from and its rust-colored walls are both on trend and welcoming.
What furniture do you put in a dining room?
Be fussy with furniture, especially in a compact dining room. Furniture can be a cumbersome business, especially in small rooms so it pays to arrange and buy items correctly.
One great way to make the most of a smaller space is by using multi-function furniture, like an extendable dining table, folding chairs, or chairs that can be neatly tucked under the table when not in use.
Another important pointer is to place large pieces of furniture against walls so the open space in the middle is not broken up. Scale the furniture to fit the size of the room and don't block walking pathways – if you can see the floor, the room will look larger.
A great tip is to choose a dining table and chairs with open arms and exposed legs, both will keep the appearance of a much more open and free space, allowing light to filter under and around the furniture far easier.
In smaller homes, where space is tight, you might consider extending a worktop to create a breakfast bar or introduce a small circular table for informal dining.
How do you make a traditional dining room look more modern?
Be a little more daring in your dining room with dramatic materials, such as darker woods and matt metallics. Soften the look with different textures and don't be afraid to add a little twist here and there with strong shapes or vivid patterns.
Whether you have a simple wooden table, or a space-age contemporary design, adding modern chairs can give your dining space a whole new look. Go for white ones for an effortless safe choice, but if you want something with a real wow-factor, be daring with a colourful design.
See more: Modern dining rooms – more gorgeous, contemporary spaces
How can I make a small dining room look bigger?
If you have or have ever had a narrow room at home, then you'll be more than aware of the tricky task of making it look wider than it actually is, while desperately trying to make every corner look cozy.
If there's one thing that's going to create the illusion of more space, it's decluttering – it can actually make a room feel wider in seconds. Make sure you keep your room tidy and organised.Try and keep the floor as clear as possible, too, as it's one of the easiest ways to maintain a sense of spaciousness, so remove any oversized rugs.
Think outside the box when deciding on the type and placement of your table. If you have a tiny kitchen, but a large hallway, why not convert this into a dining space? There are also many drop-leaf designs available, or ones with extendable sections; these are great for providing everyday space-saving benefits, with the flexibility to seat a larger group when required. A slim drop-leaf table could act as a living room console day to day, and then convert into a dining table when hosting a dinner party.