Dining room ideas – 51 ways with decor and furniture
Dining room ideas are making a comeback as we look for spaces to gather with family and friends; these are the best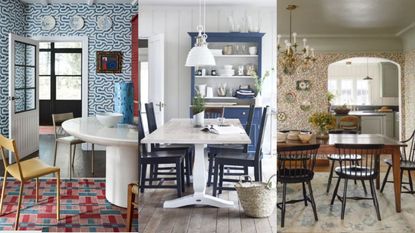 (Image credit: Rapture & Wright / Neptune / Heidi Caillier/Haris Kenjar)
Dining room ideas should be at the forefront of your home ideas, especially if you are a keen entertainer. Our elegant dining room decorating solutions and expert advice are here to inspire you, whether you're designing a formal entertaining space or creating a distinct zone within an open-plan layout.
Everyone knows the best conversations happen over a meal, whether it is with family, a partner, or friends, so having somewhere to sit and eat is an important element to consider when designing your home.
These dining rooms have been designed with both practicality and looks in mind – comfortable and welcoming, they will cater to both dinner parties and every day dining for the family, even if you only have a small dining room.
Dining room ideas
From colorful banqueting rooms to open-plan farmhouse kitchens, these dining room ideas will help you dream up a space that's as beautiful to look at as it is relaxing to eat in.
1. Choose a moody palette
For a sense of understated luxury, choose a moody palette for your dining room paint ideas, with walls painted in deep blues or greens. Keeping the ceiling a bright white stops the look from becoming too dark, but if you prefer a more intimate, enveloping look then consider painting the ceiling the same deep color as the walls.
Take inspiration from traditional dining rooms in gentlemen's clubs by introducing leather chairs to add texture to the space, but give the style a modern twist with a contemporary shape.
2. Look to an earthy palette
Following dining room trends is one thing but it's vital the space feels welcoming.The shade you choose to envelope your dining space in can have a greater effect than just looking pretty. 'Earthy pigments of terracotta provide an authentic connection to nature,' says Melanie Archer Designer at John Lewis.
'This restorative earth inspired color is comforting and inviting. Terracotta evokes feelings of sociability, connection, interaction and happiness creating the perfect atmosphere for entertaining.'
A matching blind completes the look, but make sure to layer with a neutral dining room curtain ideas, both to create a feeling of warmth for winter, and to add a contemporary finish.
3. Work with the history of your home
This soft vintage-style dining room perfectly reflects the home it lives in: a 1920s Tudor-style home, owned and decorated by interior designer Heidi Caillier.
'The William Morris wallpaper feels cozy and helps make a room that can be underutilized feel like a space you want to spend time,' says Heidi.
Dining room wallpaper ideas aside, touches like the displaying china on the wall feel at home here – play around with similar crockery or even mirrors. Vintage style furniture will set the scheme off, but if you can buy original do; it's more sustainable and, as Heidi says about the table, 'it's a really great choice for families with young kids because it can handle a lot of wear and tear.'
4. Add an upholstered bench
Whether you love entertaining, or use the dining table as an everyday space, consider opting for banquette seating ideas rather than chairs for ultimate flexibility.
'We love to use upholstered benches around dining tables, and we are careful to use practical finishes like acrylic performance fabrics or faux leathers to protect against sticky fingers,' says Emma Pocock, co-founder, Turner Pocock.
'The feel of upholstered benching is so much more versatile, becoming a place to chat, sit and do schoolwork or linger with a drink after dinner.'
Add extra interest with contrasting seat pads to the back rest, or to those on the dining chairs, and consider eye-catching dining room wall ideas above the banquette, such as a gallery wall.
5. Layer with textiles
Make the dining table the focal point of the room by opting for an extra large, circular style, which also lends itself for easier conversation during a meal.
Dining room lighting ideas, such as a statement chandelier or pendant hung directly above the center of the table further directs the eye straight to the table.
To ensure such a classic look sits at home happily in a country home, make sure to layer up textures which add a rustic contrast – like the exposed brick work and tastefully upholstered dining chairs in this design from Sophie Head Interiors.
6. Zone your dining space
In smaller properties it may seem tricky to add a stand alone dining room. To delineate the dining area without a separate room, go the route of 'broken-plan living rooms', with either glass doors or, as here, with architecture visually separating the spaces without interrupting the flow of the room and the light.
Extending dining tables are a great choice as you can stick to a more compact look whenever you don't have guests around. To stretch space further, ensure good, built-in dining room storage ideas and err on the side of caution with color; white dining room ideas will make your room feel larger and brighter.
7. Soften a dining room addition
'When designing a dining space in an addition, I recommend incorporating a skylight into the ceiling paired with solid timber, as opposed to a fully glazed roof,' advises Emma Sims Hilditch, founder and creative director of Sims Hilditch.
'This creates a lovely soft light which falls onto the table and seating area, without making the space too hot. If the addition has a view out onto the backyard then I advise placing the table so that guests can soak up the natural surroundings while they enjoy a delicious meal.'
'In terms of lighting a dining room, why not make a statement with large pendant lighting or a chandelier, drawing the eye upwards and adding drama to the space? You might also consider adding wall lighting to create a cozy and moody atmosphere as the evening draws in and the natural light dies.'
8. Use the seasons to dictate your design
In recent years, dining rooms and dining table decor ideas have become more occasional spaces, primarily reserved for hosting dinner parties. In these rooms, which are defined by their entertaining role, you can afford to be more playful and bold with your interior schemes. This pretty dining room draws on classical architecture combining Roman-style columns and detailing with Regency inspired pink walls and would make for an impressive backdrop for any celebration. Green wicker chairs add a pop of color and would look great as part of any naturally inspired scheme.
When hosting dinner parties, it is important that your dining room ideas do not stagnate; elements should change between each event to ensure that the space always feels fresh and new.
Soft furnishings are a great way to refresh your interiors and can be updated in response to the seasons. This design by Birdie Fortescue is full of summer decor ideas; from the floral tablecloth and vases of blooms through to the tropical trees which foster an air of privacy, it is the perfect setting for a summer dinner party.
9. Factor storage into your interior design
Storage ideas and décor are key considerations in every room, but they are sometimes overlooked as part of dining room ideas. In this formal space, built-in cabinetry creates a warm and welcoming backdrop, displaying treasured possessions and family photographs alongside candles and other decorative pieces.
However, when faced with rows of empty shelving it can be a challenge to work out where to begin. Before committing, research how to style a bookcase for top tips on curating the perfect display to bring personality into your dining room ideas.
If looking for bookshelf ideas for an unusually shaped alcove or wall, then it's important that you know how to commission bespoke joinery as this will help you to make the best use of the space available.
10. Use mirrors to create a statement gallery wall
This eye catching design takes the practical benefits of decorating with mirrors to the next level. By employing the tenants of gallery wall ideas, these mirrors have been treated as though they are works of art, with their shapes and patinas being as much a feature as their reflective qualities. White walls, simple panelling below the dado rail and warm wooden table and chairs helps to balance the look and prevent the room from looking top heavy.
11. Be inspired by coastal color palettes for a laid-back look
Not every dining space is reserved for hosting lavish dinner parties, for many it is a family space, where everyone gathers together at meal times to share their stories of the day.
When designing a family dining room, you want to create a laid-back space in which all the family can feel comfortable. In this room designed by Neptune, white tongue and groove panelling creates a textural backdrop, elongating the height of the room and helping to increase the natural light. Wooden flooring laid in the same direction as the wall paneling helps to lengthen the room and creates a cohesive look. A simple navy blue and white color scheme with weathered wooden accents channels coastal decor ideas, harkening back to family holidays by the sea.
12. Create a dining room that works for all occasions
When designing a dining room, you need to not only think about how it will work for day to day family meals but also how it will fair when it comes to larger celebrations. An extending dining table is a great way to transform your room from hosting family dinners to lavish dinner parties, making sure there's enough seats around the table for everyone to feel welcome.
'We wanted to emphasize the original charm of the house in this dining room and mix both contemporary yet traditional design elements. The wallcovering is dainty yet interesting, but not too overdone, especially when tempered with the millwork. Our client had several family heirlooms and antiques so we sought to integrate those pieces into the space in a fresh way, as seen here with this beautiful cherry wood dining set accented with a more modern, polished nickel chandelier. The result is traditional with a twist, which is a great way to make a French country aesthetic work for today's way of living,' says Georgia Zikas, founder at Georgia Zikas Design.
13. Don't be afraid of color
Even if your dining room is a formal space, that doesn't mean you can't have some serious fun with your color palette.
A room that is used for special occasions cries out for a maximalist approach to color, as demonstrated in this space, where color bursts from every corner of the small dining room. The home of designer Liz Caan, the space features a teal velvet dining sofa is paired with lime green upholstered chairs, while the Gucci wallpaper introduces gold and pink accents, echoed in the mauve table lamps.
For some colorful inspiration, explore our yellow dining room ideas.
14. Mix and match styles for a personal touch
Chiefly entertaining guests, dining rooms are spaces where you have the chance to really showcase your personality to visitors. Make it unique by pulling together your favorite pieces, regardless of era or style. In this dining room by designer Sarah Stacey, white walls make for a chic backdrop to a monolithic oak table, abstract artwork on the walls, modern metal chairs, a candle chandelier with a contemporary twist, a Persian-style rug and blown glass vases heading up the dining table decor ideas.
15. Keep it light and bright with Scandi style
For modern dining room ideas, look to Scandinavia for inspiration. Designer Ginny Macdonald looked to northern European design when planning this open-plan kitchen and dining space, including direct inspiration from Noma chef Rene Redzepi's personal kitchen in Copenhagen. In the dining room, a light and bright approach sees white walls laced with white oak and teak furniture, and punctuated with black accents in the chairs and sputnik chandelier. Color is applied deftly and subtly through soft furnishings including a woven rug.
16. Play with scale
A dining room is a good space to play with scale in interior design, particularly when it comes to mixing patterns in a room in different proportions.
'When incorporating pattern into your dining room – you also need to take into account scale. Scale is important and can really help pull an idea together, the main thing being to mix the scales from large to small,' says designer Charlotte Gaisford. 'Within the scale idea you also need to think about what type of pattern you want to use.'
17. Frame the dining table with art
'The dining room has become the social hub of the home,' explains interior designer, Emma Sims Hilditch. 'Opt for natural tones such as soft browns, gentle greys and creamy nudes which serve as a beautiful base for interchangeable soft furnishings. Try adding bright patterned cushions to a dining room chair, or colorful artwork to a bare wall.' In this room, gray dining room ideas have been warmed up by brown wooden furniture and an abstract artwork filled with fiery oranges and reds.
18. Set a stylish table
When working out how to dress a dining table, choose a centerpiece that's either lower than or well above the eyeline, as visual communication is essential at dinner parties. 'Almost anything can work, from floral arrangements to existing ornaments, but ensure there's a common theme, such as animals or birds,' advises Clifford Williams, Display Manager at Thomas Goode. 'Keep the focus on the table with candlesticks, votives and low-level background lighting.'
19. Create a comforting environment with earthy pinks
When it comes to dining room color ideas, the world really is your oyster – depending on the formality of the space you have licence to be dramatic, soft or somewhere in between. For a statement color that soothes rather than invigorates, consider on trend earthy pinks. Their comforting nature and maternal connotations provide a cozy environment for dining, imparting a sense of nourishment and tender loving care unto guests.
20. Give your guests a view
When planning an open plan kitchen, dining and living space, getting the location right for each of your 'zones' is crucial to its success. If you have a large windowed area like in this example, consider making it the backdrop for dinners with friends, and giving your guests a view that harnesses many of the benefits of outdoor dining. Harness natural light for breakfast too – there's no better way to start the day.
21. Create a cocooning feeling with densely patterned wallpaper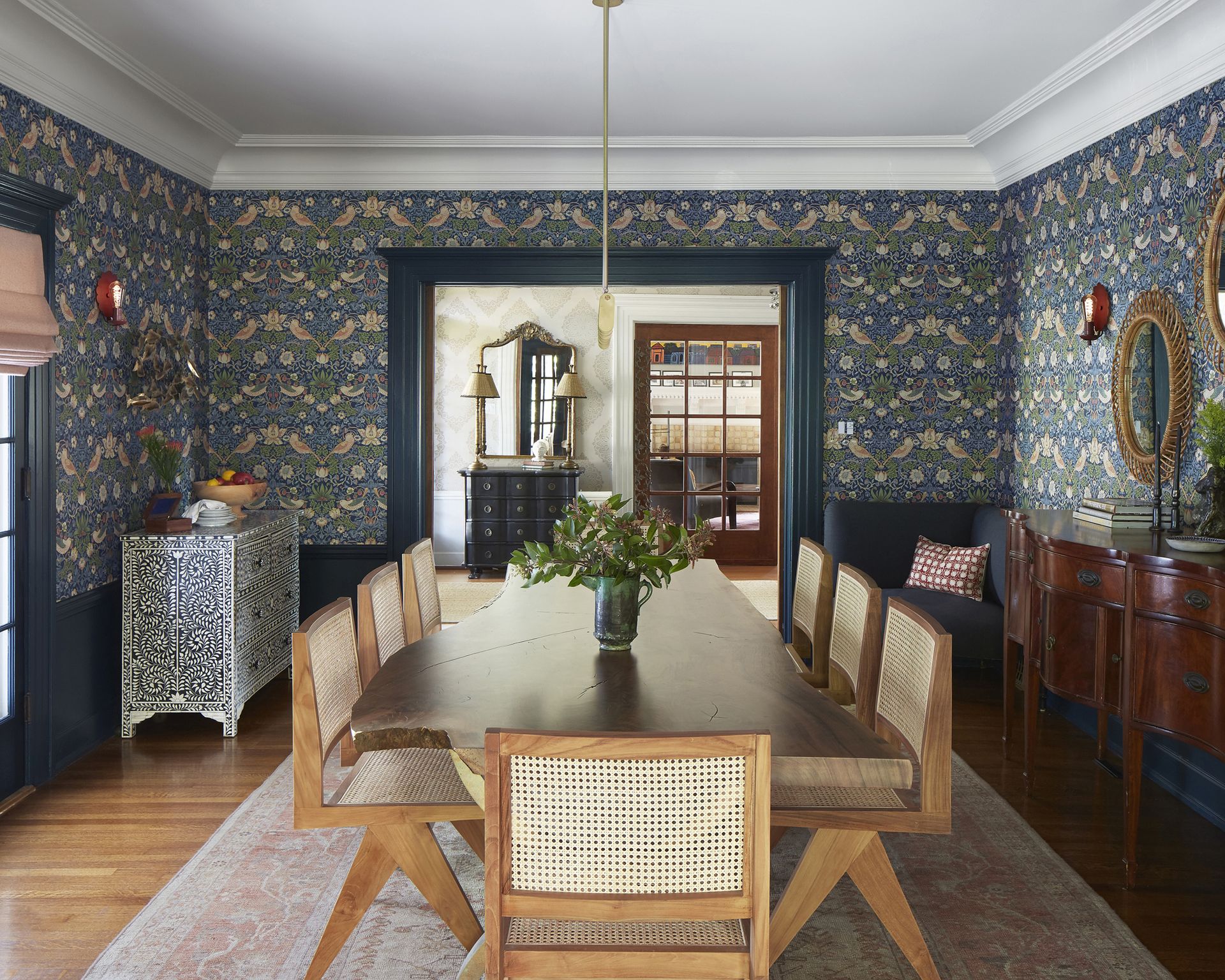 Wallpaper is practically made for dining rooms – for a statement pattern that helps make a grand room feel intimate, opt for a smaller format print. While large prints will add dynamism to a small space, intricate motifs used generously will bring the walls inwards. In this modern rustic dining room by Murphy Deesign, a William Morris print with a dark blue base covers all four walls of the large space, helping it feel cozier.
22. Introduce a splash of color into a country dining room for a touch of modernity
If the neutral dining room ideas you have been browsing have lacked a spark, add a sprinkling of bright primary colors and create a statement with a single piece in a vivid hue.
Here, a brightly painted chair delivers drama and works as a wonderful focal point, great for red dining room ideas. The block of color in the yellow artwork and glossy finish of the red chair bring an unexpected extra dimension and vibrancy to the calm, natural, country feel of this relaxed dining space.
23. Add checkerboard flooring for a smart monochrome look
A chic, black and white checkerboard flooring adds impact to a calm, neutral scheme. The monochrome palette combined with warm wooden furniture creates an inviting dining room.
Not only do classic black and white floor tiles add an effortlessly sophisticated feel to a room, but these vinyl tiles are a practical and fuss free option for a much used family space. This flooring choice has enduring appeal and will never go out of style.
24. Create a sense of occasion with dramatic furnishings
Just two well-chosen elements – the wall mural and lighting fitting – give this dining room huge impact. The monotone color scheme is enlivened – and made more glamorous – with the touches of gold, which also warm the otherwise cool space. Upholstered chairs add a luxurious feeling of comfort, which invites diners to linger, while the round table enhances sociability.
25. Add a round table for a sociable dining room
Create a sociable and relaxing atmosphere in your dining room with a circular table; it's less formal, plus you can squeeze in extra chairs and stools if need be. And when you're finished entertaining? You can tuck the table away in a corner – making it the perfect choice for a small dining room.
26. Make room for elegant, comfortable dining in a kitchen
Even very small spaces can often accommodate kitchen diner ideas. In a compact kitchen, consider using banquette seating, fitted into a corner or even on one side of an island, to create a cozy dining spot.
27. Build a dining area into a bay window to maximize space
In living areas, try using the space creatively: bay window ideas can incorporate window seating, built-in or not, combined with a table for impromptu dining, while extendable tables can provide multi-functional space.
28. Pick a moody shade for evening-only dining rooms
If you're looking for dining room ideas for spaces that are really only used in the 9, you can dare to go darker. A room that's lit by candlelight, when painted in a moody shade, will feel so much more intimate and atmosphere than one that's a pale shade. Here, the texture and colors of the rug make this blue dining room feel more inviting and warmer – an important factor if you are decorating with a cool tone.
29. Create a fun feel for a family dining room
A decorative oilcloth makes a practical alternative to a traditional fabric tablecloth; this striking world map design has been stapled into place for a neat finish. Add an old school map on the wall to continue the cartographic theme.
30. Pick dining furniture in wood for warmth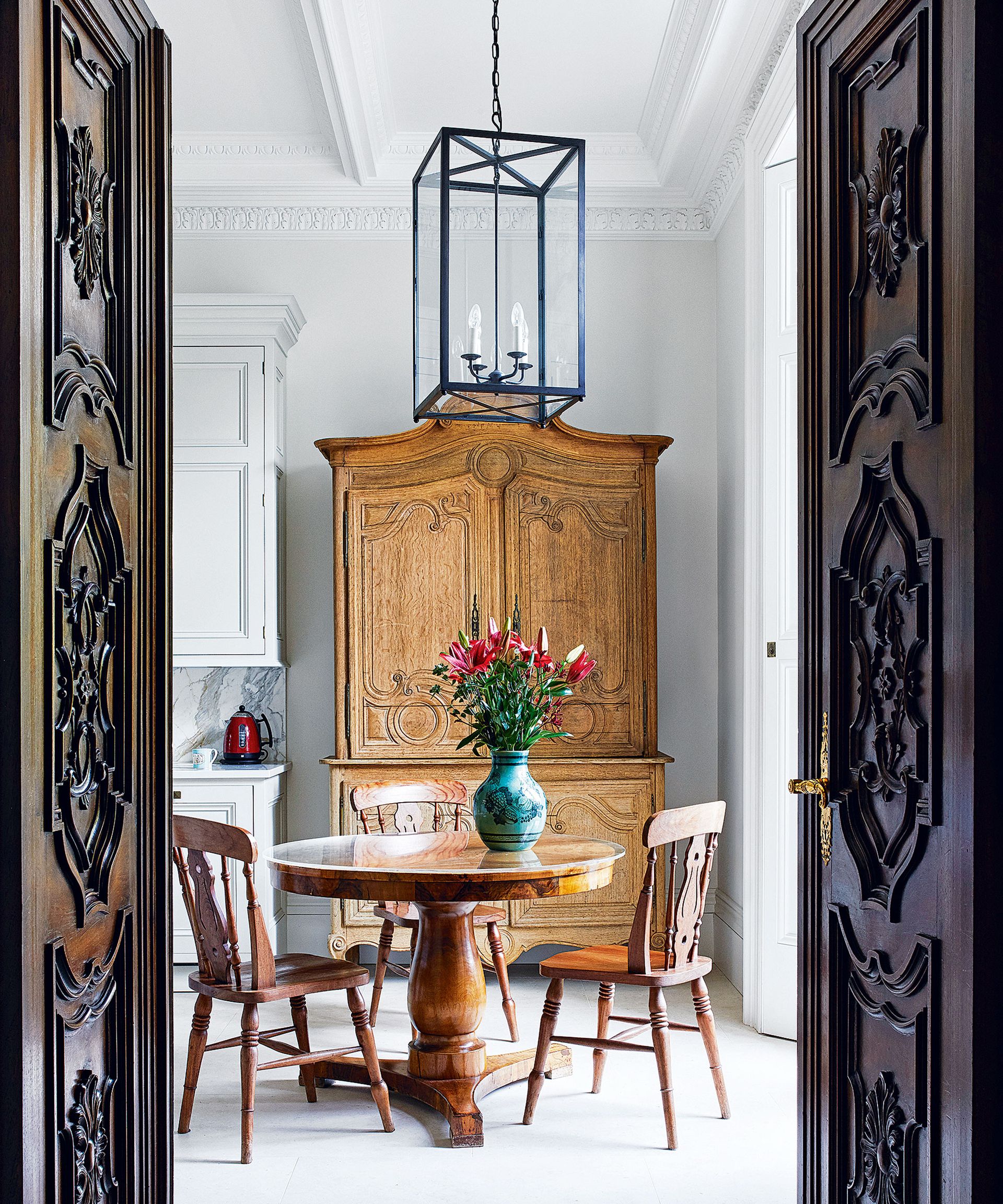 If you want a dining table but don't have space for a large traditional style, why not choose a small, round, bistro one? It will be a perfect place to sit and have your morning coffee and croissant, as well as adding a little Parisian chic to a previously unused corner of your small dining room.
31. Be bold with your decor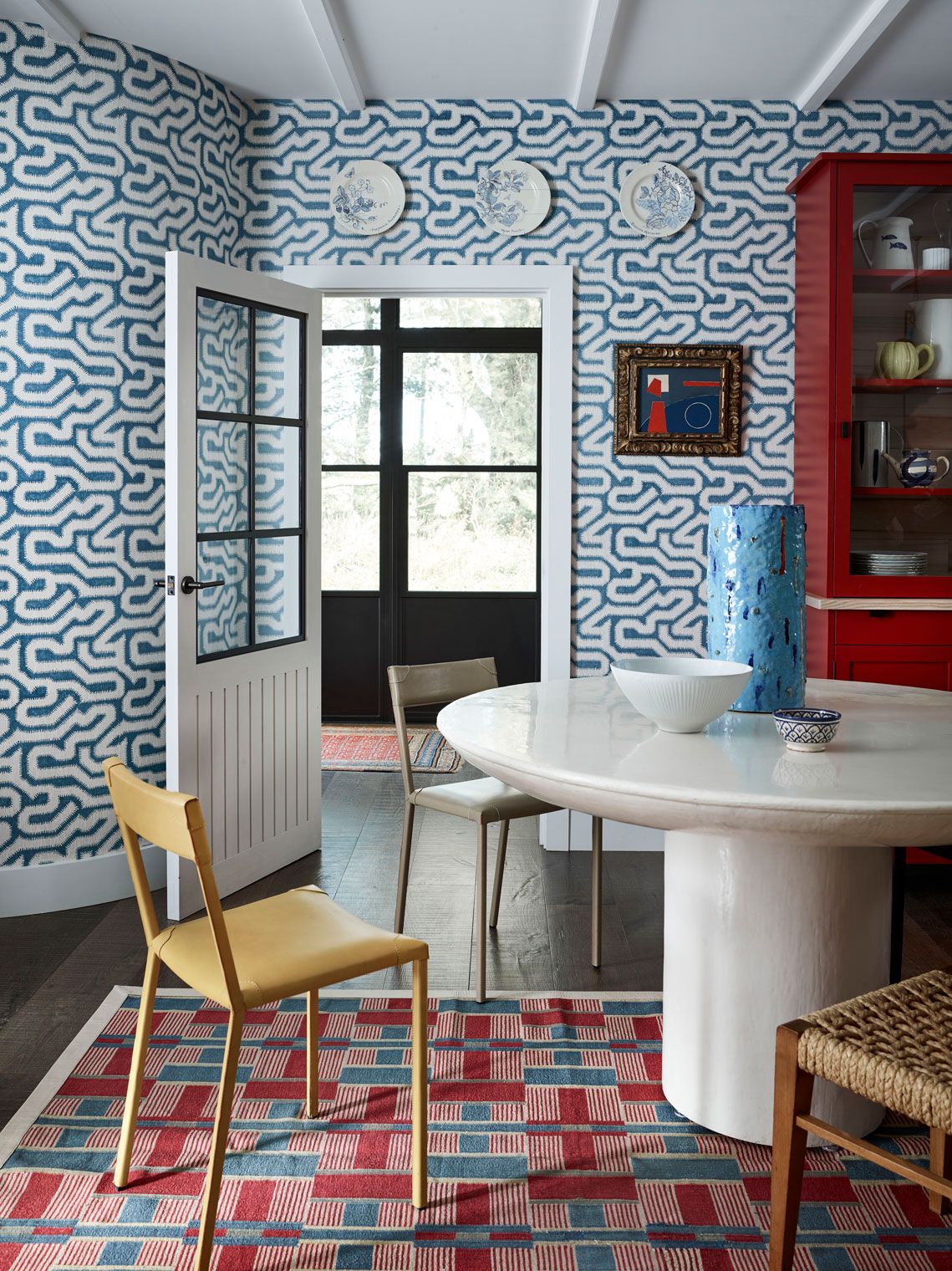 If yours is a separate dining room, it is the perfect opportunity to consider bold dining room color schemes or decorative scheme that might be overwhelming in a living space you use all the time. A stand-out wallpaper will create an exuberant space, as will a boldly painted piece of furniture – or a beautiful, curvaceous piece, such as the dining table in this beautiful room by Rapture & Wright at The Fabric Collective.
32. Create a window seat banquette for a relaxed look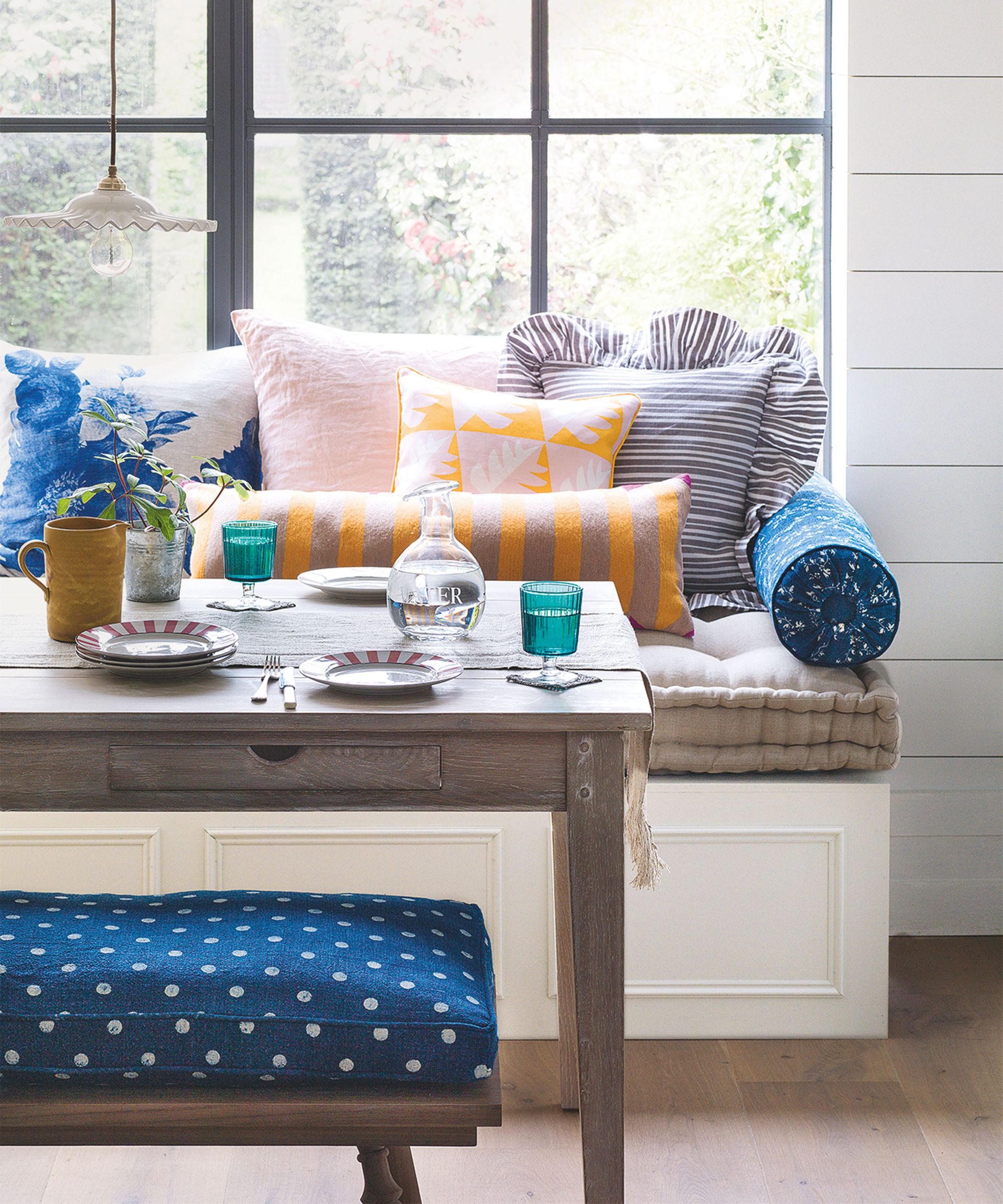 Make the most of every nook, and the architectural features of your home, by utilising a window seat as dining seating. The built-in bench on one side of the table will save space, as they are flush with the wall. To avoid the set-up looking too unbalanced, choose non-bulky folding chairs for the side opposite the window in your farmhouse dining room.
33. Hang a feature light over the dining table
It is worth devising lighting schemes early on, allowing for functional down lighters, and more decorative fittings. An oversized light suspended above a dining table helps to delineate the space. Ask your electrician to wire zones on different circuits so you can adjust the mood. Wherever possible, try to accentuate natural light. If you have a double-height space or, a single-storey extension, consider installing skylights or a roof lantern.
34. Ensure light shed on the table is warm
There's nothing like a large table to create a warm, friendly and often lively atmosphere in the kitchen. However, layout will be dictated to some extent by the shape and footprint of your dining room and may mean a separate table and chairs aren't workable. Instead a split-level peninsular may suit the space and still achieve the social focal point you have in mind. Weigh up a variety of options: a full table, breakfast bar or a small perch point on the end of a run of cabinets. The dining element could even be a full feature area, stretching along the back of an island.
35. Introduce color and pattern with fabric
'Chairs, rugs and window treatments are a great way to introduce color and character to a dining room, so pops of color and a mix of materials will add some personality to the interior,' says Head of Retail & Commercial Design at Life Kitchens, Graeme Smith.
36. Create the right ambience in your dining room