5 tips for displaying china you didn't know you didn't know
These expert design rules will refine your displays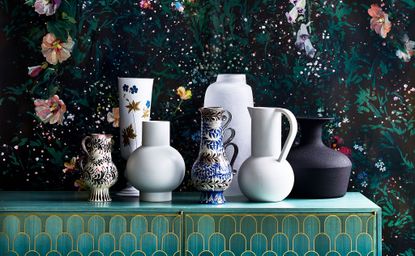 (Image credit: Future/Polly Wreford)
We've been displaying china for centuries now, but if your arrangement at home isn't look quite as cohesive as you would like it to, it might help to read our expert design advice below.
From creating shapes with groups to displaying the odd over even numbers to picking a color scheme, these interior design tips will help your china shine.
1. Display china in an odd-numbered cluster
We couldn't resist featuring this picture from a recent Homes & Gardens photo shoot. These stunning vessels grouped together are a fabulous example of how to show off your pieces rather than store them away.
Placement is key when styling like this and odd numbers always work best. Vary the heights and note that the tallest are at the back. Let the smallest nestle between two and create a focal point with the most decorative. Shapes are important too, use a mixture of short and curvy in with the tall and narrow to create interest.
2. Display plates in a shape that reflects your intent
If you have favorite plates, mounting them on a wall is a wonderful display idea. We asked Ana Moisin, Head Interior Designer at Oka for her advice on how to achieve a striking display.
'China displays have been around for decades, they are so versatile and add a timeless beauty. They can just work everywhere; it doesn't matter if your home is rustic or modern, the most important thing is to position them in a place where they can take center stage and you can really appreciate the craftsmanship – above a console, for example.
'I like to display china in a geometric pattern, and for a more contemporary angle, incorporate plain white pieces alongside intricate patterns in the wall design.'
While the geometric, symmetrical arrangement is a wonderful approach for smarter, more formal feel – ideal in an elegant living space or kitchen – a more fluid pattern created with china, like those above and below, will suit a more informal setting, and in a space with few architectural details, it can really boost interest.
As always, picking a background color that either complements the unified color scheme of the china – or offers a pleasing contrast, as in the arrangement below – will help make the display more successful.
Note too the gaps between the plates – the arrangements remain intimate but entirely uniform in the formal arrangement at the top, and more irregular in the fluid displays.
3. Display tableware on open shelving in layers
The rise in popularity of open shelving in kitchens means there's a fresh new spot for the china to be displayed. Again, there are two routes to take: formal or relaxed.
Formal arrangements of china tend to be sparer and more uniform; informal will be more cluttered, but will add a ton of character, pattern and color, especially if the china is decorative.
We asked Kate Cartwright at Burleigh for her thoughts on the techniques for display china like this.
'Historically, the uniformity and tradition of a starched and styled ceramics cabinet was once show-stopping but we are seeing more and more consumers embrace a more rustic, laid-back approach to displaying their plates and dishes, and indeed their homes. With interior styles often opting for a single wooden shelf on antiqued brackets, it allows your eclectically original pieces to really gleam in a stark comparison.
'When displaying earthenware, we like to think about layering and incorporating pieces in different sizes to create a more dynamic scheme, and curating designs together to show individual styles.'
4. Display china in a dresser by visual weight
Showcasing china in a specifically-designed freestanding unit that complements your existing scheme and has plenty of storage space isn't a new idea. A traditional dresser will add character and charm to a country kitchen, while glass doors will ensure you can still see your china, but prevent it getting dusty or grimy.
In a vertical arrangement like this, it pays to keep the china in some kind of order that works visually. The best way to display? Heavier-looking, bulkier or larger items at the bottom, visually lighter, lighter colored and more delicate pieces towards the top.
5. Display china symmetrically in alcoves
Just as with the plates on the wall, china displayed symmetrically on shelves or in a cabinet will create a purposeful, smart look that's as much about aesthetics as it is about storage.
Alcoves are great for this purpose – whether as part of your home's architecture or created within a kitchen. Vicki McCarthy, Designer at Tom Howley explains:
'Displaying your finest china in the kitchen will add instant country charm. The stacking, layering and artful positioning of your favorite patterned plates, dishes, or pots lends itself wonderfully to Shaker-style painted cabinetry.
'It makes most sense to use open shelving of glazed cabinetry as a base for displaying your china or ceramics, and another benefit of using this kind of cabinet for your china is that you can opt for closed cabinetry at the bottom, meaning the everyday ware can be stored away out of view.'
Sign up to the Homes & Gardens newsletter
Decor Ideas. Project Inspiration. Expert Advice. Delivered to your inbox.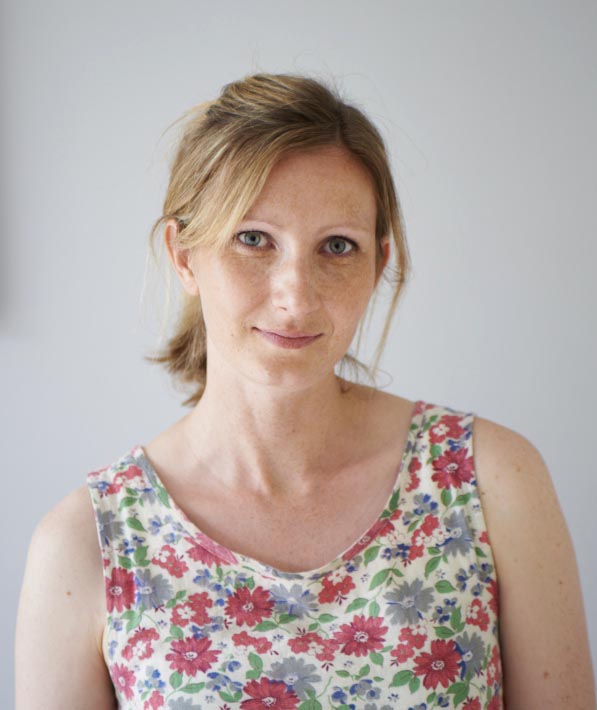 Sophie has been an interior stylist and journalist for over 20 years and has worked for many of the main interior magazines during that time, both in-house and as a freelancer. On the side, as well as being the News Editor for indie magazine, 91, she trained to be a florist in 2019 and launched The Prettiest Posy where she curates beautiful flowers for modern weddings and events. For H&G, she writes features about interior design – and is known for having an eye for a beautiful room.