Small dining room ideas – 22 stylish ways to make the most of a compact diner
Embracing small dining room ideas means a compact room needn't be a barrier to creating your dream dining space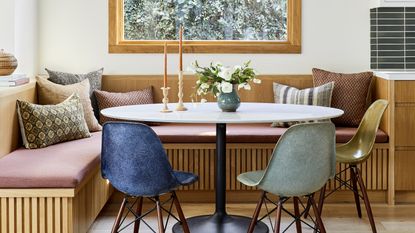 (Image credit: Ginny Macdonald/Sara Tramp)
No one likes bashing elbows at the dinner table – with small dining room ideas that make the most of limited space, it's perfectly possible to make almost any part of the home work as a comfortable dinner spot.
Whether your table and chairs are crammed into a tiny room, or are just stealing a corner from another space in the house, it's important to stick to dining room ideas that help make dinner time an event in a space of any size.
Small dining room ideas
These small dining room ideas are designed to suit both open-plan spaces that are squeezed for dining spaces within an open-plan kitchen, for compact dining rooms and for breakfast rooms. Have a browse and be inspired...
1. Keep it light
It's so much easier for small spaces to feel dark, so if you're dealing with a diminutive dining room, banish the shadows by keeping things light. If you're seriously renovating, consider getting as much light in as possible by installing the largest windows you can.
If it's just a cosmetic makeover, consider the dining room color ideas and paint the walls in light colors and use pale linen curtains. Take note from this example by designer Amanda Evans and install dining room wall ideas or ceiling decor that help bounce light around the room, such as mirrors and crystal chandeliers.
2. Choose an extendable table
With any dining room, there's a good chance you won't need it to serve at its full capacity for every meal time – and in a small space, having a large table take up unnecessary space is even more frustrating. Opting for an extendable table means you can use it at its smaller size for day-to-day meals, and make it longer when entertaining guests – you might need to rearrange your dining table decor ideas each time, but it's worth it. This works especially well in a small transitional space like this dining area off a hallway by designer Mark Lavender, where maximizing mobility is key.
3. Draw the eye up to make the space feel taller
When thinking about ways of lighting a dining room, don't think just about the impact of the bulbs themselves, but how the light fitting can help alter the proportions of a room.
In a small dining room – particularly one without tons of natural light like this apartment example designed by Alexis Hughes – you can help diminish the feeling of close walls by taking the focus of the room upwards. Using a chandelier like this one, with multiple levels and a black contrast to the grey dining room ideas, makes the room feel taller by drawing the eye up to the ceiling.
4. Make the most of a corner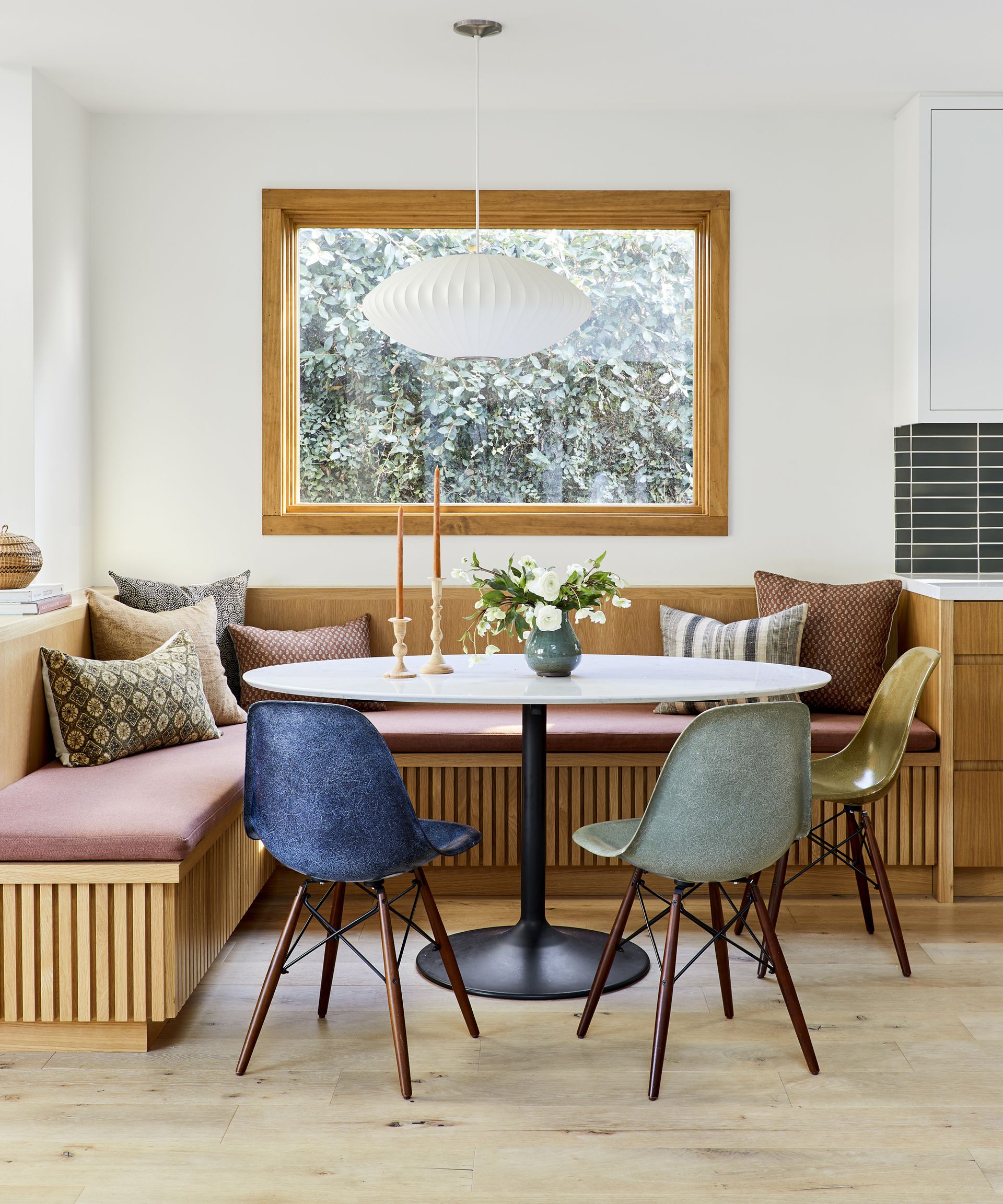 If you're squeezing a dining area into a subsection of a kitchen or living room, it can be tricky to accommodate both a table and room to walk the whole way around it. If this is the case, embrace a room's corners.
When designer Ginny Macdonald came across structural issues in this open-plan kitchen and living room conversion that meant she couldn't remove a built-out wall, she turned it into a breakfast area with a fitted bench made to fit neatly against the corner, turning it from an unforeseen nuisance into her favorite part of the room.
5. Use visual tricks and curves to enhance space
Checked flooring creates a neat visual trick that can be used in any room. Effectively, the lines created by the pattern draws the eye to the edges of a room, creating a feeling of space that's really useful in a small dining room. Curved backs on dining chairs soften the effect of the stark black and white flooring and, of course, maximize space, too.
6. Pick a circular table for a small dining room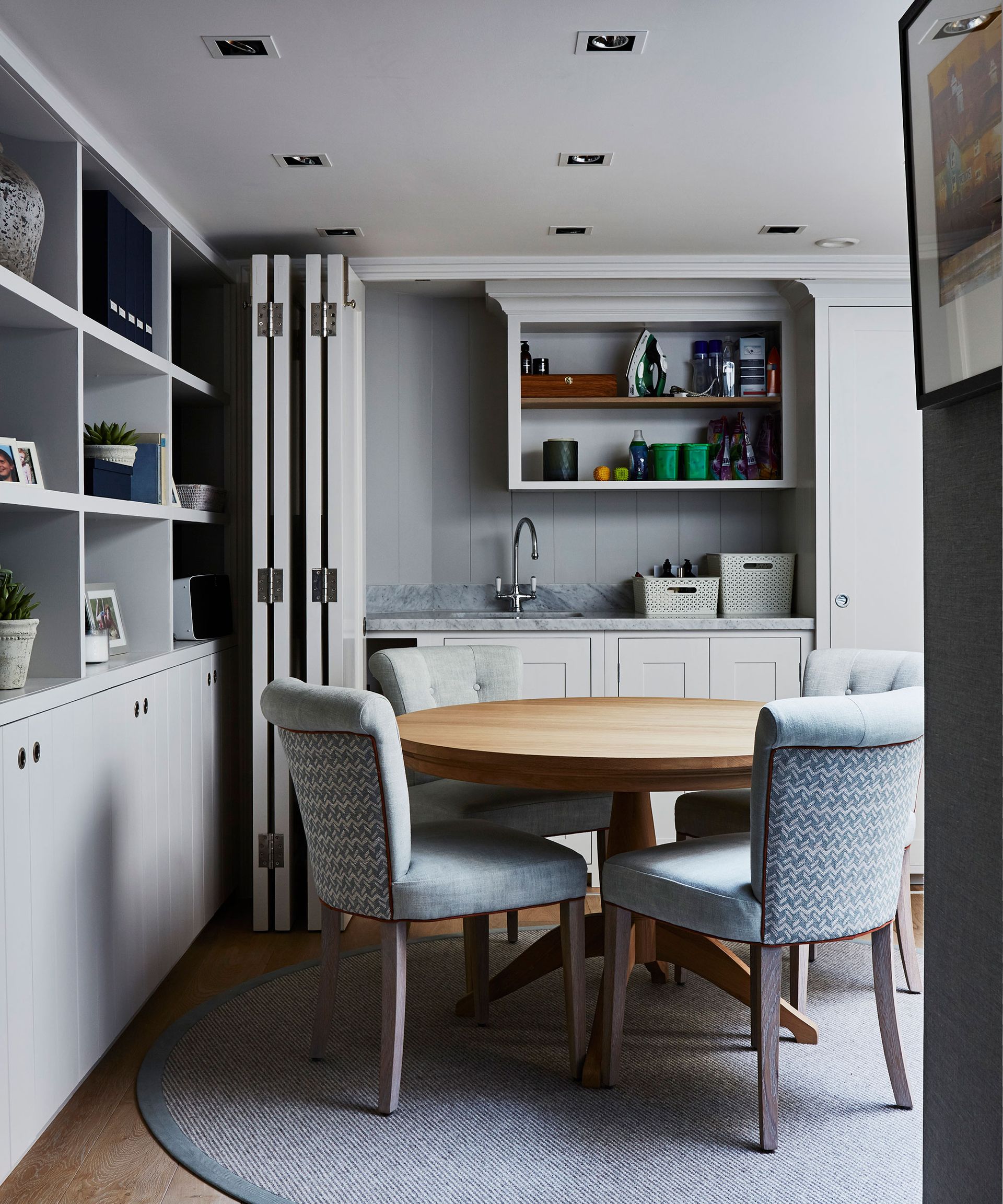 Small dining rooms are best served by circular or oval-shaped dining tables. The lack of edges is practical in every sense: it allows you to fit more diners around the table comfortably and saves space. The other bonus: it's a more sociable shape for dining at.
7. Make it open-plan
With a more relaxed approach to living, many homes have done away with traditional separate rooms in favor of open plan kitchen ideas. Other more compact spaces don't have the square footage for a designated area for eating. But it's still possible to create a small dining space with wow factor that works as a successful zone within an overall scheme.
Open-plan, even if small, dining zones are a popular choice, with many contemporary schemes now embracing a more informal area that blends neatly with kitchen and living space. In a large enough room, this works just as well for formal dining as informal. The key is to delineate the space.
8. Consider banquette seating
Even very small spaces can often accommodate banquette seating ideas, fitted into a corner or even on one side of an island, to create a cozy, compact dining spot, while in living areas. This design by Sims-Hilditch shows how to create a small dining space elegantly.
9. Work a window
Try using the space creatively: window seat ideas can be combined with a table for impromptu dining, while extendable tables can provide multi-functional space. These spaces also greatly benefit from the light provided by the lucrative window position.
10. Optimize an unused hallway
Large, open-plan hallways and studies can also work well as dining areas. Erect a narrow dining table near the stairs, or consider a round table in a large hall, while a study or book-filled library with a table at its centre can create atmospheric dining options incorporated into your hallway ideas.
11. Steal space from the kitchen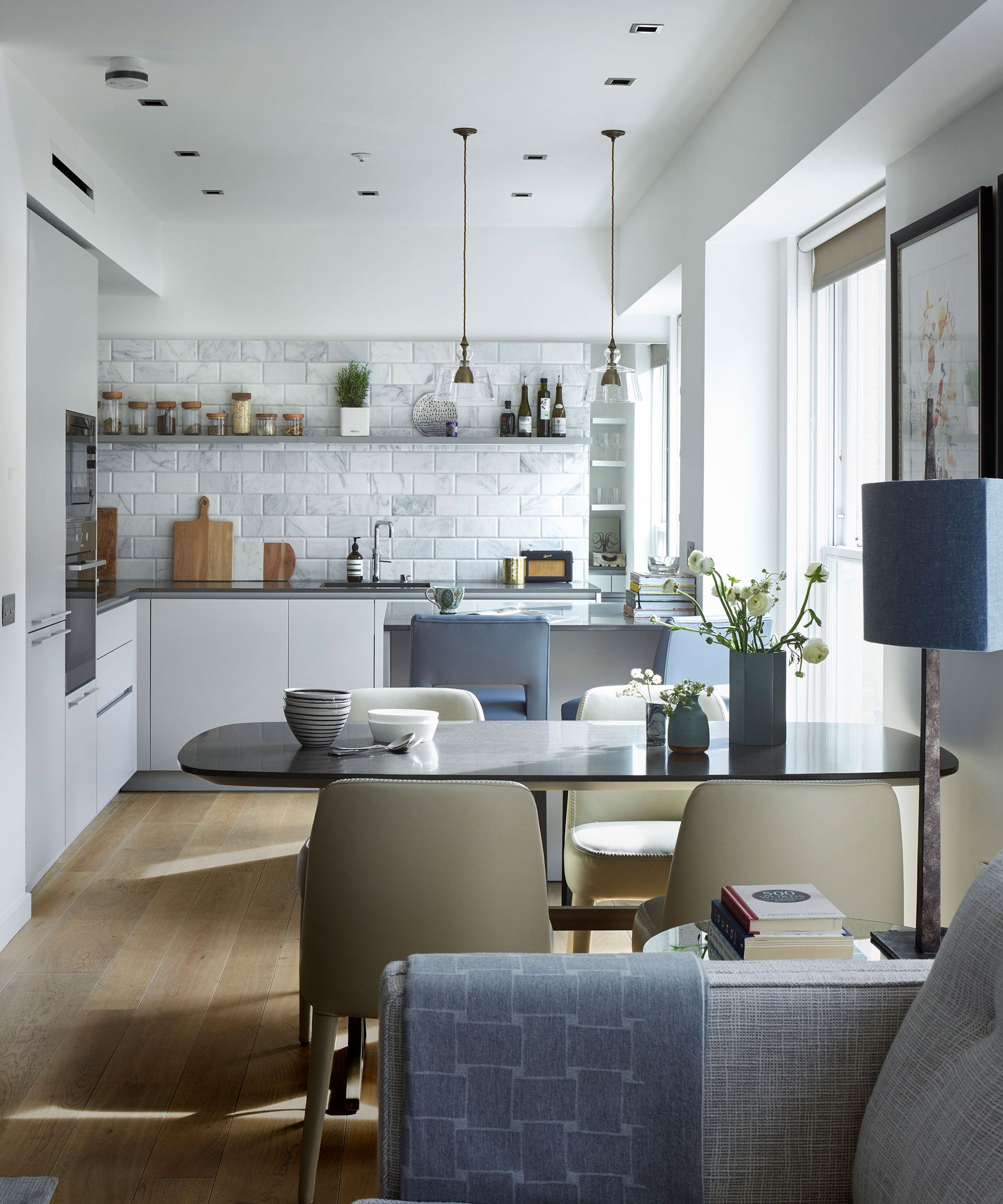 Are you looking for ways to include a dining room in an apartment? An open-plan small dining space within a kitchen or living area increases the fluidity of a room, encouraging a more sociable layout for entertaining family and friends.
'One of the important things to consider when designing a scheme like this, whether it be within a kitchen, living space or even a large hallway, is the availability and use of natural light – a generous window or skylight is great way of extending the illusion of space,' says interior designer Maurizio Pellizzoni.
In planning this kind of area, consider where and how 'breaks' are going to be implemented between kitchen, living and dining areas. Use bars or islands, bookcases, consoles and seating to create a natural divide, as well as effective sound barriers from TV and kitchen noises. Another great consideration is traffic space – people should be able to flow through the different areas easily.
12. Get the lighting right in a small dining room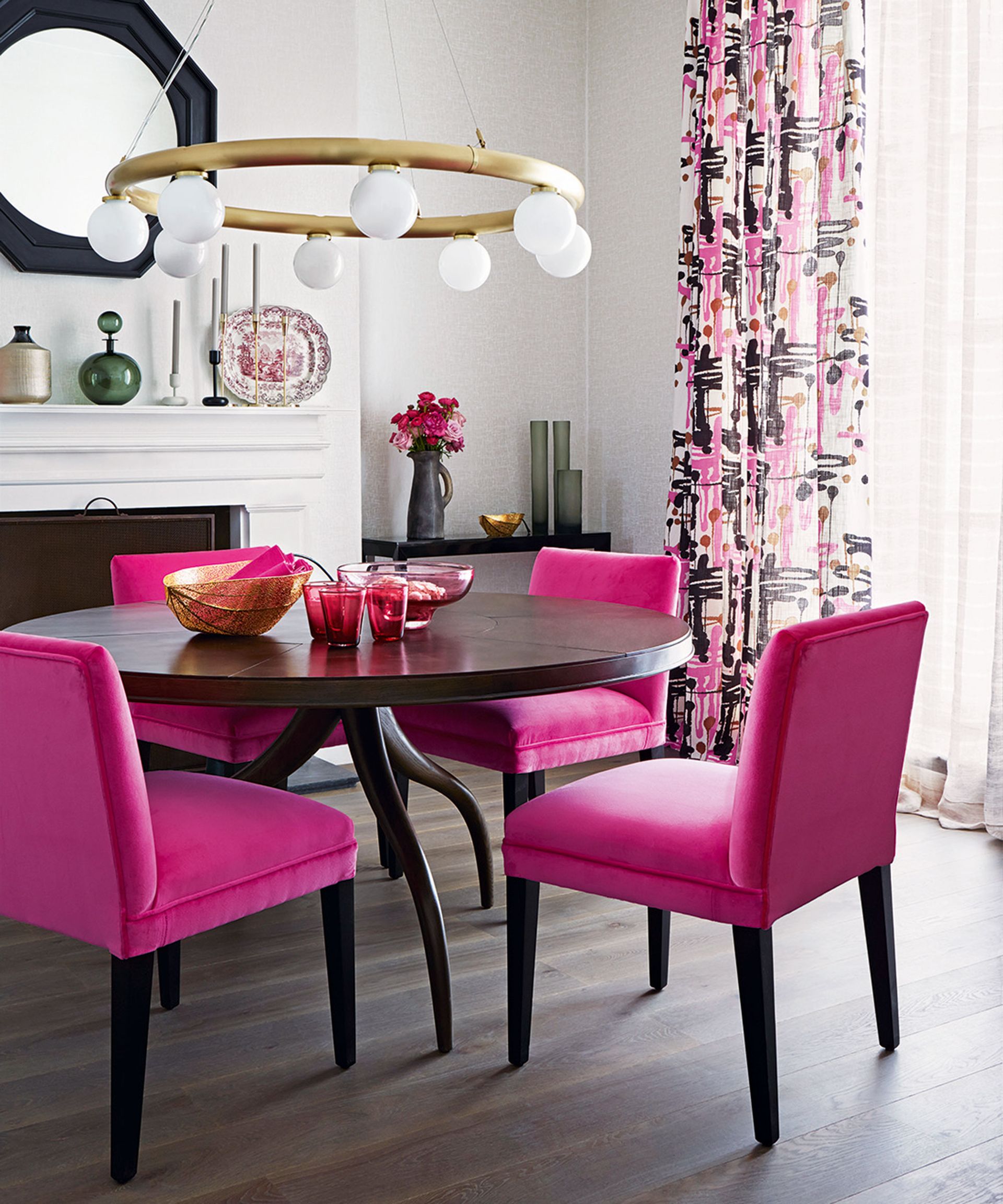 Lighting is an immediate and effective zoning option. It's another tool that segments the different functionality of the space. Consider using soft but effective under lighting in a small dining room, which allows sufficient light to put the final touches to one's food, but is discreet enough not to dominate.
'Try a striking pendant light, chic floor lamp or even an atmospheric candle,' explains Julie Paul, Head of Interior Design, OKA.
13. Cut the clutter
With accessories and essentials neatly arranged and out of sight, the space will soon feel orderly and open – a tiny dining room that's crammed full of 'stuff' takes up space, making it feel disorderly, busy and small. Try and keep the floor as clear as possible, too, as it's one of the easiest ways to maintain a sense of spaciousness, so remove any oversized rugs. A tidy room makes for a great blank canvas for modern dining room ideas too.
14. Introduce cafe culture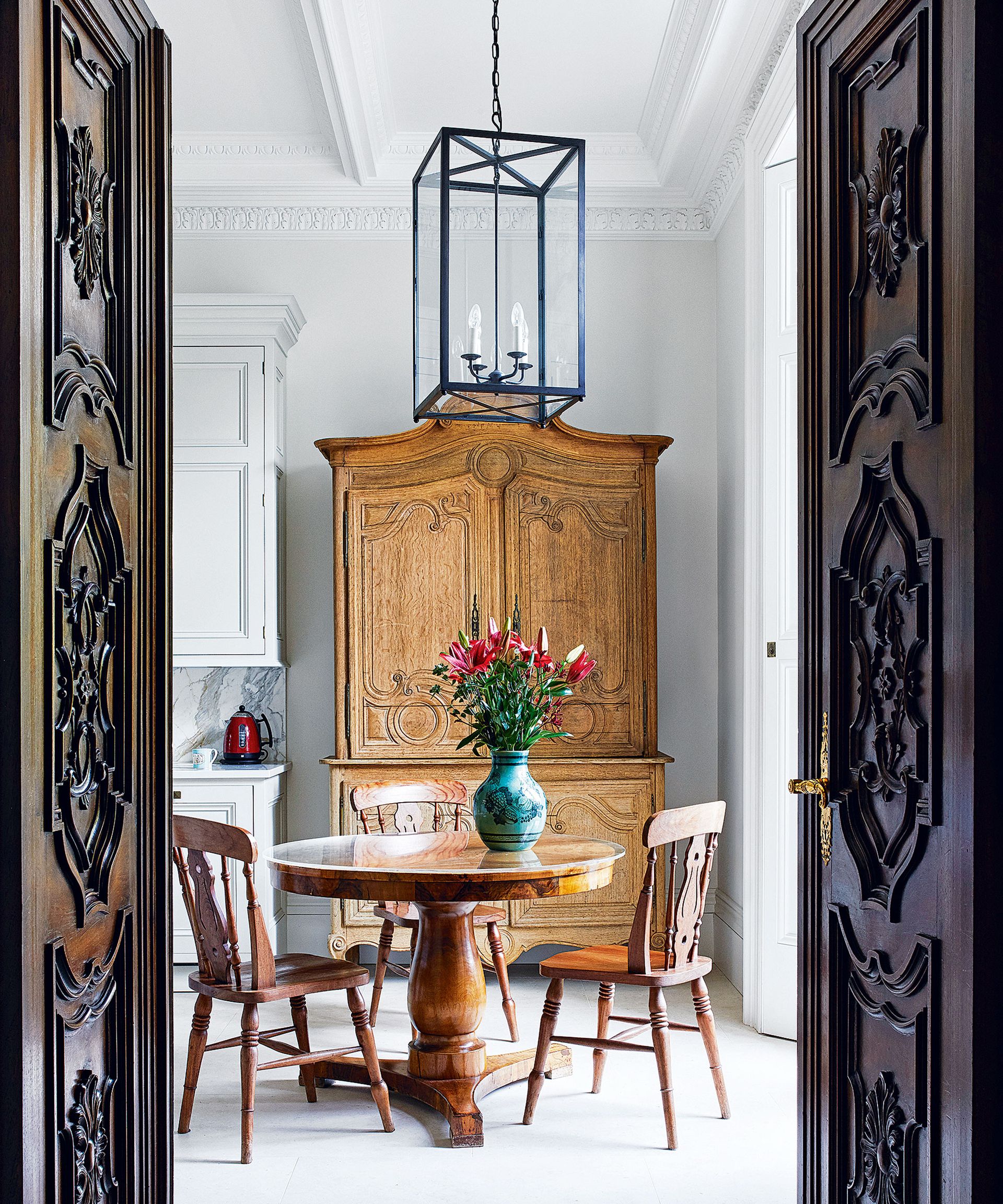 If you want a kitchen table but don't have space for a large traditional style, why not choose a small, round, bistro one? It will be a perfect place to sit and have your morning coffee and croissant, as well as adding a little Parisian chic to a previously unused corner of your kitchen.
15. Transform a kitchen island
Turn a kitchen island into a small but perfectly formed dining space by adding bar-height chairs. Choosing kitchen island seating ideas that are chairs rather than stools helps to create a more comfortable environment in which to dine, encouraging people to sit for a while, rather than just perch for a few minutes. This is a great option if you love to socialize while cooking.
16. Be a wallflower
A traditional farmhouse kitchen table doesn't have to be placed in the center of the room. If you don't have masses of space, it can still look great when situated against the wall or in a corner. Keep chairs out of the way, and place flowers, herbs, or a country-style basket on the table to create an attractive display. This helps to make the table positioning established and deliberate.
17. Use a window seat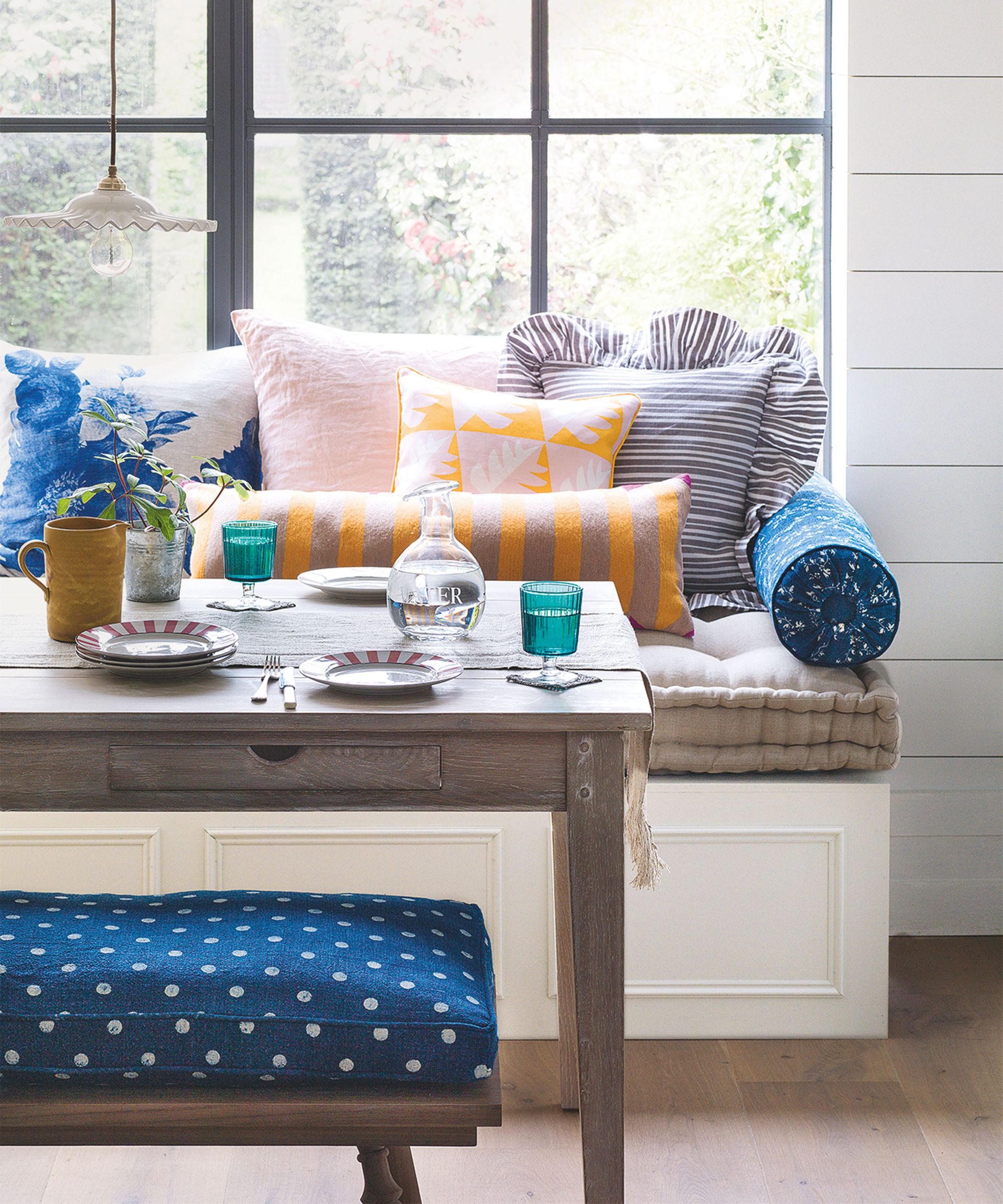 Make the most of every nook, and the architectural features of your home, by utilising a window seat as small dining seating. The built-in bench on one side of the table will save space, as they are flush with the wall. To avoid the set-up looking too unbalanced, choose a bench or slimline chairs for the side opposite the window.
18. Create a focal point
Small dining rooms can suffer from a lack of focus. Of course, when the table is laid, and the candles are lit, the table itself is the center of attention – but the rest of the time, the room will benefit from having a design feature that draws the eye.
The simplest trick is to dress the dining table – with a floral display or a sculptural accessory – but you can double the effect by framing the table with a large piece or art that sits behind it.
This dining room by LA-based designer Natalia Miyar is a case in point, and she also highlights the importance of lighting in a dining space like this. 'Designers love wall lights and accent lighting for a reason,' Natalia tells us. 'There are great options to choose from and they provide interest and style as well as an important yet subtle light source. A mirror flanked with wall lights is an obvious choice for the bathroom, but consider using this format in other rooms, it also works well.
19. Go for a monochromatic color scheme
Monochromatic color schemes are a great way to make a small dining space feel larger. They don't, of course, have to be all one color, but if you stick to varying shades and tints of one color, you will create a calm room that in turn feels spacious. Add elements of contrasting shades in blocks, such as a light-colored flooring, can only help.
20. Fit a dining area in the kitchen or conservatory
Maximize a small dining room by placing it near open windows and doors. 'Fresh air and good ventilation is key in small spaces, ensuring that natural light and access to outdoor space is maximized and not claustrophobic,' says Hayley Robson, creative director at Day True. Consider carving a casual dining space in a kitchen or conservatory if space allows. Alternatively, place a dining table below a window with a bench which can be tucked under when not in use.
21. Fake a dining room
Not every space is conducive to formal dining, so instead fake it with a narrow table and bar stools. Invest in minimal, fuss-free designs that still look stylish. Here, bar stools, thing legs and straight lines allow light to enter the room – perfect for small dining rooms in apartments. If you prefer a more maximalist approach, use color, texture and pattern underfoot.
22. Manage an open area
Creating a dining zone within a living room requires good planing and design know-how. Choose furniture with a similar look to give the whole space a sense of unity in its design. Look for pieces with a common element, such as the same finish, color or texture so they sit well together. Plus, if your room isn't on the larger side, look for multipurpose furniture or an extending table so that it doesn't take over the whole room.
How can I make a small dining room look bigger?
You can make a small dining room look bigger with a variety of clever design tricks. If there's one thing that's going to create the illusion of more space, it's decluttering – it can actually make a room feel wider in seconds. Try to keep the floor as clear as possible, too, as it's one of the easiest ways to maintain a sense of spaciousness.
Think outside the box when deciding on the type and placement of your table. If you have a tiny kitchen, but a large hallway, why not convert this into a small dining space?
There are also many drop-leaf small dining table designs available, or ones with extendable sections; these are great for providing everyday space-saving benefits, with the flexibility to seat a larger group when required. A slim drop-leaf table could act as a living room console day to day, and then convert into a small dining table when you are hosting a dinner party.
What is the best shape table for a small dining room?
The best shape table for a small dining room is undoubtedly curved – whether circular or oval. Everyone knows the best conversations happen over a meal, and these table shapes don't just save space – by literally cutting the corners – they also promote sociability because everyone is facing in to everyone else.
Ailis started out at British GQ, where a month of work experience turned into 18 months of working on all sorts of projects, writing about everything from motorsport to interiors, and helping to put together the GQ Food & Drink Awards. She then spent three years at the London Evening Standard, covering restaurants and bars. After a period of freelancing, writing about food, drink and homes for publications including Conde Nast Traveller, Luxury London and Departures, she started at Homes & Gardens as a Digital Writer, allowing her to fully indulge her love of good interior design. She is now a fully fledged food PR but still writes for Homes & Gardens as a contributing editor.