Small dining room ideas – to make the most of a compact space
Don't let a compact room be a barrier to creating your dream dining scheme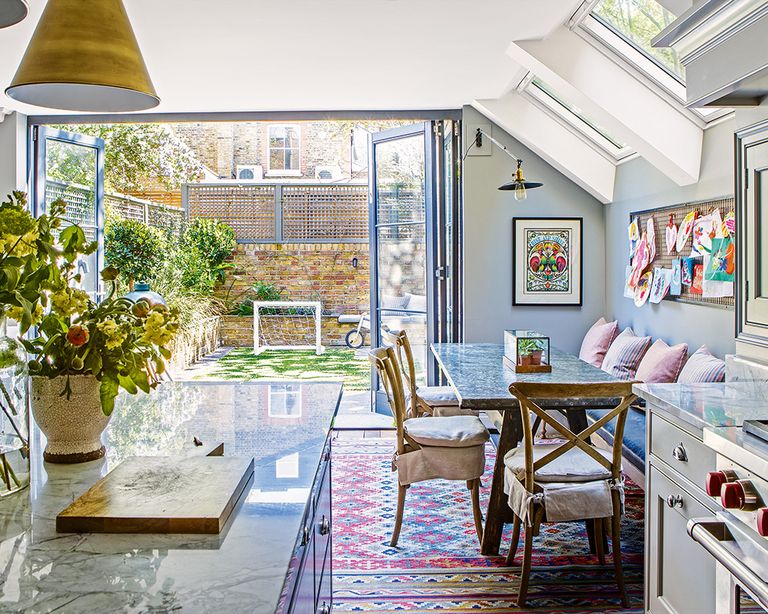 (Image credit: Mark Bolton)
Do you want to realise the potential of your small dining room? Whether your table and chairs are crammed into a tiny room, or are just stealing a corner from another space in the house, there are lots of things you can do to make meal times a pleasure with these inspiring small dining room ideas.
See more: Dining room ideas – beautiful ideas, whatever the size of your space
What can I do with a small dining room?
If you have or have ever had a narrow room at home, then you'll be more than aware of the tricky task of making it look wider than it actually is, while desperately trying to make every corner look cosy. You've probably spent hours rearranging furniture in a frenzied attempt to make your rectangular space look more square, but in the back of your mind you know that unless you knock down the walls and rebuild the room from scratch, there's just nothing you can do. Never fear – with some clever tricks of the trade, there are in fact tons of ways to help turn that awkward layout into something stylish and sophisticated, so don't give up just yet!
How can I make a small dining room look bigger?
If there's one thing that's going to create the illusion of more space, it's decluttering – it can actually make a room feel wider in seconds. Make sure you keep your small dining room tidy and organised by removing toys, plants, knickknacks and other unnecessary items, and your space will instantly feel bigger and more pleasant to be in.
What is the best shape table for a small dining room?
Everyone knows the best conversations happen over a meal, whether it is with family, a partner, or good friends. So having somewhere to sit and eat is an important element to consider when designing your home. Most of us may not be lucky enough to have a separate dining room, but that doesn't mean we need to resort to TV dinners.
Think outside the box when deciding on the type and placement of your table. If you have a tiny kitchen, but a large hallway, why not convert this into a dining space? There are also many drop-leaf designs available, or ones with extendable sections; these are great for providing everyday space-saving benefits, with the flexibility to seat a larger group when required. A slim drop- leaf table could act as a living room console day to day, and then convert into a dining table when hosting a dinner party.
Small dining room ideas
These small dining room ideas are designed to suit both open-plan spaces that are squeezed for dining spaces within an open-plan kitchen, for small dining rooms and for breakfast rooms. Have a browse and be inspired...
1. Make it open-plan
With a more relaxed approach to living, many homes have done away with the traditional dining room in favour of an open-plan scheme. Other more compact spaces don't have the square footage for a designated dining area. But it's still possible to create a dining space with wow factor that works as a successful zone within an overall scheme.
Open-plan dining is a popular choice, with many contemporary schemes now eschewing the traditional dining room for a more informal area that blends neatly with kitchen and living space. In a large enough room, this works just as well for formal dining as informal. The key is to delineate the space.
2. Consider banquette seating
Even very small spaces can often accommodate an open-plan dining area. In a compact kitchen, consider using banquette seating, fitted into a corner or even on one side of an island, to create a cosy dining spot, while in living areas.
See: Outdoor dining ideas for stylish summer entertaining
3. Work a window
Try using the space creatively: window seating can be combined with a table for impromptu dining, while extendable tables can provide multi-functional space. These spaces also greatly benefit from the light provided by the lucrative window position.
4. Optimize an unused hallway
Hallways and studies can also work well as dining areas. Erect a narrow dining table near the stairs, or consider a round table in a large hall, while a study or book-filled library with a table at its centre can create atmospheric dining options.
5. Steal space from the kitchen
An open-plan dining space within a kitchen or living area increases the fluidity of a room, encouraging a more sociable layout for entertaining family and friends. One of the important things to consider when designing a scheme like this, whether it be within a kitchen, living space or even a large hallway, is the availability and use of natural light – a generous window or skylight is great way of extending the illusion of space,' says Maurizio Pellizzoni, Founder & Creative Director, MPD London.
In planning this kind of area, consider where and how 'breaks' are going to be implemented between kitchen, living and dining areas. Use bars or islands, bookcases, consoles and seating to create a natural divide, as well as effective sound barriers from TV and kitchen noises. Another great consideration is traffic space – people should be able to flow through the different areas easily.
See: Small kitchen ideas – to turn your compact kitchen into a smart, organised space
6. Get the lighting right in a small dining room
'Lighting is an immediate and effective zoning option. It's another tool that segments the different functionality of the space. Consider using soft but effective under lighting in the dining room, which allows sufficient light to put the final touches to one's food, but is discreet enough not to dominate. Try a striking pendant light, chic floor lamp or even an atmospheric candle,' explains Julie Paul, Head of Interior Design, OKA.
7. Cut the clutter
With accessories and essentials neatly arranged and out of sight, the space will soon feel orderly and open – a dining room that's crammed full of 'stuff' takes up space, making it feel disorderly, busy and small. Try and keep the floor as clear as possible, too, as it's one of the easiest ways to maintain a sense of spaciousness, so remove any oversized rugs.
8. Introduce cafe culture
If you want a kitchen table but don't have space for a large traditional style, why not choose a small, round, bistro one? It will be a perfect place to sit and have your morning coffee and croissant, as well as adding a little Parisian chic to a previously unused corner of your kitchen.
9. Transform a kitchen island
Turn a kitchen island into a dining space by adding bar-height chairs. Choosing chairs rather than stools helps to create a more comfortable environment in which to dine, encouraging people to sit for a while, rather than just perch for a few minutes. This is a great option if you love to socialise while cooking!
10. Be a wallflower
A traditional farmhouse kitchen table doesn't have to be placed in the centre of the room. If you don't have masses of space, it can still look great when situated against the wall. Place flowers, herbs, or a country-style basket on the table to create an attractive display. This helps to make the table positioning established and deliberate.
11. Use a windowseat
Make the most of every nook, and the architectural features of your home, by utilising a window seat as dining seating. The built-in bench on one side of the table will save space, as they are flush with the wall. To avoid the set-up looking too unbalanced, choose non-bulky folding chairs for the side opposite the window.
12. Create a focal point
Small dining rooms can suffer from a lack of focus. Of course, when the table is laid, and the candles are lit, the table itself is the center of attention – but the rest of the time, the room will benefit from having a design feature that draws the eye.
The simplest trick is to dress the dining table – with a floral display or a sculptural accessory – but you can double the effect by framing the table with a large piece or art that sits behind it.
This dining room by LA-based designer Natalia Miyar is a case in point, and she also highlights the importance of lighting in a dining space like this. 'Designers love wall lights and accent lighting for a reason,' Natalia tells us. 'There are great options to choose from and they provide interest and style as well as an important yet subtle light source. A mirror flanked with wall lights is an obvious choice for the bathroom, but consider using this format in other rooms, it also works well.