Accent wall ideas – 20 of the latest ways to create a statement feature
Be inspired by these accent wall ideas and introduce a striking focal point to a room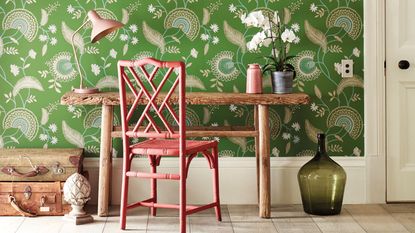 (Image credit: Sanderson)
Looking for accent wall ideas that will transform a room? An accent wall – or feature wall – is an attention-grabbing element for a living space or bedroom and you might want to plan one into a kitchen or bathroom, too, where they can work equally well.
There are a host of wall decor ideas you might use to create an accent wall, including paint or wallpaper, but there are other possibilities, including tile, textural materials, and even displays.
Here, we've put together our favorite accent wall options to inspire your own designs.
Accent wall ideas
Indulge your creativity with an accent wall that's eye-catching. Think color, pattern and texture to bring individual style to a room design.
1. Tap into rustic beauty
Embrace the soothing properties of this natural material. Whether you choose to clad your walls with reclaimed timber or new wood, paneling ideas for walls are a great way to boost a flat space.
A shiplap wall behind the bed is a striking alternative to a statement headboard. The natural patina and silvered tones of antiqued or reclaimed boards creates a characterful, rough luxe finish.
2. Create your own paint effect complete with drips
You could paint a wall in a single shade, but there are other ways to use paint as part of your accent wall ideas. 'This is not a look for fans of uniformity. It's about movement, character and depth, where visible brush strokes and drips become a focal point, rather than a mistake. It's particularly handy for uneven walls, allowing you to work with – and even celebrate – existing imperfections,' says color and paint expert, Annie Sloan.
3. Re-work a country classic
Shaker shingles aren't just for the roof or exterior walls: they can provide ultimate, three dimensional texture within the home, too.
The rustic quality of an untreated finish or natural wood tone will bring instant warmth to a space and evoke the atmosphere of a cosy cottage retreat – making it ideal for the wall behind the bed or behind the couch in a snug living room.
Give it a contemporary spin by painting shingles in a dramatic, saturated shade of gray. A whitewash will lighten the finish providing interest in a neutral space without overwhelming the space.
4. Add texture and depth with wood cladding
Wood is a versatile option for accent wall ideas. 'The wooden cladding on this bedroom's back wall creates a cocooning effect and provides a perfect contrast to Mylands' deep Market Green No. 38 paint on the walls and ceiling.
'The wood has a natural depth and reeded texture that stands out against Mylands' bold green walls, adding more interest and character to the space,' says Ruth Webber, creative director at Bert & May.
5. Go big and bold in the bathroom
Add some bathroom drama by swapping a plain backsplash for a fabulous tile mural that exploits the power of scale in interior design. Try a bespoke tiled frieze above a dado using an oversized image printed on to wall tiles.
A wallpaper mural would work just as well, using a thin tiled border or glass plate will protect the finish from any water damage.
6. Create a feature with three tonal colors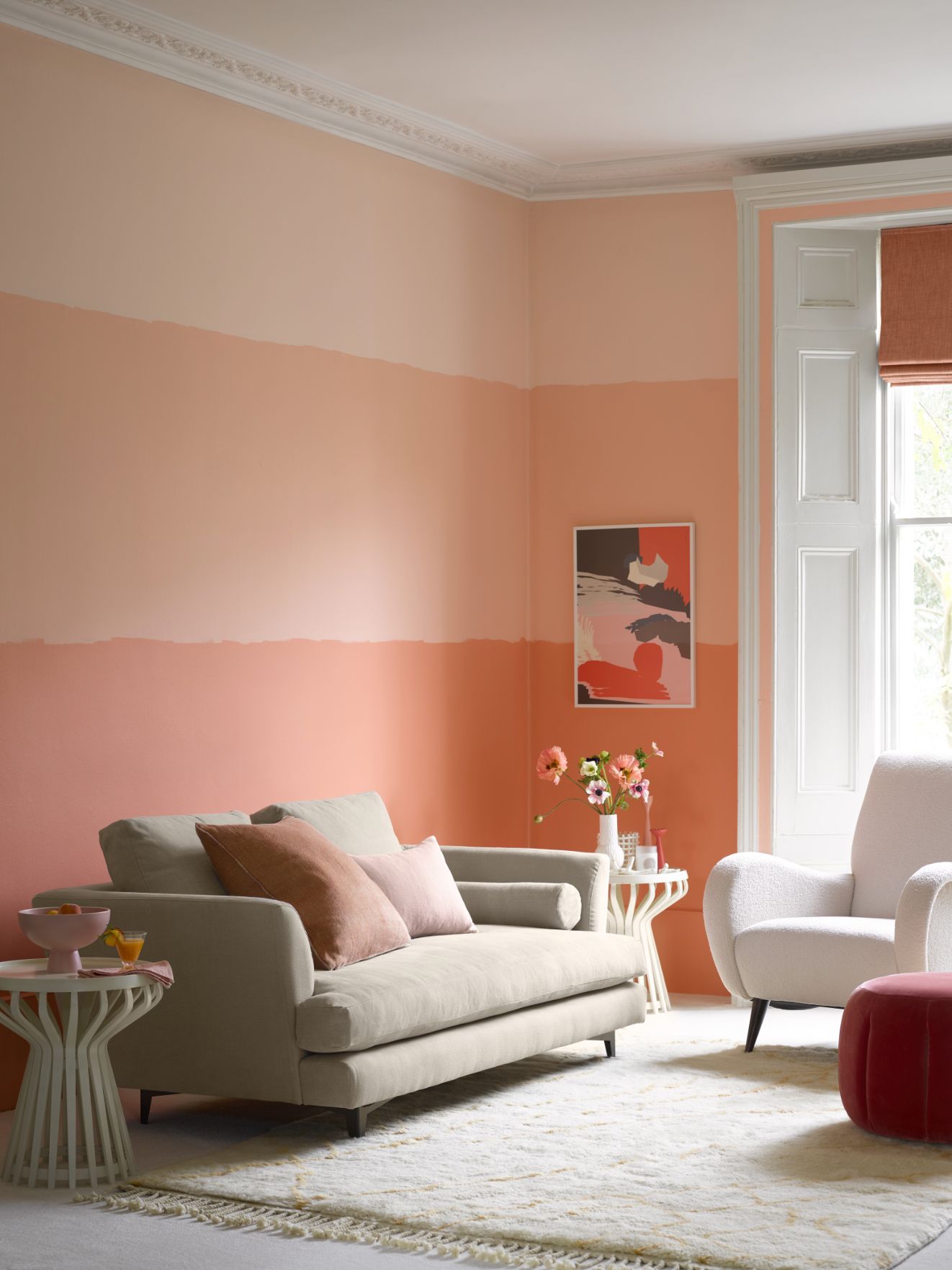 We often mention using two colors together on one wall, but how about three? 'As long as you choose a trio that blends together well because they are from the same color family it will work. Accessorize with matching pieces like pillows, blinds and artwork,' says Jennifer Ebert, digital editor, Homes & Gardens.
7. Take it back to brick
Brick is a favorite when considering accent wall ideas. When choosing which wall to expose, consider that it can be a pretty bold statement so it might be best to stick to one wall or a section of a wall such as a chimney or kitchen dining area to bring rich warmth and an industrial twist to a room.
The position of the exposed stone or brick within the house is important. It's porous, so absorbs moisture and can be cold, but this shouldn't be a problem for internal walls.
Once exposed and repaired, a specialist masonry acid will brighten the colour and a sealant will eliminate drafts. If you don't have brick or stone walls, cladding or facing slips are lighter-weight panels made with real brick or stone slices.
8. Go for the same color, but in a different material
'An effective way to create an interesting but calming wall feature is to translate the same color in different materials and textures. We created our collaboration with Little Greene so that our tiles would sit perfectly with their paint shades, and pairing these together creates a relaxed, effortless and softly layered look. For a simple twist, we added a vertical line of tiles and paint in Purple Brown tiles, in contrast to the Aquamarine backdrop,' says Ruth Webber, creative director at Bert & May.
9. Go two tone
Add interest to living room ideas with an accent wall that's part painted; it's a great option for a room without much architectural interest.
Pitch the line above key pieces of furniture, making it either one third or two thirds of the wall. A lighter color on the top will elongate and open up the room, with a warmer color below adding a cozy element to a living room.
This look can also work wonderfully for bedroom accent wall paint ideas.
10. Create character with paneling
'Paneling comes in a variety of different designs, from tongue and groove and Jacobean grid to the traditional Shaker style. Whichever type you opt for, paneling will add depth, character and interest to featureless walls. By integrating a picture shelf – painted in the same color – above half height paneling, you'll also gain a seamless display surface that's easy to update throughout the seasons,' says George Miller, home designer at Neptune.
11. Play with pattern
It's time to be fearless, if you find a wallpaper you love, go for it and mix patterns in a room. It will breathe personality into the home as well as help to zone a large or open plan space. Live with the sample for a while to make sure you're happy before you commit.
12. Invest in a dramatic mural for an accent wall
'The rise of murals in the form of wall covering panels has given us the opportunity to create stunning accent walls in our homes. By keeping the rest of the scheme in a single color that's taken from the design, the result is a statement that's elegant and stylish,' says Lucy Searle, global editor in chief, Homes & Gardens.
13. Breathe life into a kitchen
It can be tricky to inject personality into a kitchen and carry the style of the rest of house through to this practical space, leaving it in danger of feeling a little sterile.
Country wallpaper ideas for kitchens can take the room from bland to beautiful. Like paint, wallpaper can be wiped clean. Alternatively, a large scale print or mural would make an impact behind open shelving.
14. Add drama to a kitchen wall with a touch of gold
'Teal is a statement color and should be treated as such. Harness it to add beauty, drama and grandeur to a space rather than trying to use it as part of a supporting cast. Pair with metallics to fully emphasize the nuance in the color,' says color and paint expert, Annie Sloan.
15. Rethink tile placement
It's time to take tiles beyond the backsplash and make them a full height feature in their own right.
For a statement design, go for either an interesting pattern, bold color choice or an unusual shape, or a mix of all three to draw the eye in the kitchen. It can create a standout area in a busy space.
A glossy glaze will add striking contrast, especially when paired with a matt kitchen finish.
Add even more surprise and wow factor by tiling a feature wall in an unexpected area such as a hallway or on a chimney.
16. Consider hanging an antique tapestry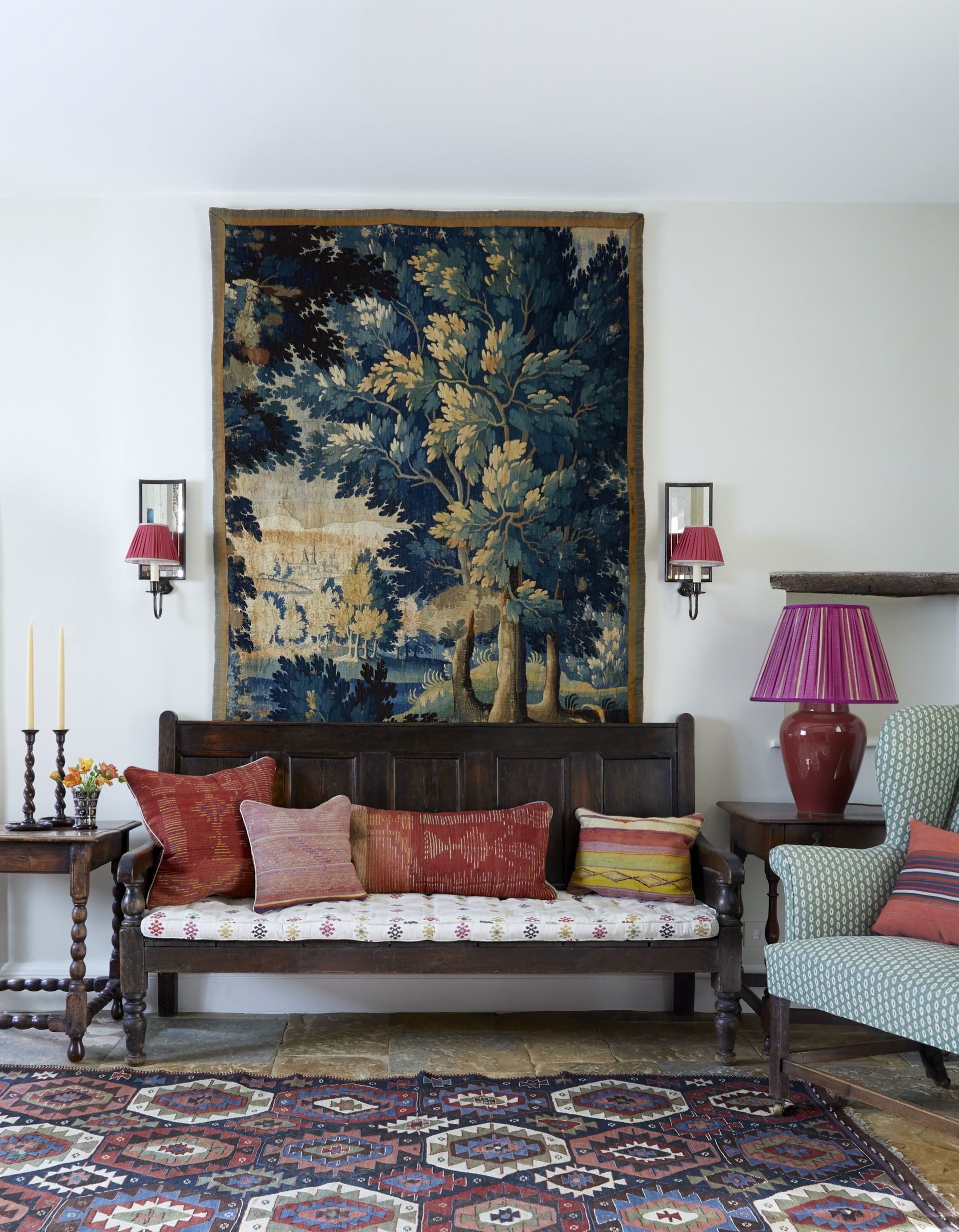 'A Verdure tapestry and antique kilim enhance the character of this space. I adore antique tapestries. Well, all antique fabrics really, but in particular Aubusson Verdure. Those greens and blues are just heaven – any room benefits by having one,' says Henriette von Stockhausen, creative director at VSP Interiors.
17. Try the new plate display
Gallery wall ideas are a fantastic take on the accent wall. Opt for an unusual yet decorative wall display. This simple and impactful dining room feature wall is as easy as it gets.
The natural texture and pattern brings a white wall to life and the grouping gracefully defines the eating area.
18. Take a look at laser-cut pattern
'We love this idea of taking a simple design and giving it a new lease of life as an accent wall idea. Having a pattern laser cut into wood not only creates interest but a decorative aspect too and the beauty of it is, you could have it as large or small as you want,' says Jennifer Ebert, digital editor, Homes & Gardens.
19. Use paint and display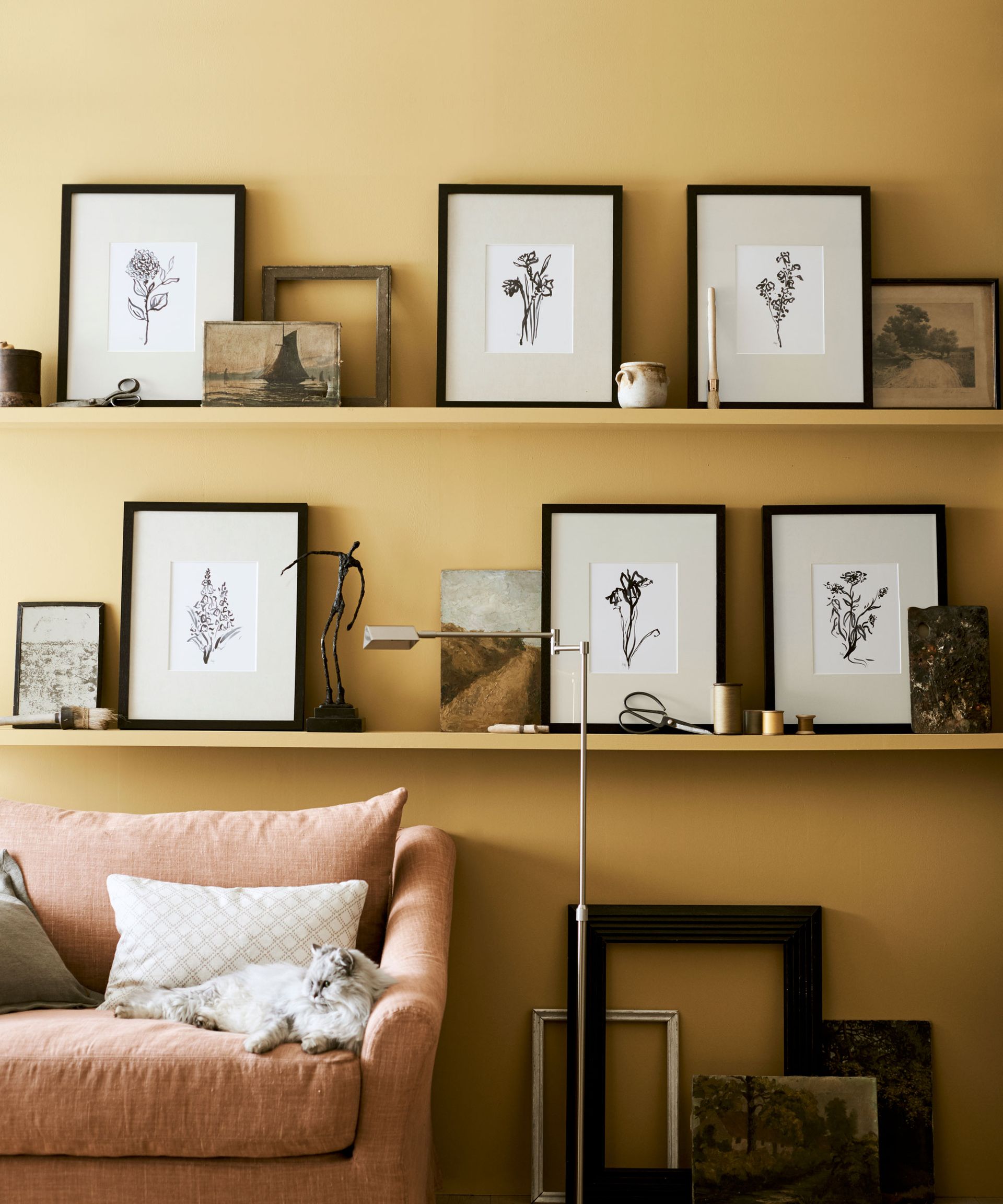 A feature wall can also be a three-dimensional display, with all components combining to create a harmonious whole.
Here, the shelves and wall are painted in the same rich color to create a seamless base layer. When it comes to arranging the artwork, choosing a set of frames in the same size or color ties the look together.
Framing black and white or tonal prints and photos is a fail-safe finish that will contrast beautifully against almost any color.
20. Hang mirrors to create a reflecting accent wall
Don't neglect the power of mirrors when contemplating accent wall ideas.
'As long as what you are reflecting is good, this interior design trick will work a treat, and of course it will make your space feel double the size as it will lighten and brighten in an instant,' says Melanie Griffiths, editor, Period Living.
Are accent walls outdated?
Accent walls aren't outdated, but the latest iterations are often much more than the single paint shade that was popular in the past. 'Today's accent walls use patterned wallpapers, interesting materials, murals, textural finishes and so on,' says Lucy Searle, global editor in chief of Homes & Gardens. 'And even where paint is used, rather than a single color, a tonal group might be selected instead. Creativity is key for a contemporary accent wall.'
Which wall should be the accent wall?
It's important to choose the right wall for your accent wall. There are no hard and fast rules about which wall this should be, but it is often the wall opposite the door to that room. Using this wall means it can be seen immediately so it creates the greatest impact. It might also be the wall that's the most obvious to you when you sit (or lie) down.
Sign up to the Homes & Gardens newsletter
Decor Ideas. Project Inspiration. Expert Advice. Delivered to your inbox.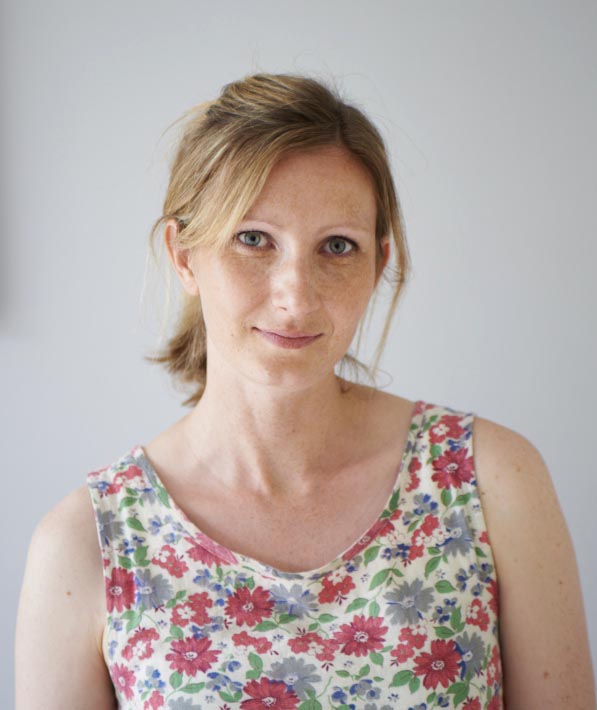 Sophie has been an interior stylist and journalist for over 20 years and has worked for many of the main interior magazines during that time, both in-house and as a freelancer. On the side, as well as being the News Editor for indie magazine, 91, she trained to be a florist in 2019 and launched The Prettiest Posy where she curates beautiful flowers for modern weddings and events. For H&G, she writes features about interior design – and is known for having an eye for a beautiful room.