Accent wall ideas – inspiring feature wall ideas and creative focal points
Rethink the accent wall – or feature wall, as you may have heard it called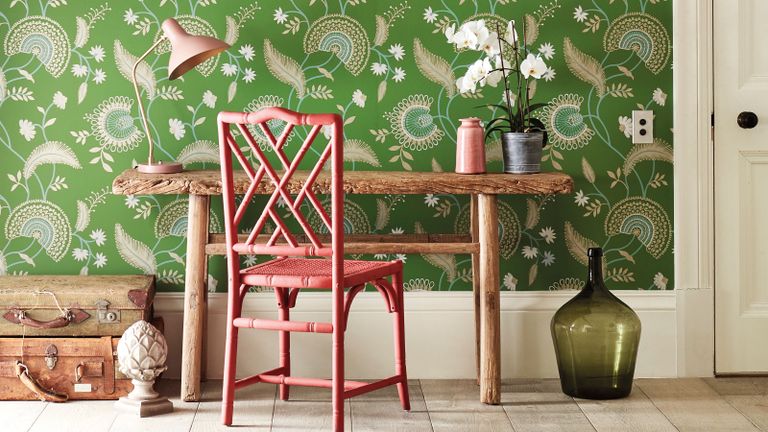 (Image credit: Sanderson)
Is the accent wall a thing of the past? Of course not, it's just a case of re-defining it by finding new and interesting ways to create a statement.
We're used to transforming a room with paint and patterned wallpaper, but textured materials, tiles and display ideas can all breathe new life into a space.
Scroll down for our favorite accent wall ideas – they're perfect for bringing focus to a room.
See: Wallpaper ideas – gorgeous decor for every room
1. Tap into rustic beauty
Embrace the soothing properties of this natural material. Whether you choose to clad your walls with reclaimed timber or new wood, panelling ideas for walls are a great way to boost a flat space.
A shiplap wall behind the bed is a striking alternative to a statement headboard. The natural patina and silvered tones of antiqued or reclaimed boards creates a characterful, rough luxe finish.
2. Re-work a country classic
Shaker shingles aren't just for the roof or exterior walls, they can provide ultimate, three dimensional texture within the home too.
The rustic quality of an untreated finish or natural wood tone will bring instant warmth to a space and evoke the atmosphere of a cosy cottage retreat - making it ideal for the wall behind the bed or behind the sofa in a snug living room.
Give it a contemporary spin by painting them in a dramatic, saturated shade of grey. A whitewash will lighten the finish providing interest in a neutral space without overwhelming the style of the room.
See: Accent color ideas – how to use them and why they are important
3. Go big and bold in the bathroom
Add some cloakroom drama by swapping the average splash back for a fabulous tile mural. A large scale scene instantly adds wow factor, whether it's in a family suite or small bathroom.
Try a bespoke tiled frieze above a dado using an over-sized image printed onto wall tiles.
A wallpaper mural will just work just as well, using a thin tiled border or glass plate will protect the finish from any water damage.
See: Scale in interior design – 10 times it's been used to add instant drama
4. Take it back to brick
When choosing which wall to expose, consider that it can be a pretty bold statement so it works to stick to one wall or a section of a wall such as a chimney breast or kitchen dining area to bring rich warmth and an industrial nod to the style.
The position of the exposed stone or brick within the house is important, it's porous, so absorbs moisture and can be cold, this shouldn't be a problem for internal walls.
Once exposed and repaired, a specialist masonry acid will brighten the colour and a sealant will eliminate draughts. If you don't have brick or stone walls, cladding or facing slips are lighter-weight panels made with real brick or stone slices ready to be pointed.
5. Go two tone
A tin of paint is one of the simplest, most cost effective ways to make a difference.
For a modern twist on the full feature wall, go for a part painted wall, it will create a feature in a room where there isn't a great deal of architectural interest.
Pitch the line above key pieces of furniture, making it either one third or two thirds of the wall. A lighter colour on the top will elongate and open up the room, with a warmer colour below adding a cosy element to a living room.
See: Living room ideas – clever ways to decorate living spaces
6. Play with pattern
It's time to be fearless, if you find a wallpaper you love, go for it!
It will breathe personality into the home as well as help to zone a large or open plan space. Live with the sample for a while to make sure you're happy before you commit.
See: How to mix patterns in a room – an interior design masterclass
7. Breathe life into a kitchen
It can be tricky to inject personality into a kitchen and carry the style of the rest of house through to this practical space, leaving it in danger of feeling a little sterile.
It might not be the most obvious place for wallpaper, but it can take a kitchen, particularly a neutral one, from bland to beautiful.
Like paint, wallpaper can be wiped clean. A large scale print or mural would still make an impact behind open shelving too.
See: Country wallpaper ideas for kitchens – cover your walls in playful prints
8. Rethink tile placement
It's time to take tiles beyond the splash back and make them a full height feature in their own right.
For a statement design, go for either an interesting pattern, bold color choice or an unusual shape, or a mix of all three to draw the eye in the kitchen. It can create a stand-out area in a busy space.
A glossy glaze will add striking contrast, especially when paired with a matt kitchen finish.
Add even more surprise and wow factor by tiling a feature wall in an unexpected area such as a hallway or on a chimney breast.
9. The new plate display
Opt for an unusual yet decorative wall display. This simple and impactful feature wall is as easy as it gets.
In this dining room, the natural texture and pattern brings a white wall to life and the grouping gracefully defines the eating area.
10. Use paint and display
A feature wall can also be a three-dimensional display, with all components combining to create a harmonious whole.
Here, the shelves and wall are painted in the same, rich color to create a seamless base layer. When it comes to arranging the artwork, choosing a set of frames in the same size or color ties the look together.
Framing black and white or tonal prints and photos is a shortcut to creating a fail-safe finish that will contrast beautifully against almost any colour.
Which wall should be the accent wall?
It's important to choose the right wall for your accent wall. There are no hard and fast rule about which wall this should be, however, it is often the wall opposite to the door to that room so that it can be seen immediately and create the greatest impact. It might also be the wall that's the most obvious to you when you sit (or lie) down.