Bedroom accent wall paint ideas – 12 ways to add style and impact
Create a colorful design feature and focal point with our bedroom accent wall paint ideas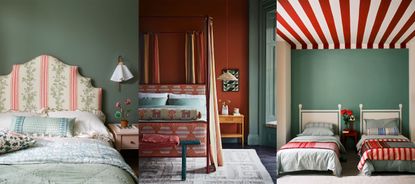 (Image credit: Future | Jon Day Photography | Farrow & Ball)
Our bedroom accent wall paint ideas explore the fun and creativity that can be had when designing the perfect painted scheme for your sleep space.
Accent wall ideas come in a variety of styles and designs, often used to uplift a section of a room and one wall with color, pattern and alluring visual interest. Whether you choose a block color design and celebrate a favorite shade, or be bold with a unique painted mural, an accent wall can transform the look and feel of a room.
Bedroom accent wall ideas are usually created on the wall behind the bed, as Patrick O'Donnell, brand ambassador at Farrow & Ball says, 'when considering an accent wall for a bedroom the most successful area will be behind the bed. This will help create a natural focal point for the room.'
From the classic to the contemporary, the dramatic to the subtle, bedroom paint ideas can be simple to execute, with a painted accent wall adding colorful character to bedrooms of all shapes and styles.
Bedroom accent wall paint ideas
From different accent color ideas, to impactful patterns and painted shapes, we have curated a collection of bedroom accent wall ideas to help inspire you to pick up the paint brush in your bedroom.
1. Pick a deep red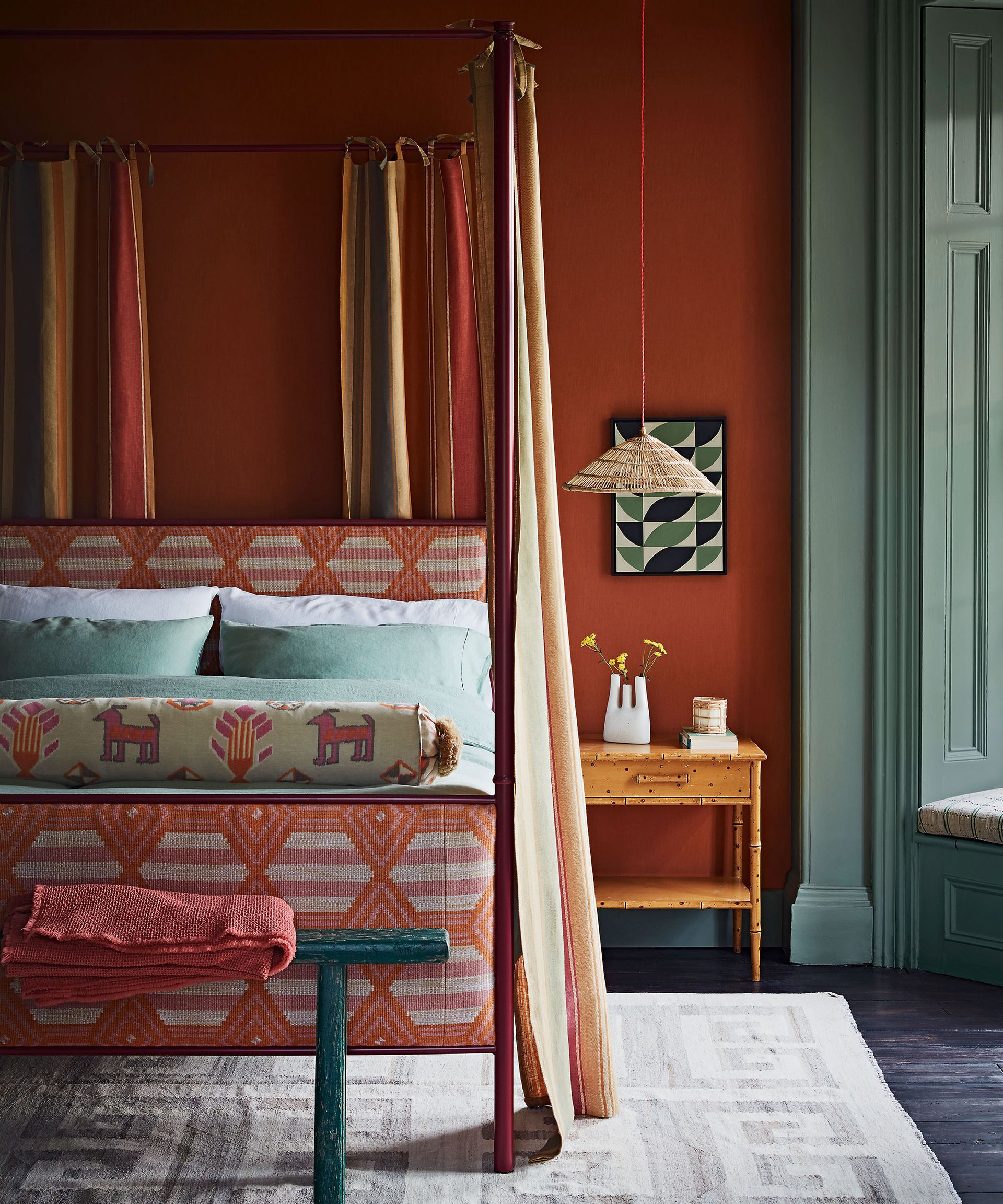 Red room ideas are not for everyone, but looking to more bold colors and decorating choices for your bedroom accent wall paint ideas can help to establish a truly unique space with added wow factor.
In this colorful bedroom, the deep, red painted accent wall works in harmony with the matching colorful curtains and upholstered, red patterned bed frame to create an inviting sleeping area that feels warming and cozy. Beautifully balanced by the cool green painted walls and light rug, the use of color, pattern and texture in this bedroom space feels fresh, innovative and eclectic.
For more advice on color pairings for your bedroom accent wall paint ideas, explore our guide on the color wheel.
2. Make the most out of architectural features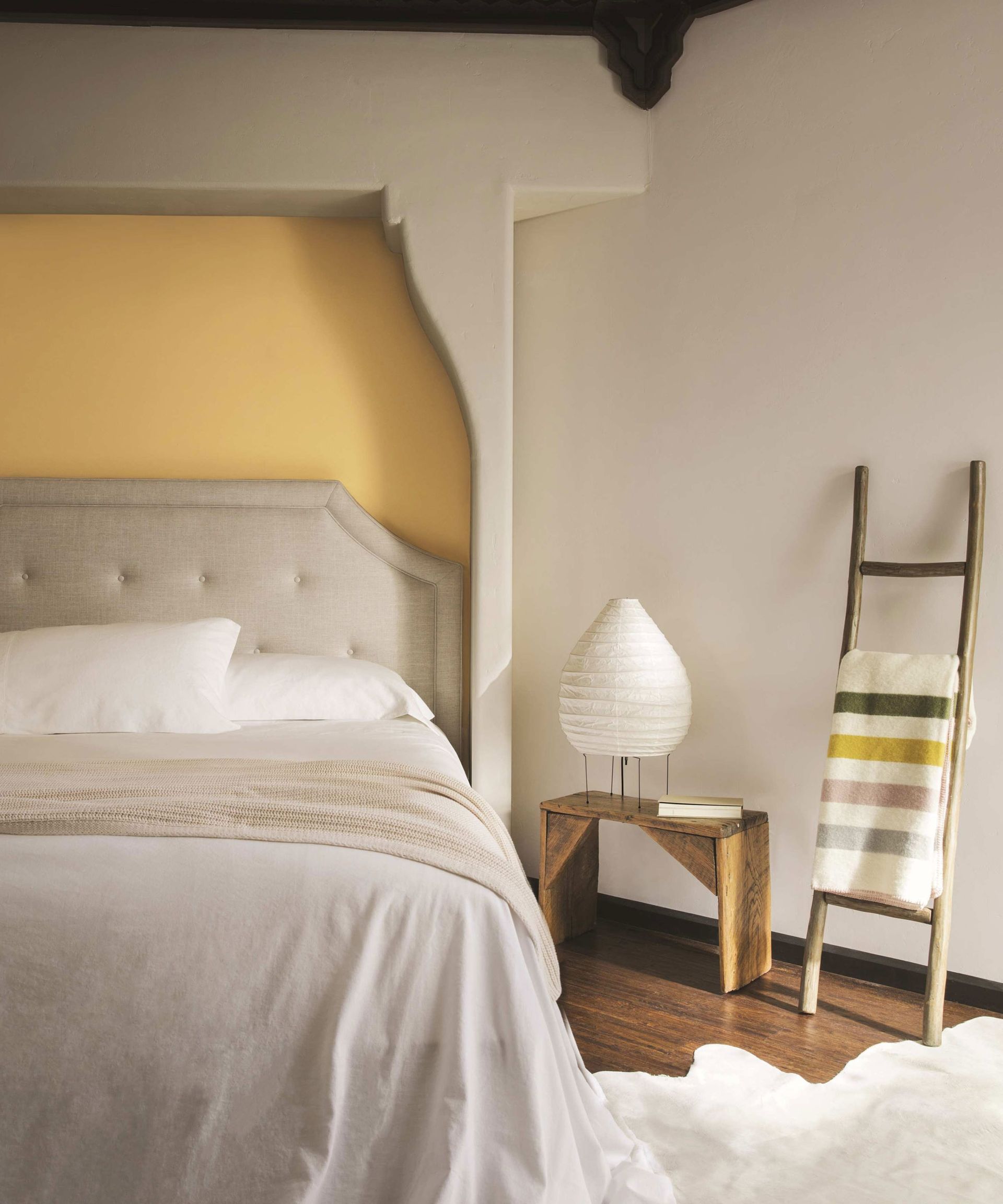 This traditional bedroom has been transformed with a more calming and contemporary color palette.
Defined by restful, cream painted walls and bedding, with the dark wooden flooring creating a grounding effect, the unique, recessed wall behind the bed has been enhanced with a Harbor Yellow paint by Benjamin Moore.
With this wall acting as the natural focal point in the bedroom, elegantly mirrored by the shape of the headboard, cleverly uplifting this area with color enhances the wall's beautiful shape, and creates a striking contrast with the more relaxed design in the rest of room.
Justyna Korczynska, senior designer at Crown Paints states, 'if you have any architectural elements in a room, work with them for creating a feature wall. By adding color to wall recess and alcoves you can easily highlight them and bring them to focus.'
Incredibly versatile, decorating with yellow can be great for bedroom accent wall paint ideas, as it can be soft and warm, as shown above, or more impactful and energetic, great for both traditional and modern bedroom designs. For more inspiration, explore our yellow bedroom ideas.
3. Ground with green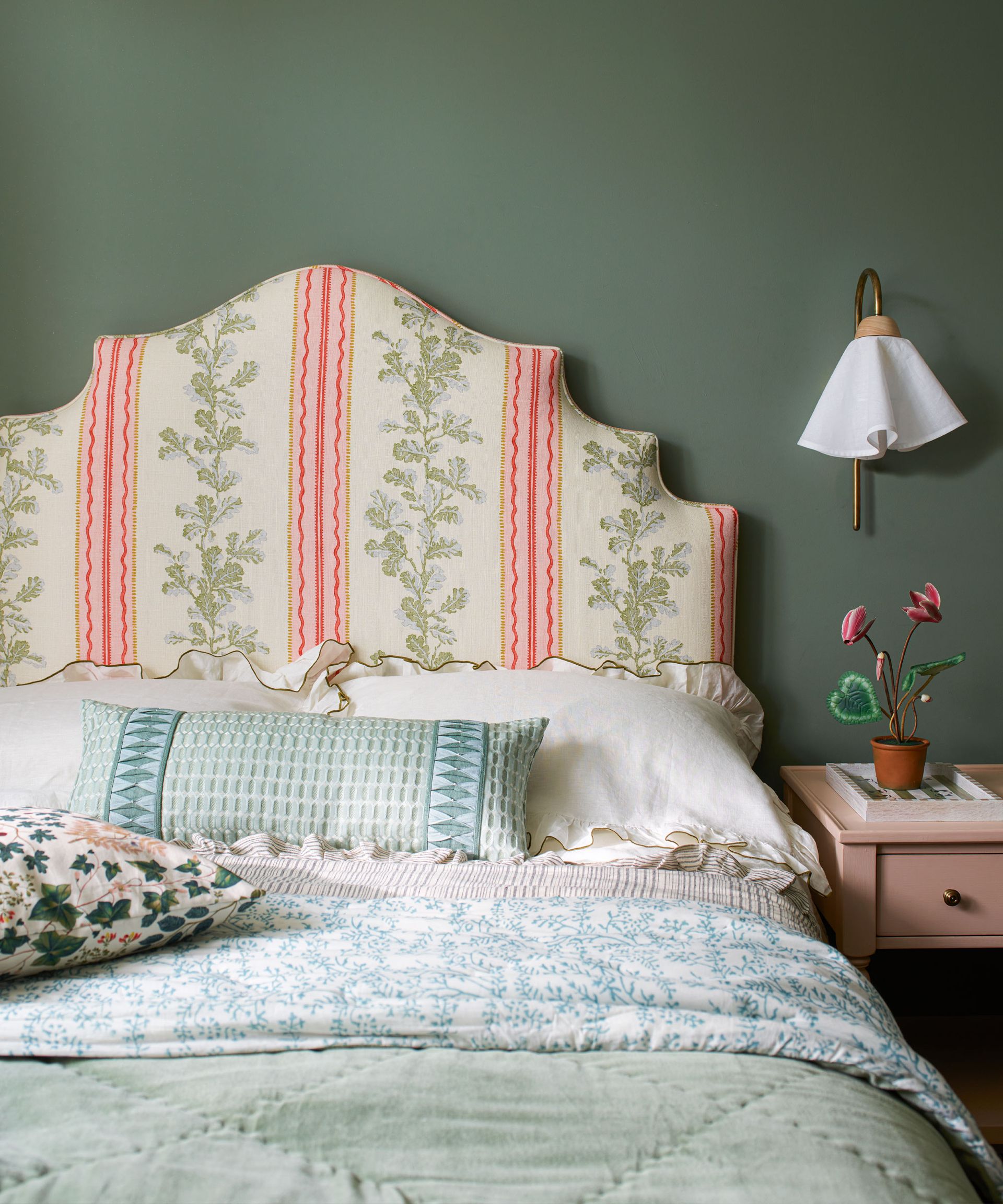 For a look inspired by the timeless beauty of the natural world, why not choose an earthy green to create a tranquil and calming effect for your bedroom accent wall paint ideas.
Being surrounded by nature is renowned to make us feel more comfortable and relaxed, and decorating with green can help to bring this restorative effect and feeling into the home, perfect for a bedroom.
Often chosen by experts as one of the best colors for a bedroom, there are an array of green bedroom ideas to choose from, with a painted green accent wall guaranteed to create a grounding and soothing effect.
4. Enhance your wall of storage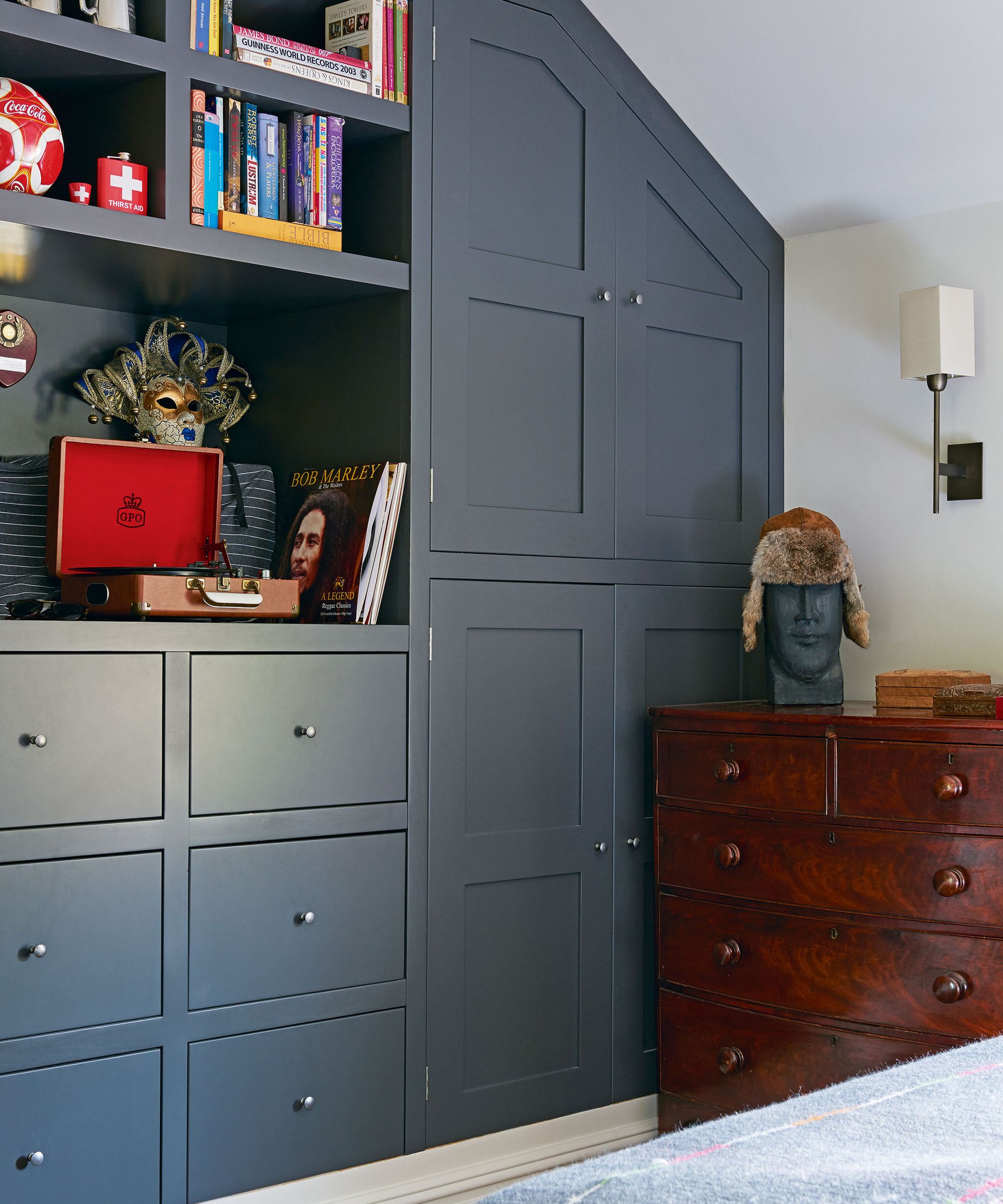 With bedroom storage ideas one of the most important features to consider when planning your bedroom ideas, why not enhance a storage area with paint and color to create a unique bedroom accent wall.
As shown in this bedroom, the floor to ceiling bespoke fitted cupboards and draws have been painted in a sophisticated navy blue, establishing a stylish storage space as well as colorful feature wall.
A great way to enhance functional storage designs with color and personality, wall storage areas like above can be a great creative canvas for bedroom accent wall paint ideas.
5. Why have just the one accent wall?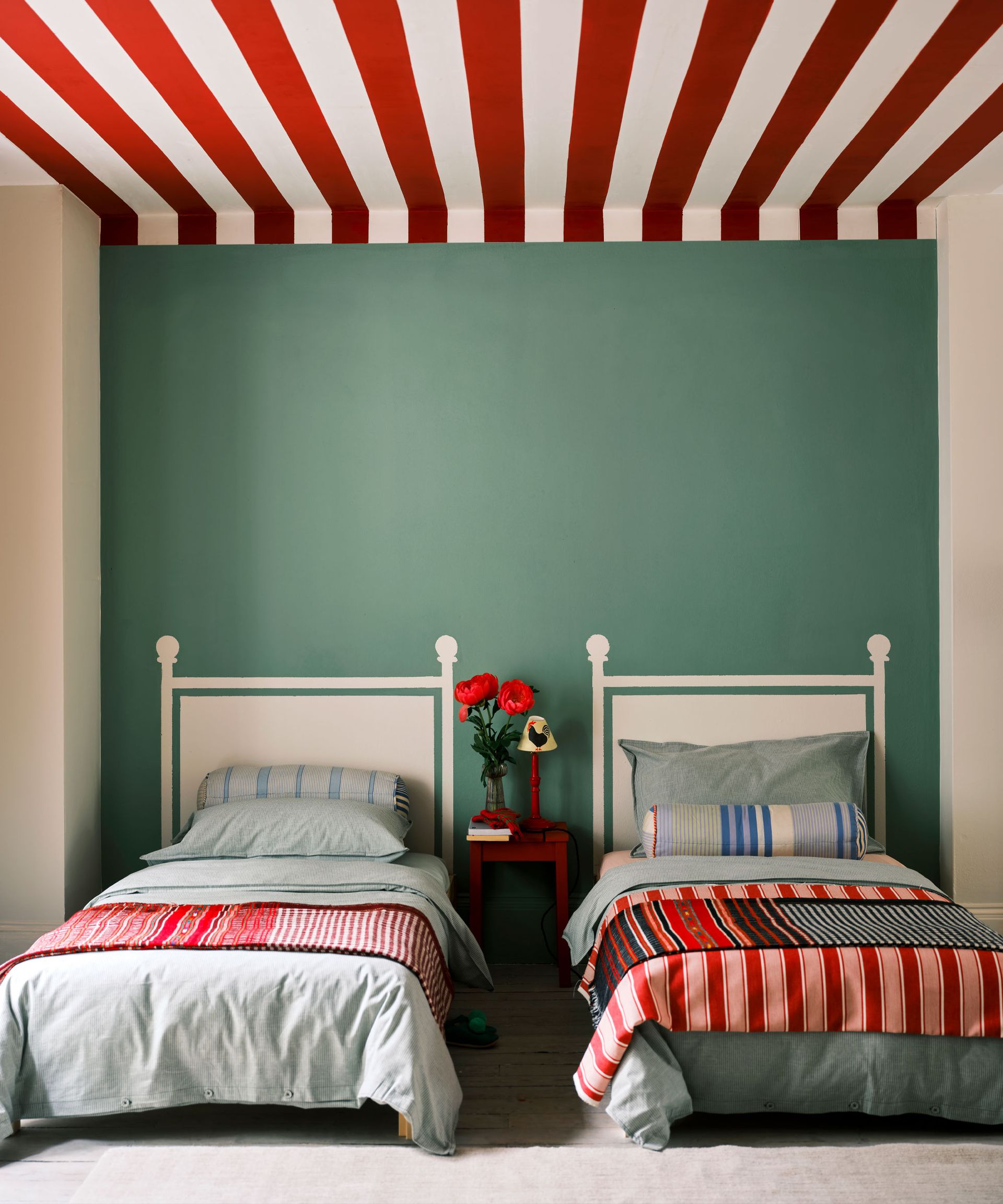 For an enhanced painted look and celebration of color, why have just the one accent wall when you can have two?
In this stylish twin bedroom painted by Farrow & Ball, the red and white striped design makes for a magnificent effect for ceiling paint ideas and bedroom ceiling ideas. Paired with a more 'traditional' calming blue painted accent wall behind the bed, the final painted flourish in the bedroom are the unique, white headboards.
This use of contrasting colors, paint ideas and paint tricks shows just how creative you can be with paint, and how accent walls should not just be limited to one wall in the bedroom.
6. Keep things subtle and sophisticated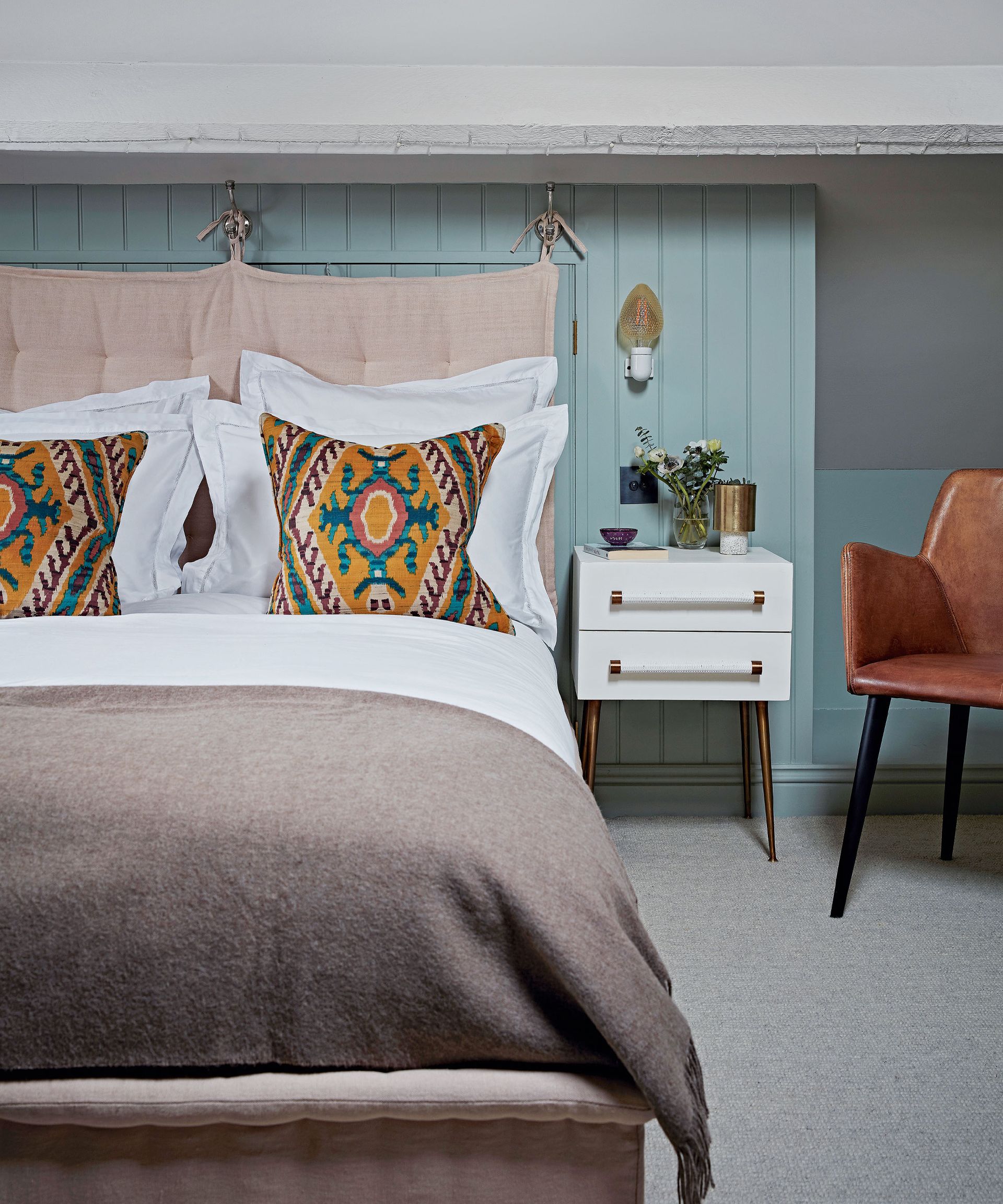 If you want to incorporate an accent wall into your bedroom space but do not want to paint a whole wall, why not create a painted paneling feature around your bed, or paint halfway up the wall instead.
Similar to bedroom accent walls, wall paneling ideas are often incorporated in the bedroom on the wall behind the bed, adding inviting character and helping to zone and ground the bed to the room.
In this bedroom, the light blue paneled bedhead adds a refreshing sense of color and texture to the space, with the upholstered pink cushion creating softness. The blue paint has then been extended to the lower part of the wall, establishing a cohesive and unified look that creates a subtle and elegant painted accent wall.
7. Get creative with color and shape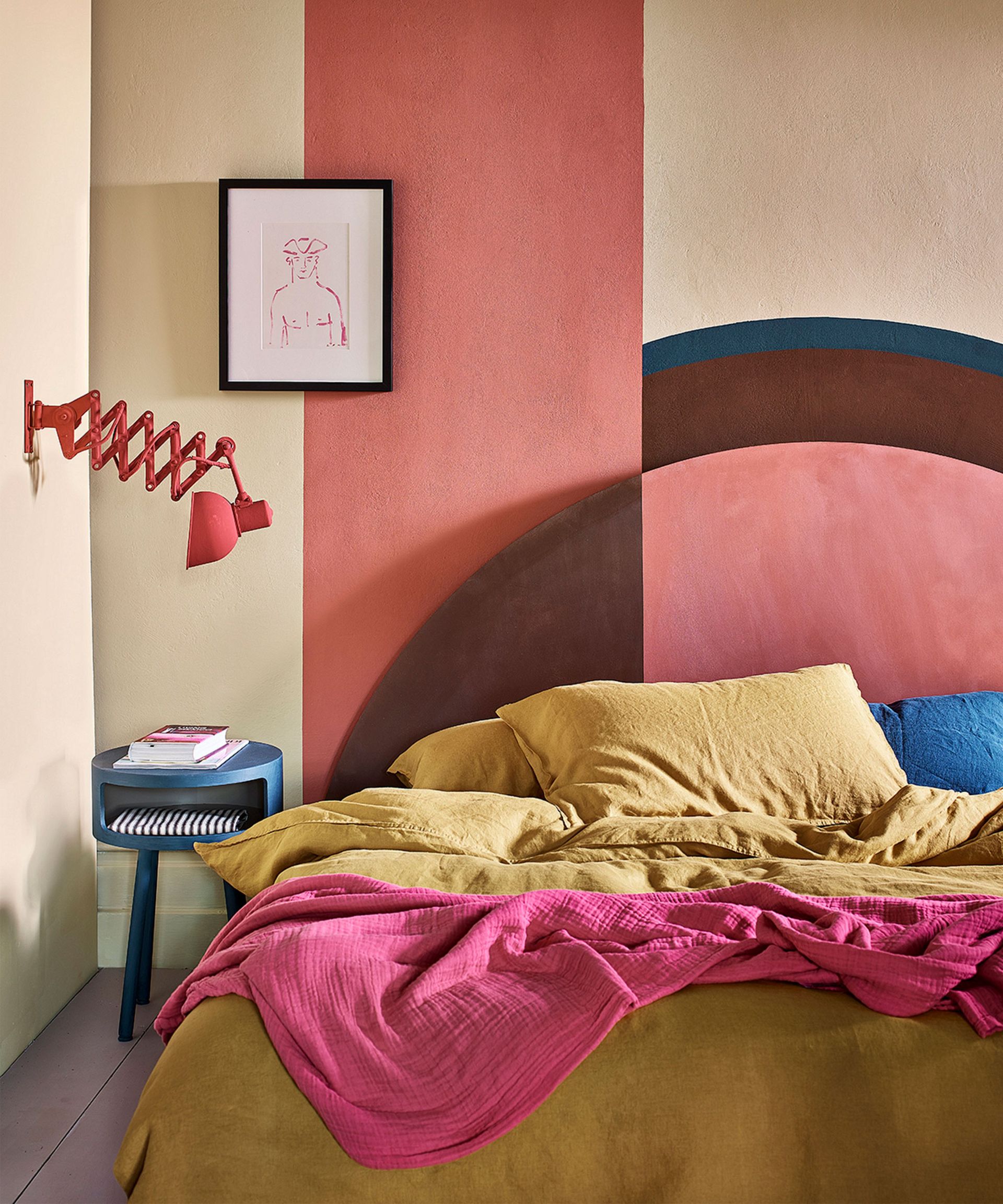 In this stunning modern bedroom, an artistic, abstract accent wall has been painted using colors Old Ochre, Honfleur and Scandinavian Pink in chalk paint by Annie Sloan.
An innovative painted design that takes the lead from the beautiful colors and smooth shapes found on the curved headboard, the mirrored accent wall creates a stand out headboard idea.
Bold and impactful, yet soft and inviting, this pretty palette of colors and striking union of shapes creates an immersive accent wall that both tricks the eye and captures the gaze.
8. Create a cool and calm effect with a blue accent wall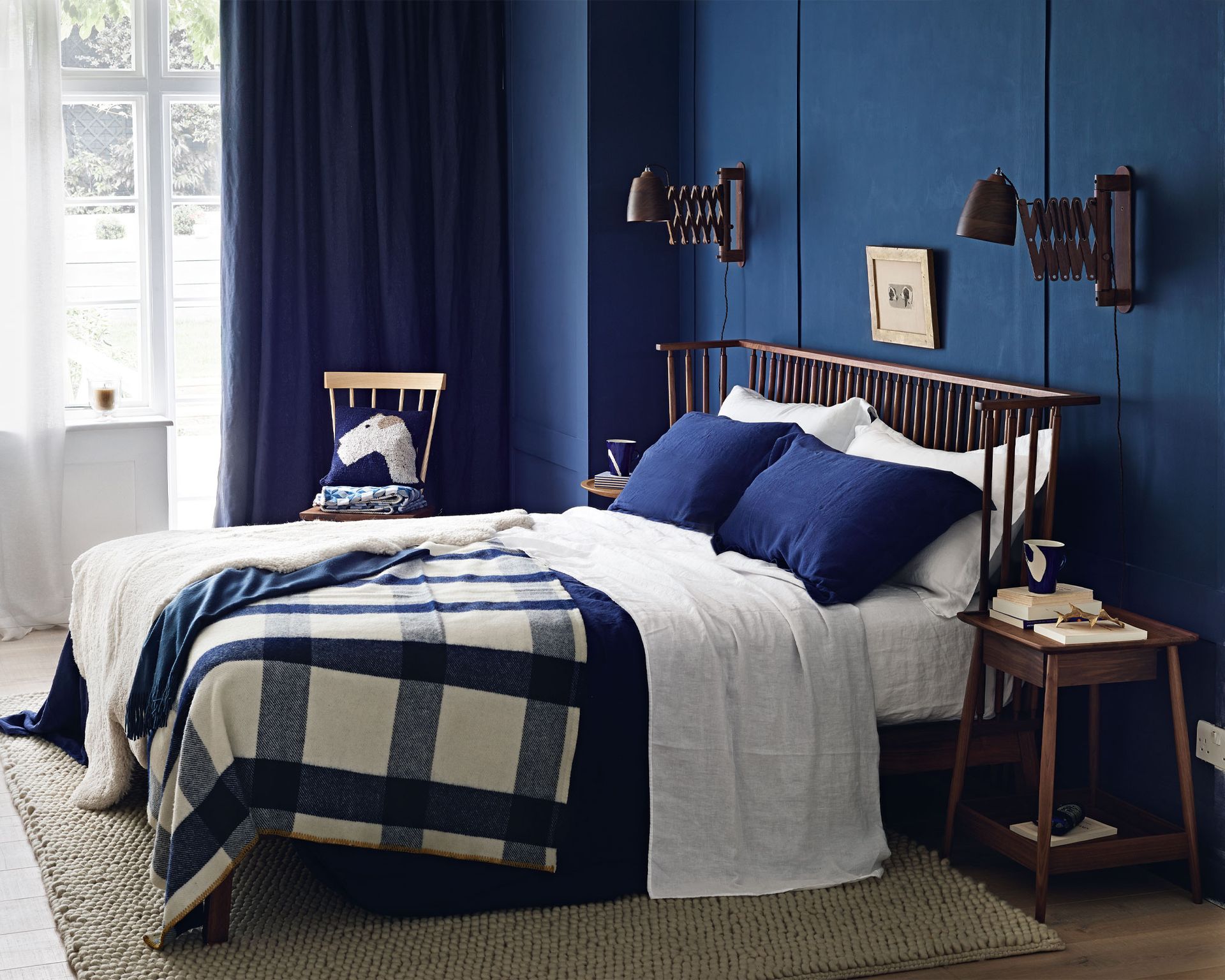 One of the most popular colors to use throughout the home, decorating with blue for your bedroom accent wall paint ideas can make for a versatile and timeless look, as well as bring in an uplifting freshness to the space.
With so many shades to choose from, blue can effortlessly integrate into bedrooms of all ages and styles.
For a cocooning, cozy effect, choose a deep blue shade like in the bedroom above. Enhanced by the blue cushions, patterned throw and curtains, the darker shade has been paired with white for balance, a beautiful example of blue and white bedroom ideas.
9. Create a relaxed, organic look with textured paint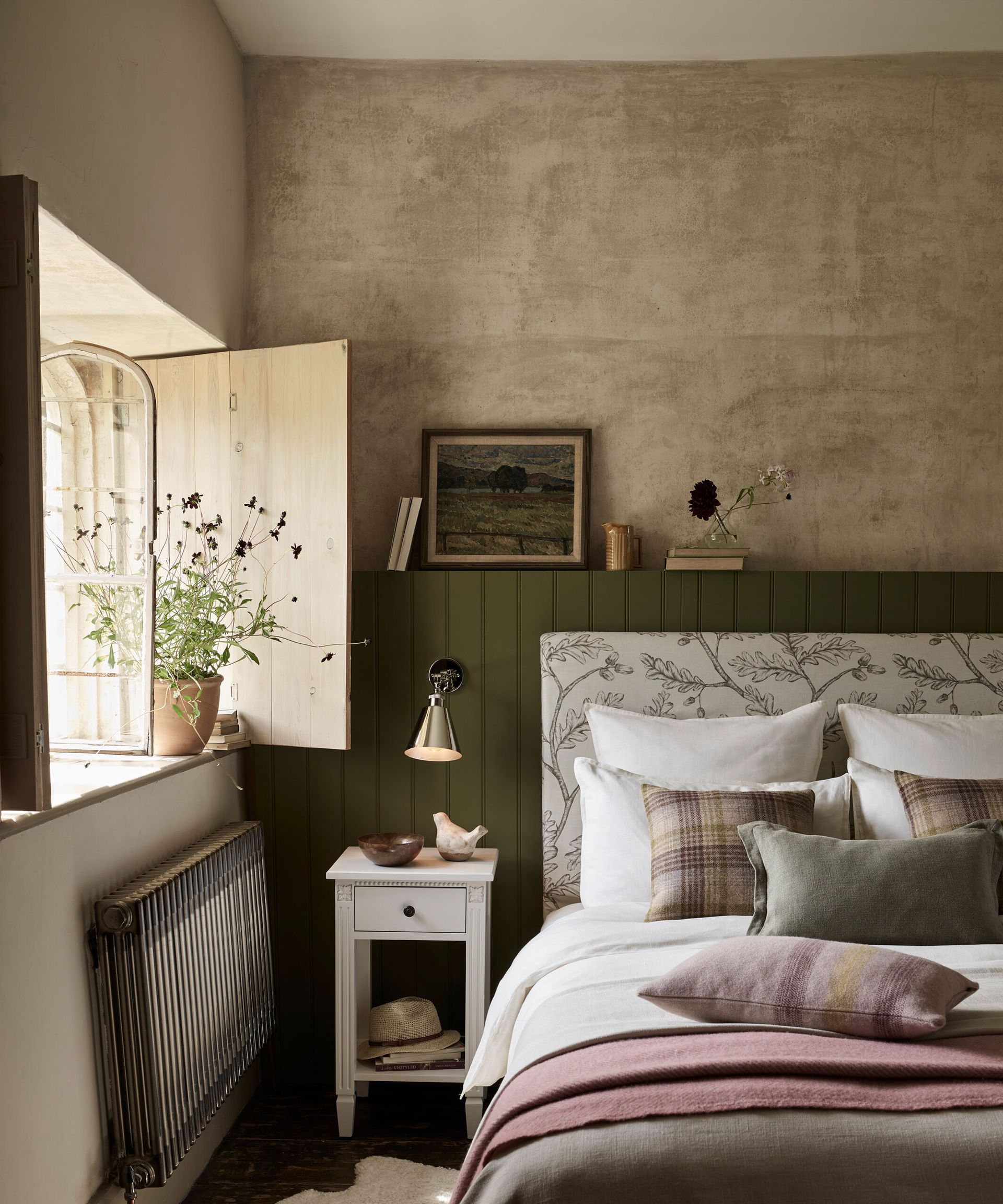 Textured paints, such as limewash paint or suede effect emulsion, can create a soft, textured look that mirrors gentle brushstrokes, adding movement and depth to the painted surface.
With recent limewashing trends proving a popular paint technique for the modern home, this sophisticated style can establish an organic, rustic effect that creates an authentic and natural appeal.
As shown in this country bedroom by Neptune, the textured painted feature wall complements the beige-gray used throughout the rest of the space, but with added texture and color, creating a calming focal point. With the green paneled headboard creating additional colorful interest and texture, the accent wall in this bedroom is perfectly suited to the more rustic, traditional style of the property.
10. Paint a mural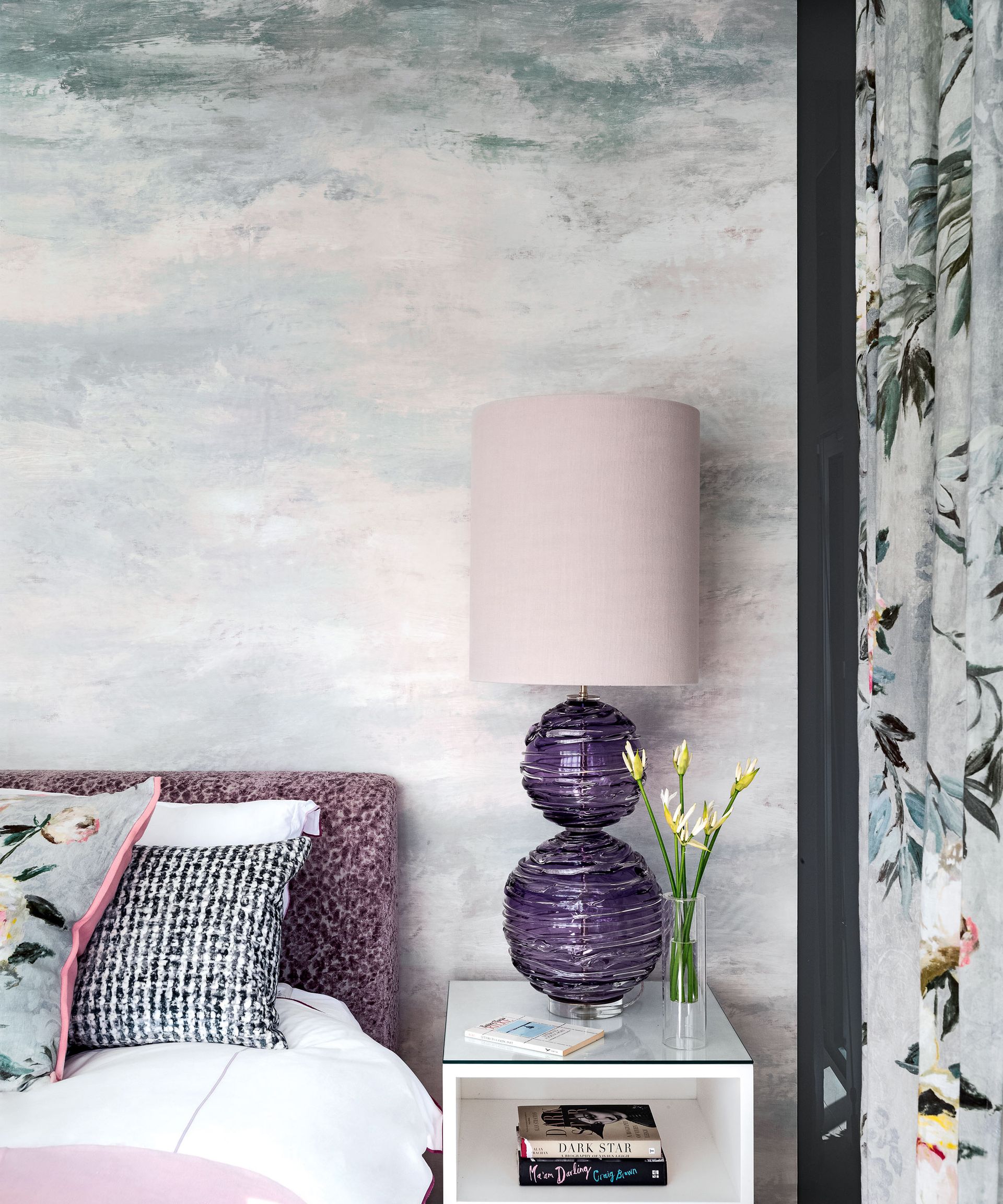 Exploring wall mural ideas and commissioning a unique design for your bedroom accent wall paint ideas can make your bedroom space feel like no other.
Justyna Korczynska says, 'if you are looking for a truly spectacular wall statement, you can create a mural. Murals generally work best in large, uncluttered spaces. If the space is limited, go for one based on simple geometric of free hand shapes. It will still work well providing a high impact. The possibilities and themes are endless.'
In this bedroom, the green and pink patterned mural design, defined by a brushed stroke painting technique, mimics the movements and texture of the sky, helping to creating a true oasis of calm.
11. Use paint to create a design inspired by wallpaper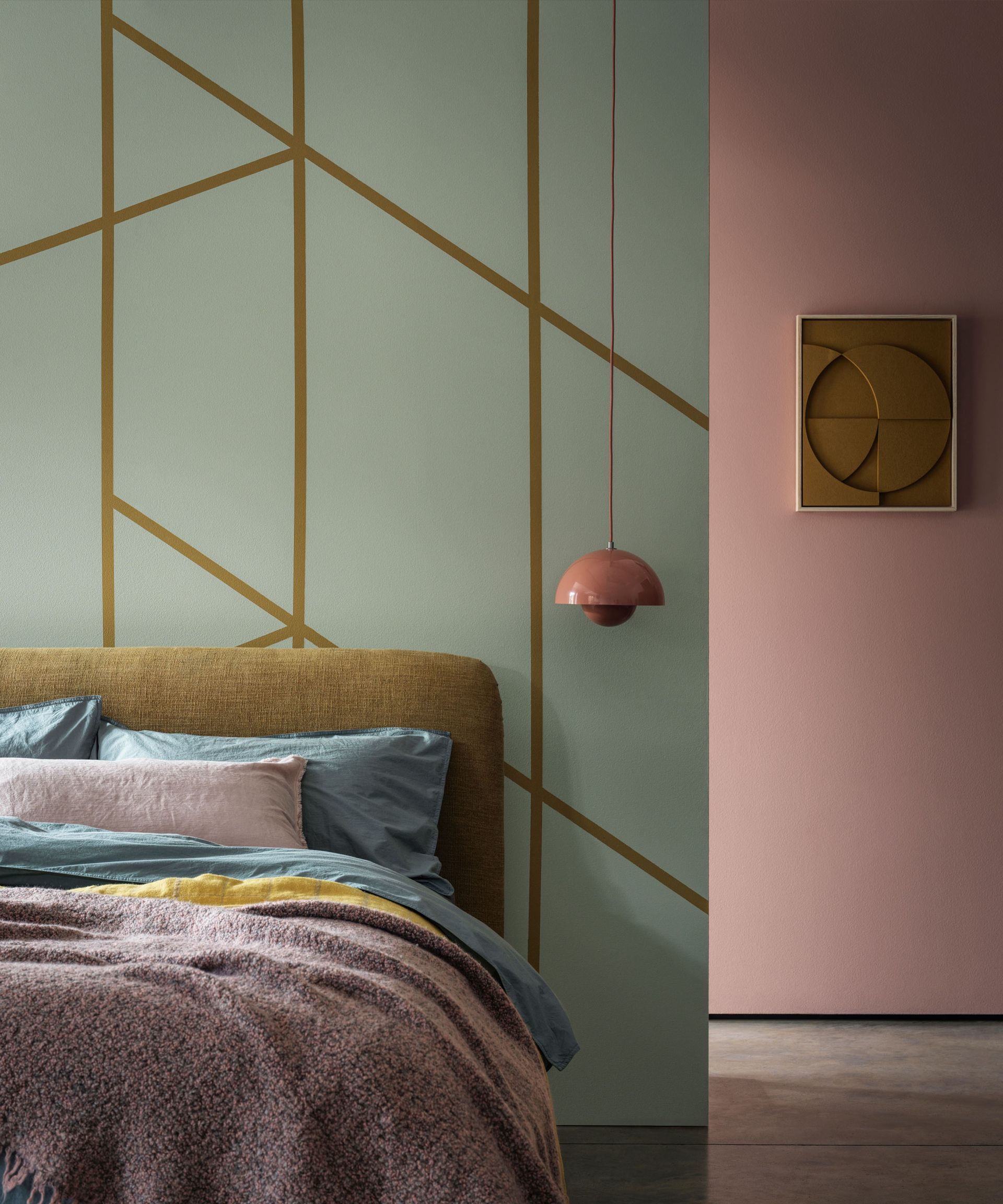 As we have explored, the wonders with paint never cease! So, for a more intricate bedroom accent wall paint idea, why not take inspiration from beautiful bedroom wallpaper ideas and paint your own, wallpaper-inspired design – it can be as complicated or as simple as you like.
In this bedroom by Crown Paints, the graphic line design beautifully enhances the green painted accent wall, adding a striking, modern edge to the colorful bedroom. With the gold paint perfectly matching the upholstered headboard and textured artwork on the pink painted wall, the overall look and color palette in this bedroom feels thoughtfully considered and is elegantly executed.
12. Bring in color to a traditional space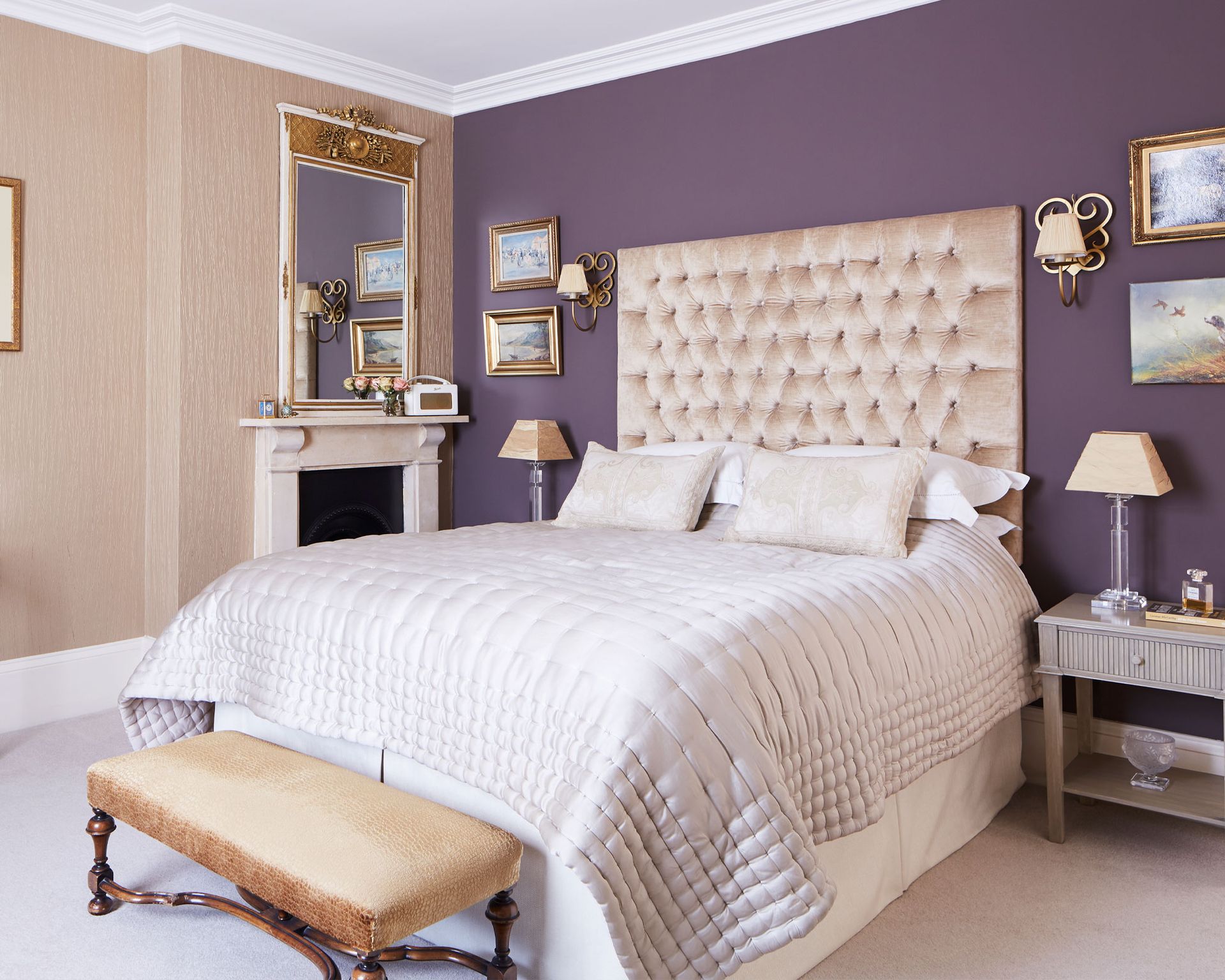 If you are looking for ways to update and refresh a more traditional bedroom, rather than painting the whole room, introducing a subtle use of color through bedroom accent wall paint ideas can be a stylish and balanced option, establishing a harmonious mix of the old and new.
As shown in this luxurious bedroom, the purple feature wall works wonderfully with the cream color scheme, establishing an elegant color pairing and a bedroom space that radiates grandeur and sophistication.
What is the best color for an accent wall in a bedroom?
There are no set rules when it comes to the best color for an accent wall in a bedroom.
There are many factors to consider, and it completely depends on your style, preferred color palette, and what effect you want to create.
Emma Bestley, co-founder & creative director for YesColours says, 'when using colors in a bedroom, it's best to think about the tone rather than the actual color itself. We see color as an extension of someone's personality, sparked by a memory or part of our culture, so we have limitless possibilities in how we can use color in our lives.'
Your accent wall can either contrast or complement with your overall scheme, so carefully considering how you want the design to sit within the rest of the room is key. An accent wall provides a chance to be bold and brave with color, but if that isn't your style, as we have explored, there are many subtle and simple options out there to choose from.
Should an accent wall be lighter or darker?
Both light and dark shades can work well for an accent wall in a bedroom.
Darker shades can help to create a cozy, cocooning effect, especially if your accent wall is behind your bed. Whereas lighter shades can be a good option for a small bedroom where there is not as much natural light.
When planning colors for your bedroom accent wall paint ideas, it is all about balance. If you use a dark color for an accent wall, consider using lighter shades on the other walls, or for your furniture and accessories.
Thinking cohesively about the colors used throughout your whole bedroom will ensure for a harmonious and well-thought out design, and if you are choosing colors that you love and that bring you joy, that is the most important thing.
Sign up to the Homes & Gardens newsletter
Decor Ideas. Project Inspiration. Expert Advice. Delivered to your inbox.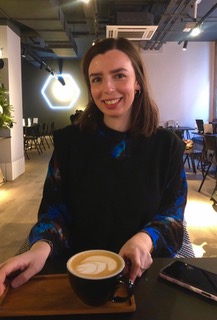 Zara joined Homes & Gardens in February 2022 as a Content Editor. After studying English Literature at University, she worked as an Ecommerce Website Editor, Content Writer and Buying Intern at multiple independent businesses within the luxury retail and lifestyle sectors. Her role at Homes & Gardens unites her love, experience and passion for the world of design and desire to create inspiring written content. She enjoys nothing more than discovering new trends, brands and products, whether that be in fashion, interior design or lifestyle.