Country bedroom ideas – 36 ways to bring charming rustic style to your master and guest bedrooms
Looking for country bedroom ideas? We've gathered gorgeous inspiration for rooms small and large, so you can rest easy in rustic style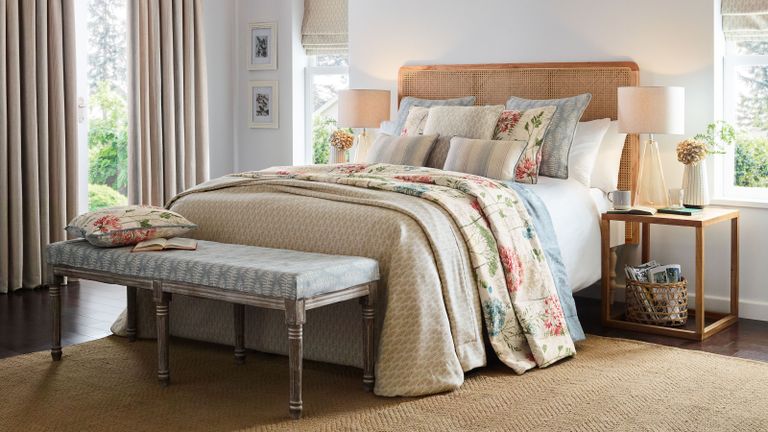 (Image credit: Iliv)
Dreaming of some new country bedroom ideas? This gallery, with expert tips from our hand-picked country decor experts, is where to find inspiration.
Whether you live in a rural home – or just love the country look – your bedroom is the soothing heart of your decorating scheme. It's the first space you see in the morning and the last before you close your eyes at night, so getting the decor right here is vital.
Read on to discover the essential elements of country bedroom style.
1. Bring nature inside
It's their close connection with nature that makes country homes so special – and you can never have too much of a good thing. Reflecting the landscape outside your window is a great start when you're looking for country bedroom ideas. The decor will truly make your home feel a part of its surroundings and create a calm, harmonious look.
A floral design could echo your garden. Or choose a delicate, leafy print that replicates trees and woodland.
2. Raise the roof for a lofty feel
In this Wiltshire cottage, the ceiling was stripped back and the roof clad in oak for an airy, lofty feel.
Although the extra space could feel intimidating, the wood and original stone wall bring a natural warmth and texture to the scheme and celebrate the ancient architecture of the building.
Using natural elements like these is an essential part of any country decor scheme, but it's especially soothing in a bedroom.
3. Decorate with folksy wallpaper
If you're not a fan of florals, there are plenty of other ways to bring a decorate with wallpaper when you're looking for country bedroom ideas.
The Allotment wallpaper by Sanderson evokes veggie patches and market gardens, and is a modern country take on traditional toile.
A row of hooks on a rustic board completes the quirky rural look.
4. Embrace views with a Juliet balcony
Enjoy stunning countryside views from a bedroom balcony.
'An oak framed balcony can be entirely self-supporting and fits well in rural settings,' says Ed Brechtmann, project development manager at Border Oak. 'Depending on your budget, they can be built with enough space for sun loungers and planters. We've even installed a bath on a balcony!
'A more modest Juliet balcony, which has no outside space, can still have a huge impact – making the most of a view and bringing light into the room, for minimal disruption and cost.'
5. Build furniture into alcoves
When you're looking for country bedroom ideas, take your cue from original, quirky features. After all, they're a huge part of what makes country homes so special.
'Many country bedrooms are blessed with a central chimney breast,' says Megan Baker, head of design at My Fitted Bedroom. Such features add character but can present a challenge when it comes to freestanding furniture.
'Fitted furniture makes the most of the available storage space and can also deal with any uneven flooring or wall issues. We recommend doors that reach the full height of the room for a neat and uniform look.'
6. Be creative with bedside storage
Think beyond the conventional narrow bedside cabinet – or get creative and repurpose a piece of furniture from elsewhere and use it by your bed.
If you have the width beside your bed, a small chest of drawers will provide additional storage. Or choose a tall but narrow design, like this reclaimed filing cabinet, in space is tight. A bedside table on legs or a wall-mounted design will leave more floor visible, creating the illusion of extra space.
'The perfect design will provide plenty of storage so you can keep the surface uncluttered but also have everything at your fingertips,' says Henry Tovey, furniture designer at Neptune.
'A bedside light will provide soft illumination for reading but also work as a focal point and add height to your scheme.'
7. Celebrate beams with a light that draws the eye upwards
A sparkling crystal chandelier makes a stunning contrast to the rough wood of a rustic home and draws the eye upwards so this original feature can be appreciated.
Don't be scared to choose an oversized design. A light fixture that looks huge in a shop will appear perfectly to scale in a converted farm building such as a barn, and will actually make a larger bedroom appear more life-sized.
Leaving timber beams exposed draws attention to your bedroom's height, while celebrating the original features.
'With beautiful architecture you don't need to overcomplicate the interior design,' advises Merry Albright, creative director of Border Oak. 'Keep the decor calm yet stylish.'
8. Use soft furnishings to add colour and warmth
Soft furnishings are the perfect way to transform a room without having to redecorate completely.
'Chalky colour palettes based on heritage prints always work well in country bedrooms,' says Debbie Leigh, Design Manager at ILIV. 'They are easy to incorporate, with of plenty of blankets, throws and varying cushion sizes.'
When it comes to bedroom window dressing, if you have the room either side of your window, then full-length curtains will create a cosy, comfortable and inviting feel.
'Choosing a quality thick fabric will also provide an extra layer of insulation, which can be necessary in older country properties, as well as creating a sense of luxury,' Leigh continues.
'For more compact rooms and windows, Roman blinds are a good option as they take up less space and use less fabric. They are also flexible, allowing varying amounts of light into the room.'
9. Style a soothing space with symmetry
Keep a sense of calm and order in even a small and characterful space by using the power of symmetry. Here, matching beds, identical bedding and twin wall lamps transform a cramped room beneath the eaves into a haven of serenity.
Despite the toning palette and paired furnishings, the mix of patterns and prints keeps the overall effect original and interesting – and doesn't distract from the beauty of the wooden beams.
10. Mix and match patterns
Nothing says sumptuous like a generous bed piled high with cushions and throws, and they are easy to change with the seasons, to keep your country bedroom ideas fresh and evolving.
'Start with three fabrics – the key is to vary the pattern scale,' says Debbie Leigh, design manager at ILIV. 'Pick a large-scale pattern as your main one; the second should be half its scale, like a large floral paired with a plaid or geometric.
'The third can be similar to either of the first two but using matching colours. When mixing two or three patterns, consider breaking them up with plains.'
11. Lay down a cozy rug
Beautiful wooden and stone floors are a hallmark of country properties, but they lack the softness needed in a bedroom. Choosing a rug allows you still to see the flooring around the edges, while providing a soft landing for feet when getting out of bed first thing in the morning.
12. Add a window seat
A window seat is the perfect way to transform the area under a window into a useful space,' says fabric and furnishings designer, Susie Watson. 'It also allows you to introduce additional soft furnishings into the scheme – a mixture of cushions and a throw will add colour, pattern and texture.'
'I always recommend hanging curtains high and wide, to maximise natural light and the frame the wonderful countryside views,' Watson continues.
'I have developed a particular look for my curtains. Typically, they are heavily interlined and hand-headed with soft double pleats. The look is elegant yet relaxed – perfect for country houses. And a weighty curtain makes a room feel soft and comfortable, and keeps out the draughts.'
'Pattern can layer on pattern, as long as the colours are complementary. I always finish my curtains with a trimming set into the leading edge, adding a splash more colour and interest.'
13. Choose a full-length mirror that reflects country charm
When you're finalising your country bedroom ideas, a mirror should be your finishing touch.
Unless you have a separate dressing room, you'll need to include a full-length mirror as part of your scheme. While a wall-mounted or standalone mirror will do the job, this pretty armoire shows how mirror can be used in a unique way.
As well as providing a practical place to view your reflection, the double doors create twice the mirror surface to increase the amount of light bounced around the room. The mirrors also serve to disguise the size of the wardrobe, so it doesn't dominate the room and instead sits perfectly in the romantic space.
14. Make a fire a focal point
Many older properties will have a fireplace in the bedroom. Although modern heating means you're unlikely to need it for warmth, retaining this original feature adds to the charm and authenticity of a country home.
You'll need to have the chimney checked and possibly lined if you want to light a fire. Otherwise, dress the fireplace with candles, lanterns or dried flowers to create an attractive display.
A bedroom – even one in the middle of the countryside – is a place of sanctuary; a restful space in which to unwind and escape the daily grind.
'Installing a fireplace is a lovely way to create a warm and inviting aesthetic,' says interior designer Emma Sims-Hilditch, founder and creative director of Sims Hilditch.
If you want a change from a traditional grate, but still want the flicker of real flames, install a contemporary fireplace design where the fire is the focal point.
15. Contrast rustic texture with luxe upholstery
Your bed is the central component when you're planning country bedroom ideas for your home.
If you want the warmth and luxury of an upholstered bed but you're worried it will look more town than country, pair it with rough and textured surfaces for 'uptown rustic' style.
It's a look that mixes soft colours, natural finishes and cozy country living. So pair an upholstered bed and highly patterned wallpaper with parquet flooring and a reclaimed bench.
For a more pared-back version of the uptown rustic style, choose a simpler padded headboard and soft wool throws in heather tones. Then bring in accessories such as baskets or a wooden lamp to add a natural country touch.
This feature was created by H&G's sister brand, Country Homes & Interiors magazine.
Subscribe to Country Homes & Interiors for more country life and style inspiration. Each issue is packed with stunning real homes, beautiful interior design ideas, seasonal food and gorgeous gardens – plus crafts, interviews and country lifestyle.View Deal
16. Provide blanket boxes for storage
The beams and unusual angles of many country homes can make freestanding wardrobes and cupboards tricky to incorporate into a bedroom scheme. But you'll always need storage…
Blanket boxes and ottomans provide plenty of room to stow bulky items such as bed linen, duvets and pillows. They can often double as seating, too, making them a handy spot to sit to put on your slippers and contemplate the day.
An upholstered ottoman will add an extra touch of softness to a country bedroom. Choose an impactful tone to bring a touch of depth and richness to your decorating scheme.
17. Create a romantic look with florals
Flowers are an essential part of country style, with blooms flourishing across fabrics, wallpapers and accessories.
The key is to choose a single floral to be the star of your scheme – on a wall, or as your hero fabric. You can then add in additional flower motifs to build your decor 'bouquet'.
For a romantic, informal room that doesn't look overblown, pick a mix of all-over floral prints and single motif designs.
For an elegant floral scheme, colour-match your walls and ceiling to the background of your floral fabric. This will create a cohesive, immersive look, especially if furniture and woodwork is painted in the same tone.
18. Clad a wall with barn wood for texture
Panelled walls are a great way to boost a flat space if your country home lacks a little character.
A barn wood or shiplap wall behind the bed will create a striking feature wall, and can even be used as a statement headboard if your bed doesn't have one. The patina and varying tones of antiqued or reclaimed boards create a characterful, rough-luxe finish.
19. Go smarter with stripes
'Stripes are a bedding pattern well loved by all,' says Molly Freshwater, Creative Director at Secret Linen Store. 'A cotton and linen blend is a delight to work with and style because it adds texture, a splash of colour and a timeless look to any lucky bed.'
Ticking stripes were traditionally featured on mattresses, but this iconic design has moved on to bed linen to decorate the tops of our beds, too.
'Perfect for a country home, with a nod to rural France, Red Ticking Stripe is happy sitting with whites, naturals, and earthy tones and colours,' Freshwater says.
20. Provide comfy seating with a sofa
When you're searching for country bedroom ideas for a larger space, consider a sofa to bring a sense of luxury and comfort.
Positioning a sofa at the end of the bed makes the room more usable throughout the day. After all, you don't necessarily want to lie on the bed to read or chat on the phone.
Aim to match the width of the sofa with the bed for a balanced look, and balance it tonally with the rest of the furnishings and decor so it blends seamlessly into the scheme.
To prevent it looking blocky, choose a design with bun feet or legs.
Framing an elegant two-seater sofa between drapes turns the window into a focal point, inviting you to sit and enjoy the view.
21. Don't forget a dressing table
'A dressing table area provides a flexible, useful space to house all the necessities or even write a letter,' says fabric and home furnishings designer, Susie Watson.
'But more than that, it is an opportunity to add a piece of statement furniture into your bedroom scheme. Here I have framed it between the windows for maximum effect.'
'The ideal look for a country bedroom is vintage, with a lived-in feel – even if the pieces themselves are new.'
22. Highlight a high ceiling with a four-poster bed
For a country bedroom with all the ceremony and grandeur of 
a boutique hotel, you'll need a bed with impact.
'I've always loved adding a bit of drama to bedrooms and that is exactly what a four-poster bed can do,' says Sue Jones, co-founder 
and creative director of Oka. 'Whether you are creating a modern scheme or something more classic, a four-poster will work its magic.'
Four-posters 
go best with high ceilings, 
and are a great way to achieve 
a cosier atmosphere in double-height rooms such as barn conversions or where the attic space has been opened up to reveal a pitched roof.
23. Bring in a pop of bold color
For a modern take on country color, paint a closet with a block tone. Choose a nature-based shade, such as this sandy clay, to reference the rural setting.
Painting the same tone around the bottom half of the wall provides graphic interest and creates a sense of cradling comfort that suits a larger bedroom.
24. Define a dressing area
If you don't have a walk-in closet or dressing room, creating a dressing zone will bring a sense of glamour to your bedroom. Be sure to style it with natural fabrics and textures, so that it blends into your country scheme.
An upholstered screen will shelter your dressing area from view, providing privacy. To utilise the space, especially if you have an awkward nook, choose cabinetry that can act as a dressing table as well as a place to store bedding and essentials.
25. Trim the bed with a valance
Hotels are a wonderful source of country bedroom ideas as they offer a sumptuous combination of style, comfort and practicality.
A tip well worth stealing is a bed valance that covers the base and legs. For extra style kudos, have it made in a beautiful fabric that turns this cover-up into an attention-grabbing style feature.
26. Use rattan and pleats to add texture
Rustic texture doesn't have to be rough to the touch. A finely woven rattan headboard and delicately pleated lamp will bring a tactile dimension to your bedroom scheme.
Pair them with cuddle-up bedding in soft-as-soft natural wool, linen and cotton for a subtle but sumptuous country bedroom scheme.
27. Coordinate with painted furniture
Bespoke furniture is a great option if you're looking for something that's unique to your bedroom. You may have a certain awkward space you'd like to fill, or a particular colour scheme in mind.
'Whatever you're planning, going for a tailored option means your furniture fits your specifications exactly,' says Adam Brown, Director at The Painted Furniture Company. 'For example, if you have a huge shoe collection, why not ask about including a shoe rack within your wardrobe, or extra storage space underneath your bed frame?'
Painted freestanding furniture is a great way to achieve a relaxed country bedroom scheme and can offer huge versatility. Not only can you move furniture around to create different configurations at any time, but the furniture can also be repainted should your interior taste change years down the line.
'For a timeless county bedroom scheme, we often recommend using a combination of natural wood, soft whites and crisp blues, then teaming them with natural materials in the form of accessories,' Brown says.
28. Create a sleeping nook
A country property may have unusual proportions, especially if it's a renovated farm building or another property that's been repurposed from its original use.
In a bedroom with a low ceiling or mezzanine that divides the height of the space, seize the opportunity to create a cozy sleeping nook. It will bring some of the excitement of a child's den to your grown-up bedroom…
A bespoke bed designed to fit the space, and with built-in storage beneath, will create the seamless look you want.
Accessorize with lovely linens, a lamp and bedside table for the ultimate bedtime retreat.
29. Hang up handy hooks
Hang pretty fabric laundry bags on painted hooks to bring a pop of pattern to storage options.
Colourful details like this have a softening effect in a room and are a wonderful way to bring a dose of fun and frivolity to a country property.
30. Brighten a bedside table with a pretty lamp
While contemporary lamps can work well as a contrast in a country scheme, a classic bedside light is your rustic style go-to. A pretty fabric or patterned paper shade will add another layer of interest and colour to your scheme. For smaller country homes, where space is at a premium, choose a candle-shaped lamp with a narrow base that won't take up too much space on your bedside table.
'Bedside lamps need to be tall enough. They should be big enough to frame and balance the bed head,' says fabric and accessories designer, Penny Morrison.
'I like pretty patterned lampshades made out of sari silk. This adds texture and another layer of coziness to a country aesthetic.'
31. Add a comforting throw for chilly nights
A sense of warmth and welcome is inherent to country-style homes, and that counts for the bedroom, too.
Add a blanket at the base of the bed, ready to be drawn up as an extra layer on chilly nights. This is a lovely personal touch for a guest bedroom, and will help your guests feel cosseted and looked after.
32. Go eclectic with your storage
While a suite of coordinated furniture looks smart and considered when you're considering your country bedroom ideas, there's something delightfully eclectic about mismatched storage. Think about combining heirloom treasures, lucky yard sale finds and antique shop buys.
The pieces may all look different but try to find an element that pulls the look together – it could be a colour palette, an era, or a material.
Here, the faded paint of the cabinet sits tonally with the wicker laundry basket – and even the fresh-picked flowers.
33. Install shutters for a neat window treatment
'Installing shutters in your country-style bedroom can add character as well as practical benefits,' says Sam Tamlyn, General Manager at Shutterly Fabulous. 'One of the most functional benefits is their ability to insulate the room, acting as a form of double glazing which in turn can help to reduce heating bills.
Compared to other window coverings such as curtains or blinds, shutters are an elegant, low-maintenance window solution that only requires a wipe with a damp cloth.
Shutters can be fitted to all types of windows, meaning you can cater to any awkwardly shaped windows or doorways commonly seen in older homes. Solid shutters, in particular, can replicate the features of period properties.
'If you are looking to achieve total blackout in a bedroom, solid shutters are the ideal choice,' says Sam Tamlyn. 'Slatted shutters are the ideal solution for balancing light and privacy in rooms where comfort and wellbeing are a must.'
34. Make your bed the country way
'Step away from the tight tucks and serious folds of a "hotel bed" and celebrate the soft informality of a more casual bed to embrace a laid-back look,' says Jo James, Founder of Bedfolk.
'Upsize your duvet – a king-size duvet on a double bed gives you extra comfort to curl up in. It also looks great from a styling perspective, as it gives more drape and shape around the bed.'
James suggests layering with tone and texture for a soft, country look. 'Use large squares pillows as well as standard-size pillows to prop yourself up for an evening read or morning cuppa,' James says.
'Mix and match tones and textures with your pillowcases for interesting material and colour combinations. Anything goes but a simple rule of thumb is to match large square pillows to the duvet, then mix up the colour of the standard-size pillows and sheet for instant interest.'
35. Choose carpet for comfort
Older country properties may be constructed from traditional materials that benefit from being allowed to 'breathe'. This is why natural fibres such as wool are a good choice when you're looking for country bedroom ideas for flooring.
'Wool is a natural insulator; warm in winter and temperature-regulating in summer,' explains Julian Downes, MD at natural flooring specialist, Fibre. 'Part of wool's insulating property is the ability to balance humidity in a room, as the fibres absorb and release water vapour. It is also flame resistant and offers a greater level of fire safety than other fibres.'
36. Take your style cues from the natural world
'A modern rustic style is defined by the use of natural materials combined with fresh, clean, contemporary design details,' says Paul Deckland, Buying Director at The Cotswold Company.
'Think exposed brick and stone walls, paired with simple yet stylish wooden furniture. The style is all about going back to basics, bringing elements of the outside world and an idealised country retreat into your home.'
Wooden bed frames are an obvious choice for a rustic look. And consider a wholly natural mattress to put you in the best possible stead for a peaceful night's sleep.
'Draw inspiration from the outside world for modern rustic style,' suggests Deckland. 'Green is a huge trend this year, so incorporating shades of sage and jade will bring you extra bonus points.'