Country wallpaper ideas – for beautiful period properties, cottages and more
Discover country wallpaper ideas with our pick of the best florals, repeat prints, and tips on how to style them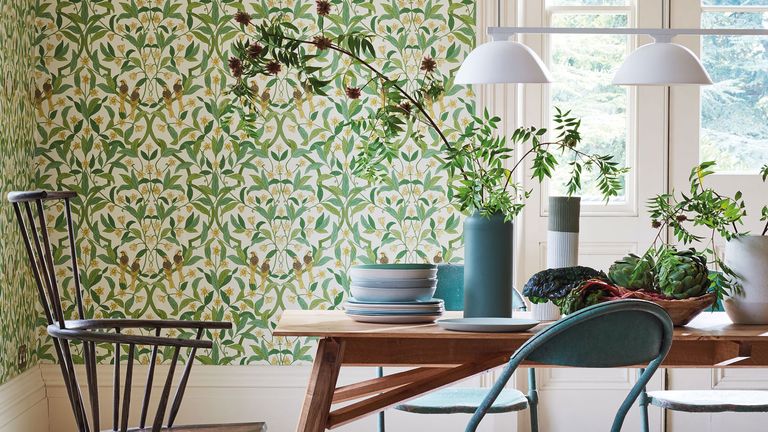 (Image credit: Cole & Son / Lime Lace)
These country wallpaper ideas offer plenty of appeal, whether you are restoring a country cottage with a rich history, aspire to achieve a quaint aesthetic, or wish to make the most of a grand period property.
From traditional country-inspired schemes to modern takes on country classics, our round-up provides practical advice on choosing a country wallpaper that works for your property. Plus, you'll find tips and tricks to make your space feel inviting, cohesive and well-considered.
See: Country decorating ideas – wonderful ways to bring stunning rustic style to your home
1. Pair country wallpaper with dark accents for a contemporary finish
A second bathroom provides the perfect canvas for more experimental styling. Here, the pairing of a bold country wallpaper with rich dark paneling bridges the gap between a contemporary interiors trend and a traditional country scheme. Matching the vanity to a blue-green shade found in the paper ties the look together perfectly, creating a cohesive look.
2. Embrace pink tones for an ultra-feminine finish
If it is a feminine look that you want to achieve, consider pink your shade of preference. Quintessentially countryside, pink florals will add a distinctly feminine feel to your country cottage.
3. Let your space be inspired by nature
While neutral shades and nature-inspired prints may not be the most original option for a home in the country, it is certainly a timeless look. Here, green adds abundant depth and interest to the space while paying homage to rural surroundings.
4. Allow terracotta shades to add a contemporary feel to your country home
Rich, earthy tones offer a stylish solution in a country home and terracotta is one of our favorites. This rich wallpaper adds warmth to the space while honoring its heritage as a period home.
5. Let your surroundings inspire your space
This stunning wallpaper is inspired by sea greenery – can you see the intricately designed seaweed and anemones worked into the print – which would make it an ideal option for a country home beside the sea.
6. Consider a matching shade for your ceiling
If you are blessed with high ceilings and abundant natural light, you might consider foregoing the traditional white ceiling and opting for a shade that complements your paper of choice. Here a dusky pink paint matches stunning vintage-inspired wallpaper.
7. Opt for a pink paper with a sophisticated feel
If you like the idea of a pink scheme, but also want your home to maintain its grown-up feel, consider opting for a minimal repeat pattern. This pretty wallpaper combines a traditionally feminine shade with a simple yet sophisticated print for a tasteful finish that works well in a modern country home.
8. Incorporate a traditional print into a powder room
Wallpaper need not be limited to bedrooms, living rooms, and other more social spaces. In fact, powder rooms and bathrooms provide the perfect canvas for experimenting with bold prints that you might not be brave enough to use elsewhere. This gorgeous, golden-toned wallpaper fills the space with character and provides a great example of how to mix and match prints, patterns, and textures.
9. Use mirrors to make a small wallpapered space feel larger
If you are concerned about a busy wallpaper making a small space feel even smaller, consider hanging a mirror that will allow your room to feel lighter, brighter, and more spacious.
10. Combine prints and patterns for a maximalist look
This cozy corner proves that it is possible to combine several prints and patterns within a small space. The trick to success is ensuring there is a consistent tone throughout the print, as this will create some cohesion.
How do I choose a wallpaper?
To discover patterns that you will not only love, but will want to live with for years to come, spend time gathering samples from different suppliers. Try them out on your walls so you can test how each style works for you. If you are drawn to a particularly vivid or striking paper, think about using it in a smaller or less visited room, where you can really make an impact.
Looking to the past for inspiration can help you to achieve original interior styles. The traditional designs of William Morris, one of the founding fathers of 19th-century wallpaper design, are fashionable again and can be bought on the high street.
Mix vintage and floral prints with contemporary furniture and light paint hues to stop them looking dated. Bold patterns and textured papers, from shimmering metallics to colorful flocks, are popular again and bespoke papers are becoming hugely popular. New printing techniques have made it easier than ever to create your own designs or choose specific colors and themes, so your wallpaper can be completely personal to you.