Country wallpaper ideas – for beautiful period properties, cottages and more
Discover country wallpaper ideas with our pick of the best florals, repeat prints, and tips on how to style them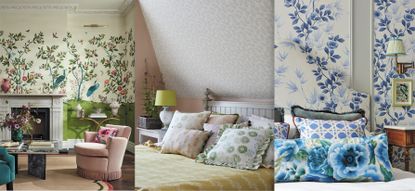 (Image credit: Harlequin / Pippa Blacker)
These country wallpaper ideas offer plenty of appeal, whether you are restoring a country cottage with a rich history, aspire to achieve a quaint aesthetic, or wish to make the most of a grand period property.
From traditional country-inspired schemes to modern takes on country classics, our round-up provides practical advice on choosing a country wallpaper that works for your property. Plus, you'll find tips and tricks to make your space feel inviting, cohesive and well-considered.
Country wallpaper ideas
Wallpaper may seem one of the braver country decorating ideas – your choice of pattern, color, scale of design and where you decide to hang your wallpaper will. all make a big impact in a room scheme. But as the ideas below show, wallpaper can be a highlight on a single wall, a picture in a frame, or an immersive 360 degree decorating experience.
The more you experiment and try different decorating ideas, the more confident you will feel with pushing out of your design comfort zone. Discover how to use country wallpaper ideas, tips and tricks to bring character and charm to your home.
1. Why not wallpaper the ceiling?
A sunroom like this lacks vertical space for decorating, as the windows take up so much wall area. The solution? Take the wallpaper up and over the ceiling.
'I love the joy and exuberance of this country wallpaper idea,' says Andréa Childs, Editor of Country Homes & Interiors magazine. 'It celebrates both the pretty wallpaper design, works with the scale and shape of the room, and makes a beautiful connection between the paint color used for the cabinetry and that of the garden outside.'
When you're considering wallpaper ideas for your home, covering a ceiling is a good solution in awkwardly shaped rooms, or those with very high roof points.
'Here, the desks and windows are quite low, while the vaulted roof soars above,' explains Andréa. 'By using the wallpaper between the windows and up on to the ceiling, it connects the lower and upper parts of the room together, creating a characterful space.
'Finally, the chandelier appears to "lower" the height of the ceiling, again bringing that sense of connection.'
2. Put up a mural
A Chinoiserie mural or frieze design brings echoes of grand country house style to any room – perfect if you want to adapt your country wallpaper ideas to create a rustic luxe scheme. This wallpaper is based on original designs printed on silk, updated for a contemporary aesthetic.
'Chinoiserie is such a beautiful, elevated art form. In challenging the limits in terms of colour and style, it's creating Chinoiserie in a way that's never been seen before,' explains Diane Hill, who created this collection for Harlequin.
A landscape-themed mural brings a new take on wallpaper for any country home, creating a connection with the natural world in large-scale format.
3. Don't be afraid of geo designs
Country homes are often known for florals and nature-inspired wallpaper patterns, but geometric prints provide a wonderful backdrop to natural textures, such as rattan or exposed beams. These patterns can also work well when you're searching for bedroom wallpaper ideas to suit a couple with different tastes!
'Opt for a small-scale geometric, such as Diyenay from the Amechi for Dado collection, suggests Kate French, Creative Director at wallpaper brand, Dado. 'It features neat rows of stitch-effect chevrons in two subtle shades. The pattern feels decidedly modern, while its softness and textile-effect motif makes it suitable for a multitude of interiors, from country bedrooms to more formal living spaces and hallways.'
4. Add pattern to the bathroom
Bring an abundant hothouse vibe to a bathroom with a botanical wallpaper.
'Using wallpaper in the bathroom is a brilliant idea for country homes,' says Andréa Childs, Editor of Country Homes & Interiors magazine. 'Too often a bathroom scheme can seem out of step with the decor elsewhere in a rustic-style home, but wallpaper fills that gap.'
Choose a paper designed to withstand moisture, and use it on the upper half of the walls, far away from splashes. You'll find lots more inspiration in our country bathroom ideas.
5. Consider the view
'For me, country wallpaper ideas are always an "indoor/outdoor" consideration,' says interior designer Allison Knizek, founder of San Fernando Valley-based Allison Knizek Design.
'When wallpaper is making an appearance in a room filled with windows, such as a breakfast nook or dining room, I use what is outside to help guide the direction of the patterned wallpaper. Don't forget, this room is being viewed from the inside-out as well as from the outside-in, especially at night when the room is illuminated.
Country kitchen wallpaper could range from stripes and checks to botanicals. 'I frequently use leafy and floral wallpapers with shades of green as it is a naturally, unifying color from wherever it is viewed,' Allison says.
6. Use wallpaper as a gallery
If you're unsure about using wallpaper across an entire room or wall – or simply cannot choose your favorite design – this gallery wall idea is a winner.
Frame country-style floral and botanical papers and arrange them on a wall. 'Think about how the colors can coordinate with other decor features in your room,' suggests Homes & Gardens stylist and contributor, Sara Bird. 'And consider either a dark or light background so that the wallpaper pieces themselves stand out.'
7. Match your walls and your comforter
Bring the optimism of spring and summer into your room scheme with cheerful colors and prints in an immersive bedroom scheme.
'I created this collection with colors of tangerine, lemon yellow, primrose, soft pinks, blues and bright apple greens – the colors of spring and summer,' says designer Ben Pentreath, who created the Cornubia collection for Morris & Co.
Use wallpaper as your start, then traditional country patterns across walls, soft furnishing and bedding, and keep the rest of the room simple for a modern interpretation of country style.
8. Put paper in panels
Use wallpaper to highlight decorative features such as molding or wood trim, by insetting the paper in panels.
'This brings a lovely, relaxed feel to a room, especially if you choose a trailing floral or leaf design that adds a casual elegance to the more formal features,' says Andréa Childs, Editor of Country Homes & Interiors magazine.
For even more impact, replicate the wallpaper design in the fabrics used throughout the room – as seen in the headboard here, upholstered in a Harlequin x Diane Hill pattern.
9. Paper over cabinetry
Using wallpaper across fitted cupboards and cabinets is a popular look for French country decor ideas, but it's a style that works well in almost every rustic-look home. The advantage is that you can decorate your entire room in the prettiest of paper, without the interruption of plain doors.
'One of the joys of living in a rural home is being immersed in nature. So whether you live in the countryside, or simply want to bring a sense of it into your city or suburban home, use wallpaper to make that connection,' agrees interior designer Jojo Bradley.
'There is a resurgence in flora and fauna patterns so don't be afraid to embrace fabulous florals on your walls in delicate green or blue hues.'
10. Match your wallpaper with your drapes
This beautiful bedroom in Lake Charles, Louisiana, was created by Thomas Guy Interiors and features coordinating wallpaper and drapes. By making the window curtains the feature, rather than hanging drapes around the bed, the room is given a lighter, fresher feel. The wallpaper sets the tone of the the entire scheme.
11. Play with pattern and scale
A glorious bolt of cerise pink cheers any room and its vibrancy is brilliantly modern take for country wallpaper ideas.
Here, there's a playful mismatch between the small-scale wallpaper pattern and the larger print of the curtains. But by choosing a single standout shade as the hero of this scheme, the look comes together beautifully.
12. Take a gentle approach
An attractive pattern provides a dreamy view for anyone tucked into this bed – the unusual position of the wallpaper makes total sense in a small room, where the main surface area is the ceiling, rather than the walls.
The scheme was created by wallpaper and fabric designer Pippa Blacker, founder of Pippa Blacker Interiors. 'In a country home, I love to mix my wallpapers with earthy paint colours and gentle floral fabrics,' Pippa says. 'The aim is to bring the outside in, to create a calm and comforting atmosphere.'
13. Pair country wallpaper with dark accents
A second bathroom provides the perfect canvas for more experimental styling. Here, the pairing of a bold country wallpaper with rich dark paneling bridges the gap between a contemporary interiors trend and a traditional country scheme. Matching the vanity to a blue-green shade found in the paper ties the look together perfectly, creating a cohesive look that's a perfect expression of small bathroom ideas.
14. Embrace pink tones for an ultra-feminine finish
If it is a feminine look that you want to achieve, consider pink your shade of preference. From softest marshmallow pinks to shell tones and coral, there is so much choice when it comes to pink room ideas.
With their connotations of spring flowers and blossom, pink florals will add a distinctly feminine feel to your country cottage. Opt for shades inspired by nature, rather than neon tones, for an authentically rustic look.
15. Let your space be inspired by nature
While neutral shades and nature-inspired prints may not be the most original option for a home in the country, it is certainly a timeless look. Here, green adds abundant depth and interest to the space while paying homage to rural surroundings.
Green room ideas have become increasingly popular as we seek a greater connection with the natural world and outdoor spaces. And they have the benefit of suiting every area of our homes, from bathrooms to bedrooms, dining rooms to hallways.
16. Allow terracotta shades to add a contemporary feel
Rich, earthy tones offer a stylish solution in a country home and terracotta is one of our favorites. This rich wallpaper adds warmth to the space while honoring its heritage as a period home.
17. Consider a matching shade for your ceiling
If you are blessed with high ceilings and abundant natural light, you might consider forgoing the traditional white ceiling and opting for a shade that complements your paper of choice.
Ceiling ideas might range from wallpapering ceiling to adding molding. Here a dusky pink paint matches stunning vintage-inspired wallpaper.
18. Opt for a pink paper with a sophisticated feel
If you like the idea of a pink scheme, but also want your home to maintain its grown-up feel, consider opting for a minimal repeat pattern.
In this pink living room, the pretty wallpaper combines a traditionally feminine shade with a simple yet sophisticated print for a tasteful finish that works well in a modern country home.
19. Incorporate a traditional print into a powder room
Wallpaper need not be limited to bedrooms, living rooms, and other more social spaces. In fact, powder rooms and bathrooms provide the perfect canvas for experimenting with bold prints that you might not be brave enough to use elsewhere. This gorgeous, golden-toned wallpaper fills the space with character and provides a great example of how to mix and match prints, patterns, and textures.
20. Use mirrors to make a small wallpapered space feel larger
Decorating with mirrors is one of those unsung skills interior designers do so well.
If you are concerned about a busy wallpaper making a small space feel even smaller, consider hanging a mirror that will allow your room to feel lighter, brighter, and more expansive.
21. Combine prints and patterns for a maximalist look
This cozy corner proves that it is possible to combine several prints and patterns within a small space. The trick to success is ensuring there is a consistent tone throughout the print, as this will create some cohesion.
How do I choose a wallpaper?
To discover patterns that you will not only love, but will want to live with for years to come, spend time gathering samples from different suppliers. Try them out on your walls so you can test how each style works for you. If you are drawn to a particularly vivid or striking paper, think about using it in a smaller or less visited room, where you can really make an impact.
Looking to the past for inspiration can help you to achieve original interior styles. The traditional designs of William Morris, one of the founding fathers of 19th-century wallpaper design, are fashionable again and can be bought on the high street.
Mix vintage and floral prints with contemporary furniture and light paint hues to stop them looking dated. Bold patterns and textured papers, from shimmering metallics to colorful flocks, are popular again and bespoke papers are becoming hugely popular. New printing techniques have made it easier than ever to create your own designs or choose specific colors and themes, so your wallpaper can be completely personal to you.
How do I hang wallpaper?
Good preparation of your wall surface is essential to ensure a smooth finish for your wallpaper. You'll also need to consider where you want your wallpaper to be – will it be the full room or a feature wall? You may also decide to use wallpaper inside a cabinet, in panels, or even on the ceiling.
When it comes to putting up your wallpaper, you can choose products that you paste then apply to the wall, or papers that applied dry to a wall that you have pre-pasted. For expert advice, see our how to hang wallpaper guide.
Sign up to the Homes & Gardens newsletter
Decor Ideas. Project Inspiration. Expert Advice. Delivered to your inbox.
Emily first (temporarily) joined the Real Homes team while interning on her summer break from university. After graduating, she worked on several publications before joining Real Homes as Staff Writer full time in mid-2018. She left the brand in 2020 to join the police force but continues to write for Homes & Gardens about interiors.
With contributions from