Bedroom wallpaper ideas – add pattern, texture and character to your bedroom
Add instant personality with these bedroom wallpaper ideas – perfect, whatever the size of your space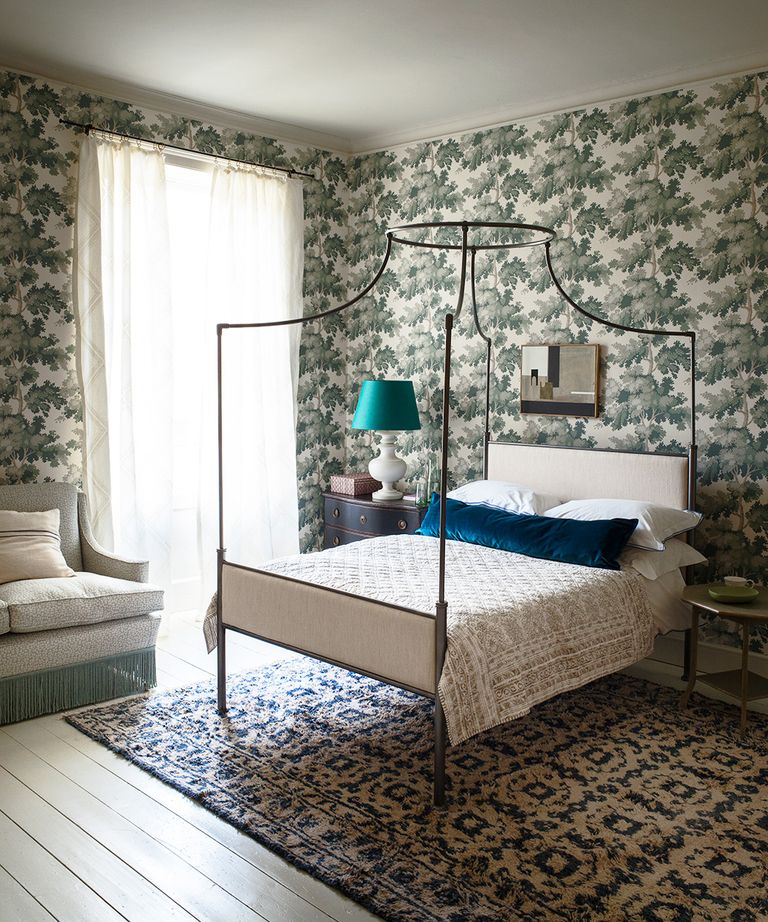 (Image credit: Paul Raeside)
Creating a decorating scheme is a bit like a love affair, and it's certainly as much about the heart as it is the head. When choosing bedroom wallpaper, the questions we ask ourselves are: 'Do I love it enough? Is it a perfect match for me? Will it last?' 
The variety of wallpapers before us is now so extensive that preliminary research will always pay dividends, especially in such adventurous times for design. Be inspired by a carefully curated selection of our favourite bedroom wallpaper ideas.
See more: bedroom ideas – inspiration for decorating and furnishing your space
Which wallpaper is best for the bedroom?
A wallpaper makeover could be just what your bedroom needs for a simple yet striking transformation and there are numerous different styles when it comes to choosing a look you'll love. 
Your bedroom should be a place to unwind and relax after a busy day, or a space to make guests feel welcome when visiting, so selecting the right design is vital in dictating the mood you want to create.
New developments and incremental advances in technology are giving designers greater freedom to pursue ideas, shaking off the restrictions imposed by traditional production methods. 
Whether your style is classic, contemporary or an effortless mix of both, a greater understanding of the practical elements will advise your head, so you can follow your heart.
1. Evoke a tropical paradise
We may not live in a balmy equatorial climate over here in the UK, but that doesn't have to stop you introducing a fun and tropical feel into your home. This season's decorating is inspired by the global traveller's expeditions, with a rich palette or nutmeg, cinnamon, ginger and ochre addicting warmth and depth to the bedroom. A stand-out palm-print wallpaper will anchor the whole look of a room, and this hazy version is a new take on the classic green palm leaves.
The earthy ochre of the linen headboard and the pinch of ginger in the cushions, against a tropical pictorial wallpaper, evoke the memory of faraway shores.
Tana Grisaille wallpaper panel, 220x200cm, Ananbo
See: Grey bedroom ideas – for a neutral scheme that is classic and modern
2. Be inspired by nature
Harmony with the natural world is a feature of Chinese landscape painting, and this tranquility is perfect for the bedroom. Here, a dream-like misty mountain paper covers an oriental-style screen, with a palette of soft grey and blue, enhancing the scheme's calming allure.
Sansui wallpaper in Snow Peaks, Zoffany at Style Library
3. Clash with graphic patterns
The bedroom is a wonderful place to experiment with daring patterns and a dramatic colour palette. We've mixed bold, contrasting geometrics with colour and pattern to create a vibrant room scheme that is bursting with joie de vivre.
Graphic geometrics form the starting point of this scheme, with the monochrome tumbling block wallpaper and pastel rug. Keeping furniture simple allows for experimentation with florals, animal prints and spots for bedlinen and window treatments. Using a variety of scales will add to the visual impact.
See: Bedroom color ideas – to brighten and lift your scheme
4. Opt for an English folly revival
At once whimsical and unashamedly bold, this heavily patterned style, which unites eclectic find and architectural detailing, is now calling from across the ages. Here, a delicate floral wallpaper and a chintz fabric for the bedcover bring English folly style to the bedroom. The curvaceous headboard adds an air of grandeur to the scheme.
See more: Small bedroom ideas – to make the most of a compact space
5. Work in vibrant abstracts
Featuring the same design on an extra-wide headboard and the wall behind makes wonderfully bold statement. Using complementary paint shades to echo and enlarge the motif in the adjoining bathroom unites the two spaces.
6. Decorate with lipstick pinks
Opting for a fresh cerise geometric wallpaper prevents this space from becoming overly fussy. Tempered with a deep pink eiderdown, which echoes the walls of the adjoining dressing room, this scheme has a pleasingly cohesive feel.
7. Revisit country house interiors
The quintessential English style has been rejuvenated without losing its classic appeal thanks to industrial pieces, pared-back finished and unexpected luxe.
Exuberant patterns and rich colours are enthusiastic embraced, bringing a wonderfully cosseting feel to this country house bedroom. Modern art and a simple bed frame prevent the overall effect from feeling overpowering.
8. Transport yourself to warmer climes
With its easy mix of energetic prints and tactile weaves, the latest take on tropical style will transport you to warm Hawaiian shores.
For those looking to indulge a love of colour and pattern, this whimsical palm design with its deep sunset pinks and fresh greens serves as an exuberant focal point. Plain bedlinen keeps the look balanced, while a shell pendant hints at distant shores.
9. Wow with red
A bold red colour is often considered a daring choice for interiors, but used creatively it can introduce a welcome burst of energy and flamboyance. Simple black furniture and plain white linens are the perfect foil for a vibrant wall covering, maintaining the calm and contemporary feel of this room.
10. Make it monochrome
Black and white is a timeless choice for making a statement with your wallpaper. A feature wall in a monochrome print works perfectly in a bedroom setting where you can bring in colour through other elements such as bedding, cushions and throws. This is an ideal choice if you're worried about committing to one colour when decorating, as the look can be updated easily and cheaply through accessorising.
11. Look to nature
Bedrooms and floral wallpapers are a match made in heaven, however gone are the days of overly fussy and busy prints.
'When the world around us feels a little uncertain what could be more welcoming than this bedroom in Hegemone wallpaper with its wonderfully optimistic feel,' says Farrow & Ball's Color Curator, Joa Studholme. 'Florals connect us back to nature and make us feel protected particularly when coloured in these warm red based neutrals. However, this is not a dainty or formal floral - this pattern is ultimately relaxed with the blooms ranging freely over the walls giving it a faintly nostalgic air which is as comforting as it is stylish.'
12. Pick a calming green
We automatically associate green with being in nature, which is an incredibly calming feeling. Green as a trend has been popular in kitchens and living rooms, but the desire for calm has brought it into the bedroom. Even a busier print, such as Cole & Son's Forest Greens on White gives off that peaceful sense of nature.
For a high ceilinged room such as this one, leave some space at the top wallpaper free, allowing the colour room to breathe.
How do I choose a wallpaper for my bedroom?
Let's start with bedroom wallpaper quality. Many wallpapers are printed on traditional paper, its quality graded by weight. Vinyl wallcoverings have a paper backing beneath a washable layer of vinyl on which the design is printed. Manufacturers are increasingly turning to non- woven paper, a blend of polyester fibres and cellulose from wood pulp. 
Unlike traditional wallpaper which is pasted on the back and must be allowed to expand before being hung, non-woven is applied to the pasted wall. It is stronger than traditional wallpaper, hard to tear and much easier to match drops accurately.
Which wallpaper design to choose? As we said above, the bedroom is a place to relax, so you really want to choose a calming design – but, really, go with what you love (and can bear to wake up to after a couple of glasses of wine too many on a Saturday night). More than any other space in the house, the bedroom is a deeply personal room, and should be decorated to please no one but you.
See more: Wallpaper ideas for every room – decorate your walls with these designs
How much wallpaper do I need for a bedroom?
There is a calculation in interiors to work out how much wallpaper you need: (width of the wall + repeat) x height wall = X sq m. But if you prefer keeping life simple, most brands have wallpaper calculators on their website, or else their experts will be able to advise. Make sure to leave at least 10 per cent for trimming and adjusting for pattern matching.