Buying art – where to find and buy art
Buying art – including affordable art – needs expert guidance. Renowned interior designer Emma Sims Hilditch leads a group of experts on where to buy art – including their favorite places to shop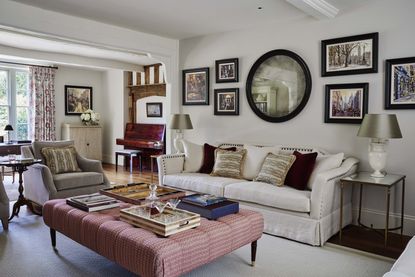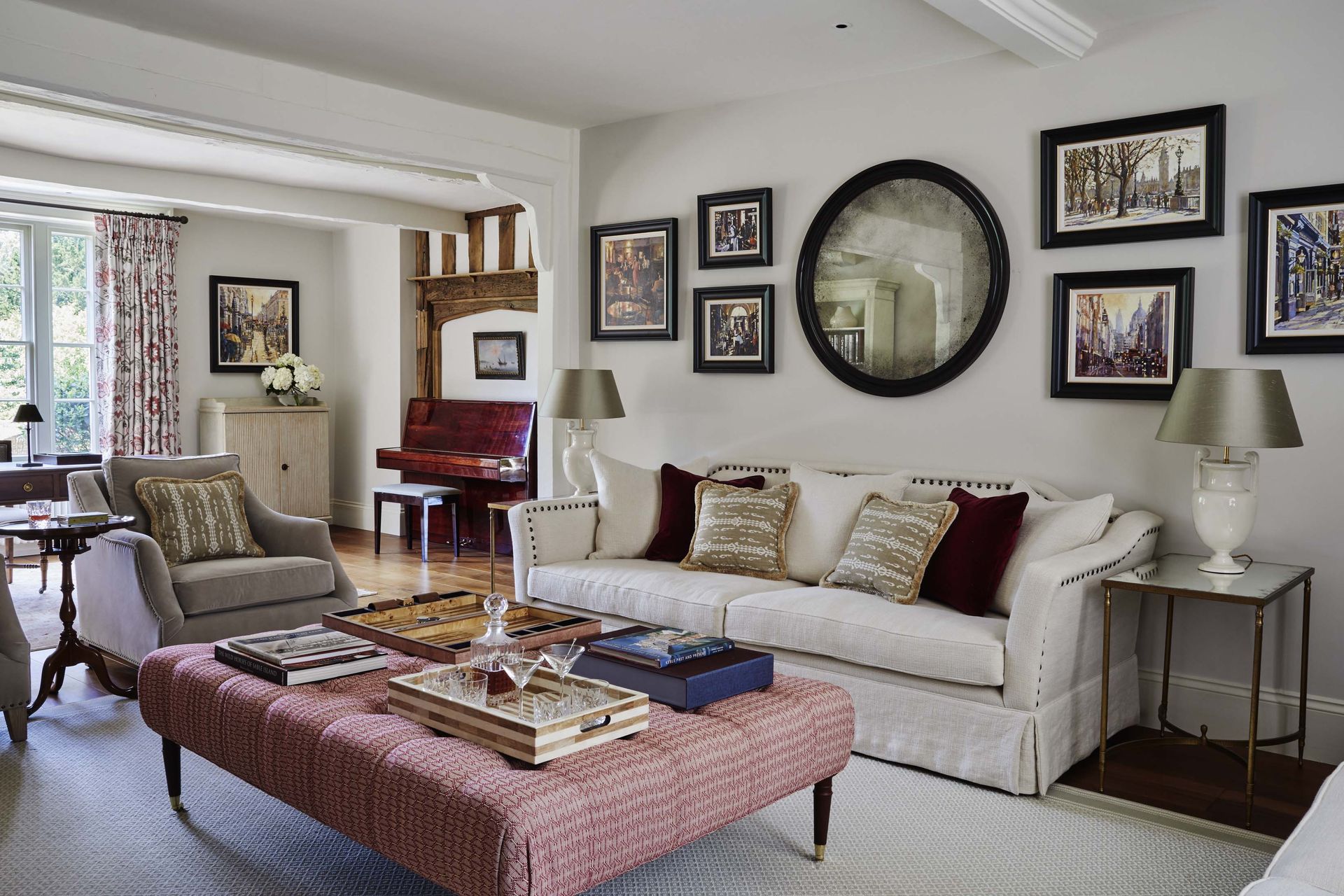 (Image credit: Sims Hilditch )
Buying art takes expertise – so if you are wondering where to buy art, we have an extensive guide, right here. Affordable art fairs, where you can pick up a modern master, are thriving while higher-end international Biennales and Triennales are proliferating.
Today you can browse, buy and bid for art online, pop-up galleries are mushrooming and, in cities, the rise of the mega gallery continues apace as new spaces promote the knife-edge of contemporary art. Art, to put it bluntly, is out there.
Buying art is the easy bit, but forming a collection – a body of work that you love but which also has artistic merit – is more challenging. There is a huge difference between a 'comfort' artwork that looks pretty, and one with longevity. Here, our experts tell you where to buy art.
Buying art: where to buy art
'As a multi-disciplinary interior design practice, our work includes everything from structural renovations and interior architecture to fabric and styling decisions, and more often than not, sourcing and incorporating art into a design concept,' says Emma of her agency Sims Hilditch.
'Whether our clients are already avid collectors or are looking to start from scratch, we are always thrilled when artwork forms part of the project. With a wealth of experts, dealers and sources at our fingertips, we know how important art can be in defining the mood and overall ambience of a space, not to mention the emotional impact it can have on our clients and their home.'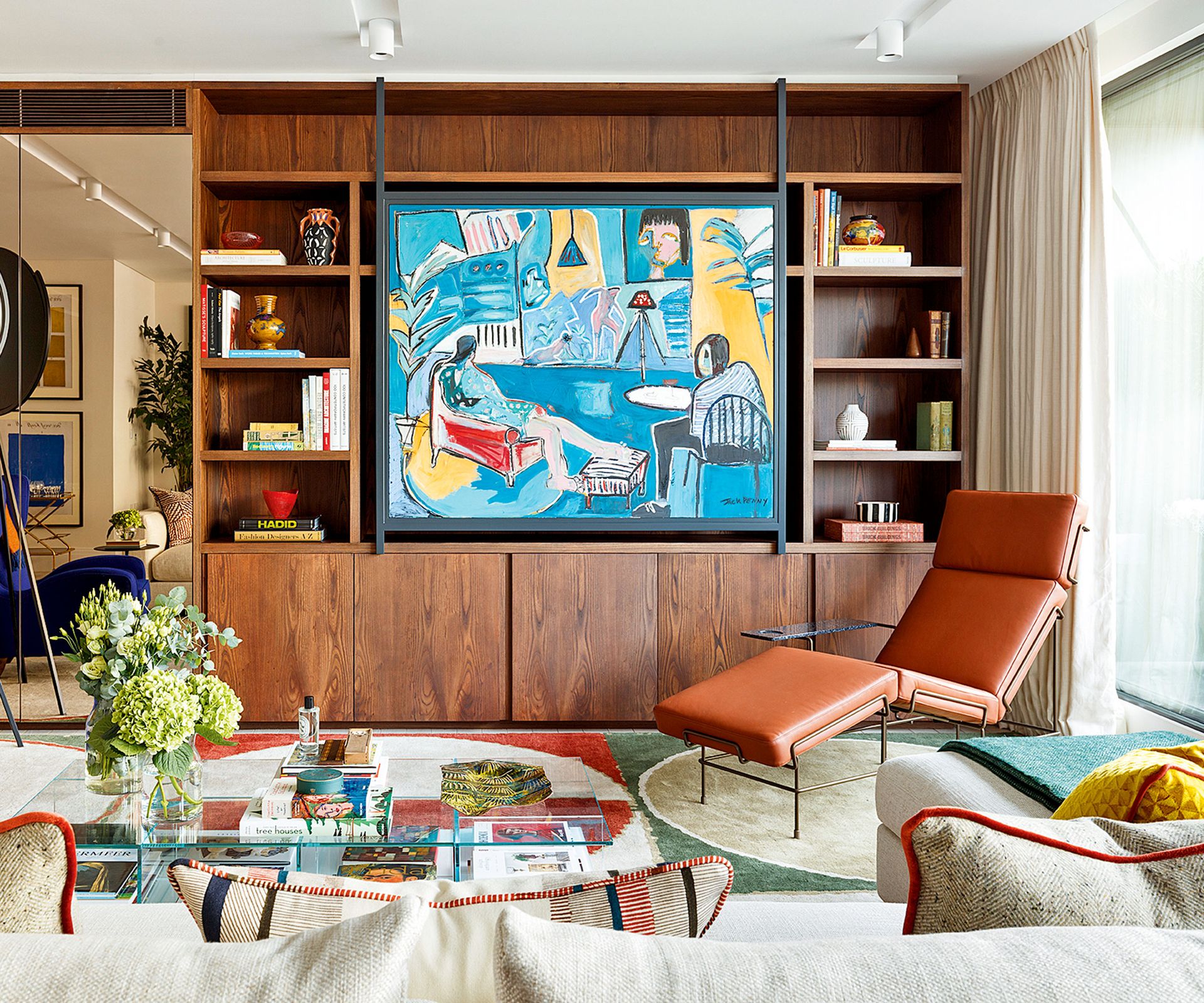 'Sister, our homeware company, has a lot of amazing art,' says Sophie Ashby of interior design agency Studio Ashby. 'I love hunting around on things like Saatchi Art, and the art gallery Cob Gallery. I buy a lot from a gallery called Whatiftheworld in Cape Town. Graham Harrison is my go-to for framing.'
Interior designer Rachel Chudley adds: 'A collection can be built up after many years from many places from art fairs and find galleries and dealers that know your tastes. I always recommend going to the Cob Gallery, who focus on representing fairly unknown artists. It's a fantastic way to see things in person, and they even arrange visits to artists' studios.'
Buying affordable art: where to start
For many years, the easiest way to access affordable art was to buy prints or limited editions. But thanks to social media – and, in particular Instagram which connects artists and clients without a gallery middleman – the market has exploded with opportunities.
Original works can start from as little as $100 or so, not much more than a print. It's not always about finding the next Rothko or Hockney, it's about finding a piece of art that resonates personally and adds a narrative depth to a room.
'If you are looking to support up and coming artists who have wonderful work and are yet to be discovered, I love the Royal College of Art (London) end of year show. It's a bit of an industry secret because it's a great way to find something before it's got its gallery price on,' continues Rachel Chudley. 'Partnership Editions is a female-run online platform and another accessible way of finding new artists.'
When building a collection, one tip is to start small – literally. Smaller works typically have a more modest price tag, offering the opportunity to add more works to your budding collection.
'A small, beautifully chosen grouping of bijoux works is chic, chic, chic!' says Jennifer Conner of the Affordable Art Fair UK who also runs her own gallery After Nyne Contemporary.
'It's hard to go wrong as long as you really connect with the artwork (and stick within your budget),' adds Jennifer. 'The worst mistake you can make is choosing something based upon what you perceive to be its value, rather than ensuring you have a true emotional attachment to the work.'
Keep an eye on graduates and degree shows at the major art schools– London has some of the best in the world including The Royal College of Art, Slade School of Fine Art, Camberwell College and Central Saint Martins. In two or three years they could be represented by a commercial gallery and their pieces may rocket in value, so buying before that point is a savvy move.
Which art to buy?
There is technique involved in knowing how to choose art for your home, but, really, it's about buying what you love.
'Above all else, an art collection is about telling a story,' says Emma Sims-Hilditch. 'We don't believe that specific artwork or paintings will date; in fact, quite the opposite. If a piece of art carries with it meaning and a story behind it, then it should be displayed in your home. It may embody happy memories, feature depictions of people close to your heart or simple bring joy every time you look at it. With this in mind, we say be led by your heart, and not what is en vogue at the time.
Predicting value when buying art
Value can be judged precisely and also subjectively: in the first instance there is market precedent and more subjectively value increases when something is of particular importance to you, for example completing an interior or a set.
'Rarity, quality, condition and provenance all play their part in adding value, it is important to assess how much these matter and factor them in accordingly,' explains Thomas Del Mar who runs the specialist auction house Olympia Auctions in London.
Building a collection of affordable art
Gallery walls can feel really personal and cosy – and are a great way of displaying a collection of affordable art, says interior decorator Leonora Hamill who works on projects between New York and London.
'I often hang an arrangement of framed works on paper with the odd small textile on a stretcher in an entry hall or above a sofa or chest of drawers. Even if a work isn't particularly valuable it usually looks great surrounded by other works. The secret is to reframe small works. A nice new crisp frame goes a long way.'
Leonora's favorite places to buy affordable art in the US include Chairish, Cove Landing, the Brimfield Antique Market and the auction houses Doyle and Stair Galleries. 'I also shop in small antique shops whenever I am on a road trip: Helle Thygesen in Copenhagen has a beautiful online shop I buy works on paper from.'
Buying art at auction houses
Auction houses exert an enormous influence on the art market as their results determine values in the 'secondary market'. Yet despite the often stellar prices, salerooms remain excellent places to buy and learn about buying art.
Pre-sale viewings and attending sales are a useful way of staying informed. You can browse at will and there is no pressure to make up your mind until the last minute. The price you pay may be high but it is a useful indicator of desirability, be it an 18th century drawing or 1950s sculpture.
Chatting to in-house experts can also help locate 'overlooked' areas. As James Rawlin of Sotheby's explains:
'Famous artists often have periods of their life which are academically celebrated but commercially left out in the cold: a drawing by Henry Moore from the 1930s can start at around $13,000/£10,000, much less than his famous shelter drawings from the Second World War.'
Trend-shunners could also consider Old Master Drawings, as Sarah Vowles of Christie's points out:
'You can still buy a beautiful drawing by an 18th-century Italian Master such as Giovanni Domenico Tiepolo for around $19,000/£15,000. Drawings offer an immediate glimpse in to the way an artist worked.'
Most auction houses also now host online auctions where you can download a virtual paddle and start bidding.
Among the newcomers and focussing on the more affordable end of the market is AucArt which has pieces by rising international talent either to buy at auction along with a buy now function at a fixed price. It represents young UK artists who have just graduated from art college and they receive a 70% commission on pieces purchased through the platform.
Buying art at galleries and fairs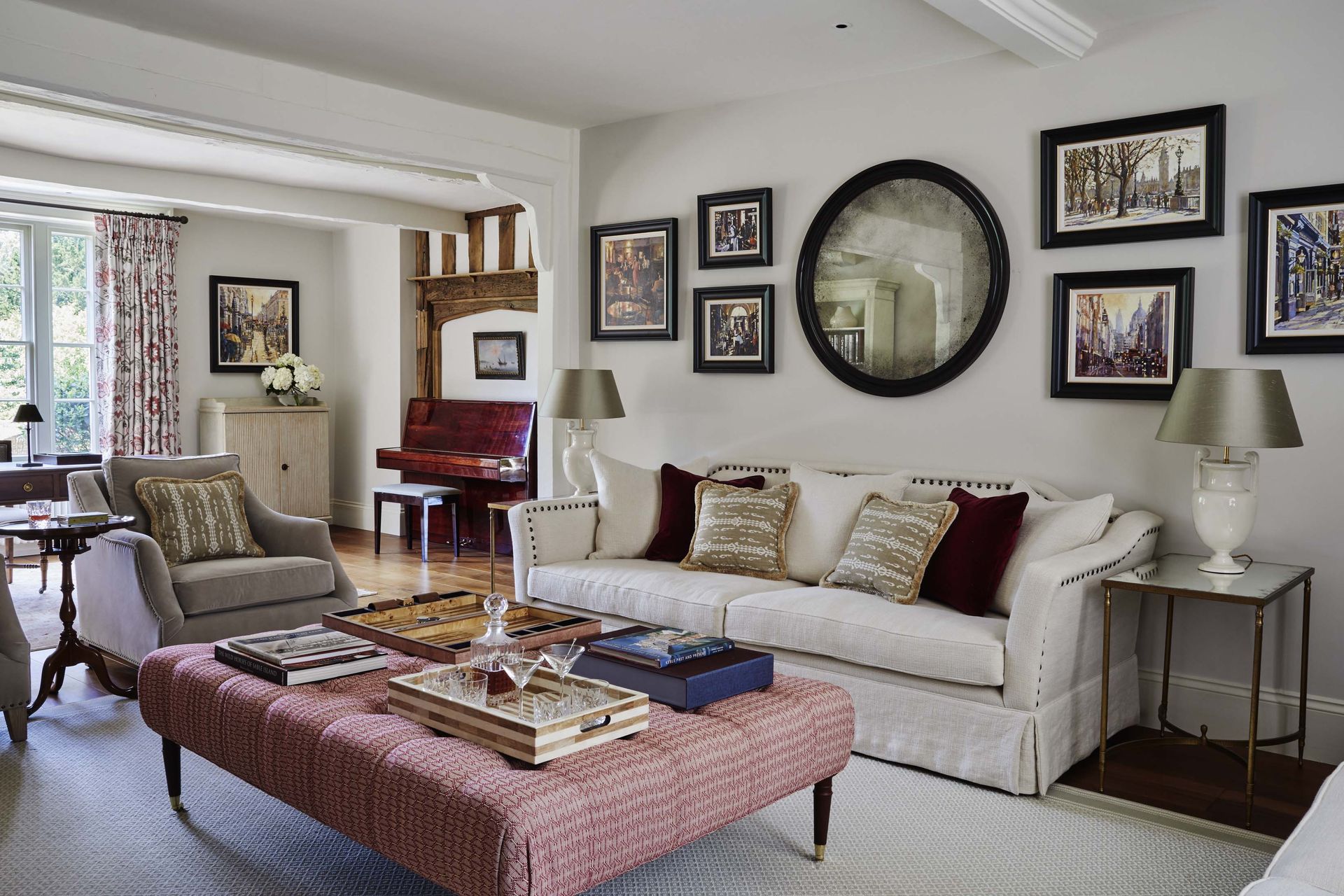 'I am an avid art collector and love to explore antique markets in both the countryside and the city where a vast array of art can be found,' says Emma Sims-Hilditch.
'As a business, we are passionate about supporting young, emerging artists, including my daughter Daisy whose work is a regular feature in many of our projects. Don't be put off by feeling daunted by cost when it comes to collecting art, there are many ways to find gorgeous pieces at attainable prices.
'In the UK, the Affordable Art Fair holds events across the country and is brilliant for sourcing unusual pieces. Antique markets such as Kempton at Sunbury Racecourse just outside London are a great resource, but be prepared to haggle and don't forget to bring cash! Don't forget your local art gallery, too. They regularly have exhibitions profiling emerging artists.'
Nicky Wheeler of the Affordable Art Fair expands:
'Fairs are an excellent place to learn about art and cultivate contacts. Most dealers are keen to impart their knowledge. If you're interested in an artist ask to see other works to see how their style has developed.
'Galleries always have stock which won't be on show, so you may find other pieces you like.'
Once you have found a gallery you like, befriend the owner. Make it to previews and mingle with collectors and artists – socializing is all part of the enjoyment of collecting.
Buying affordable art at online galleries
One unexpected outcome of the pandemic was an emerging service to work virtually with clients to find pieces to suit particular rooms. A number of galleries either pivoted or been to offer a service which is a hybrid of interior design and art buying advice – a trend which looks set to continue.
Art consultant Georgia Spray (above) spotted an opportunity to improve access to the perceived the elitist and intimidating art world when she established Partnership Editions in 2017.
Turned off by websites selling affordable art in quantity rather than quality, she launched her own curated approach which show cases artists that she personally liked. 'Whilst this should not replace the physical art experience of exhibitions and studio visits, discovering art online does allow you to learn a great deal about an artist's process and influences.'
Other places to buy art online include:
Affordable Art Fair (global)
Started in London in 1999 by Will Ramsay (who remains the chief executive), it's now a global event, taking place in locations from New York to Sydney, as well as a newly launched virtual fair.
The Other Art Far (global)
The Other Art Fair is one of the world's leading artist fair's bringing art lovers of all experiences and tastes together with the best emerging artists. Shop from thousands of affordable artworks in-person at events, online or in our virtual fair worlds.
Artfinder Founded in London in 2013, this is an online marketplace for original pieces from around the globe. Prices start at $25 and there are over 200,000 pieces to choose from.
Uprise Art This SoHo-based contemporary gallery has a specific filter for works of art worth under $800 (some are for sale for as little as $80)
London and Cape Town-based Art Gazette is a curated platform offering works by more than 450 artists from recent graduates to more established names. Co-founded by the former CEO of the Saatchi Gallery, they buy in bulk direct from artists meaning prices are more akin to limited editions and prints.
Buying art for investment
So how do you learn to winnow 'good' from 'bad' art? Sarah Flynn of Cheffins auction house recommends that you treat the process of acquisition as an education.
'Some people are more visual than others, but we can all improve our 'eye' by looking and learning,' she says.
'Even a little knowledge can help distinguish between the interesting and the derivative. Visit your local museum. Read the classics (John Berger, EH Gombrich, Erwin Panofsky) and the art magazines or join the patrons groups of museums such as Tate Modern.
'Make time for the free talks offered at various institutions. Membership of the not-for-profit National Art Fund or the Contemporary Art Society includes visits to artist's studios, collector's homes as well as talks and exhibitions.'
Like fine wine, art is often touted as a 'safe' investment. However even the wealthiest collectors will insist that they collect art for pleasure as opposed to rich returns.
If you collect for investment, there are bound to be disappointments. You have to like what you are buying, but there's also a subtle cross-over between an emotional and intellectual response to art.
'All the great collectors found something unique, they remained true to their tastes even if that taste developed over time. A true collector knows how to aggregate art; they become an expert even if it's on a low-key level and they can potentially influence other buyers,' says Byrna West.
If you are concerned about values, Nicky Wheeler of the Affordable Art Fair counsels:
'Buy a work by a well-known artist. It's still possible to buy a print by Hockney or Julian Opie for under $6,000/£4,000. If you're buying a new artist you're taking a risk, so buy what you like and want to live with.'
Buying art as a collector
A collection can be a melting pot of styles or media, known as 'horizontal collecting.' Or you can define your parameters:
'One client focussed only on sculpture he could hold in his hand. This meant he could afford to buy the best – useful advice to anyone,' Sarah Flynn notes. 'We have collectors of self portraits or Maltese street scenes.'
You can choose to only collect one artist, immersing your self in their story, or focus on the art of emerging countries like India or Russia. Miniatures, tapestries, photographs, tribal art – the list is infinite.
However slim your means, take heart from the tale of postal clerk Herbert Vogel and his librarian wife Dorothy. Living on Herbert's salary and buying art with hers, over 30 years they filled their one-bedroom, rent-controlled New York apartment with about 2,500 works by some of the world's most famous artists – Andy Warhol, Christo, Richard Tuttle – some now displayed in the Washington National Gallery.
Buying contemporary art
It is a hundred years since Marcel Duchamp's urinal sculpture first shocked the art establishment. Yet for the uninitiated, contemporary art – be it video, digital-only, installation or mobile-phone photograph – can still feel like uncharted terrain.
Fabienne Nicholas of the Contemporary Art Society counsels that you 'take time to visit galleries, read about artists and learn.' Behind every artist there's a subtle system of endorsement and this includes what art school they went to, where their work has been shown, and so on. Look at reviews, awards and residencies. The pinnacle of achievement is having an artwork in a public collection.
'Contemporary art is about knowledge production – the spread of ideas rather than just beautiful things,' she explains. 'Every piece should have a conceptual backbone – it might be a reference to art history or politics – that's what makes it interesting.'
Another option is to use an art adviser. At the Contemporary Art Society, for instance, consultants charge a daily fee (most take a percentage of the price of the work).
'I have one client who is interested in building a collection. We spend a day a week visiting studios, shows and galleries so he can find out what he likes,' says Fabienne.
One of the chief delights of buying contemporary art is engaging with a living artist says Isabel Bingley, curator at Flowers Gallery.
'It's fascinating to watch an artist develop. I spend time with our artists discussing their work and its techniques so I can communicate that to clients. It makes the process of collecting much more human.'
Buying prints and lithographs
Artists' prints can be an affordable collecting option but buyer beware, as dealer Caroline Wiseman explains:
'An original print is conceived, executed – or overseen – by the artist, it's not a mechanical reproduction.' The image may derive from a block, stone, plate or screen to 'produce an artwork in its own right with the artist's signature.' Editions range in size; smaller print runs are more desirable.
'Contemporary printmaking is having a renaissance,' continues Murray Macaulay of Christie's. 'Art presses, like Paragon or Counter Edition produce works of exceptional quality.
'Galleries including the Whitechapel often commission artists to make prints. Most well-known artists are committed printmakers,' he continues, 'and can be surprisingly affordable: a work by Anish Kapoor or Tracey Emin might be around $660/£500.'
Or visit Artichoke Printmaking (a favorite with Ralph Lauren) a studio where artists produce prints for clients including The Victoria & Albert and the British Museum.
Buying affordable art using Instagram for inspiration
Instagram is the obvious place to start a search for a piece of affordable art, says London-based interior designer Anna Hewitson who studied Fine Art before training at the prestigious KLC School of Design.
'Follow Art for Charity Collective, a brilliant organisation raising money for charity,' she recommends. Her favorite other sources including Partnership Editions and the Medium Room. 'It's worth looking at Etsy, eBay and auction websites such as The Saleroom where you can pick up some real bargains.'
Buying art – raising funds
'Many galleries are happy to accept instalments, so always ask,' says Nicky Wheeler. In the UK, you can consider the Art Council's laudable Own Art loan plan that allows you to take out an interest-free loan to buy works from galleries signed up to the scheme (look out for the pink sticker). Only the bold should try haggling for a discount.
How to transport art
Money spent on a specialist art removal company is money well spent. Check your carrier is a member of ICEFAT (International Convention of Exhibition and Fine Art Transporters).
Compulsive collectors may want to put excess art in to specialist conservation standard storage (try Christie's).
How to buy art that works for your home?
'Often, clients will come to us with a beautiful existing art collection. This many only comprise two or three pieces but it can often start the creative process both in choosing the color scheme of a room and also the general aesthetic. We love to mix modern art with antique furniture and this has become somewhat of a signature in our work. It takes a little confidence initially to blend the two, but it has truly stunning results,' says Emma Sims-Hilditch.
How do you protect art you've bought?
Common sense applies. Keep drawings and paintings out of direct light and ensure sculpture is on a stable base. Avoid hanging work over radiators, on window sills or near heaters.
Most household insurance policies allocate a fixed amount which may not be enough to cover your collection. If so, consider specialist art insurers.
'Stolen art works can often be traced, but people often underestimate collateral damage through fire or water,' says Andrew Cheney of insurance company Hiscox. A specialist will visit your house to compile a catalogue of your collection. Valuations need to be reviewed every five to 10 years.
Building a collection
Sign up to the Homes & Gardens newsletter
Decor Ideas. Project Inspiration. Expert Advice. Delivered to your inbox.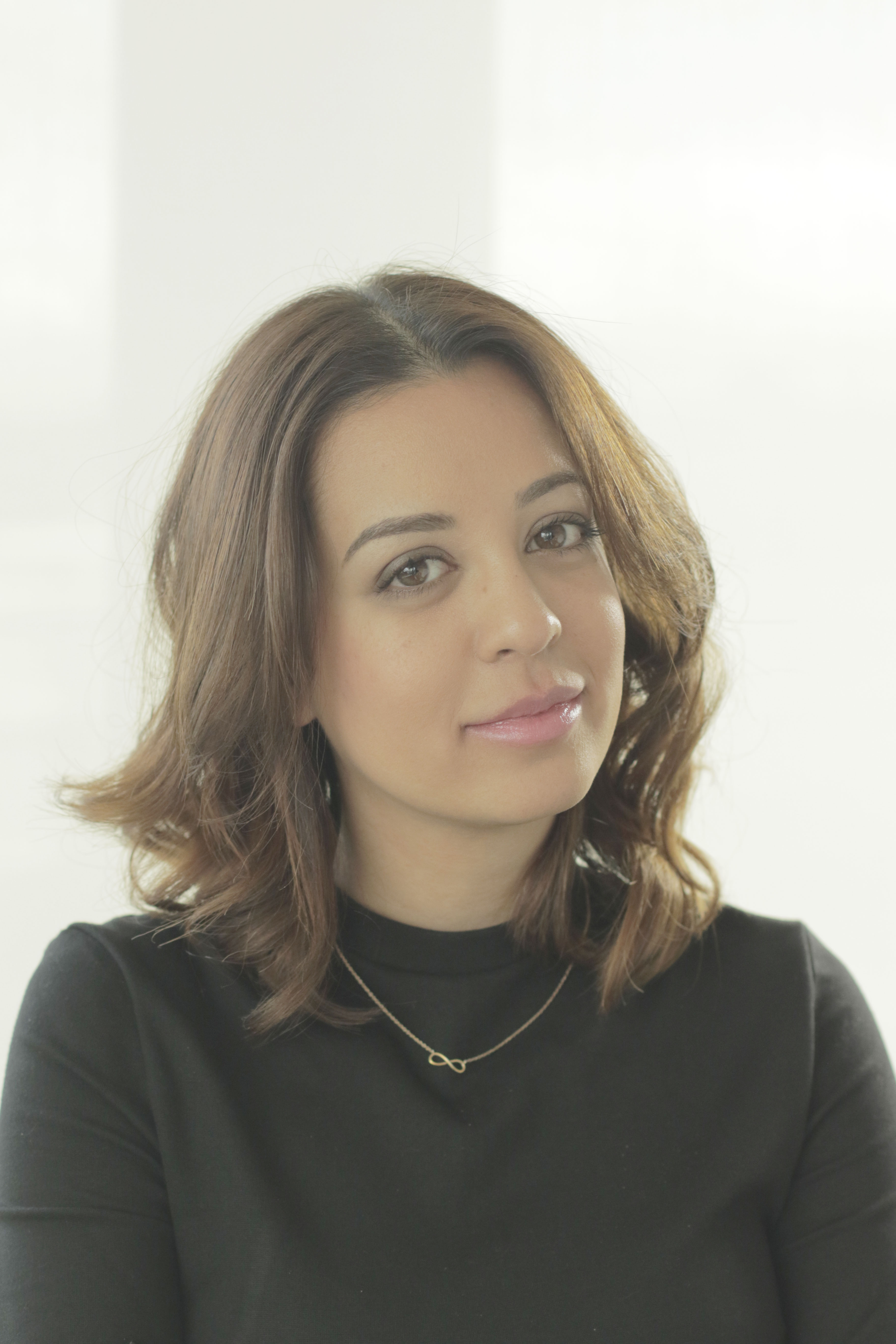 Jennifer is the Digital Editor at Homes & Gardens. Having worked in the interiors industry for a number of years, spanning many publications, she now hones her digital prowess on the 'best interiors website' in the world. Multi-skilled, Jennifer has worked in PR and marketing, and the occasional dabble in the social media, commercial and e-commerce space. Over the years, she has written about every area of the home, from compiling design houses from some of the best interior designers in the world to sourcing celebrity homes, reviewing appliances and even the odd news story or two.